Introduction and System Specs
Agent 47 is back and better than ever
Hitman is a return to form, of sorts, for IO Interactive and Square Enix when it comes to their stealthy shooter. They've brought the open sandbox play that made the series a staple and helped it survive this long through the ages. Though they've opted for a more episodic approach to releasing content, that means we get immense levels with more things to see and do than in previous games, or in a lot of games. The amount of choice you have is almost mind-blowing. And the graphics engine has been suitably upgraded to make it advanced. DirectX 12, too, has come along for the ride, adding some benefits for some cards.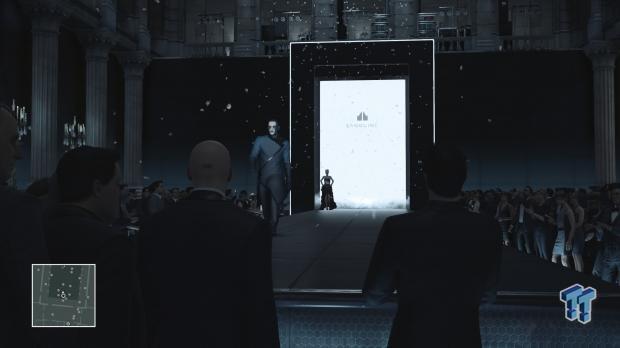 Hitman is built upon an evolved version of the Glacier 2 engine that was used for Hitman: Absolution. That means that at its most basic level, it's very similar. Underneath they've added in better lighting, support for physically based rendering, and far more advanced AI. That's key to having a better Hitman-esque experience, where the world around you can react more naturally to what you're doing. No longer can you simply do anything that looks suspicious in real-life, the consequences are more thoroughly mirrored inside the game. Better AI is the backbone of making the sandbox experience something special and challenging. It also makes one massive level replayable for weeks on end.
For this game, the developers have said they wanted this to be an overarching and massive experience. "Our aim is to create living, breathing and believable levels which will allow gamers to play around with the AI to create those unique moments every fan of the Hitman franchise loves."
They've also included DirectX 12 as a low-level API option, letting you take advantage of more CPU cores to help power the more advanced and very intelligent AI engine. Square Enix and IO Interactive have been able to offload several key processes to compute allowing for a faster rendering experience for asynchronous enabled GPUs.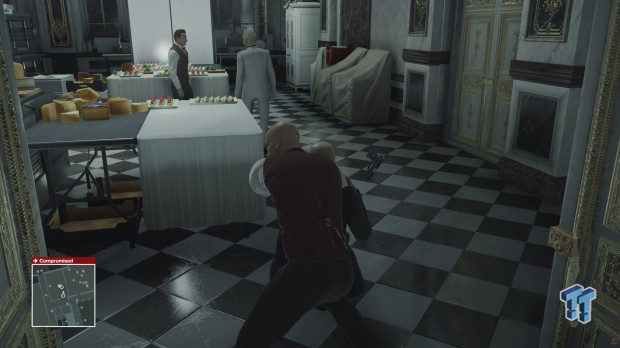 The whole thing is "node-based", meaning everything is potentially interconnected in some underlying way. Also, it's very capable of procedural generation, or in the case that we see here, procedural destruction. Unfortunately, for now, it's only a DirectX 11 based engine, so it can't take advantage of the low-level control offered by DX12 or Vulkan.
Jeff's Video Game Benchmark Setup
Performance at 1080p, 1440p, & 4K, and Final Thoughts
Don't forget to bring a towel
Hitman has an internal benchmark that runs on both DX11 and DX12. This relieves the odd predicament of not having a proper FPS overlay capable of recording, or showing what your framerate actually is. The benchmark goes through various scenes that you'll find within the showstopper mission, with a tremendous amount of people wandering around the rather large mansion in Paris that the fashion show is taking place at. The character models and animations and the physics are upgraded and immediately noticeable. The textures on some of the common items lying around the mansion, on the other hand, seem to be a step back.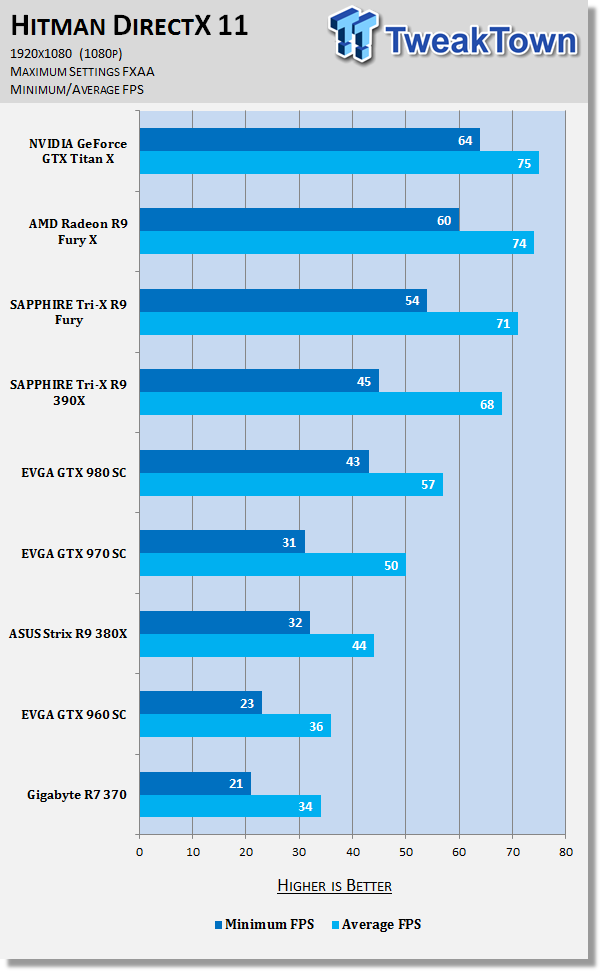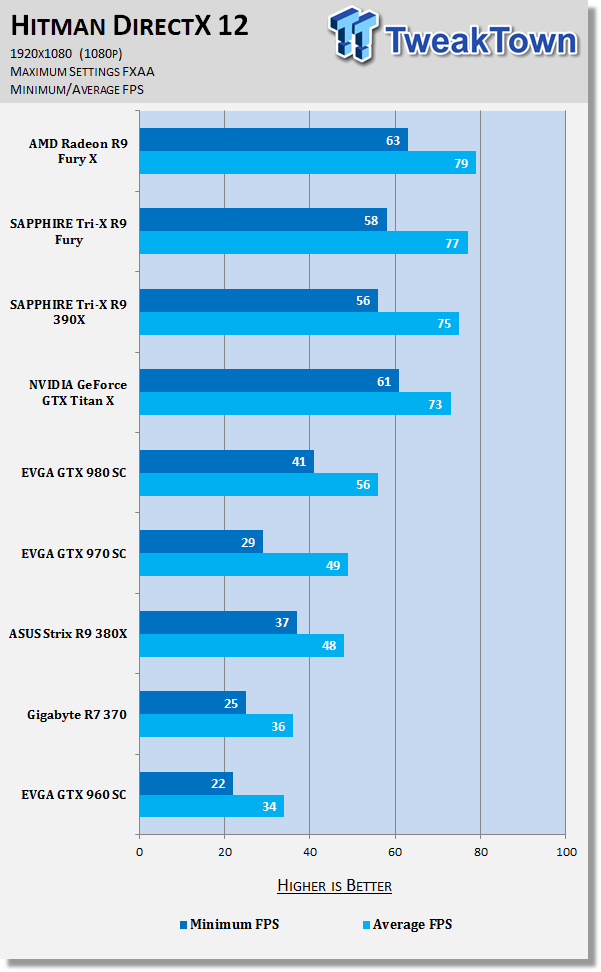 Despite the lower overall resolution, the textures are still brilliant, and the character models have quite a few polygons, making them very good looking. Agent 47's head itself is rather marvelous. Performance-wise we see something remarkable. AMD GCN-based cards have a small yet statistically significant increase in FPS when switching to DX12, enough to place even the R9 390X ahead of the Titan X. All NVIDIA cards suffer a decrease, likely due to a lack of proper context switching when moving from render to compute. The performance decrease among NVIDIA cards is lessened as we move down the line. The GTX 960 isn't quite able to play at this resolution anyway, and thus the performance hit of all the effects is similar.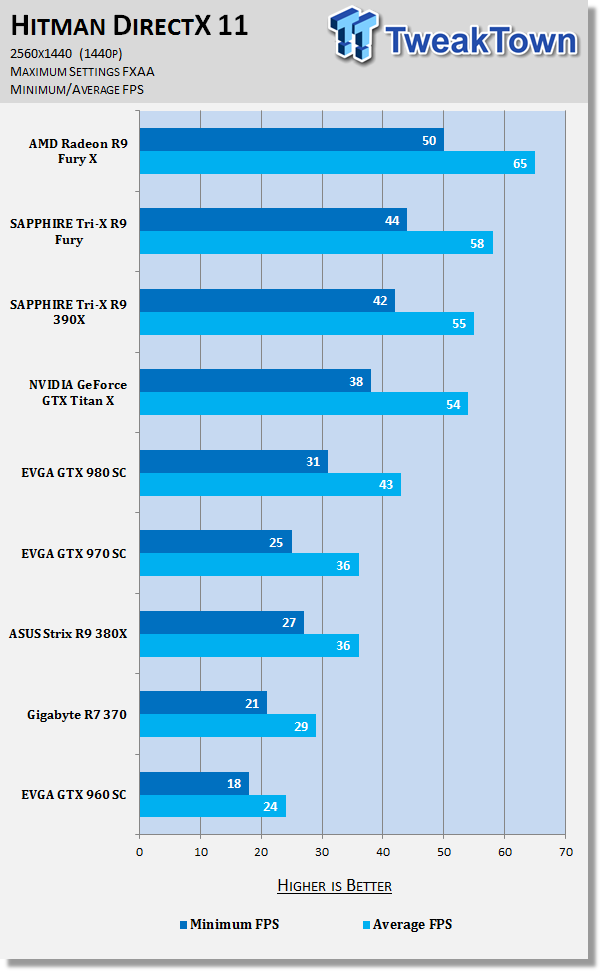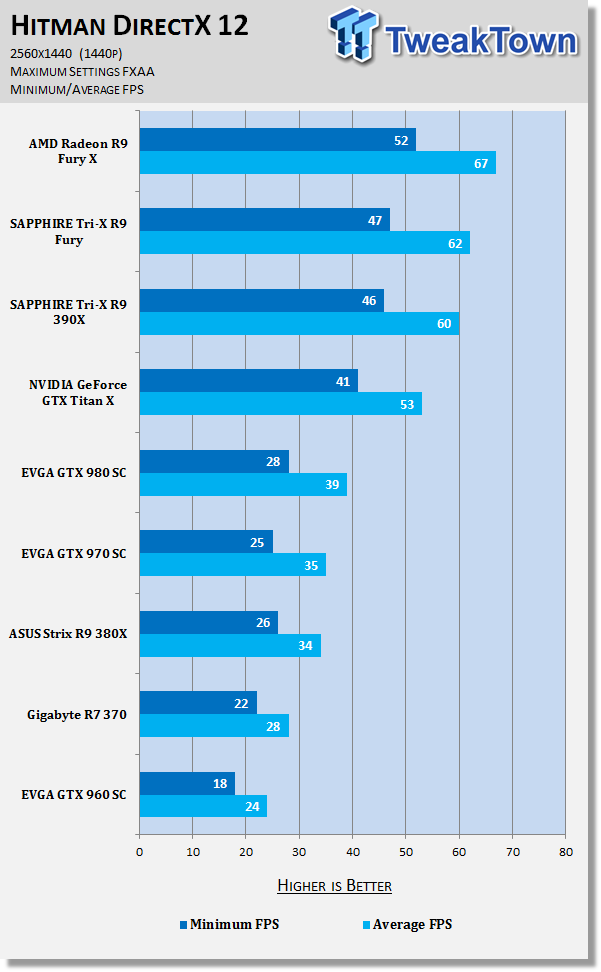 1440p shares a similar story though here we see that even the 390X is faster than the Titan X in DX11. The performance increase for AMD cards is actually rather significant with 5FPS more for the 390X and 4 for the R9 Fury. It may not seem like much at the moment, but we're still in the early days of being able to optimize properly for DirectX 12 and ensuring that any tasks that could be favorably done in compute are made that way. For NVIDIA, a 980 Ti is the lowest tier card. AMD is heavily favored and runs very well here.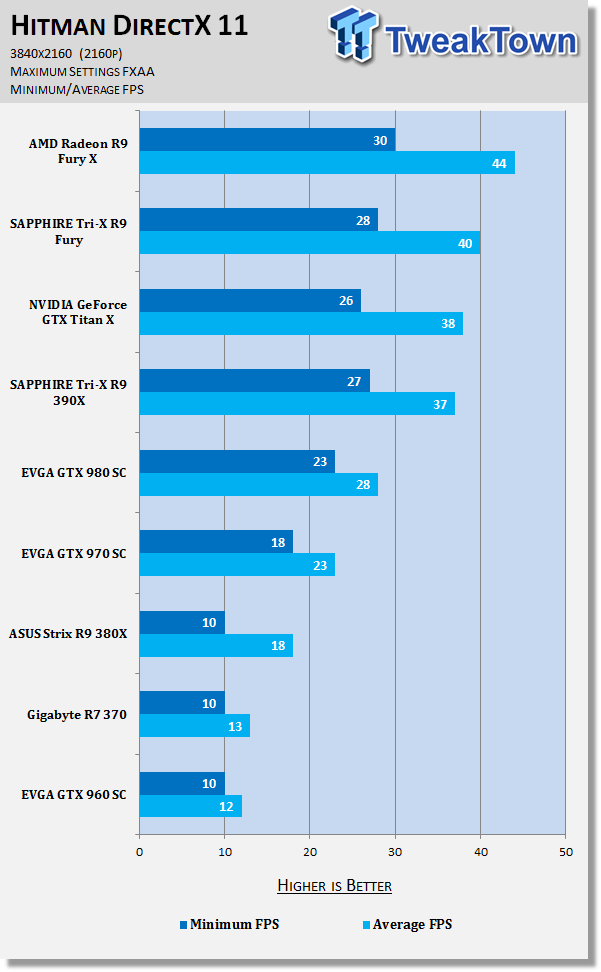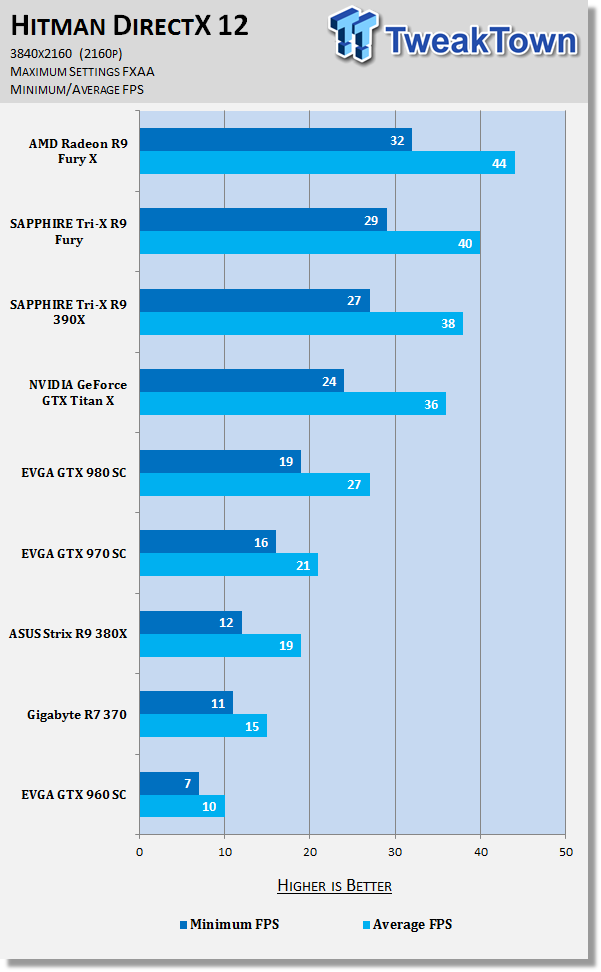 4K for this game looks quite amazing. The textures are large and detailed enough to really stand out. Some tertiary items aren't quite as detailed, but it doesn't break immersion if you're concentrating on not getting caught and completing your mission. It seems that performance here is quite stable. There was a bit of stuttering that happened at the beginning with all cards, but I think that was due to some other I/O issues.
As for the results, it's odd that three different benchmarks ended up with an averaged average framerate that's similar across DX12 and DX11. What we do see is an increase in the minimum, meaning that even the most strenuous scenes are benefited by DX12. Again, AMD is preferred in the top-end, and even a 390X is capable of 4K at a "cinematic" framerate. With the low being higher, it actually doesn't stutter like you'd think. It's "smooth" despite being lower than most people enjoy. If you're sensitive to framerate, then it might not work, but if not, it's playable. One Fury X absolutely destroys 4K and asks for more.
Final Thoughts
Hitman is an exploratory lesson in how to properly implement DirectX 12 into a game in these early stages of the API. It isn't perfect, but offloading a good portion of the special effects work onto the compute queue we can see a startlingly large relative increase in performance for AMD's cards which have a hardware scheduler capable of fully taking advantage of asynchronous compute. The speedup is real here.
Unfortunately, NVIDIA actually struggles. Due to the difficulty in context-switching with Maxwell, there's actually a performance drop as it's not able to change quickly enough. Using CUDA and their proprietary GameWorks could solve that, actually, as that would allow both queues to be used at the same time. But with DX12, and in Hitman, that isn't the case, and it isn't used, so NVIDIA cards perform worse in DirectX 12.
We can conclude from this that if you'd like to play at the maximum playable settings at 4K resolution, then you'll want an AMD card of an R9 390X or above. If, however, a lower resolution is being used or you'd like to turn-off some of the effects, then a GTX 970 is suitable at 1080p while a 980 and above are needed for maximum fidelity at higher resolutions.
Be sure to let us know how your system runs both in-game and with the built-in benchmark! Don't forget to take a look at how Hitman's graphics are affected with various settings in our guide which was posted earlier today.