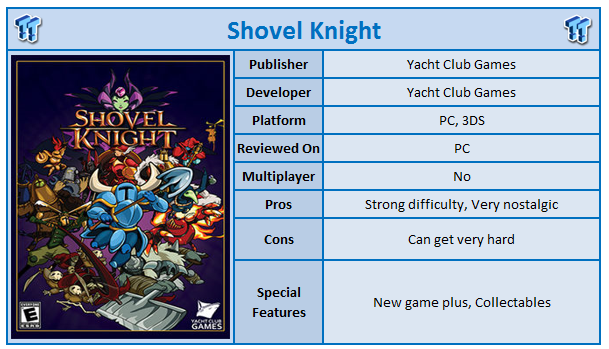 Ever since Double Fine proved that Kickstarter could be used for funding games with its title Broken Age, there has been a rash of game ideas hit the crowd funding service. Some have turned out to be major successes, whilst others have seen gamers lose their money in projects that never come to fruition.
Shovel Knight is a game that was pitched on Kickstarter as a return to the 8-bit era that many of us remember from our childhood. Shovel Knight was a game that promised to bring back the tough difficulty level, visuals and unforgiving gameplay that some 8-bit games were known for. Amazingly, they have pulled it off, and despite it being the year 2014, Shovel Knight is one of the most impressive games we have played so far this year.
Shovel Knight tells the story of two knights who are the best of friends. Shovel Knight and Shield Knight are pals seeking out treasure only for Shield Knight to be captured and imprisoned. Shield Knight decides to give up adventuring and pine for his friend until the world they live in becomes taken over by the Enchantress. Shovel Knight vows to rid the world of the Enchantress and to finally rescue his best friend, the Shield Knight.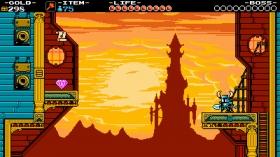 If you think the plot sounds fairly cliche, that's because it is - and it is intentional. This is a game that has 8-bit styles through and through with no voice acting, lengthy cut scenes or complex controls to be found. Instead, the challenge of the game is found from the difficulty of dispatching enemies and the many jumping challenges. Yacht Club Games has regularly referenced games like Megaman as inspiration, and it's not hard to see that when you play it.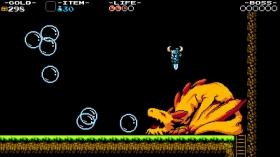 Shovel Knight at its heart is a platform game. The basic aim is to traverse the world, remain alive, and beat the eight boss characters. Shovel Knight is not a game that you can brute force and win. Instead, this is very much a game where you have to learn how each level and enemy is structured. It is highly unlikely that you will beat the boss characters the first time you encounter them, and instead, you have to learn how they move and their patterns, so to speak. If you have not played 8-bit games in the past, this will probably be more frustrating for you, but for those who can remember the old times, you will likely really fall in love with this game.
Aside from challenging bosses, Shovel Knight also has challenging jumping sections, which again leads us back to a comparison with Megaman. It's the kind of the game that makes you want to smash the keyboard in frustration, and storm away, only to return about half an hour later to try again. It has that addictive challenge which kept people glued to NES consoles for hours on end, trying to beat that last challenge. Shovel Knight attacks with his, as you would have guessed, shovel. This shovel can is also used like a pogo stick to bounce around quicker than the regular movement.
The over world of the game reminds us a lot of Super Mario Brothers 3. Shovel Knight travels between each level, and every so often, can visit a town to stock up on goods or return secret items that have been found. At these towns, you can also spend money gained to upgrade Shovel Knight. These upgrades go beyond health and magic, with the ability to gain new ways to use the knight's shovel also present. Keeping the funds to buy these upgrades can be challenging with each death leaving the knight with nothing, until you return to claim it back at the point of death. Again, it's very much like a particular other popular game released in 2014.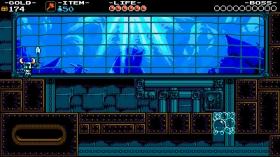 Shovel Knight is very much a game that once you complete it the first time around, you have actually not completed it. There is so much to find and do in this world beyond the main story, and unlike a lot of games, the collectable items are quite interesting. In its own way for achievements, the game also features feats, which are basically challenges for you to complete. The length of the game is already decent, especially when you take into account how difficult the game is, but with the addition of these extras, it really will have you coming back for more time and time again.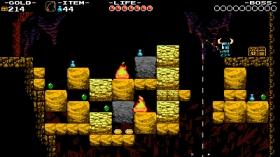 Visually, the game represents the era it is trying to replicate incredibly well. Also because of this, the system requirements for Shovel Knight are not on the high side, so those of you with weaker PCs can even enjoy this title at its best graphics. The animations of the Shovel Knight and enemy characters are extremely well done, and although the game does not feature voice acting, it does have a very strong chiptune style soundtrack to accompany it, which again represents the NES era very well.
Shovel Knight is a game that may have started as a Kickstarter, but is one that is sure to go down as one of the best games of 2014. This is a game that taps into nostalgia so perfectly that anyone who played a NES system for even five minutes back in the day will recognize the style that Yacht Club Games has brought to the genre. Everything old is new again with Shovel Knight, and that's not a bad thing. If YCG can apply this thinking to even more 8-bit style games, we just might see the renaissance, which that era of gaming deserves. This, quite frankly, is a must-play game!