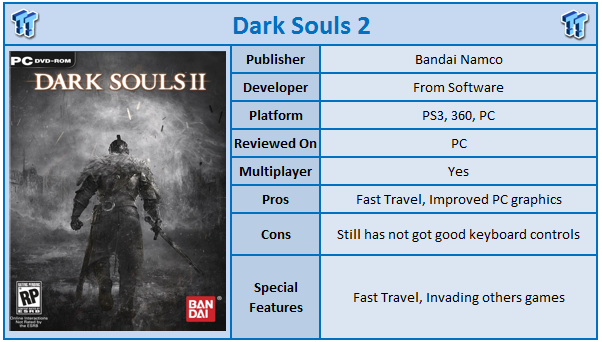 To say that Dark Souls has become somewhat of a cult classic is a complete understatement. First released on the consoles, Dark Souls was ported to the PC later and with a little help from dedicated modders, became the premier version. In some ways, it's hard to see why Dark Souls is such a popular series. An incredibly hard game that has no problem at humiliating the player over and over again and one that can be brutally frustrating. In an age where games are becoming easier and easier, Dark Souls is the 'fight' against the institution so to speak - one that takes us back over a decade or more to when games had no qualms about slamming you down over and over again.
Dark Souls 2 continues this on the PC only this time with a much improved interface, better graphics and just a generally better experience than last time. It also helps that DS2 is better than its predecessor everywhere that it matters most.
Dark Souls 2 in terms of the story is not a direct sequel to the original game with the main character from DS2 in a much worse condition in the initial stages compared to DS1. You play either a male or female character, afflicted with a curse, which you are trying to rid yourself of throughout the game. The game is set in the same world as the original title, but with starting a character from scratch and possibly even a different sex to the last game, it makes sense that this title is encapsulated in its own storyline. Though, to be honest, the story isn't why you come to play this game - the brutal action is.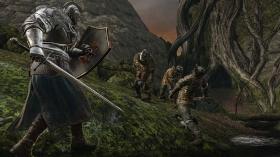 And that returns in spades. Dark Souls 2 is a game that lulls you into a sense of familiarity before slamming you over and over again and the punishment for death is a tad harsher than last time around. As your character inevitably succumbs to the creatures of this world (including general henchman like characters who pose quite a challenge early on), you will be punished for it progressively by losing maximum health. This poses a challenge in that you can really not just go into battle fight after fight hoping to win. You really need to think the strategy out.
However, to help with this, the developers made some key changes to the game that vastly improve it in our opinion. First of all, as you find and 'unlock' bonfires, you are able to fast travel between each one. This comes with a major change though and that is you can only level your character up at one particular part of the game world, Majula, always returning to the same character to do so. Some of the bonfires are hidden quite well, so it's not exactly the press X to win you might be thinking of, especially when farming of enemies is very much discouraged this time around.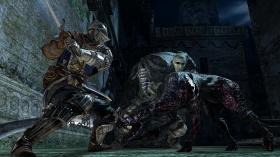 As you play through the game, if you find a good spot to gain lots of souls, then you can no longer rely on it to give you infinite amounts of souls. Enemy numbers will begin to dwindle, urging you to push onto other areas of the game. There is no doubt ways to 'break' this game and give yourself an easier time, but farming souls is more difficult this time around. There has also been changes to the health system with the Estus Flask not given to you by default and also not the only way to regain health.
Aside from this, the core gameplay remains the same. Dark Souls has always been about timing and it is no different in Dark Souls 2. Once you begin an attack, you have to wait for the animation to finish before progressing to your next move, frequently leaving your character open to attack if you attack early or late, but it is this challenge which makes Dark Souls such an addicting experience. Despite being pummelled into the ground over and over again in DS2, you will want to come back for more just to say you have beaten it, and this time around you will have certainly earned the achievement which unlocks for doing so.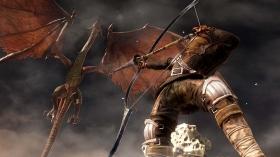 This time around the number of boss characters has significantly increased. It seems like once you traverse the first white light that you are almost bombarded with boss level characters until the end of the game. It's pretty clear where From Software think the popularity of Dark Souls comes from. The bosses also range significantly and require a different strategy (as well as a fairly decent character) to defeat. One such example is a boss where you enter their lair and they are tiny before slowly expanding to the behemoth monsters you have come to expect. Some of the boss characters are optional, but even with those, you will fight many more mandatory boss characters before ending this tale of curse.
Last time around the PC got a bit of a dog deal with Dark Souls. Not many configuration options were present, and it was up the community to put options in that really should have been there from the start. This time around, however, it's a completely different story, and whilst some might be disappointed at the graphical fidelity on display, you have to remember this is a game primarily designed for what is now an almost obsolete console generation.
That said, the game looks stunning at some points especially in dimly lit areas and the boss characters are also impressive. Perhaps the best reason to grab the PC version is the improved frame rate. With the console versions suffering sometimes with slowdown, it's no surprise the PC tends to get through this one with ease - as long as you have a fairly decent PC rig.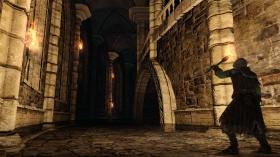 Dark Souls 2 continues on what made Dark Souls such a classic hit and has made changes that whilst ensuring those new to the series should be able to have an easier time with it, does not ruin what makes Dark Souls what it is - one of the most brutal games around! It's a lengthy game that even a seasoned pro will take a while to get through, and the addition of fast travel has made the game just that little bit more easier to take when it keeps continuously beating your character down over and over. The improved PC edition this time around also makes the PC version THE version to pick up - a huge improvement over the original game!
PRICING: You can find the Dark Souls 2 PC for sale below. The prices listed are valid at the time of writing but can change at any time. Click the link to see the very latest pricing for the best deal.
United States: The Dark Souls 2 PC retails for $109.99 at Amazon.
Canada: The Dark Souls 2 PC retails for CDN$119.99 at Amazon Canada.
Australia: The Dark Souls 2 PC retails for $59.99 AUD at Mighty Ape Australia.
New Zealand: The Dark Souls 2 PC retails for $89.99 NZD at Mighty Ape NZ.