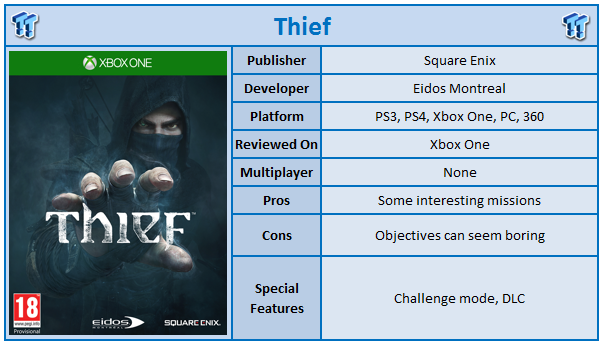 When Looking Glass Studios closed down citing piracy of its games as the main reason it was having to close, you couldn't help but see the irony. Here was a studio that had built a stunning game series based on a Thief that was having to close because too many people wouldn't pay for their games. It was a sad tale of a developer that couldn't cope in the days before Steam and others helped reduce rates of piracy.
It's been ten years since Ion Storm, with the help of Microsoft, attempted to reboot the Thief franchise. Here we are again in 2014 looking at another reboot. Only this time, it's the studio behind another recent reboot, that of Deus Ex.
The storyline finds you as Garret returning to your hometown only to find it's being run as a dictatorship by a baron whom becomes your main enemy. The story weaves a tale of finding old friends, gaining new ones, and ultimately trying to liberate the town, but unfortunately it turns out to most of the time be an unhinged mess. Every so often, the game will show sparks of brilliance in its story only to be let down by a lengthy hub sequence, a poor puzzle, or writing that just plain doesn't seem to fit the universe.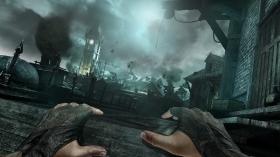 Thief is a stealth action game played from the first person (although occasionally jumping to the third person perspective) where the aim is to sneak around a large open world with as much stealth as possible while completing objectives that are given to you. Those objectives can be as basic as reaching an area to stealing an item from a character, hopefully without having to resort to violence.
Taking its cue from recent stealth games like Dishonored (though to be fair, Dishonored took some cues from Thief amongst other games), Thief is a game that allows you to play how you wish to. Of course, going in guns blazing generally gets you killed and makes things more difficult for Garret, but there is no real game mechanic to stop you from doing just that.
Setting off alarms increases enemy presence, but there is no limit to how many you can set off in each level. As you progress through the game, it is more likely you will set off alarms because the ways to do so increase. Birds can squawk, you can accidentally step on broken glass, and, of course, sometimes you just stumble into a well-lit area when an enemy appears.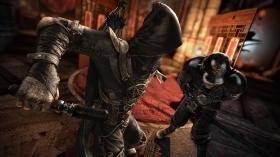 Though as expected, Thief is at its best when you are playing in a stealthy manner. There is a certain level of satisfaction the game eschews when you complete a level with the minimal violence required. The game also rewards you handsomely for doing so, and, given how poor the AI can be, it's not that difficult to complete most missions via stealth. If you want to play the game properly, you can pick up bottles amongst other things to create distractions or blow out candles, but in reality just sticking to the shadows (even right next to an AI character) is enough to keep Garret safe.
At its core, Thief has a pretty solid game play, but it's when you look at the other layers (story, mission objectives) that you discover Thief's main problems. The first problem is the storyline, which gets pretty ridiculous about halfway through and doesn't really flow well at all. This leads to the objectives, which, whilst interesting, do not use the game world that Eidos Montreal has created to the full extent it could be.
For example, in one mission, you are placed inside a brothel. Instead of sneaking about trying to hook a key off a guard, you have to find a secret entrance via a safe. Another example is where you have to find a special key to open doors. Again, instead of it being on a person, it's just in a simple box near the door that needs its lock picked. These are just a few examples of where the game does not reach its full potential.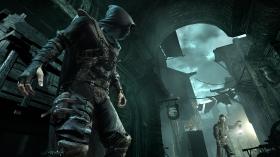 However, our biggest gripe with the game is the open world hub that you visit between missions. For most missions to actually get into the main meat of the mission, this is the process: Leave Garret's hideout, find another location to get the mission, see a man about getting new weapons and items before finally heading off to the location of the mission. The hub world just breaks up the game too much, and it can be incredibly frustrating when you are unable to find the location you are looking for.
Visually, Thief is also a slight disappointment on the Xbox One. It most certainly is improved over its 360 counterpart, but it would have been nice to see a higher level of graphics in some areas. The game also suffers from frame rate problems occasionally but not enough for it to become detrimental to the experience. One of the most frustrating things we experienced with the presentation was the soundtrack playing over people talking during cut scenes. We checked that our settings were not incorrect and that indeed was not the case.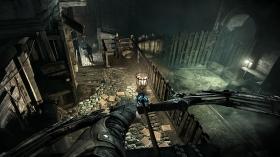 Thief is a game that could have been so much more but never quite reached the high level that some of its predecessors did. There is clearly a much better game trying to break out of its shackles, and you can see that from some of the intricate design found in the game. However, the writing and objectives really let the game down and that makes it hard to say it is a must play.
As a new console owner, Thief might keep you entertained for the eight or so hours it takes to run through, but it's not a memorable experience and is very by the numbers.
PRICING: You can find Thief on Xbox One for sale below. The prices listed are valid at the time of writing but can change at any time. Click the link to see the very latest pricing for the best deal.
United States: Thief on Xbox One retails for $59.96 at Amazon.
Canada: Thief on Xbox One retails for CDN$48.99 at Amazon Canada.
Australia: Thief on Xbox One retails for $69.99 AUD at Mighty Ape Australia.
New Zealand: Thief on Xbox One retails for $99.99 NZD at Mighty Ape NZ.