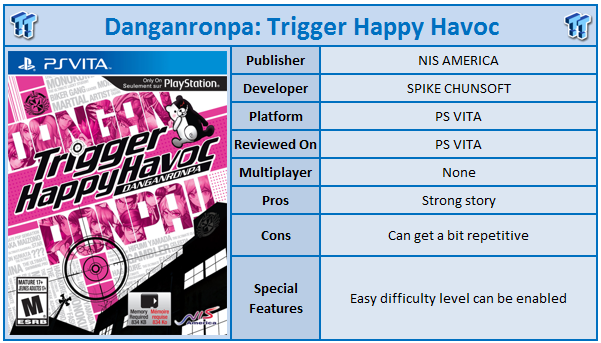 In the West, Visual Novels have somewhat had an unfair reputation of not being the most interesting games around. Huge in Japan, these titles have tended to remain on the eastern shores rather than coming over, and that has been a great shame. Games like Phoenix Wright and Professor Layton show that visual novels focusing on puzzle solving and story can work very well, and we can now add another series to that list: Danganronpa. A port of a PSP game on VITA may seem like a cheap and nasty way to get a game on the system, but the developers have put a huge amount of effort into this port, and Trigger Happy Havoc is yet more proof that the visual novel can appeal to the west.
Trigger Happy Havoc begins with fifteen students being picked to attend the Hopes Peak College in Japan. Hopes Peak has a reputation of producing graduates that are set for life with strong careers and incredible minds. Acting as an invite only college, it attracts the best of the best, or as the game terms it, "the ultimate's of each field such as programming, baseball, and martial arts, for example." However, all is not well at Hopes Peak, and, as you will discover, this is not a place to be messed with.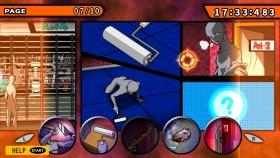 With the story being so crucial to the success of a visual novel, it should be of no surprise that Trigger Happy Havoc's story is one of the most incredibly well put together stories we have ever played. This is the kind of writing we'd love to see in every game where every intricate detail and shock seems to have been timed to the perfect moment. The story focuses on the psychological profile of human beings and what can drive them to do things they normally wouldn't. The students become trapped in Hopes Peak with only one way of ever getting out: killing one of their follow students and getting away with it.
There are three main components to the game: daily life, investigation, and class trial. Each has its own individual gameplay. For example, in Daily Life, you will often be given free time where you can go hang out with other characters and build relationships, a bit like a dating simulator. Whilst in investigation, after one of the characters inevitably meets their demise, it is up to you to search the school and find the evidence required to convict who ever committed the murder.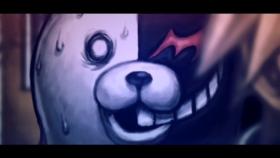 And finally, you are taken to a class trial where you must individually prove who committed the crime. This is where one of the major differences between other games of this ilk (Phoenix Wright, etc.) comes to the fore and that is the dark nature of this story. If you as the player fail to correctly identify the killer, they are let go and everyone else is murdered by Monokuma. Get the killer correct and everyone lives another day, just to probably kill each other anyway. As you make mistakes during the trial, you lose 'health' and, if that all disappears, the other characters no longer trust you and the trial ends, poorly.
Generally, the gameplay is moving around the school into various areas and finding clues, but, in the class trial, you will be tasked with a non-stop debate (finding holes in peoples testimonies and shooting them with an evidence bullet), hangman (finding the key clue in a hangman style game), and a Dance Dance Revolution style rhythm game to take a character down to their final statement. This mixes the gameplay up just enough to keep you from getting bored reading text.
One of the most impressive facets of this game is definitely the writing. This is a game where you will be shocked, perhaps to the point of having a jaw dropped. The writers behind this game really have crafted an incredible tale of despair and false hope. This is a game that is not afraid to change things up and display some of the most sadistic things you will see in a video game. This is a very mature game and one that doesn't treat its audience like children.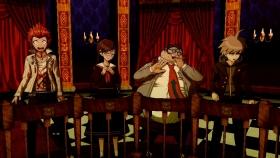 If you tend to steer away from these games because of difficulty, then you should still be able to play this easily. The game contains difficulty levels for the class trials and can be changed to the point where the game almost plays itself (automatically choosing the right evidence etc.), but, on the flipside, if you enjoy a challenge, turning the options to the max will give you quite a challenge and implement stringent time limits on choosing answers.
Although this game was originally released on PSP in Japan, the developers have put a huge effort into bringing it up to speed for the VITA and have succeeded. Where the PSP had some blurry cartoon style imagery, the VITA adds a higher level of fidelity, and it's clearly running at a higher resolution. It looks gorgeous on the VITA's widescreen. One area where the graphics could potentially have been improved is when moving around the school. This is a little disappointing compared to the other visuals. The voice acting needs a bit of work, as well. Not all the text is voice acted, but it just seems to randomly have the characters speak and say things like 'no'. It works, but, considering all of the Japanese release is voiced, this is disappointing.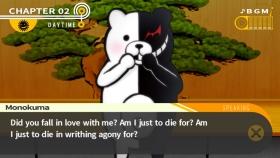 Danganronpa: Trigger Happy Havoc has been a huge hit in Japan, and now the western VITA owners get to enjoy it. If you love a good Phoenix Wright game, then this is going to be right up your alley. Where Phoenix tends to be a game for most ages, Trigger Happy Havoc most definitely is not. This is a game that isn't afraid to treat its audience like adults, and that makes it a grand success.
PRICING: You can find Danganronpa: Trigger Happy Havoc for sale below. The prices listed are valid at the time of writing, but can change at any time. Click the link to see the very latest pricing for the best deal.
United States: Danganronpa: Trigger Happy Havoc retails for $39.96 at Amazon.
Canada: Danganronpa: Trigger Happy Havoc retails for CDN$39.99 at Amazon Canada.