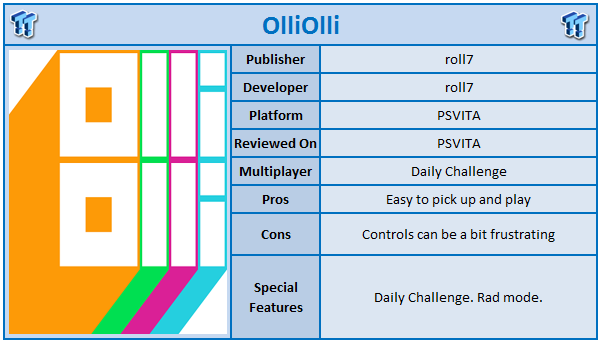 There was a time when skateboarding games were massive. Tony Hawk was his name, and video gaming is where he really came to prominence globally amongst those who enjoy skateboarding and gaming. Activision had a massive winner on its hands and for a few years skateboarding games sold millions. Then it all went wrong and people moved on. Recently, we haven't had many attempts in this genre, but Olli Olli is trying to do just that.
The PS VITA has become a system that independent developers love, and gamers love indie games on the platform, and so it seemed Olli Olli was the perfect match. Turns out, that was right.
Olli Olli is a game that takes the sport of skateboarding and tries to emulate it on the VITA. There are two primary game modes: a mode where you progress through significantly harder levels and the daily challenge. The daily challenge is fantastic and keeps bringing you back to the game long after you have completed the lengthy campaign. You can practice as much as you want on the daily run, but once you decide to take the challenge on you only get one chance. The pressure is intense and some of the levels are savagely difficult.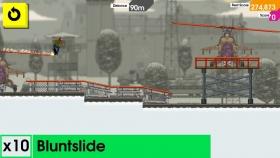 Aside from the daily, the other mode is a campaign style mode where you complete tasks to score points. The main aim of each level is to reach the end (which often is harder than it may sound), which will subsequently unlock the next level. However, in each level, there are a number of challenges to complete (such as finish a level without skating on the ground), and if you complete enough of these, a 'rad' mode that is smashingly difficult is unlocked.
Where this game really excels is its use of the PS VITA controls. Whilst the game does not use some of the more advanced features like the rear touchpad, it does have a unique control system that fits into the skateboarding world well. Instead of just tapping a button to skate, you instead use the stick or DPAD with the face buttons acting as modifiers. To jump, you simply move the stick down and the character will jump allowing you to perform tricks whilst in the area.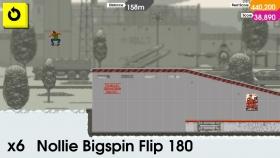 Where you get the most satisfaction, though, is combining moves into combos that build up in a multiplier. However, to say this is easily achieved is a lie, with the controls offering tight gameplay but also some frustrating moments. When you first start Olli Olli, you will want to smash the system because the controls will feel that bad, but over time as you become accustomed to them, you start to see what the developer was aiming at.
This is also not a game you can pick up and play daily and have success right away. It takes around ten or so minutes of gameplay to become accustomed to the controls again and whilst this could be seen as a negative, with Olli Olli it just seems to fit so well.
Like real skateboarding, Olli Olli is all about timing and how you land each trick is based on the timing of the button presses and your use of the controls. This gives the game a real flow where instead of just bashing buttons you need to really think about where the character is on screen and when you should be pressing. The game gives feedback about how well you did and bad timing leads to the character tripping up. There are 250 tricks to master in the game and they are found in the trick book.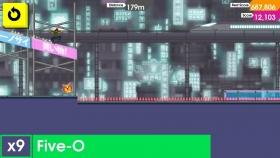 The real reason why Olli Olli is a massive success is the structure of the restart system. At any point, you can tap a button and the level will restart right away. There is no real chance of you getting frustrated during a loading screen and putting the VITA down because it's right back into the action. This leads you to spending far more time on this game than you may have wanted to, and on a commute you just may miss your stop.
The rest of Olli Olli is impressive, but without this ease of restart the game would not have been as successful as it is. One criticism we do have of the game is that the tutorial is not as good as we may have liked it to be. It does the job, but the real way to learn this game is to get into the main modes and start making mistakes to learn from.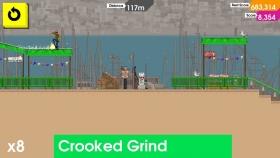 On the visuals side, Olli Olli uses an eight-bit style that really suits the game. Instead of focusing on pretty graphics, you are instead focusing on the controls and gameplay, which has allowed the developers to put the high level of difficulty into the game.
There will be times where you will just make a mistake and face plant and that can be due to watching the graphics more than the skater. That's not to say Olli Olli is a poor looking game, but it certainly isn't a game that's pushing the VITA system to the limit.
Olli Olli is a game that somewhat came out of nowhere (like many VITA games) and really impresses. The handheld system is starting to get some really good games now, and Olli Olli has just continued this. It's been a while since we saw a truly fantastic skating game on any platform, but Olli Olli may just have the goods to spark a revival of this once powerful genre.