Titanfall Xbox One Hands-On Preview - Contender for Game of the Year?
Titanfall is Microsoft's biggest hope for the Xbox One in early 2014. Thankfully for them, it's looking like one of 2014's best games.
Published
4 minute read time

When Vince Zampella and crew left Infinity Ward in acrimonious circumstances, it was not known what was going to happen. The man that helped build Call of Duty, one of the premier video game franchises, had been walked by Activision, according to unconfirmed reports. However, it is clear now looking back that this seemed like an opportunity, and without these events we probably wouldn't have Titanfall. Titanfall is a game that has been flagged as the biggest hope for the Xbox One console, and a game that could change the FPS genre. Having now played it, we do have to wonder if Activision will begin to regret not letting the team work on something new because this game is shaping up to be a cracker.
To call Titanfall "Call of Duty with mechs" would be a discount to the huge amount of work that Respawn Entertainment has clearly put in to fix many of the problems that gamers felt were issues with the FPS genre in the last few years. There is no doubt that a huge amount of thought has been put into the balancing and gameplay systems of Titanfall, and it shows. This is a game that can not only be enjoyed by the hard core fan that plays for hours each day, but also one that casual fans can get involved with and do well, and it's all because of some key gameplay decisions Respawn made.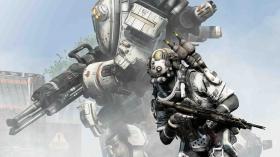 The current beta we've been playing has given us access to two maps and a few of the titan classes and options that will be in the final game. Even though this is only a taste test of what will be on offer come March, it is clear that this game is right on track to be one of the best of the year. We have to admit that, in general, we haven't been the biggest fans of Call of Duty multiplayer, and you would have seen that reflected in our reviews where we commented that the biggest issue with the game is that new players get absolutely hammered by those who have the time to spend hours on end in COD. Titanfall looks to have fixed this in a few ways.
The thing about Titanfall is that even if you are not the most skilled player around you can feel like you are achieving something and helping the team out. Each team has a number of AI players that have little skill but contribute to your scores to boost the XP meter. You also gain experience for assisting with kills, so if you get a slight shot off and then someone kills the pilot, you will gain experience. Almost everything you do gains experience, and this is where one of the first key features is found: challenges.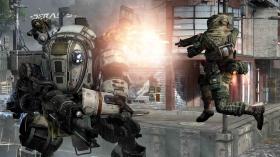 Challenges are something for individual players to achieve as they play the game. These challenges definitely reward you for trying different options. As you use different weapons for periods of time, you can unlock and complete challenges that contribute significant experience points to your persistent character. The challenges are easy to see, as well, with the game showing you after each round which you are close to completing, allowing you to target a challenge in the next round.
The other major feature is, of course, the Titans, but this is not simply run and find a Titan like Battlefield. Instead, you must earn them. Each player begins with a build time of around four minutes to get a Titan, but as you contribute to your team, such as taking out other pilots, that build time will lower and you get a Titan quicker. The Titans also help with playing against very skilled players.
Even the best FPS player will struggle against a fully loaded Titan from a new player and this gives a feeling that you are really contributing to the team, even if you are not the best player. Some people have commented they feel this is dumbing down the genre, but, in my opinion, these are major changes well overdue because some people don't have the time to invest into lengthy game time. Hopefully the final version doesn't break this balance because right now it's almost perfect.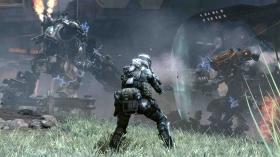 Finally, as you play the game, you will earn burn cards. These feel somewhat like the perks of Call of Duty, except they can be used in any round. You gain them and hold a deck. Before each round, you can choose up to three burn cards to take with you into the battle, and these are rewarded for skilful kills or helping the team out. Again, these really give you an edge on some of the more seasoned players.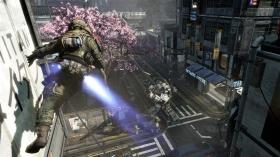 The actual gameplay feels new and fresh, as well, and that is because instead of just running after characters of the same size and stature, you can run around the corner and all of a sudden be confronted by a gigantic Titan. The best idea at that point is to run, but the game does reward you significantly for taking on a Titan as a pilot. Some of the best gameplay moments in the beta were found when multiple Titans were just unloading on each other with huge explosions going off everywhere. Three modes were on offer: Attrition (team deathmatch), Last Titan Standing (everyone starts in a Titan), and a mode that tasks you with holding points on the map as a team.
Titanfall is looking like it's going to be a cracking game. We were quite interested in the game and our chance to play it before the beta, but, after the beta, this is now one of our most anticipated. The beta only offered a small portion of what the final game will offer, and with the rumors now floating about of monsters being included and up to fourteen maps, we feel like we've only touched the tip of the iceberg. If you have an Xbox One or PC, you really should be keeping an eye on this one.
PRICING: You can find products similar to this one for sale below.

United States: Find other tech and computer products like this over at Amazon.com

United Kingdom: Find other tech and computer products like this over at Amazon.co.uk

Australia: Find other tech and computer products like this over at Amazon.com.au

Canada: Find other tech and computer products like this over at Amazon.ca

Deutschland: Finde andere Technik- und Computerprodukte wie dieses auf Amazon.de
We openly invite the companies who provide us with review samples / who are mentioned or discussed to express their opinion. If any company representative wishes to respond, we will publish the response here. Please contact us if you wish to respond.