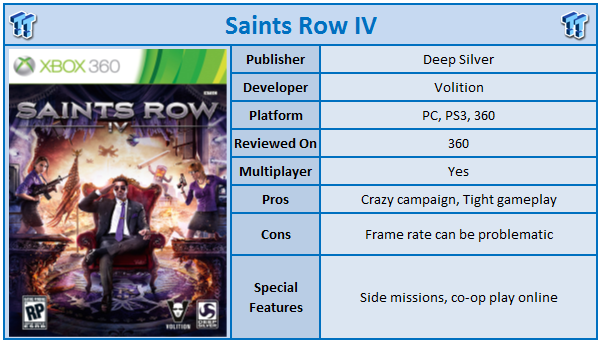 For many years, Saints Row lived in the shadows of Grand Theft Auto and in many ways Volition originally misread what made GTA such a popular game. It wasn't the humor in general or the story, it was more the ways you could craft your own story within the worlds that Rockstar offered. Missions like throwing poo all over a house in Saints Row 1 never really resonated, and it wasn't until the third game Volition really hit its stride. Now we have the sequel to one of 2011's best games, but there has been a few caveats that worried us. First it started as an expansion pack to Saints Row III, then a standalone expansion and finally a full-fledged sequel. In some ways our worries turned out to be right, but it's still a fairly solid package.
The storyline picks up after the ending of Saints Row III. The saints manufacturing machine rolls on and they become even more popular, so much so the leader (who you play) becomes the President of the United States. After ascending to the most powerful position in the free world, the globe is subjected to a surprise Alien attack and earth falls and is obliterated. It is up to you as the POTUS to rewrite history and try and save earth once and for all.
In terms of the core gameplay, not much has changed since Saints Row III. The game is still mission based in an open world and with the story progressing as you complete missions. What thankfully also hasn't changed is the Saints Row series penchant for unique humor. The characters are as witty and funny as ever, and the game just rolls on. Hours turn to minutes when playing through the campaign as the story becomes crazier by the minute.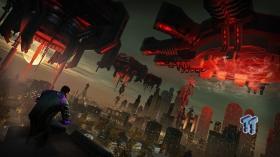 The missions themselves are serviceable, even if there are no really standout moments that get etched in the mind like Saints Row III. You can tell this was originally meant to be an expansion pack because the world, aside from the aliens, really hasn't changed all that much. In fact, take the aliens away, and you pretty much are back in Saints Row III. Whether that is a problem for you comes down to whether you had your fill with Saints Row III or you felt like you needed more. A major disappointment is that the game really doesn't at all take advantage of the fact you play as the POTUS and that is almost forgotten after the opening of the game.
Tasks on offer are sometimes run of the mill, but sometimes out and out crazy and many push the 360 console to its absolute limits, with frame rate issues all over the place. The side missions are where most of the generic stuff is found with the good missions saved for the main campaign, as you would expect. You might be stealing a tank, lining up some portals or trying to rescue a character. In fact, it is these missions where one of the many surprises found in the game is found.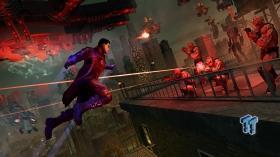 In basic terms, Saints Row IV is a parody of every popular video game of the generation. Whether it be Mass Effect (going on loyalty missions to gain support and a different ending) or Metal Gear Solid (crawling in boxes), the game is chock full of pop culture references from film and gaming. Many times when playing the game at particular moments, specific songs play, which just add to the moment and will have you laughing at just how clever the writers of the Saints Row series really are.
One thing that has carried over from Saints Row III is the tight controls. The 360 controller just seems perfect for this game with fluid movement present throughout. We never really had to think about what we were doing with the controls, and that is always an indication as to how tight the controls are.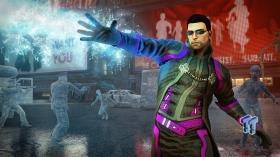 Aside from the main campaign, there are also activities to complete, but these in general are not as integrated into the main campaign as they were in SR3 and there is not as many as you might expect. There is still a bunch of collectables all over the place and the completionists will probably get a hundred hours out of the game, but the main campaign is completed within nine hours when mainlining it and a bit longer when completing some side missions. For some reason to us it felt shorter than SR3 and we felt it was over before it began, and again points back to the fact it started as an expansion pack.
The thing is about this game is that it really is pure unadulterated fun. It just feels fun - like a video game should feel. It never really gets frustrating because there is a lot in the game to assist with getting past difficult points in the story. Your character can be upgraded as per previous games with health, more weaponry and other improvements, and you can of course customize your character with crazy clothing or wear nothing at all (with a censor bar). It just screams fun. In a time where a lot of video games take themselves far too seriously, SR4 is a breath of fresh air in this regard.
In terms of the open world, the game impresses, but it is a bit disappointing that it is not set in a new city. Instead you basically get Saints Row 3 with a bunch of alien ships included. However, it feels different, and that is because one of the key additions is superpowers for your character. Being able to jump over buildings and up them instead of just being on the ground makes the world feel new and different - so much so that when those powers are not present, it really does feel like a run of the mill SR3 mission.
It's clear that Volition had to stick with the SR3 world, but they have done enough to make it feel new, which is quite an achievement, but the super powers come at a cost. The QA of this game would have been intense and so it's almost expected that you will get stuck in the world occasionally, and you do. The game sometimes cannot handle just how fast and quick you are moving about and you get stuck. It happened a few times during our play through.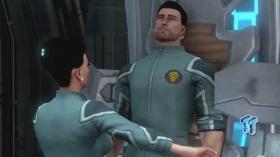 Visually the game on the Xbox 360 isn't that impressive, especially when compared to its PC counterpart. It's clear as day that the developers had to take some concessions on the consoles to bring this game to the current generation. The weird thing is that in some respects it doesn't even look as good as Saints Row 3. Basically we think this can be put down to the fact the characters can now traverse the environment a lot quicker and so there is a lot more pressure on the streaming from the disc. The cartoon style graphics remain and overall it's nice to look at, but if you can, pick up the PC title.
Saints Row IV was quite an anticipated game that in many ways lives up to the hype, but in others it does not. The fact you play as the POTUS is not exploited enough by the storyline, and whilst there are some crazy moments, after Saints Row 3, they do not have the same impact. What started out as an expansion pack has become a full blown sequel and it shows. If you were a cynic you could call SR4 a total conversion for SR3, but that would be unfair given the amount of work Volition has clearly put into the title. Play it, just don't expect the same impact that SR3 had on the gaming world.