Gears of War: Judgement Xbox 360 Review
Cash in or cash cow? Epic gives another game developer some time with Gears.
Published
3 minutes & 41 seconds read time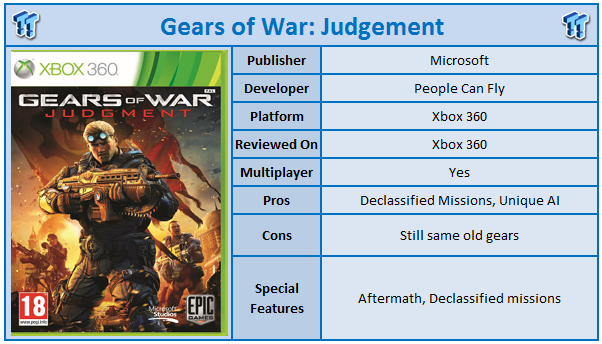 In this current generation of consoles there have been a few franchises that really stood tall. Gears of War is no doubt one of them, and one of the reasons the Xbox 360 has been such a success. As the generation ticked over, one of the world's leading developers, Epic Games, took on the console and developed what many to consider the premiere third person shooter exclusively for the system. With three games out the door, Epic decided to step aside and let someone else have a crack - with Judgement we get People Can Fly's first Gears game. The funny thing is that in many ways they have outdone Epic with some really original ideas coming to the fore that really mix up what can be repetitive gameplay.
The first major change is that this is actually a prequel to the Epic series of games. Picking up many years before that trilogy, you play as Baird and Cole, whilst trying to save a human colony from the locust threat, which has only just presented itself. Gears of War presented the game as a long term war already in progress, whilst Judgement takes us back to when the war began. The presentation of the story is via a court case where Baird is being asked to justify some of his actions during the war. And this case ties directly into the other main change of the series, declassification.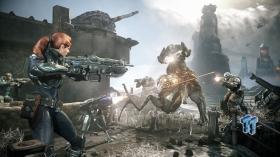 As you progress through the missions, you come across areas where you can declassify some testimony. This testimony will change the mission at hand, and in general make it more difficult. For example, it may mean you can only use certain types of weapons, or the entire area you are fighting is fogged in. What we really like about this feature is that it's optional. If you are not confident of amping up the difficulty, you do not need to, and it also does this on a per mission structure.
We also think this adds to the replay value of the game. This is in our opinion the best game for replay value in the series, for numerous reasons. First of all is the declassified feature, but then also the structure of the missions. Most missions can be completed within 20 minutes and there is a lot of them. Instead of having long winding missions, PCF have gone a more arcade feel, and the game really brings this through to the player. It feels a lot more like a run and gun arcade style game than a serious game, but it's the perfect antidote to what was making Gears of War a bit long in the tooth.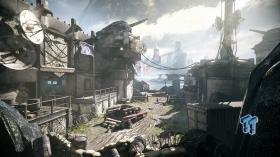 Aside from this, the tried and tested gameplay from Gears of War remains. In general you run from area to area taking down Locust whilst hiding behind cover, and either playing alone or with a bunch of friends in co-op. There really isn't that much difference.
What PFC has done is realize that Gears of War from a gameplay perspective was probably as good as it was going to get in its current engine, so instead focused on improving the peripheral areas of the game - although it only ships with four multiplayer maps, and that's a bit surprising.
The AI of the game is somewhat impressive as well, chasing you down behind cover sometimes and really giving you a hard time. This also flows into the replay value of the game with the areas the enemies appear completely randomised each time you play the game. That is in stark contrast to the first three games, where you easily knew where the locust would appear, the second time around.
As well as the main campaign, there is also a small episode set after Gears of War 3 called Aftermath. This particular campaign does not have declassified sections within it and is the more tried and tested (and increasingly boring) regular Gears of War style campaign. It's interesting that this has been included because it takes a little bit of shine away from the title. To unlock it you need to play a fair chunk of Judgement and by then you will most likely be really enjoying Judgement. To step back into Aftermath seems like a step backwards, rather than a step forward.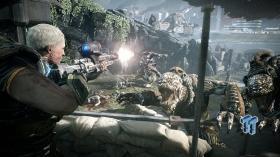 The other impressive section of the game as expected is the graphics engine. Still utilizing the same engine as Gears of War 3, there are some scenes in the game which make us wonder why there is such a push to the next gen. There are some beautiful visuals in this game and in general the frame rate remains rock solid. Voice acting can be a bit grating as it uses that very "bro" style dialogue, and the script isn't that good, but the presentation of the story is actually interesting and flows directly into the gameplay.
Gears of War: Judgement could have been a throw away game, but instead is our favourite of the four games. There is numerous reasons for this, but primarily what stuck out for us is declassified. It's such a simple addition to the game that really mixes up the gameplay and the short and sharp missions really bring home the arcade feel of the title. If you haven't had enough of Gears just yet, pick this one up, and you will find a quality title, that's very much fitting in the Gears of War universe.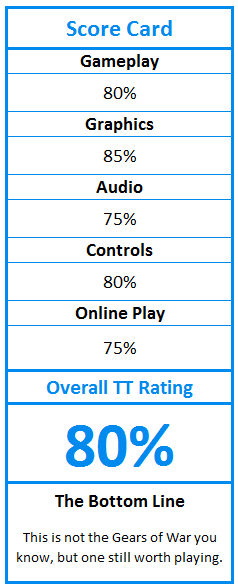 PRICING: You can find products similar to this one for sale below.

United States: Find other tech and computer products like this over at Amazon.com

United Kingdom: Find other tech and computer products like this over at Amazon.co.uk

Australia: Find other tech and computer products like this over at Amazon.com.au

Canada: Find other tech and computer products like this over at Amazon.ca

Deutschland: Finde andere Technik- und Computerprodukte wie dieses auf Amazon.de
We openly invite the companies who provide us with review samples / who are mentioned or discussed to express their opinion. If any company representative wishes to respond, we will publish the response here. Please contact us if you wish to respond.