When it comes to crazy games, Japan can sometimes take the cake. Often games released in Japan do not make it outside the Eastern region and only the most dedicated fans of Japanese culture find them. Tokyo Jungle looked destined to by one of these, but recently Sony confirmed we will see it in the West. We've imported a copy of the Japanese version to see what the fuss is all about and found what could turn out to be one of the most unique video game experiences you will have in 2012.
Tokyo Jungle has two main game modes; survival and story. The survival mode basically tasks you with surviving as long as you can in the urban jungle that makes up the environments. You begin with small animals such as a dog and deer which rely on stealth and slow movement to succeed. As time progresses you can also unlock other animals including tigers and dinosaurs, just to give you an indication as to how crazy this game can get.
In survival mode you have to either eat other animals by hunting them, or eat plants and not get eaten. This is all determined by whether you are an herbivore or carnivore animal. So for example, the dog is a carnivore and so must hunt other animals to survive. As you eat these animals, you gain levels which make you stronger and increase your hunger rating. If the animal does not eat within certain time frames, it will die. The game becomes a constant challenge of maintaining the animal's stomach whilst also avoiding unbeatable foes.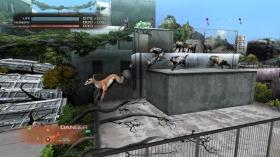 To assist with this you can also obtain items for your animal to improve its ratings. This is where the real quirkiness of the game appears with hats and clothing increasing armour ratings for example. So you have a little dog running around Tokyo wearing a hat eating other animals. It really does not get much weirder than that. Once unlocked, these items can be equipped to the animals during any time and it is possible to save them for boss fights for example - yes, there are boss fights.
The other side of the game the story is where the gameplay is a bit more focused. Instead of being able to select your creature, each act has a pre-determined one. You might have to find a mate and then a hotel room to increase your family size, or take on a big boss or in general just survive. The story mode really gives some background as to why things are the way they are in Tokyo. One of the primary reasons you will play the survival mode is that to unlock the next story act you need to find memory cards hidden around the survival levels. So there is a good mix of progressing in the story, whilst improving your survival skills in the other main mode.
One thing we did find with the survival mode is that some missions appear to be more suited to one type of animal than another. There were times where we were very frustrated with a mission, having to repeat it over and over again only to try another animal and beat it first time. Identifying which animal suits which situation is part of the challenge.
There are many mechanics in the game that remind us of Minecraft. You don't necessarily need to build a house to survive, but at night the dangers are far greater for the smaller animals and you need to go into hiding. Whilst this is happening, your hunger bar is depleting rapidly and so you need to get a quick hunt or end up starving. The day / night cycle adds a significant challenge to the survival mode and many times you will have to risk taking that one kill just to remain alive.
[img]2[/img]
On the visual side of things the game is not overly impressive, but there is very much a case where gameplay triumphs over visuals. They do the job without being groundbreaking. It's of no surprise that for Europe and the US, the game will be a PSN only release. In Japan it has been a retail release and very successful at that, so that decision may change. You can (although not right now) also obtain new animals to play with as DLC via the Playstation Network and this should extend the life of the game quite well.
So, the main question you might be asking yourself right now is how 'import friendly' is the game. The answer is surprisingly that it can generally be played by people who can't speak Japanese very well. Whilst the story will completely go over your head, many of the mission objectives are laid out in a very visual format. So the screen will for example focus on a boss character. You then know you need to take that character out. Of course there will be a few times where you might get stuck, but with a quick Google, you should be fine if you want to take the chance.