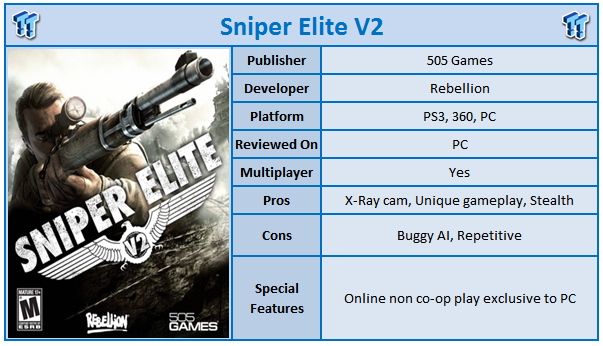 Remember the days where World War 2 games were met with a certain disdain? The days where we felt there was just way too many of them. Whilst war games continue to be a very popular genre, we haven't seen a serious tilt with World War 2 for at least a few years. So in a way it's refreshing to be heading back to one of the world's biggest conflicts. However it's not just the setting that is somewhat refreshing, but the gameplay style. Sniper Elite V2 is best described as a World War 2 Splinter Cell game with snipers and if you expect this game to play like Gears of War, then you will be very surprised indeed.
Sniper Elite V2 is set towards the end of World War 2. The Germans are on the brink of collapse and are throwing out their last ditch efforts to continue the war against the Allied forces. You play as a crack allied sniper behind enemy lines. Sneaking in to take out key targets of the enemy whilst also discovering the German plans and ultimately stopping one of the largest tragedies of the war occurring. That all sounds cliche, but it is the gameplay and its different take on the usual World War 2 style of play that differentiates this game from the rest.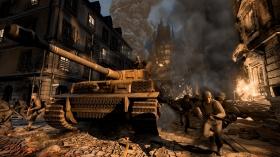 The word sniper isn't in the games title for no reason. Primarily your goal is get to an elevated spot, don't be detected and take out a high level German from distance. How you reach that goal is purely up to you. The game gives you many tools to play around with and on the higher difficulty levels you really do need to plan your attacks. One false move and the enemy is alerted and once that happens, you may as well restart, at least on the higher difficulties. On the lower end the developers have taken some liberties and included a machine gun for you to get out of tough spots with, but in general, stealth is the way to go.
And not just because it's the best way to survive, but because it shows the areas where this game shines. Slowly building up to a point, laying traps for chasing enemies and finally getting that one single shot off is immensely satisfying. Moving through levels without being detected offers more freedom although as the missions continue, this does become harder and harder to achieve.
Also, it's not just the German's who remain your enemy with environmental factors also becoming both your friend and foe. For example, when aiming with the sniper rifles you need to take into account distance and wind to ensure a hit. On the Sniper Elite difficulty level this is incredibly tough to get right, but ultimately incredibly satisfying. But also it can offer opportunities. Sniper rifles are incredibly loud, but you can use environmental sounds to hide your shots such as bombs landing. The depth of the sniping in this game really is second to none.
However the lack of variety in the game is probably its biggest problem. Ultimately each mission leads to same tasks over and over (reach x, shoot y, disable z) and considering the vast levels the developers have built, it could have been utilized a lot more. Also the AI can often leave a lot to be desired. During one mission we were right next to an enemy, and they couldn't see us. Clearly an AI bug.
[img]2[/img]
The game also features a strong multiplayer component and even an exclusive mode for the PC. Competitive multiplayer is only available on the PC and entails team deathmatch. However where the real multiplayer gems are is in the Overwatch and Bombing Run mode. In these two modes you work together (one as a sniper, one as a spotter), to take on the enemy. It is up to the sniper to protect the spotter as he only has a pistol and machine gun to defend himself against enemy weaponry. Bombing run tasks the two players to gather items to put together a vehicle to escape before a bombing run occurs. The co-op was always going to be interesting given the premise of the game.
As mentioned before, the missions are set in rather large areas however the game generally has a very linear feel. It doesn't take too long to figure out where to go next, and whilst you can approach sections in different ways, it's not at a level where you can go anywhere in the environment, prepare your attack and then do so. That would have been truly something special.
[img]3[/img]
The environments are detailed and the graphics do the job well. One interesting feature with the graphics is the kill cam style x-ray vision. As you hit targets an x-ray vision pops up to show exactly the damage you have done to the enemy such as smashed skulls, broken spines or yes, popped testicles. You know you have had a good shot when the x-ray mode pops up. The sound side of things is also quite good with the soundtrack ramping up once you are spotted. It's an easy way to tell if you are currently being hunted or not.
Sniper Elite V2 does a lot right, but there is just a few things missing that keep this from a must buy AAA experience. With just a little more polish, Rebellion could have been on to a mega winner with this game, but instead it falls just short. The gameplay is there, but the missions can seem repetitive and without that much variety.