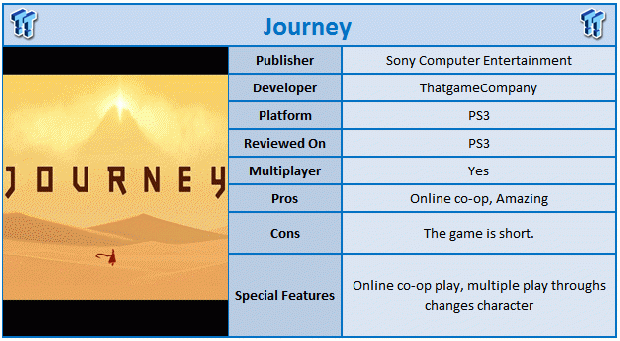 When it comes to games which seem out there, ThatGameCompany takes the cake. Starting with the "non-game" flow, they have over the years redefined what people considered as games and have very often been called artists rather than game designers. Flower continued this tradition and in no surprise whatsoever Journey is an incredibly different game to anything on the market. It is a game that will touch your emotions, it will make you reconsider in this day and age what constitutes a video game and make you wonder why other developers often make the decisions they do.
Journey has no story. Well, not a story that we can write a paragraph about. The story boils down to this. A small human-like character needs to reach the top of a mountain. And that's it. It's one of Journey's great successes because it allows you to craft or wonder why the character is in the world they are in and why they need to reach that mountain top. Many gaming forums are already awash with theories as to what the "journey" actually represents, but it's likely to mean something different for everyone.
Another success of Journey is that it treats you like an adult. The game does not slam storyline into you with cut scene after cut scene, it's not a hugely scripted world and the tutorial is basically a few images on screen telling you what to do. No thirty minute tutorials, no look up and down. Just get into the world and enjoy it. It's a credit to the developers that it is very much a game you can pick up and play and just know what to do.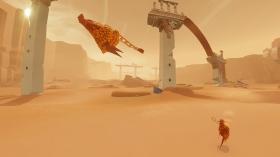 The game design process around this must have been phenomenal and difficult. To design an experience like this and for it to be fluid and incredibly intuitive takes a long time. It's probably the main reason that this game has been three years in the making despite only taking around two hours to complete.
And again, that two hour length is clearly part of the game design. The fact that it is entirely possible to finish the game in one sitting (as we did) is no doubt part of a deliberate process. We strongly recommend you do finish this game in one sitting. Breaking it up into chunks would lessen the experience of the game and so set aside an afternoon like we did and enjoy the journey (excuse the pun).
The actual 'game' part of Journey comprises of solving puzzles. To call them puzzles is a bit generous as they are generally very easy to solve. You play as a human-like character wearing a cloth and you have to gain more cloth to be able to jump. As you jump you can reach new platforms (this sounds self-explanatory, but it's the simplicity of Journey that makes it what it is), and you can unlock longer cloths to move between platforms. We did get stuck momentarily a few times during the game, but persistence pays off and you will generally find yourself solving the puzzle within five minutes.
As well as this, Journey takes elements of game cliches and changes them up. What you have to do at the start of the game is significantly different to that what you do in the middle of the game. The game throws new mechanics towards you to deal with, and yet somehow you know straight away how to deal with it. It's just pure game design perfection.
The rest of the game is no doubt the experience. Throughout the journey, you encounter a number of different environments that have different feelings and moods. They change the atmosphere of the game almost instantly. You start off in quite a happy mood, ploughing through the levels, but as you get closer to the mountain, the mood of the game changes, and there are some truly memorable moments towards the end of the game.
It's amazing that in a small two hour segment ThatGameCompany has managed to put in more feeling and completely change of atmosphere than many twenty hour games do during their progression. Also when logged into PSN you are in a somewhat persistent world and can meet other characters. This is the way to play, ensure you are logged into PSN when playing because you can work together to solve the puzzles in different ways.
[img]2[/img]
The visuals also add to the game. At first you may feel a bit disappointed, there is no doubt that Journey's graphics are not the best, but as you progress through the world, the art fits the experience perfectly and as the sun reflects off the sand, there is a stunning effect. The music adds to the world and the fact that the characters do not talk and the soundtrack sets the mood just shows how much attention to detail has been put into this game.
ThatGameCompany has been known to take gaming conventions and destroy them and that is once again what Journey does. There is nothing like it on the market and probably won't be ever again (TGC always move onto something new). It's a game that you can replay again and feel different; it is a game that is more an experience than a game. The sound, graphics, atmosphere and what you are doing on screen come together to be one of the greatest game experiences you will ever have. Usually a game only lasting two hours is a significant downside, but with Journey it's a positive. And that's just one example of how TGC has flipped gaming upside down yet again. If you own a PS3 you simply must buy this, and if you don't, that's a real shame.