Virtua Tennis 4: World Tour Edition (VT4) PlayStation Vita Review
Take Andy, Roger and Maria wherever you go with this new sports title on the Vita.
Published
Developer / Publisher: SEGA
4 minute read time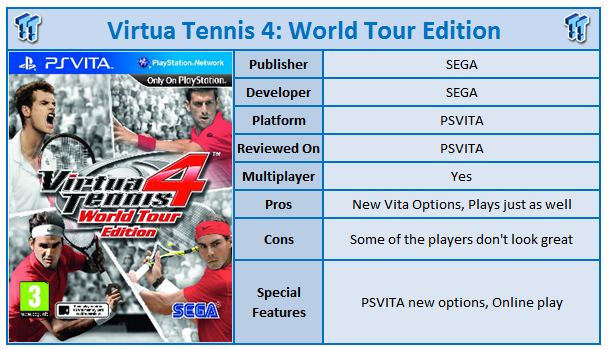 One type of game I really like to play on the go is a sports game. There are numerous reasons for this, but one of my bug bears with portable gaming is getting stuck somewhere in the game. There is nothing like settling down for a long haul flight with a game only to find yourself stuck and with no idea what to do next. So sports games don't have this problem as they just simulate something with a number of rules which everyone knows. This leads us to a PlayStation Vita launch title, Virtua Tennis 4 (VT4). VT4 is a port of last year's console game with a few additional bonuses, but if you're a tennis fan with a PlayStation Vita, it's the only game in town right now. So it better be good.
Virtua Tennis 4 on the PlayStation Vita has most of the same game modes as the console game with a few additions that use the touch screen and technology of the system. The arcade mode returns from the console game where you take on numerous tournaments until you lose (or manage to win them all), and in some ways this is a throwback to the Dreamcast and arcade system games of the VT range. This mode on the go is excellent as it is very pick up and play and you don't need to spend a long time customising a character.
However, for those with a bit more time on their hands, the World Tour mode makes an appearance in the PlayStation Vita version of the game as well. This mode tasks you with taking an unknown player and challenging for the grand slam and number one spot in the world. As with the console game it's a bit like a board game. You are allocated tickets to move through the world and this can lead you to missing tournaments you really want to play.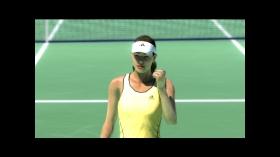 This is where some of the changes for the PlayStation Vita start to appear. First of all, the game accepts input via the touch screen, so when you are selecting options, you can just touch it. It does take a little while to become accustomed to this (especially if you have played the console game), but it's a nice little addition to the game. As well as this, you can play the game via the touch screen, if you like. You move the player with the control stick and then use your finger to swipe where you would like the ball to go. The touch screen is also used to add top spin to the balls. We found that the physical controls allow you to hit the ball better, but it's definitely something to try out at least if you pick the game up.
Other PlayStation Vita additions include a classic tennis mode where you play with old style clothes and racquets and in black and white. This is something completely different to what we are now accustomed to in the real-world professional tennis circuit. Another addition is the ability to play against each other with one PlayStation Vita console with the touch screen, mini games that use the motion sensor of the PlayStation Vita and a unique VR match mode where you play from the viewpoint of the actual player. This is one of the best additions to the game. Basically via the motion sensor you can follow the ball, even up in the air to ensure your shots are hit well. It takes a little while to get used to it, but it really is a fantastic addition.
There are also a number of training games returning from the console system as well such as the mini game where you have to raise up walls to make it harder for an opponent to get the ball back over the net. The wacky games are also there such as having to collect chicken eggs before returning them to the mother hen. This apparently improves the stats of your character. Sounds silly, but it is a lot more interesting than what the real pros do, hitting a ball over and over every day.
The game contains many of the players from the console version including Andy Murray, Roger Federer and Maria Sharapova. How close the characters are to their real life namesakes varies depending on the player. Roger Federer looks just like the real man, however Maria looks nowhere near her real life counterpart. One thing they did get right with Maria though is her ear piercing grunt.
[img]2[/img]
With that said, each of them display traits that the real-world pros do such as how the move on the court and hit the ball. Andy Murray has a ferocious backhand and this is represented in the game. Each player has a pet type of hit and you build up a meter to unlock a super shot as you perform those specific shots. The tournaments in the game are mostly unlicensed which is a shame, but they are represented in that there is a grass, hard court and clay tournaments.
[img]3[/img]
Visually as with many PlayStation Vita games, it is impressive. In fact, the graphics are almost on par with that of the PS3 and then the question needs to be asked; is this the PlayStation Vita displaying excellent graphics or is the PS3 game not as good as it could have been in this department? Questions aside, the game does look strong on the PlayStation Vita screen and the frame rate doesn't miss a beat.
Virtua Tennis 4 is a nice addition to the PlayStation Vita range. Without any competition it's the only game in town for tennis fans; however, that is not a bad thing as VT4 has translated to the portable world very well indeed. The addition of PlayStation Vita specific mini games is a nice touch and shows that SEGA has taken this port seriously. This title is worth picking up if you are looking for a decent PlayStation Vita sports game.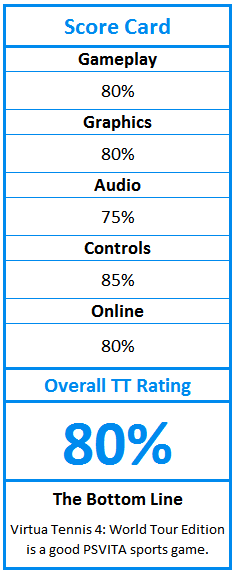 PRICING: You can find products similar to this one for sale below.

United States: Find other tech and computer products like this over at Amazon.com

United Kingdom: Find other tech and computer products like this over at Amazon.co.uk

Australia: Find other tech and computer products like this over at Amazon.com.au

Canada: Find other tech and computer products like this over at Amazon.ca

Deutschland: Finde andere Technik- und Computerprodukte wie dieses auf Amazon.de
We openly invite the companies who provide us with review samples / who are mentioned or discussed to express their opinion. If any company representative wishes to respond, we will publish the response here. Please contact us if you wish to respond.