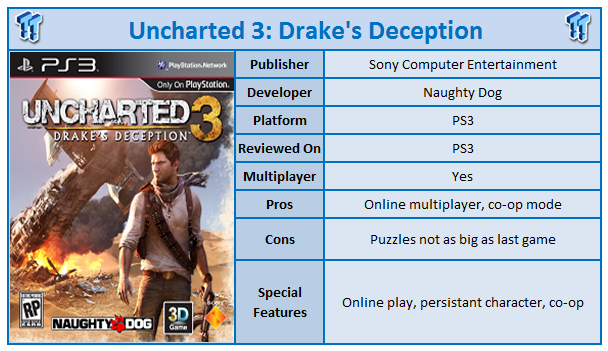 Considering the series first began with the launch of the PS3 system, it's hard to believe just how popular and revered this series has become in such a short time. Whilst the first game had its problems, it was no doubt the stand out game from the launch pack back in the day and its sequel proved that Naughty Dog was one of the world's premiere video game developers. Uncharted 2 was an experience, it wasn't a video game. It was a game that allowed you to feel Drake's pain and emotions as you fought through the various levels trying to find what you were looking for.
And so with that in mind, Naughty Dog took on the unbelievable task of putting together a game that lived up to the second, and in many ways they have managed to do it. Uncharted 3 is yet again a video game masterpiece and although we still prefer the second, there is no doubt you should play this game.
Uncharted 3 picks up with Nathan and Sully trying to sell off one of the more famous artifacts he has his hands on, the very ring he wears around his neck. However, the core plot of Uncharted as per the previous titles is that Nathan is a descendant of Sir Francis Drake and has discovered a secret set of adventures and voyages he undertook. The latest adventure takes him to the Middle East which allows for an interesting story to develop and one of the best written video games to be released this year. Basically, Amy Hennig has done it again!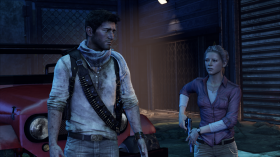 Aside from this, most of the gameplay from Uncharted 2 remains the same. Nathan Drake in a very Tomb Raider vein has the ability to climb almost any object in the game world. This is where Uncharted's strength lies. You walk into a massive expanse of the world and have to figure out how to get to where you need to be. Although in this third game veterans will find it quite easy to pick out the points where Nathan can climb, it still does not take away from the fact that the world Naughty Dog has built is incredible.
There are a few problems with Uncharted 3 that cannot be ignored unfortunately. First of all is that the game seems to take control away from the player more often than it needs to. Littered with cut scenes (sometimes lengthy), it can feel like you are playing for a few minutes before another cut scene cuts in, although as the game progresses this problem does start to dissipate. The other problem is that Naughty Dog seem a little scared for players to get stuck.
Frequently the camera will change to almost the exact angle and item you need to climb and in our opinion the puzzles whilst still very good, are nowhere near as epic as the second game. There is nothing which compares to the challenge in Uncharted 2 where you had to climb all over a gigantic statue and knock switches to open a door. The puzzles are challenging, though, and do fit into the environments well.
Another thing which may turn gamers off to an extent is that there is a lot more gunplay in this third game and there are clear chokepoints throughout the single player campaign which are designed to really challenge the player. There is nothing wrong with this, but they do lead to frustration when it seems you have insurmountable odds against you and especially when the shooting in general should come secondary to the puzzles and traversing the environments given its an adventure style action game.
However, other than that it's all good. The game is amazingly gorgeous as you would expect and again Naughty Dog show why Uncharted could be an amazing movie series. There are many twists and turns you won't see coming, plus many missions are incredibly enjoyable to play. The boat mission and mission on the back of a cargo jet shown during E3s past is only the beginning.
Towards the end of the single player campaign the action comes thick and fast and this is where Uncharted 3 really starts to motor. There are also some very story driven missions which help try to drive home the plight Drake finds himself in.
As mentioned before, the graphics as expected are stunning. Huge vistas await you and almost everything can be climbed. Following up from Uncharted 2 was never going to be easy, and the environments don't change as often as they did in Uncharted 2, but this also allows for some level of focus in the missions. You will visit jungle style areas and of course being set mainly in the Middle East, there is a huge focus on desert and the vastness and emptiness of what a desert can represent.
[img]2[/img]
The voice performance of Nolan North and his cohorts is once again amazing. Witty dialogue is present throughout with wisecracks being sprouted all the time. A cinematic soundtrack backs up the game and you can always know when something big is about to happen due to the crescendo in the music. In short, Uncharted 3s sound design is amazing.
The game also continues the multiplayer aspect of the second game with persistent characters levelling up as you play the game and money being earned which is used to unlock new items. The Uncharted 3 multiplayer is actually a lot of fun to play and does not seem tacked on like multiplayer does in many other titles and along with this comes the addition of co-operative play for the first time. Co-Op play in Uncharted 3 is something that really shows the power of the Uncharted game. Like for example Splinter Cell, the game requires you to work together to achieve tasks and utilises the engine and climbing aspects of the main campaign very well.
[img]3[/img]
Uncharted 3 once again shows that this series only goes from strength to strength. After the success of the second title it was hard to see how Uncharted 3 could be better, but in many aspects it is. Uncharted 2 is still better in some areas, but overall Uncharted 3 delivers. The single player campaign offers a good challenge, but perhaps the best addition to the game has been the introduction of co-operative missions. We'd love to see more of those arrive via DLC.
Uncharted 3 if you are a PlayStation owner is almost a must play series. The only thing is that if Uncharted 2 didn't enthral you, than there is nothing in Uncharted 3 to make you change your mind, but for everyone else you simply must play this game.