Dead or Alive Dimensions 3DS Review
The famous series returns in 3D along with some other surprises.
Published Jun 12, 2011 4:14 AM CDT
|
Updated Tue, Nov 3 2020 7:02 PM CST
4 minute read time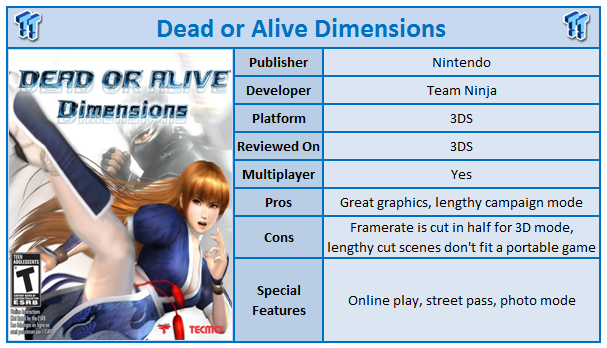 You have to feel somewhat sorry for Dead or Alive. Despite having a number of iterations and being a moderately successful game, it's never been seen in the same league as the world beating Street Fighter series. Perhaps it has been a problem of its own making with as much focus placed on the size of the female breasts in past games as the gameplay itself. This made the series seem very immature and not serious enough for hardcore games. However, Itagaki has moved on now and Team Ninja has gone back to the drawing board, producing a new game for the 3DS console and in many ways it's the best yet. But with Street Fighter already a dominant force on the 3DS, is there room for another fighting game?
The biggest surprise you will find with Dead or Alive Dimensions is the storyline and the depth to it. In a way, Dimensions represents a 'best of' for the Dead or Alive fighting series with the game taking you through a number of the stories from previous games. This is used to not only introduce the characters and how they met each other in the DOA universe, but also, you need to play DOA Chronicle (as this mode is known) to unlock characters to play in the other modes.
DOA Chronicle is one of the meatiest single player story sections you will ever see in a fighting game. It has cut scenes that both in number and length give Metal Gear Solid 4 a run for its money, and that is no easy feat. Given that this is a handheld game, we see this as a problem. Often you will find yourself watching a cut scene for four or five minutes and many in a row before being able to progress to the next fight. When you are sitting on a train or bus, this can get frustrating and thankfully you can skip each scene.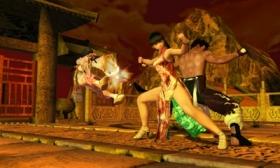 Aside from chronicle mode, the game features the run of the mill other modes you would expect to see. The arcade mode, however, comes with a few twists. Instead of just choosing a character and playing through to the end, you have to choose between a course and each course takes a different path through the arcade mode. It's like having multiple versions of an arcade game within the same product and it's an interesting move for the fighting genre. It does add replay value to the game and along with DOA Chronicle ensures you will be playing this for longer than you typically would a fighting game. There is also a survival mode where you need to survive as long as you can against increasingly difficult opponents. Nothing really new there, though.
Along with these main fighting modes, the game also contains some options unique to the 3DS. First of all, it has street pass integration. As you pass people who have played the game and turned the street pass mode on, you will collect a fighter profile from them and can fight them to see who wins; a little bit like what we have previously seen with the Street Fighter IV 3DS game. As well as this, the game also offers a photo mode where you can place figurines of the characters featured in the game and take photos of them from various angles. The only real justification for this mode is the 3D feature of the 3DS. And yes, in 3D it does look great.
However, this brings us to a few interesting problems and 'features' of the game. First of all, the framerate with 3D enabled is bad and the game feels very splotchy and not smooth. However, turn the 3D off and you will notice straight away that the game plays better and feels smoother.
We'd go as far as saying that the 3D mode really should only be used for the movies and to see the technology rather than play with it on all the time. Multiplayer is available over the internet or locally via WiFi play and again, turning 3D off in multiplayer makes the game around one hundred times more playable.
[img]2[/img]
The other interesting change based on the 3DS is the control scheme. As you would expect, you can use the DPAD or analogue disc, but for the fighting moves you can either put in the controls or just hit something on the DPAD. This makes the game accessible for the casual gamer, but it also does reduce the value in perfecting those moves.
Visually the game is impressive, but it is a game of two halves. As mentioned before, in the 3D mode the game does chug along and whilst impressive, it certainly does not show off the game in its best form. The 2D graphics scale it back and this really is a case of where game play needs to dominate over graphics in your decision making. The movies which are present throughout the game are somewhat impressive, but we can't help but feel that they have included so many just to show off the 3D technology in a good way. The voice acting and performance is adequate, but doesn't really shine in anyway.
[img]3[/img]
Dead or Alive Dimensions was a complete surprise to us. We expected to be able to breeze through the arcade and story modes quickly as with most fight games, but the Chronicle mode shows that fighters can have some depth and quite a lengthy story when the developer puts extra effort in. This is one reason why Dead or Alive might be a good purchase. You're not paying the 3DS price to just perfect fighting moves and play through the arcade mode over and over again; instead you are signing up to take yourself through a lengthy story and play multiple arcade streams. From a content point of view, Dead or Alive Dimensions represents some of the best value on the 3DS. It's just a shame the framerate in 3D mode drops so much.

PRICING: You can find products similar to this one for sale below.

United States: Find other tech and computer products like this over at Amazon.com

United Kingdom: Find other tech and computer products like this over at Amazon.co.uk

Australia: Find other tech and computer products like this over at Amazon.com.au

Canada: Find other tech and computer products like this over at Amazon.ca

Deutschland: Finde andere Technik- und Computerprodukte wie dieses auf Amazon.de