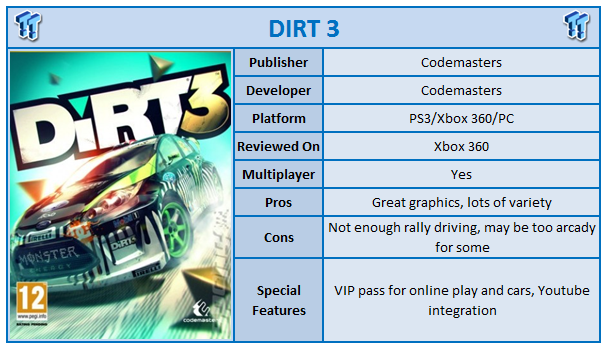 One of the best racing games on the original PlayStation console was Colin McRae Rally. Released to little fanfare, it not only made Colin McRae a household name to gamers, it had incredibly good graphics and the gameplay proved that a sport once seen to be very mundane outside of Europe could actually be fun to play.
Fast forward a few generations of hardware and we have the DIRT series, a mix up of Rallying plus many other extreme off road racing sports from around the world. Yet again, DIRT 3 proves that Codemasters are the masters of the rally genre and it is unlikely that mantle will be taken off them anytime soon.
For those who have played DIRT 2, the game will seem quite familiar, but there is enough here to warrant a third purchase. Ken Block once again returns, however, thankfully his annoying 'you did great back there dude' soundbytes are toned down significantly. It is instead replaced by him urging you to upload videos to Youtube, one of the main new features of the product.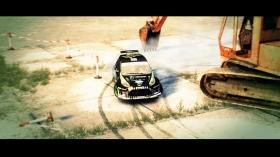 The crux of the game is found in the DIRT World Tour where over four seasons you must prove to the world that you are the ultimate champion in a number of disciplines. In each season you must gain points from events to unlock the final event before progressing. Mixing this up, some time during the game you will unlock world tours of events to partake in. It is here where you will find the closest thing to the World Rally Championship in the game on the rally side of things. It is of no surprise that this was our most enjoyable section of the game, as it is Codemasters doing what Codemasters does best, rally games.
Aside from rally driving, there are a number of other disciplines to partake in. Trail Blazer is rallying without a co-driver and in a superfast car, Land Rush is truck or buggy racing and the other two disciplines; gymkhana and Rally Cross, focus on the extreme side of the sport. Gymkhana is one of the more unique racing elements of the game and you will either learn to love or loathe it.
If the name sounds familiar, that is because gymkhana originally comes from equestrian events. The horse and its rider are tasked with performing a number of tricks and equestrian sequences to gain points. This is exactly what it is likely in DIRT 3, except with a souped up motor vehicle. You gain points by doing donuts around objects, sliding under truck trailers and generally just driving around like a lunatic. It is a heck of a lot of fun and is a nice change up from point to point and circuit racing that is present through the rest of the game.
However, DIRT 3 is not without its problems or puzzling elements. The first one is that the game does not have the WRC licence. Codemasters has not forked out for that licence and instead has tried to replicate the World Tour without it. This all sounds well and good until you race against a Citroen which has Sebastian Loebs name splashed on the side and his co-driver. The only problem is that Loeb is not featured in the game, nor is any other WRC driver, so why have the official names on the cars, but not in the game? It just doesn't make sense.
The other problem is that it seems awfully easy to roll the cars. Yes, crashes which involve rolls can occur in rally and occur more often in that sport than any other; but rolling every time the car hits a rock wall side on seems just a little ridiculous to us and it is one of the more frustrating aspects of what is in general is a very good physics and damage system.The cars will shatter and lose parts, however, in something of a surprise, the cars automatically repair themselves between stages of rallies. True fans of the sport know one of the toughest things rally teams go through is deciding which parts to fix in the time allocated without taking a penalty, but that is not present in this game and it is a real shame.
The extreme nature and style of the game cannot be escaped. Sponsors such as DC and Oakley adorn all the events and you always have the X-Games being splashed in front of you or spoken about during cut scenes.
You can't escape that this is most definitely a racing game designed for a wider audience than rally fans. In many ways, the menu system of the game continues this trend where you select a prism and then an event in that prism to race in. There is no doubting it is one of the more impressive menu systems from recent times.
[img]2[/img]
Visually the game still impresses. Using the same engine that Codemasters built for the previous game, it has stood the test of time with both the environments and vehicles impressing. The game also maintains a constant framerate which given the frantic pace of the game and detail is impressive. As mentioned before, the cars will smash up and take damage and you can choose to have this as cosmetic only or impact the cars ability to race. The sound effects are fairly run of the mill from the vehicles, but the voice acting for the track notes whilst well done, does seem to come through quite early. You are told about a left turn well before it actually happens and initially this can confuse.
[img]3[/img]
DIRT 3 continues a recent trend requiring a VIP Pass (online pass) to access multiplayer. If you buy the game new it comes in the box, but used, you need to buy one online to gain access. Once you have access, however, the multiplayer is one of the more impressive aspects of the game. Split into two sections (pro mode and party), the game offers the ability to build up an online ranking as well as just have fun with friends. It has a party group mode where you can join a bunch of friends together and then search for a game, or you can just search out solo. Codemasters have made some smart decisions such as allowing real time rally racing, but players can't drive into each other.
DIRT 3 continues to show that Codemasters knows how to make racing games. The rally purists will want more and a bit less of the extreme, but if you can get past Ken Block and the X-Games side of things, you will find a fantastic racing game with many different disciplines. Gymkhana is one of the highlights of the game and there are enough events here to keep you going for hours. Highly recommended!
P.S. Don't forget your chance to win a copy of this hot racing title for PC by entering our current running competition, as per
these instructions
. Competition closes June 05, 2011 - 12:35 HKT.