Need For Speed: Shift 2 Unleashed Xbox 360 Review
NFS tries to go realistic again with mixed results.
Published
3 minutes & 42 seconds read time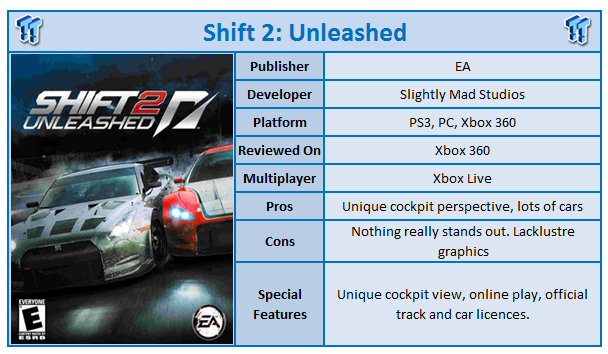 Last year Electronic Arts took Need for Speed back to its roots with success. Criterion Games, the developer behind Burnout, reinvigorated the series, but the game also had an interesting trailer attached. EA used that game to announce the release of Shift 2. Coming only months after the last Need for Speed game, many would see it as too soon. But more of a worry for EA is that of the gargantuan Gran Turismo 5. So, should you check out Shift 2? Well, yes and no.
Just like the Shift game from two years ago, the aim of this title is to take the Need for Speed series in a more realistic direction. High speed police chases are replaced by wheel to wheel racing in proper racing cars rather than high powered exotics. You really do need to leave the old Need for Speed behind before taking Shift 2 on, as it's such a quantum shift and a few decisions that were made during its development have kept it from being a must play game.
As with Gran Turismo 5, what events you can take on is driven by a driver level. You gain levels by earning XP and you earn XP by either winning races or performing good driving in the races such as remaining on the best line, or leading for an entire lap. Something that has been dropped from the original Shift is the XP gained for driving aggressively. It is clear that this game is wanting you to drive wheel to wheel without actually knocking cars off the track, or sliding around corners.
However, in some ways the game doesn't convey this well. When driving with the outside view the sensation of speed is high, but the handling is quite arcade like and floaty. However, in the car it definitely behaves in a bit more of a realistic manner. It is no surprise given the feature set that the game is best played from within the cockpit of the car.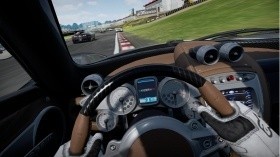 When you hit the walls or other cars at speed your view becomes blurred momentarily to represent the hit, while when driving normally your view becomes blurred and the drivers helmet will bounce around. According to EA this gives a much more realistic take on racing and there is no denying that driving in the car is the best view, but the driving model still feels very floaty.
As you would expect, the game has a number of official licences from both tracks and car manufacturers and the cars are modelled to the nth degree right down to what they look like in the cockpit. However, unlike Gran Turismo 5 you can unlock any car at any moment; there is no X1 to keep you going through the long tough races and that is a problem. Shift 2 is the kind of game you can stop playing at any moment and not feel like you are missing out on too much.
[img]2[/img]
The AI in racing games is always a crucial point and unfortunately again Shift 2 is found wanting. Cars will tag you off the track without a care in the world and like Gran Turismo they seem to be on rails. There is nothing more frustrating in racing games than when an AI car decides you don't belong on the track and punts you off, and it's an all too regular occurrence in Shift 2. In fact, there were hardly any races where cars did not just run into us and even if we are braking early as we are learning a track, it's unacceptable that the AI cars just run into the players car.
The tracks are a mixed bag of official tracks and tracks that the designers have come up with. The game does include the incredible Nurburgring and Monza as well as some well designed fictional tracks that test you as a driver. However, when you compare the car number and the track number to what is clearly now the number one game, Gran Turismo, it is a let down. Some might say the comparison to Gran Turismo may be unfair, as GT is a much more established series, but if you can't handle the heat, get out of the kitchen.
[img]3[/img]
Visually the game from both the car and track perspective is adequate, but there is nothing that really stands out in the game. The car models are adequate and get the job done, as does the track, but even in HD the game just doesn't impress. One thing that the game does well is it gives the player a high sense of speed when driving, and that is important in a racing game. It's just a shame that to deliver that, the developers obviously felt they could not have highly detailed graphics. The sound is once again adequate and there is a good soundtrack, but again like most of the game, it fails to overly impress.
It's a real shame that Shift 2 has come out so soon after Gran Turismo 5, because its deficiencies are clear for all to see because of it. It plays a good game, and the cars and tracks do the job, but there is nothing that really is unique about the game other than the blurring in the cockpit. Shift is a good idea for the NFS series, but EA needs to rethink where they are going with this game series and come up with some more unique features, especially when the racing genre is such a hot property for publishers.

PRICING: You can find products similar to this one for sale below.

United States: Find other tech and computer products like this over at Amazon.com

United Kingdom: Find other tech and computer products like this over at Amazon.co.uk

Australia: Find other tech and computer products like this over at Amazon.com.au

Canada: Find other tech and computer products like this over at Amazon.ca

Deutschland: Finde andere Technik- und Computerprodukte wie dieses auf Amazon.de
We openly invite the companies who provide us with review samples / who are mentioned or discussed to express their opinion. If any company representative wishes to respond, we will publish the response here. Please contact us if you wish to respond.