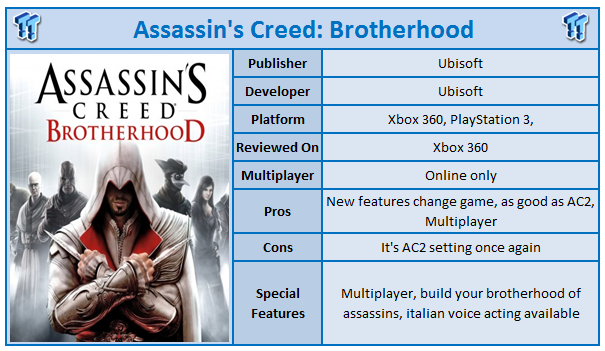 A little over twelve months ago Ubisoft did the almost impossible. With Modern Warfare 2 breathing down everyone's necks, many decided to delay their games into 2010. Ubisoft decided to take Modern Warfare 2 head on with Assassins Creed 2 and it paid off. In terms of quality, AC2 was up there with the best and in many ways had taught Rockstar a thing or two about building open world gameplay. The most amazing thing about this game is that it is twelve months later and is just as good, if not better than Assassins Creed 2.
Brotherhood puts you into the shoes of Ezio once again. Picking up at the exact moment last years game ended, Ezio returns to his Villa to celebrate his victory and enjoy peace in the nation of Italy. However, Ezio is soon confronted by the Borgia, an Italian family who is taking over every city in Italy with violence, especially Rome. Ezio returns to Rome and has to establish an empire to rid Italy of Borgia and return peace to the region.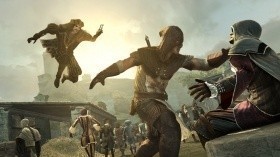 Although you play again as Ezio, a lot less of a focus is put on that character this time around. Instead, at some point in the game you are asked to recruit and train a team of assassins who will assist Ezio in his tasks. This gives you a lot of flexibility in the way that you approach missions. You can choose to perform a task and kill an enemy yourself, or call in a friend to help you out. Over time your assassin crew levels up and becomes better and more proficient at what they do. There are still times where Ezio has to do it all himself so they do not dramatically make the game easier.
The mission structure and flow of gameplay is very much that of AC2, which is not a surprise. The open world gameplay returns and you can choose to take the missions on in any order that you wish when they are available. Ezio can also upgrade his weaponry throughout the various shops in the city. Those who have played AC2 will feel right at home and we will strongly argue that if you have not finished AC2, that you should not play this game yet. Some, if not all of it won't make sense to those gamers.
While AC2 took place in a number of cities, the main focus of Brotherhood is Rome. This is not a bad thing as the city is in a word, epic. It is quite possibly the biggest city in an open world game in history. To run from one side of the city to the other takes around ten minutes of real time and thankfully the developers have realised that this would get old fast. Throughout the game you will unlock tunnels to allow for fast travel between areas of Rome, but until those are unlocked it can be a hard slog.
The other interesting fact about Rome is that the entire city is unlocked from Ezio's arrival. No silly reasons for bridges being down or blocked off areas. That said, certain areas of the city really are a no go zone for Ezio unless you want to take on some very tough Borgia guards. If you defeat a Borgia captain and burn down a Borgia tower close by, the Borgia influence on that area of the city is removed and Ezio can move freely through that part of town. You take out many of these as part of the storyline, but there are more and this is just one of the additions to the game mechanics.
You can also have another influence on Rome and that is to renovate buildings. Throughout the story you will be asked to renovate buildings in the city, much like what you did in the Villa during the previous game.
This increases your income over time and allows you to gain currency while doing other missions. The architecture changes are also reflected in the city and over time you will notice a much bigger and better looking Rome.
[img]2[/img]
However, the biggest addition for Brotherhood is most definitely the multiplayer. In many ways gamers have been skeptics about being able to build a challenging, useful multiplayer for such a single player dominated game. However, somehow Ubisoft has pulled it off. You get dropped in the world that the single player game takes place in and are tasked with taking out targets. Like in the main game, you track down your target and try to eliminate them without arousing suspicion. This really is one of the more refreshing multiplayer takes in a long time and is almost enough to justify the purchase of the game alone.
[img]3[/img]
Visually the game has not changed much, but considering how stunning it was last year, this is not a problem. The character models are still very authentic to the time period in which the game is set, and it is one of the most pretty open world games around. As mentioned before, Rome looks spectacular and over time you put your own touch to it. The voice acting is still extremely well done as is the soundtrack, and for those who value authenticity you can still set all voices to be spoken in Italian with English subtitles.
When Brotherhood was announced we were some of the people saying that it sounds like a cash-in and probably won't do much for the series. We are very happy to admit we are wrong and are surprised just how well this game has been put together so quickly. If you enjoyed Ezio's adventures last year then there is no reason why you shouldn't pick up Brotherhood. The changes that Ubisoft has made to the game are enough to not call it an expansion pack, and the multiplayer adds an important factor to a now massive franchise.