James Bond 007: Blood Stone Xbox 360 Review
With no Bond movie, Activision has been forced to come up with its own story. Find out if it lives up to the Bond name.
Published Nov 13, 2010 6:40 AM CST
|
Updated Tue, Nov 3 2020 7:02 PM CST
2 minutes & 59 seconds read time
Just after Activision acquired the rights to James Bond, MGM announced that it was going to delay the next Bond film indefinitely. This could not have come at a worse time for the gigantic games publisher, with that movie clearly in line to form the basis of the new game. Considering that most movie games turn out to be of poor quality, some might argue this was a bonus. So instead Activision had to create its own Bond story for the game and employed Bizarre Creations to build it. However, unfortunately, Blood Stone is a few flaws short of a must play game.
Blood Stone as you would expect is its own story in the Bond world. It has no relation to the other stories and does an adequate job of providing a story for the game. Bond and MI6 are tipped off that a British scientist is going to sell biological warfare secrets to an enemy force. Bond is sent in to stop that happening and the story enthralls from there. By the end of the story you will have encountered a few twists and turns, but just like the films, the story is there to only service the action on screen.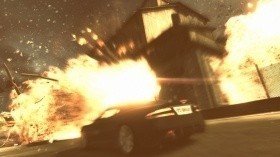 In not much of a surprise Blood Stone is played from the third person perspective. In each mission Bond goes from A to B shooting enemies and completing objectives. The unfortunate thing about the gameplay is that if you take the Bond universe away from the game, you have somewhat of a bland game. However, with the Bond universe intact, it is passable. In most missions you just have to reach an area with objectives to stomp bombs or turn on valves present in only a few missions. One of the more disappointing aspects of the game is that you can finish the campaign in around five hours; after which you are left with multiplayer which is nothing to write home about at all.
Although the focus on gadgets is not really present in the game, Bond does have a few tricks up his sleeve to help him take down the enemy. First of all is when you perform a hand to hand combat silent kill, you are given a focus point. Focus points allow you to shoot highly accurately in slow paced combat. It really is the Bond version of bullet time. As well as this, Bond has taken a few lessons from Batman. At any point in the game you can open your smartphone (which amazingly has no product placement) and find out where to go next. The smartphone shows locations of weapons, enemies and objectives and just like Arkham Asylum, really does end up being the 'win' button.
[img]2[/img]
Aside from the combat there is a few diversions which do mix the game up a bit. In what will be no surprise whatsoever, Bizarre Creations has included a number of vehicle levels and these are the highlight of the game. Given the developers pedigree, this is not a surprise. The cars handle well and drive at speed and they have captured the essence of Bond chases well. In fact, they are so well put together you won't mind having to restart over and over after making a silly mistake.
The game also features the usual Bond characters including the ever present Bond girl, this time played by Joss Stone in both voice and on screen character. She also provides the song to the game which plays during the very bond esque introduction. There is no doubt that the developer has gotten the Bond style, music and introduction perfect.
[img]3[/img]
Which leads us to the graphics and sound. Visually the game is good, however, it does sometimes suffer from framerate issues when there is a lot of action on the screen. The environments, characters and sounds are presented almost perfect in the game and in high detail, but the frame rate issues really do distract from the game.
James Bond Blood Stone doesn't really do anything wrong, but also doesn't differentiate itself enough from the competition to make it a compelling experience. James Bond fans will lap up the story and atmosphere, but overall, especially in this crowded market, there are much better games on the market. With a little more variety the game could have been much better, but as it stands it's a bit run of the mill which given the James Bond universe, is a real shame.
PRICING: You can find products similar to this one for sale below.

United States: Find other tech and computer products like this over at Amazon.com

United Kingdom: Find other tech and computer products like this over at Amazon.co.uk

Australia: Find other tech and computer products like this over at Amazon.com.au

Canada: Find other tech and computer products like this over at Amazon.ca

Deutschland: Finde andere Technik- und Computerprodukte wie dieses auf Amazon.de