According to a number of informed people, this game was done six months ago and was delayed to avoid a clash with Mass Effect 2. It is when you compare the quality of the two games together you can understand why. Alpha Protocol really is in many ways a poor version of Mass Effect and an extremely derivative title. However, every so often while playing, something fun and interesting will happen and remind you as to why this could have been an excellent game with a bit more polish. Alpha Protocol is not entirely bargain bin stuff, but it comes pretty close sometimes.
The premise of Alpha Protocol is one of the more interesting aspects. You play as Michael Thornton, a U.S. agent who is part of Alpha Protocol, a secret government agent that carries out tasks behind enemy lines that the President does not even know exists. When there is a chance that organization will be outed, it is shut down and renamed and the agent who carried out the task which points the finger at them, marked rogue. This is exactly what happens to Thorton; however, he doesn't take it lying down and sets out on a mission to prove that a major U.S. corporation is trying to set off an arms race.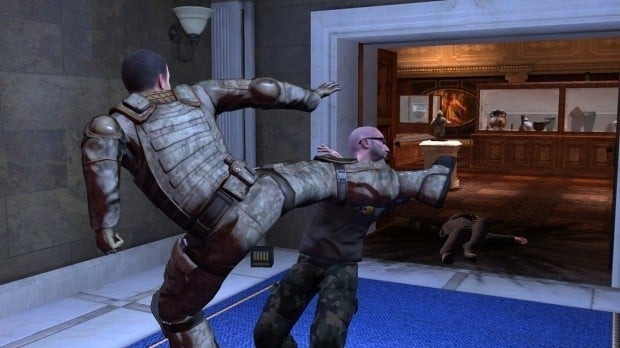 At its core, Alpha Protocol is a third person action game much like many of Obsidians other games. After the initial tutorial mission you are asked to specialise in one of three areas (such as commando or spy) or become a recruit and build your unique character. How you choose to play can be determined by this decision and cannot be changed once you have made your decision. It can be a game like Gears of War and third person shooting dominating, or a more placid, Splinter Cell style game where you sneak into buildings rather than go all guns blazing.
As time goes on you earn AP points which are used to customise your character further. Will you take on more health and leave weaponry weak, or take the chance and boost your weapon skills? How you setup your character can obviously have a big effect on how easy or difficult the game is. That said, one of the most frustrating aspects of Alpha Protocol is the difficulty curve. When the 'boss' characters appear, they seem to have superhuman status and can recover health quickly, turning these battles into frustrating tugs of war until the time you figure out the best way to kill them.
[img]2[/img]
Where the game shines, but also disappoints, is the discussions that occur between characters and the decisions that have to be made in the game. Many people have criticised Mass Effect for not having a dramatic effect on the game from decisions made. Well, the game for those people is Alpha Protocol. Never have we felt so bad after some decisions that kept coming back and biting us on the bum repeatedly. Also, the effects of the decision are clearly visible. Choose to help an army leader instead of kill him when given the chance? Further down the line he sends troops in to help you with a particularly tough mission.
Which leads us into the next impressive part of the game, the missions. Set in a number of world zones such as Russia, Italy and Asia, there is a good variety to the missions. The mission structure is not pre-set. In each zone you have to gain the information required to take down the boss character. How you do that is up to you. You may do it in four missions; you may do it in six. However, once you do move onto that mission, other side missions are lost which is a shame.
[img]3[/img]
Some of the missions are more impressive than others. One mission has you tasked with scanning enemies with a sniper gun (rather than shooting) and finding an alleged terrorist leader at a cocktail party. Once you find him you have to make a decision whether to shoot or not given that the information you have is hazy and may not be accurate. Decisions like this have to be made quickly and can have a significant impact on the rest of the game.
Visually the game is disappointing. Considering we are in 2010, Alpha Protocol is a disappointment. In 2007 it may have been impressive, but we have moved on. We wouldn't go so far as saying it is Wii level graphics, but its close. The animations can be stilted, AI can clip into walls and boxes and overall it's just not that good to look at. The voice acting is a disappointment with most characters sounding like they were just talking for a pay cheque rather than actually getting into each character and considering the games focus on decisions and discussions. It's hard to see how Obsidian allowed for this to happen.
Alpha Protocol is one of those ugly ducklings that come around every so often. If you can look past the many problems with the game, you will find a golden goose that will entertain you. However, with this in mind only RPG fans and fans of James Bond style espionage should apply, until at least it hits the bargain bins sometime later.