Hi, I'm building a flight sim that uses 28 screens. The most graphics cards you can fit on a motherboard is 4, with the best offering at most 5 outputs per card. If cost is absolutely not a factor, how do I get enough graphics cards running to generate all of the DIFFERENT screens?
Hi Elton,
This is actually a great question! Now, I can't guarantee any of this as I haven't tried it myself, but I know that you can daisy chain two DisplayPort monitors from a single miniDisplay Port connection. This means you can go for 4-way CrossFire X on Radeon HD 7970s and enjoy 24 screens. Obviously you'd need a motherboard capable of 4-way CrossFire and a CPU overclocked enough to give you the benefit of pushing all of those GPUs as well as a good enough PSU and cooling throughout your case.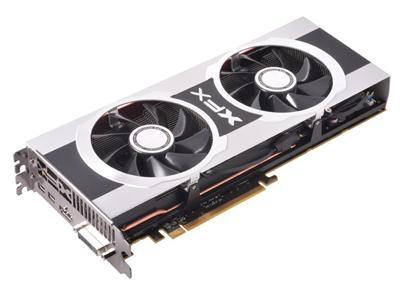 I would go with XFX Double D FX-797A-TDBC Radeon HD 7970 Black Edition 3GB, which NewEgg sell for $419.99 and then you'd need two of Sapphire's VID 2X Display Expanders. The VID 2X connects to a single miniDP port and gives you two DisplayPort outputs. This will give you:
4 display outputs through Sapphire's VID 2X
2 display outputs from DVI.
This means you'll have to be careful on what monitors you buy - as you'll need a bunch that are DisplayPort-capable, as well as DVI-capable. I would recommend buying one GPU, and 6 displays first - trying it all out and making sure it works, then continue on and buying 3 more GPUs and the rest of the screens.
But this Ask the Experts is going to be different - I think you should write something up (if you have the time) on your journey, with a bunch of pictures and videos if possible and we'll make a news story out of it if you like? If so, e-mail me (anthonygarreffa AT tweaktown DOT com) and we can talk about it.
I think it'll be an awesome experience, and something people will really love to read. 28 screens!!! 4 GPUs!!! The things dreams are made of!
Last updated: Nov 3, 2020 at 07:10 pm CST