I want to upgrade my AMD-based system, what should I get?
I want to upgrade my AMD-based system, where should I go from here?
I'm looking for my next upgrade.

I have the following currently:

Yamakasi qHD monitor.

AMD Phenom II x4 965 BE @ 4.3Ghz.

32GBs of DDR3-1333MHz G.Skill Ripjawz.

M4N98TD EVO (with the built in GPU turned onfor PhysX.)

EVGA GTX 670 @ Stock everything.

Samsung 830 for OS.

Some WD Blues for storage.

Where do I go from here? I don't really play that many 3D game as I used to, Skyrim is pretty much the only real 3D game I play anymore. I ask because I always feel the need for more power. I understand that anything from Intel will be better, but I haven't had any Intel desktop products since the Pentium 3 days. Should I wait for whatever is coming out from AMD or jump ship while I can?

P.S. - I'm a bang-for-your-buck kind of guy.
Hi Nicholas,
First off - I'd keep your RAM, GPU and storage. The two things you can spend the money on would be the motherboard and CPU.
I'd suggest upgrading to the Intel Core i7 3770K and a third-party HSF, something like the Corsair H80 cooler, or the H100 if you feel a bit hardcore and want to push the CPU to 5GHz with some overclocking. If you want to save some money here, you could grab the Core i5 3570K which is just $219.99 - compared to the $299.99 cost of the Core i7 3770K.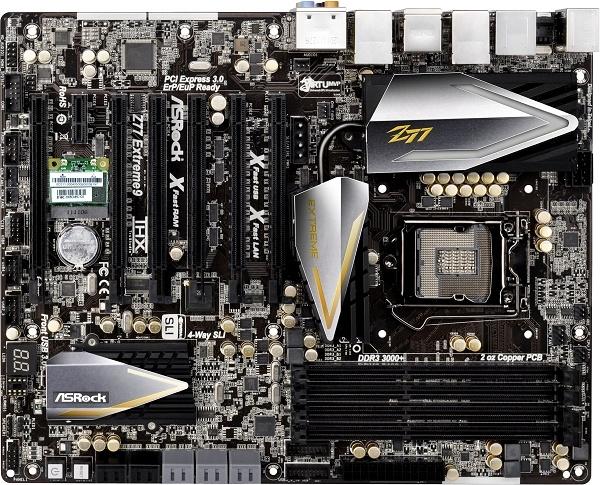 Motherboard wise, you would be best grabbing something that is SLI-capable, in case you want to throw in another EVGA GeForce GTX 670 for some awesome SLI performance. You could go with something like the ASRock Z77 Extreme 9 motherboard - which is quite feature-packed but has a great price on it.
ASRock's Z77 Extreme9 is only $299.99 on NewEgg - but is capable of overclocking that Core i7 3770K to some extreme clocks, will support your current 32GB of RAM, and sports 4-way SLI and CrossFire support - giving your GPU upgrade paths some huge legs.
I use this board in my system here at my AU-based TweakTown lab, and it is a truly awesome motherboard. I use the Core i7 3770K and Corsair H100 and have my CPU sitting at 5GHz without an issue - best of all, this combo will cost you under $1000 and will give you an absolutely huge injection of performance over your current AMD-based setup.
Last updated: Nov 3, 2020 at 07:10 pm CST
Related Tags