Which RAM will give better performance with Z77 board, 2 x 8GB or 4 x 4GB?
What is better for a Z77-based setup, 4 x 4GB sticks or 2 x 8GB sticks of RAM?
Question by
Carlos from Australia
| Answered by
Anthony Garreffa
in
RAM
on Tue, Sep 11 2012 1:49 AM CDT
Which RAM configuration will give better performance in a Intel Z77 Board. 2 x 8GB, or 4 x 4GB?
Hi Carlos,
Both options are fine, you'll notice no performance difference between either option. I will suggest going for 2 x 8GB sticks of RAM, which is the more expensive option. This will allow you to upgrade in the future to 32GB, if that's something you're after.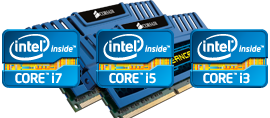 Performance-wise, you will not see any differences. If you were to end up moving to a quad-channel-based system in the future, all you'd need to go is get another 2 x 8GB sticks and you're ready for quad-channel.
Last updated: Nov 3, 2020 at 07:10 pm CST
Related Tags