Upgrading our VGA Test System - Hello Conroe!
We recently upgraded our VGA test system from an Athlon X2 to Core 2 Duo. We discuss performance between the platforms.
Published Mon, Sep 18 2006 11:00 PM CDT
|
Updated Tue, Nov 3 2020 7:04 PM CST
Introduction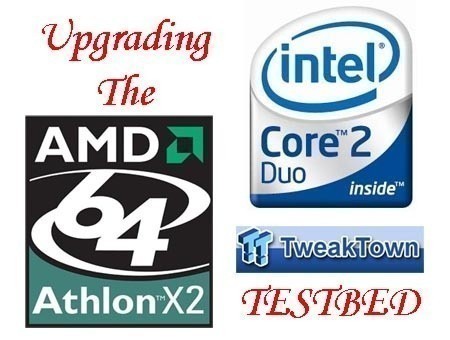 We are always making little but important changes to our VGA test system platform here at TweakTown - a faster CPU, a bump in core speed, new memory, different hard drive and other bits and pieces.
Why does this upgrade deserve its own article? Well simply put, it's quite a significant upgrade as our main test system which conducts almost all of our graphics cards reviews moves from our old love AMD and its Athlon X2 processor to the new dreamy eyed Intel and its Core 2 Duo processor - overclocked through the roof.
After having a quick look at the core components used and then we will dive into a simple head to head of our old but loved AMD test bed compared directly against the new Intel based monster.
We know that the Core 2 Duo is going to be faster (at least we hope) but how much better is it? Where are we going to see improvements - low resolution, high resolution, real world games or synthetic benchmarks?
Let's take a look at our VGA test system upgrade! Without a doubt, it will also provide you a guide as to the type of performance increases you can except from upgrading your PC.
Core Component Choices and Overclocking
Core Component ChoicesProcessor - Core 2 Duo
It's extremely clear that there is only one processor line up worth paying any attention to at the moment. Intel's Core 2 Duo is the hottest item since slice bread and the enthusiast community needed it. We like to cater to your average enthusiast here so our particular partner in crime is the Intel Core 2 Duo E6600 processor.
The E6600 is a smarter processor to choose for our test system due to the extra 2MB of cache when compared to the cheaper E6300 and E6400 models. Out of the box the processor is clocked at 2.4GHz but like our old Athlon X2, we wanted to overclock it so we can remove as much CPU limitation as possible as this is an issue when testing high-end graphics cards.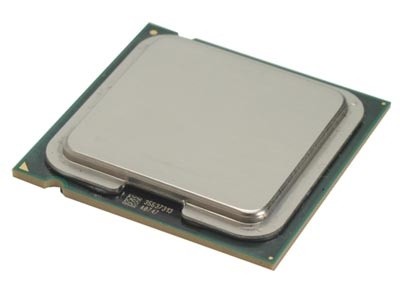 Memory - G.Skill HZ DDR-2
G.Skill is creating a fantastic line up of memory at the moment which finds the HZ series at the top of the list. Using the extremely famous Micron IC, users are achieving speeds in excess of 1000MHz DDR on memory rated for 667MHz DDR.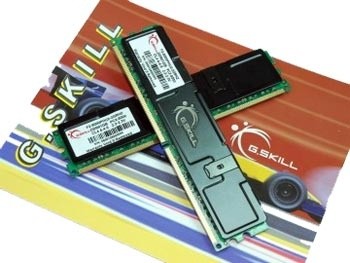 We're using the HZ 8000 memory which offers a stock standard speed of 1000MHz at 4-4-4-5. We did try some of the 6400HZ at one stage and let's just say we can understand why it's so popular. With the system memory already running at excess of 900MHz we stuck the 6400HZ straight in and away it went.
Motherboard - DFI INFINITY 975X/G
DFI are known extremely well known in the industry for having a fantastic motherboard though word everywhere is that their new 975X variant under the Infinity tag doesn't overclock so well. We can't disagree with that - it is not as fast when compared to some other 975X boards though unlike a lot of other companies DFI are dealing with the people who buy the product and a flurry of beta BIOSes have been released to overcome this problem.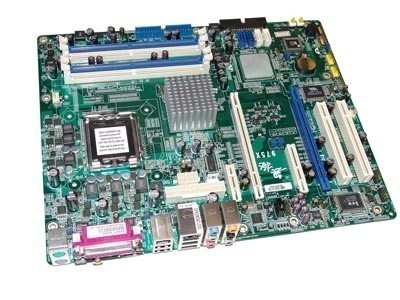 The DFI 975X is one of the cheapest 975X boards available on the market, is Core 2 Duo ready out of the box and like all 975X motherboards supports Crossfire.
Cooling - ThermalTake Big Typhoon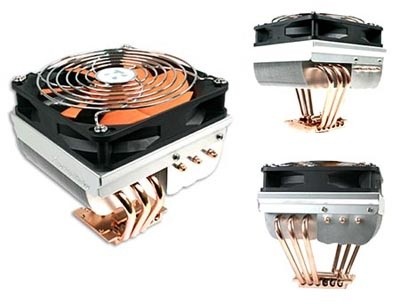 Behind every overclock is a cooler and in this case it's the ThermalTake Big Typhoon. The big 120mm fan, copper heat pipes and aluminum fins make it's an excellent all round cooler. Anyone who doesn't want to break the bank with cooling and wants to stick to air seems to be moving to the Big Typhoon and for good reason.
The other stuff
We are continue to use the trusty Hitachi 80GB 7,200RPM SATA-2 drive because they simply are one of the fastest SATA hard drives around besides the Raptor series from Western Digital. Currently everything is being powered by an 1100-watt Tagan PSU but quite often we find ourselves back on the 700Watt Zippy power supply that has never missed a beat.
Software wise Windows XP Professional with SP2 is still being used and PREY has been added to the testing line up although it isn't seen in this article. There never seems to be a graphics card in the system for more then 3 days so there really isn't much else to mention. As usual all the core components are mentioned in our "Test System Setup" section before the benchmarking begins.
Overclocking
With the DFI 975X being part of the Infinity series it doesn't have a zillion different options for overclocking so you can get straight into it with ease. Pushing the Front Side Bus (FSB) to 381MHz we get just over a 1000MHz overclock with our processor coming in at 3.43GHz over the stock 2.4GHz.
Since we are using such good quality memory, we want to try and get as much out of it as possible. When using a divider of 4:5 (meaning that for every 4MHz FSB, we have the memory clocked at 5MHz) it comes in at 476MHz or 952MHz DDR at SPD timings. While still a bit under stock it makes sure we have plenty of memory bandwidth available.
Benchmarks - Test Systems and 3DMark05
New Test System SetupProcessor(s):
Intel Core 2 Duo E6600 @ 3430MHz (381MHz FSB with 4:5 memory)
Motherboard(s):
DFI Infinity 975X (Supplied by
Bronet
)
Memory:
2 X 1GB G.Skill HZ PC8000 @ 476MHz 4-4-4-12 (Supplied by
Bronet
)
Hard Disk(s):
Hitachi 80GB 7200RPM SATA 2
Operating System:
Microsoft Windows XP Professional SP2
Drivers:
ATI Catalyst 6.8 and DX9c
v.s.
Old Test System SetupProcessor(s):
AMD Athlon X2 3800+ @ 2600MHz (memory at 1:1)
Motherboard(s):
DFI Lanparty UT SLI DR Expert (Supplied by
Bronet
)
Memory:
2 X 1GB G.Skill HV PC4000 @ 260MHz(Supplied by
Bronet
)
Hard Disk(s):
Hitachi 80GB 7200RPM SATA 2
Operating System:
Microsoft Windows XP Professional SP2
Drivers:
ATI Catalyst 6.8 and DX9c
Normally when you're placing products like these head to head, you would look into its performance using programs like SiSoft Sandra and PCMark. However, since this system is only used for our graphics card testing, we wanted to only put the emphasis on 3D performance when compared to the old test bed.
So that's what we did - read on!
3DMark05Version and / or Patch Used:
Build 120
Developer Homepage:
http://www.futuremark.com
Product Homepage:
http://www.futuremark.com/products/3dmark05/
Buy It Here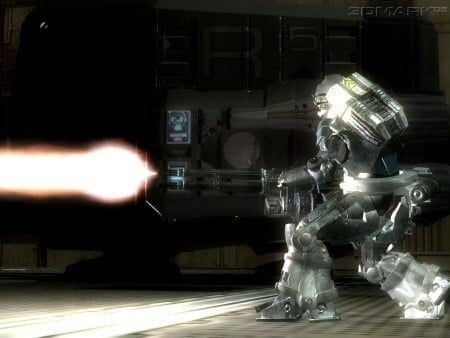 3DMark05 is now the second latest version in the popular 3DMark "Gamers Benchmark" series. It includes a complete set of DX9 benchmarks which tests Shader Model 2.0 and above.
For more information on the 3DMark05 benchmark, we recommend you read our preview
here
.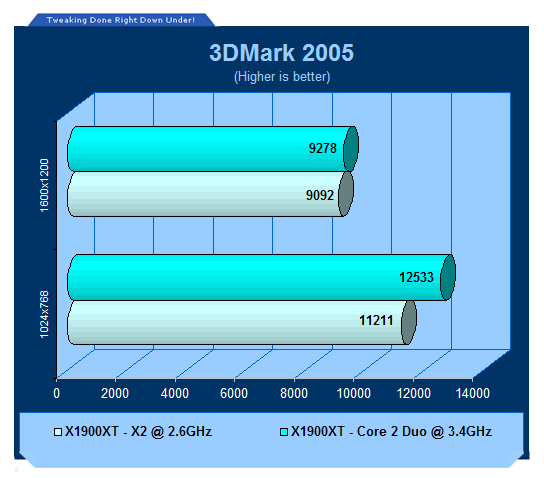 At the lower resolution we can see that the CPU is playing a more important role which gives us a large increase but when we move to the higher 1600 x 1200 resolution we are hitting more of a VGA limitation.
Benchmarks - 3DMark06
3DMark06Version and / or Patch Used:
Build 102
Developer Homepage:
http://www.futuremark.com
Product Homepage:
http://www.futuremark.com/products/3dmark06/
Buy It Here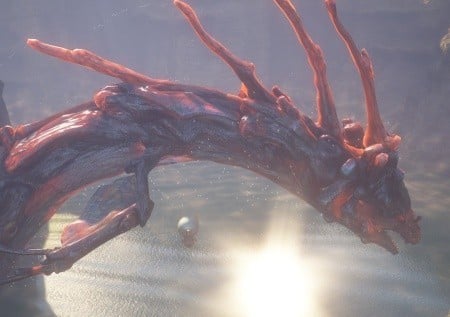 3DMark06 is the very latest version of the "Gamers Benchmark" from FutureMark. The newest version of 3DMark expands on the tests in 3DMark05 by adding graphical effects using Shader Model 3.0 and HDR (High Dynamic Range lighting) which will push even the best DX9 graphics cards to the extremes.
3DMark06 also focuses on not just the GPU but the CPU using the AGEIA PhysX software physics library to effectively test single and Dual Core processors.
Moving to the more intensive 3DMark06 we can clearly see that the Core 2 Duo offers huge performance gains over our previous test system at both resolutions.
Benchmarks - Half Life 2 (Lost Coast)
Half Life 2 (Lost Coast)Version and / or Patch Used:
Unpatched
Timedemo or Level Used:
Custom Timedemo
Developer Homepage:
http://www.valvesoftware.com
Product Homepage:
http://www.half-life2.com
Buy It Here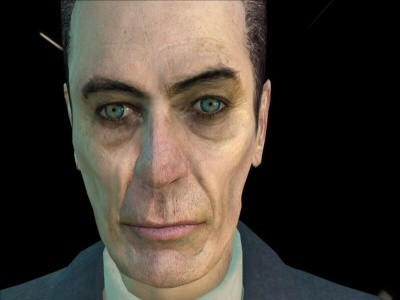 By taking the suspense, challenge and visceral charge of the original, and adding startling new realism, responsiveness and new HDR technology, Half-Life 2 Lost Coast opens the door to a world where the player's presence affects everything around him, from the physical environment to the behaviors even the emotions of both friends and enemies.
We benchmark Half Life 2 Lost Coast with our own custom timedemos as to avoid possible driver optimizations using the "record demo_name" command and loading the timedemo with the "timedemo demo_name" command - For a full list of the commands,
click here
.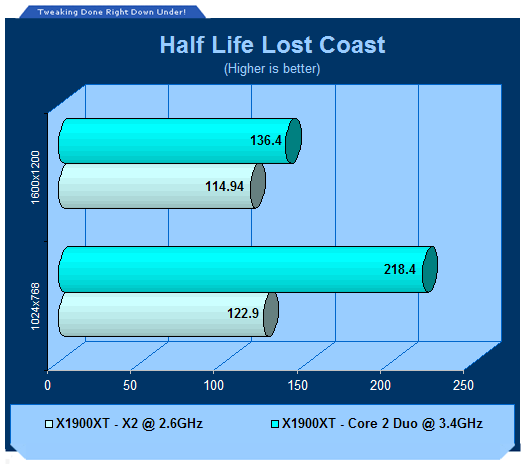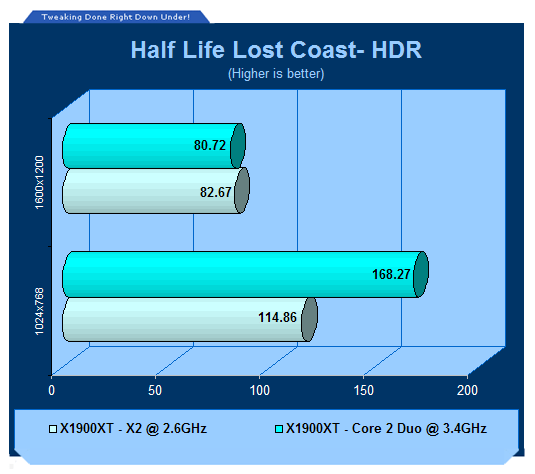 Low resolution Half Life Lost Coast tests have always been a bit of a CPU limitation - we just didn't realize how much though. All the way up until 1600 x 1200 with HDR enabled the performance increase was huge, at this high level though we are hitting a VGA limitation.
Benchmarks - Doom 3
Doom 3Version and / or Patch Used:
Unpatched
Timedemo or Level Used:
Built-in Timedemo
Developer Homepage:
http://www.idsoftware.com
Product Homepage:
http://www.doom3.com
Buy It Here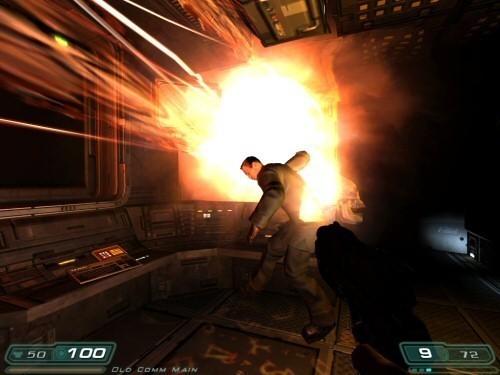 Doom 3 is still one of the most popular games at the moment and is quite intensive in the 3D department, even though it is starting to age. With our own custom time demo we are able to give a realistic rating on what kind of FPS you will be achieving.
For more information on benchmarking Doom 3 we recommend you check out our extensive article regarding it
here
.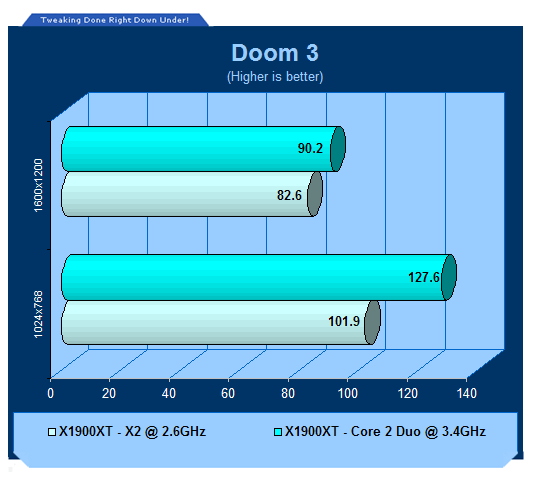 Doom 3 sees massive performance gains at the low resolution and smaller performance gains in the higher resolution although still in excess of almost 10%.
Benchmarks - F.E.A.R.
F.E.A.R.Version and / or Patch Used:
Unpatched
Timedemo or Level Used:
Built-in Test
Developer Homepage:
http://www.vugames.com
Product Homepage:
http://www.whatisfear.com/us/
Buy It Here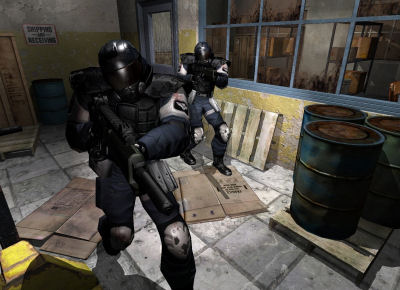 F.E.A.R. (First Encounter Assault Recon) is an intense combat experience with rich atmosphere and a deeply intense paranormal storyline presented entirely in first person. Be the hero in your own spine-tingling epic of action, tension, and terror...and discover the true meaning of F.E.A.R.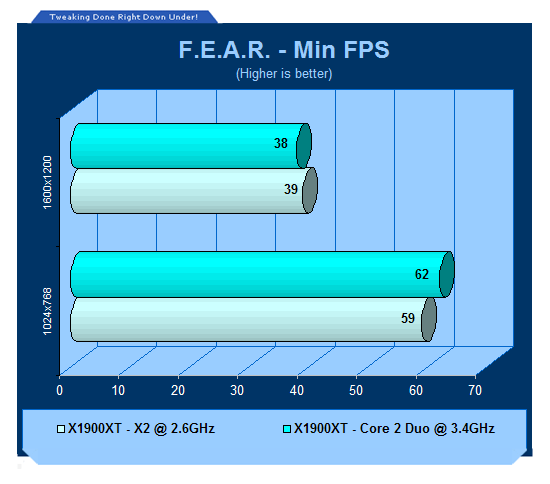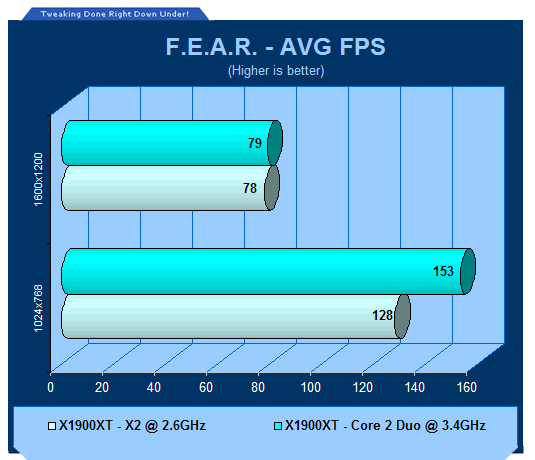 F.E.A.R. is another very intensive game and you can see even with the extra power of Intel's Core 2 processor, we are still hitting a VGA limitation at the higher resolution.
Benchmarks - High Quality AA and AF
High Quality AA and AF
Our high quality tests let us separate the men from the boys and the ladies from the girls. If the cards weren't struggling before they will start to now.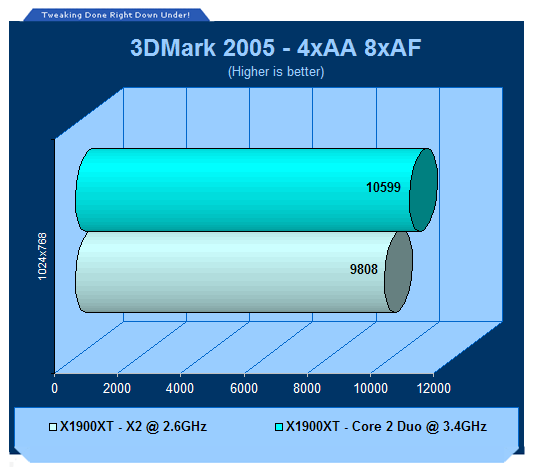 The extra power on offer again from the Core 2 Duo test bench can be seen when we turn on AA and AF.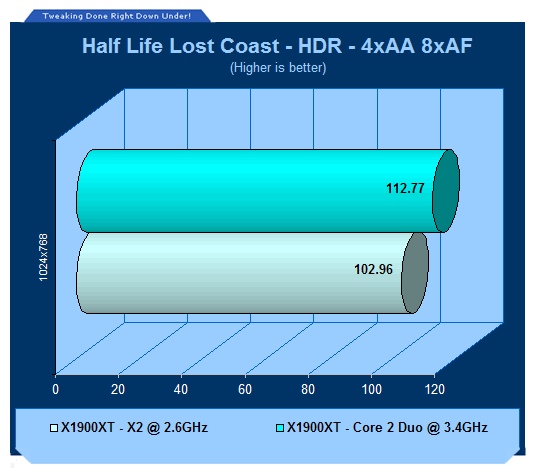 With HDR, AA and AF all enabled we can clearly see the performance gains are there with the new test system.
Final Thoughts
Overall we can clearly see that there are big gains at the lower resolution - there are also still gains at the higher resolution. The good news for our readers though is that now when we are benchmarking graphics cards like the Radeon X1950XTX in Crossfire mode at 1600 x 1200, we are able to see the full performance, instead of hitting a brick wall, like we found ourselves doing on our older AMD test system.
I was personally very excited about the chance to finally move to Core 2 Duo as the X2 processor is clearly out dated now. It is clear why so many people have moved from AMD setups and jumped on the Intel bandwagon. What you have to remember is the kind of tweaking we have done is just very basic - a bit of voltage here and there and a bump in FSB and we have been able to achieve a 1GHz overclock very quick and with very little effort. People wanting to put more time into the setup of their system will see speeds in excess of 400MHz FSB without too much effort at all.
No doubt when we get new BIOSes form DFI we will try and delve further into CPU overclocking but what was achievable today can be done by anyone who has a basic knowledge of working their way around the BIOS.
We have seen our brand new Intel Core 2 Duo test system strut its stuff now in a few previous articles and we have been pleased with what it has to offer.
Keep your eyes open for more articles making full use of our new VGA test bed here at TweakTown!
PRICING: You can find products similar to this one for sale below.

United States: Find other tech and computer products like this over at Amazon.com

United Kingdom: Find other tech and computer products like this over at Amazon.co.uk

Australia: Find other tech and computer products like this over at Amazon.com.au

Canada: Find other tech and computer products like this over at Amazon.ca

Deutschland: Finde andere Technik- und Computerprodukte wie dieses auf Amazon.de