Neon Noir Benchmarked: Crytek's Ray Tracing Benchmark Tool Tested
Can your PC handle CRYENGINE's ray tracing tech? Neon Noir benchmarks including the $2499 TITAN RTX are inside.

Published
5 minute read time
Introduction
Crytek released their Neon Noir benchmark in November 2019, with the benchmark tool giving us a great look at what CryEngine can do with its new ray tracing technology. But as we get closer to the release of next-gen GPUs, I wanted to take a look back at Crytek's work with a software-based ray tracing solution -- benchmarkable with Neon Noir.
But the thing is with Neon Noir and CryEngine, is that you don't need ray tracing capable hardware to run it. CryEngine's ray tracing technology is both hardware and API agnostic, so you don't need specific RT cores like NVIDIA has on its GeForce RTX graphics cards.
Crytek uses a software-based approach for ray tracing in CryEngine, meaning the RT cores inside of the Turing GPU are rendered useless, as too will the new RDNA 2 architecture from AMD. CryEngine's ray tracing technology runs on compute shaders through DX11, meaning it'll work on most graphics cards on the market.
What You'll Need
Crytek makes the Neon Noir benchmark easy to download and run, but you'll need to do a couple of things first. The first thing you need to do is download the CryEngine Launcher, with a link to that below. Once you've got that and you've signed into the Crytek marketplace, you can grab the Neon Noir benchmarking tool.
Built-In Razer Chroma Support
Neon Noir even has full Razer Chroma RGB integration, meaning that while you're benchmarking Neon Noir your Razer hardware will have its RGB lighting synched up for the ultimate in benchmarking.
Cards Tested & Test System Specs
Cards Tested
TITAN RTX (24GB)

GeForce RTX 2080 Ti (11GB)

GeForce RTX 2080 SUPER (8GB)

GeForce RTX 2080 (8GB)

GeForce RTX 2070 SUPER (8GB)

GeForce RTX 2070 (8GB)

GeForce RTX 2060 SUPER (8GB)

GeForce RTX 2060 (6GB)

MSI GTX 1660 Ti GAMING X (6GB)

MSI GTX 1660 SUPER GAMING X (6GB)

MSI GTX 1650 SUPER GAMING X (4GB)

MSI GTX 1650 GAMING X (4GB)

Radeon RX 5700 XT (8GB)

Radeon RX 5700 (8GB)

MSI RX 5600 XT GAMING X (8GB)

MSI RX 5500 XT GAMING X (8GB)

Radeon VII (16GB)

Radeon RX Vega 64 LCE (8GB)

Radeon RX Vega 64 (8GB)

Radeon RX Vega 56 (8GB)

MSI RX 580 MECH 2 (8GB)

GeForce GTX 1080 Ti (11GB)

GeForce GTX 1080 (8GB)

GeForce GTX 1070Ti (8GB)
GPU Test Rig Specs
Welcome to the latest revision of our GPU test bed, with our system being upgraded from the Intel Core i7-7700K to the Core i7-8700K. The CPU is cooled by the Corsair H115i PRO cooler, with the 8700K overclocked to 5GHz. We've stayed with GIGABYTE for our motherboard with their awesome Z370 AORUS Gaming 7.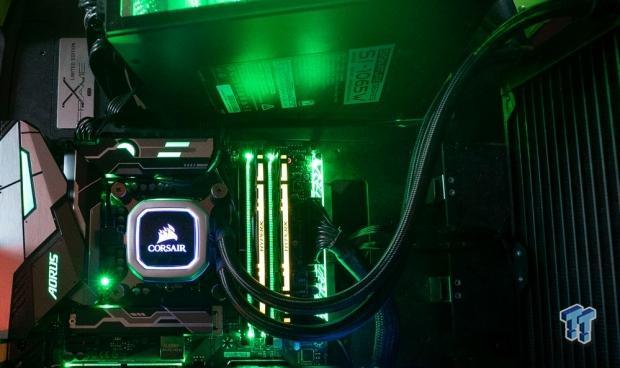 We approached our friends at HyperX for a kit of their kick ass HyperX Predator DDR4-2933MHz RAM (HX429C15PB3AK4/32), with 2 x 8GB sticks for a total of 16GB DDR4-2933. The RAM stands out through every minute of our testing as it has beautiful RGB lights giving the system a slick look while benchmarking our lives away, while the Z370 AORUS Gaming 7 motherboard joins in with its own array of RGB lighting.

Anthony's Test System Specifications
Additional Images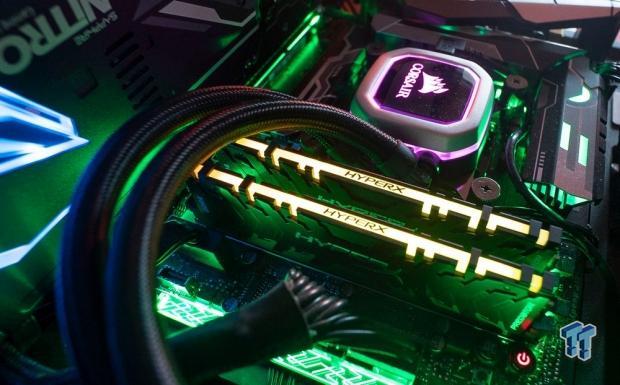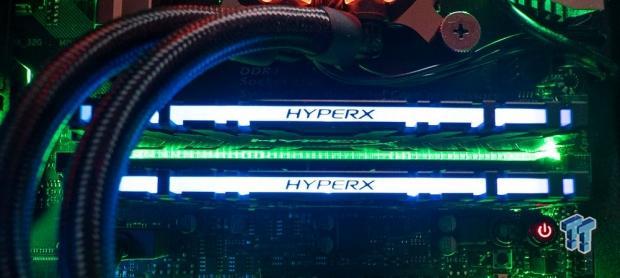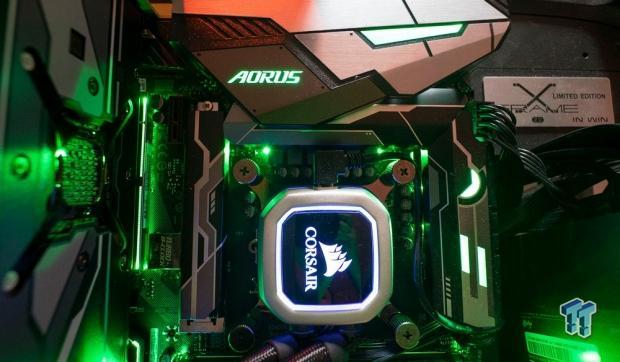 Benchmarks - 1080p
1080p Benchmark
1080p Performance Thoughts
You can see the performance here out of the NVIDIA TITAN RTX graphics card, it is just an all-out beast. It beats the GeForce RTX 2080 Ti, but there is a big drop down to the RTX 2080 SUPER. The step down from the RTX 2080 to the RTX 2070 isn't too bad, but then another big drop occurs down to the RTX 2060 SUPER.
AMD only enters the game with 7717 points here at 1080p, beating the normal RTX 2060 -- but losing to the RTX 2070 and even the previous-gen GTX 1080 Ti.
Benchmarks - 1440p
1440p Benchmark
Things get a little more serious at 2560 x 1400, with the TITAN RTX and RTX 2080 Ti well out and ahead of the GPU pack compared to every other card.
NVIDIA's own GeForce RTX 2080 SUPER is the closest once again, with another sharp drop in performance down to the RTX 2070, where it is close to the RTX 2060 SUPER and GTX 1080 Ti -- but then another drop in perofrmance down to AMD's best Radeon RX 5700 XT graphics card.
Once again the RX 5700 XT barely beats out the RTX 2060, while a stack of cards in the mid-range between the Radeon RX 5700 and RX Vega 64 air are all between 3062 and 3871 points here at 1440p.
Benchmarks - 4K
4K Benchmark
The pain is real at 3840 x 2160 and Neon Noir, with the TITAN RTX and GeForce RTX 2080 Ti so far out and ahead here it's not funny. The RTX 2080 SUPER and RTX 2080 aren't even close, and nothing AMD has in its ranks right now is within even half of those top scores.
NVIDIA's previous-gen GeForce GTX 1080 Ti holds its own here with 2478 points, beating out AMD's best Radeon in the RX 5700 XT with its 2154 points. Not bad, but still ahead of the Vega 20 / 16GB HBM2 combo in the Radeon VIi which has just 1829 points -- under the 2099 points of the regular RTX 2060.
Final Thoughts
Crytek has simply pulled the veil back on software-based ray tracing technology inside of CryEngine here with its Neon Noir benchmark, but as we get closer to the reveal of AMD's next-gen RDNA 2 architecture and the next-gen Microsoft Xbox Series X and Sony PlayStation 5 consoles... ray tracing is going to become an even bigger topic for gamers.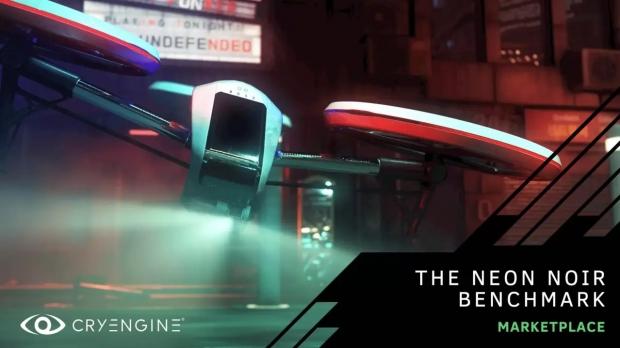 But man, you've got to give props to Crytek... they really have something that looks breathtaking when it's running at 4K on the GeForce RTX 2080 Ti and TITAN RTX graphics cards. I'd play the hell out of a next-gen Crysis game powered with ray tracing in city environments like that.
Sure, you'd shoot one pane of glass and you'd probably see your PC melt into the desk because of the amount of GPU power you'd require -- but wow it would look awesome.
I don't think we'll ever see a full-fledged game like this, but this technology here with Neon Noir will be baked into future versions of CryEngine and of course, I'm sure -- a next-gen game. Surely there's a new Crysis in development with ray tracing in mind, it kinda feels like the perfect game to come out and define the next 5-10 years like the original did all those years ago.
Give it some true multi-GPU support to push boundaries as well, with full NVLink/SLI and CrossFire support. Crytek should push all the levers on a new game, all the graphical bells and whistles and require an 8-core CPU minimum and 16-core recommended.
I'd love to see what a fully-realized PC game could do... powered with 32 threads of CPU power, 16-64GB of RAM, and a next-gen Ampere-based or RDNA 2-based graphics card.
We are going to get awfully close to that with Crytek announcing Crysis Remastered in April, which will have plenty of PC-specific optimizations. This will include:
Crysis Remastered features:
HD/4K textures

Screen Space Direction Occlusion (SSDO)

Voxel-based global illumination (SVOGI)

High-end volumetric fog/lighting effects and reflections

Software-based ray-tracing in CryEngine 5.6

Motion blur

Parallax occlusion mapping

New particle effects

Enhanced depth of field
But seriously, a next-gen game built from the ground up for the next generation of PC gaming... just like Crysis did back in 2007. It's still one of the best looking games on the market, 13 years later -- that's how far it pushed boundaries.
Come on, Crytek.
Please? Because that would be maximum awesome.
We openly invite the companies who provide us with review samples / who are mentioned or discussed to express their opinion. If any company representative wishes to respond, we will publish the response here. Please contact us if you wish to respond.