Gears 5 Benchmarked at 1080p, 1440p, and 4K
Gears 5 gets benchmarked on a bunch of GPUs at 1080p, 1440p, and 4K.

Published Oct 10, 2019 3:14 AM CDT
|
Updated Tue, Nov 3 2020 6:57 PM CST
3 minutes & 56 seconds read time
Introduction & Graphics Settings
The last two weeks have been dedicated Gears 5 and Borderland 3 benchmarking time, with Gears 5 benchmarked at 8K proving that even a $2499 graphics card isn't ready for 8K gaming. But now, it's time for Gears 5 to be benchmarked and assessed at 1080p, 1440p, and 4K resolutions.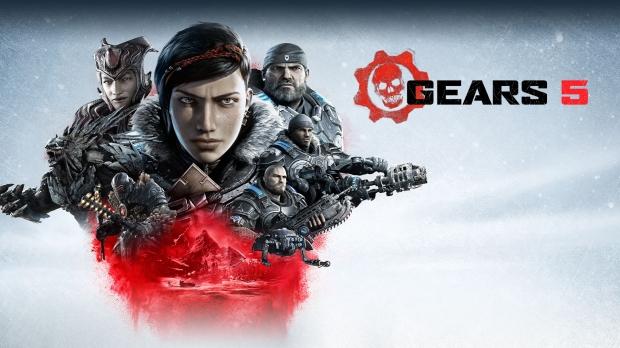 The game is powered by Unreal Engine 4 and looks really good when it's cranked up to its highest in-game settings, but even the higher-end GeForce RTX 2080 Ti and TITAN RTX barely get to 60FPS at 4K in Gears 5.
Gears 5 is the sixth entry into the series, starting out as an Xbox exclusive and slowly coming to the PC. The PC version of the game is always the best, especially when Microsoft offers up an optional high-resolution texture pack. This texture pack really shines at 4K, and crushes the souls of all GPUs at 8K.
Graphics Settings
I've got the high resolution texture pack installed, with motion blur and vertical sync both disabled.
Test System Setup
Our New GPU Test Rig
Welcome to the latest revision of our GPU test bed, with our system being upgraded from the Intel Core i7-7700K to the Core i7-8700K. The CPU is cooled by the Corsair H115i PRO cooler, with the 8700K overclocked to 5GHz. We've stayed with GIGABYTE for our motherboard with their awesome Z370 AORUS Gaming 7.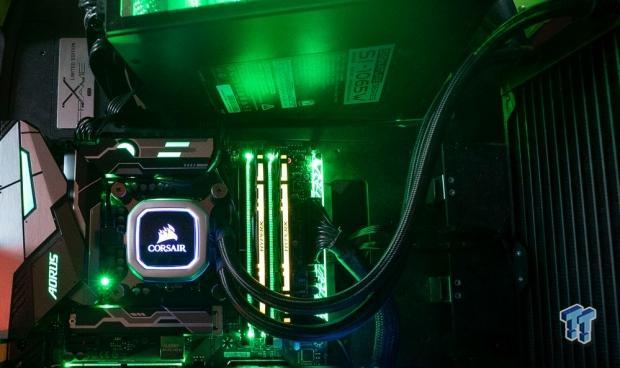 We approached our friends at HyperX for a kit of their kick ass HyperX Predator DDR4-2933MHz RAM (HX429C15PB3AK4/32), with 2 x 8GB sticks for a total of 16GB DDR4-2933. The RAM stands out through every minute of our testing as it has beautiful RGB lights giving the system a slick look while benchmarking our lives away, while the Z370 AORUS Gaming 7 motherboard joins in with its own array of RGB lighting.

Detailed Tech Specs
CPU: Intel Core i7-8700K @ 5GHz
Cooler: Corsair Hydro Series H115i PRO
MB: Z370 AORUS Gaming 7
RAM: 16GB (2x8GB) HyperX Predator DDR4-2933
SSD: 1TB OCZ RD400 NVMe M.2
SSD: 512GB OCZ RD400 NVMe M.2
PSU: InWin 1065W PSU
Chassis: In Win X-Frame
OS: Windows 10 Pro x64
Additional Images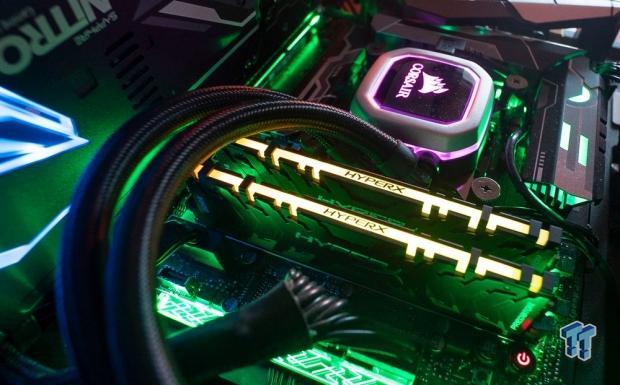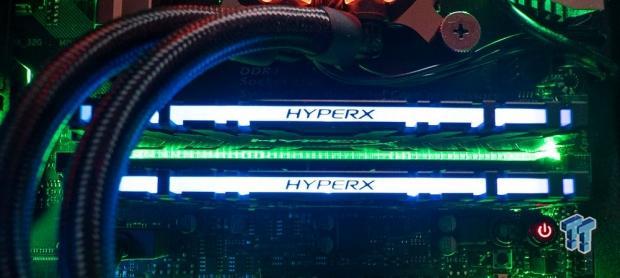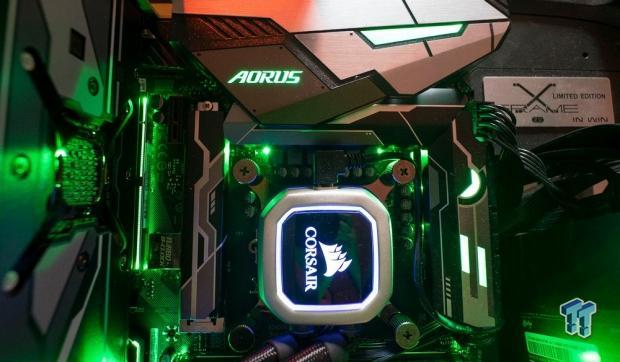 Benchmarks - 1080p
Gears 5 - DX12 - 1080p
Most of the graphics cards on our stack tested did extremely well at 1080p, with the slowest card out of them all being NVIDIA's now-replaced GeForce RTX 2060 with a still very respectable and ultra enjoyable 85FPS average. The newer RTX 2060 SUPER is ahead with 93FPS, while AMD does extremely well here whit its Radeon RX 5700 and 99FPS.
The flagship Navi-based Radeon RX 5700 XT hits 111FPS average, right on the heels of the 113FPS of the RTX 2070 SUPER and the same 111FPS average as the 16GB HBM2-powered Radeon VII graphics card.
At the top we have the GeForce RTX 2080 Ti with 139FPS average and $2499 will get you 140FPS average, perfect for 1080p 144Hz monitors. But you aren't buying these cards for 1080p, are you?
Benchmarks - 1440p
Gears 5 - DX12 - 1440p
At the higher-end side of things we have 2560x1440 performance, with the 60FPS mark as my personal minimum. NVIDIA's GeForce RTX 2060 hits 60FPS on the dot, while the suped-up RTX 2060 SUPER is 10% faster with 66FPS average thanks to its faster GDDR6 memory offering more performance at the higher resolution.
AMD's new Radeon RX 5700 hits 69FPS average while the RX 5700 XT is 5FPS faster at 74FPS average, leaving 80FPS to the faster HBM2-based Radeon VII. NVIDIA's GeForce RTX 2070 SUPER hits 82FPS here, just faster than the Radeon VII while the RTX 2080 Ti and TITAN RTX offer over 100FPS average at 1440p.
Benchmarks - 4K
Gears 5 - DX12 - 4K
The 4K club ain't for every graphics card, with every single card I tested falling below my minimum threshold of 60FPS apart from NVIDIA's super-high-end GeForce RTX 2080 Ti and TITAN RTX, something that costs $2499.
NVIDIA's GeForce RTX 2060 manages just 33FPS here, while the RX 5700 and RX 5700 XT enjoy sub-40FPS with 36FPS and 39FPS, respectively. The GeForce RTX 2070, RTX 2070 SUPER, RTX 2080, and RTX 2080 SUPER are no match for the pure Turing performance of the higher-end RTX 2080 Ti and TITAN RTX with 62FPS and 63FPS at 4K, respectively.
Final Thoughts
Gears 5 is an absolute beast at 4K and requires an even more beast-like gaming PC to run it, with our Intel Core i7-8700K equipped rig with NVIDIA's finest Turing graphics cards in the GeForce RTX 2080 Ti and TITAN RTX the only cards capable of 4K at 60FPS. Nothing that AMD has on the market comes remotely close, with the Radeon RX 5700 XT offering 39FPS average at 4K versus 62FPS on the RTX 2080 Ti.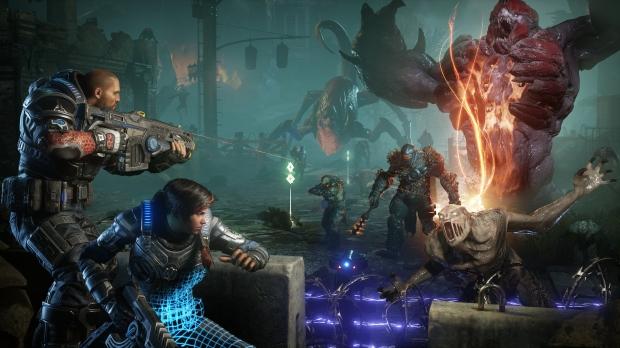 Not everyone wants to play, nor actually own a 4K gaming monitor -- with 2560x1440 a much more popular resolution, and a personal favorite of mine. At 1440p, every single graphics card we tested from the GeForce RTX 2060 and Radeon RX 5700 and up were capable of over 60FPS, with the RTX 2080 Ti topping out at 104FPS average.
With everything cranked up to Ultra bar a few settings like AA, you can enjoy stellar performance in a great-looking (and super-popular) game like Gears 5. However, if you want to truly crush your gaming rig into a fine dust then you will need to run Gears 5 at 8K -- or 7680x4320 which is 4x the pixels of 4K and 16x the pixels of 1080p. Truly insane stuff, and something I tested here -- Gears 5 benchmarked at 8K.
With all of the testing done, any of the new stack of graphics cards from both AMD and NVIDIA will offer great performance at 1080p and 1440p with over 60FPS on all of the cards above the RX 5700 and RTX 2060. But if you want to step into the realm of 4K with most details cranked to the max, you're going to need to side with Team Green.
We openly invite the companies who provide us with review samples / who are mentioned or discussed to express their opinion. If any company representative wishes to respond, we will publish the response here. Please contact us if you wish to respond.