ASRock Multi-Gigabit Performance: 10GbE/5GbE/2.5G Networking
Motherboard manufacturers ditch gigabit for faster network performance.
Published Thu, Feb 14 2019 10:00 PM CST
|
Updated Tue, Nov 3 2020 6:57 PM CST
Introduction, Specifications, and Pricing
Many modern motherboards ship with a new multi-speed Ethernet. You may have noticed that one port on the back of your system is a different color, or in some cases, upside down in relation to the others. At first, the enhanced Ethernet ports added support for 10-gigabit speeds but many companies have introduced NBASE-T or Multi-Gigabit with provisions for 2.5 and 5-gigabit networking (IEEE 802.3bz).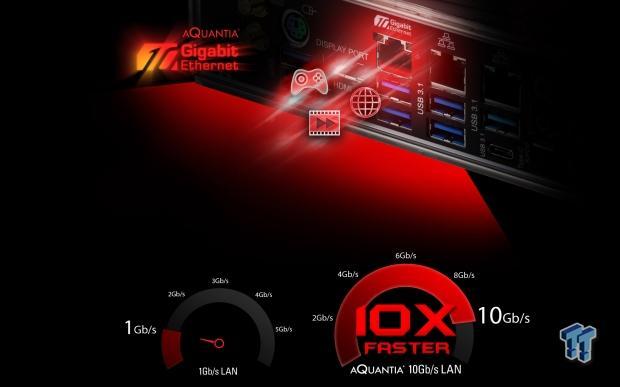 The market has been rip for replacing gigabit Ethernet for a long time. With Ethernet, you get just over 100 MB/s of throughput. When it was first released nearly twenty years ago, no one even expected flash to take over as the dominate storage for personal computers or the speeds the technology enables. 100 MB/s was a 10x increase over the standard gigabit replaced. 10-gigabit is another 10x increase. Enthusiasts have used discarded datacenter add-in cards for nearly a decade to utilize 10-gigabit technology but had to utilize loud and expensive enterprise switches to expand the network to more than just a small handful of systems.
Enthusiasts are Slaves to Big (and Small) Business
Until recently, the problem with 10-gigabit in your home came down to the lack of consumer-focused network switches. Just three years ago, we could count the number of small business switches with 10-gigabit support on two hands. Even then, most only shipped with one or two 10GbE ports and four to eight gigabit ports.
The lack of switches wasn't hardware related. Marvell and others had low-cost solutions ready to go but businesses lacked the infrastructure to take advantage of the higher speeds. The network market works on high volumes at low margins. It simply wasn't cost effective to design products for home users where Wi-Fi is the dominant technology.
CAT 5e, CAT 6, and Beyond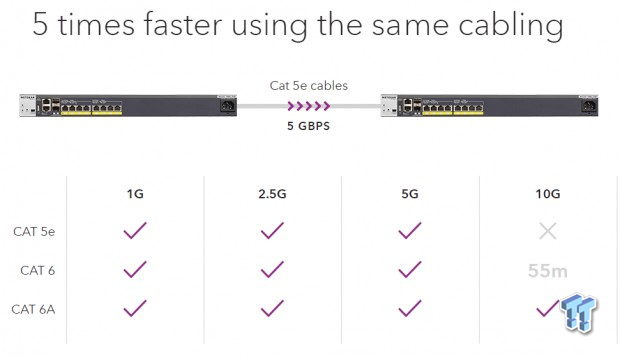 The lack of infrastructure comes down to existing cabling routed through the walls and ceilings of small and medium-sized businesses as well as homes built over the last decade. Most buildings went up with CAT 5e or even CAT 5 cable that doesn't support the bandwidth needed for reliable 10-gigabit transmissions.
Cabling is a widespread problem that still exists in new construction today. Over the last month, I consulted for a business focused on gaming just outside of Indianapolis, Indiana. The contractor ran CAT 5e cable in January 2019, before I was involved. The 3,000+ feet of cable had to be removed and replaced with new CAT 6A before we could even start the network infrastructure rollout with a top of rack switch that fans out to table switches for individual stations.
The cost differences between CAT 5e and CAT 6 per 1000 feet is around $15 or less. The spread increases to around $100 for CAT 6A for the same 1000 feet. The material costs make up only a fraction of the overall expense of hiring a professional installer route the cables through the ceiling and walls.
The new 2.5 and 5GbE standards elevates the need for full cable infrastructure upgrades. Both operate over existing CAT 5e.
Modern Components for Modern Convenience and Performance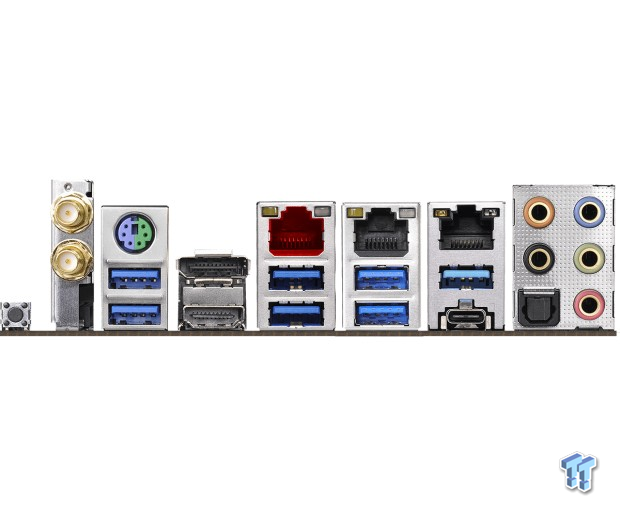 The starting point in your high-speed network starts with your motherboard. Several companies integrate multi-gigabit network components on mainstream and premium boards. ASRock reached out to us to write this article and show performance on our NBase-T network and the company leads the charge with several models currently shipping with faster than gigabit Ethernet support.
Shoppers now have the conveniences of products designed for homes and small offices. Netgear appears to lead the way with several switches with support for multi-gigabit. These products span the full range but small business to "gamer" inspired models, including integrated products like routers, keep the noise down and are suitable for use in your home.
Network Performance Testing
System Breakdown

We used two systems in our testing today. ASRock shipped us a Z390 Phantom Gaming SLI/ac for the 2.5GbE test. We wanted to take the test all the way out to 10GbE, so we tapped our enterprise SSD test system with an ASRock X299 Pro Gaming i9 XE system for the rest of the tests.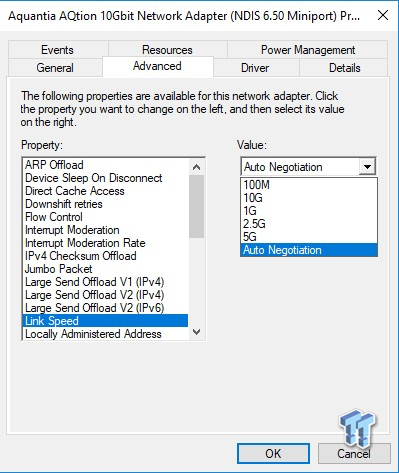 In the middle between the test system and the enterprise server, we used a Netgear ProSafe M4200 with support for 1GbE, 2.5GbE, 5GbE, and 10GbE speeds. The M4200 is just one of many Netgear switches with support for multi-gigabit speeds available today.
Throughput Performance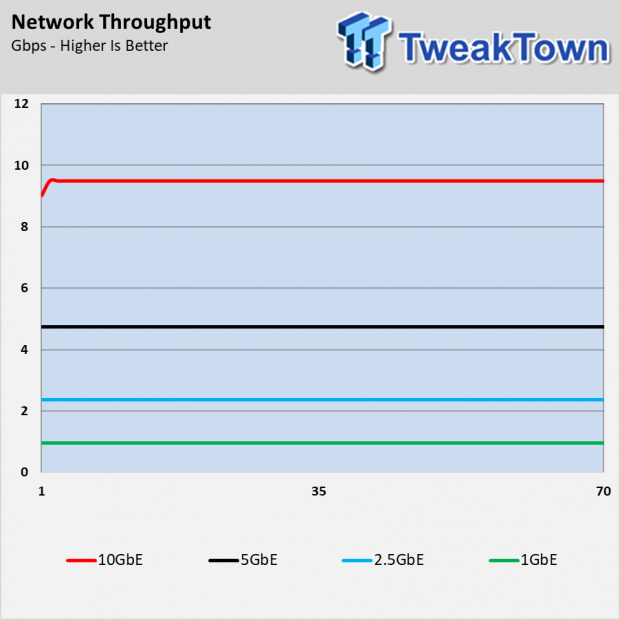 Network and telecom engineers use bits per second, and this is the test results in that format for maximum throughput. We used Ixia's ixChariot software to record the data. Network traffic carries an overhead, so 10-Gigabit Ethernet (GbE) is actually closer to 9.5GbE.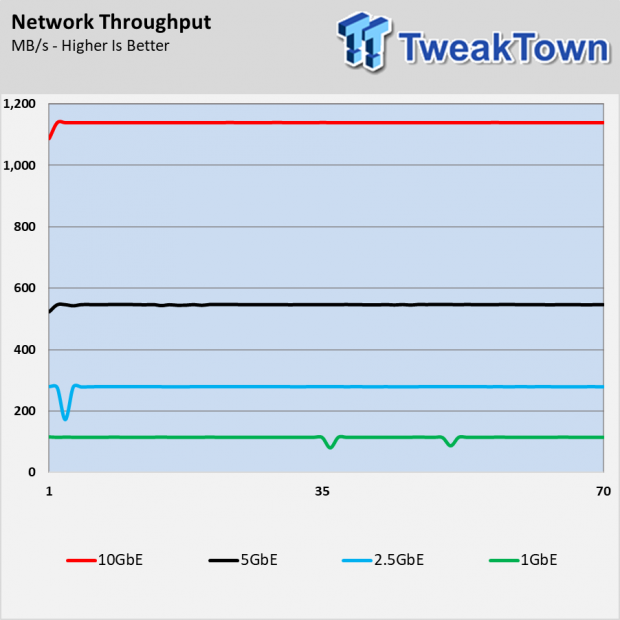 Iometer has a little-known network test that we used to measure performance in megabytes per second, what most of our reader's user to determine network and storage performance. This charge gives most readers a better understanding of the maximum one-way throughput.
Timed Data Transfer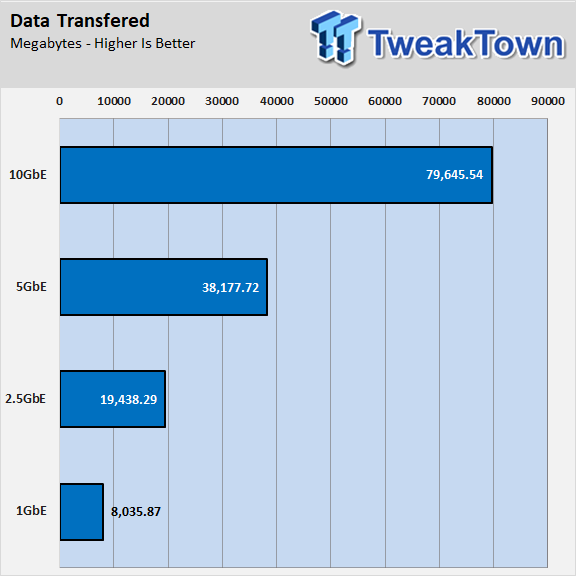 We used 70-second test runs in the tests today. This chart shows the amount of data transferred over each 70-second run with each connection speed.
Response Time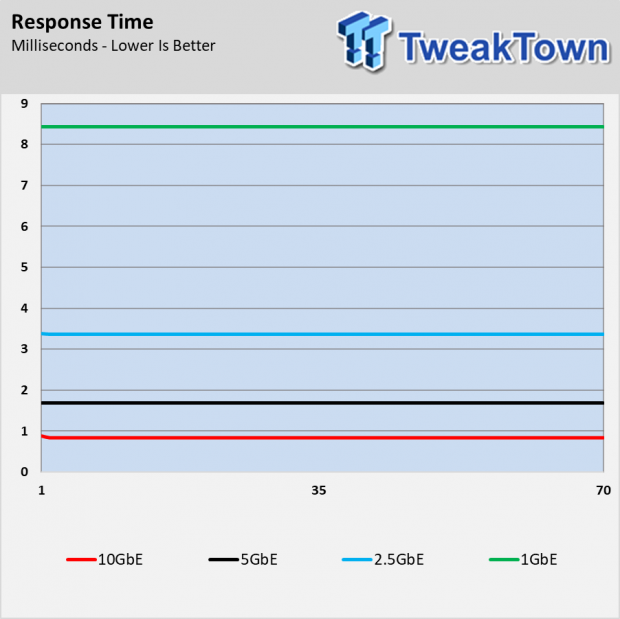 The last test shows the response time for each connection technology. If you use storage over a network, the response time adds to the storage's response time. If you invest in low-latency flash (SSDs), it's best to use a high-performance network to get the most out of the system. The increased latency is why iSCSI and SMB performance on a NAS is slower than a local disk even when using the same media. With each step up the network speed ladder, the latency drops significantly.
Final Thoughts
The ASRock Z390 Professional SLI/ac is the first consumer desktop board I've tested that removes the Intel gigabit ports altogether and replaces them with a single 2.5GbE port. The older ASRock X299 Professional Gaming i9 XE that we also tested includes two Intel gigabit ports and the premium 10GbE port from the AQUANTIA AQtion client controller to deliver 5-speed connectivity.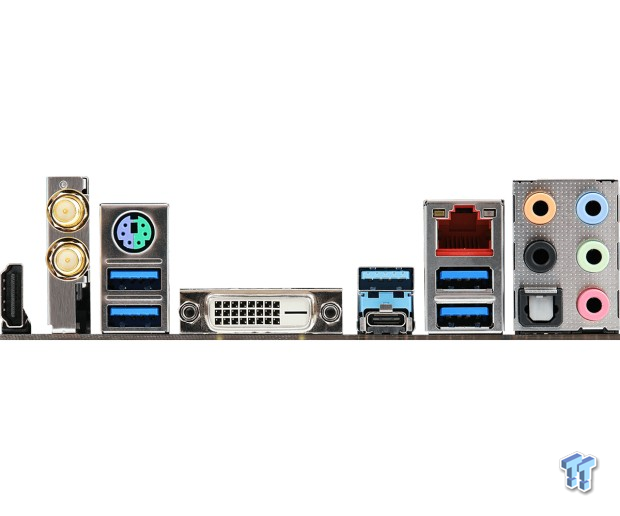 As time passes, we should see more integration of faster-than-gigabit ports as the technology trickles down to lower-cost motherboards. We are already close to a crossover with nearly half of new mainstream and all premium motherboards shipping with the technology. 2020 products will likely move the ratio closer to 90% with only entry-level products shipping with only gigabit-speed LAN.
The motherboard alone doesn't fulfill the promise of high-speed, low-latency performance. On the storage side, NAS manufacturers have shipped low-cost products with 10-gigabit for a few years. The last piece of the multi-gigabit puzzle comes on the switch and router side. Products like the Netgear Nighthawk Pro Gaming SX10 10-port switch (with 2x 10GbE) start at around $200 on Amazon.
The ecosystem has finally come full circle with affordable products positioned in the standard upgrade path rather than niche products that you have to reach for. What that means is your next PC build will include a motherboard, and the technology will likely come with the technology. The same is true for your next NAS, most which cost over $250 ship with multi-gigabit technology today. The piece that ties it all together is the switch/router, and with the multi-gigabit shipping on premium consumer models (as opposed to only business-focused and enterprise-specific), all of the pieces are in your upgrade path.
PRICING: You can find products similar to this one for sale below.

United States: Find other tech and computer products like this over at Amazon.com

United Kingdom: Find other tech and computer products like this over at Amazon.co.uk

Australia: Find other tech and computer products like this over at Amazon.com.au

Canada: Find other tech and computer products like this over at Amazon.ca

Deutschland: Finde andere Technik- und Computerprodukte wie dieses auf Amazon.de
We openly invite the companies who provide us with review samples / who are mentioned or discussed to express their opinion. If any company representative wishes to respond, we will publish the response here. Please contact us if you wish to respond.