Samsung 860 QVO SSD Review - RIP Consumer HDDs
Is Samsung's new 860 QVO SSD the bees knees? Let's find out.
Published
10 minute read time
Introduction, Specifications, and Pricing
Today Samsung throws its hat into the QLC arena with a trio of new products designed to lower large capacity flash-based storage pricing. The new QVO (Quality and Value Optimized) sets its sights on the narrow band of consumer hard disk drive uses. Samsung makes a strong case for abandoning two drive configurations (fast boot SSD plus a large HDD for media storage) by offering large capacity SSDs at lower prices.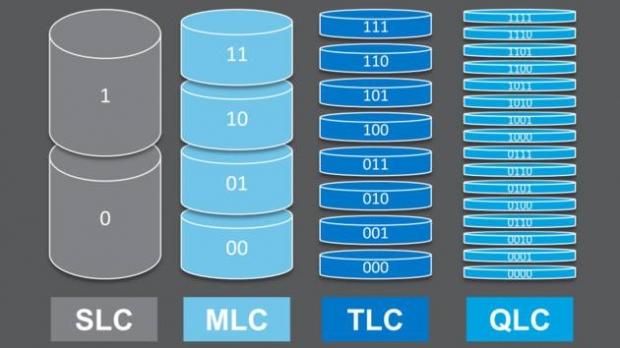 The 860 QVO series is the first from Samsung to utilize what the company calls 4-bit MLC, what we commonly refer to as QLC or quad-level cell flash. The technology stores a fourth bit of data per cell over TLC memory but doubles the number of charge levels to a massive sixteen. The controller must differentiate between the sixteen levels to read and write the data in place.
The thinner slice decreases the margin of error in a structure that is prone to voltage drift and disruption when the adjacent cells change voltage states. The technology behind QLC is highly advanced and remarkably impressive, but to the end users, it's just another drive that reads and writes data quickly.
SSDs in general bought about increased performance and 3-bit per cell TLC ushered in the affordable 1TB size, QLC will bring even higher capacities at lower prices. When TLC first came to market, it was not a high-speed replacement for MLC with 2 bits per cell, but over time the technology was refined and we now have what most consider high-speed TLC. The same will come in the form of QLC, but don't expect that to happen right away.
Specifications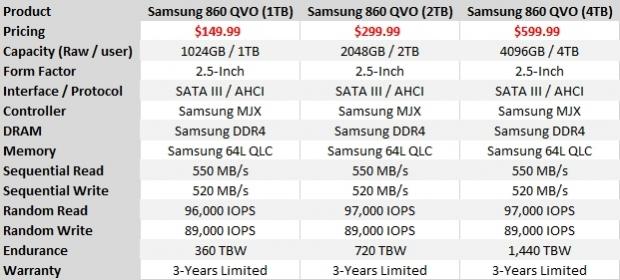 The Samsung 860 QVO series comes to market in three capacities today. This is the first consumer SSD to start in a 1TB size! The series also includes a 2TB and 4TB model. Samsung's documentation sent to reviewers made a point to highlight that the MJX controller (the same used in the 860 EVO and Pro) can scale to 8TB, but the document didn't offer any guidance on if/when a massive 8TB model would come to market. It's just an innocent footnote.
The performance of Samsung's new QLC memory is limited in this series by the SATA bus. Samsung claims up to 550 MB/s sequential read and 520 MB/s sequential write performance across the three drives. Random performance is a claimed 96,000 IOPS read for the 1TB and moves to 97,000 IOPS for the 2TB and 4TB models. Random write performance is a claimed 89,000 IOPS for the series.
Samsung is one of the only companies to release queue depth 1 random performance. The 860 QVO has a claimed random read QD1 read speed of 7,500. We use the 10,000 random read IOPS barrier to separate high-performance SSDs from more modest models. Samsung's EVO series introduced us to 10,000 read IOPS performance, a real game changer at the time and it took other companies several years to match that level of performance in consumer SSDs. We will talk about this more in our testing today and later in the review.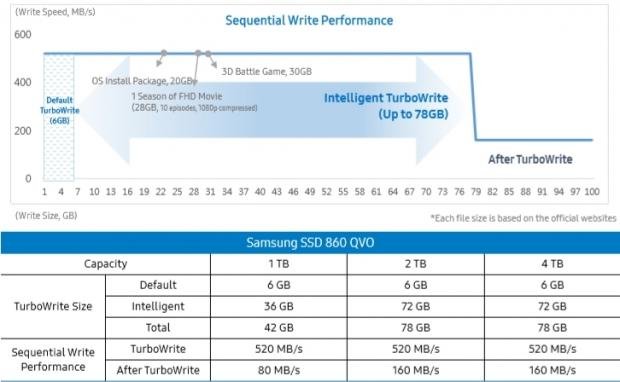 To get around the low write performance that is native to QLC memory, Samsung uses a programmed 1-bit write area for this series. The technology, called TurboWrite, carries over from Samsung's TLC-based products. The formula changes slightly with each new generation. The QVO uses a dedicated 6GB TurboWrite 1-bit area. That extends out with a dynamic area that increases and decreases with the amount of data stored on the drive. The 1TB can grow to 42GB total. That moves to 78GB for the 2TB and 4TB models.
Native QLC sequential write performance is a claimed 80 MB/s for the 1TB QVO and 160 MB/s for the 2TB and 4TB drives.
Pricing, Warranty, And Endurance
860 QVO pricing caught us off guard. The 1TB drive lists for $149.99, and that's around $10 more than the 860 EVO currently sells for. We would like to say Samsung's pricing formula came prior to the current market shift that sent prices plummeting over the last two months but that is not the case. Samsung increased the MSRPs within 24 hours of the review release date. I hope that real pricing at Amazon, Newegg, and other trusted sites come at the previously suggested pricing. As it sits right now, you can walk out of any Best Buy in America with an 860 EVO 1TB for $137.99.
The 2TB 860 QVO suggested price is $299, or around $3 more than a 2TB 860 EVO sold online. The 4TB 860 QVO is the only model we can't find a better EVO price on, but the $599.99 suggested price is around $100 more than we expected.
The endurance comes in 360 TBW increments with the 2TB sporting a 720 TBW rating, twice that of the 1TB model. The massive 4TB increased the overall write endurance to 1,440 TBW.
Accessories and Value-Adds
The QVO series carries support in Samsung's Magician software as well as the Samsung drive-cloning tool. Both make life easier for users.
A Closer Look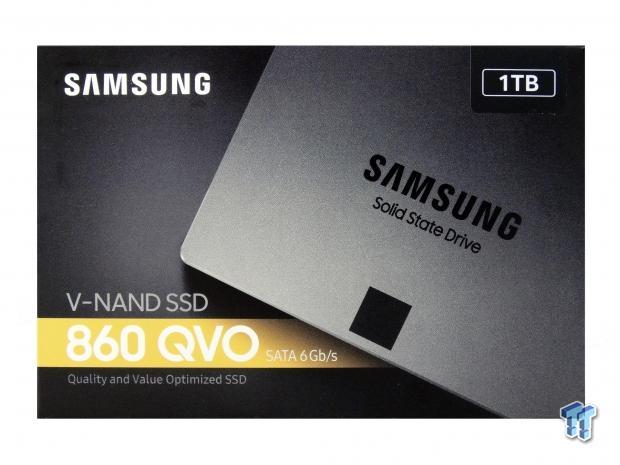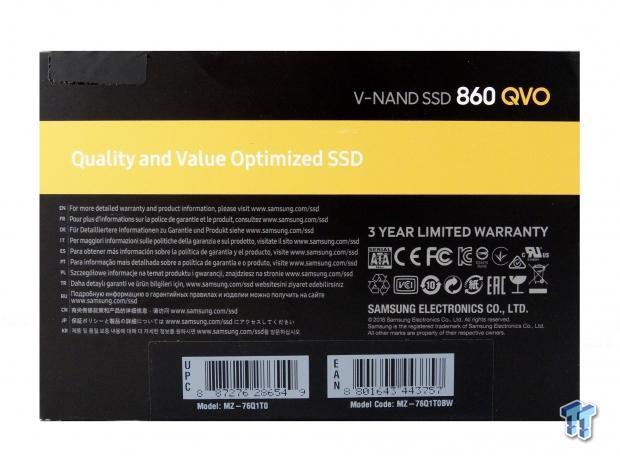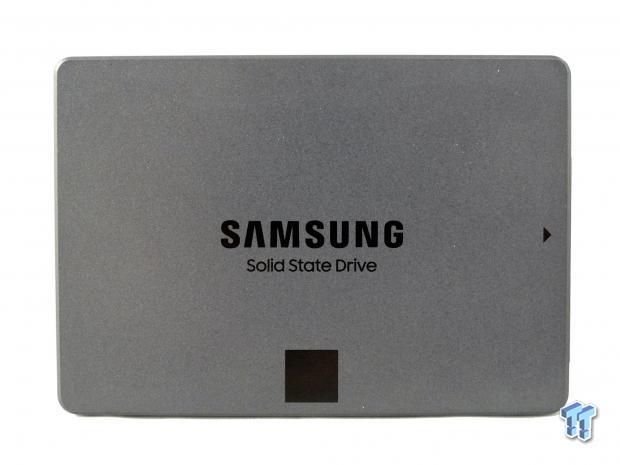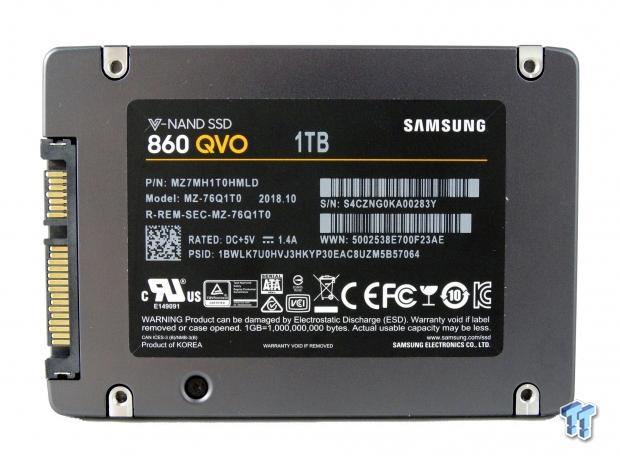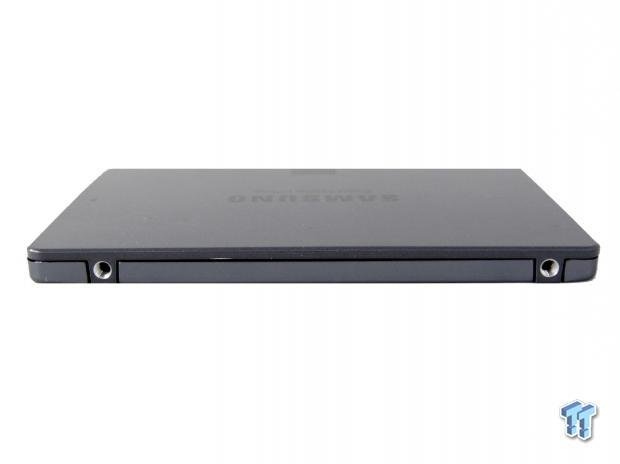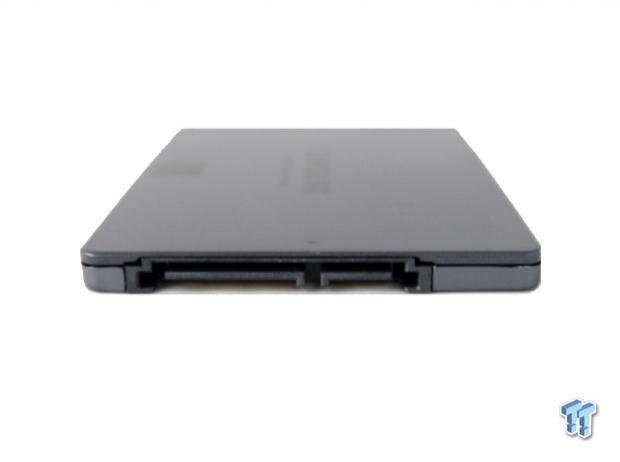 We haven't seen the metallic gray colorway in North America since the 840 EVO. I always liked this color scheme. It's a welcome change from the black and red/orange of the existing 850 and 860 series.
1TB Class Performance Testing
Comparison Products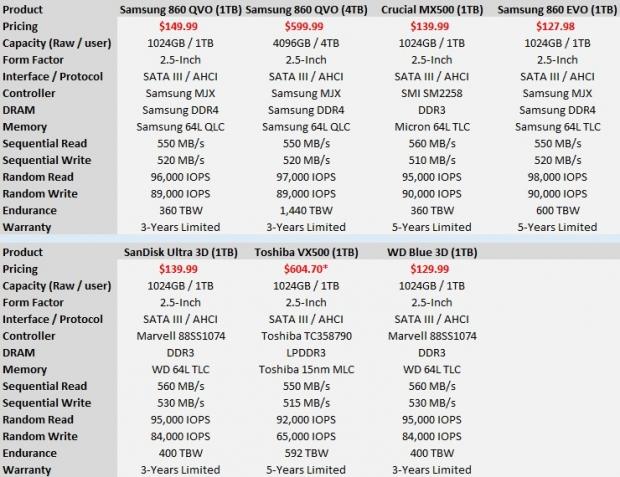 In our review today we will look at two QVO models, 1TB and 4TB. There are very few 4TB consumer SSDs available today, and we recently tested most of them in this holiday shopping article. When it comes to 4TB SATA SSDs, the 850 EVO and Pro, as well as the 860 EVO round out the competition. The new QVO has a strong price advantage over the others.
There are a number of 1TB SSDs shipping today with the 860 EVO and Crucial MX500 being the most popular. The Western Digital Blue 3D and it's identical cousin SanDisk Ultra 3D are also popular. We also included the Toshiba VX500 in this review.
Sequential Read Performance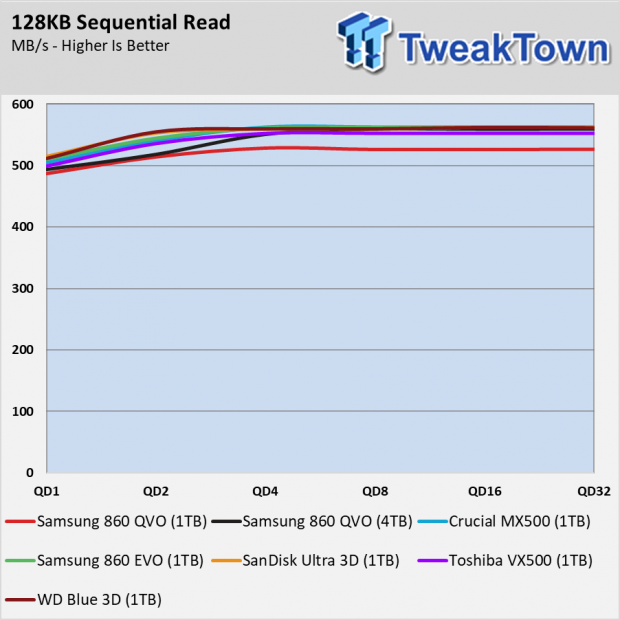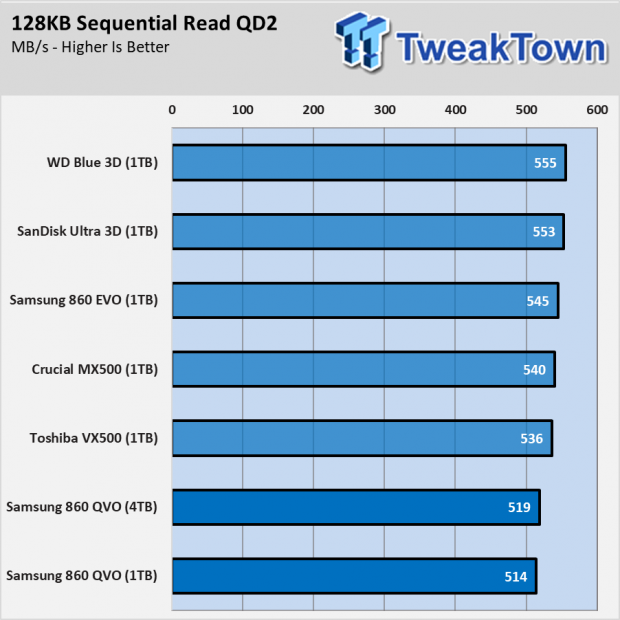 At this point, SATA SSDs have reached peak read performance for sequential data. There is still some variation between products but not enough to use this to base a purchasing decision on.
Sequential Write Performance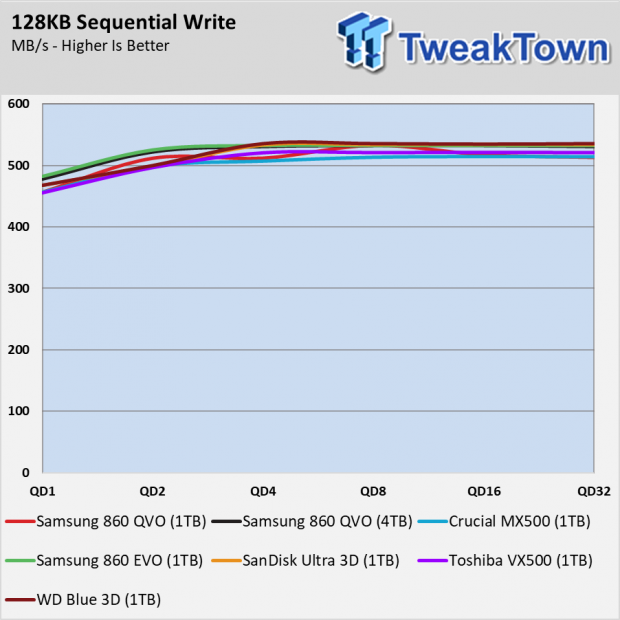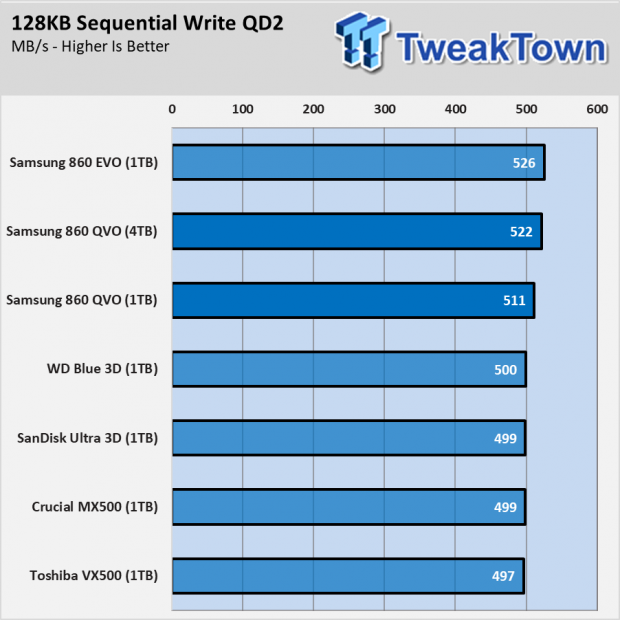 With burst sequential writes, we also see very similar performance across the products.
Sustained Sequential Write Performance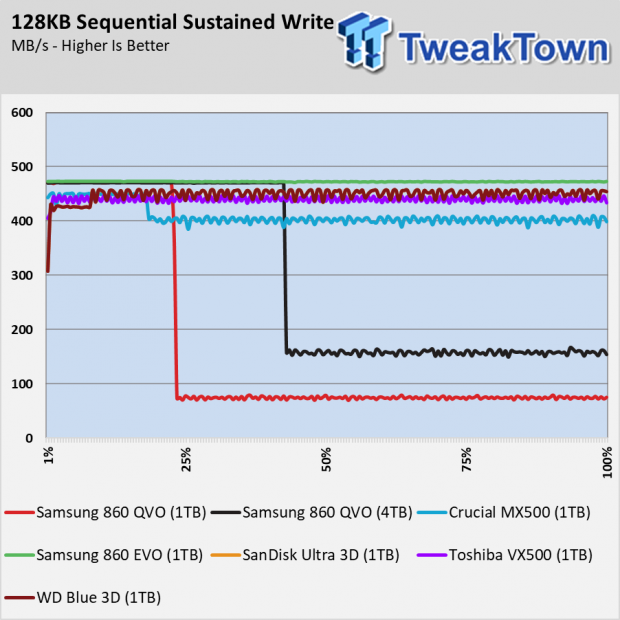 Sustained sequential writes are a bit different. With the newer dynamic SLC buffers, if you have a modest space empty on the drive you will likely never see a slowdown when writing a reasonable amount of data to the drives. Even the new QVO SSDs allow you to write a full Blu-Ray ISO at buffered speeds most of the time.
The other drives on the chart use TLC (the Toshiba uses MLC) and the charts shows there is very little difference between these two technologies now. That wasn't always the case. Early TLC-based SSDs low drop performance, and we see that today with emerging QLC. On one hand, we can say QLC performance much like early TLC today. The difference is from the lessons companies learned with TLC to make it better. Those lessons, like dynamic SLC, carry over to early QLC-based products and that makes them better than many of the first planar TLC flash SSDs.
Random Read Performance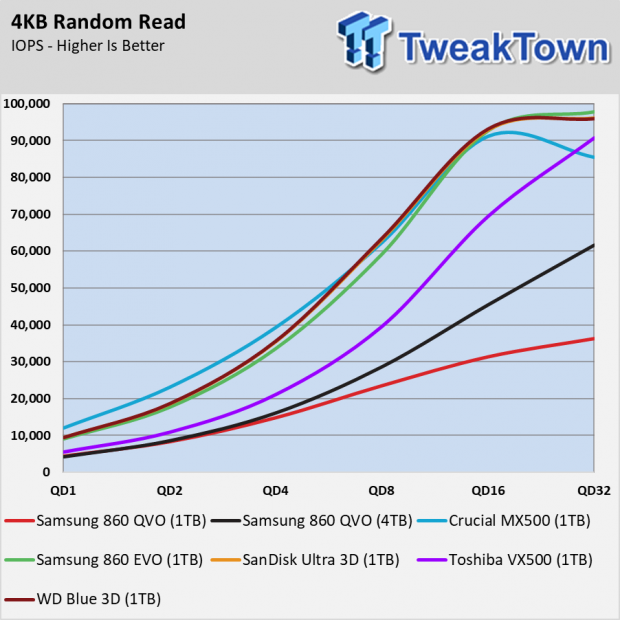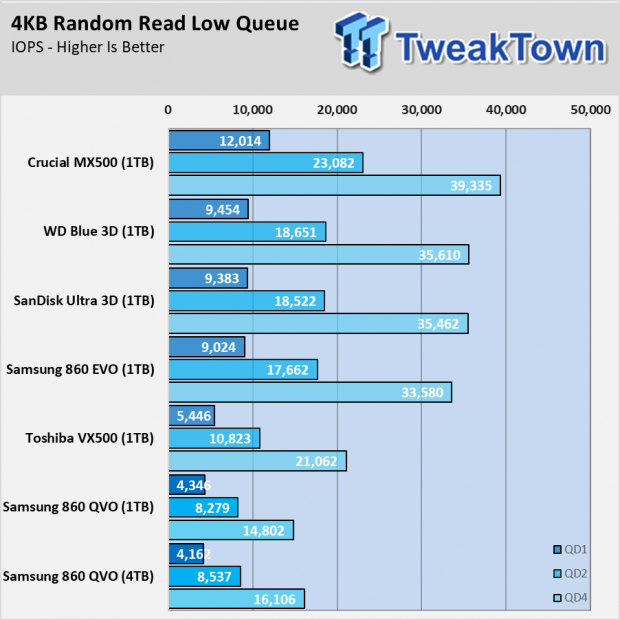 Samsung's specifications show the 860 QVO series with a random read burst performance rating of 7,500 IOPS. We only managed to hit that mark for a few seconds before the drive dropped to around 4,000 random read IOPS. Our test uses an automated script that runs the drives for a set amount of time to give us an average performance score over that period.
Random read performance is responsible for making your PC "feel" fast. This is the one area that we perceive as performance as opposed to seeing the Windows counter in megabytes per second when transferring data. We can measure this and will on the next page with application performance.
Random Write Performance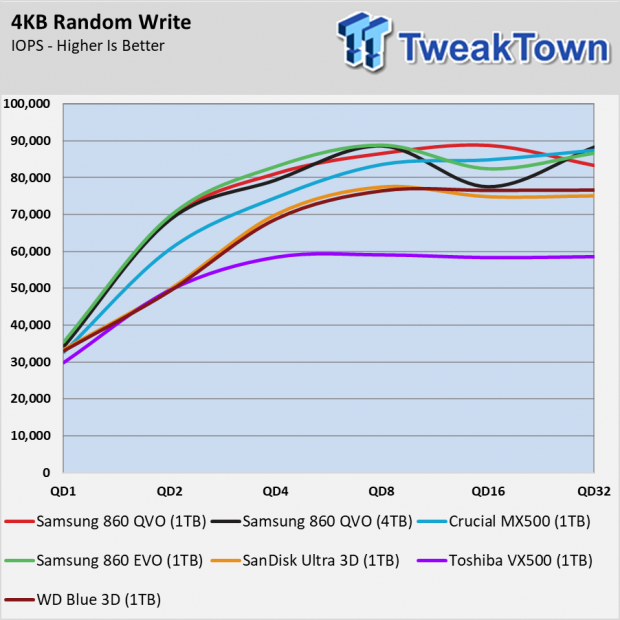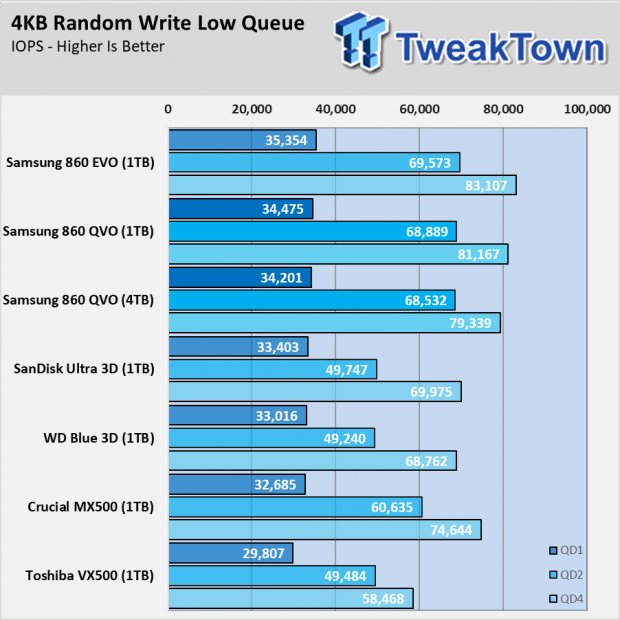 The QVO series doesn't have any problem ripping through our random write workload. The two drives nearly match the 860 EVO at every step.
70% Read Sequential Performance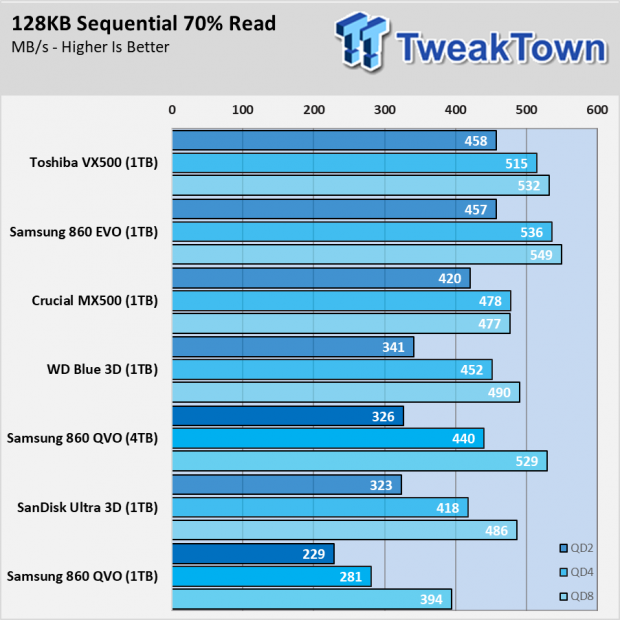 In the sequential mixed workload test, we start to see the first real performance variation between the 1TB and 4TB QVO drives. There is a 4x die difference between these two sizes making this a reasonable and expected outcome. What we can't answer is where the 2TB QVO model would fall on this chart. With less space to manage, it may be the fastest QVO drive of the three, or it could simply fall in the middle between these new 4-bit per cell drives.
70% Read Random Performance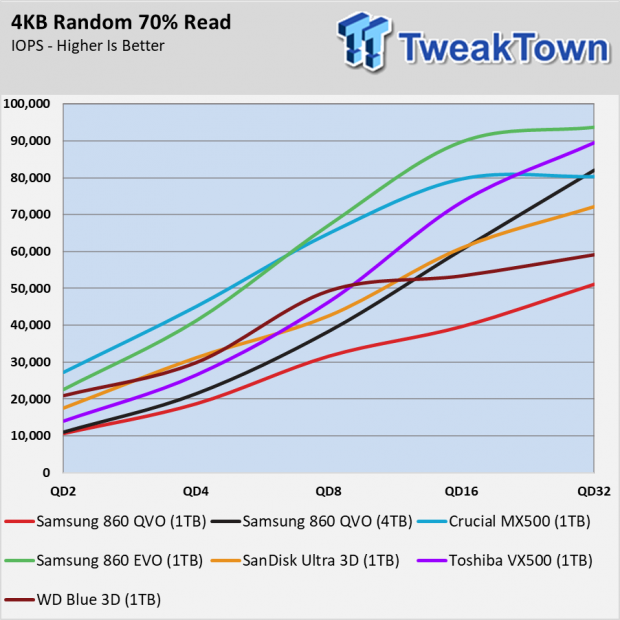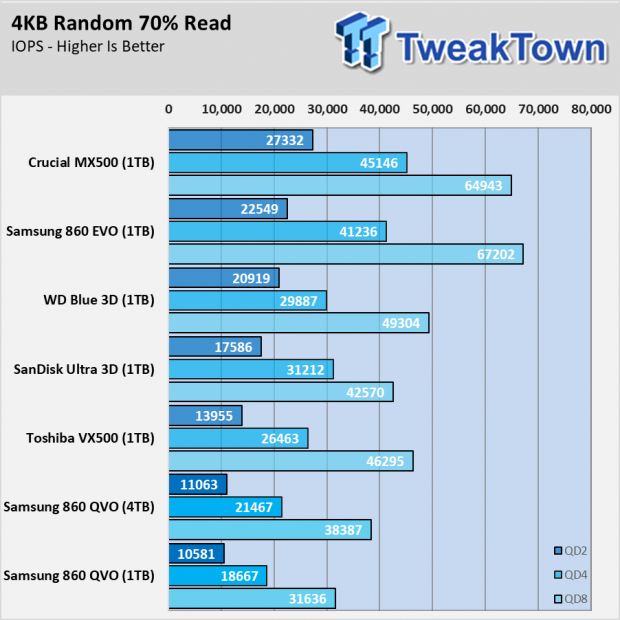 The two QVO drives stumbled in our random read performance test at low queue depths, and that carries over to the mixed random workload test. We see some performance variation in this test as well with the 4TB model taking a lead that closes the gap to the comparison drives. That separation comes at higher queue depths where it's irrelevant for most users and the target audience for this series.
Real-World Performance Testing
Game Load Time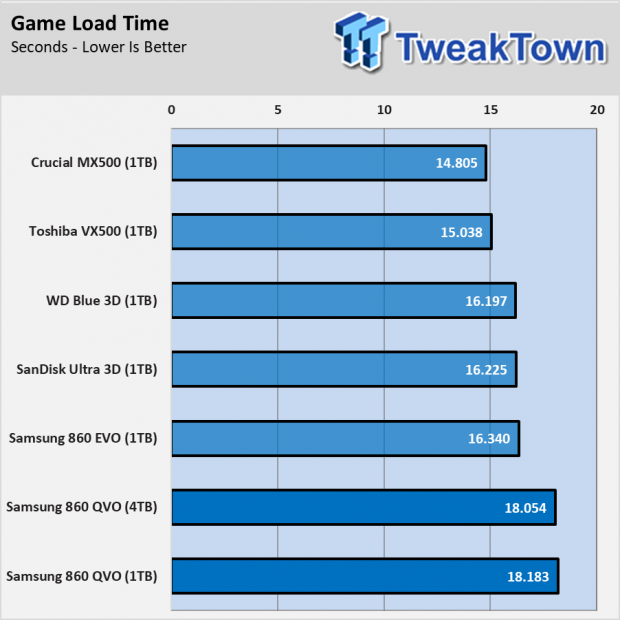 Moving into the application portion of this review we get see what our synthetic workload analysis means for your experience with real software. Most consumer applications use random data reads at low queue depths. The 860 QVO has a difficult time with this workload, and it will be interesting to see how that carries over to applications.
The game load-time test comes to us from Final Fantasy: Stormblood. The two QVO SSDs complete the levels in just over 18 seconds. The loads take nearly two seconds longer than the 1TB 860 EVO, but over 3.3 seconds more than the 1TB MX500.
PCMark 8 Total Storage Bandwidth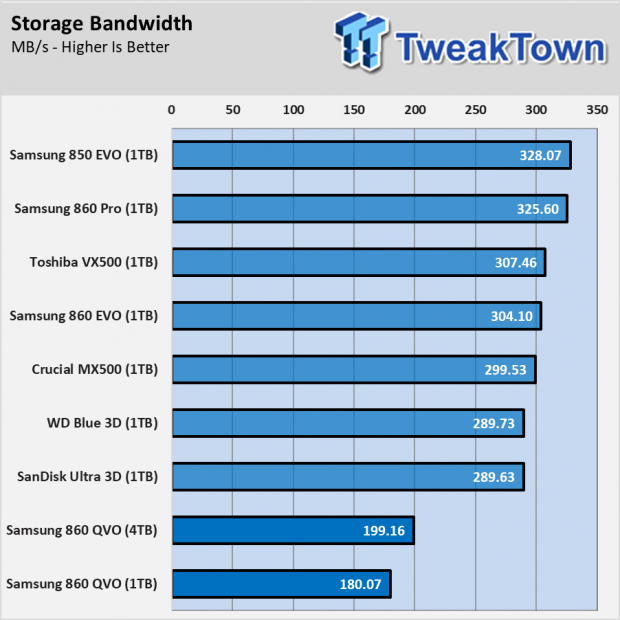 The PCMark 8 Storage Bandwidth test uses nine common applications to perform ten tests. We combine the results into a single, easy to digest, throughput summary to make comparing products simple.
The two 860 QVO SSDs trail the comparison products. Here we added the 850 EVO and 860 Pro to see the full span of popular Samsung SATA products in use today. The important take away from this test is the 1TB 860 EVO delivers just over 300 MB/s, but the QVO SSDs only manage to reach two-thirds of that mark.
PCMark 8 Extended Storage Test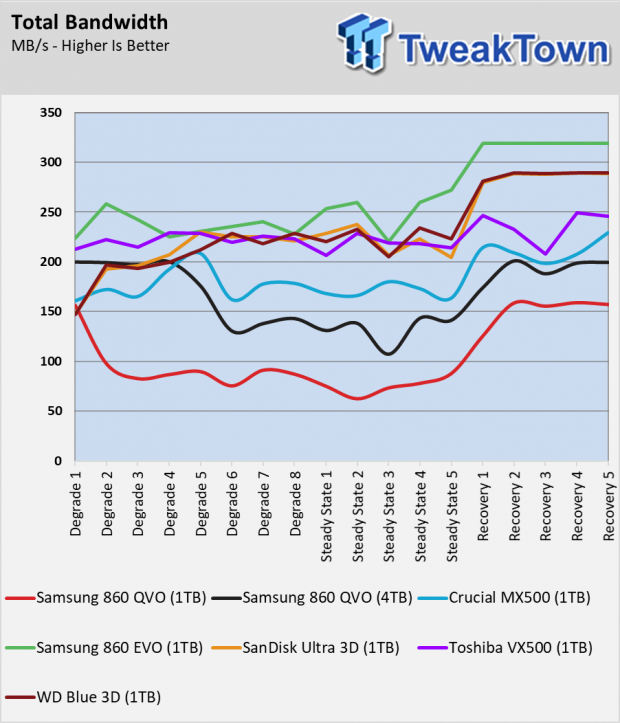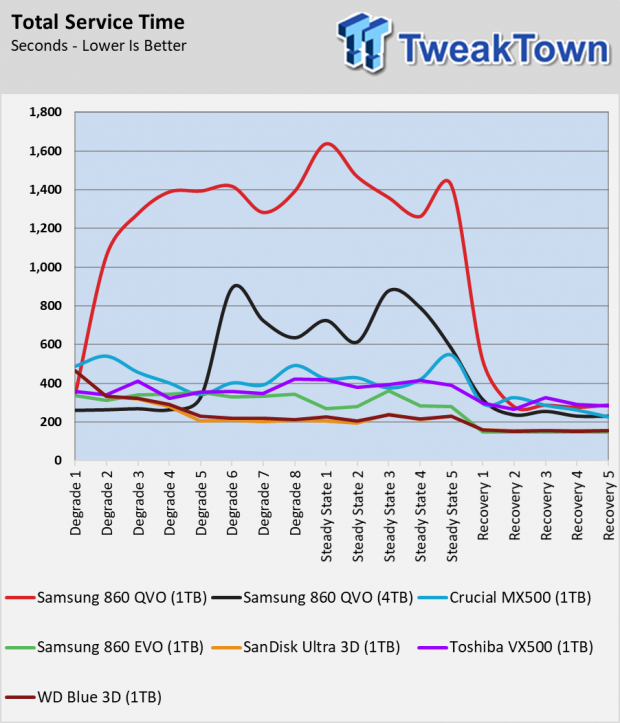 The PCMark 8 Extended Storage Test gives us a better understanding of the two QVO SSDs under heavy workloads. It also shows how these drives have recover from heavy use. Both QVO SSDS show very high service times under heavy use. Under typical use, you will never see the extreme latency, but at the same time, you should be mindful when first installing programs on the QVO series. Give them some time to recover between installing games back to back.
SYSmark 2014 SE System Responsiveness and Power Tests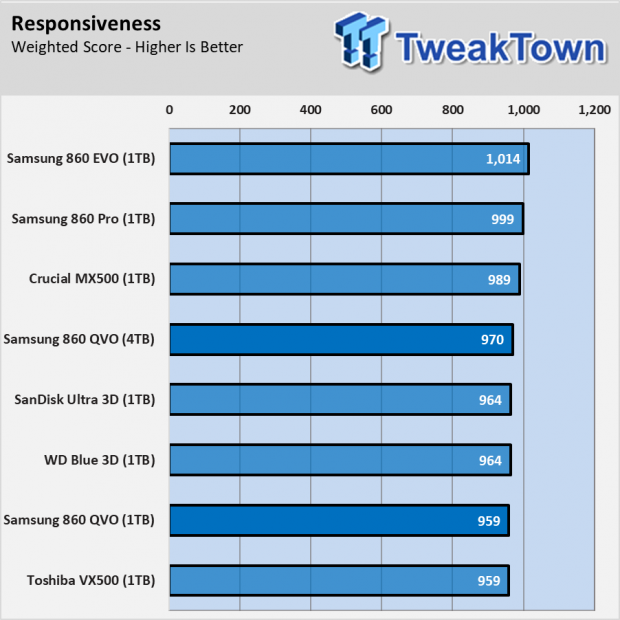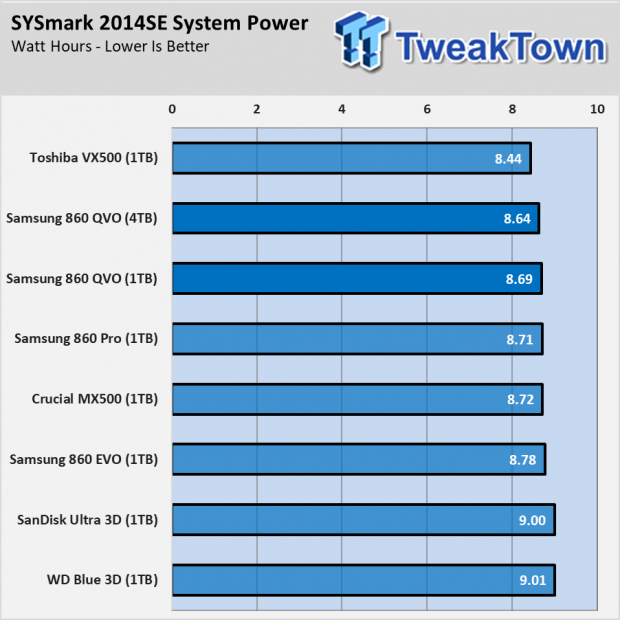 The responsiveness test that is part of the SYSmark 2014 suite uses common software like Word, Excel, WinZip and popular Adobe software to run through a workday in the office. The responsiveness portion is a direct measurement of the user experience taken from the latency of applications rather than a simple throughput perspective.
The 860 QVO SSDs deliver strong office activity performance, but these drives are not replacements for the 860 branded SSDs. The 4TB model shows an impressive performance increase over the 1TB model that trails all of the other drives in this chart (but matches the aging Toshiba VX500).
Notebook Battery Life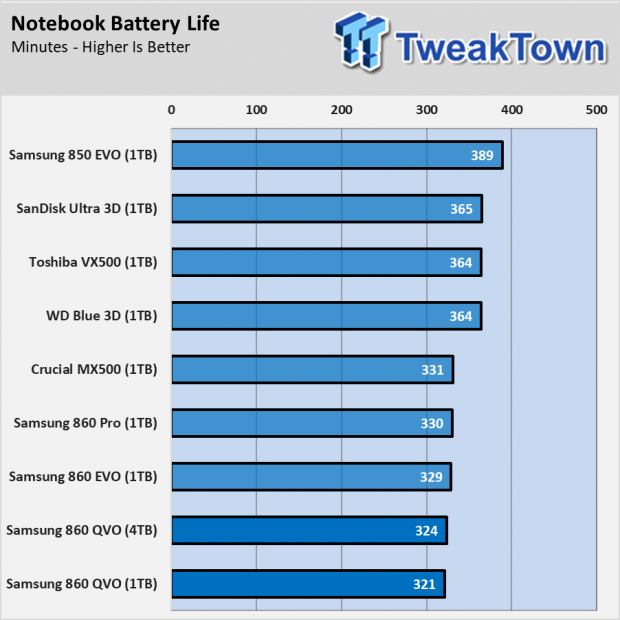 In the previous section, we observed high efficiency with the 860 QVO SSDs but didn't comment on it. We wanted to combine the two power tests together for analysis. The QVO SSDs didn't fair as well in our notebook test using BAPCo's MobileMark suite in our Lenovo Y700-17. The difference between these two tests that run on the same notebook is the power management settings between wall power and battery power. It's rare to see a drive sip power in the first test, and then not perform well in the second.
Final Thoughts
Samsung envisions the 860 QVO as an SSD to unite storage in systems currently running two separate storage devices, a high-speed SSD and a moderate to large capacity HDD. For most of our readers, I don't see this series as a unification product. For enthusiasts that have already adopted a two-drive solution, the 860 QVO is a way to replace the hard disk drive while retaining the higher tier primary storage used to boot the system and hold a few key applications.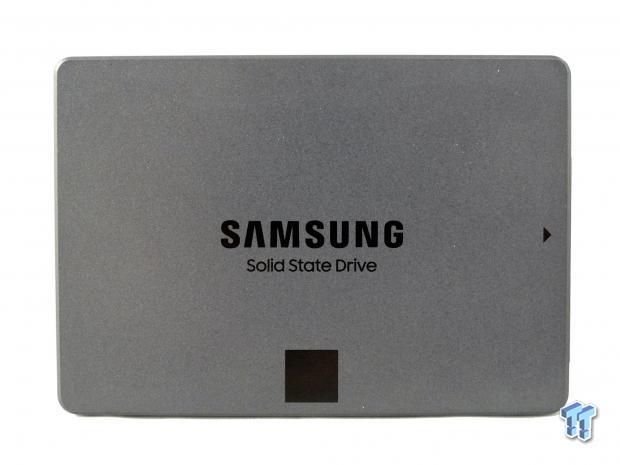 That doesn't mean Samsung has the wrong vision; it's just the difference between the power users that read reviews in higher frequency (and upgrade more often) and those coming from a search engine for a three-year upgrade.
The 860 QVO performs well with sequential data, the type of content you keep on a second drive. This series with the current firmware isn't a particularly good drive for applications compared to Samsung's previous offerings. This is the company that introduced us to 10,000 random read IOPS at queue depth 1 after all. That high mark achieved in the 840 EVO, circa 2013. Samsung has lost its random read advantage. That came first in SATA with the Crucial MX500 and later in the Silicon Motion SM2262 NVMe SSDs that also use Micron 64-layer TLC. The QVO doesn't close the gap, it increases it.
The situation wouldn't be as bad if Samsung's pricing reflected this reality. On day 1, the 1TB 860 QVO costs more than the superior 860 EVO in two of the three initial capacities for this series. We're not sure why, but with 24 hours to go before the release of the QVO series, Samsung changed the pricing. Most of this review was written under the assumption that the QVO would cost at minimum $10 less than the current 860 EVO selling price for the 1TB model.
This brings us back full circle with the start of this page. The 860 QVO, for our readers, is a product for secondary storage, where sequential data performance is more important than random data performance. Secondary drives need to meet two requirements. The first is capacity and the QVO series has that. The second is very aggressive pricing and this is where this series falls short in all but the 4TB model and that is only in relation to the current cost of a 4TB 860 EVO that only a few would consider to start with. In time Samsung's 860 QVO series will be an important series for many users.
Samsung will figure out pricing, or the resellers will figure it out for them by not stocking it due to low sales (remember the 750 EVO?). Samsung has struggled to have a third performance tier in years past, but with QLC it's different. This isn't the same flash, or just the remains of an obsolete technology. The company has a significant investment in QLC and wants to grow it to the point where it overtakes TLC as the dominant memory on the market. QVO needs to sell for less than the EVO SATA series and for enthusiasts that have already adapted high-speed NVMe technology, the companies need to see this as a secondary storage product rather than an entry point to flash-based storage for late adapters that haven't even ponied up $35 for a 256GB SSD that would hold all their data.
There is one more aspect of this QVO series that we haven't addressed yet and it also revolves around mass storage. Samsung's documentation talks about full compatibility with Linux, the operating system commonly found on NAS. This series supported queued TRIM. The launch day prices are not aggressive enough to start thinking about filling a four to eight-bay NAS with 4TB drives, but we are getting closer. Using flash eliminates buffering issues for 4K HDR Atmos streams over the network (high-resolution video from a NAS to a player like an NVIDIA Shield TV). Media junkies have quickly found that hard disk drives are not fast enough without a powerful processor in the NAS to keep the data flowing smooth. The QVO, with better pricing, would fill this role.
PRICING: You can find products similar to this one for sale below.

United States: Find other tech and computer products like this over at Amazon.com

United Kingdom: Find other tech and computer products like this over at Amazon.co.uk

Australia: Find other tech and computer products like this over at Amazon.com.au

Canada: Find other tech and computer products like this over at Amazon.ca

Deutschland: Finde andere Technik- und Computerprodukte wie dieses auf Amazon.de
We openly invite the companies who provide us with review samples / who are mentioned or discussed to express their opinion. If any company representative wishes to respond, we will publish the response here. Please contact us if you wish to respond.