Investigation: Benefits to Prioritization Software
Would you benefit from network privatization? Yeah, yeah you would.

Published
6 minute read time
When we reviewed the WRT32x from Linksys back in August, it was my first interaction with "gaming software" using Rivet Networks Killer Control Center in the Alienware 15 R3. After that article was completed I grew increasingly curious about how well similar solutions from other vendors work in comparison and if one was superior to all others.
In my search for software, my first stop was with ASUS as they have one of the most popular gaming brands with ROG spanning across components like motherboards and GPUs but also networking devices like routers. With ASUS platforms we found GameFirst IV, included with ROG and Strix motherboards but will run on any modern platform without issue. The test system for the ASUS GameFirst IV includes:
ASUS Strix H270
Intel Core i7 7700
8GB DRR4 Patriot Memory
EVGA GTX 760 4GB
Samsung 850 250GB
Our second test platform comes from HP as they have created their own gaming brand called Omen. This platform uses what they call Omen Command Center which allows you to monitor CPU, GPU and Memory usage along with having the "gaming" prioritization features we are looking for in this article. Omen Command Center is locked to being used on Omen products and our test platform is an Omen 15 Notebook with 7th Gen Core i7 and RX560 Mobile GPU.
The third platform for this article is the Rivet Networks Killer Control Center. This platform is used by several vendors in notebooks and motherboards most notably MSI, Razer and Alienware. KCC has several features some of which we have touched on in previous articles but most notably Advanced Stream detect 2.0 which enables a highly customizable control center to accelerate web traffic on a per site basis in addition to application acceleration. To test this platform, we are utilizing an Alienware 17 R4 with 7th Gen Core i7 7700HQ, GTX 1070 and 16GB of DDR4.
The Software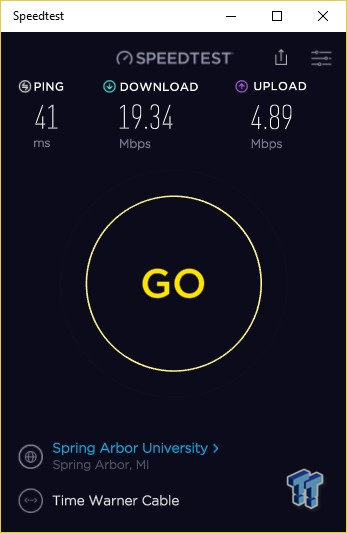 The average consumer internet connection in the United States is 18.7Mbps down and to make this testing relatable to a broader range of readers, I do have a Zywall VPN Firewall limiting my connection to 20 Down as seen above in our speedtest.net results.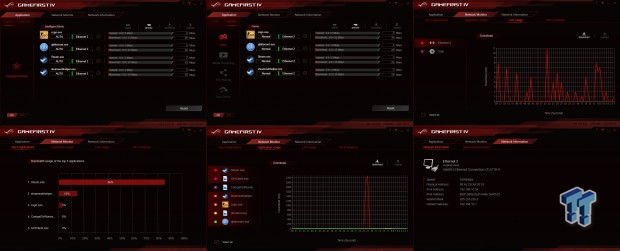 We start with ASUS GameFirst IV, we are using the latest version published on 1/10/2018 for this article. GameFirst has several tabs and modes for consumer to adjust. By default, GameFirst uses an Intelligent mode based on the application that is in focus having priority. You can switch to customized mode which offer Gaming, Streaming and File Sharing presets or User Defined allowing you to set priority manually. Network monitor will show you traffic stats along with most used applications and hardware info.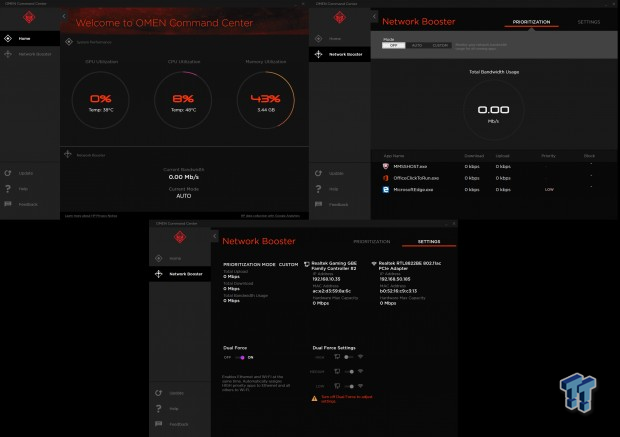 Omen Command Center is a simple set of software that offers a glance at the overall system on the main page with GPU, CPU and RAM utilization along with current bandwidth at the bottom and prioritization mode. The Network booster tab shows you application priority with an On, Off, Auto switch at the top. The Settings menu gives you access to Dual Force technology that enables you to use Wired and Wi-Fi systems at the same time and prioritize traffic around it.

Our last platform is the Killer Control Center. The dashboard here gives you an overview of applications and websites currently using network traffic and there given priority number. The Apps tab offers access to each running application with the ability to customize prioritization by number and by interface if enabled. The settings menu allows you to enable Doubleshot Pro, to prioritize traffic between wired and Wi-Fi networks along with showing installed hardware with the ability to set network speed limits either manually or through a quick speedtest.
The Testing and Results
Thinking about testing I came up with a couple scenarios to see how each piece of software handled the traffic given to it. The first you will see is a gaming oriented test using CSGO. This allows me to get a feel for each system and a baseline of the ping without outside interference. We then will add a video stream from Mixer at 1080p to the scenario to see if the game is affected and how the software manages the additional load. To finish things off and to completely fill our 20Mbps pipe we then add a couple torrents to the network load and check how the game and stream react.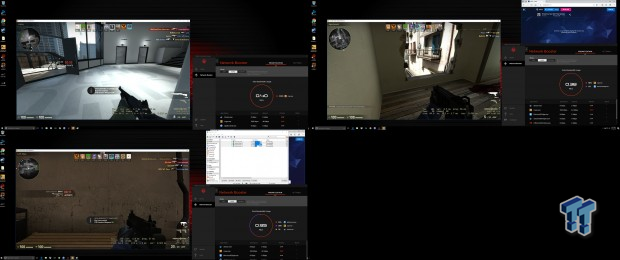 Our first test case was the HP Omen platform. Our initial ping values came in at 59ms. Adding in the Mixer stream, the video initially played after buffering but quickly errored out. The ping in the game did not move indicating the software was unable to manage the additional traffic at all and just let things be with the game in focus of the OS.
Adding in the four torrents seen in the bottom left corner, the game did not lose a bit of performance keeping the 57ms ping while the stream has stopped and torrents are moving slowly at 74Kb/s.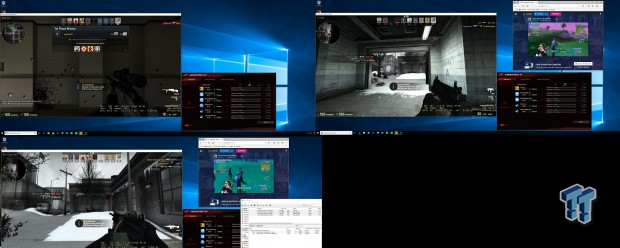 We then moved over to our ASUS platform using GameFirst IV. Our initial ping value was 41ms. Adding in the video stream from Mixer was no issue for this solution, the ping stayed steady at 39ms and the video played without hiccups. Adding in the torrents pushed our ping to 61ms, nearly double the initial result. We also found our video to stop playing completely as the software seemed to push priority to the torrents.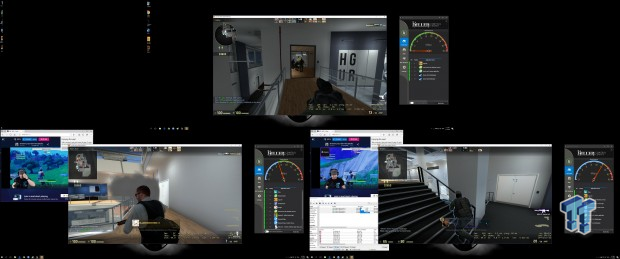 We rounded out the game testing with our Alienware 17 and the Killer Control Center. Our initial ping touching 56ms in game, the software showing a priority of 1. We added in the Mixer stream with little issue, the software maintains the game with a 1 priority and pushes the Edge browser to a priority of 4, the game keeps a steady ping of 57ms. Adding in the torrent traffic, we have 1.6MB/s going to qbittorent while the game keeps a ping of 60ms under priority 1. The Mixer stream maintains its quality taking up the remaining available bandwidth.
The second part of testing has more to do with everyday tasks such as browsing the web, watching multiple streams and download updates or software. For this we will start our mixer stream alongside a YouTube video while adding in a couple large file downloads and watch how the gaming software handles the traffic.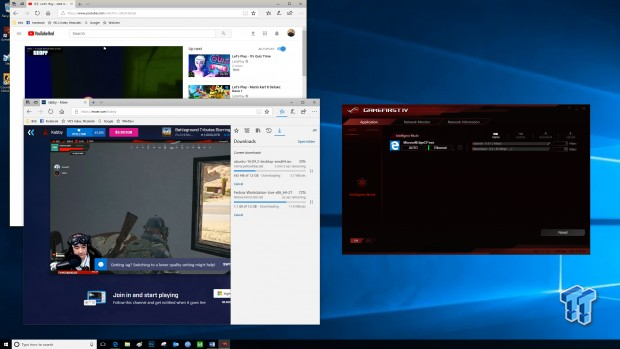 For this testing, we started with our ASUS GameFirst IV platform. With the two downloads running alongside YouTube and Mixer we found the software recognized all three as one process within Microsoft Edge. We had solid download speed for each of the two downloads and the YouTube video had no issues. The Mixer stream however had a good amount of lag induced and prompted us to switch to a lower quality.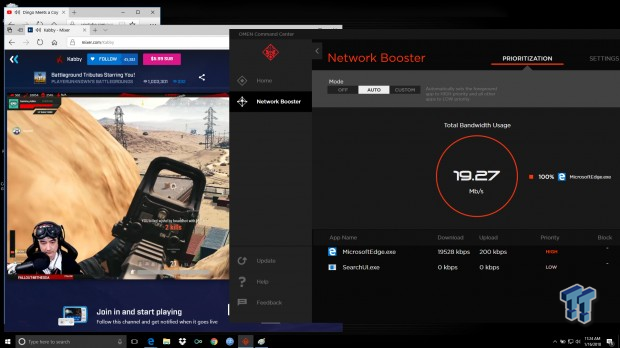 Omen too showed all three tasks as one process but instead of the Mixer stream or YouTube video lagging to the point of dropping quality it instead gave much lower throughput to the downloads.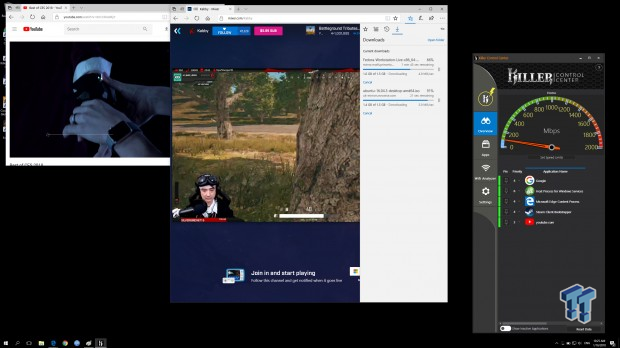 The Killer Control Center had a unique take on the tasks at hand. With Killer Control Center the software was able to see and manage each as its own process, YouTube was prioritized as a video stream at 3 while Mixer running on Edge was lumped in with the downloads and pushed into the 4th position.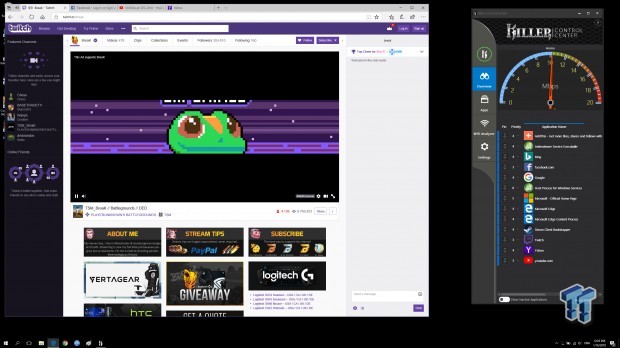 With the Killer Control Center being the only piece of software with such fine granularity when it comes to prioritization, I wanted to see how far I could take it within one browser window. Seen above, I have a Twitch stream open on one tab with Facebook, YouTube and Yahoo News open on three others. Looking to the right KCC is showing all four tabs and the individual websites on those tabs priority given to the streaming video from Twitch and the YouTube stream both at 3.
Final Thoughts
When it comes to making a good-looking piece of software, I must admit I really like the styling of the HP Omen Command Center with the overview of the entire system its really quite perfect for a prebuilt system, Its quite similar to the new Radeon Settings menu from AMD with clean lines and the dark contrast overall. GameFirst IV is a rather clean-cut piece of software as well offering insight into the most used apps and traffic stats however the main menu is hard to tell what is prioritized unless you go into custom mode. Killer Control Center could use a more modern interface as I find the network tach dated, however the functionality of the software is on a completely different level.
In testing, we found all three pieces of software were able to detect and prioritize gaming traffic. With that said, all three pieces of software handled the scenario quite different. The goal overall was to play our game while watching a Mixer stream throwing in a few background downloads as its becoming increasingly popular use case. Omen Command Center while having no issue pushing data to our game, did have an issue adding in anything outside of this. For instance, while playing CSGO I attempted to open a friend's mixer stream but it quickly errored out and adding torrents just added to our ping while offering no real throughput to the downloads.
GameFirst IV was similar but did allow our Mixer stream to open without adding significant latency to our game. However, the torrents brought the stream to its knees and added almost 30ms to our ping while at the same time the torrents struggled for throughput. Using custom mode and prioritizing items yourself seems to be the best method for GameFirst IV but Out of the box it could certainly use some work.
Killer Control Center is clear winner in this article. I don't think there is another piece of software on the market that can go to the depths Rivet Networks has taken KCC. This is in part due to the underlying hardware that works in tandem with Killer Control Center and its part of why Rivet Networks pushes vendors to a new level when designing new products. Advanced Stream Detection makes Rivet a clear market leader when it comes to any type of network prioritization even outside of the typical gaming scenario. Part two of my testing outlined this with detail showing a single browser window being broken down to the fundamentals of the websites displayed and then prioritized based on importance to the user.
PRICING: You can find products similar to this one for sale below.

United States: Find other tech and computer products like this over at Amazon.com

United Kingdom: Find other tech and computer products like this over at Amazon.co.uk

Australia: Find other tech and computer products like this over at Amazon.com.au

Canada: Find other tech and computer products like this over at Amazon.ca

Deutschland: Finde andere Technik- und Computerprodukte wie dieses auf Amazon.de
We openly invite the companies who provide us with review samples / who are mentioned or discussed to express their opinion. If any company representative wishes to respond, we will publish the response here. Please contact us if you wish to respond.