AMD launches Mobile Ryzen with Radeon Vega Graphics
AMD just launched its Mobile Ryzen with Radeon Vega Graphics platform and we have all the juicy details inside for you to digest.
Published Oct 26, 2017 8:00 AM CDT
|
Updated Tue, Nov 3 2020 6:58 PM CST
6 minute read time
Introducing the Ryzen 7 2700U and Ryzen 5 2500U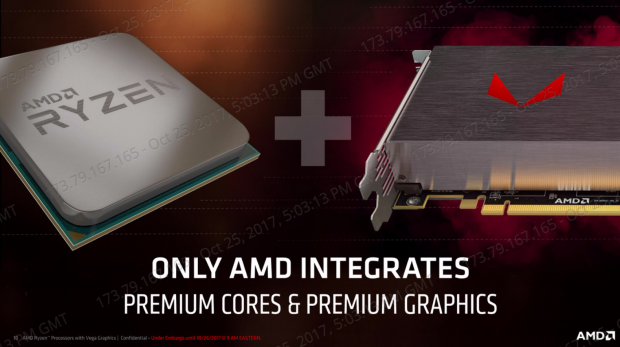 For many months people have been speculating on AMD's upcoming APUs and mobile CPUs and whether or not AMD would go full speed with adding Vega graphics to their mobile line up. We can now confirm that AMD has married Ryzen with Vega, and they are quite happy together. Both of AMD's top brands are now in one product, and that product will be widely available for the Holiday season.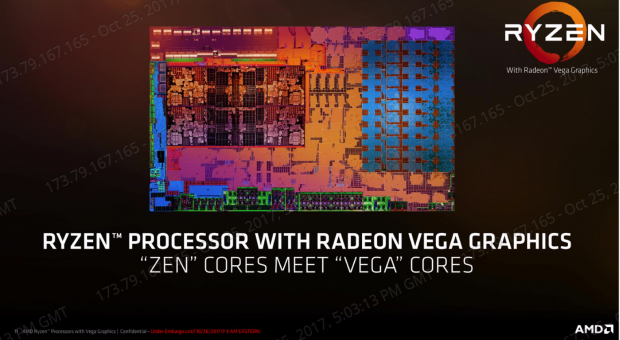 AMD's Zen core was designed to be extremely power efficient, not only for the datacenter but also for use in mobile devices. However, AMD has also integrated Vega cores into the same die as Ryzen and has leveraged their Infinity Fabric to bring everything together.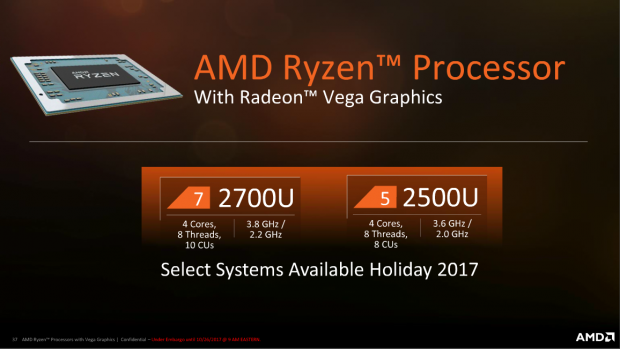 In the next few months we will see two AMD Ryzen processors with Radeon Vega graphics; the Ryzen 7 2700U and Ryzen 5 2500U. Both will feature four cores and eight threads, while the 2700U will offer a 2.2GHz base and 3.8GHz boost and the 2500U will offer a 2.0GHz base and 3.6GHz boost clock. The 2700U will also offer two extra compute units, for a total of ten Vega CUs.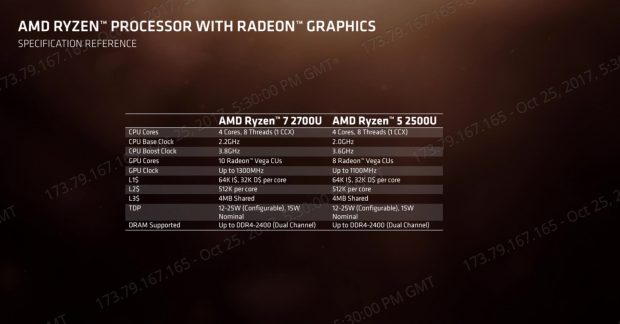 Both CPUs will feature only a single CCX, which is actually a good thing since CCX to CCX latency will be removed from the equation. The GPU in the 2700U will be clocked at 1.3GHz while the 2500U will have its GPU clocked at 1.1GHz. L1, L2, and L3 cache are identical on both models as is DDR4 2400Mhz memory support and a 15W nominal TDP. The TDP for each of the CPUs is configurable up and down depending on cooling and power implementations.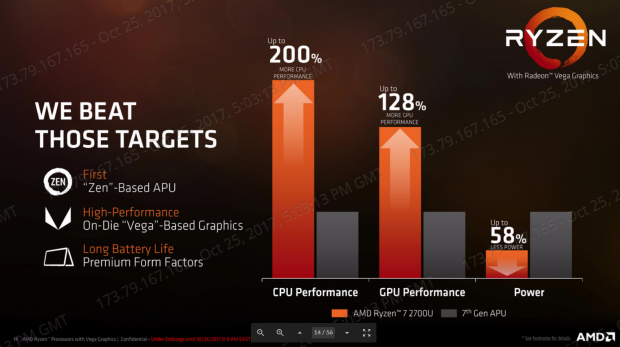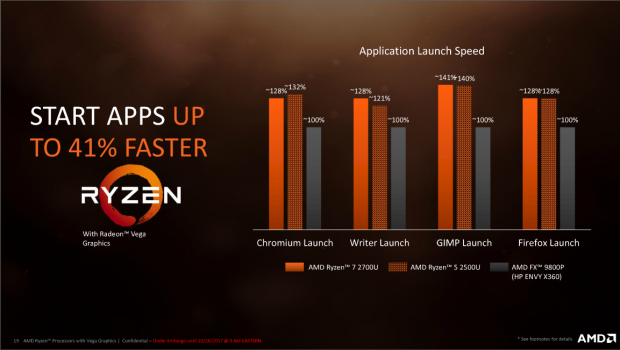 As with Ryzen desktop processors, AMD greatly exceeded their targets. Generational improvements are monstrous, and not only on the CPU side of things but also on the GPU side of things. They not only cut power by almost 60% but also increase CPU performance up to 200% and GPU performance by almost 130%. Just looking at responsiveness, application launch times have great improved, and we all know that waiting for an application to load on a notebook is grueling.
Introducing Precision Boost 2 and Mobile XFR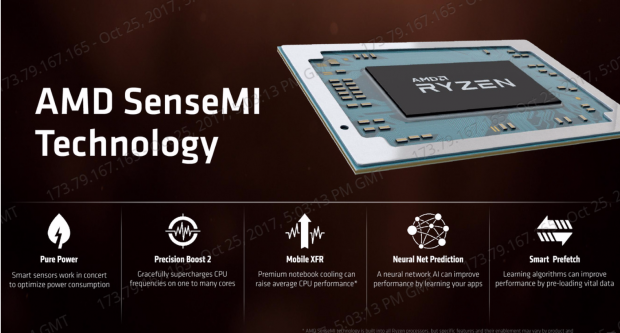 AMD's SenseMI technology is back and with a vengeance. Power consumption requires great optimization on the mobile side of things, as while a few more watts in a desktop doesn't matter, it matters a great deal for mobile implementations. AMD has gone and leveraged SenseMI's sensor network to its fullest.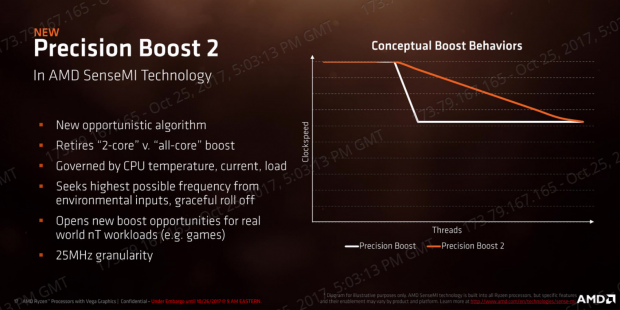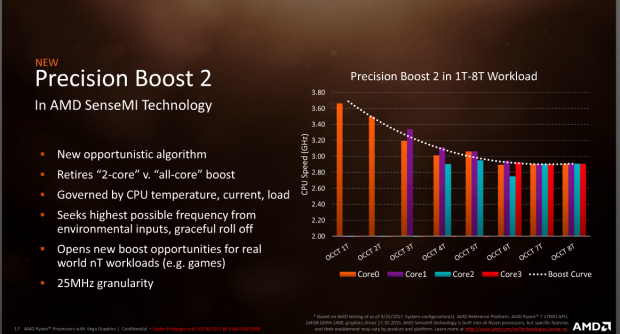 Precision Boost 2 is part of SenseMI and utilizes a brand new opportunistic algorithm for a much more dynamic core boost. It offers a much more tuned boosting mechanism, which favors the boosting of one, some, more, and all cores. It offers greater performance depending on how many cores are utilized, as you can see in the chart on the right.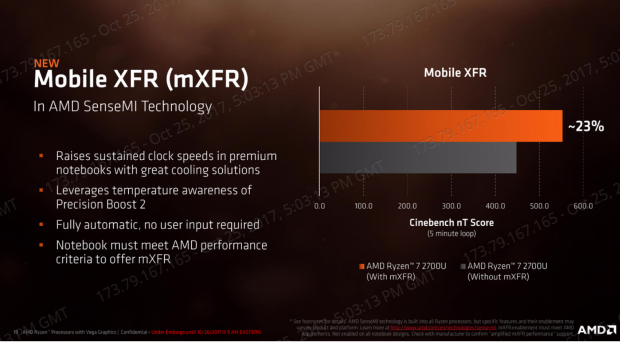 Mobile XFR (mXFR) is much like normal XFR in regards to going above and beyond Precision Boost levels. However, it utilizes Precision Boost 2's temperature sensing to get every last drop of performance out of the processor. Just like on the desktop, if you can run the CPU cooler, it will automatically run faster.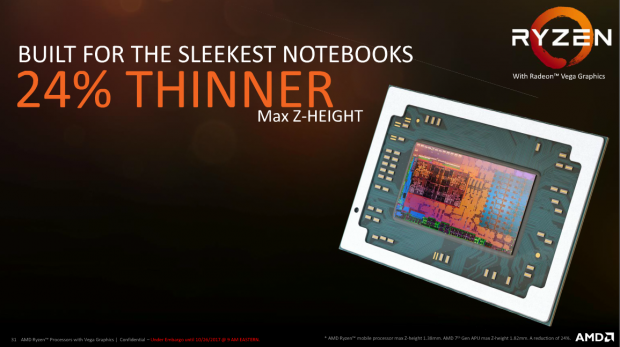 I also wanted to take a chance and mention that Max z-height is now 24% thinner, which makes it great for ultra-thin notebooks.
With Radeon Vega Graphics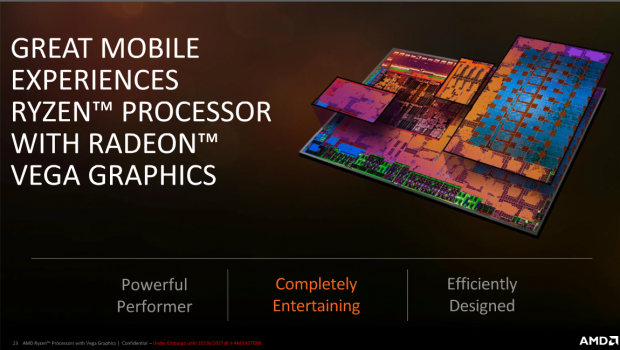 AMD's VEGA graphics have been optimized for these two new Ryzen mobile CPUs. The SoC also offers an improved multimedia engine and display engine.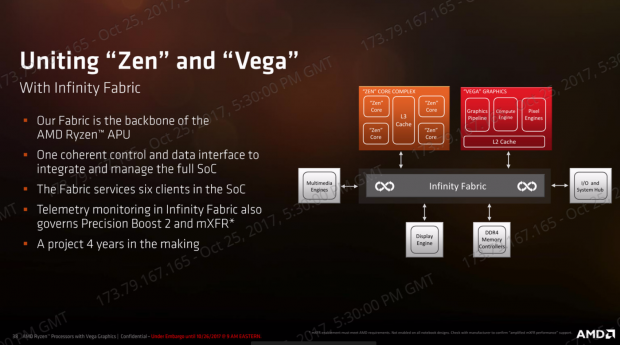 AMD's Infinity Fabric still exists within these new CPUs even though they don't have more than one CCX. The Infinity Fabric services six clients; Zen CCX, Vega GPU, IO/System Hub, Memory Controller, Display Engine, and Multimedia Engine. The Infinity Fabric is also monitored by SenseMI for Precision Boost 2 and mXFR.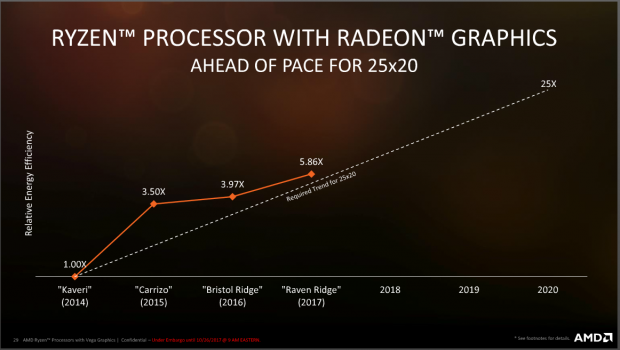 Just like many other companies, AMD sets goals for itself, and they are ahead of the curve for their 25x20 (25by20) goal. AMD said that by 2020, they could increase relative energy efficiency by 25%, and so far, they are on track.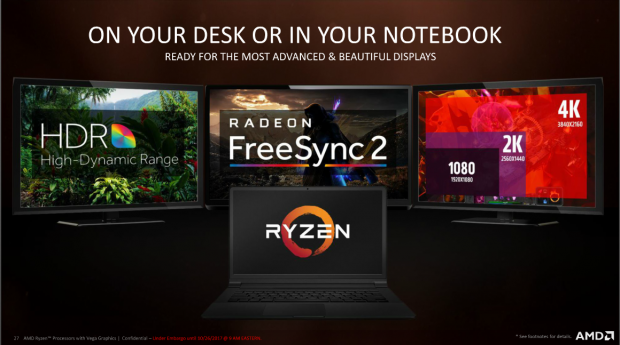 To stream 4K content from many services such as Netflix or Amazon, you must have dedicated hardware inside the media engine of your SoC. The dedicated hardware serves to improve decode and encode capabilities, but it's also there to ensure you don't pirate the content. AMD's integrated graphics also offers FreeSync2, supports for 4K, and HDR.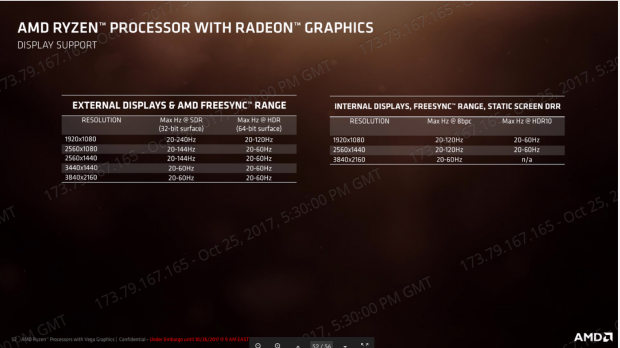 These are the specifications for the Display Engine in the SoC. External displays up to 4K are supported up to 60Hz with SDR or HDR. At 1080P, external displays can run up to 240Hz (SDR) or 120Hz if you are in HDR mode. Internal displays are a bit different, at 8bpc you can go up to 120Hz at 1080P and 1440P, but only 60Hz for 4K. At HDR10, you can only run 1080P and 1440P at 60Hz, 4K is not supported.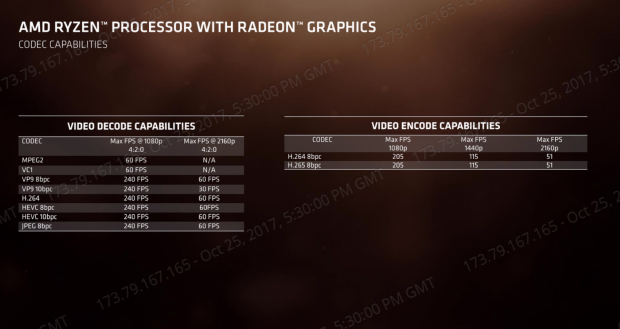 These are the capabilities for the Multimedia Engine in the SoC. Video decode includes supports for VP9 10 bit and even HEVC 10 bit. The decode capabilities are quite competitive. Encode capabilities include support for H.264 and H.265 both at 8 bit.
Internal Power Optimizations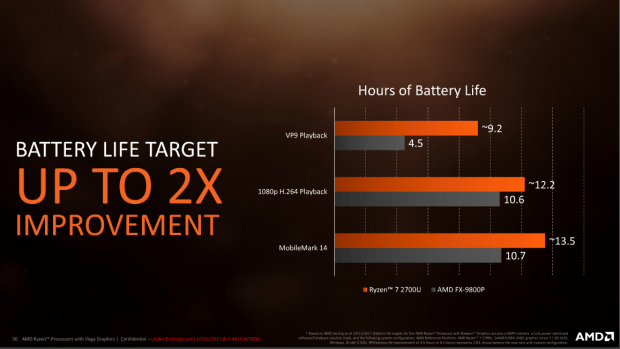 One way to extend battery life is to increase battery size or density, but since people don't like to lug around ten-pound bricks, vendors increasing want lower power processors. AMD has gone ahead, and optimized power consumption on the new processors and they have aimed for a 2X improvement in battery life. We see a 2X improvement with VP9 playback (like YouTube) compared to the previous generation.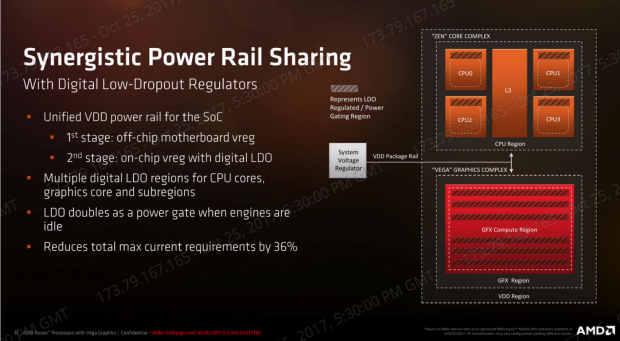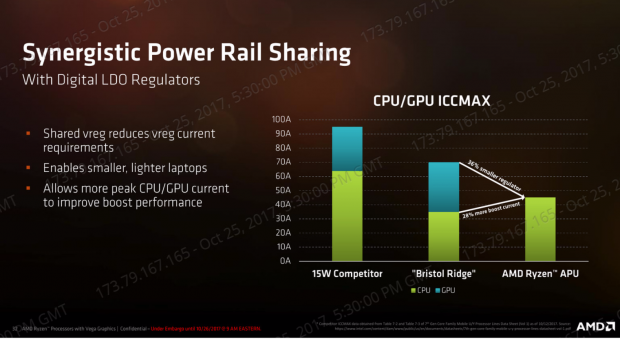 AMD has gone ahead and produced a CPU that only requires a single input, much like Intel's FIVR, but with linear regulators. A single VDD (like VCore or VCC, stands for Voltage Drain to Drain) output goes to internal regulators that then provide different domains with different voltage and current levels. The onboard voltage regulator utilizes digital LDO. While we are talking about big regions here such as the CCX or Vega, there are also many sub-regions as well that can be power gated for a max current reduction of 36%.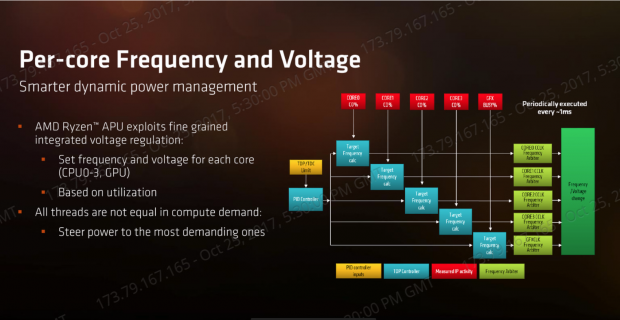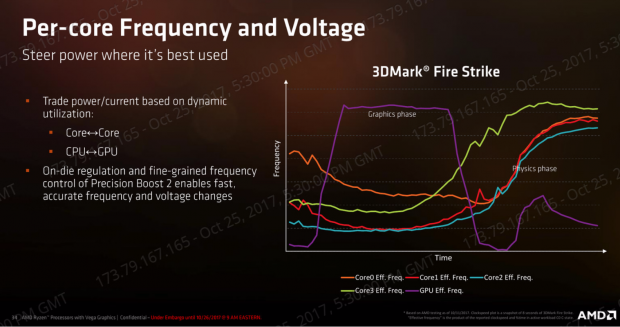 AMD has also included per-core frequency and voltage control. The new systems will move power where it is needed and doesn't threat all cores equally. We can see that this per core frequency and voltage control works to optimize power efficiency based on core-to-core and CPU-to-GPU utilization. That means that when the GPU is high in demand, the CPU cores will give up some power to the GPU and then they will take it back when required, on a case by case basis for each core.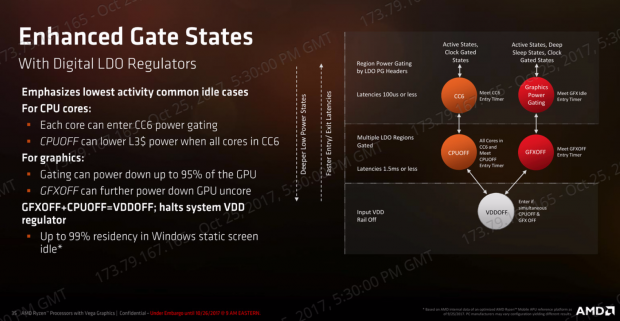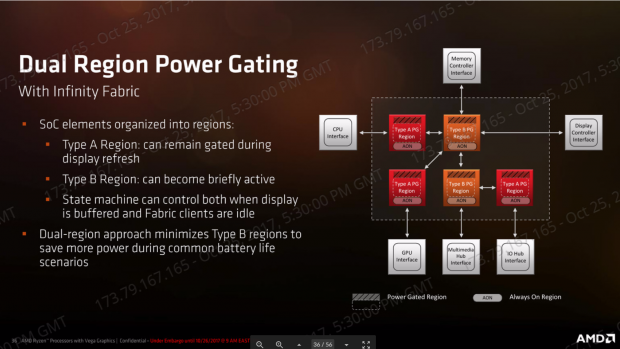 Power savings modes are also extremely important for a mobile CPU, as is the ability to come back from a sleeping state. Each core can enter CC6 (C0 is awake) on its own, and the CPU and GPU and be turned off. The integrated linear regulators are to thank for this capability, and 95% of the GPU can be powered down or even 100%. It doesn't stop there though, AMD added a dual region approach to power gating in the Infinity Fabric. Communications between different regions in a SoC can be power intensive, but AMD has found a way to basically disable one part while leaving another open. An example is a display refresh, and during the refresh, not all blocks need to communicate, so only one key set is enabled allowing all that should communicate to communicate while shutting down communications between others that don't need to be on.
Preliminary Performance Figures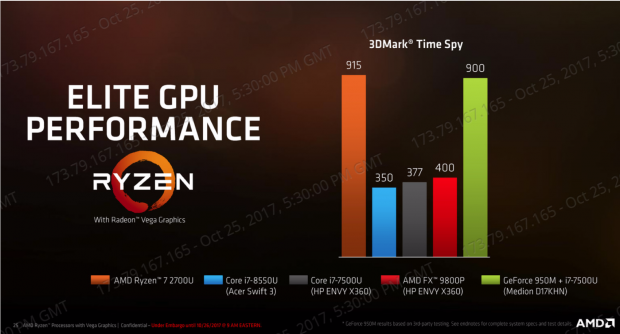 Look at that, Intel's integrated graphics don't stand a chance in this DX12 benchmark, and we see almost double the performance compared to AMD's own FX SoC. The Ryzen 7 2700U beats an i7-7500U with a GTX 950M. The GTX 950M at the time of its release in 2015, was known as an upper mid-range mobile GPU for DX11 games. Regardless, I had a notebook with a GTX 960M in it, and it was capable of playing almost every game I needed it to but at slightly lower resolutions. The fact that AMD has moved the bar up so much in regards to an integrated graphics processor means that we might not see NVIDIA coming out with lower tiered mobile graphics.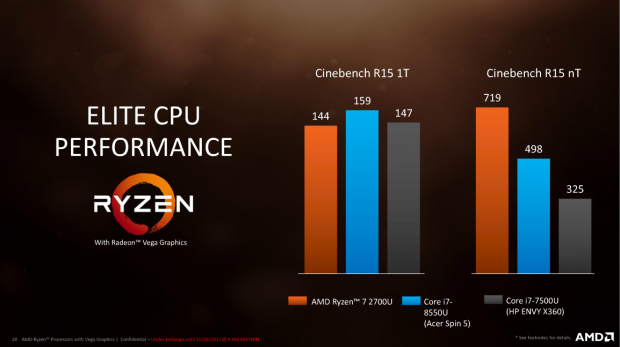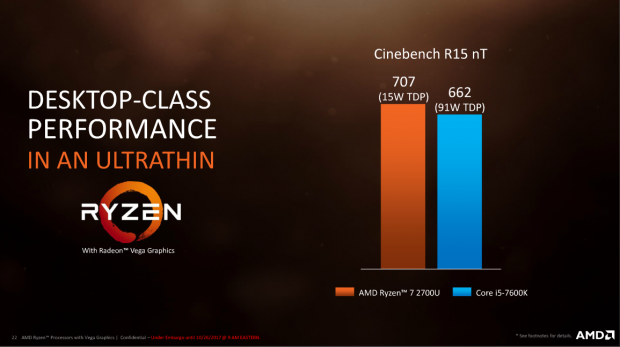 The i7-8550U and Ryzen 7 2700U are both 4-core 8-thread CPUs; we will hold judgment on all these results until we get our own units. However, preliminary results look extremely promising, especially when it comes to multi-threaded performance in CINEBENCH. Same amount of cores and threads and AMD's 2700U is showing an almost 50% performance increase over Intel's mobile processor. AMD has also gone ahead and compared the 4-core 8-thread 2700U against the 4-core 4-thread 7600K, the interesting thing to notice here is that the 7600K uses more than 600% more power.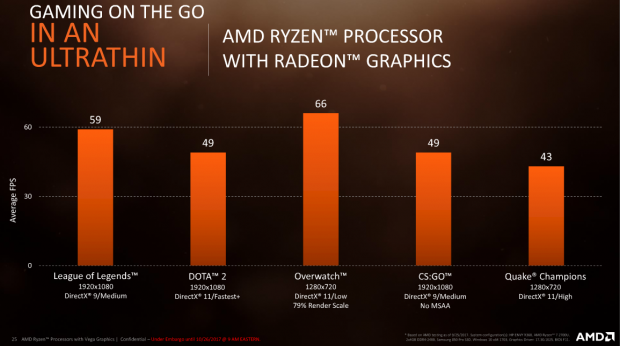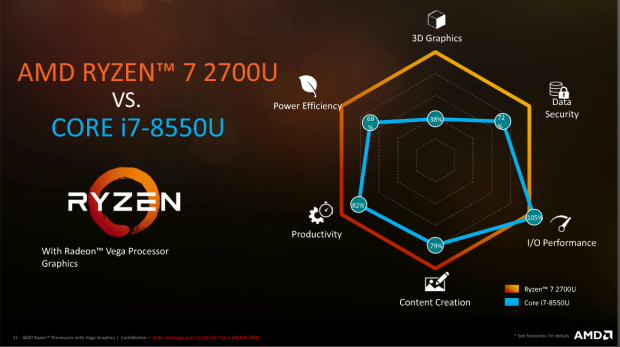 One of the most interesting things we want to explore is how powerful the integrated graphics of the CPU are. AMD's competition didn't really enhance anything inside their integrated graphics in their latest iteration, and AMD is coming strong with excellent improvements. You are actually able to get playable FPS out of an integrated graphics when playing five of the most popular games. AMD has gone ahead and made a chart/map of where it stands in regards to the competition, and from what we can see things are looking awesome!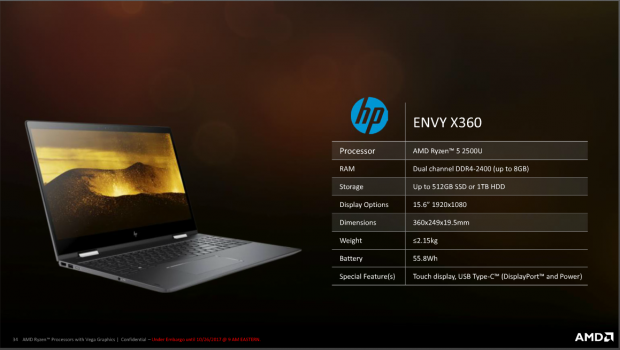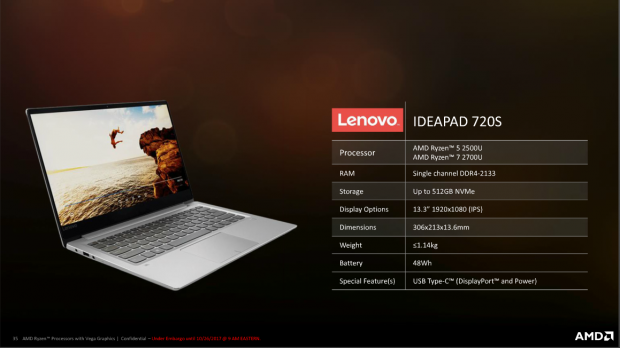 AMD is working with three vendors; HP, Lenovo, and Acer for the initial launch. The HP Envy X360 with the Ryzen 5 2500U and Lenovo Ideapad 720S with either the Ryzen 5 or 7 CPUs will be available soon.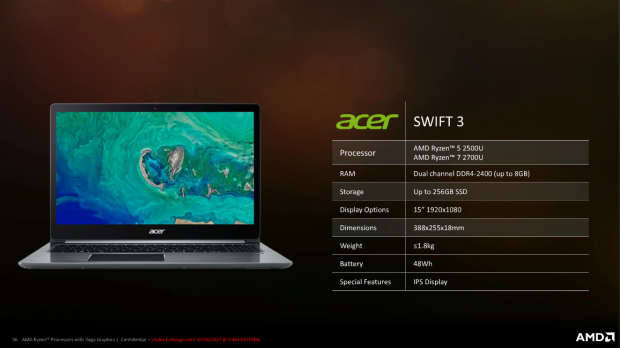 The Acer Swift 3 will also be available very soon with either the Ryzen 5 2500u or Ryzen 7 2700U processors. We can't take to take a look!
PRICING: You can find products similar to this one for sale below.

United States: Find other tech and computer products like this over at Amazon.com

United Kingdom: Find other tech and computer products like this over at Amazon.co.uk

Australia: Find other tech and computer products like this over at Amazon.com.au

Canada: Find other tech and computer products like this over at Amazon.ca

Deutschland: Finde andere Technik- und Computerprodukte wie dieses auf Amazon.de