AMD's Ryzen Pro Processor Lineup Revealed
AMD announces its new Ryzen Pro CPU lineup and we have all the details here.
Published
4 minute read time
Meet Ryzen Pro
AMD isn't just going to try and take aim at Intel with Ryzen, Thread Ripper, and EPYC, but also Ryzen Pro. It's all in the name too; Ryzen Pro processors will take aim at Intel's traditional vPro CPUs. These CPUs generally target professionals and businesses and typically offer significantly more security and manageability features. These are not gaming CPUs, but I would venture that they will perform similarly to the normal Ryzen lineup in games.
There are three main selling points that AMD is banking on. The first is power, and by that they mean performance; specifically multi-core performance. AMD's strategy here is the same with its mainstream consumer Ryzen parts; win with more cores for the same price. Secure means that AMD has increased security, and AMD actually has a dedicated security hardware system built into Ryzen Pro CPUs that will provide memory and virtualization protection. AMD has also taken steps to meet enterprise-class reliability standards. We will cover all these points in this article.
The Ryzen Pro lineup scales just as much as Intel's vPro offerings. You can get up to 8 cores and 16 threads of SMT performance, with processors scaling upwards of 3.7GHz (with AMD's Precision Boost), up to 20MB L2 and L3 cache, and of course AMD's new Zen core based technologies.
Ryzen Pro will also offer many of the same technologies we saw with the first Ryzen processors. The first is Precision Boost, which is basically like AMD's intelligent turbo technology that polls many internal sensors 25 million times per second. We all have heard of AMD's Extended Frequency Range (XFR) which allows the processor to automatically scale up frequency above Precision Boost levels if cooling is adequate. Neural Net Prediction was also in Ryzen, and it's used to improve cache hit rates. Smart Prefetch also helps with the ability of the processor to execute quicker, and Pure Power goes back to Precision Boost and acts as the power monitoring networking (100 posts) inside the CPU.
Meet Ryzen Pro 3, 5, and 7
AMD isn't just going to launch Ryzen 5 Pro and 7 CPUs, but they are also going to launch Ryzen Pro 3 series processors. I am not sure if we will see Ryzen 3 before Ryzen Pro 3, or at the same time, but this is great news as we will finally get to see how AMD's lower core count CPUs perform. AMD is targeting both professionals who need a dependable machine for content creation and data crunching to consumers who do typical office tasks. AMD is taking aim at the Core i7, i5, and i3 processors with their Ryzen 7 Pro, 5, and 3 processors.
Looking at the Ryzen 7 Pro versus the i7-7700, we see that the extra 4 cores and 8 threads make it an extremely powerful contender versus the i7. The thing to note here is that AMD's power lies within their core count, so we expect the Ryzen 7 Pro to offer strong competition when it comes to multi-core benchmarks. You will see the same thing as we move to the Ryzen 5 Pro and 3 CPUs.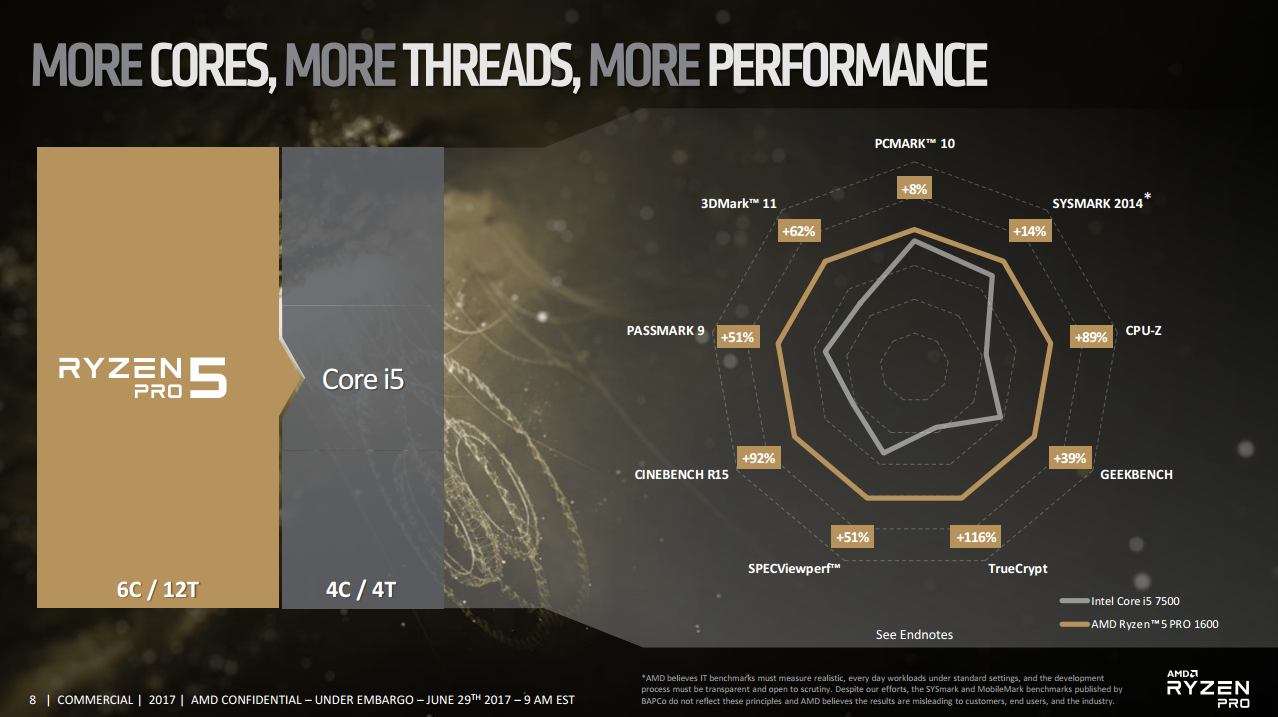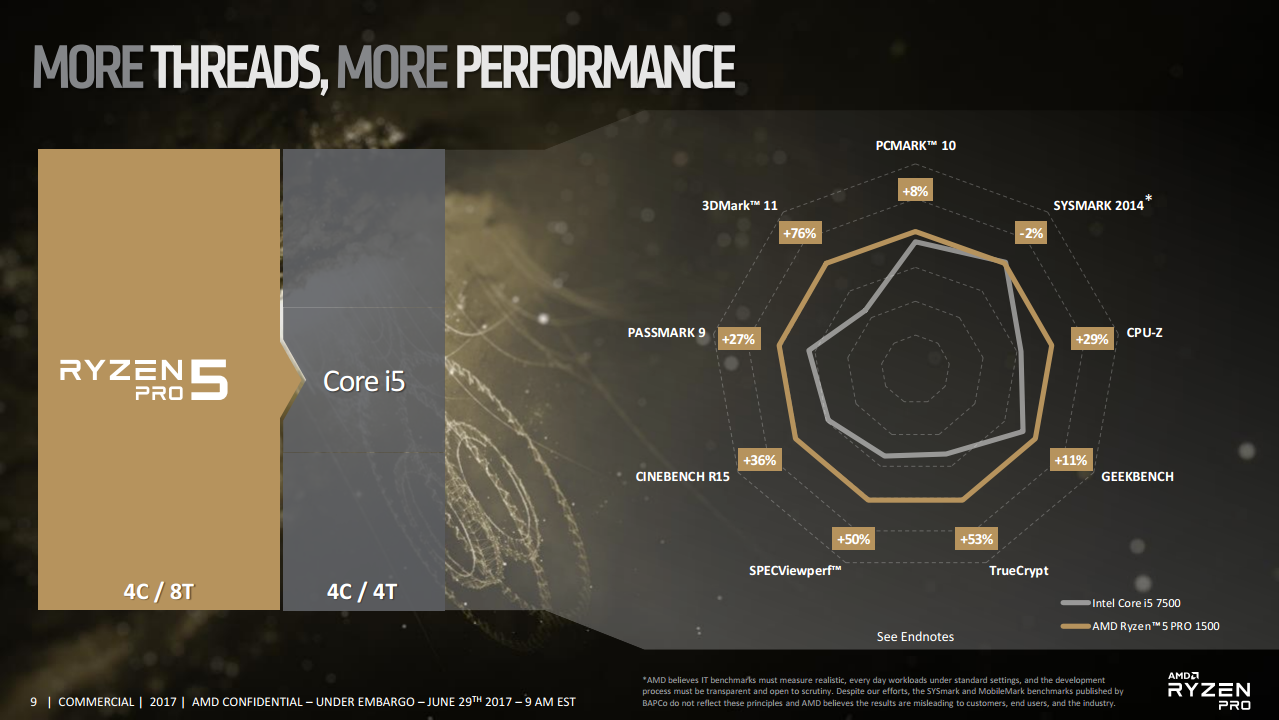 Ryzen 5 Pro CPUs are targeting Intel's Core i5 CPUs, which typically offer 4 cores but no hyper threading, leaving them with 4 threads. Ryzen 5 Pro CPUs will come in both 6 core 12 thread variants and 4 core 8 thread variants. The 6 core and 4 core variants are going against stronger Core i5's such as the i5-7500, and we can see even with the same basic core count, the Ryzen Pro CPU's multithreading produces strong results.
Ryzen Pro 3 processors will come in 4 core 4 thread varients, so SMT is turned off, and they go against 2 core 4 thread Core i3 processors such as the i3-7100. While the i3 does hold up in certain benchmarks like SysMark 2014, it doesn't fair so well in many of the others such as 3DMark 11 and CINEBENCH R15.
Security and Reliability
Ryzen Pro CPUs offers built-in hardware-based AES 128-bit encryption. The encryption offers two features, Secure Memory Encryption (SME) and Secure Encrypted Virtualization (SEV). SME and SEV are also found on EPYC CPUs, and they provide real hardware based security. For SME a key is generated on boot up and isn't visible to the OS or software applications, and it can be used to secure a portion or all of the memory.
Intel has something similar, but it only encrypts a secure enclave inside the memory. SEV offers the ability for the hypervisor and guest user to secure part of themselves so that neither can see everything in the other, it's traditionally done with the hypervisor seeing everything of the virtualized guest, but this method provides the guest with some security as well.
The question of whether or not the hardware-based AES engine would hamper security did come up during the special briefing sessions. While it will have an impact, that impact is said not to be too system intensive, so you hopefully won't see a real-world performance drop. AMD's security also offers a secure booting process, support for fTPM and TPM 2.0, and AMD says it's production environment is secured from outside threats.
AMD offers 18-month image stability, a full two years of processor availability, highest yield wafer selection, and DASH manageability. These features are very important to enterprise clients, and with Intel's strong foothold in the business and enterprise market AMD does need a trick up their sleeve to get their foot in the door, and that is Ryzen Pro's security and reliability.
AMD is also making Ryzen Pro compatible with the AM4 platform. They are saying that AM4 will be around for at least 4 years and compatible n-2, n-1, and n+1 generations. All the processors will have a 36-month warranty for Ryzen Pro parts instead of the 12 months consumer processors receive. There is also no artificial differentiation, and AMD made a point of showing the i3 crossed out, as Intel does provide more features for higher-end products. AMD is providing all features to all products.
The Lineup
The Lineup]
To recap the article, AMD plans to go at Intel's offerings in the business and enterprise market by offering more power through more cores, more security through and built-in hardware-based encryption engine, and strong reliability with secured sourcing and warranty.
AMD will offer Ryzen 7 Pro in two SKUs, the Ryzen 7 Pro 1700X (with XFR), and the normal Ryzen 7 Pro with a slightly lower base clock. Ryzen 5 Pro CPUs include the Ryzen 5 Pro 1600 and 1500 CPUs one with 6 cores and 12 thread and the other with 4 cores and 8 threads. The Ryzen 3 Pro CPUs will include the 1300 and 1200, each with 4 core and 4 threads. The 8-core parts will have 4MB + 16MB of L2+L3 cache, the 6 core will have 3+16MB, the 8-core 8 thread will have 2+16MB of L2+L3 cache, and the 4 core 4 thread CPUs will offer 2+8MB of L2+L3 cache. All the CPUs will come with a 65W TDP except for the Ryzen 7 Pro 1700X, which offers XFR.
The Ryzen 3, 5, and 7 Pro series of CPUs isn't released just yet, AMD has only teased us with the lineup and features. More information will come August 29th, so stay tuned!
PRICING: You can find products similar to this one for sale below.

United States: Find other tech and computer products like this over at Amazon.com

United Kingdom: Find other tech and computer products like this over at Amazon.co.uk

Australia: Find other tech and computer products like this over at Amazon.com.au

Canada: Find other tech and computer products like this over at Amazon.ca

Deutschland: Finde andere Technik- und Computerprodukte wie dieses auf Amazon.de