Introduction to Triple 4K Gaming & That's Lots of Pixels
Throughout my time with TweakTown, I've been pushing the amount of pixels that video cards can produce to their limits. I've done plenty of multi-monitor content in my years as a technology and hardware enthusiast, but now that I've moved into my new office, I'm going to be kicking things up a notch or six.

I now have the space to permanently set up a triple-monitor setup, where I've got three Acer XB280HK monitors setup in landscape mode. 3 x 4K monitors in landscape provides an insane resolution of 11,520 x 2160, or you can take it in the portrait mode which results in a resolution of 6480 x 3840. Personally, I prefer multi-monitor setups in portrait, as you can't get the fish eye lens warping that the landscape setup experiences.
I thought I would redo all of our multi-monitor content now that we're on a new PC powered by an Intel Core i7-5960X and ASUS Rampage V Extreme motherboard. Not only that, but we've shifted all of our video card and monitor-related content to Windows 10, which is something that I thought was worth re-testing our GPUs on a multi-monitor setup.
One of the big things we'll be doing in 2016 is not just testing the ultra ridiculous triple 4K resolution, but triple 1080p and triple 1440p setups. This way we'll be able to test all three multi-monitor setups, providing results and showing you just how these GPUs work in triple 1080p/1440p/4K.
Pixels? Yeah, We've Got Pixels!
Let's clarify that: 11,520 x 2160 in landscape, or 6480 x 3840 in portrait. This means we're rendering 1,492,992,000 pixels per second. 1.4 billion pixels; every second. Compare this to 1920x1080 (Full HD, or 1080p) which is rendering 124,416,000, or 124 million pixels per second; our system is rendering over 10x that of the 1080p resolution.
Instead of writing about how many pixels are being rendered, we've put them into a chart so you can better understand just how many pixels we're driving here today. Right now, the 'next-gen' consoles are rendering games at around 720p - 900p, which if they were running at 60Hz (or 60FPS) which most of the time they aren't, it's usually 30FPS or so, they would be rendering 55 million pixels per second.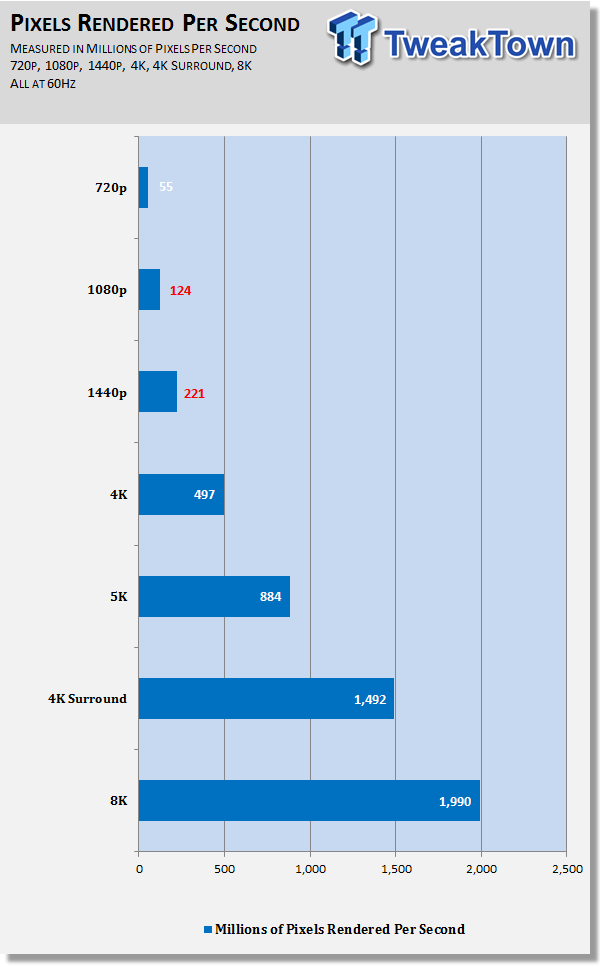 Jumping up to 1080p, that number climbs to 124 million while 1440p has it jump to 221 million. At 4K, the pixels rendered per second at 60Hz start to get serious, with 497 million, but 4K Surround has this catapult to 1.49 billion. 8K, which is in the not-too-distant future, sees 1.99 billion pixels being rendered per second.
Our Setup, Testing Methods & Medium/Ultra Benchmark Runs
Our Setup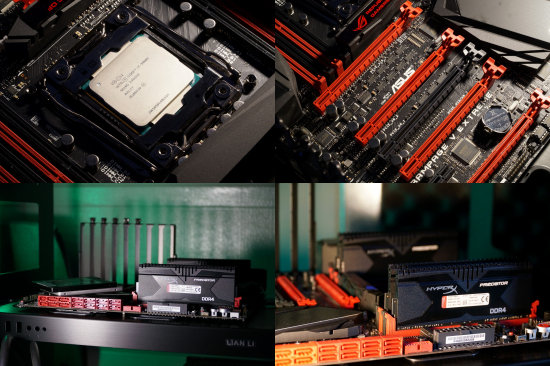 Here's what our VGA benchmarking PC consists of now:
What Games/Software We're Using & Medium/Ultra Benchmark Runs
For our video card reviews, we benchmark games with built-in benchmarks so that people can run the same benchmarks we do at home, without issues. We also run Battlefield 4 thanks to the Frostbite 3 engine being one of the most gorgeous on the market, powering games like Star Wars Battlefront and Mirror's Edge Catalyst.

We also run Unigine Heaven for the synthetic side of things, but drop 3DMark (which is something we benchmark on our video card reviews).
What we're looking for is 60FPS average. We don't want anything under that, and while we understand 11,520 x 2160 isn't easy on any GPU setup, 60FPS is something I strive for in all gaming situations. This is why we are taking the time to run both Medium and Ultra presets, so that we can see how much more performance you can get from dropping down to Medium in-game settings.
Medium/Ultra Benchmark Runs
It doesn't matter what hardware you throw at multi-monitor setups, it's never enough. We will be running both Medium and Ultra presets, so that we can see what type of improvement dropping down to Medium will provide. 11,520 x 2160 is insanely hard on GPUs, and because of the lack of multi-GPU support in games these days, you can't just throw more Radeon or GeForce GPUs into your system to increase the performance.
But, thanks to most games being made on consoles these days, the difference between Medium and Ultra presets in today's games really isn't all that different. The performance hit is considerable, but the difference to your eye is negligible. So I'm running the benchmarks twice, so you might actually be able to use lower-end GPUs to run a multi-monitor setup.
Unigine Heaven
Heaven @ 11,520 x 2160
Heaven is an intensive GPU benchmark that really pushes your silicon to its limits. It's another favorite of ours as it has some great scaling for multi-GPU testing, and it's great for getting your GPU to 100% for power and noise testing.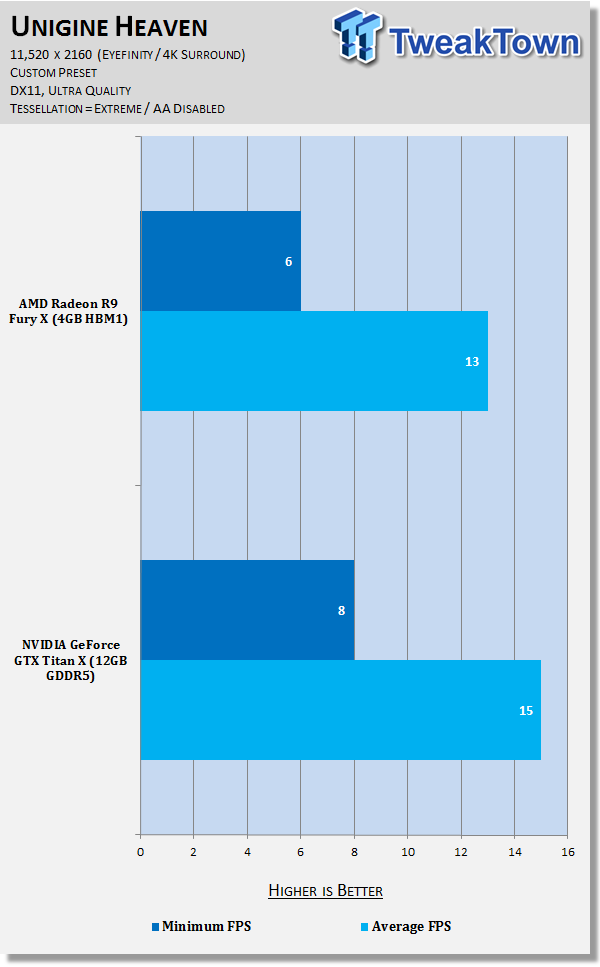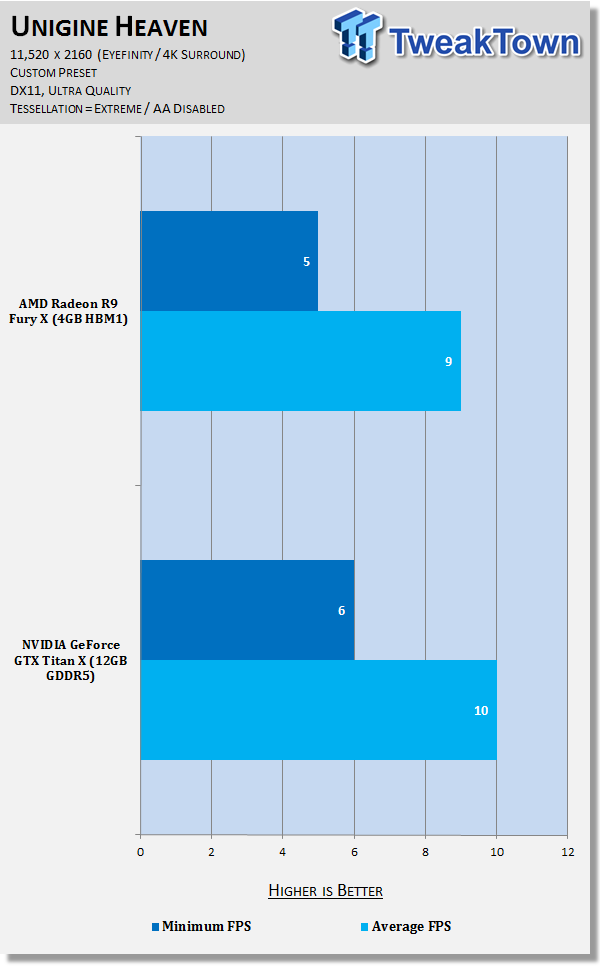 Battlefield 4, GRID & Metro: Last Light Redux
Battlefield 4 @ 11,520 x 2160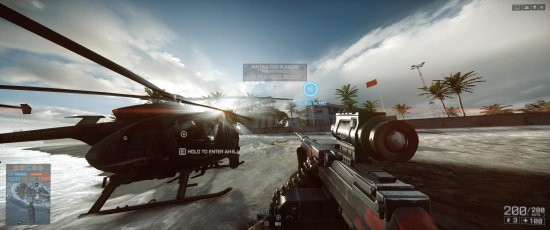 Battlefield 4 makes great use of DICE's incredible Frostbite 3 engine, with some great dynamic destructible environments in both the single-player and multiplayer sides of the game. The same engine has been deployed into many other games made by publisher EA, such as the new Need for Speed, and Mirror's Edge Catalyst.
You can buy Battlefield 4 at Amazon.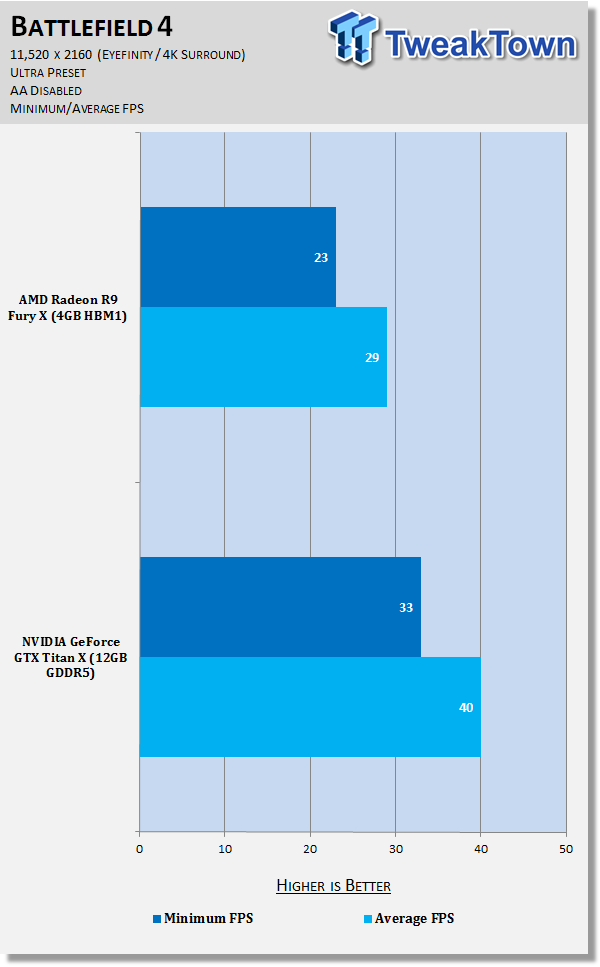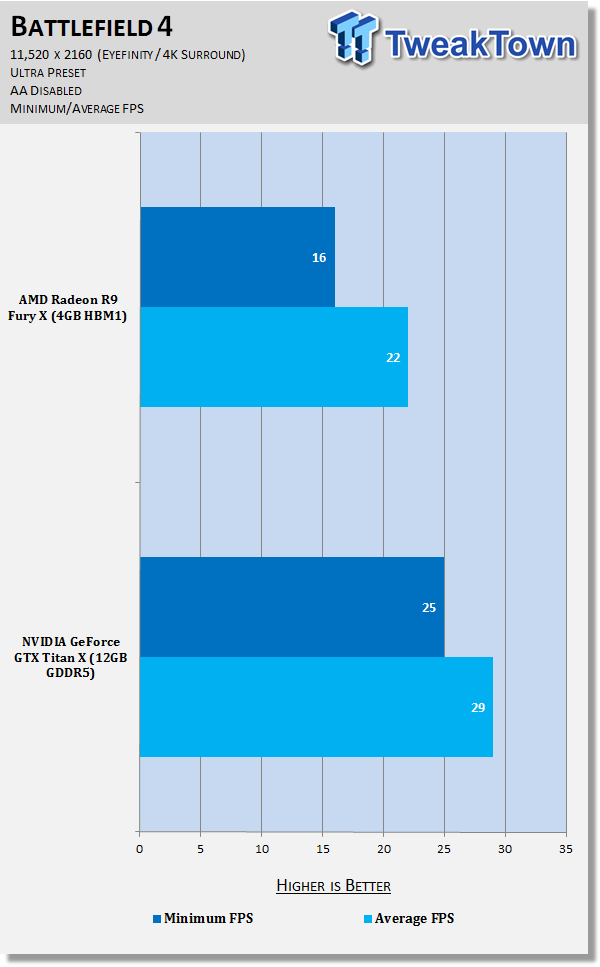 GRID Autosport @ 11,520 x 2160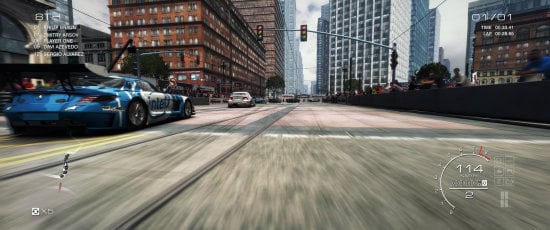 GRID Autosport is powered by Codemasters' own in-house 'EGO 3.0' engine, and while it was released last year, it is still one of the best looking driving games on the market. This is in the face of Forza Motorsport 6, Project CARS, and other driving games. While it looks great, it also runs beautifully even on modest hardware.
You can buy GRID Autosport at Amazon, and you can read our full review here.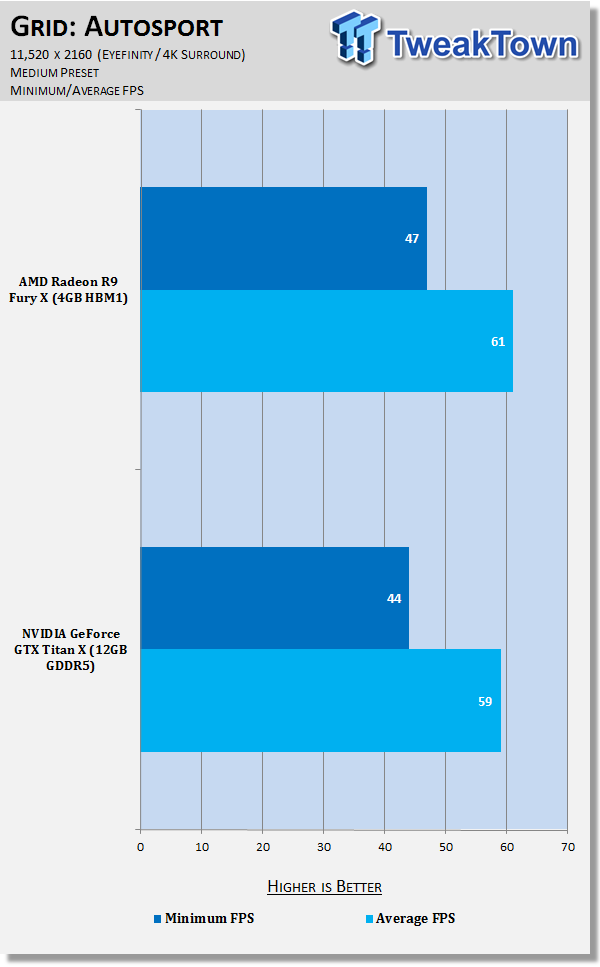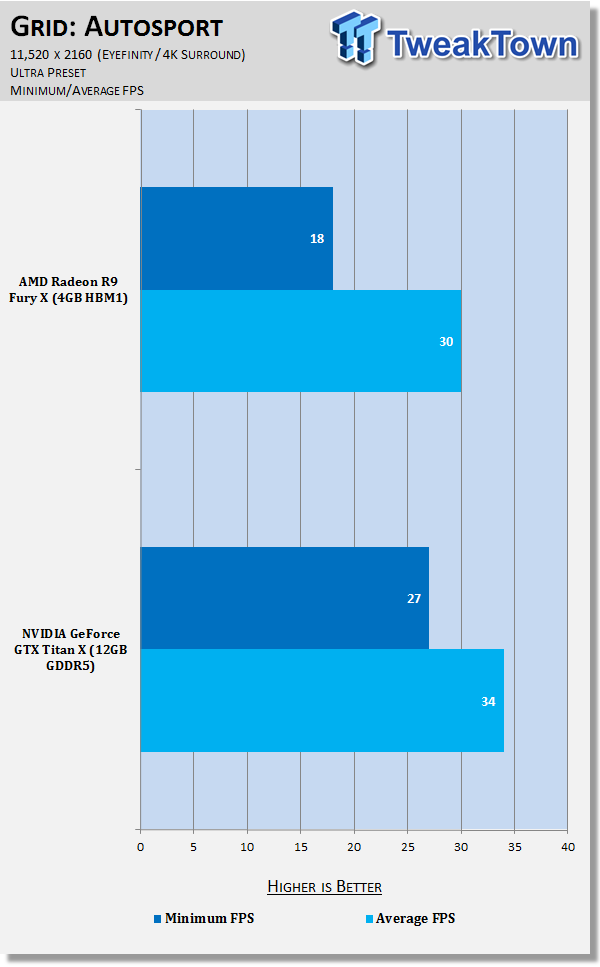 Metro: Last Light Redux @ 11,520 x 2160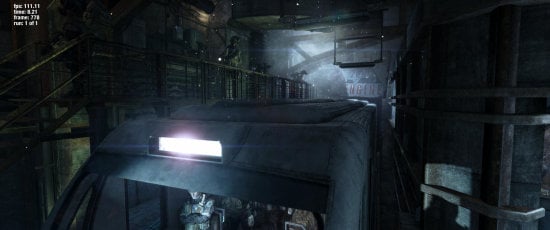 We recently changed over to Metro: Last Light Redux, with developer 4A Games making the Redux version of Metro: Last Light the 'definitive' version of the game. Redux had a fresh coat of paint on the already impressive 4A Engine, and it really pushes our GPUs to their limits.
You can buy Metro: Last Light Redux at Amazon.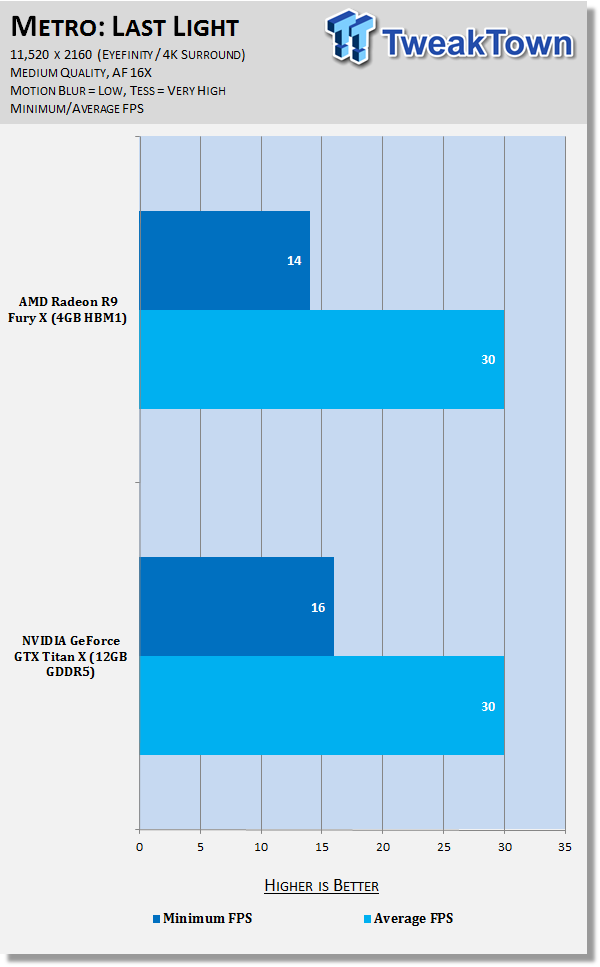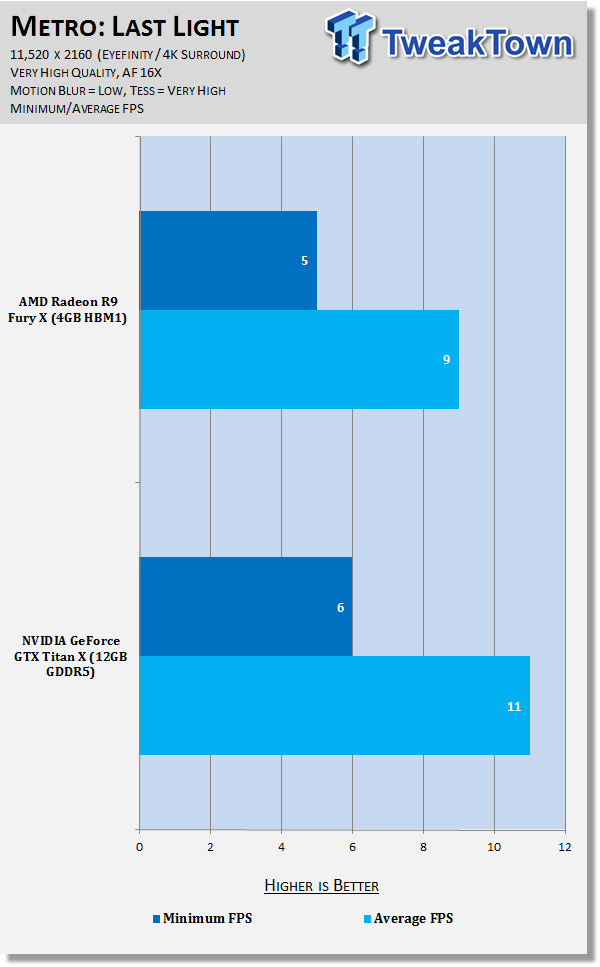 Shadow of Mordor, Thief, Tomb Raider & BioShock
Middle-earth: Shadow of Mordor @ 11,520 x 2160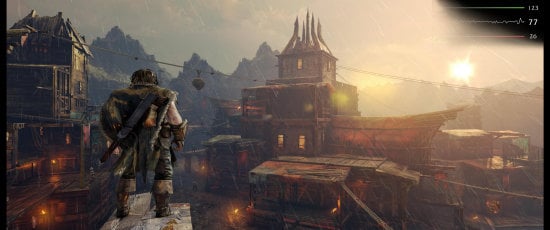 Middle-earth: Shadow of Mordor is one of the most graphically intensive games we test, with Monolith using their own Lithtech engine to power the game. When cranked up to maximum detail, it will chew through your GPU and its VRAM like it's nothing.
You can buy Middle-earth: Shadow of Mordor at Amazon.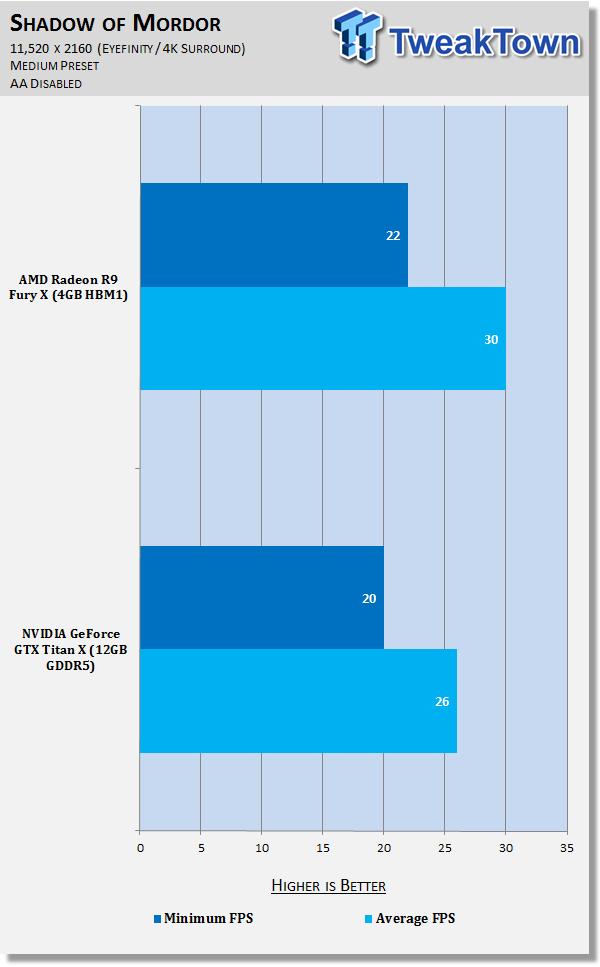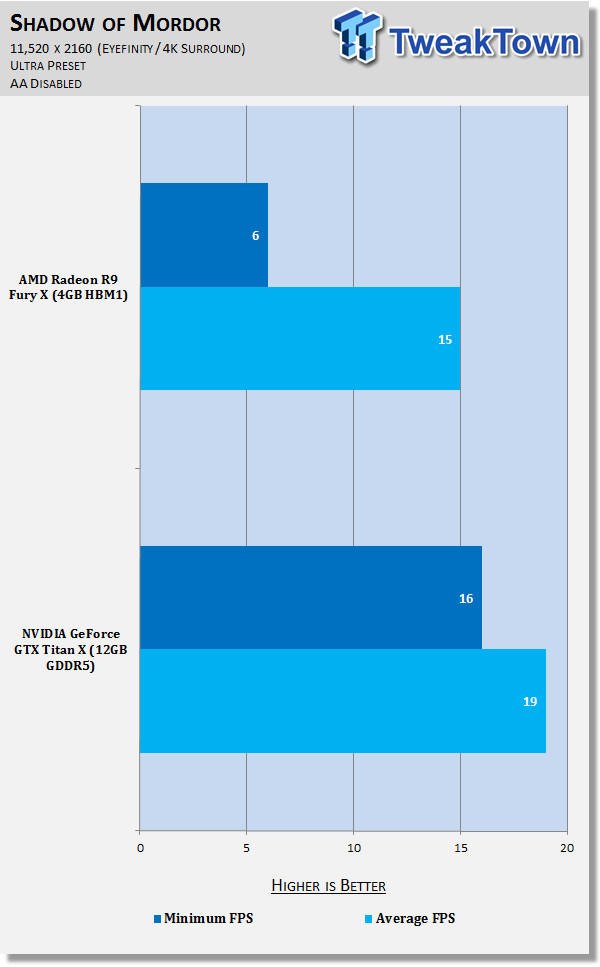 Thief @ 11,520 x 2160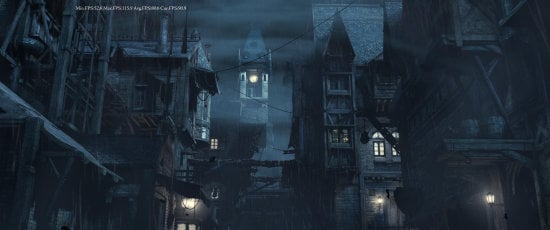 Thief has been around for quite a while now, with the latest version of the first-person stealth game powered by Epic Games' older Unreal Engine 3. While it's old, it has some great multi-GPU scaling that we use to test out our various GPU setups.
You can buy Thief at Amazon.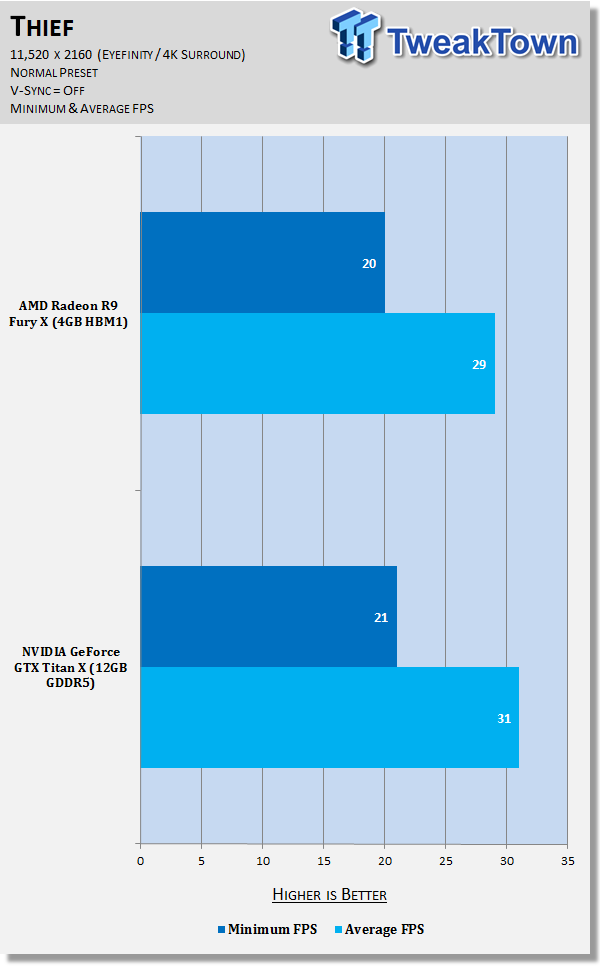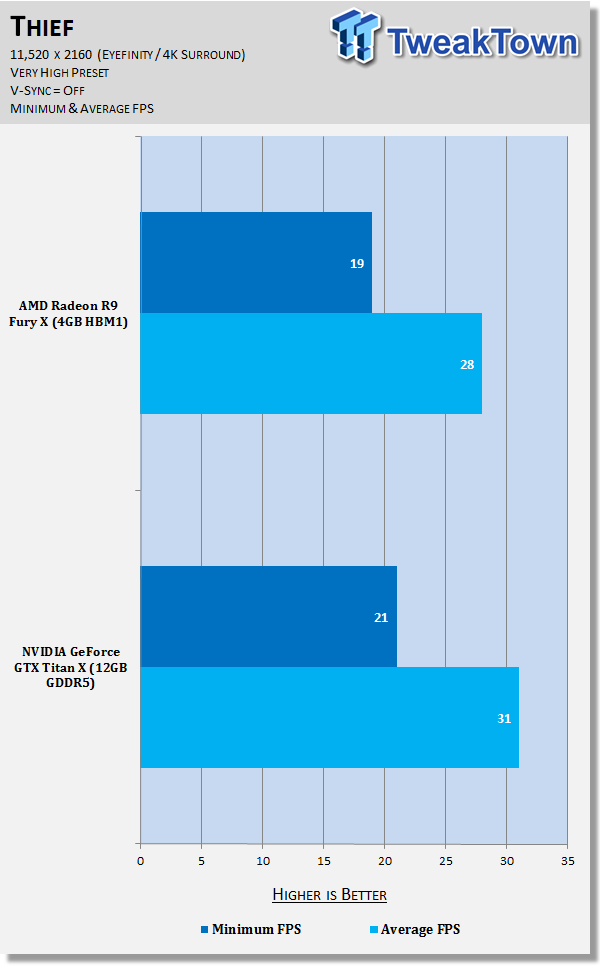 Tomb Raider @ 11,520 x 2160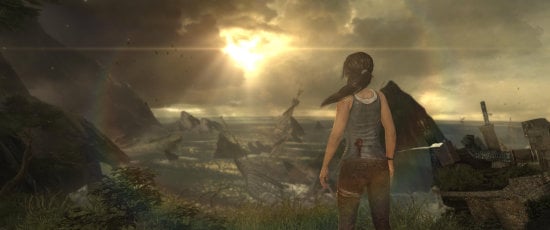 Tomb Raider is still such a gorgeous game, with developer Crystal Dynamics using their own 'Foundation' engine to build Lara Croft into the new world. One of the best parts about Tomb Raider is the absolutely stellar multi-GPU scaling, so this is an important test to see how well our NVIDIA GeForce SLI and AMD Radeon Crossfire setups scale.
You can buy Tomb Raider at Amazon.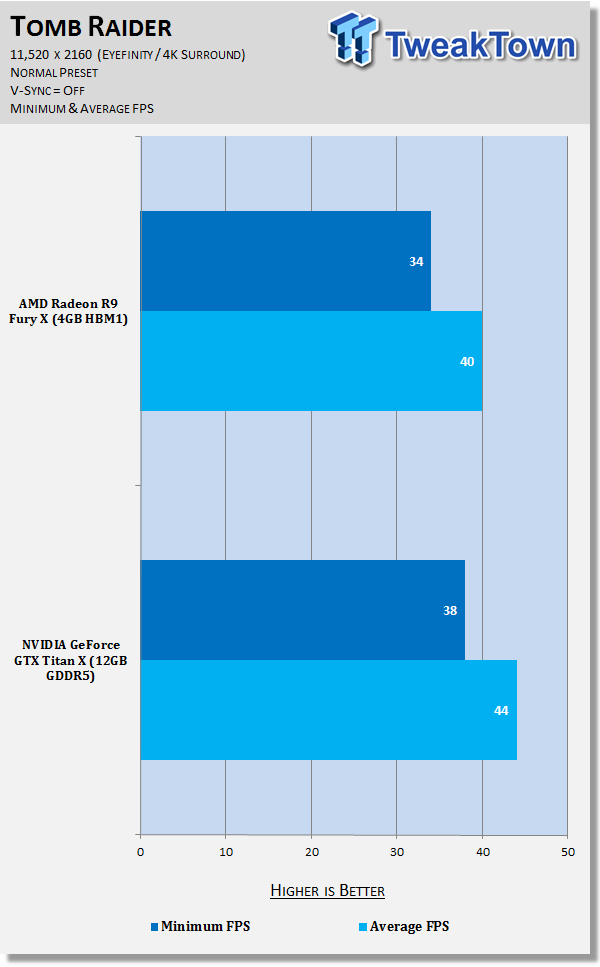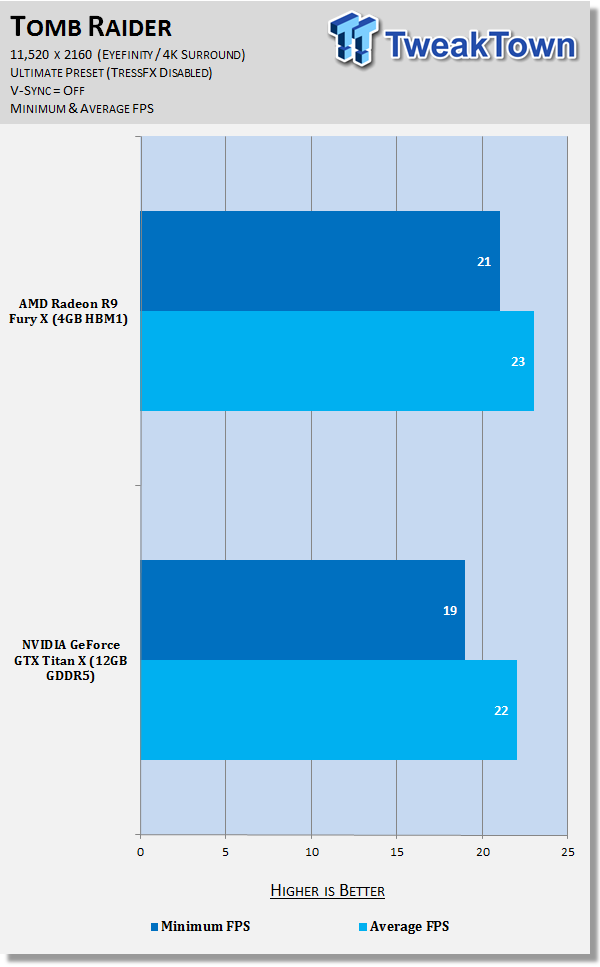 BioShock Infinite @ 11,520 x 2160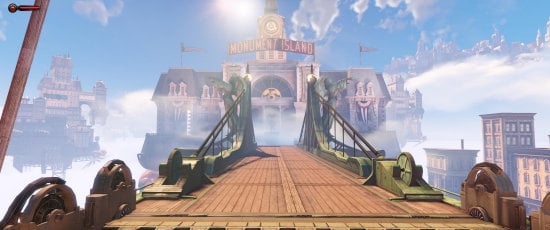 Irrational Games built BioShock Infinite on a heavily modified version of Unreal Engine 3, putting it on the same playing field as Thief. It's still a great game to test on our various video cards, but this is one of the games we will soon be replacing as we get into the end of the year.
You can buy BioShock Infinite at Amazon.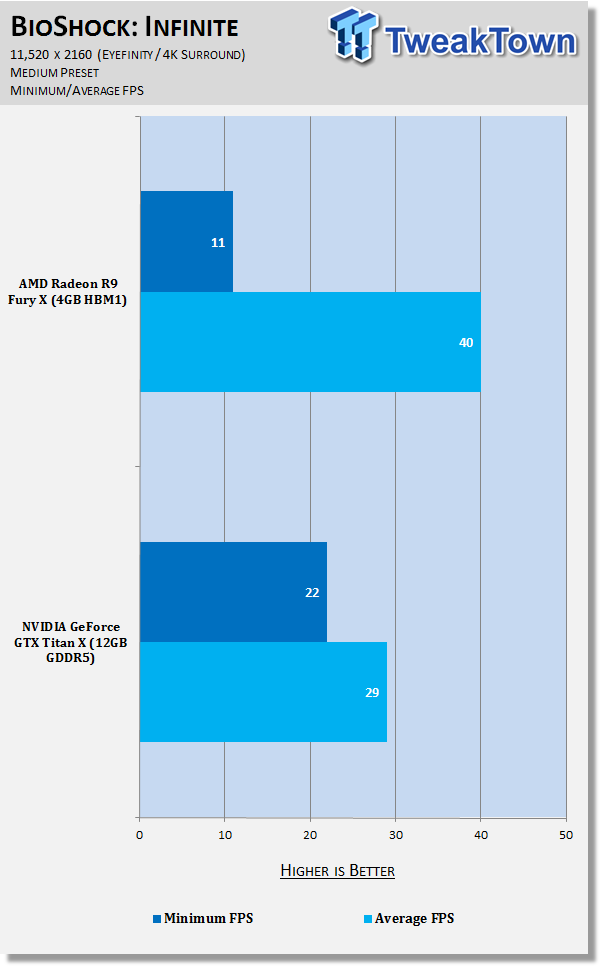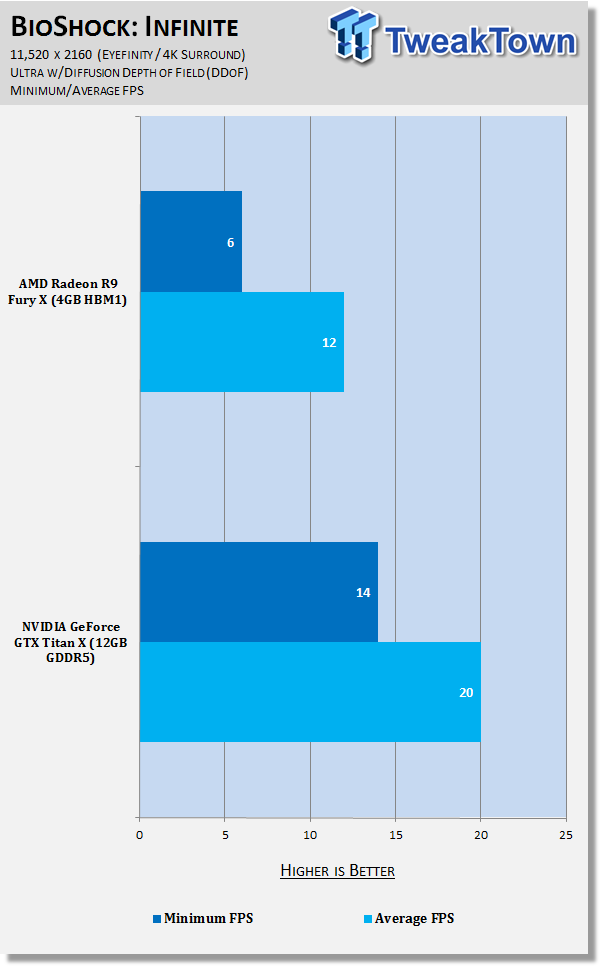 Benchmark Results Analysis @ 11,520 x 2160
How Did We Go?
Since we tested our GPUs at 11,520 x 2160 in both the Medium and Ultra/Max presets, it'll give us a better look at what kind of performance we're going to get from the games we've tested. And whether it's worth cranking the detail knobs all the way to maximum, or not. We're looking at 30FPS at a bare minimum, but we're really aiming for 60FPS. We know we're not going to hit it - so we're going to need some multi-GPU goodness in the coming weeks.

Battlefield 4: On the Medium preset, the Titan X beats the Fury X by 38%, while on the Ultra preset the Titan X wins once again with 32% more performance than the HBM-based Fury X.
GRID: Autosport: The AMD Radeon R9 Fury X was faster than the NVIDIA GeForce GTX Titan X in GRID: Autosport on the Medium preset by 2FPS, with AMD beating NVIDIA by 3%. On the Ultra preset, things swing back for the Titan X, which beats the Fury X by 13%.
Metro: Last Light Redux: Metro: Last Light Redux is a hard game on a single card at 4K let alone 11,520 x 2160 - with both of the cards sitting at 30FPS average on the Medium preset. Knocking things up to the Ultra preset, the Fury X falls behind of the Titan X by 22% or 2FPS.
Shadow of Mordor: This is another tough game for GPUs, with the Fury X beating the Titan X by 4FPS - or 15%. Looking at the Ultra results, NVIDIA comes out on top with 19FPS compared to the Fury X with 15FPS - a difference of 27%.
Thief: Moving onto Thief, the R9 Fury X and Titan X are neck and neck - with AMD's card hitting 39FPS while NVIDIA enjoys 31FPS - a win for NVIDIA of 7%. On the Very High preset, the Fury X scores 28FPS average to the 31FPS average on the Titan X, with NVIDIA winning by 11%.
Tomb Raider: We have some decent results for Tomb Raider, with the Fury X pushing 40FPS average while the Titan X was 10% faster at 44%. On the Ultimate preset (with TressFX disabled), the Fury X beat the Titan X by 1FPS - 23FPS to the Fury X, and 22FPS to the Titan X.
BioShock Infinite: The High Bandwidth Memory on the Fury X helped destroy the Titan X on the Medium preset of BioShock Infinite, with the Fury X seeing 40FPS average (but 11FPS minimum) compared to the 29FPS average (and higher 22FPS minimum) - a win of 38% for AMD. But when the Ultra preset was pulled out, the Titan X pulled ahead by a massive 67% - thrashing the 12FPS that the Fury X spat out with 20FPS average.
Final Thoughts
Well, is this what you expected? I did - and while I'm impressed, I'm so excited for when we can run 11,520 x 2160 on a single GPU at 60FPS+. Right now, even dialing down the detail to Medium, only a handful of our games were playable (60FPS+ constant is what you want, especially with multi-monitor setups thanks to the bezels).
I think the next-gen GPUs from NVIDIA and AMD are going to be capable of this, with the tease of NVIDIA's Pascal-powered GeForce GTX Titan X successor said to feature up to 32GB of HBM2, and deliver around 1.5-1.8x the performance of the Titan X. Now, that should be enough to hit 60FPS or so, but two of those in SLI are going to be something that dreams are made of. We should be able to hit 60FPS+ on Ultra/Max details at 11,520 x 2160 with next-gen Titan X in SLI.
Finally, gaming on the triple-monitor 11,520 x 2160 setup is awesome. Sure, the bezels are in your way, but the experience is just so great. The two additional monitors fill your entire peripheral vision, enveloping you and pulling you into the game. I wouldn't recommend it for fast-paced first-person shooters, but for everything else, it's an experience like no other.
Would I recommend it? Probably not. I do these articles to give us a closer look at where GPUs are going, and what we'll need regarding raw GPU performance once we bust through 4K @ 120 and VR headsets. Right now, we simply don't have the GPU power for anything over 4K @ 120Hz on a single card, but that's where Polaris and Pascal should turn up and blow us all away. Surprise me, AMD/NVIDIA.