Introduction, Drive Specifications, Pricing and Availability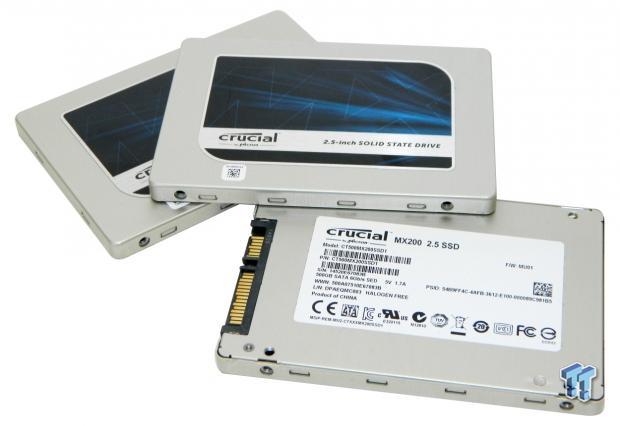 What's even better than a two-drive MX200 array? A three-drive MX200 array, of course. Crucial's MX200 500GB SATA III SSD quickly won us over and has become a TweakTown favorite. The MX200 is blazing fast, utilizes high-grade components, and is one of a very few SSD's in its class to have on-board host power loss protection. And did we mention the MX200 is priced in the same range as SSD's that utilize inferior TLC flash?
Crucial wants to separate themselves from a vast field of competing solutions with more than just speed. The MX200 definitely has speed that makes it stand out from competing solutions. However, as important as speed is, data protection is even more important. Protection from data corruption and protection from intrusion are two of today's biggest concerns. To combat data corruption, Crucial utilizes the finest components including MLC synchronous flash. MLC flash protects your data by delivering superior endurance and MLC flash is less susceptible to thermal related data corruption in comparison to TLC flash. MLC flash inherently provides more protection from thermal related data corruption than TLC flash, but Crucial takes it a step further. Crucial employs proprietary adaptive thermal protection technology. This technology dynamically adjusts component activity keeping temperatures within a specific safe range.
To protect in-flight data in the event of a host power loss, Crucial outfits the MX200 with a small capacitor array that provides enough backup power to flush in-flight data to the drive's flash array.
As NAND lithography shrinks, a powerful and efficient error correction scheme becomes critical to combat data corruption and extend the life of a drive's flash array. Crucial integrates RAIN parity technology as part of the MX200's error correction scheme; making the MX200 one of the safest places to store your precious data. To keep your data safe from unwanted intrusion as well as physical theft, the MX200 is AES 256-bit encryption capable. Crucial's MX200 meets or exceeds all industry encryption standards, including IEEE-1667 compliance, TCG Opal 2.0 and Microsoft eDrive.
Crucial has all the bases covered with the MX200; it's a super-fast, ultra-reliable and safe platform for your data. We feel that a 3-drive array is the real sweet spot for price, performance and capacity. A good 3-drive SATA array can outperform most PCIe drives in an OS environment and do so for about half the cost. RAID 0 is all about performance, and we expect a 3-drive MX200 array to deliver the goods. Let's dive in and see exactly what this powerful array has to offer.
Specifications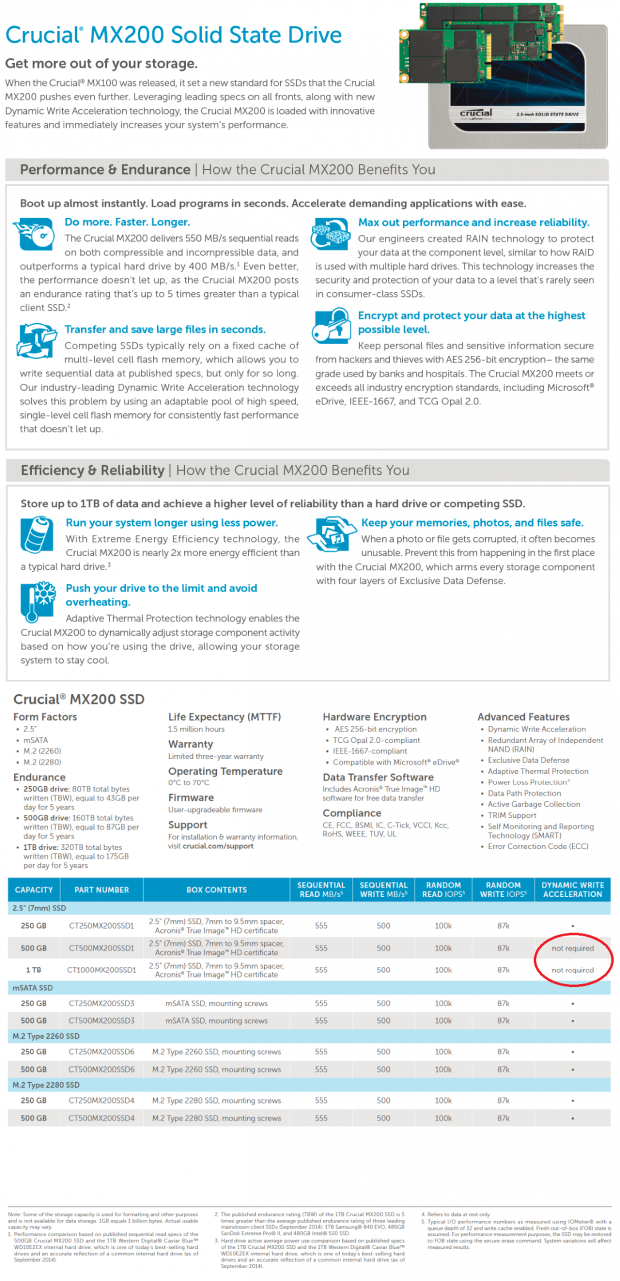 Crucial's MX200 SATA III SSD is available in three capacities: 250GB, 500GB and 1TB. Sequential performance of the MX200 is listed at 555/500 read/write. Random read/write performance is listed at up to 100,000/87,000 IOPS at all capacity points. Of particular interest is the high endurance guarantee that the MX200 carries. The 250GB capacity MX200 comes with a TBW (Total Bytes Written) guarantee of 80TB, the 500GB capacity a TBW guarantee of 160TB and the 1TB model a guaranteed TBW of 320TB. This is class leading endurance and something virtually unseen from consumer based SSD's to this point.
Crucial's MX200 SATA III SSD comes in a 2.5" x 7mm Z-height form factor and ships with a spacer should you need to increase the drives thickness to 9.5mm. Crucial includes an Acronis key as a value add. Crucial backs the MX200 with an industry standard three-year warranty or TBW allowed during the three-year warranty period, whichever comes first.
Drive Details
Crucial MX200 500GB SSD
Drive Details - Crucial MX200 500GB SSD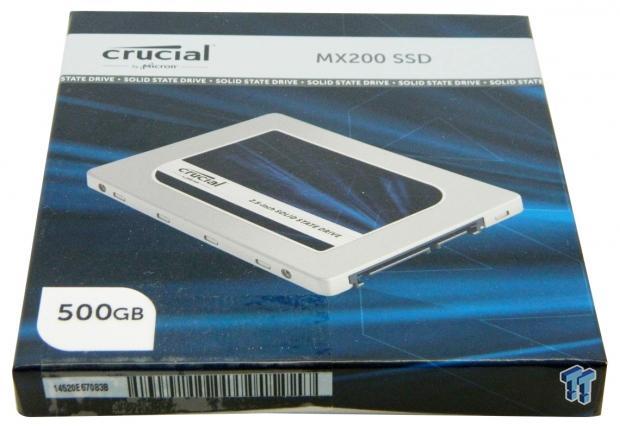 Crucial packages their MX200 SATA III SSD in an attractive blue and silver flip-top box. There is a picture of the drive on the top of the box.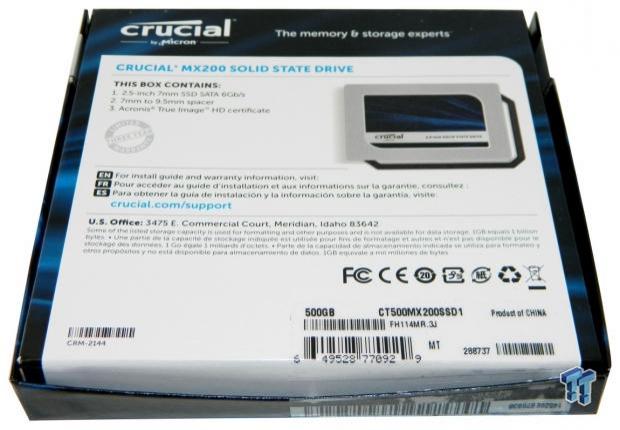 The rear of the box lists the contents, as well as another picture of the drive and the included spacer.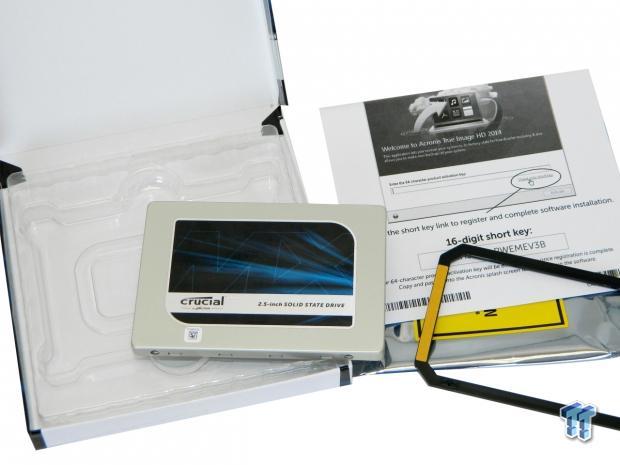 Here is the complete contents of the drives packaging.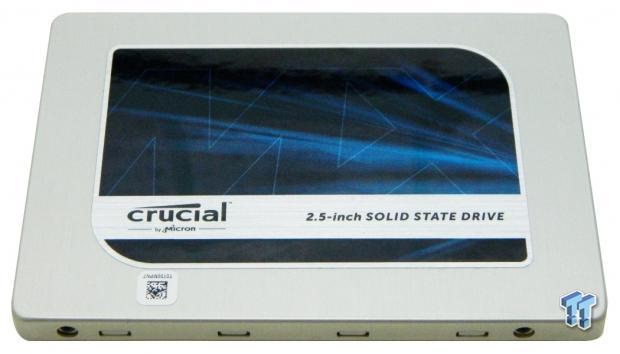 Crucial moved away from their typical reverse labeling with the MX200. The top and sides of the drives enclosure are formed from a single piece of sheet aluminum that interlocks with the bottom half of the enclosure. The enclosure is natural aluminum in color. There is an attractive blue and silver sticker on the face of the top half of the enclosure.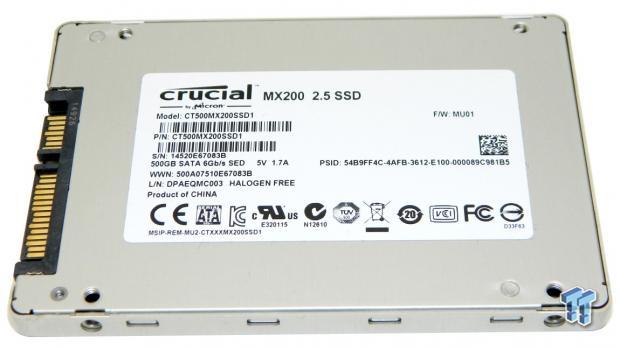 The bottom and inner sides of the drives enclosure are formed from another single piece of interlocking sheet aluminum. A manufacturer's sticker lists the drives capacity, shipping firmware, model number, serial number and various other relevant information.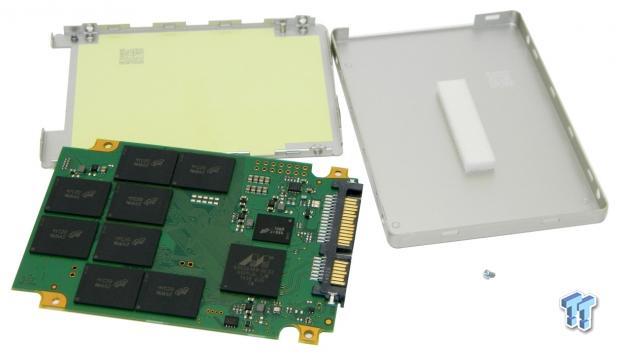 Here's what Crucial's MX200 500GB SSD looks like completely disassembled. There are a total of (8) 64GB 16nm BGA NAND packages, 1 DDR cache package and a Marvell 88SS9189-BLD2 flash processor. Host power loss protection is provided via a total of 16 capacitors, 8 are located on this side of the PCB and another 8 on the opposite side of the PCB. The PCB is secured to the enclosure by a single screw and 2 locator pins.
All chips on the board make contact with a Mylar type thermal sheet that is affixed to the top half of the enclosure. There is a thick, white, non-thermal foam strip that acts as a spacer affixed to the bottom of the drives enclosure ensuring that the PCB stays secured within the locating pins.
Test System Setup and Properties
Test System Configuration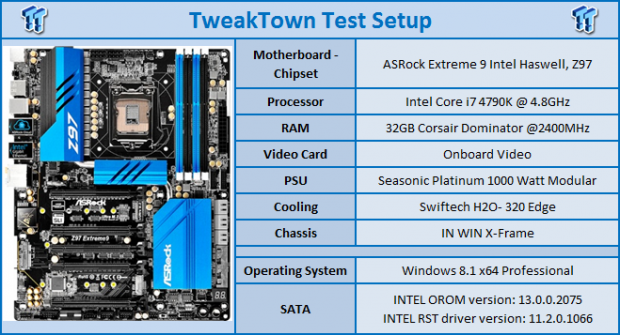 We would like to thank the following companies: ASRock, Crucial, Intel, Corsair, RamCity, IN WIN, and Seasonic for making our test system possible.
Drive Properties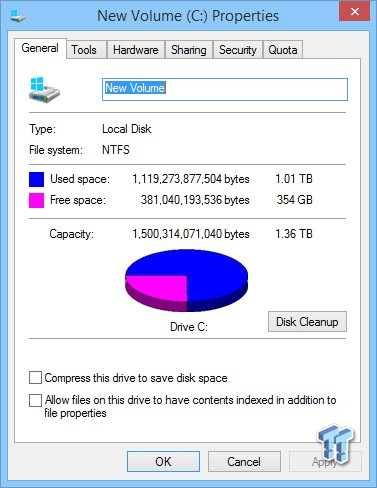 The majority of our testing is performed with our test drive/array as our boot volume. Our boot volume is 75% full for all OS Disk "C" drive testing to replicate a typical consumer OS volume implementation. We feel that most of you will be utilizing your SSD's for your boot volume and that presenting you with results from an OS volume is more relevant than presenting you with empty secondary volume results.
System settings: Cstates and Speed stepping are both disabled in our systems BIOS. Windows High Performance power plan is enabled. Windows write caching is enabled, and Windows buffer flushing is disabled. We are using 64k stripes for all 3-drive arrays. Write-back caching is enabled via Intel's RST control panel. We are utilizing Windows 8.1 64-bit for all of our testing.
Synthetic Benchmarks - ATTO & Anvil Storage Utilities
ATTO
Version and / or Patch Used: 2.47
ATTO is a timeless benchmark used to provide manufacturers with data used for marketing storage products.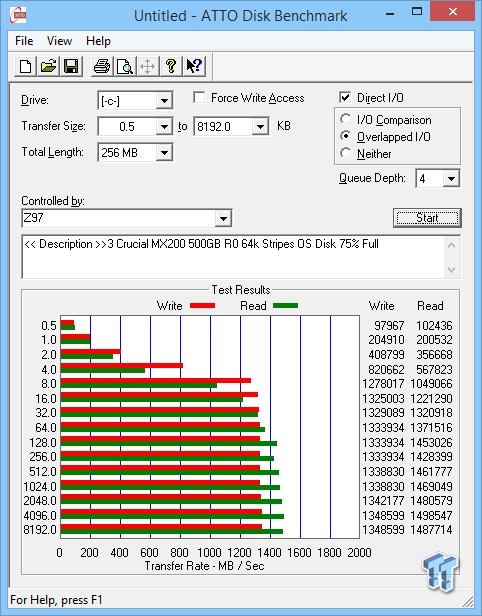 Sequential read transfers max out at 1.43 GB/s. Sequential write transfers max out at 1.29 GB/s.
Sequential Write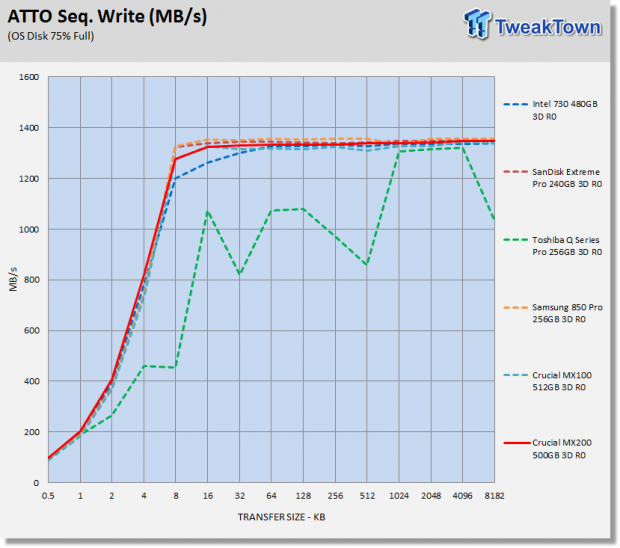 Our MX200 array has the best small file transfer rates (0.5-4KB) of any of the array's on our chart.
Sequential Read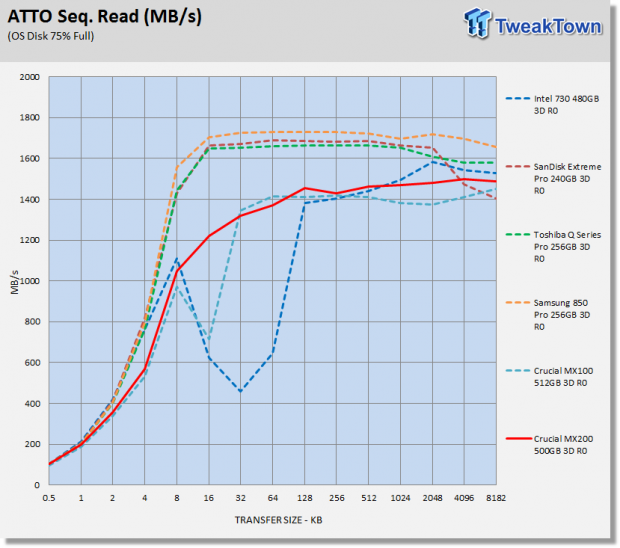 Our MX200 array does outperform our MX100 array, but overall its performance in this test is near the bottom of the field.
Anvil Storage Utilities
Version and / or Patch Used: 1.1.0
Anvil's Storage Utilities is a storage benchmark designed to measure the storage performance of SSD's. The Standard Storage Benchmark performs a series of tests; you can run a full test or just the read or write test, or you can run a single test, i.e. 4k QD16.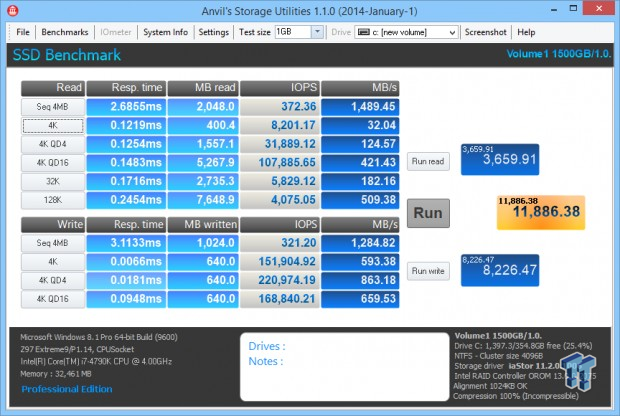 Scoring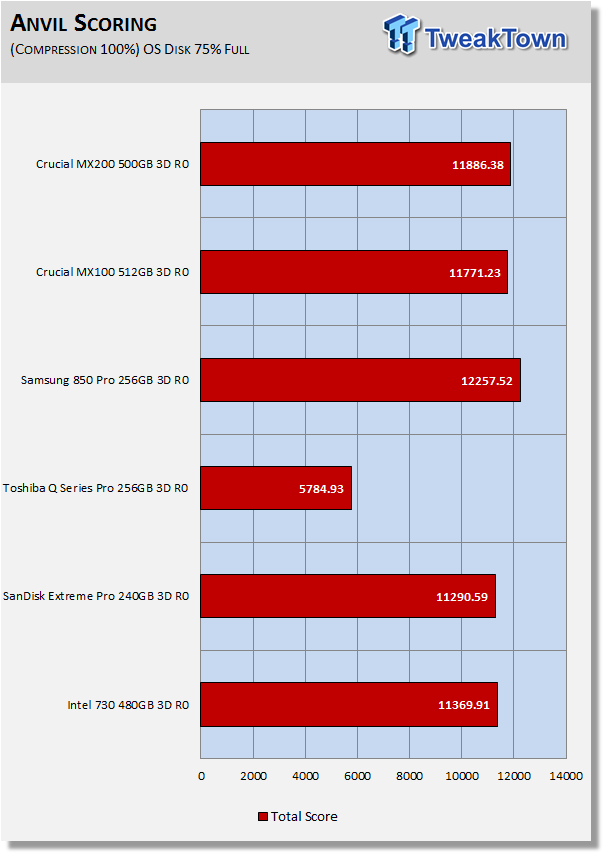 Anvil's scoring gives a good indication of an array's overall performance. Second only to the 850 Pro array, our MX200 array is coming on strong.
(Anvil) Random Read IOPS through Queue Depth Scale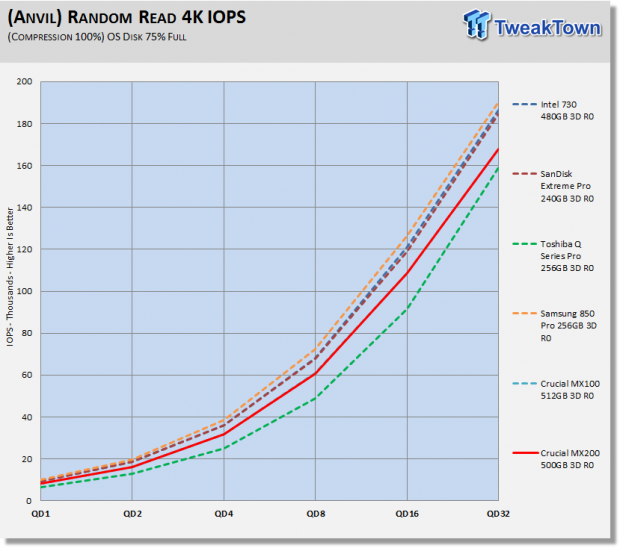 The random read performance of our MX200 array lays directly over our MX100 array; it's identical.
(Anvil) Random Write IOPS through Queue Scale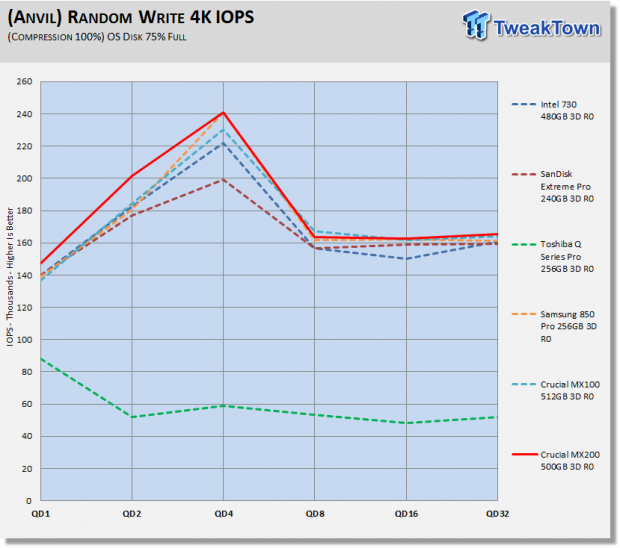 The vast majority of random writes occur at QD1-QD2 and this is where an MX200 array has no equal. Overall, this is the best performance we've seen from any array in this test. As we've stated many times, we feel random write performance at low QD is one most important performance metrics.
Synthetic Benchmarks - CrystalDiskMark & AS SSD
CrystalDiskMark
Version and / or Patch Used: 3.0 Technical Preview
CrystalDiskMark is disk benchmark software that allows us to benchmark 4k and 4k queue depths with accuracy. Note: Crystal Disk Mark 3.0 Technical Preview was used for these tests since it offers the ability to measure native command queuing at QD4.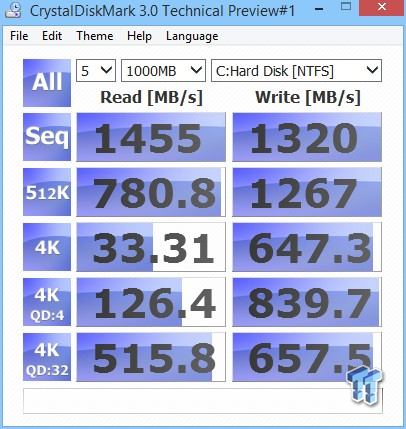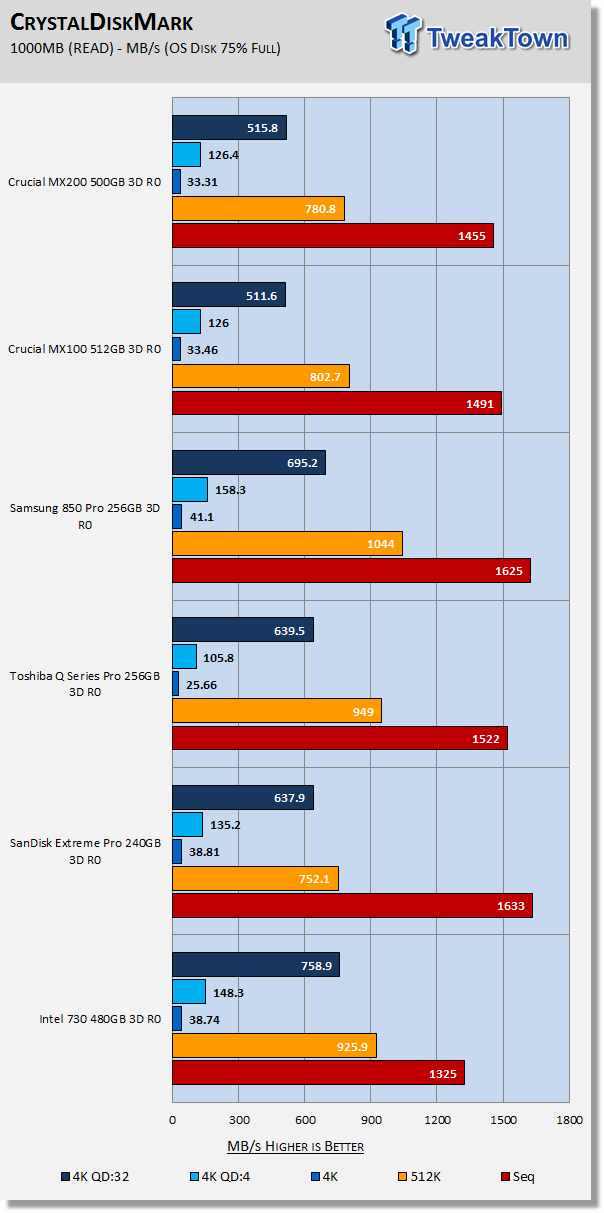 The read performance of our write-centric MX200 array is below that of most of the competing arrays on our chart.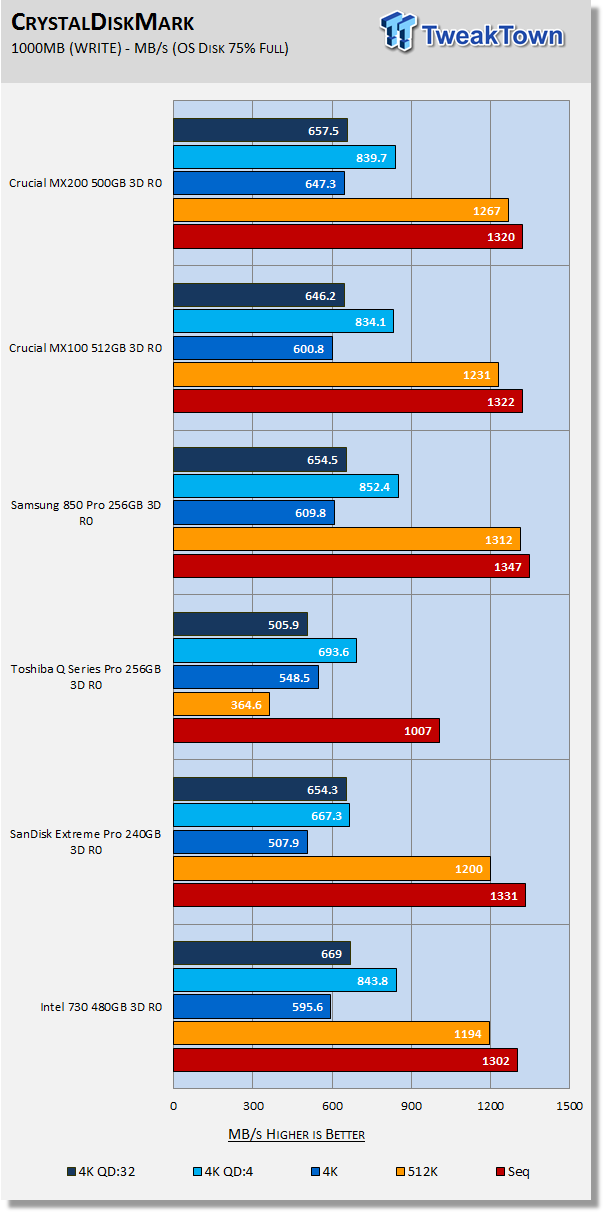 We consider 4K QD1 write speed to be one of the best indicators of performance, and as we've seen so far the MX200 easily outperforms the rest of the competition at a single queue.
AS SSD
Version and / or Patch Used: 1.7.4739.38088
AS SSD determines the performance of Solid-State Drives (SSD). The tool contains four synthetic as well as three practice tests. The synthetic tests are to determine the sequential and random read and write performance of the SSD.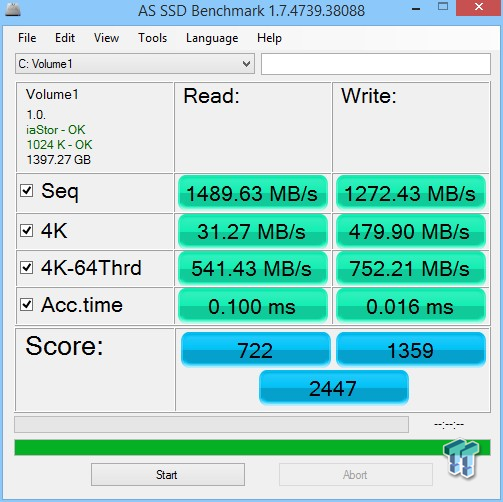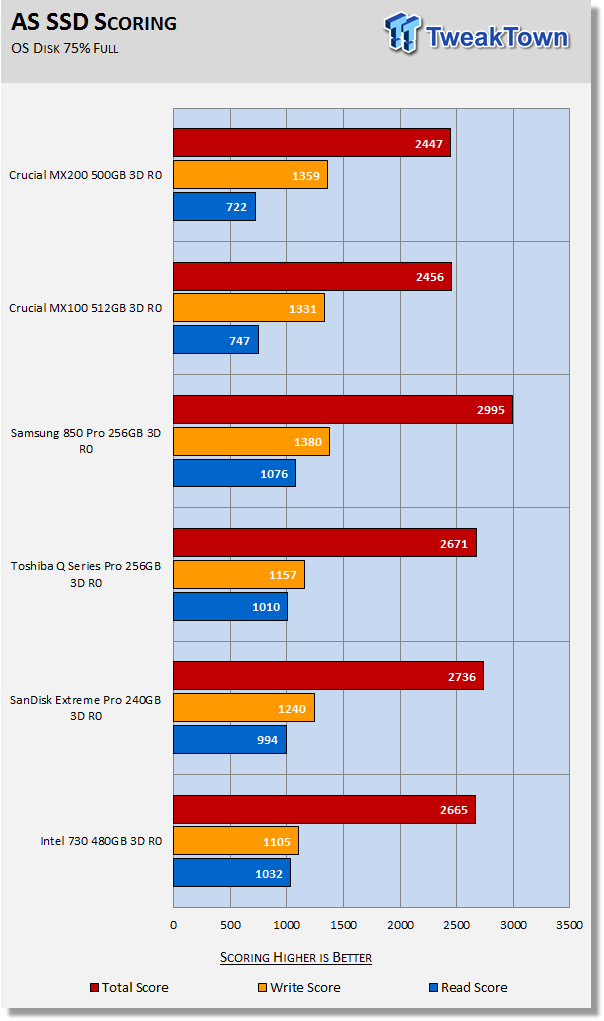 In terms of overall score, our MX200 array is outperformed by the competition. However, if we dig a bit deeper, we find that our MX200 array delivers the second best write score we've seen to date from a 3-drive SATA array.
Benchmarks (Trace Based OS Volume) - PCMark Vantage, PCMark 7 & PCMark 8
Moderate Workload Model
We categorize these tests as indicative of a moderate workload environment.
PCMark Vantage - Hard Disk Tests
Version and / or Patch Used: 1.2.0.0
The reason we like PCMark Vantage is because the recorded traces are played back without system stops. What we see is the raw performance of the drive/array. This allows us to see a marked difference between scoring that other trace-based benchmarks do not exhibit. An example of a marked difference in scoring on the same drive would be empty vs. filled vs. steady state.
We run Vantage three ways. The first run is with the OS drive 75% full to simulate a moderately used OS volume filled with data to an amount we feel is common for most users. The second run is with the OS volume written into a "Steady State" utilizing SNIA's guidelines. Steady state testing simulates a drive/array's performance similar to that of a drive that been subjected to consumer workloads for extensive amounts of time. The third run is a Vantage HDD test with the test drive/array attached as an empty, lightly used secondary device.
OS Volume 75% Full - Lightly Used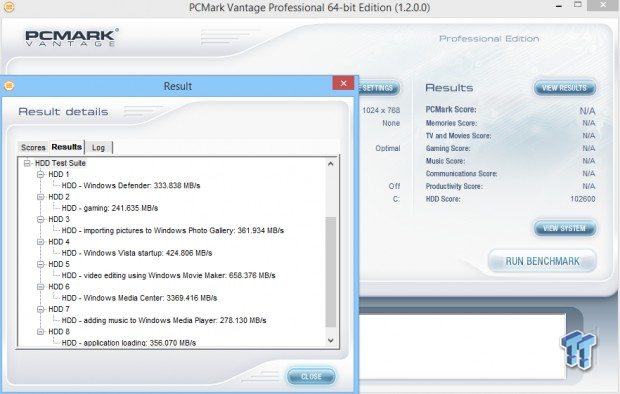 OS Volume 75% Full - Steady State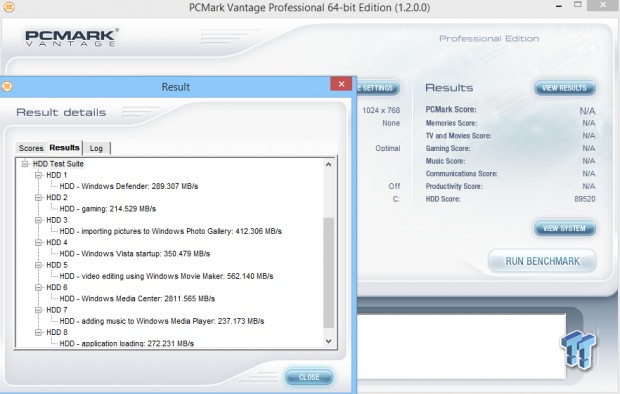 Secondary Volume Empty - FOB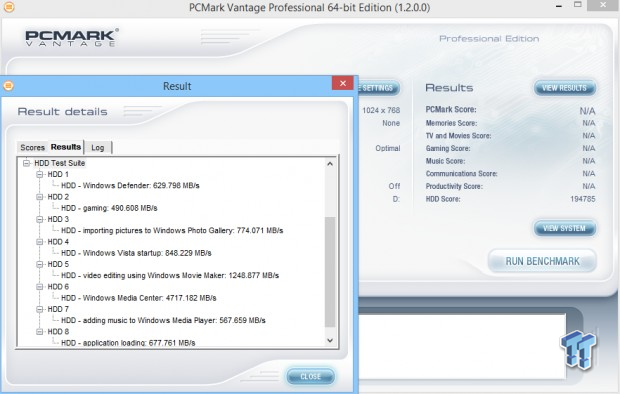 There's a big difference between an empty drive, one that's 75% full/used, and one that's in a steady state.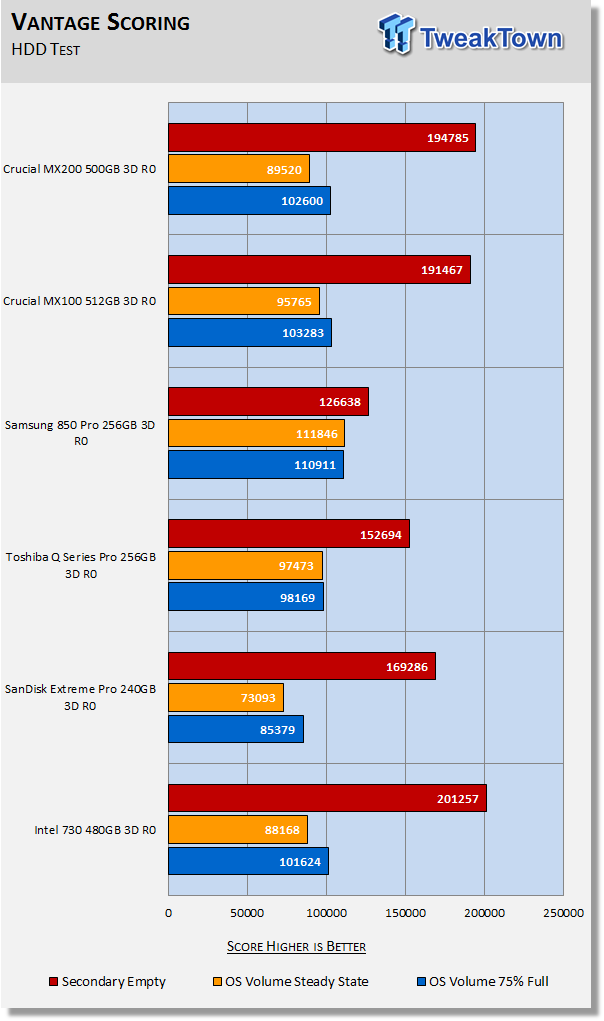 The important scores to pay attention to are "OS Volume Steady State" and "OS Volume 75% full." These two categories are most important because they are indicative of typical of consumer user states. When a drive is in a steady state, it means garbage collection is running at the same time it's reading/writing. This is exactly why we focus on steady state performance.
Focusing on steady-state performance, our MX200 array is out performing our RAID champion Intel 730 array and our SanDisk Extreme Pro array. Samsung's 850 Pro continues to dominate this testing in a steady state.
PCMark 7 - System Storage
Version and / or Patch Used: 1.4.0
We will look to Raw System Storage scoring for an evaluation because it's done without system stops and therefore allows us to see significant scoring differences between drives.
OS Volume 75% Full - Lightly Used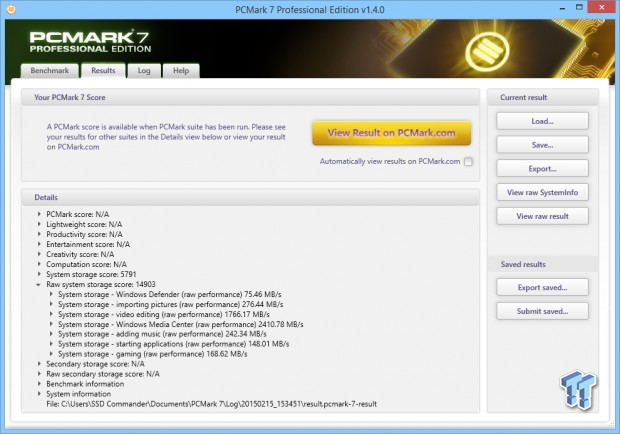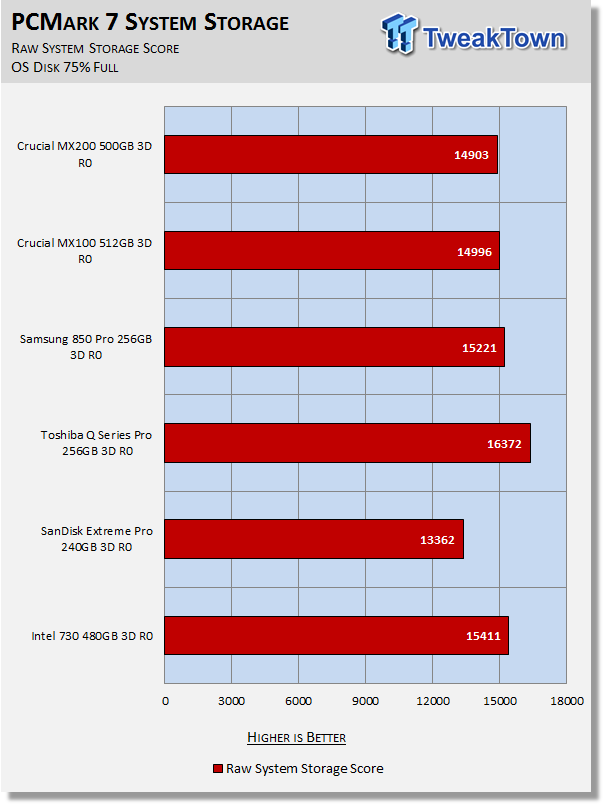 Our MX200 array comes in just behind our MX100 array. Our Toshiba array is way out in front of the competition in this test.
PCMark 8 - Storage Bandwidth
Version and / or Patch Used: 2.4.304
We use PCMark 8 Storage benchmark to test the performance of SSDs, HDDs, and hybrid drives with traces recorded from Adobe Creative Suite, Microsoft Office, and a selection of popular games. You can test the system drive or any other recognized storage device, including local external drives. Unlike synthetic storage tests, the PCMark 8 Storage benchmark highlights real-world performance differences between storage devices.
OS Volume 75% Full - Lightly Used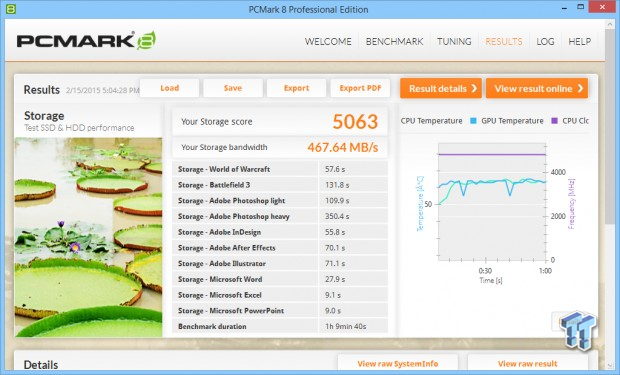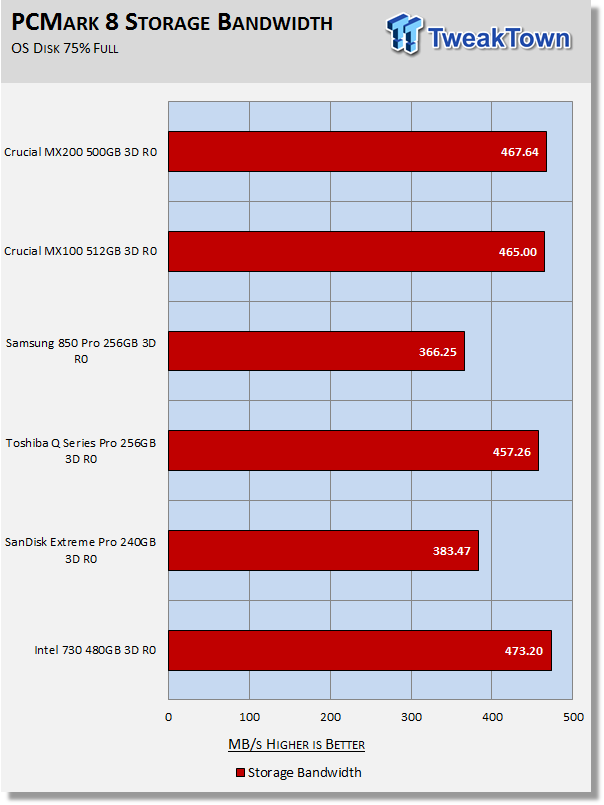 PCMark 8 is the most intensive moderate workload simulation we run. With respect to moderate workload simulations, this test is what we consider the best indicator of an array's performance. Our MX200 array delivers the goods by outperforming all but our RAID champion Intel 730 array.
Benchmarks (Secondary Volume) - Disk Response & Transfer Rates
Iometer - Disk Response
Version and / or Patch Used: Iometer 2014
We use Iometer to measure disk response times. Disk response times are measured at an industry accepted standard of 4K QD1 for both write and read. Each test runs twice for 30 seconds consecutively, with a 5-second ramp-up before each test. We partition the drive/array as a secondary device for this testing.
Write Response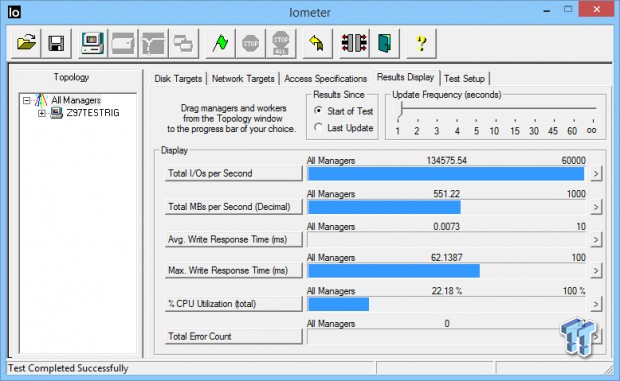 Read Response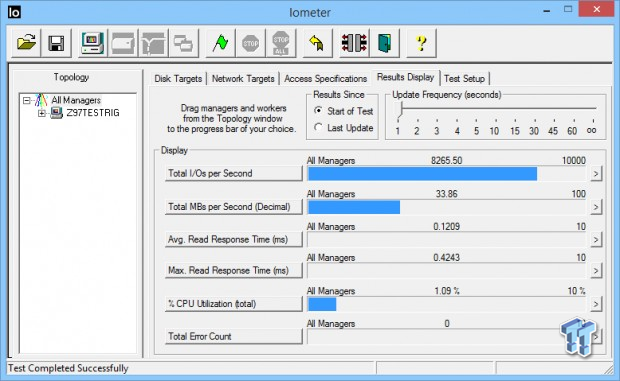 Average Disk Response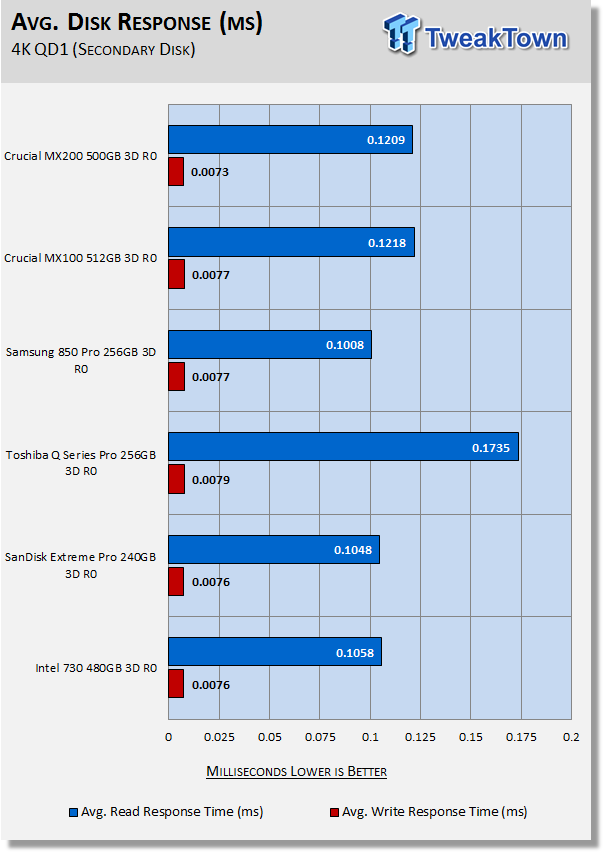 Our MX200 array sets the bar for lowest write access times.
DiskBench - Directory Copy
Version and / or Patch Used: 2.6.2.0
We use DiskBench to time a 28.6GB block (9,882 files in 1,247 folders) composed primarily of incompressible random data as it's transferred from our DC P3700 PCIe NVME SSD to our test drive. We then read from a 6GB zip file that's part of our 28.6GB data block to determine the test drives read transfer rate. Our system is restarted prior to the read test to clear any cached data, ensuring an accurate test result.
Write Transfer Rate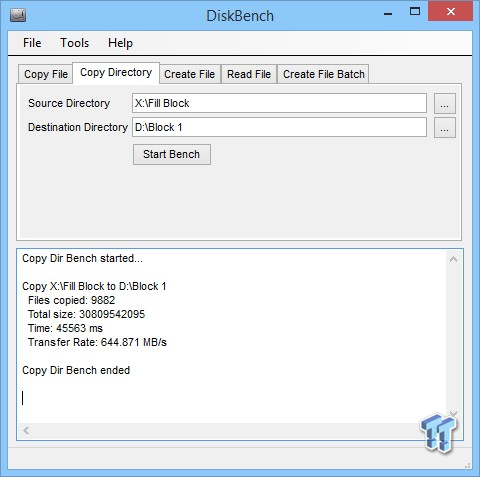 Read Transfer Rate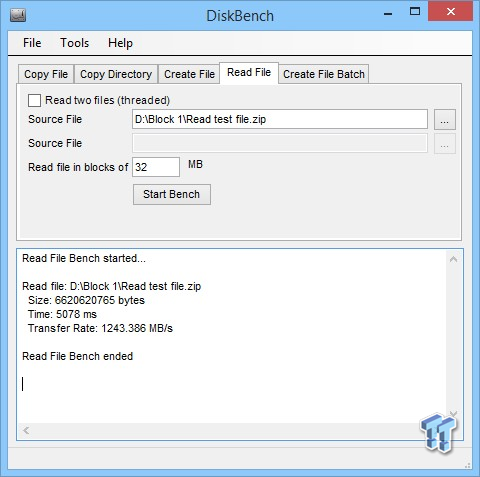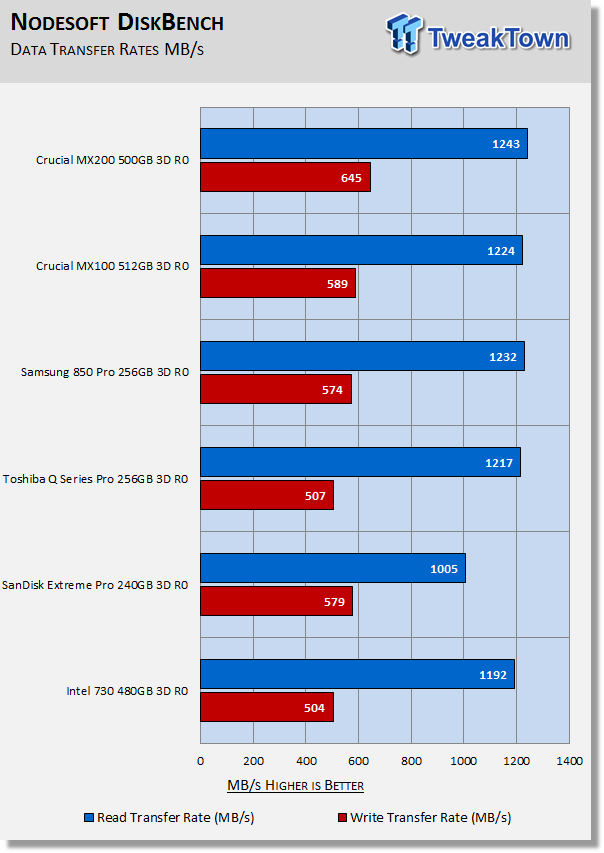 Our MX200 array owns this test. It is able to set new lab records for a 3-drive SATA array.
Benchmarks (Secondary Volume) - PCMark 8 Extended
Futuremark PCMark 8 Extended
Heavy Workload Model
PCMark 8's consistency test simulates an extended duration heavy workload environment. PCMark 8 has built-in, command line executed storage testing. The PCMark 8 Consistency test measures the performance consistency and the degradation tendency of a storage system.
The Storage test workloads are repeated. Between each repetition, the storage system is bombarded with a usage that causes degraded drive performance. In the first part of the test, the cycle continues until a steady degraded level of performance has been reached. (Steady State)
In the second part, the recovery of the system is tested by allowing the system to idle and measuring the performance after 5-minute long intervals. (Internal drive maintenance: Garbage Collection (GC)) The test reports the performance level at the start, the degraded steady-state, and the recovered state, as well as the number of iterations required to reach the degraded state and the recovered state.
We feel Futuremark's Consistency Test is the best test ever devised to show the true performance of solid-state storage in an extended duration heavy workload environment. This test takes on average 13 to 17 hours to complete, and writes somewhere between 450GB and 14,000GB of test data depending on the drive. If you want to know what an SSD's steady state performance is going to look like during a heavy workload, this test will show you.
Here's a breakdown of Futuremark's Consistency Test:
Precondition phase:
1. Write to the drive sequentially through up to the reported capacity with random data.
2. Write the drive through a second time (to take care of overprovisioning).
Degradation phase:
1. Run writes of random size between 8*512 and 2048*512 bytes on random offsets for 10 minutes.
2. Run performance test (one pass only).
3. Repeat 1 and 2 for 8 times, and on each pass increase the duration of random writes by 5 minutes.
Steady state phase:
1. Run writes of random size between 8*512 and 2048*512 bytes on random offsets for 50 minutes.
2. Run performance test (one pass only).
3. Repeat 1 and 2 for 5 times.
Recovery phase:
1. Idle for 5 minutes.
2. Run performance test (one pass only).
3. Repeat 1 and 2 for 5 times.
Storage Bandwidth
PCMark 8's Consistency test provides a ton of data output that we use to judge a drive's performance.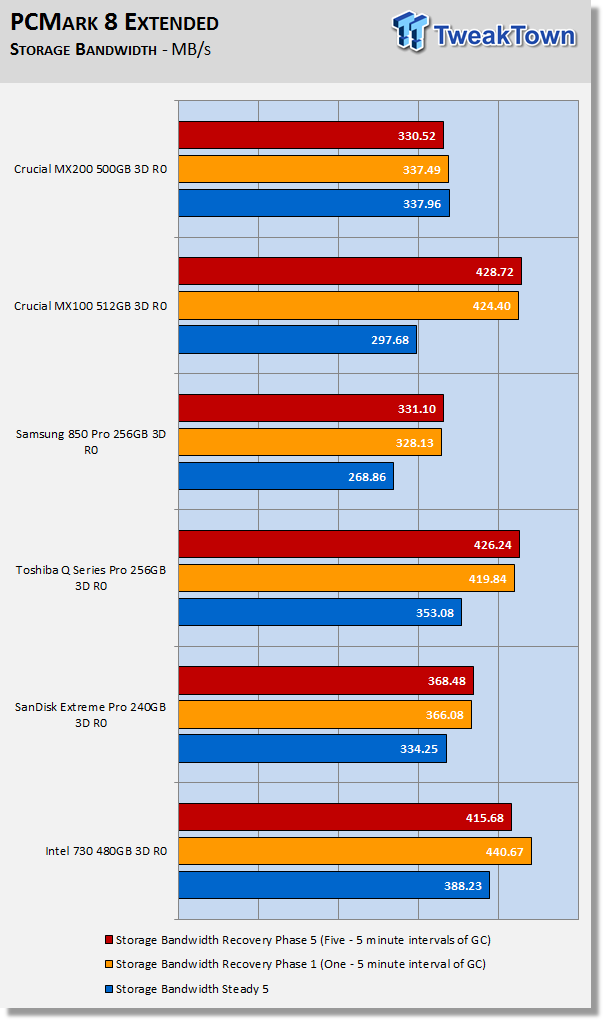 We consider steady state bandwidth (the blue bar) our test that carries the most weight in ranking a drive/arrays heavy workload performance. Performance after Garbage Collection (GC) (the orange and red bars) is what we consider the second most important consideration when ranking a drive's performance. Trace based steady state testing is where true high performing SSDs are separated from the rest of the pack.
In a steady state, our MX200 array puts up the third best performance for a SATA based array we've ever seen. It's significantly faster than both our MX100 and 850 Pro array's.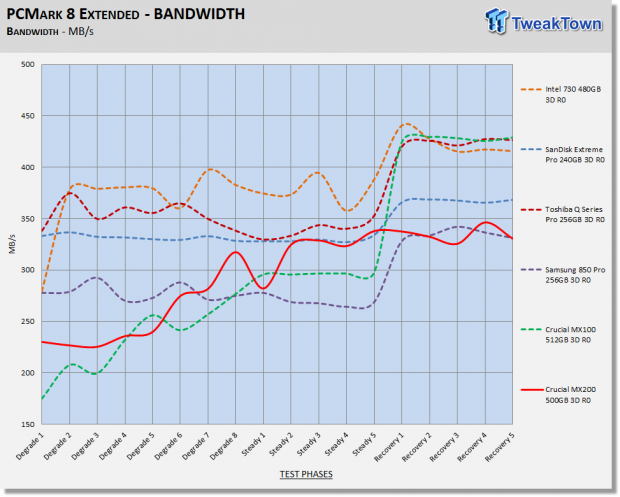 We chart our test subject's storage bandwidth as reported at each of the test's 18 trace iterations. This gives us a good visual perspective of how our test subjects perform as testing progresses.
Total Access Time (Latency)
We chart the total time the disk is accessed as reported at each of the test's 18 trace iterations.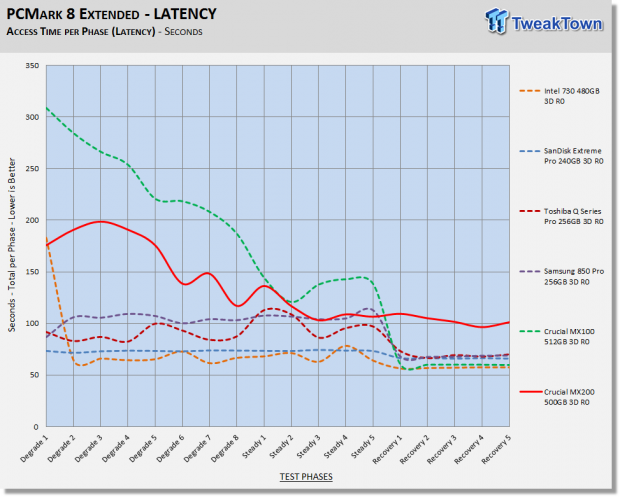 Disk Busy Time
Disk Busy Time is how long the disk is busy working. We chart the total time the disk is working as reported at each of the tests 18 trace iterations.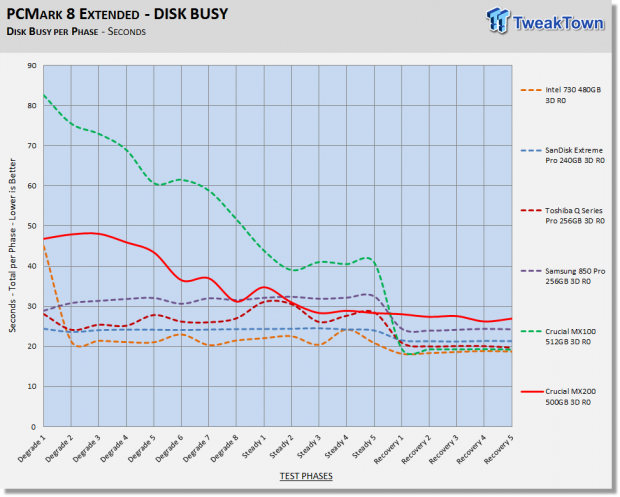 When latency is low, disk busy time is low as well.
Data Written
We measure the total amount of random data that our test drive/array is capable of writing during the degradation phases of the consistency test. Pre-conditioning data is not included in the total. The total combined time that degradation data is written to the drive/array is 470 minutes. This can be very telling. The better a drive/array can process a continuous stream of random data, the more data will be written.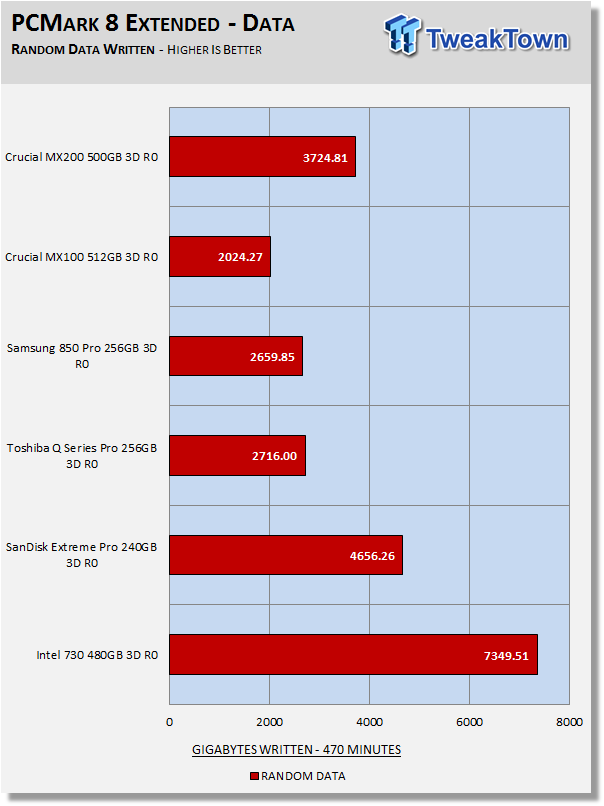 What stands out to us is how much more random data our MX200 array can write than our MX100 array in the same amount of time. Our MX200 array again delivers the third best performance of the arrays on our chart.
Final Thoughts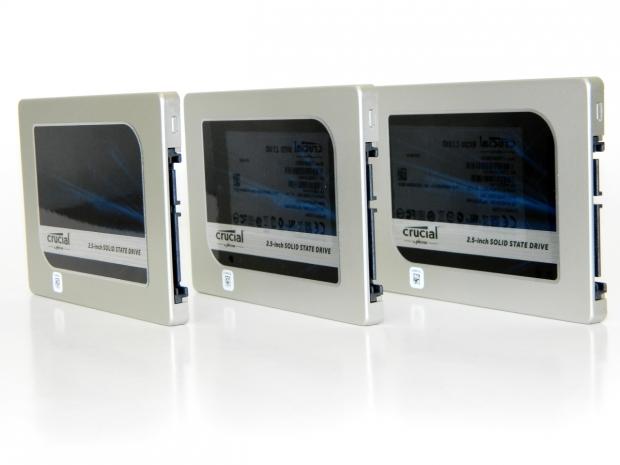 As a single drive, the MX200 is right on the heels of Samsung's 850 Pro. The tables turn in an array with an MX200 array delivering better all-around performance than an 850 Pro array. Whether it's a moderate or heavy workload, an MX200 array is hard to beat. When you factor in pricing, an MX200 array is in our opinion the best bang for the buck SATA array available right now. We say this with one caveat; we don't know how well a comparative 3-drive 850 EVO array performs. However, we suspect an MX200 array will deliver better heavy workload performance in a steady state.
We like the fact that the Crucial's MX200 is selling in the same price range as most TLC based SSD's. Enough time has not passed yet to levy a verdict on Samsung's 3D TLC flash. Will issues arise as we saw from the 840 EVO? We don't think so, but at this point, we feel there is no definitive answer.
Micron's 16nm MLC flash is a known entity and has stood the test of time. We know it is both fast and durable, so at this point we give the nod to Micron MLC over Samsung TLC in an array where heavy workloads are standard fare.
Because we perform most of our evaluations with the test subject running as our boot volume, we can comment on how the drives performed with our OS. As you might expect, our 3-drive MX200 array performs exceptionally well as our OS disk. It is noticeably faster than lesser arrays. Boots are lightning quick, much faster than a single drive. File transfer rates are better than any 3-drive array we've ever used. Programs launch instantaneously and multitasking performance is phenomenal. Overall, our experience with a 3-drive MX200 array as our OS disk has been very satisfying.
Pros:
High Performance in Steady-State

4-Layer Data Protection

MLC Flash
Cons:
Average Random Read Performance
RAIDing two or more drives together provides you with storage that takes performance to the next level and is something I recommend you try. Think of it as the SLI of storage. Once you go RAID, there's no going back!