Intel's new Cherry Trail x5, x7 and x3 Atom SoC Lineup Preview
Today at MWC 2015, Intel unveiled its upcoming Cherry Trail x5 and x7 SoC processors as well as full details on the Atom x3. Here's our preview.
Published Mar 2, 2015 8:26 AM CST
|
Updated Tue, Nov 3 2020 6:59 PM CST
4 minute read time
Introducing Intel's New Mobility Lineup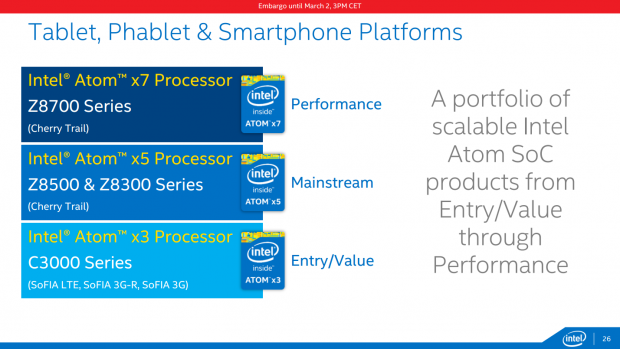 It wasn't too long ago since Intel announced its desire to enter the mobile market and compete with the likes of Qualcomm and Apple in the mobile market. However, it has been a while since that announcement and you still don't see many products with Intel inside when it comes to tablets and phones. According to Intel, that is about to change with their new Atom lineup. The two top series, the Atom x7 and Atom x5, will feature Intel's new Cherry Trail SOC (system on chip), which promises to deliver great performance at lower power. They are also introducing a new Atom x3, but instead of Cherry Trail, you get SoFIA.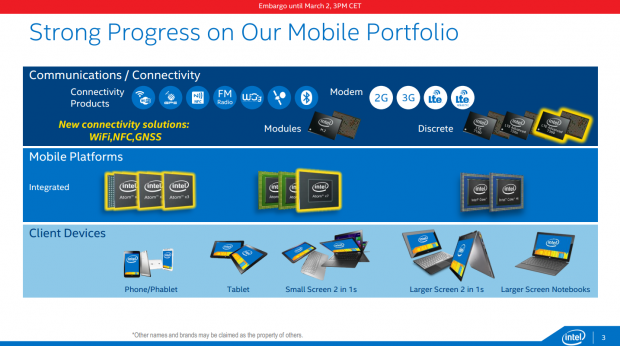 Intel plans to branch out into many different product segments with their new Atom lineup including connectivity products for everything from LTE modems for phones and tablets to WIFI and NFC chips. They are not only focusing on SOCs as the workhorse of the device, but also trying to encompass device connectivity requirements as well with discrete ICs.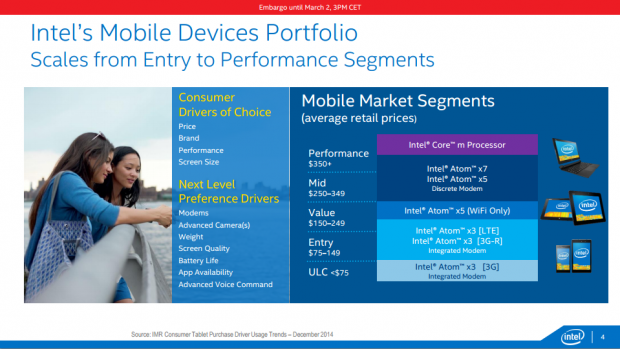 The Atom X7 would fit in right below CoreM which features Intel's new Broadwell microarchitecture. While the Atom x3 would have integrated connectivity, the x5 and x7 would require discrete ICs to handle connectivity such as an LTE modem for a broadband network connection. The price of the x3 would be so low that you would see it below the $75 mark. The x3 will also be segmented, and as you can see in the slide above, the top model will feature LTE, then 3G-R, and finally at the low-end you will see 3G.
Atom x3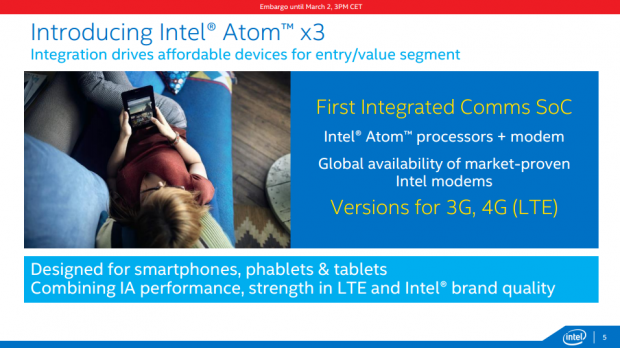 The x3 would be the first SOC to integrate the processor, its IO, and mobile connectivity into one package. This would greatly decrease the design and implementation costs of the product, and should provide a much smaller and more power efficient device.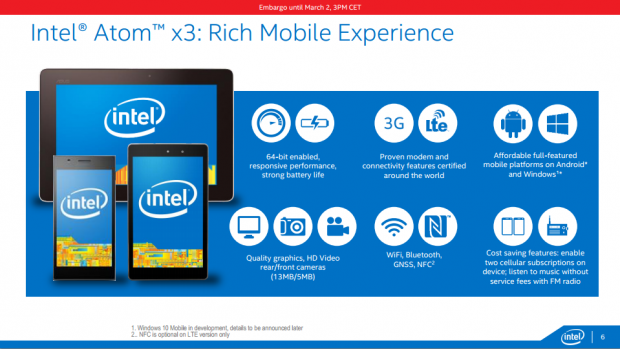 The x3 will feature 64-bit support and be available for both Android and Windows based devices. Right now, Intel is working on Windows 10 Mobile support as well. NFC support seems to only come with the LTE (4G) version of the x3.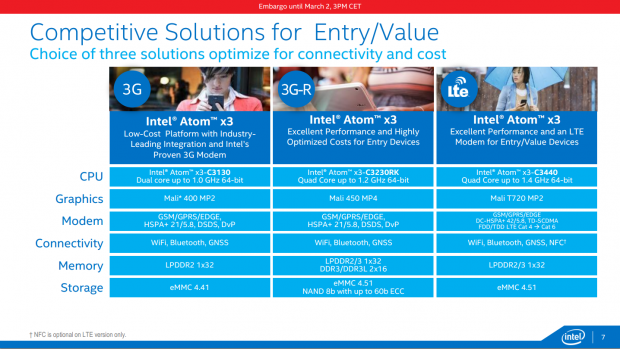 Here you can get a glimpse of the specs of the Atom x3. All the models support GSM/GPRS/EDGE and some sort of HSPA support. This means that the x3 should work around the world with full support for all four major GPS satellite constellations. All the x3 models support Wi-Fi, Bluetooth, and GNSS. As I stated earlier, only the x3 with LTE will support NFC as well.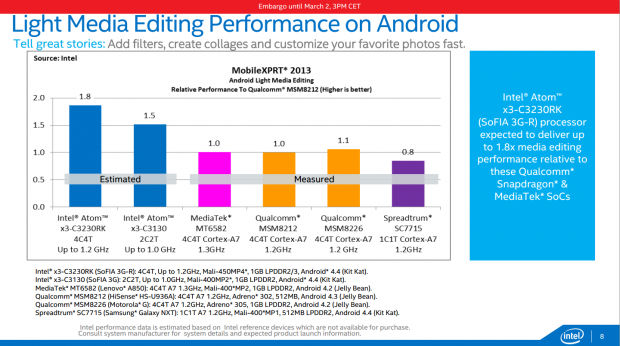 Here the new x3 (3G and 3G-R versions) is compared against MediaTek, Qualcomm, and Spreadtrum SOCs in media editing. Media editing refers to using you mobile device to do things to pictures such as add a HDR filter.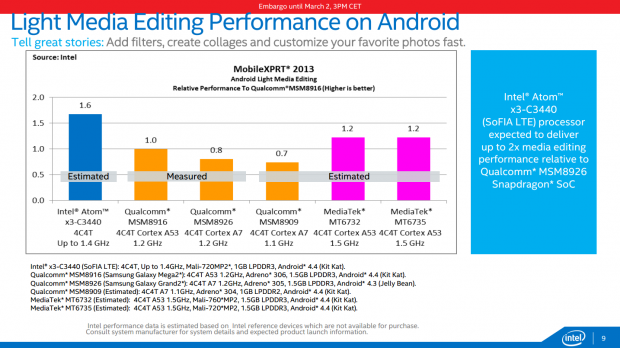 Here the x3 LTE version (4G) is compared against higher level competitors. If the projected performance pans out, this would be a huge leap forward in performance.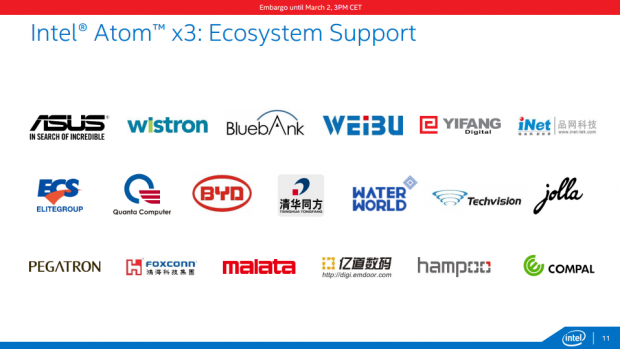 Intel has already partnered up with the companies above. The companies above have officially signed up to work with the x3.
Atom x5 and x7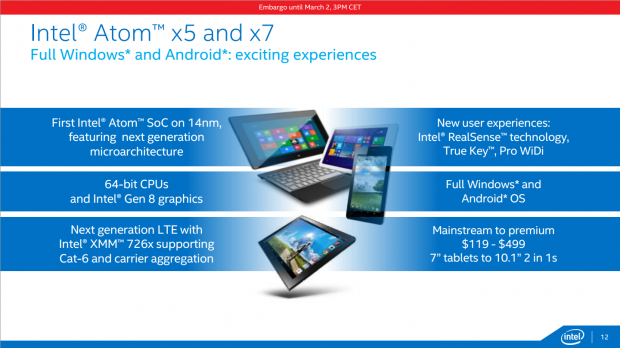 The x5 and x7 offer a bit more horsepower than the x3. They are also Intel's first 14nm SOC, hopefully paving the way for more powerful 14nm processors. This would mean Intel's 14nm node is doing well. They support operations which need more processing power such as RealSense and Pro WiDi. It was also pointed out that the x5 and x7 support Cat-6. Cat-6 refers to UE Category 6 which should deliver 300Mbps down and 50Mbps up on an LTE+ network.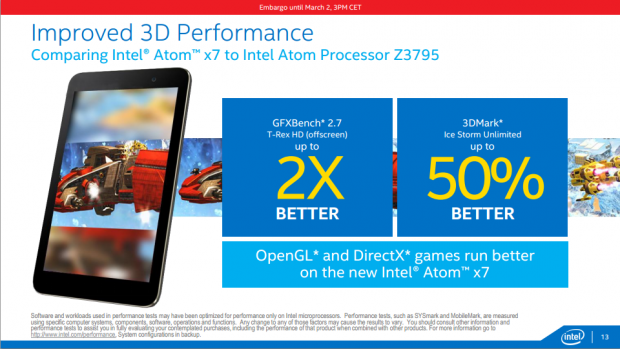 Mobile gaming seems to have become more popular and SOC makers have taken note and are focusing more on graphics. Intel is promising much better 3D performance on OpenGL and DirectX games.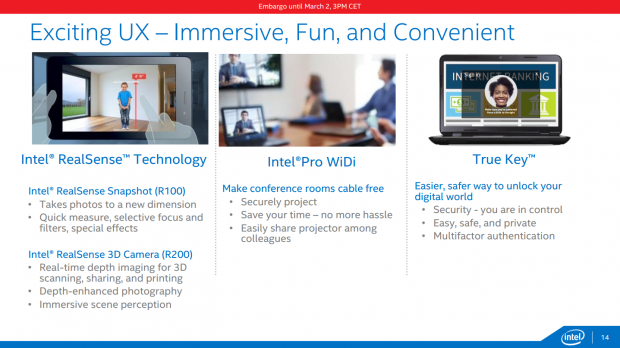 Intel is showing off some of its new technologies not necessarily limited to mobile, but which are fully supported by the new Atom x5 and x7 lineup. Having seen RealSense in person at CES in Las Vegas earlier this year, I can't wait for this technology to become more popular as my 3D printer is ready for real-life models. Pro WiDi looks to offer true seamless video streaming. True Key wants to offer a new way to login with multifactor authentication combining biometrics with traditional and unconventional verification to help end the days of different passwords for different login portals.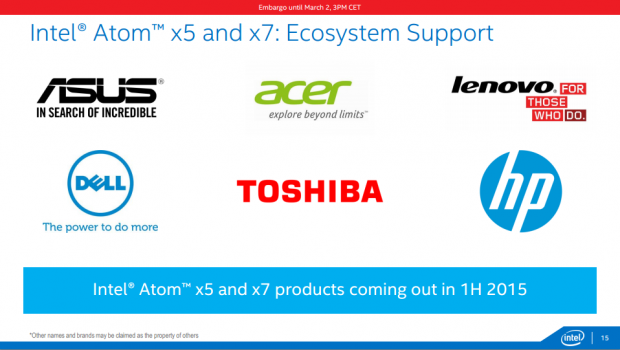 This is the list of x5 and x7 partners, including some of the biggest brands in the US.
A closer look at the chips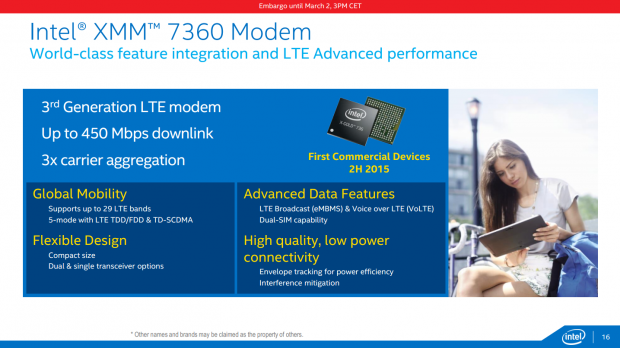 This is Intel's XMM 7360 modem which would offer 450Mbps downloads with 3x carrier aggregation. This would be paired with an x5 or x7 as they don't have integrated modems.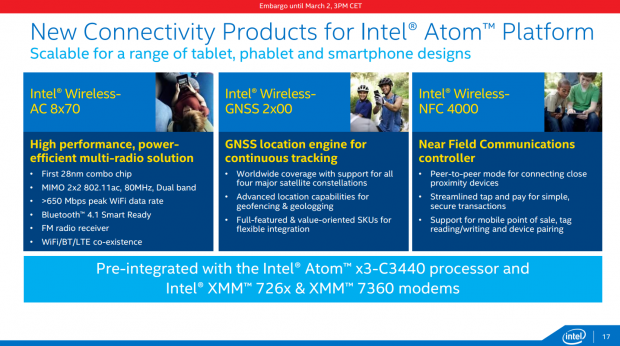 These are some of Intel's new discrete ICs for mobile, which are integrated into the Atom x3-C3440, the XMM726x, and XMM 7360 modem shown above. Intel has a new dual-band AC 8x70 chip, which is their first 28nm combo chip with Bluetooth 4.0 and an FM receiver. Intel's Wireless GNSS 2x00 would support all four major GPS satellite constellations.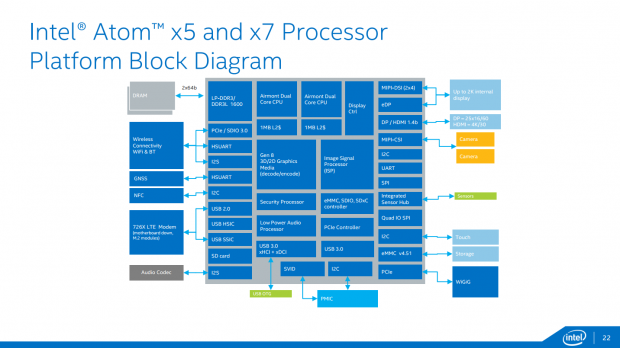 This is the block diagram for the x5 and x7 processors. I see support for LP-DDR3/DDR3L, I2C, USB, SD, eDP, DP and HDMI 1.4b, and PCIe. Power support would come through SVID and I2C for monitoring. USB 3.0 support is also included. This new SOC has a lot of technologies crammed into a small package, many of which we see today in notebooks.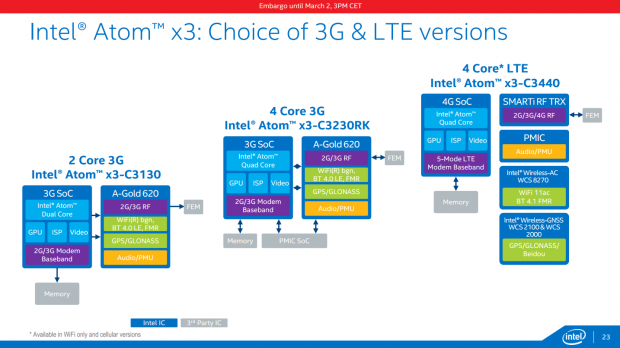 The Atom x3 will come in three different package types to fit a wide variety of devices. Intel has done a great job of covering many different market segments with the x3, and it wouldn't be crazy to see a future where a good chunk of phones feature Intel inside.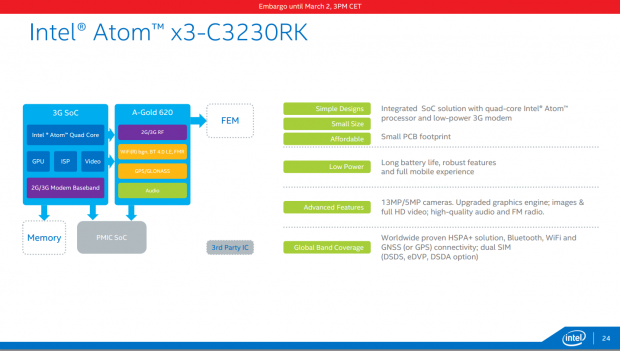 This is a closer look at the Atom x3 C3230RK which features the low power 3G modem. This would be most likely found in a lower cost device.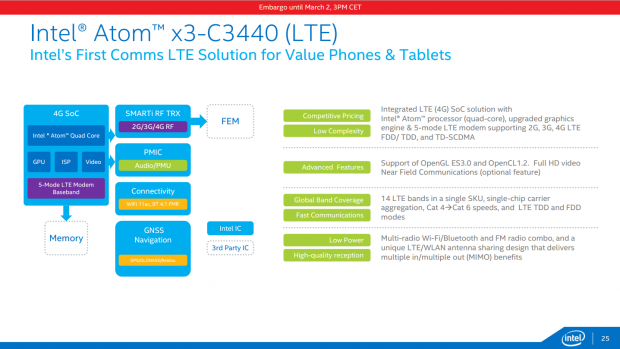 Intel's Atom x3-C3440 features LTE (4G) connectivity and a slew of other integrated features. I wouldn't be farfetched to see this SOC in your future phone. Intel has done a great job of revamping their Atom lineup to meet the demands of the mobile market. Their new portfolio is aimed to meet almost every market segment all the way from the Atom x3 in low-cost mobile devices to the x7 in devices like tablets. The Core M would replace anything with processing power needs above the Atom, and then the Core series takes over from there.
I look forward to seeing new devices with Cherry Trail and SoFIA hit the market, and I can't wait to see what will come of Intel's newest lineup.
PRICING: You can find products similar to this one for sale below.

United States: Find other tech and computer products like this over at Amazon.com

United Kingdom: Find other tech and computer products like this over at Amazon.co.uk

Australia: Find other tech and computer products like this over at Amazon.com.au

Canada: Find other tech and computer products like this over at Amazon.ca

Deutschland: Finde andere Technik- und Computerprodukte wie dieses auf Amazon.de