LAN parties are still alive and kicking
The 'nitty gritty' and a general analysis
It seems that most of my feature articles are written about questions that are commonly asked of me, but how else would I be able to come up with interesting and wide-spread topics? Not only is this usually asked directly to me by both new and experienced members of various gaming communities, but you can often see gamers commenting on a range of Facebook groups and pages asking - "do LANs still happen?"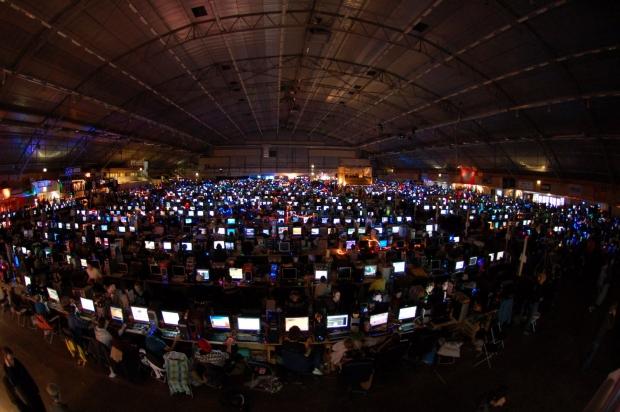 Most people cite the rise of the internet in speeds and download capacity as working against LAN parties, with many small friendship groups no longer seeing the need to haul their computers to their friends' basement to LAN up a whole weekend worth of Call of Duty, Worms World Party and other popular gaming titles. I sat down with a few LAN CEO's, managers and administrators from across America and Australia to talk about the LANs of this day and age, how they're affected by the internet and how the scene may have changed or progressed.
All managers discussed are involved in 200+ person LAN parties that have been running for at least 10 years now, so we're hoping these veterans of LAN will be able to provide you a little more insight into what's going on. But before we jump straight into it, there are a few questions that this article will answer - hopefully giving you an idea about what to expect.
How has LAN culture changed over the years and how has the advancement of internet affected this culture?

How is the attendance rate of these major events? Is there growth and what venue issues do you face with this fact?

Will these LAN events continue to function?
The shaping of LAN culture over the years and how the internet has changed it all for good
Gone are the days of heavy CRT monitors and Pentium II's running Unreal Tournament GOTY edition in little back-alley scout halls and rumpus rooms. LANs in today's climate are run as a professional business, alongside being built to please the consumer. However still fun, LANs have had to adapt to new-age technology and business requirements, developing their own company structure, back-end programs, massive server systems and online presence. No longer is a large LAN a simple 'turn up and run' type event, with weeks of sponsor negotiations, game server setups, announcement articles and venue contract negotiations to happen before a single CAT 6 cable is laid or one table is placed.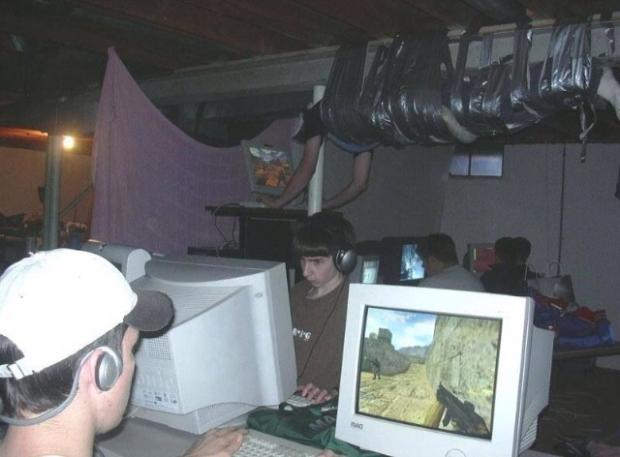 We sat down with Good Gaming Fun LAN (GGF) head admin Stuart Tonks to have a bit of a chat about his extremely sponsor-aware business and how the internet has shaped the in-person gaming of today.
Running a 200 person event out of the sunny Queensland, Australia has been trying of Tonks and his staff, often seeing this Australian state displaying the strong stigma of video gaming being only for 'nerds' with a heavy focus drawn to this states luscious beaches and bush land activities surrounding the outer suburbs. However, GGF has done quite well for itself, nabbing contracts to display systems for Cooler Master, ASUS, Corsair and Thermaltake at PAX Australia 2014, alongside running their own specific review channel. These last two points coincide with their online appearance which is a constant must in this new-age of LAN parties - sponsors require support throughout multiple outlets, as simply providing door prizes and banners will no longer 'cut the mustard'.
In our brief talk, Tonks mentioned that "funding the wonderful technology called 'the internet'" is a major LAN party issue, mentioning that "online games are becoming the norm, making it harder and harder for LAN parties to survive." To combat this, his LAN event tries "to keep true to the name [LAN] and keep the internet down to the minimum. This has its advantages. Yes, people enjoy playing locally and having a laugh. But the other real issue is more and more games are only internet friendly, which only makes them playable at LAN events with high speed internet access."
It's basically impossible for a LAN to function in today's climate without a high speed internet connection. As you can see through Tonks' words, even though you may promote local gaming as a priority, there is still a need for your customers to use things like Steam and Battle.net logon services before being able to play their game at a local level - this is coupled with online-only games like League of Legends now making it into the mainstream, seeing internet access emerge from a luxury to a necessity.
Finding a suitable venue and issues surrounding this support
"Finding venues to accommodate LAN events can be tricky if not difficult" states Red Flag LAN (RFLAN) Vice Chairperson David Nielsen, it's an all-too-often occurrence when a LAN party is looking to emerge, grow and move around almost any country in the world. Not only are there issues with sub-par internet service, but many venues do not have substantial power offerings or are in poor locations with no public transport or parking options available - couple this with inadequate heating/cooling support and lack of kitchen facilities - you've got yourself one major headache.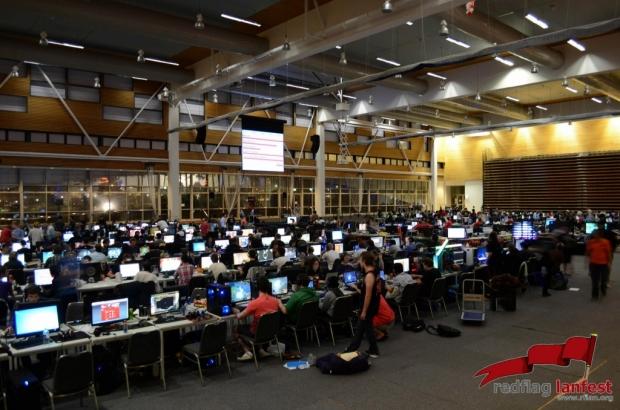 RFLAN is Australia's largest LAN party and certainly one of the biggest on the globe - boasting a regular attendance of 550+ players, they're expanding to a total capacity of 720 in 2015. This makes them the perfect subjects to have a chat to about venue issues and growth surrounding local gaming events.
According to Nielsen, there are a few major factors that restrict what venue's you can host your event at, these being:
Venue not equipped for LAN events due to lack of power

Cost of some venues were not feasible without substantially increasing prices by 500%

Tenancy issues. Most venues researched wouldn't allow ongoing events overnight
Continuing this topic, he stated "We have been at this venue since 2012 and recently expanded our numbers from 576 to 720 gamers. Looking back now at our growth over the last 12 years of operation and looking back at our old venue where we started out at 40 people, it really goes to show just how important suitable venues are to growth".
Although a major headache for most would-be and current LAN organizers, a good venue is something you cannot go without.
Growth in attendance and much-needed sponsorship support
As we covered in the last page with David Nielsen, growth is still present in the LAN scene. It seems that many smaller sized events are disappearing in place for the big names to continue growing. PDXLAN organizer and founder Matt Conwell claims that their events have always been sell-outs, but now the tickets are racing out the door:
"Take for instance PDXLAN that happens in Feb 2015, that event sold out in November of 2014 - shattering our previous sellout record. Our winter events typically sell out mid-January - so this was a huge surprise. The trend is moving towards selling out faster for sure."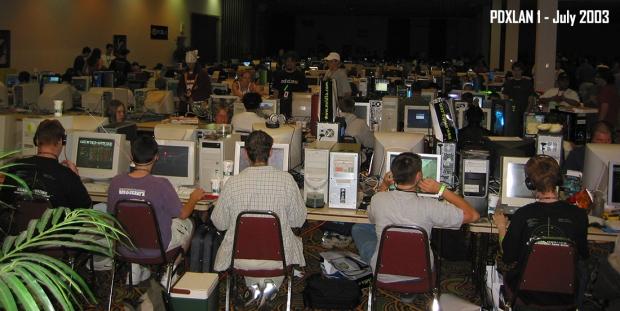 PDXLAN is one of America's premier LANs, running at an attendance of 550 people per event (July/Feb) alongside a once-yearly 400 capacity food-charity LAN in support of the homeless residents of Portland, Oregon. Conwell mentioned that he feels his local LAN scene is constantly expanding, mostly thanks to "the industry rapidly growing" and "eSporting events getting big world wide".
Tristan Gulyas is the well-known managing director of Respawn LAN, out of Victoria, Australia. Alongside his management of the PAX Australia PC-free play section, you can often see sponsors including GIGABYTE, NVIDIA and Thermaltake setting up their personal display booths at his events with supporting staff in attendance. They're there for one reason - throwing out hundreds to thousands of dollars worth of prizes.
Well-connected with the sponsors of his industry, Gulyas commented on why these companies are so important to driving attendance numbers, stating that "we [LANs] don't get enough money to do what we'd like to do for our community; sponsors contribute resources to make that happen". He went on to mention that "building partnerships is important with our sponsors and it's more than just exchanging products or cash prizes for putting up banners".
Big brands are important for LAN parties to not only keep their customers happy, but as I mentioned before - LAN parties are a business. Guylas backs up these statements by saying that "having big brands involved with our event helps elevate our profile. Support from bigger brands will attract more people". The bigger brands and more prizes you have at your LAN events, the more players will come.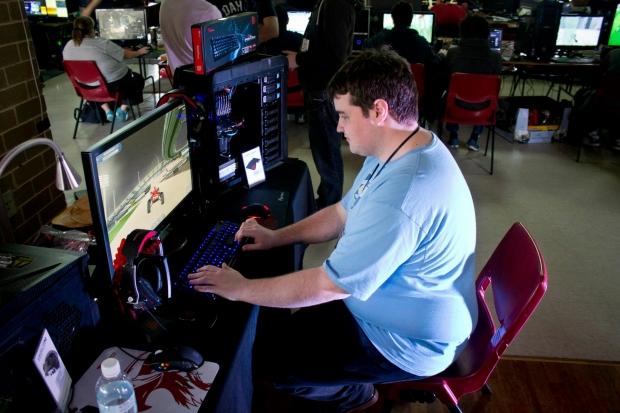 Continuation of LANs well into the future
All of the admins, owners and CEO's we talked to have a similar vision for their gaming events and similar stories to tell. The bottom line of their vision is to change with the times - seeing things like internet implementation, online presence, social media and marketing become paramount in their business plans and structure.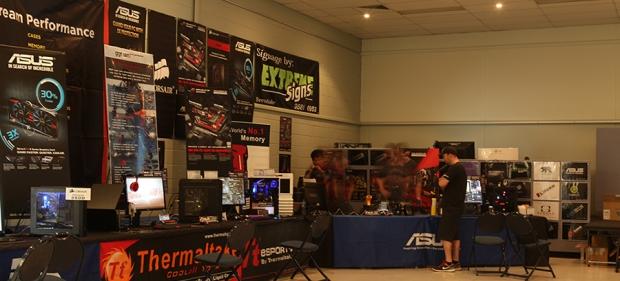 You should expect LAN parties to continue for years to come, there will always of course be the massive productions like Dreamhack available - boasting over 8,000 Bring Your Own Computer (BYOC) players, among other eSports offerings, however, we don't expect to see the smaller players (200-1,000 people) evaporate any time soon.
This is due to a multitude of reasons as you would have read over the last few pages, but there's one thing we haven't mentioned - LANs are fun! As a regular LAN attendee myself and having attended in casual, business and eSports capacities, there is almost nothing better in the gaming scene than meeting your online peers face-to-face and getting to know your communities in a social setting.