Intel Developer Forum 2014 - Core M, DDR4, Overclocking and Robots
Steven visited this year's Intel Developer Forum in San Francisco and saw plenty of cool technology. If you couldn't make the show, get an overview here.
Published
7 minute read time
Introduction and Intel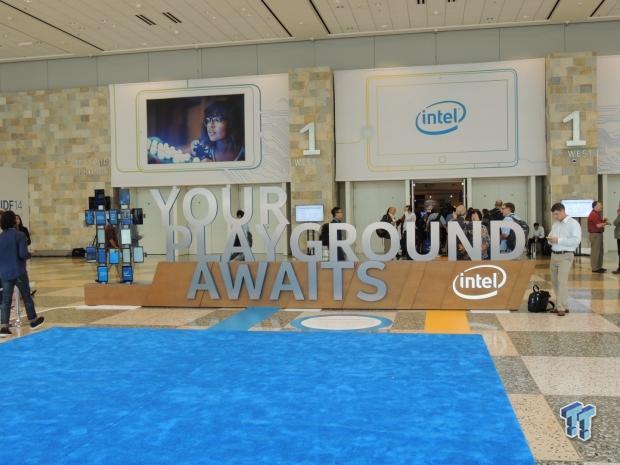 The Intel Developer Forum is a popular event for those who want to learn about the newest Intel technologies as well as those who want to interact with Intel's ecosystem of partners.
Many new technologies are highlighted throughout the venue, and IDF (Intel Developer Forum) is usually where certain products are launched and recently released products are showcased. I was at this year's IDF in San Francisco and I saw some ground breaking products and had some hands-on experience with recently launched platforms.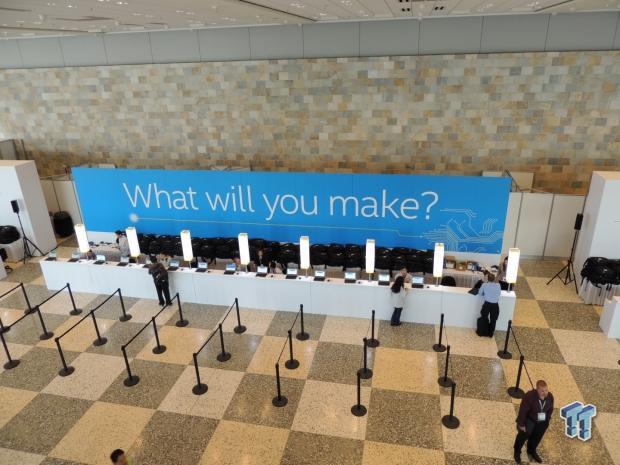 I saw everything from the new Core M (Broadwell) to Haswell-E under liquid nitrogen. Brand new Thunderbolt technologies, DDR4, storage, and even robotics were to be found on the showroom floor. Let's continue on now as I show you what I saw during the event.
Intel
Intel invited us to their private suite to showcase and benchmark their newest processor lineup, the Core M, which uses Intel's Broadwell micro-architecture. We also saw a pretty cool Dell tablet with RealSense, as well as Intel's new high-end desktop platform, Haswell-E.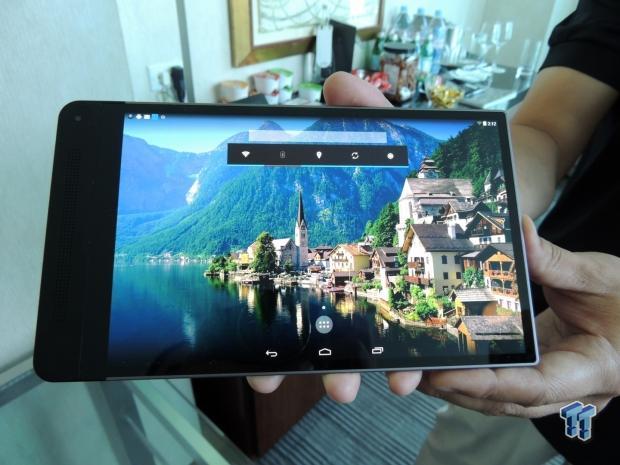 This actually is an Intel Atom Z3500 powered Android based tablet from the Dell. The Dell Venue 8 7000 carries two really cool features, an 8.4" 2K (2560x1600) OLED display and a RealSense camera, which is capable of capturing 3D images. This tablet features four cameras, the one on the front is good enough for selfies, yet on the back there are three cameras which feature RealSense technology.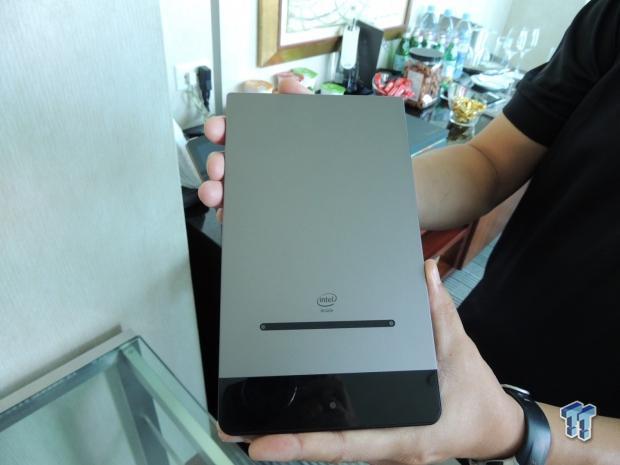 The rear facing cameras take the same image, and with three slightly different viewpoints, they are able to give depth to images. This makes it possible to print 3D images you take with this device.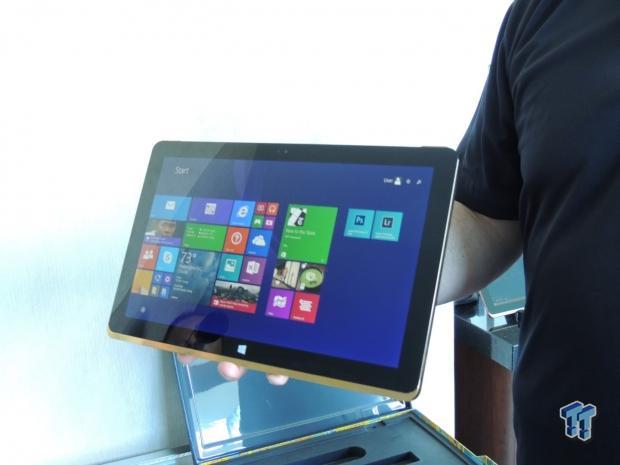 This is a Broadwell based Core M powered tablet; it doesn't have a codename, however, it is based on a modified Llama Mountain platform. It carries a Core M 5Y70, which was benchmarked right in front of us, to display how much faster it was than Atom. What is really amazing about this processor is the amount of processing power it packs into a CPU with a TDP of only 4.5W. This device is actually cooled through its back plate.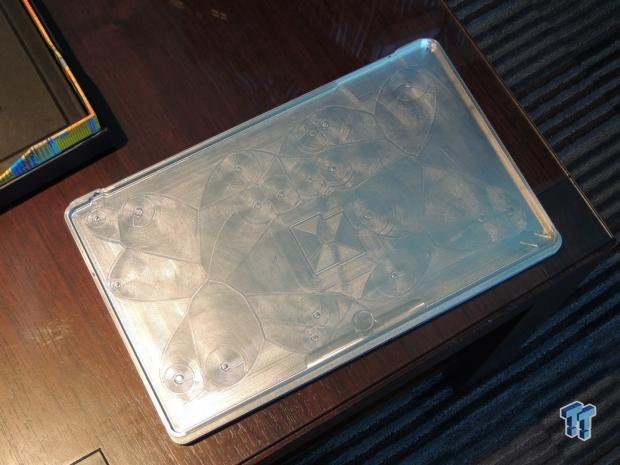 The backplate is high grade aluminum and acts as a giant heat sink. A 4.5W TDP isn't high at all; it's close to the TDP of certain Intel chipsets on the desktop platform. They also had black plates plated in gold and one made of copper on display as well.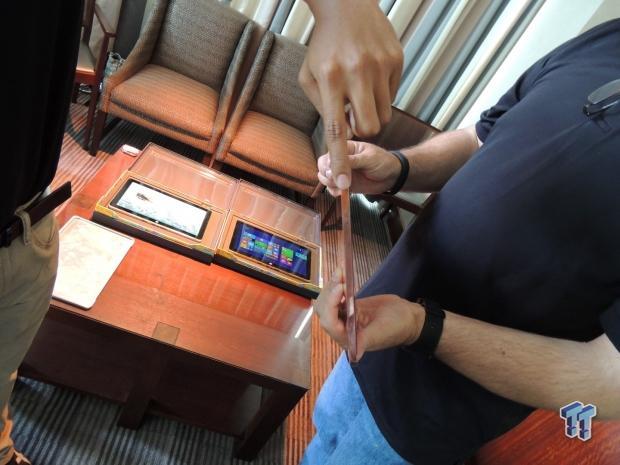 Here you can see how thin it is.
Futuremark 3DMark Ice Storm was run and the Core M scored 50985.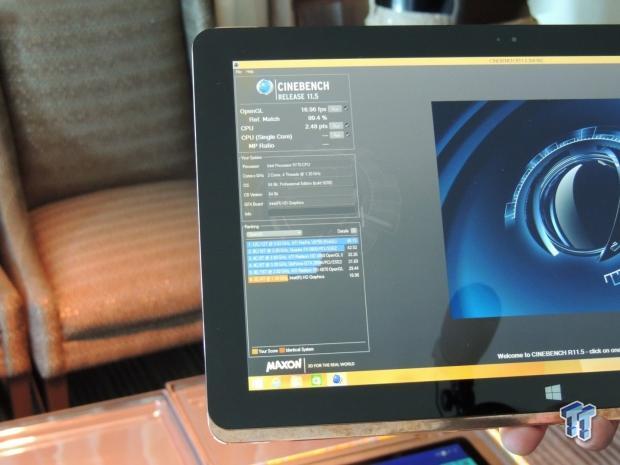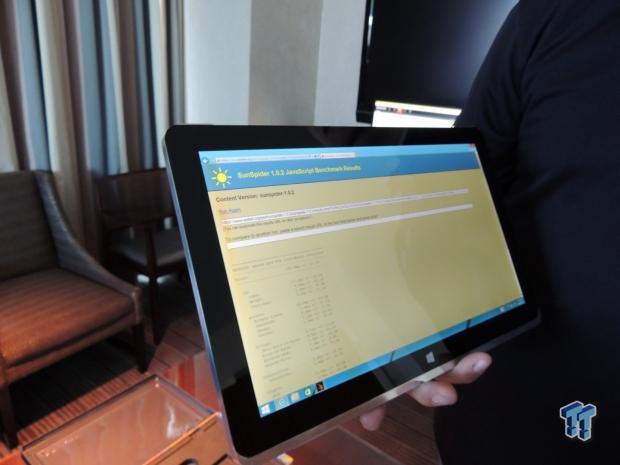 CINEBENCH R11.5 scored a 16.96, and in SunSpider, it scored 142.8 - all these scores are quite impressive for a 4.5W part. This type of performance jump in the mobile sector parallels that of the jump to Core2 from Pentium D, when Conroe was launched. Core M is supposed to be the big step up from Atom.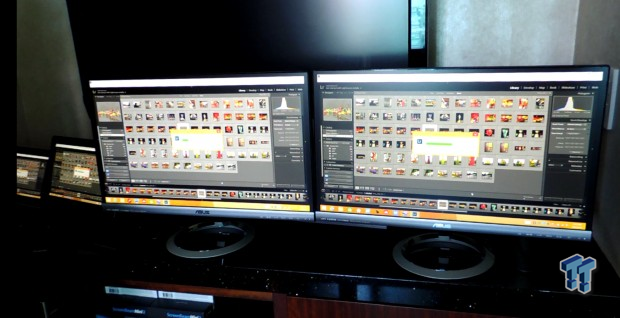 A Core M based system is on the right and Atom is on the left. Intel demoed a comparison of Atom to Core M putting 75 images into a virtual tour in Google Earth. This took a lot of processing power using Adobe Lightroom and Google earth. I could easily see that rendering the images was much faster on the Core M (almost twice as fast), and that the end result in Google Earth was a seamless virtual tour. The Atom's virtual tour couldn't compare, it was even choppy at certain times compared to the Core M.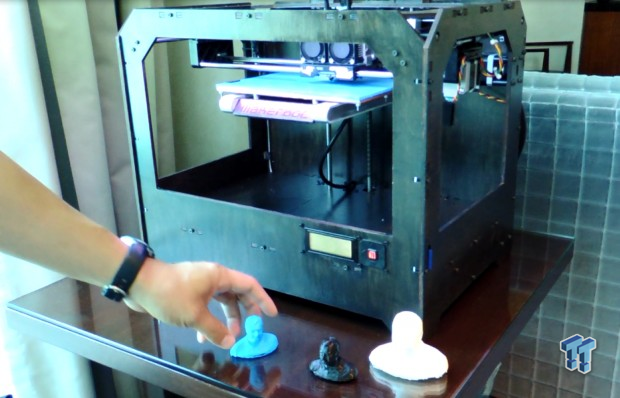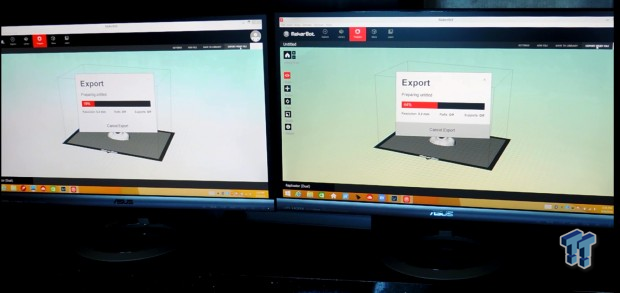 Intel showcased a customized MakerBot 3D printer and they were showcasing how much faster Core M was compared to the Atom. They actually used a 3D image of one of their performance engineers who was present in the room, taken with a RealSense camera, and printed it for us. Slicing refers to the process in which the computer code is translated into 3D printer code, this process takes a long time with a slow machine and it's multi-threaded if you use the latest slicing programs.
DDR4
The DDR4 Jungle
There was a wide variety of DDR4 vendors present; Samsung, Crucial, ADATA, G.Skill, Corsair, Micron, Hynix, and Kingston.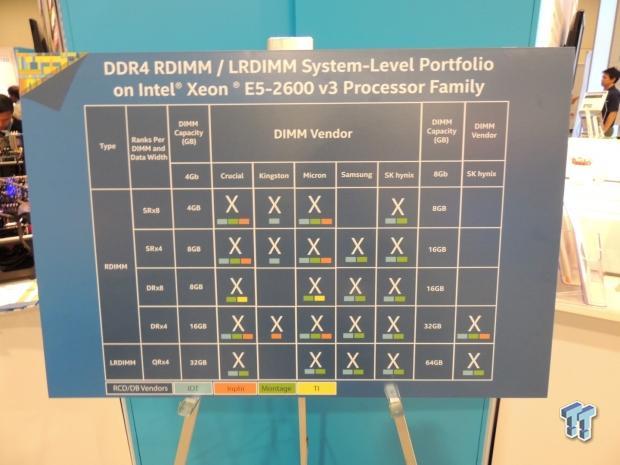 A nice section was set up for DDR4 vendors, and there was a nice chart showing capabilities for server DIMMs.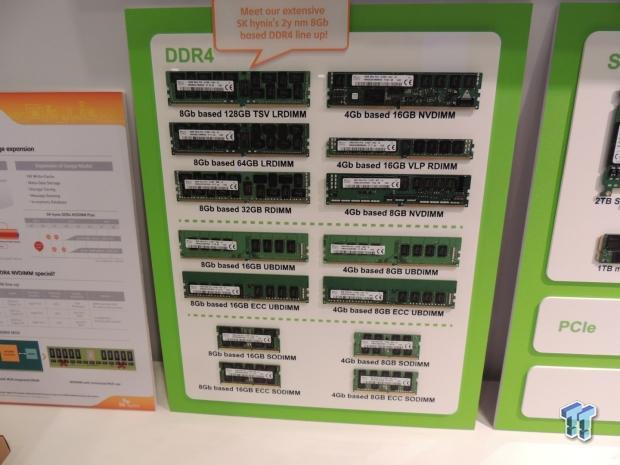 SK Hynix was showing off a wide array of memory. Hynix makes a lot of the DDR4 that goes into kits from other vendors, so you might see another brand such as G.Skill or Kingston using Hynix.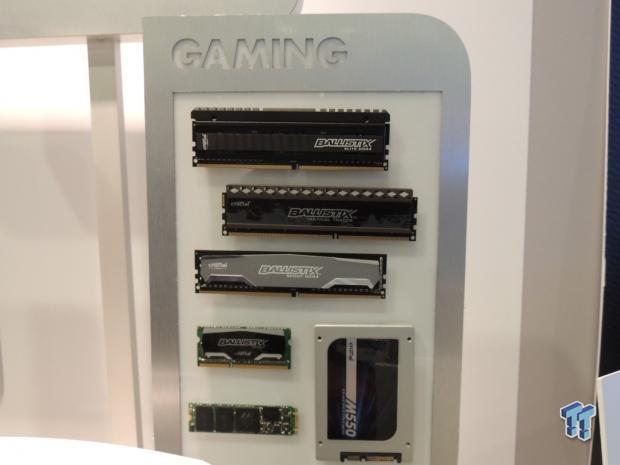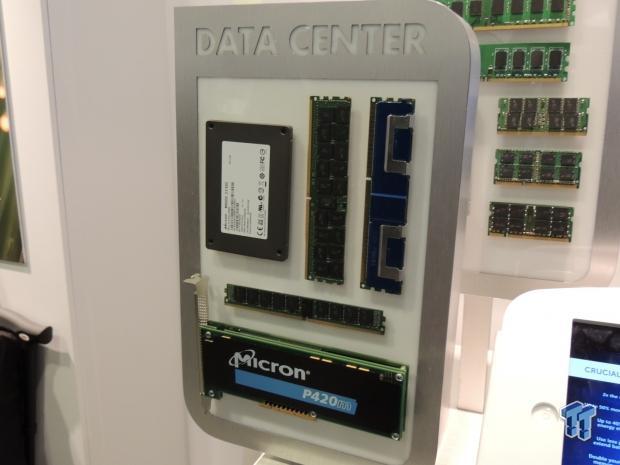 Crucial was showing off its line-up. They had a wide variety for both consumer and enterprise.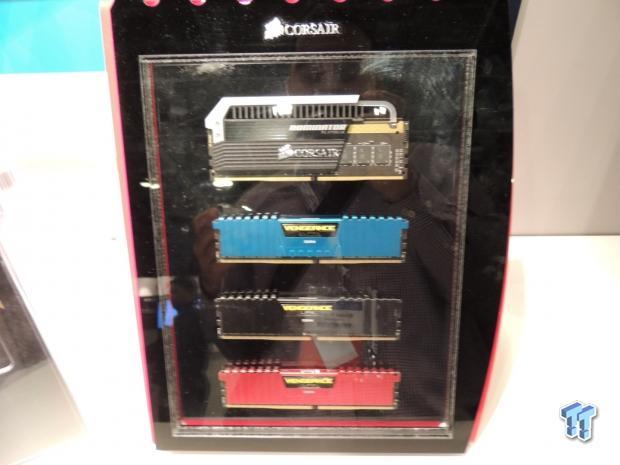 Corsair was showing off its DDR4 line up, which is mostly geared towards enthusiasts. They had their Dominator Platinum 3200MHz kit running 3333MHz on the ASUS Rampage V Extreme.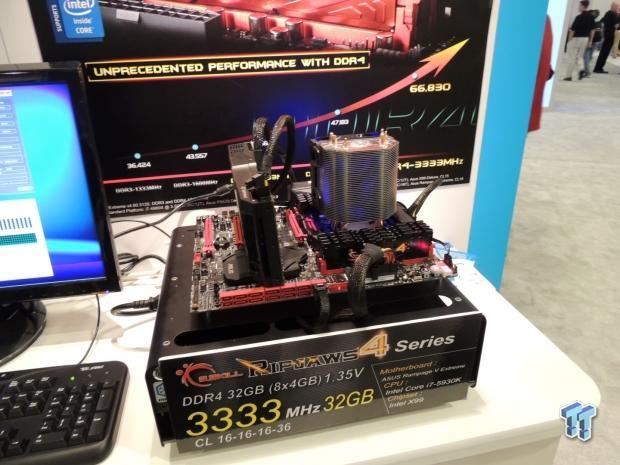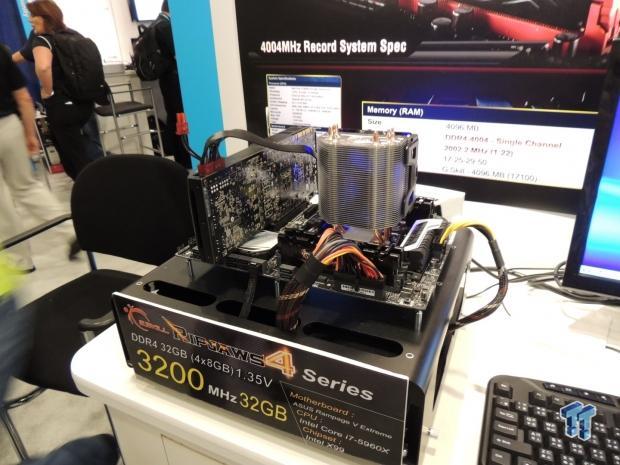 G.Skill was demonstrating 3200MHz with 32GB of memory and 3333MHz with 16GB of memory. Their fastest kit is 3333MHz and was also set up in an ASUS Rampage V Extreme motherboard.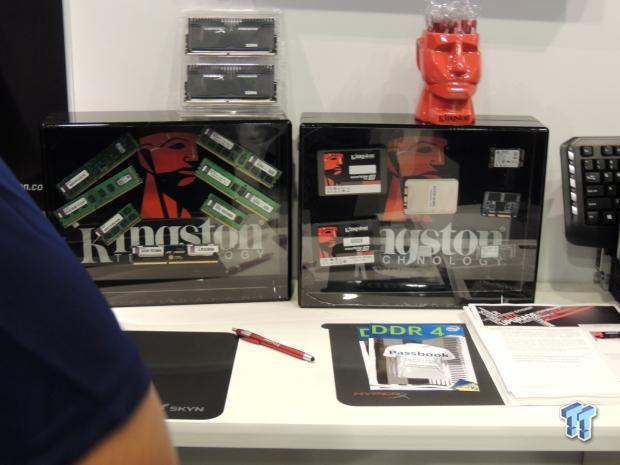 Kingston had many different types of DDR4 displayed, most notably their Predator series.
ADATA had a very interesting kit with many memory ICs on it. The module features 16GB of DDR4 on a single DIMM for high density servers or workstations.
GIGABYTE
Enthusiast motherboard manufacturers aren't all over the place at IDF anymore, however. GIGABYTE is still present and came out in full force this year.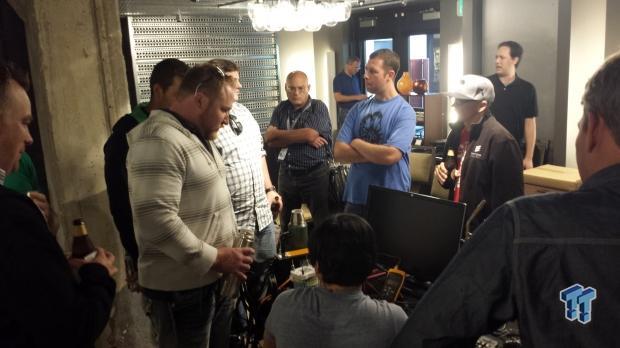 This year GIGABYTE threw an OC gathering at a nice Hotel right down the street from IDF to bring together all the well-known US based overclockers, and this was actually one of the main reasons I was at IDF this year. We all gathered around Hicookie, GIGABYTE's in-house house overclocker, to watch as he went after some records with his X99 SOC Force LN2 motherboard, which isn't released yet.
I was just messing around on LN2, and I managed to get this top frequency of 6111MHz. This is the highest 8-core/ 16 thread result on HWBot, the rest of the results are all 1core/1thread. The score is up on HWBot now, and I would bet within a day of this article, someone will post a higher score.
GIGABYTE also had a booth right in the conventional hall; they displayed their X99 lineup, as well as a select few Z97 motherboards.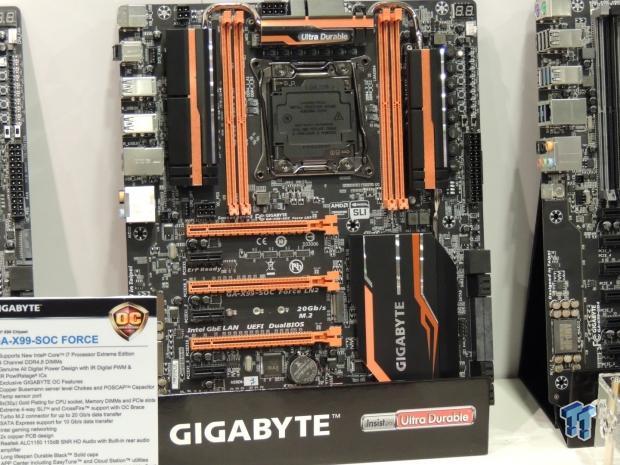 This is the X99 SOC Force LN2, not to be confused with the X99 SOC Force; this motherboard only features four DIMMs for higher memory overclocking, and it features a development socket. The cooling on this motherboard might look pretty hefty, but those two heat sinks around the memory slots are actually only for cooling the CPU's VRM. GIGABYTE has said this motherboard will be produced in extremely limited quantities, much like the Z97X-SOC Force LN2.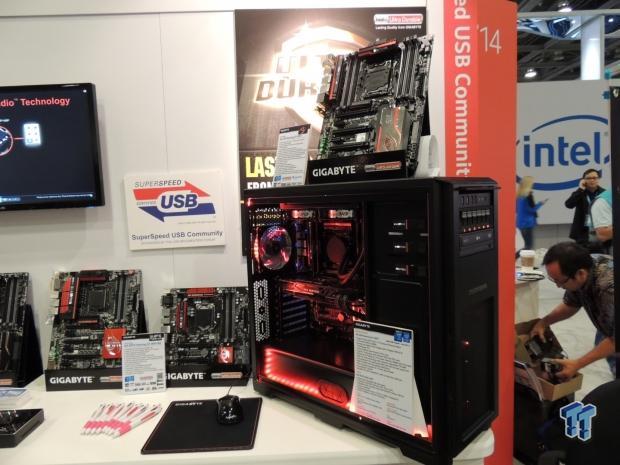 There was a system featuring the X99 Gaming G1 with its new lighting schemes.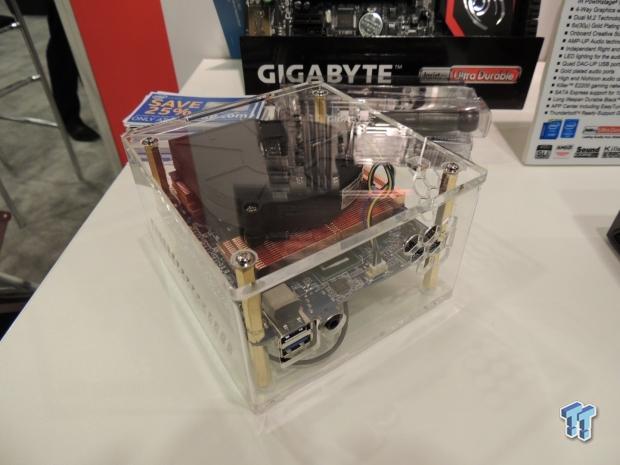 GIGABYTE was also showing off its BRIX line up. Above is the BRIX in a clear case to display the insides.
Thunderbolt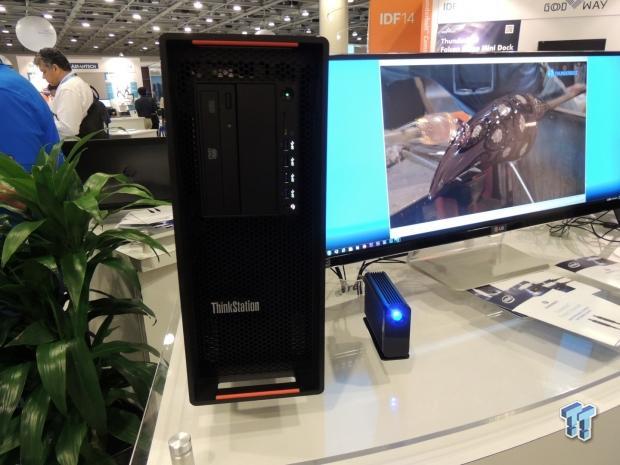 Intel also showcases its newest technologies, and they gave us a special tour of the Thunderbolt section.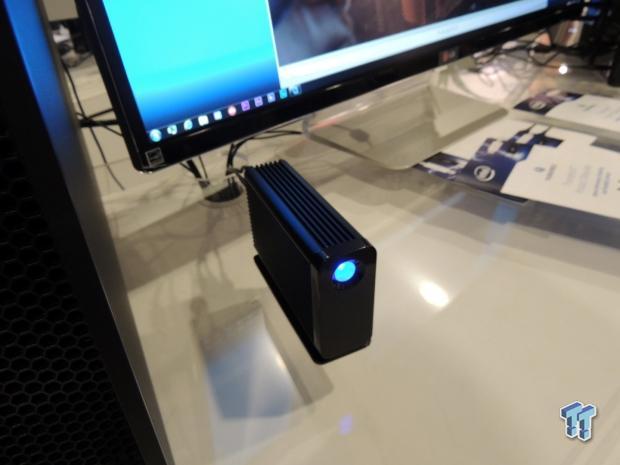 This is the LaCie Little Big Disk which features Thunderbolt 2, and is live streaming a 4K video directly from the external storage device. The video was seamless and very high quality.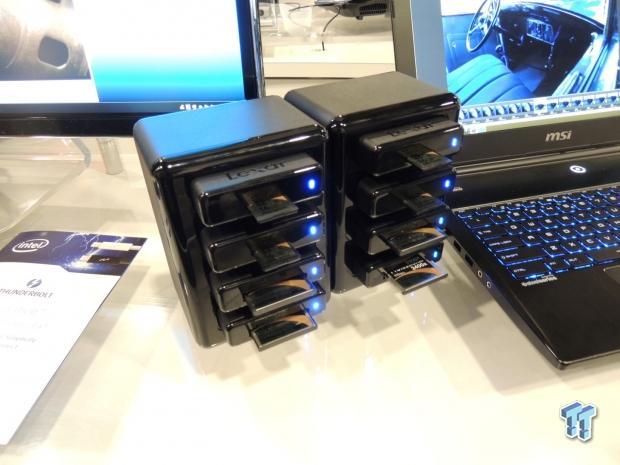 Next up I got to see Lexar's modular card reader that works with Thunderbolt. It supports a wide variety of card reader inserts which are sold separately.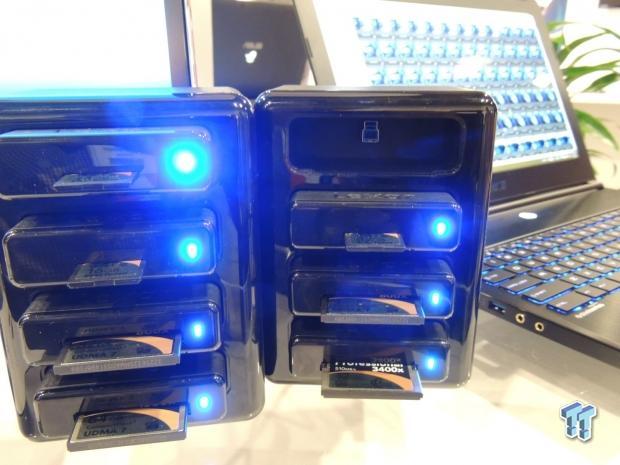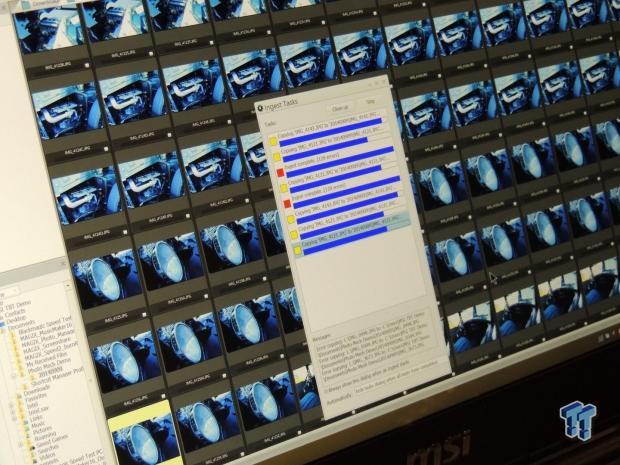 Each one of the modules attaches to the hub through USB 3.0, and the hub sends the data to the computer through Thunderbolt. Intel also showed off how fast you could transfer all the data off all the bays simultaneously, it took only seconds and they cleared all the cards. It was more than a few gigabytes.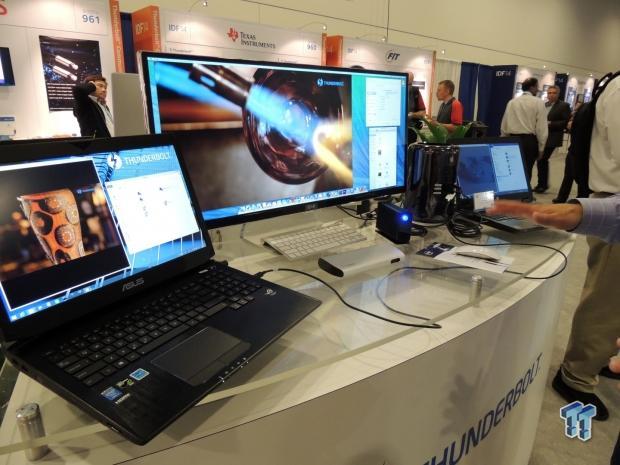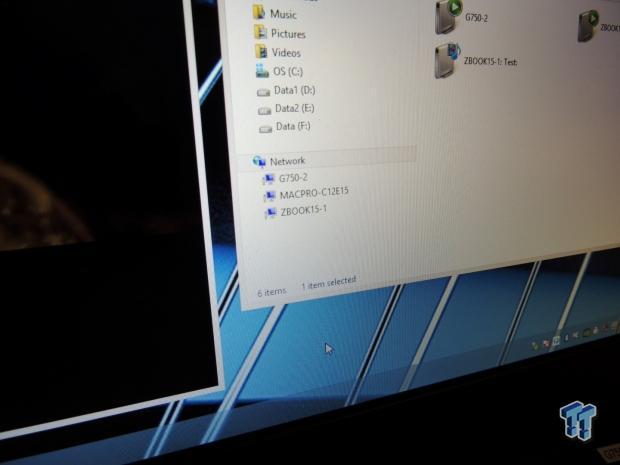 Here we see three Thunderbolt capable devices; the important thing is that they are being networked over Thunderbolt, just as if it was a home Network.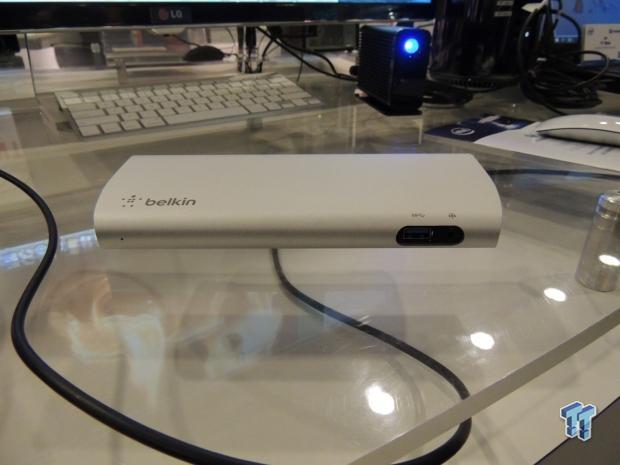 Intel made sure to show off the recently announced Belkin Thunderbolt 2 Express Dock HD.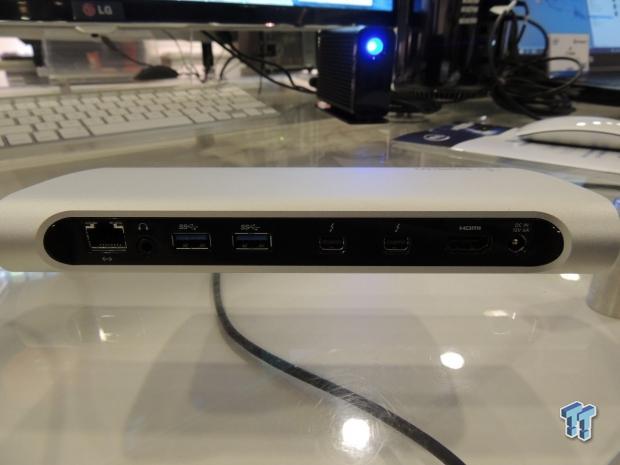 It features dual Thunderbolt 2 ports, USB 3.0, RJ-45 Ethernet, and audio ports.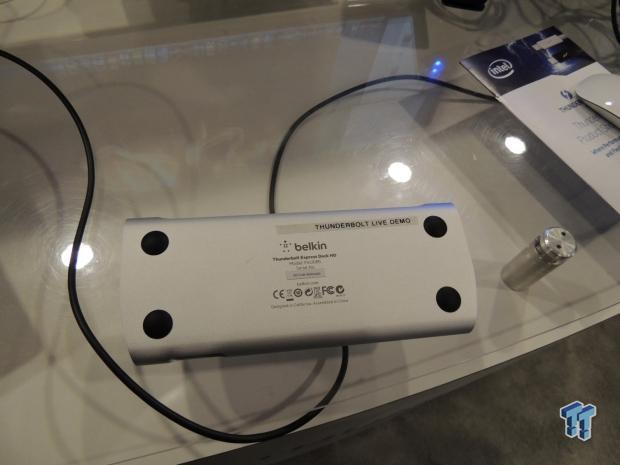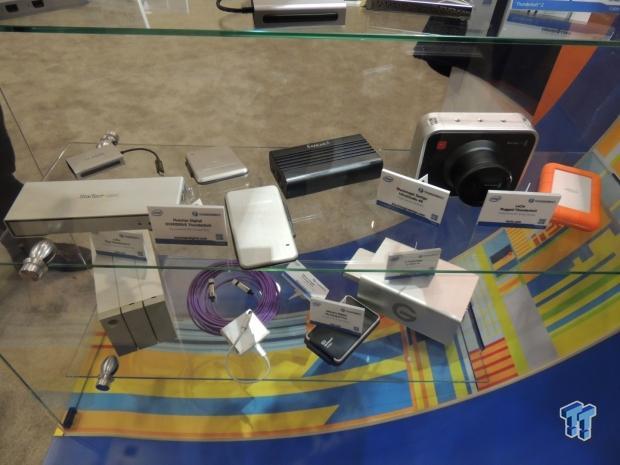 The Thunderbolt ecosystem has encountered a vast expansion in the last year, as the amount of Thunderbolt devices has increased significantly. There are more affordable devices as well as many more high-end ones such as a 4K camera from Blackmagic.
Overclocking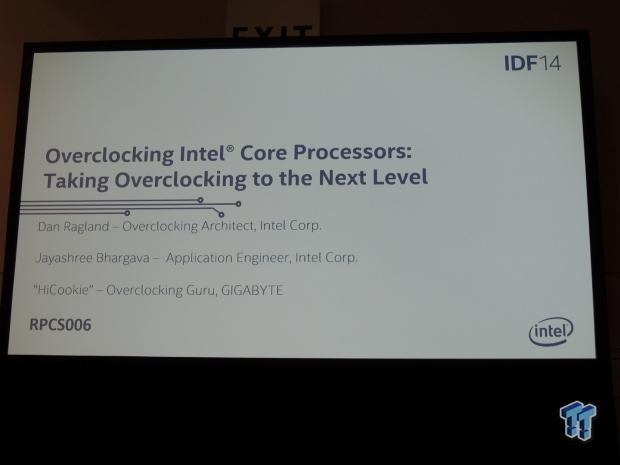 Intel has been putting on overclocking shows at IDF for years now, and this year they featured liquid nitrogen overclocking. Two Intel engineers and GIGABYTE's in-house overclocker, Hicookie, were the speakers.
Two setups were on display, both were overclocked.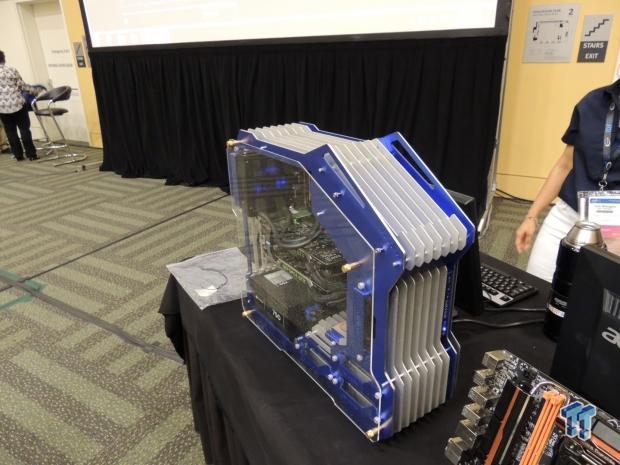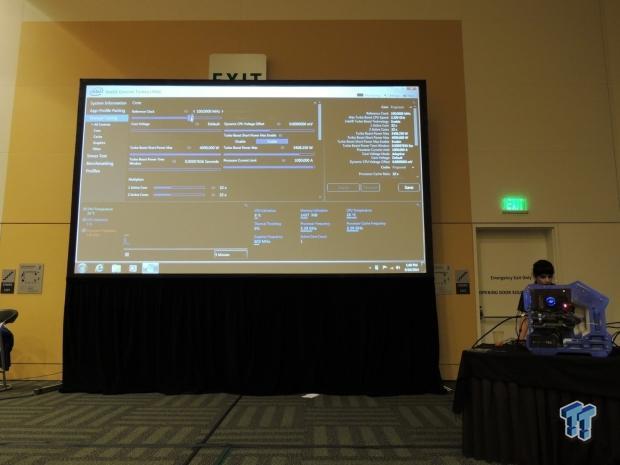 The system in a case is a Pentium Anniversary Edition and a GIGABYTE Z97X-UD5H. It was being overclocked in real-time by Intel application engineer Jayashree Bhargava, and she showed us how we could use Intel's Extreme Tuning Utility to overclock the Pentium and submit a score to HWBot.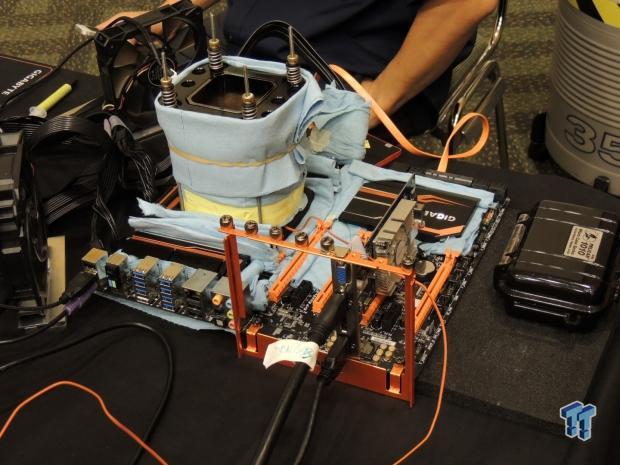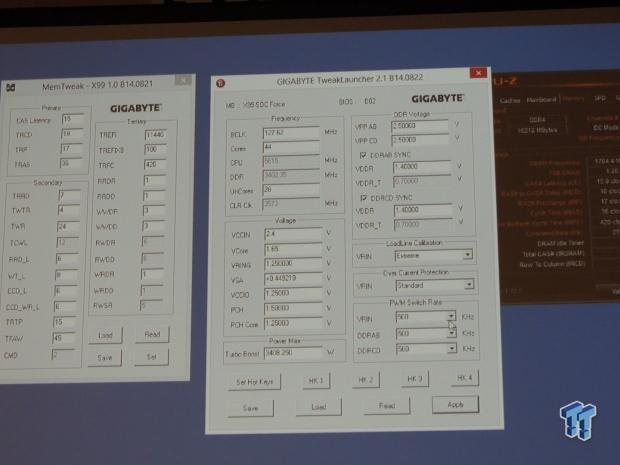 The liquid nitrogen cooled system used a 5960X and an X99 SOC Force LN2 motherboard. Hicookie booted into Windows with a low overclock and then tuned it up with GIGABYTE's Tweak Launcher program to set the stage for his world record.
Hicookie made taking a world record look easier than booting your PC. As he pressed the Intel Extreme Tuning Utility benchmark button, he warned us that the system might crash at such high speeds, however, it never did.
The benchmark finished and he was the proud owner of the Intel XTU global world record at 2835 marks, beating the second highest score of 2789 (also using 5960X) by a comfortable margin.
Storage, Servers, and Robots & Final Thoughts
Storage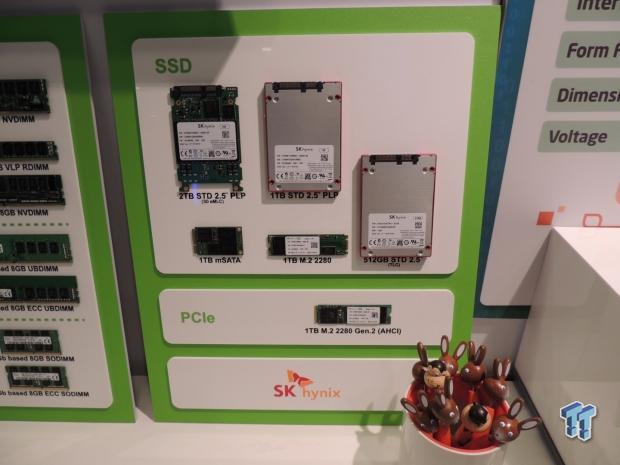 M.2 was all the rage this year and SK Hynix displayed a 1TB M.2 drive.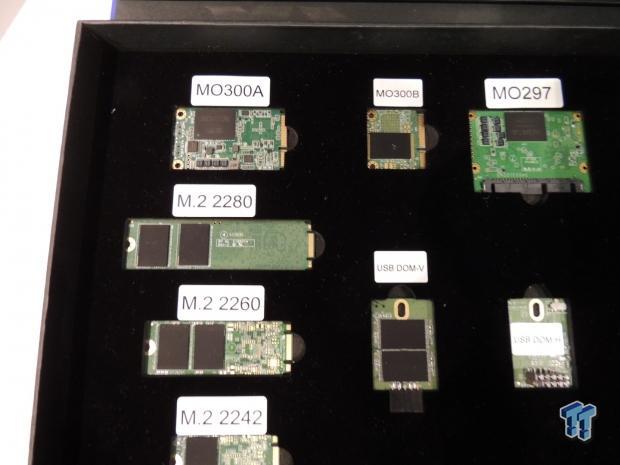 ADATA displayed their drives, but they also had a display case showing different NGFF sizes.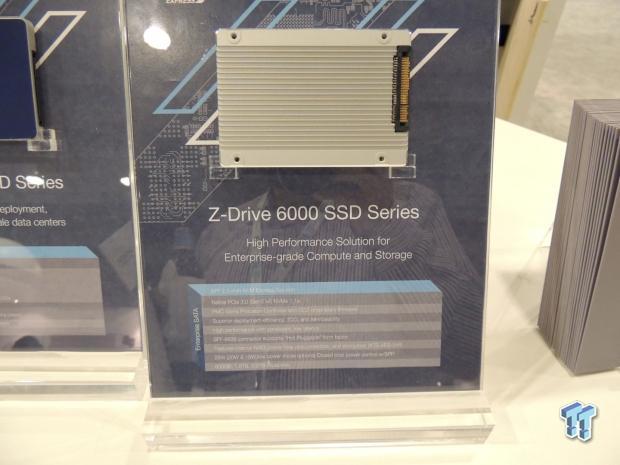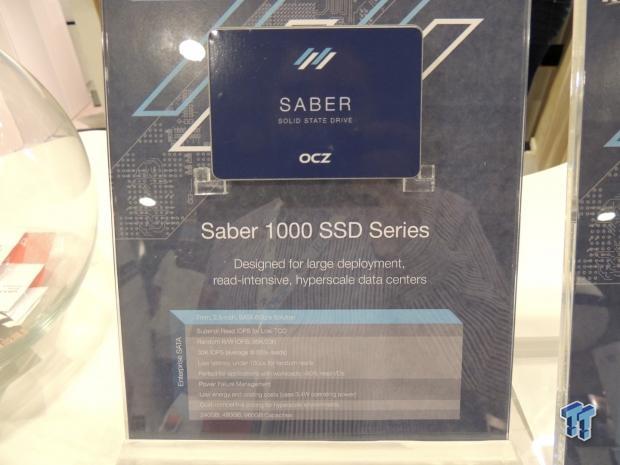 OCZ came out with two high capacity super-fast SSDs. The Z-6000 uses NVM Express and the Saber 1000 uses SATA 6Gb/s.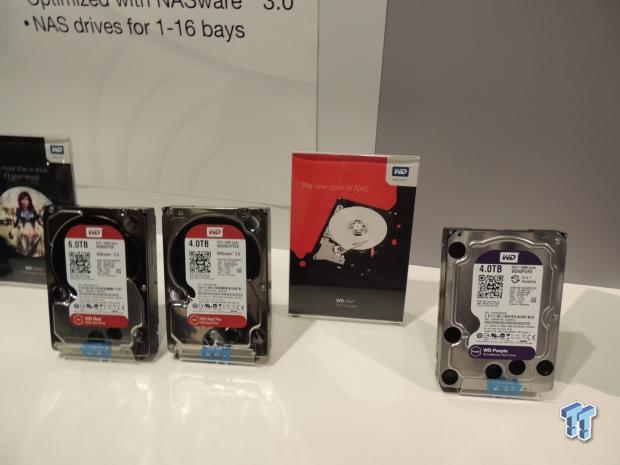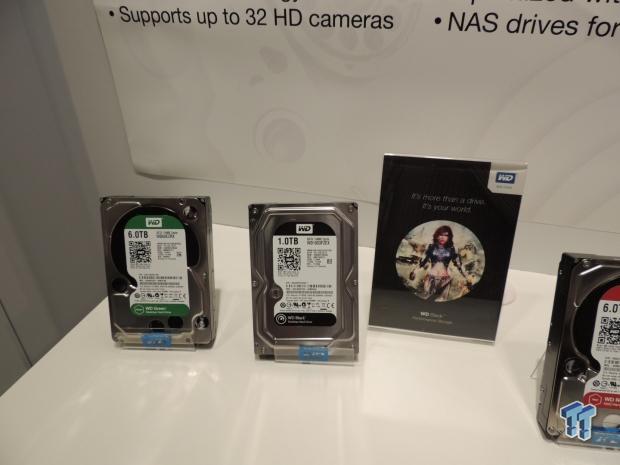 Western Digital was sporting some impressive 6TB hard drives.
Servers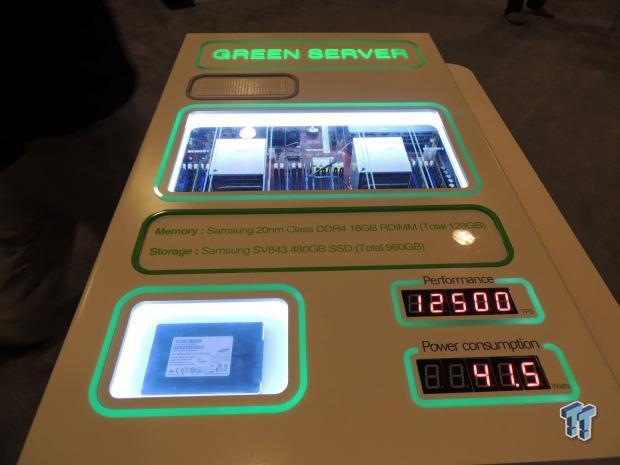 Samsung had an impressive ultra-green server solution.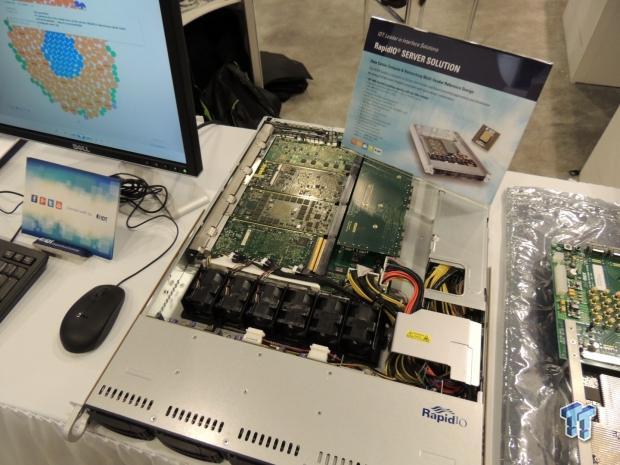 IDT was showing off its interface technologies including RapidIO.
ZNYX had a server with very impressive networking capabilities.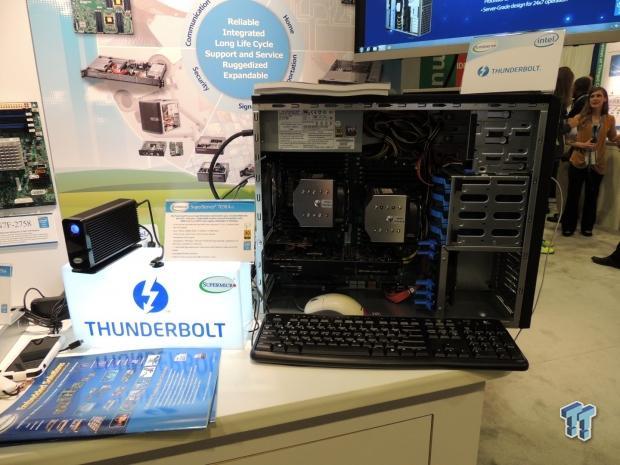 Supermicro was there as well showing off its dual CPU workstation.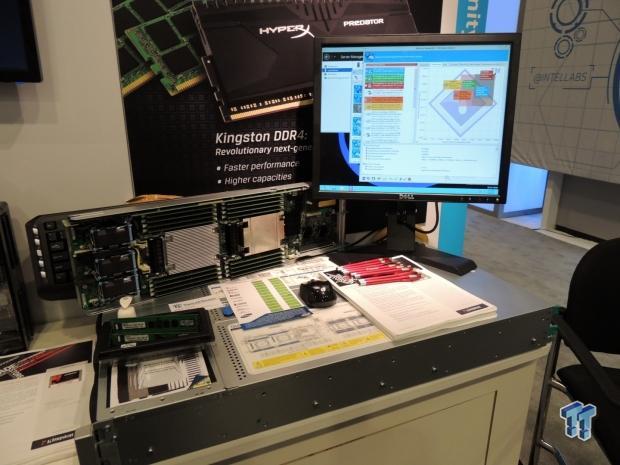 Kingston had a server with its newer high density modules.
Robots
While Intel had introduced some of its robots in years past, this year they promoted in full force by dedicating an entire section of the showroom floor and even technical sessions to prototyping. Intel's newest Edison prototyping platform features built-in WIFI connectivity.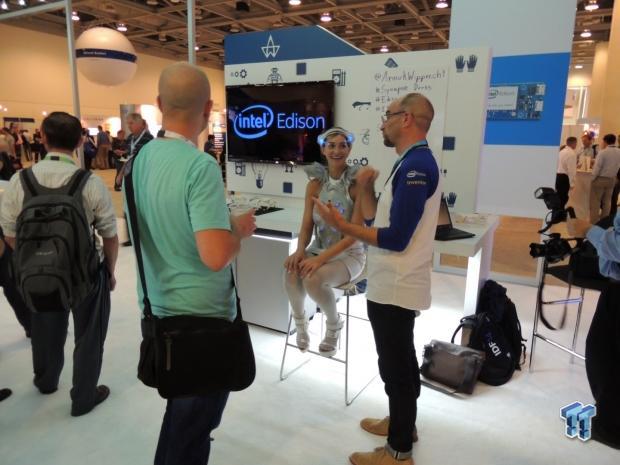 One of the only models present was showcasing wearable technology.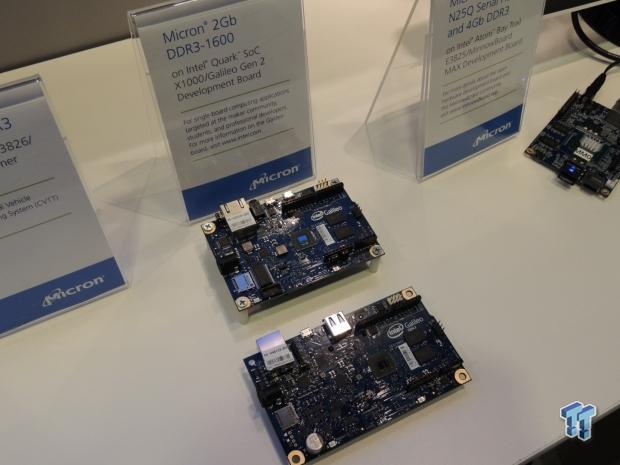 Intel's Galileo boards with their SOCs.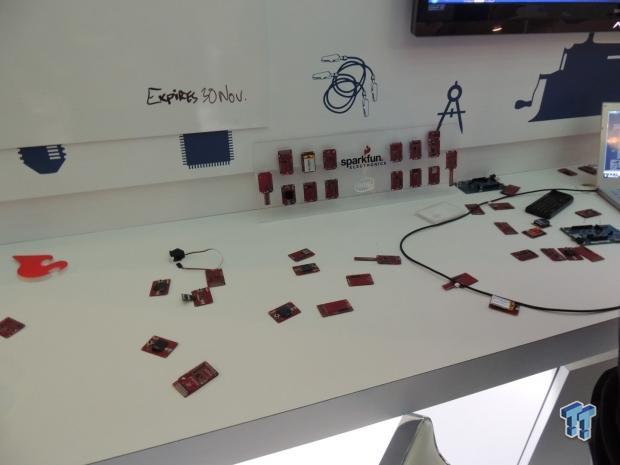 Sparkfun, a newcomer to IDF, manufactures hobby/prototyping parts. They were there to answer questions and display tons of Intel Edison add-ons.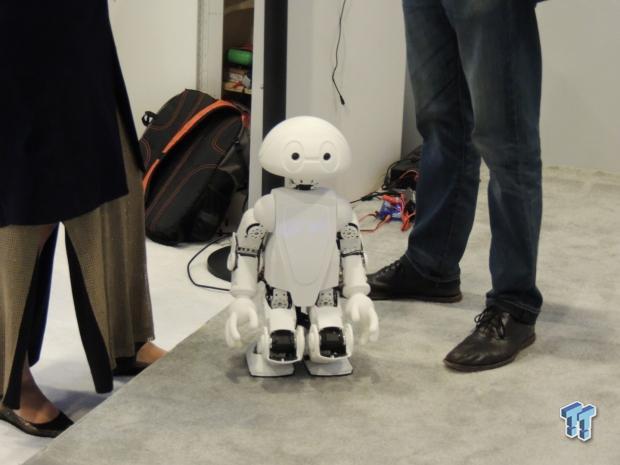 If you put together Intel's Edison, Sparkfun, and a 3D printer, you get Jimmy. Jimmy is Intel's make it yourself robot, a really cool concept for DIY robotics. You can customize Jimmy to react to its environment, including you, and you can build Jimmy at home.
Final Thoughts
IDF 2014 is my fourth IDF, and I can say you can definitely see the shift in Intel's focus over the years. At first, it was all about enterprise, storage, and the desktop. However, over the years, it has shifted heavily towards mobile, and added in certain niche segments such as robotics.
While at some points overclocking was a dirty word in Intel's dictionary, it is now looked upon with enthusiasm. Intel has taken a large stride forward with the Core M, which shines a bright light on Broadwell's capabilities, pushing mobile computing into a new realm of possibilities.
Intel's new high performance desktop segment also leaps forward with X99, DDR4, and an overclockable 8-core CPU. I wouldn't be going out on a limb to say that this IDF was one to remember, Intel is definitely still leading computing and branching out into more segments than ever before, we are just glad we have a front row seat.
PRICING: You can find products similar to this one for sale below.

United States: Find other tech and computer products like this over at Amazon.com

United Kingdom: Find other tech and computer products like this over at Amazon.co.uk

Australia: Find other tech and computer products like this over at Amazon.com.au

Canada: Find other tech and computer products like this over at Amazon.ca

Deutschland: Finde andere Technik- und Computerprodukte wie dieses auf Amazon.de
We openly invite the companies who provide us with review samples / who are mentioned or discussed to express their opinion. If any company representative wishes to respond, we will publish the response here. Please contact us if you wish to respond.