Silicon Motion SM2256 with Toshiba TLC A19 Flash SSD - Exclusive Tests
Chris scored a double world exclusive today - SMI's new SM2256 controller and Toshiba's new A19 TLC flash. Let's jump in and take a look the SSD results.
Published Aug 9, 2014 11:50 AM CDT
|
Updated Tue, Nov 3 2020 6:59 PM CST
11 minute read time
Introduction & Specifications, Pricing and Availability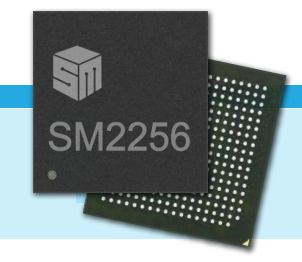 This may be one of the longest previews you've read and it will certainly be the longest I've ever wrote. Today, we have one circuit board sporting two new significant parts. Solid state drives are made up of a controller, NAND flash and little bits and pieces that are not as fun to talk about.
The controller is a bridge from your motherboard to the flash. It plays a significant role in the SSD since, as the name implies, it controls everything going in and out, as well as keeping your data safe. The R&D board we are using today has a fresh controller from Silicon Motion (SM2256) that was just publicly announced a few days ago. We'll cover the new SM2256 in detail on the following page.
You may wonder why SMI would release a new controller so soon after launching the SM2246 controller now found on a number of new consumer SSD products like the Corsair Force LX, PNY Optima and ADATA SP610. The answer is simple, it's the flash.
I think most of you already know the second significant part of an SSD is the NAND flash, the memory that holds your data. Flash makes up a large percentage of the overall SSD cost, some say around 90%. Any reduction in the cost of flash carries over into a lower priced final product, or at least it should.
The drive we're testing today uses Toshiba 3-bits per cell flash, also commonly referred to as triple-level cell or TLC. This is the first time a R&D board came to us with Toshiba TLC flash, and this preview will serve as the first third-party public test of Toshiba's new A19 TLC product.
We have a lot of information to cover today, so let's dive in and look at the controller, then the flash and follow up with some tests, and a breakdown on how this combination will affect your next SSD purchasing decision.
Silicon Motion SM2256 Controller

Retail products should hit the market with the new SM2256 controller around September or October this year. At this time, we can't say which products will use the new controller, because they are not announced yet, and we honestly don't know.
Key Silicon Motion partners for the SM2246 are ADATA, Corsair, and Fujitsu, just to name a few. We suspect the same group will also take a serious look at the SM2256 after seeing success with SM2246.
Ultra High Performance

-Sequential Read: 524 MB/s*

-Sequential Write: 400 MB/s*

-Random Read: 90,000 IOPS*

-Random Write: 70,000 IOPS*

Comprehensive NAND Flash Support

-1x/1y/1z nm TLC/MLC from all major NAND suppliers

-Extensible to support 3D NAND

Enhanced Security

-Real time full drive encryption with AES

-TCG Opal protocol

-Hardware SHA 256 and TRNG

Host Interface

-Industrial Standard SATA Revision 3.1 compliant

-Industrial Standard ATA/ATAPI-8 and ACS-3 command compliant

-Supports SATA interface rate of 6Gb/s (backward compatible to 1.5Gb/s and 3Gb/s)

-Native Command Queuing up to 32 commands

-Supports SATA device sleep (DevSleep)

-Data Set Management command (TRIM)

-Self-Monitoring, Analysis, and Reporting Technology (S.M.A.R.T.)

-Supports PHY Sleep mode (CFast PHYSLP)

-Supports 28-bit and 48-bit LBA (Logical Block Addressing) mode commands

NAND Flash Support

-Supports ONFI 3.0, Toggle 2.0, and Asynchronous interface

-Supports 1.8V/3.3V Flash I/O

-Supports 8KB and 16KB page size

-Supports 1-plane, 2-plane, and 4-plane operation

-4-channel flash interface supports up to 32 NAND flash devices

DRAM Interface

-16-bit wide DRAM interface

-Supports DDR3/DDR3L

Data Protection and Reliability

-Supports ATA8 security feature set

-Supports data security erase and quick erase

-Proprietary NANDXtend™ error-correcting and data protection technology triples the P/E cycles for TLC SSD devices.

-Internal data shaping technique increases data endurance

-Software/Hardware write protect option

-StaticDataRefresh technology ensures data integrity

-Early weak block retirement option

-Global wear leveling algorithm evens program/erase count and extends SSD lifespan

Architecture

-32-bit RISC CPU

-High-efficiency 64-bit system bus

-Automatic sleep and wake-up mechanism to save power

-Built-in voltage detectors for power failure protection

-Built-in power-on reset and voltage regulators

-Built-in temperature sensor for SSD temperature detection

-Supports JTAG interface, UART (RS-232) interface, and I2C interface for on-system debug

Upgradeable Firmware

-Supports firmware in-system programming (ISP) function for firmware upgrade
The above specifications are mainly for engineers and marketing material to SSD manufacturers. Sorry for flooding you guys with the small details, but there is some information we need to take a deeper look at.
First on the list is performance. SMI quotes 534 MB/s sequential read, 400 MB/s sequential write with random reads of 90K IOPS and random writes at 70K IOPS. While testing the R&D sample, we fell a bit short in some areas, but did better in others. This is an early look with a launch slated for Q1 2015, so SMI has some time to tune the controller. We're also using low-cost TLC flash, but this controller can be paired with a wide variety of flash in both MLC and TLC forms including 1z and 1y nanometer MLC.
Since the main topic today is TLC flash, we want to highlight Silicon Motion's new NANDXtend technology. Data protection and reliability has typically been a low quiet topic since we all just took it for granted. Without beating around the bush, TLC NAND has significantly lower program and erase cycles than modern MLC NAND. Despite the recent media buzz, TLC has been around for a few years now, and most of us already own a device with the technology inside, even if you don't have a Samsung 840 EVO SSD. Flash drives are a great example. SSDs need to be more reliable than thumb drives, the current primary use for TLC flash at this time.
With lower P/E cycles, controllers need powerful error detection and correction technology to read and write the flash, even in the latter stages of the products life. With an estimated P/E range of 1000 to 1500 cycles, extending the life of TLC is a priority for any controller maker. Silicon Motion claims NANDXtend can increase the life of TLC flash by up to three times. Over the next year, we'll talk a lot about Low-Density Parity Check Code (LDPC), but the important thing to know for now is the SM2256 has it and it's mature enough to be in our hands today.
The SM2256 is another 4-channel controller like the shipping SM2246 found in the Corsair Force LX and other SMI based consumer SSDs. The SM2246 has impressed us ever since we tested the reference design around this time last year. The 4-channel design reduces power consumption for longer notebook battery life, but is also a very good performer when used for day-to-day computing activities. The largest benefit for the target market is the lower cost to design and manufacture a 4-channel controller, as opposed to an 8-channel controller.
When it comes to features, Silicon Motion checked all of the boxes. We've already mentioned an advanced LDPC code, but the SM2256 also supports DEVSLP, AES 256-bit hardware encryption and a slew of standards that are still anything but standard.
Toshiba A19 3-bit per cell TLC Flash & Shots Fired
Toshiba A19 3-bit per cell TLC Flash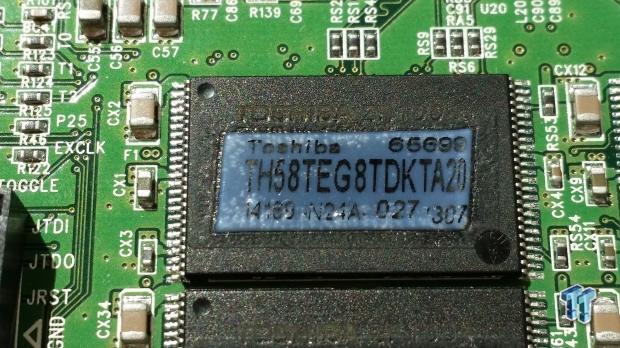 We really don't know a lot about Toshiba's new TLC flash, but we'll tell you what we do know. The A19 in the name means 19nm lithography, the same as Toshiba's A19 MLC that is currently shipping in several SSDs.
The buzz around Toshiba TLC flash has been mounting for two years, and for the last year, everyone we've spoken with thinks it should ship in the fourth quarter of 2014. That's right around the corner and you could definitely tell from the buzz here at Flash Memory Summit that people are excited.
For a little over a year now, Samsung has shipped TLC NAND flash in the 840 EVO. TLC should reduce the cost of flash, and thus the end products, in this case SSDs. While the Samsung 840 EVO has helped to reduce the price of consumer and even some enterprise SSDs, the prices are still higher than what they could be.
Most people are under the impression that Samsung is making a killing off selling TLC flash at high margins. Every time another company tries to compete in the mainstream SSD market, Samsung just reduces the price of the 840 EVO products and retains a very large portion of the market share.
Shots Fired
Toshiba, SanDisk, Micron and even SK Hynix have announced plans to release TLC flash. Micron will stick with 16nm MLC for this round, but we expect to hear more about Micron TLC next year. The other NAND flash players are ready to shoot back at Samsung with low-cost TLC flash.
When this happens, you can expect a full on price war as companies try to position products with current generation capacity sizes at unheard of SSD prices. SSDs will truly be mainstream one year from now, and no one can deny that an SSD on sale for 20 to 30 cents per gigabyte is a bad thing - unless maybe you are a hard disk drive manufacturer.
Around the same time, enthusiast class SSDs will reach the 2TB capacity sizes with TLC flash, many controlled by very high performance PCIe based interfaces such as NVMe.
Silicon Motion SM2256 256GB R&D Board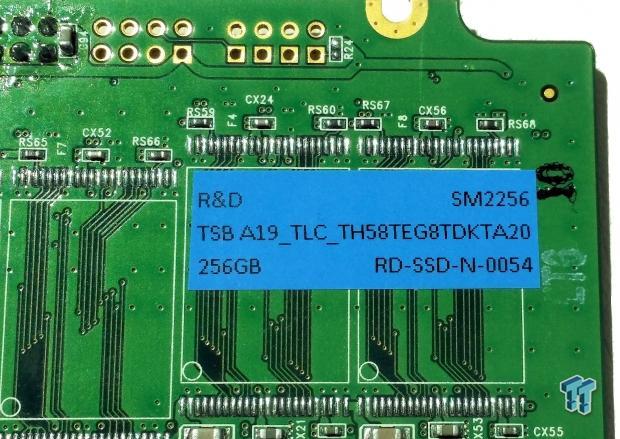 It's important to keep in mind that we're only doing a preview today with the Silicon Motion R&D board - not a completed, shipping product. It's my understanding that there are very few of these in the world and we are the first outside of SMI to take this combination for a spin.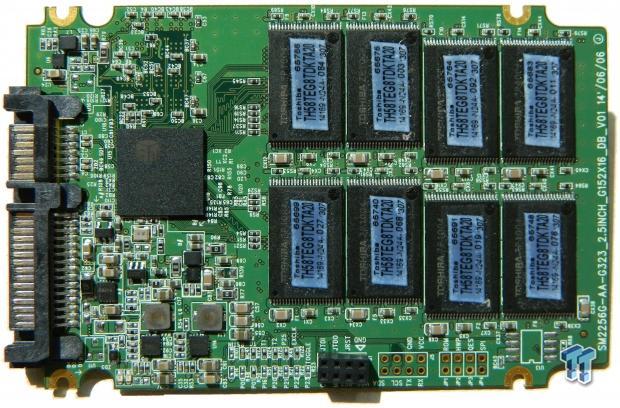 The R&D design looks like many other SSDs aside from the exotic components. We don't want to call this a reference design since the label doesn't state that it is, and we didn't ask a lot of questions while running up to the room to begin testing.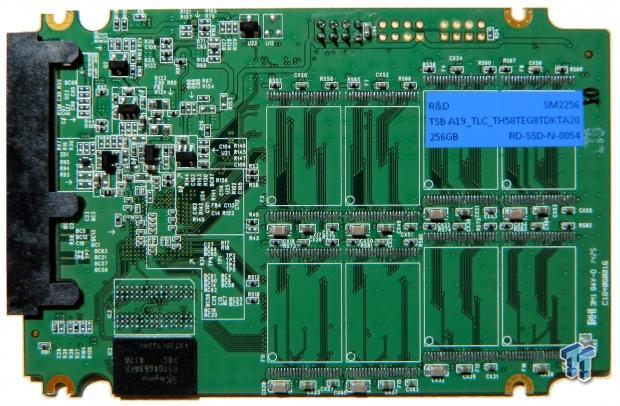 On the back of the board, there are some power handling surface mount components, eight additional flash package pads and two pads for DRAM.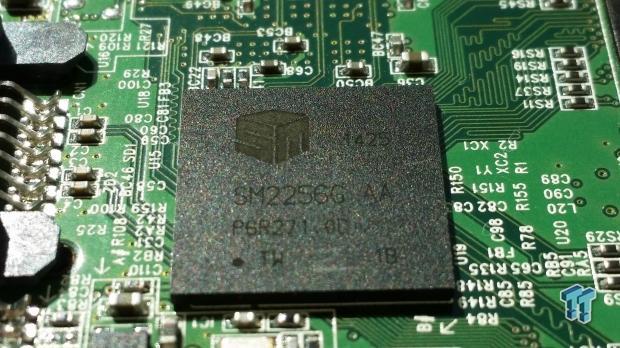 Here we get our first close up look at the new Silicon Motion SM2256 controller. The controller is labeled SM2256G AA. This is a quad-channel controller with advanced LDPC capability that is able to work with the latest 1z and 1y MLC, as well as TLC.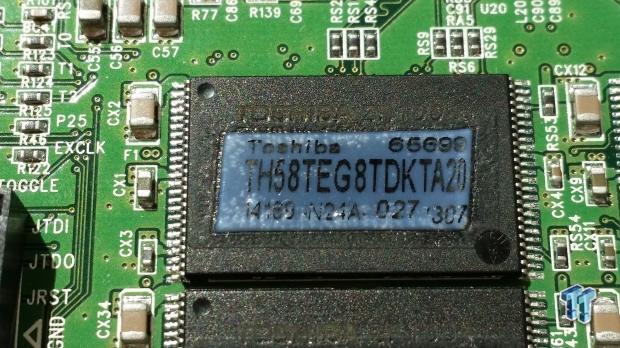 The Toshiba A19 TLC flash we have on this R&D board uses TSOP to connect to the PCB. The flash is laser etched Toshiba at the top, but a sticker and tape cover the package. This flash is Toshiba part number TH58TEG8TDKTA20. We tried to find more information on Google, but the search engine delivered zero results.
Silicon Motion used DRAM from SK Hynix, part number H5TQ4G63AFA. The SM2256 controller can address both DDR2 and DDR3 DRAM.
Test System Setup and ATTO Baseline Performance
Desktop Test System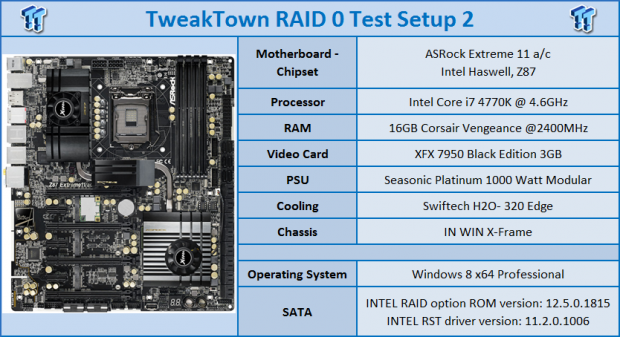 Our test took place at our suite at Flash Memory Summit in Santa Clara, California.
We used Jon Coulter's RAID 0 Test System 2 for the test, so the tests are not compatible with our normal results from an ASUS Z87 ROG Extreme VI that resides back in our lab.
ATTO - Baseline Performance
Version and / or Patch Used: 2.34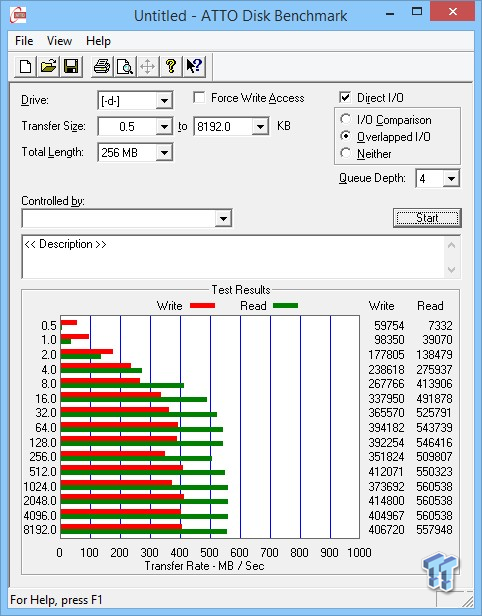 Using ATTO at a queue depth of 4, we see that sequential read performance on our SM2256 R&D drive is over 560 MB/s. This is a bit higher than SMI's quoted 524 MB/s, but we suspect our test system is also a bit faster by way of optimizations and clock speeds.
SMI quoted sequential write speed at 400 MB/s and that's in line with what we achieved in this test, but the company could get away with claiming an additional 10 to 15 MB/s we feel.
Benchmarks
HD Tach
Version and / or Patch Used: 3.0.4.0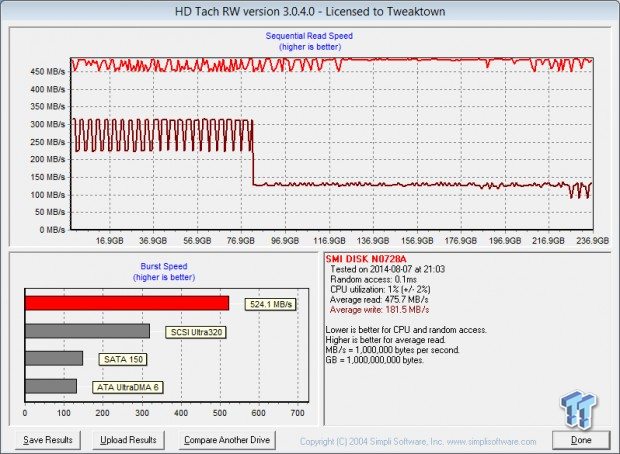 Silicon Motion SM2256 with Toshiba A19 TLC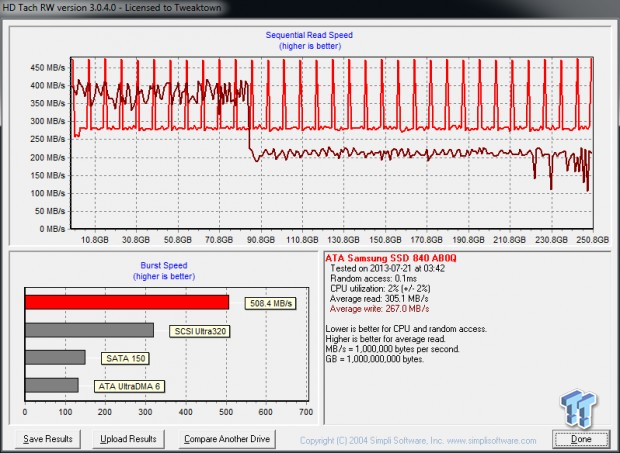 Samsung 840 EVO 250GB
The first thing everyone is going to call for is a show down between the new SMI SM2256 with Toshiba A19 TLC and Samsung's 840 EVO 250GB. This is a preview and not a pissing contest, but I did have some 840 EVO 250GB data with me.
The SMI drive is on the top and the EVO is on the bottom. The two test systems are not identical, so I'm going to limit comparison to this one graph. Both of these tests are ran in the same order, with sequential and random reads and writes taking place before HD Tach was ran and in the exact same order starting after a secure erase cycle.
The SMI drive had an average read speed of 475.7 MB/s and the 840 EVO 250GB had an average sequential read speed of 305 MB/s. Before the flash dropped down into what I call a consumer steady state, the SMI model floated between 305 and 225 MB/s. The 840 EVO was between 405 and 345 MB/s.
CrystalDiskMark
Version and / or Patch Used: 3.0 TP1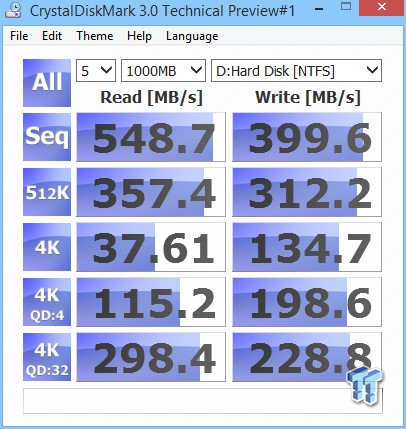 I'm a bit surprised by the numbers delivered in CDM. At first I thought I pulled up a result from Crucial's MX100 256GB, the results are very close to one another.
To see SMI's R&D board already running toe to toe with Micron's Marvell controlled, 16nm flash SSD this early on is somewhat shocking.
Anvil Storage Utilities
Version and / or Patch Used: 1.1.0
0-Fill Compressible Data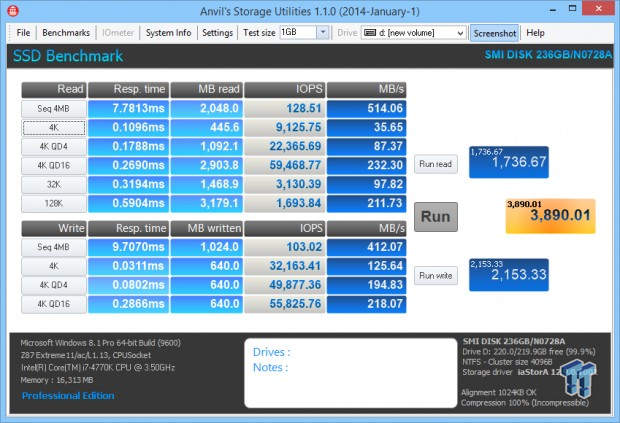 Incompressible Data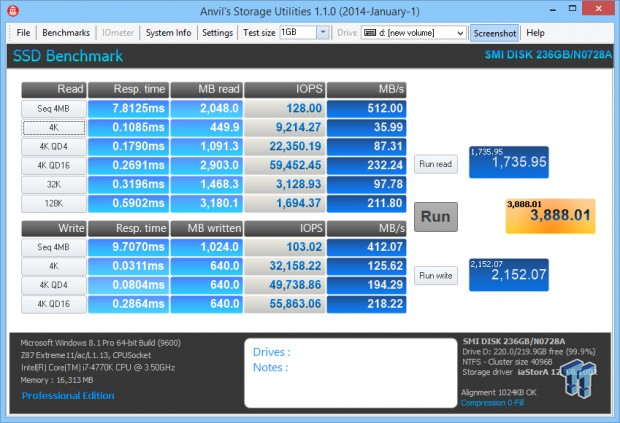 The SM2256 doesn't use compression technology to increase data writes, but that also means it doesn't slow down with incompressible data. The performance measured in Anvil isn't all that impressive compared to today's hyper-class SSDs like the 850 Pro and Extreme PRO, but it's in line with mainstream SSDs on the market right now.
We suspect the SM2256 will get a performance boost in the random data department before it goes live sometime in Q4. Our QD32 random 4K read result was just over 70K IOPS and our random 4K write result was 78K IOPS.
AIDA64
Read Disk Latency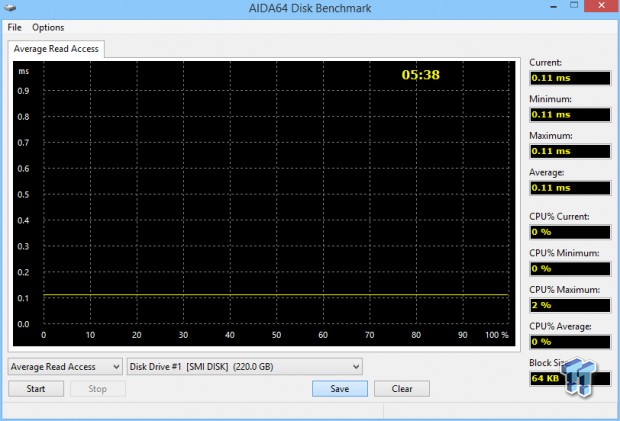 The 64KB average read access time held true at .11ms in our aging AIDA64 test used in the preview articles.
Write Disk Latency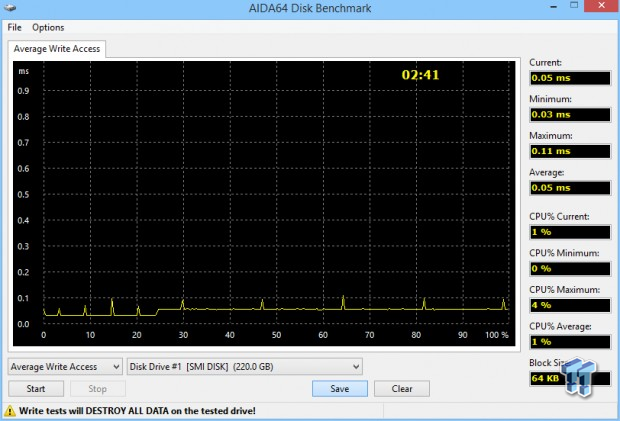 In the write latency test, we're looking for any tiered stepping. This is a really good test when trying to find a SLC-like cache layer. With TLC, manufacturers may even be able to run a MLC-like cache layer to increase system responsiveness.
We don't know for sure if the SM2256 R&D board uses either, but it did bring up an interesting topic for later discussion with manufacturers. Is it actually possible to run a larger MLC cache layer in the same space as a smaller SLC-like layer?
Final Thoughts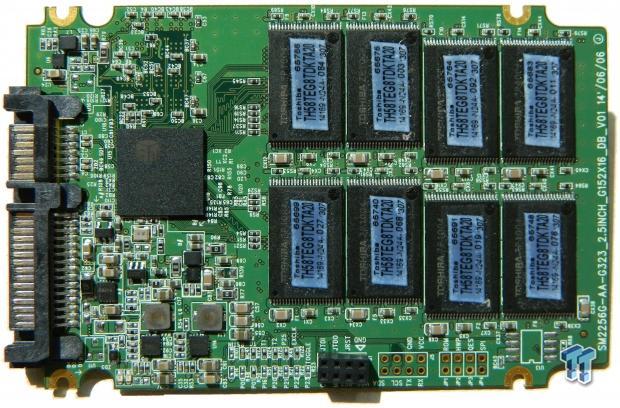 We had a bit over 24 hours with the Silicon Motion SM2256 R&D board before getting the call letting us know security was on the way. That wasn't enough time to run our more advanced tests or any of our really long tests. We did pick up a new Lenovo T440 for our future notebook power testing platform, but its battery life should take us to around eight hours and we didn't have enough time to get it in either.
We are thankful for getting this early sneak preview of the new SMI SM2256 and new Toshiba A19 TLC flash. If nothing at all, this test proves that TLC flash from Toshiba is competitive with current mainstream SSDs using MLC flash. Time will tell what our longer tests uncover, but I don't think we'll need to wait too long before torturing a retail product with TLC.
SMI really stuck a cord with LDPC since many of us worry about TLC's low endurance ratings, even though most flash manufacturers don't like to talk about them. 24 hours isn't enough to burn through too many P/E cycles, so again, time will tell how well Toshiba TLC can survive in a hostile environment.
Samsung has already had a successful release with TLC flash and we haven't heard of anyone burning the flash up under normal conditions. Just to be clear, we haven't heard of anyone burning the flash up at all so we think TLC is a viable product mainstream to entry-level enthusiast use.
One thing is for certain, though - this flash, and this controller will change the way many people see SSDs. SMI already has several very low-cost SSDs on the market with the company's partners and this flash should drop SSD prices rapidly. Several companies are purging better than average drives for very low prices, because they know TLC is about to hit, and when it does, it will hit hard.
PRICING: You can find products similar to this one for sale below.

United States: Find other tech and computer products like this over at Amazon.com

United Kingdom: Find other tech and computer products like this over at Amazon.co.uk

Australia: Find other tech and computer products like this over at Amazon.com.au

Canada: Find other tech and computer products like this over at Amazon.ca

Deutschland: Finde andere Technik- und Computerprodukte wie dieses auf Amazon.de
We openly invite the companies who provide us with review samples / who are mentioned or discussed to express their opinion. If any company representative wishes to respond, we will publish the response here. Please contact us if you wish to respond.