Phison S10 Quad-Core Performance SSD Controller Preview
Phison enters the high performance ring with a quad-core SSD controller capable of 100K IOPS. Chris shows us a prototype version with some benchmark tests.
Published
6 minute read time
Introduction & Specifications, Pricing and Availability

Flash Memory Summing is next week and we've been busy. This week we've taken a call with every NAND flash and controller manufacturer and have the skinny on just about everything to expect. Look for video interviews and booth tours, as well as a special all-flash SAN review (my first, I'm kind of excited) starting Tuesday. Before we leave for San Jose, we have something special to cover first - a world exclusive look at Phison's new S10 SSD controller.
The Phison S10 is a premium quad-core SATA controller designed for use with MLC and TLC (3-bit MLC) NAND flash. For years, we've tested products with MLC flash from a number of fabs, but Samsung is the only company with TLC shipping in volume. That's about to change. In Q4, Toshiba TLC will blaze to market like a horse with its tail on fire. Early projections show TLC will dominate the mainstream SSD market by late 2015, displacing a number of consumer MLC drives.
The market wants SSDs, but it doesn't want to pay a high price for them. TLC NAND flash will lower the cost of consumer SSDs, maybe by as much as 50% by 2016. At that point, we're talking about 25 cents per gigabyte, potentially a 512GB SSD for less than $130.
On the surface, it sounds all warm and cuddly, but 3-bit per cell flash also introduces tough challenges for controller makers. With PE cycles ranging from 1,000 to 1,500, controller makers need strong ECC methods to get 3,000+ write cycles from SSD grade TLC flash. That means controllers need to be high performance with multi cores just to play with TLC.
The side effect is controller makers that would normally build products for the mainstream SSDs will now make mainstream controller for TLC and have a performance part ready for use with MLC. Enter the new Phison S10 that we have on hand today.
Phison S10 Quad-Core Controller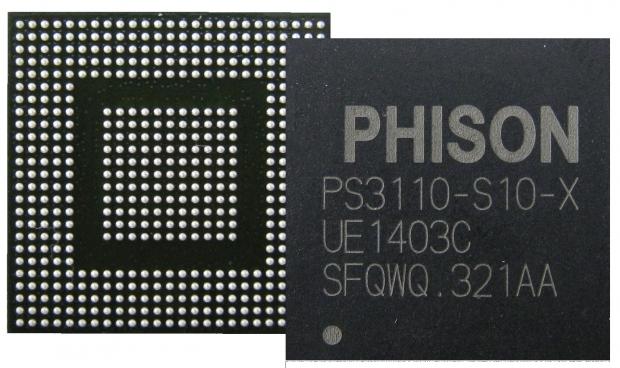 At Computex, we sat down with Phison and talked about the new S10 controller. Since then, we've patiently waited to talk about it publicly. Here's what Phison has stated about the new S10 on the company website:
Description

Phison PS3110 is a quad-core SATA-to-Flash micro-controller specially designed for various types of SATA module and embedded NAND applications. Supporting up to 8-channels and 32 CE in its NAND Flash interface, it is possible to achieve up to 100,000 IOPS. It also counts with support to TLC NAND Flash which makes PS3110 ideal to reach high storage capacities.

Controller Highlights

Compatible with SATA specification Version 3.2

Compatible with SATA I/II/III 1.5Gbps, 3Gbps, and 6Gbps interface

Configurable with 2Gb/4Gb/8Gb DDRIII Cache

Built-in enhanced up to 120bit/2KB ECC circuit (BCH)

Program RAM (Program Upgradable)

Physical Characteristics

Fabricated in 55 nm CMOS process

Available in 521-pin FBGA package

Operating Voltage : 0.9V~3.6V

Built-in Regulator that supports 3.3V/1.8V Flash I/O

NAND Flash Support

Supports 1x/1ynm flash

Supports interleave, 4-plane and 8-channel Flash access

Supports MLC/TLC large block (8k/16k page) NAND Flash Memory

MLC sequential R/W speed up to 540/530 MB/s

Other Features

Built-in static and dynamic wear-leveling

Power saving implemented

End-to-End Data Path Protection
For most, this is just a bunch of specs for a controller, but there are some interesting bits here. The first is the quad controller itself. Samsung uses three cores in the MEX controller used on the 840 EVO and 850 Pro. The S10 is also an 8-channel controller that can work with 4-plane flash, the really fast stuff.
Finally, Phison also quoted performance with MLC flash at 540 MB/s read and 530 MB/s write, both sequential ratings. Compared to some of today's hyper-class SSDs capable of delivering 560 MB/s sequential performance it just sounds OK, but those drives (there are only two of them) cost nearly $1 per GB.
Phison builds high quality controllers that are used in low-cost products. We don't have any retail pricing information because this is still a reference prototype design, but we suspect the performance bar will rise in the low-cost SSD category when these hit the market later this year.
Today, we're not just looking at datasheets and speculating, we have a S10 reference design in hand and just received the green light to talk about it, with some performance numbers! Let's take a quick look at the reference sample.
Phison S10 Reference Design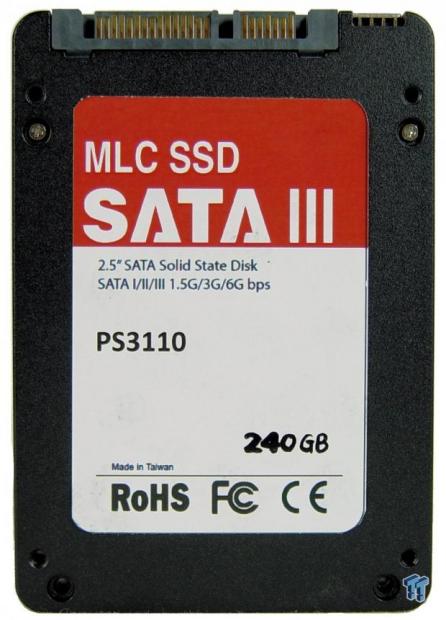 Phison made a label for our reference design. I think this is so we didn't lose it in our collection of unidentifiable prototype SSDs. The hand written 240GB tells us the labels are mainly for show at conventions and such.
Our sample has a 7mm z-height like most SSDs hitting the streets these days.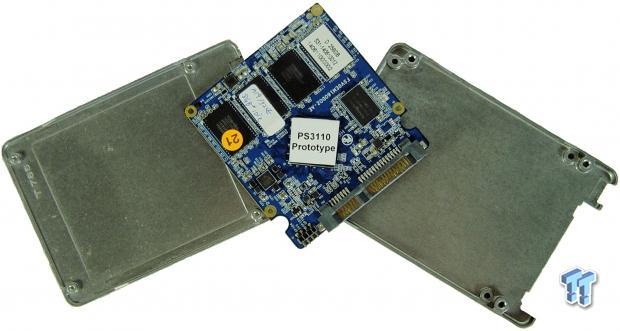 Inside we found a PCB that is a little longer than half the side of the case.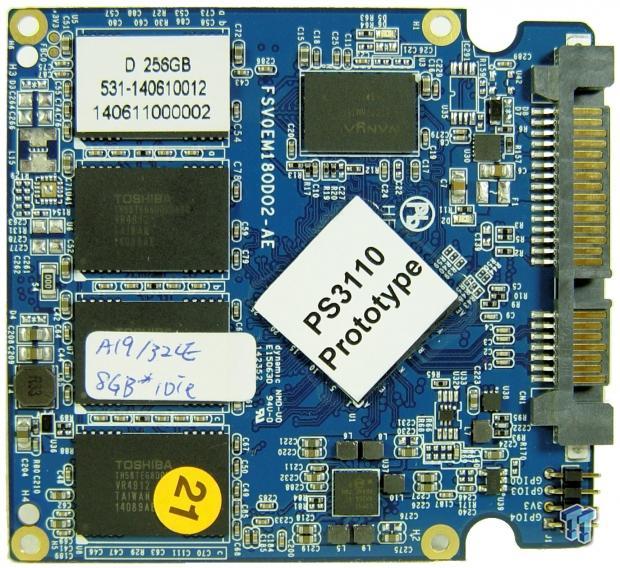 There is a sticker over the controller for show reasons. Under the sticker is just a plane controller void of markings. Many SSD builders prefer the shorter PBC design since it costs less to manufacture.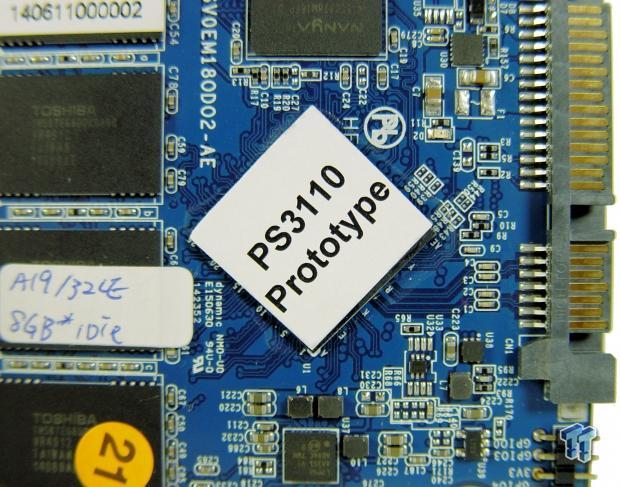 The star of the show is also the least interesting visually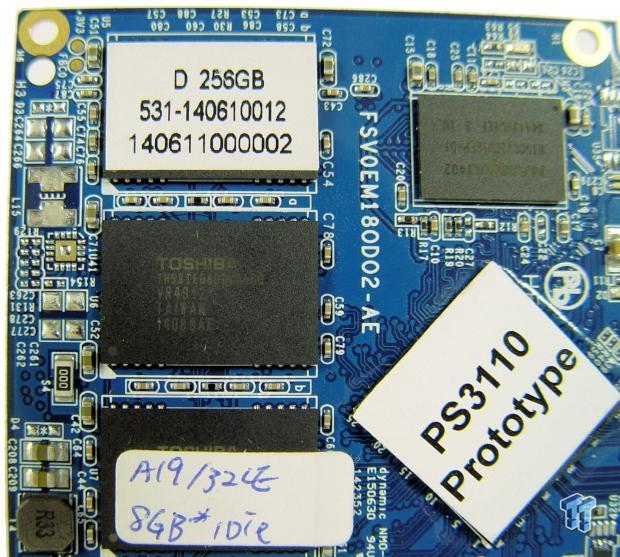 On this prototype, we found 256GB of Toshiba A19 MLC NAND flash with 64Gb die. There are eight packages total.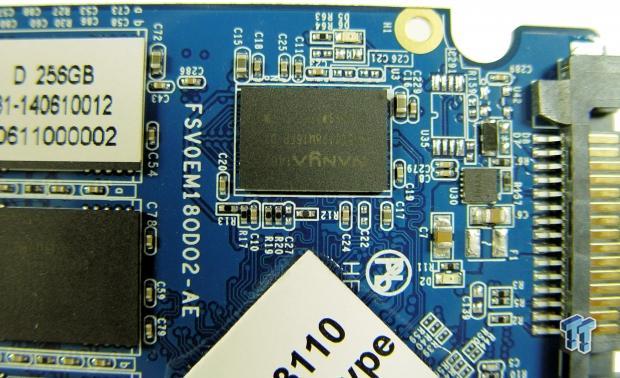 Our sample had a single DDR3 DRAM package with RAM from Nanya.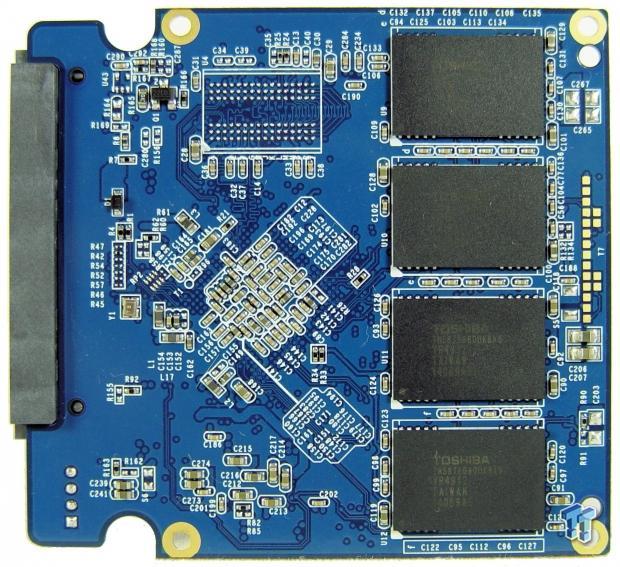 A second pad on the back of the PCB is for DRAM as well. We suspect larger capacity size models will use two DRAM packages to buffer page table data.
Test System Setup and ATTO Baseline Performance
Desktop Test System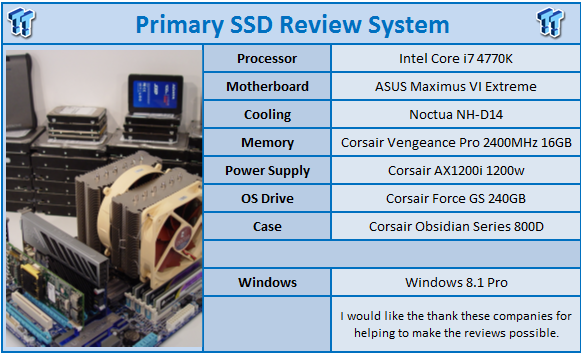 Lenovo W530 - Mobile Workstation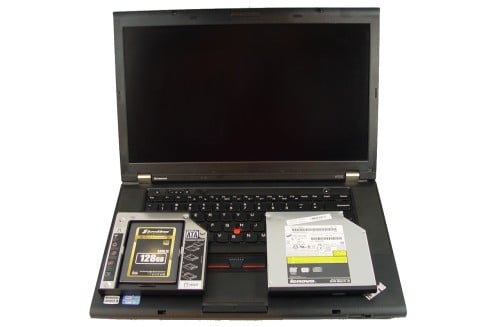 We use two systems for SSD testing. The desktop runs a majority of the tests, and the Lenovo W530 runs the notebook power tests as well as the real-world file transfer benchmark.
ATTO - Baseline Performance
Version and / or Patch Used: 2.34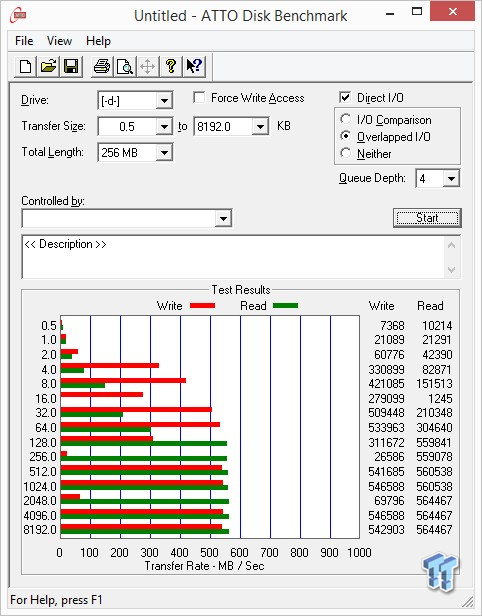 Phison still has some tuning to do, but we can see the marketing performance is closer to 564 MB/s sequential reads and 546 MB/s sequential writes.
This is quite a bit better than what Phison quoted on its website and also closer to the hyper-class SSDs that exist on the market today.
More Benchmarks
CrystalDiskMark
Version and / or Patch Used: 3.0 TP1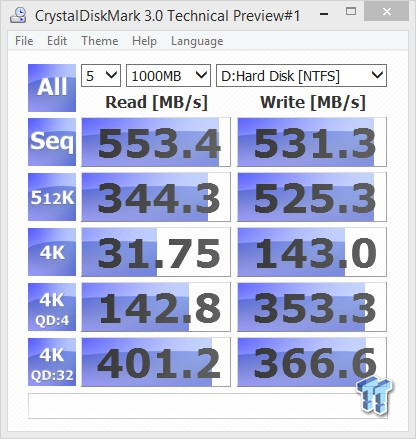 In CDM, we measured the sequential read performance at 553.4 MB/s and the sequential write at 531.3 MB/s.
The 4K performance came in at nearly 32 MB/s read and an even 143 MB/s write. The write speed is quite a bit higher than any mainstream SSD, AKA value class, on the market today.
Anvil Storage Utilities
Version and / or Patch Used: 1.1.0
0-Fill Compressible Data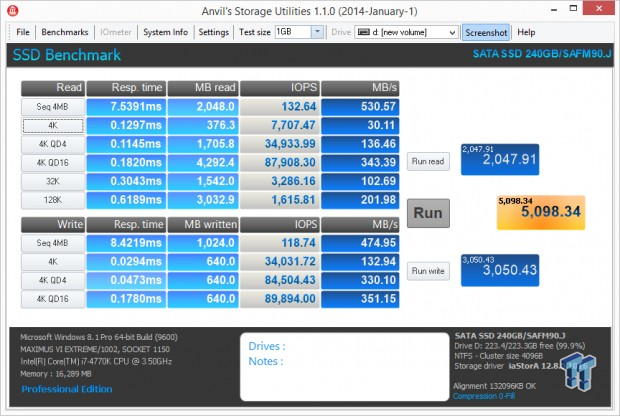 Incompressible Data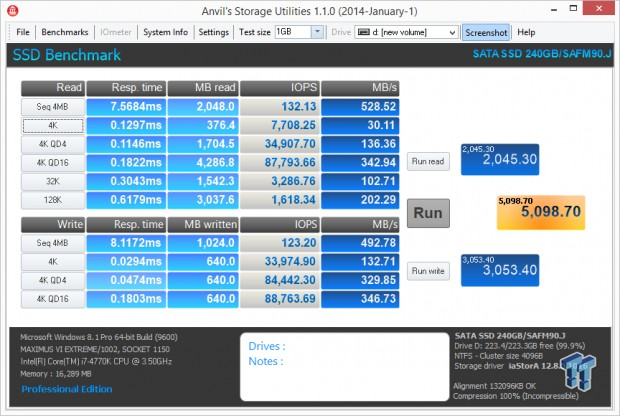 In these two tests with Anvil Storage Utilities, we used compressible and incompressible data. The performance was nearly identical in both tests.
Here we also see the high queue depth IOPS performance. The QD16 4K read came out to nearly 88K read IOPS. The 4K writes came to nearly 89K IOPS - these are solid numbers for sure and very close to the limit of our motherboard.
One area Phison still has to work on is the QD1 random read performance, the S10 is a little slower than the S8 controller we tested on retail drives. Phison still has some time left before this product comes to market, but this is a really good start this early in development.
AIDA64
Read Disk Latency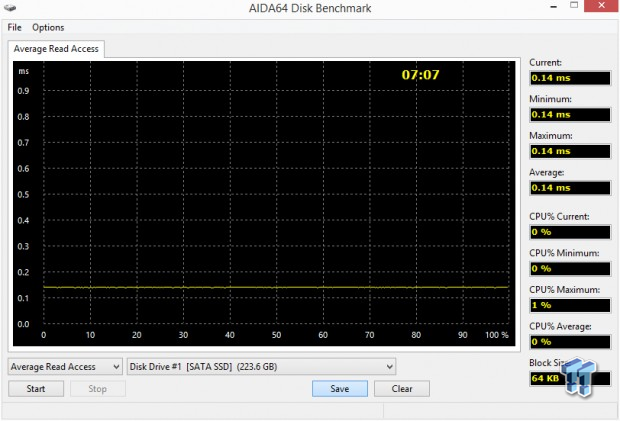 One area where we always run into trouble with value based SSDs is latency. Here we see the Phison S10 holding the latency line steady, even after the drive was preconditioned with a reasonable amount of sequential and random writes.
Write Disk Latency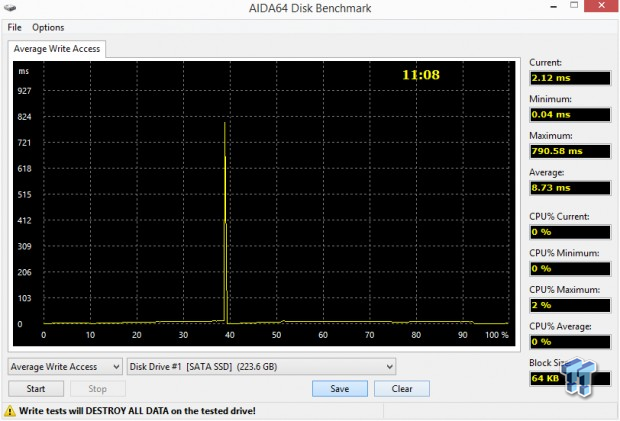 Other than a single latency spike, the write latency was also very low and steady. Cache algorithms are difficult to tune, but Phison will get the spike taken care of before these hit retail.
Final Thoughts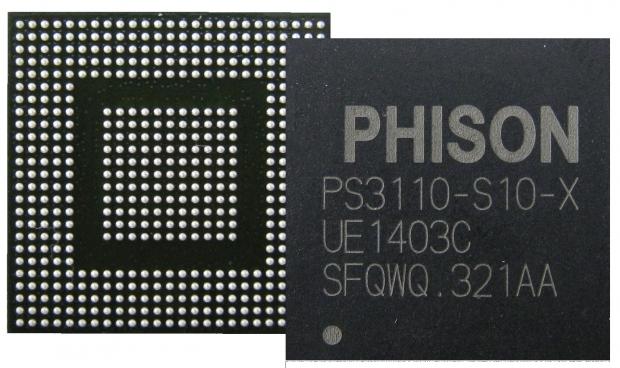 Phison was the only company to get their early hardware to our lab, but we have a few other surprises in store at Flash Memory Summit next week. Look for more preview articles like this one showing next-generation controllers, and even a test with Toshiba TLC NAND flash in the coming days.
Phison appears to be on track to deliver a high performance SATA III part in 2014. The new S10 will work well with MLC and TLC NAND flash, so expect to see several retail products using the new controller.
We're really excited to see what the new S10 can do with TLC since the new flash should usher in a new era of low-price offerings. Lower prices mean a higher adaption rate. TLC is clearly the future for low-cost SSDs, and we expect to see several of them just before Christmas this year.
With MLC flash, the S10 looks like a competitor in the high performance ring. The firmware is not quite ready to go toe to toe with the Samsung 850 Pro or SanDisk Extreme PRO, but once Phison finishes the firmware and programming, we might just have a very good high performance drive that costs significantly less than others on the market today.
Come back next week for our extensive coverage from Flash Memory Summit 2014. We're excited!
PRICING: You can find products similar to this one for sale below.

United States: Find other tech and computer products like this over at Amazon.com

United Kingdom: Find other tech and computer products like this over at Amazon.co.uk

Australia: Find other tech and computer products like this over at Amazon.com.au

Canada: Find other tech and computer products like this over at Amazon.ca

Deutschland: Finde andere Technik- und Computerprodukte wie dieses auf Amazon.de
We openly invite the companies who provide us with review samples / who are mentioned or discussed to express their opinion. If any company representative wishes to respond, we will publish the response here. Please contact us if you wish to respond.