Introduction
The Intel Pentium G3258 kind of snuck up on us during Computex 2014, without much being spoken about it previously. With most of the focus being on the Devil's Canyon I7 4790K, seeing a new processor from Intel for under $100 with overclocking in mind was a pleasant surprise. While processors under $100 from Intel aren't anything new, the unlocked nature of the multiplier on its Anniversary Edition processor is.
The Intel Pentium G3258 is a Haswell based Dual Core processor that lacks a lot of the flair that we're used to seeing when it comes to our processor reviews. With a price tag of well under $100, it comes as no surprise that we're not seeing the same kind of features. The two big features that we miss are Hyper-Threading and Turbo Boost technology; the first being something that we've especially grown fond of since introduction.
Aside from those features, the other main features we don't see include Intel Clear Video HD, vPro, VT-d technologies, AES, and TSX-NI instruction sets. While the latter list of features might not be so familiar, there's no denying that the lack of Hyper-Threading is going to have the largest impact on this 3.2GHz processor. What we do have on the LGA 1150 socketed CPU is Intel HD Graphics, Quick Sync Video, 3MB Smart Cache, Support for Dual Channel DDR3 1333MHz DDR, and compatibility on both the Intel 8 and 9 series chipsets.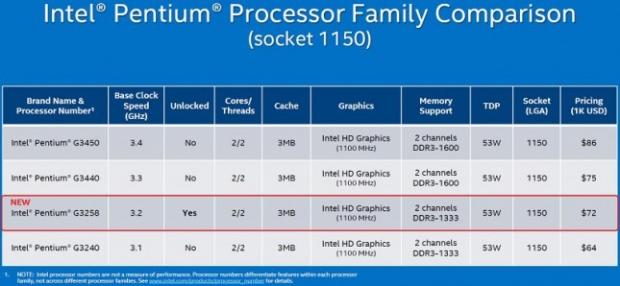 Looking above, you can see the one area where the CPU stands out is the Unlocked feature that is offered, which is something normally reserved for the K series of processors. Intel has bought this wonderful feature to its budget friendly Pentium line with this particular processor.
There's really not a whole lot we need to say about the new processor that isn't shown in the above images. What we really want to know is just how the CPU performs against other processors on the market, so let's get into our test system setup, and cover the overclocking before we get into the fun stuff.
Benchmarks - Test System Setup and Overclocking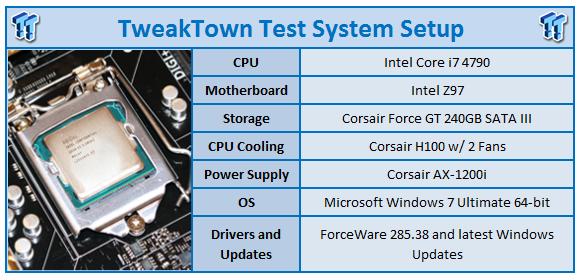 We would like to thank the following companies for supplying and supporting us with our test system hardware and equipment: Intel, ASUS, MSI, Western Digital, MemoRight, and Corsair.
Before we get into the overclocking, we want to quickly cover the processors that will be in our graphs today. Other than our Pentium G3258, which will be running at the stock speed, and overclocked one we will mention just below, we've also got the Intel i7 4770K, and newer i7 4790K. Both of these processors cost 3x the amount of money the G3258 costs. From there we move into the even more expensive LGA 2011 Intel processors, including the i7 3930K, i7 3970X EE, and the i7 47960X. As for the AMD side of things, we've got just the FX-8150 in our pile of CPUs today.
As we've already mentioned, the G3258 is exciting because of the unlocked multiplier. Heading into the BIOS of our ASRock Z97X Killer, we move straight over to the multiplier section to see just what kind of overclock we're able to achieve.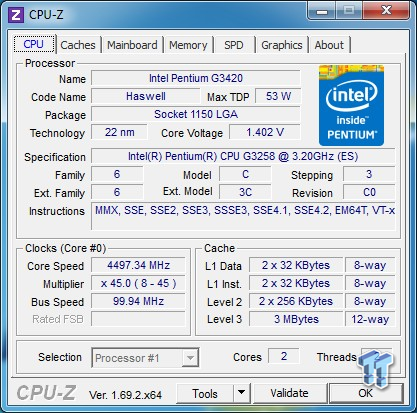 After spending a bit of time going back and forth, and messing around with the voltages, we ended up with our processor running at 4497MHz, or 4.5GHz as illustrated in our graphs here today. This is an exceptional overclock, which is 1.3GHz up on the standard 3.2GHz clock. It will be interesting to see just what kind of performance we get out of the processor. While it may have a decent clock rate, this is just a dual-core CPU with no Hyper-Threading, making it a pure Dual Core processor.
PCMark 7, HyperPi and AIDA64
PCMark 7
Version and / or Patch Used: 1.04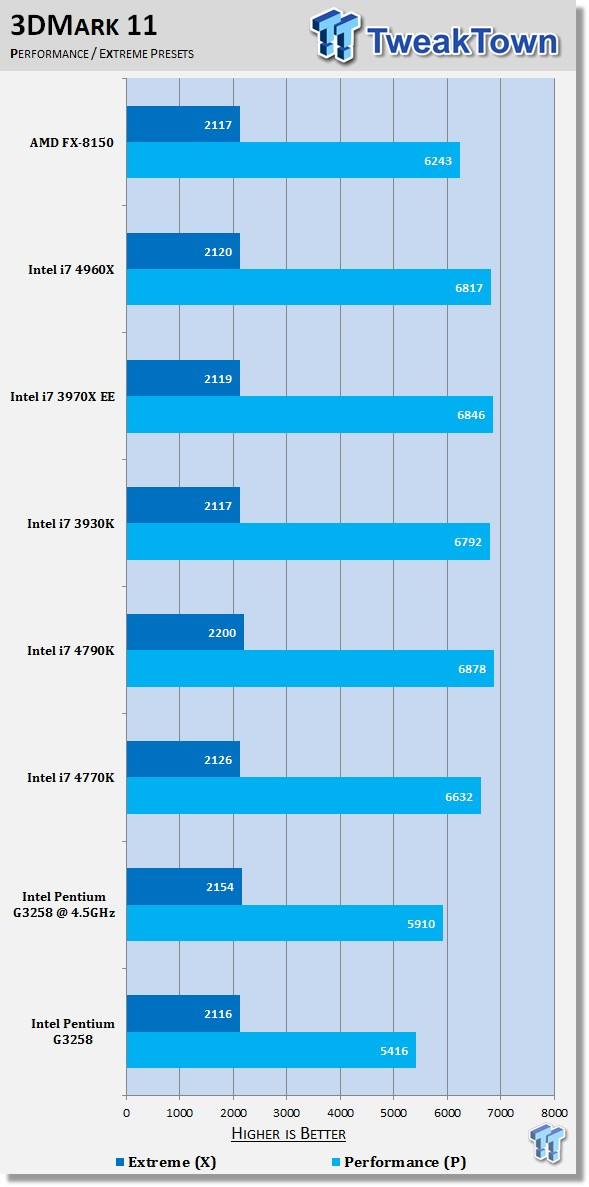 Starting with PCMark 7, we can see that the G3258 Lightweight score isn't bad, and lines up with the i7 4770K. Although, in the more intensive PCMark score, you can see it falls behind by a decent chunk. Overclocking brings a really nice boost, and we see the Lightweight score shoot past the i7 4790k in this case. Overall, though, you can see it falls behind our more expensive CPUs in the more intensive PC Mark score.
HyperPi 0.99
Version and / or Patch Used: 0.99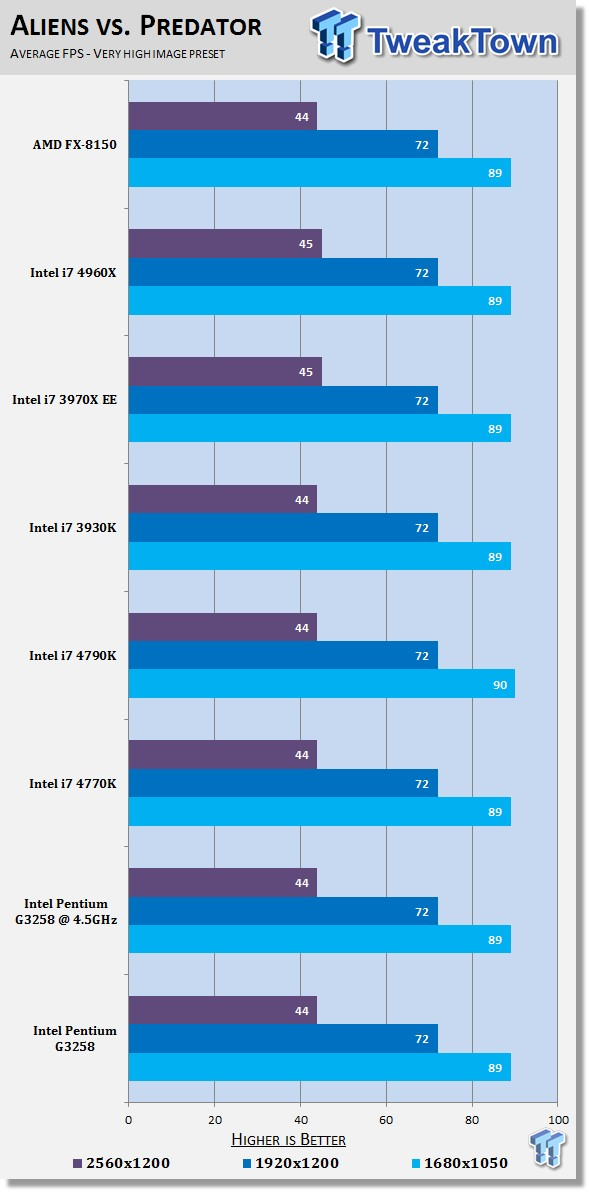 Looking above, you can see the Hyper Pi score is quite behind compared to our Intel processors here. It's a little tough to score it properly due to the fact that it's only being run on two processors instead of the normal four. What you can see, though, is the massive performance boost we get when overclocking. This is what we're really loving about the new Intel processor.
AIDA64
Version and / or Patch Used: 1.00.1035BETA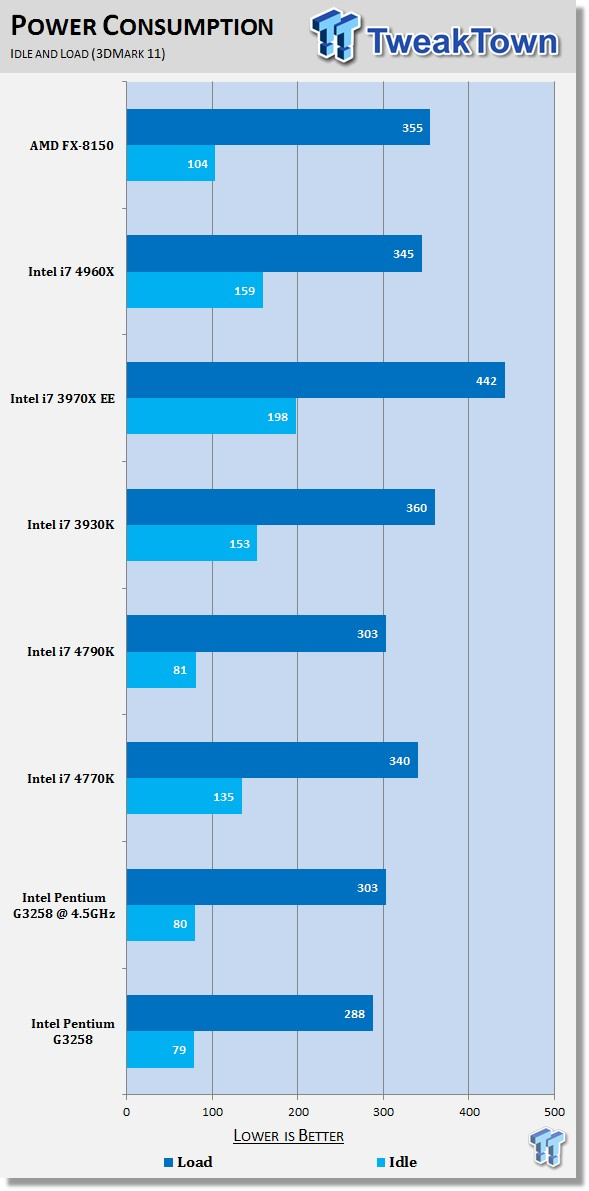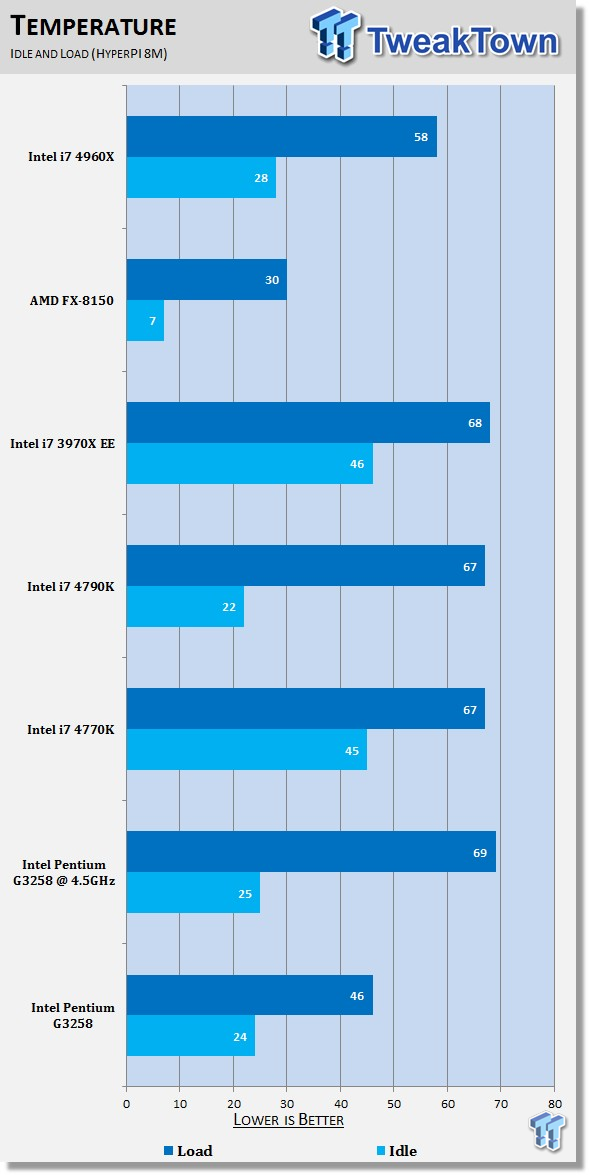 Looking above, you can see that the synthetic benchmarks under AIDA64 are not kind to the new processor. However, since it's lacking cores and Hyper-Threading, this isn't a huge surprise. You can again see the nice boost in performance that overclocking brings to the table.
Memory performance on the new G3258 is strong. It's not as strong as its higher-end counter parts when it comes to Copy performance, but overall, the numbers are impressive. Though, I think the biggest surprise when it came to testing the memory performance, was the fact that our G3258 ran our 2933MHz DDR XMP profile without a single issue.
PassMark PerformanceTest, CINEBENCH, Adobe Lightroom and MediaEspresso
PassMark PerformanceTest
Version and / or Patch Used: 7.0.1021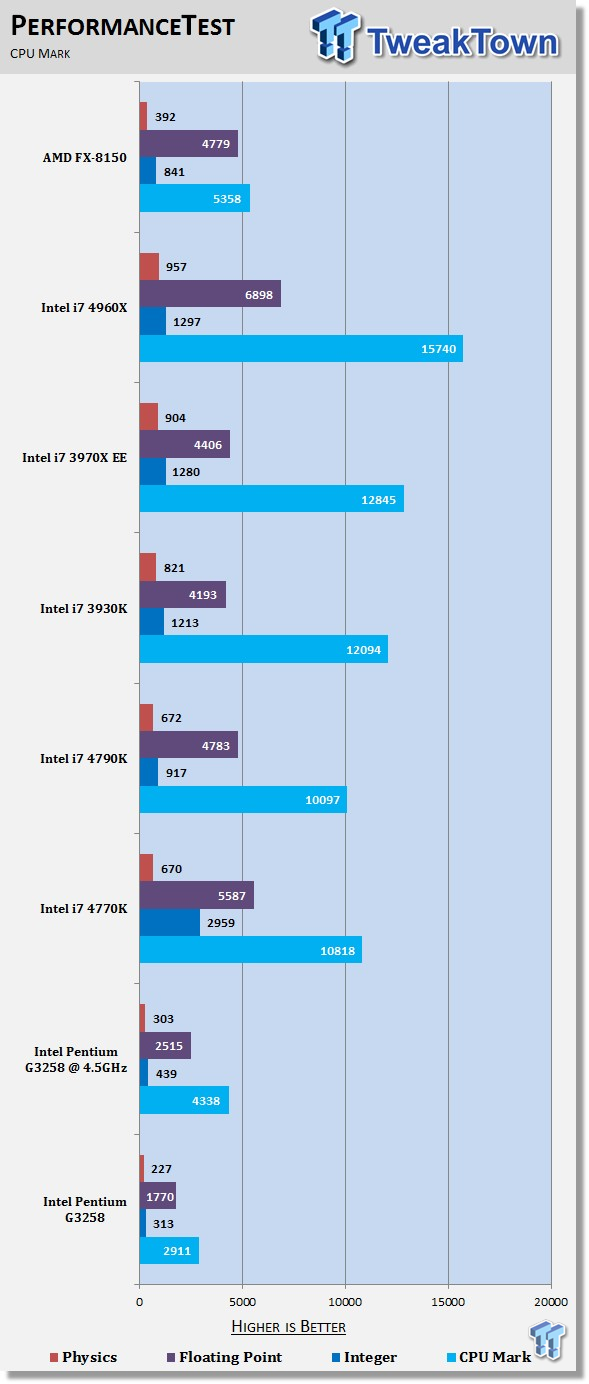 Looking above you can see again under the synthetic benchmarks the G3258 really does struggle against the higher-end counterparts. Overclocking does bring a nice performance boost to the overall picture, but in the end you can see our more expensive CPUs do sit a decent chunk in front of it.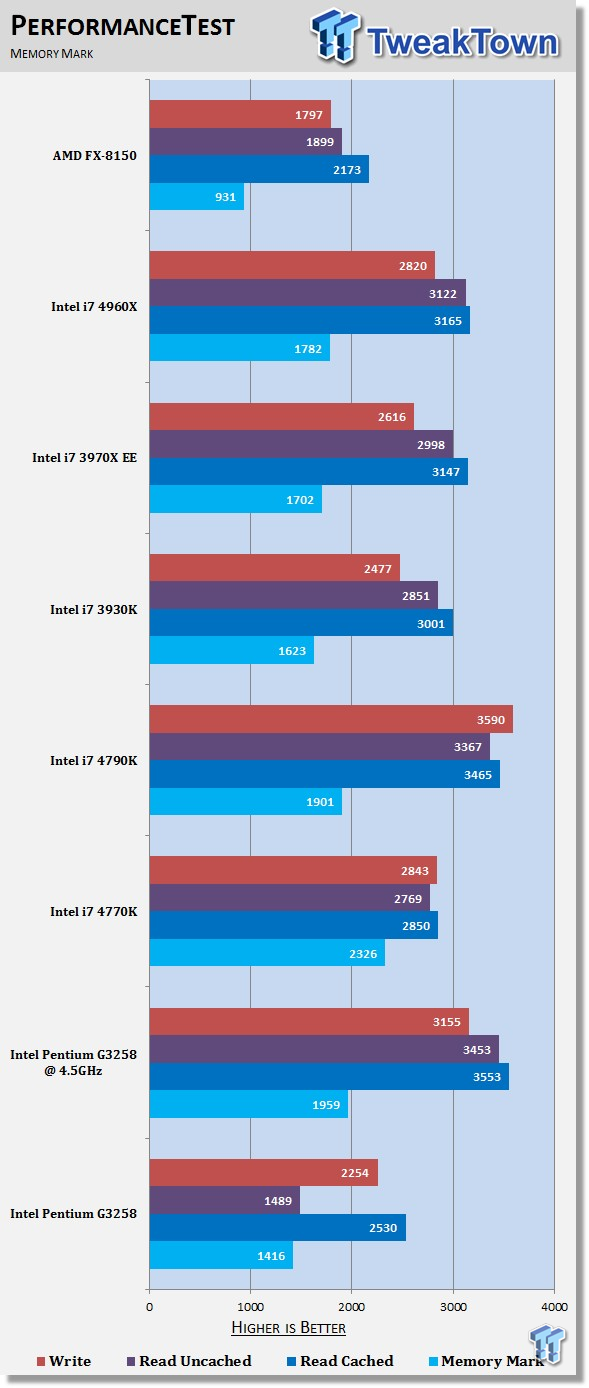 Memory performance isn't too bad and you can see overclocking gives a key boost in certain areas.
CINEBENCH R11.5
Version and / or Patch Used: R11.5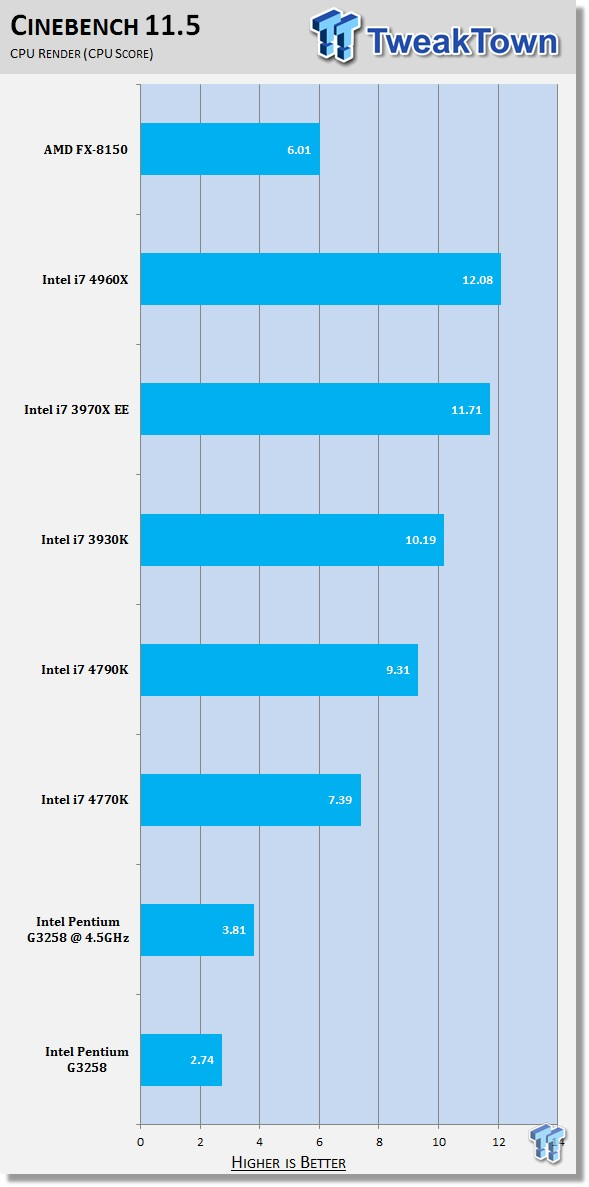 Looking at CINEBENCH, you can really see the difference between our G3258, and other processors here. You can see overclocking gives us a really nice boost in overall performance, but ultimately, you can see the new i7 4790K is running at over twice the speed. Of course, it's worth noting that it's also 3x the price.
Adobe Lightroom
Version and / or Patch Used: v3.4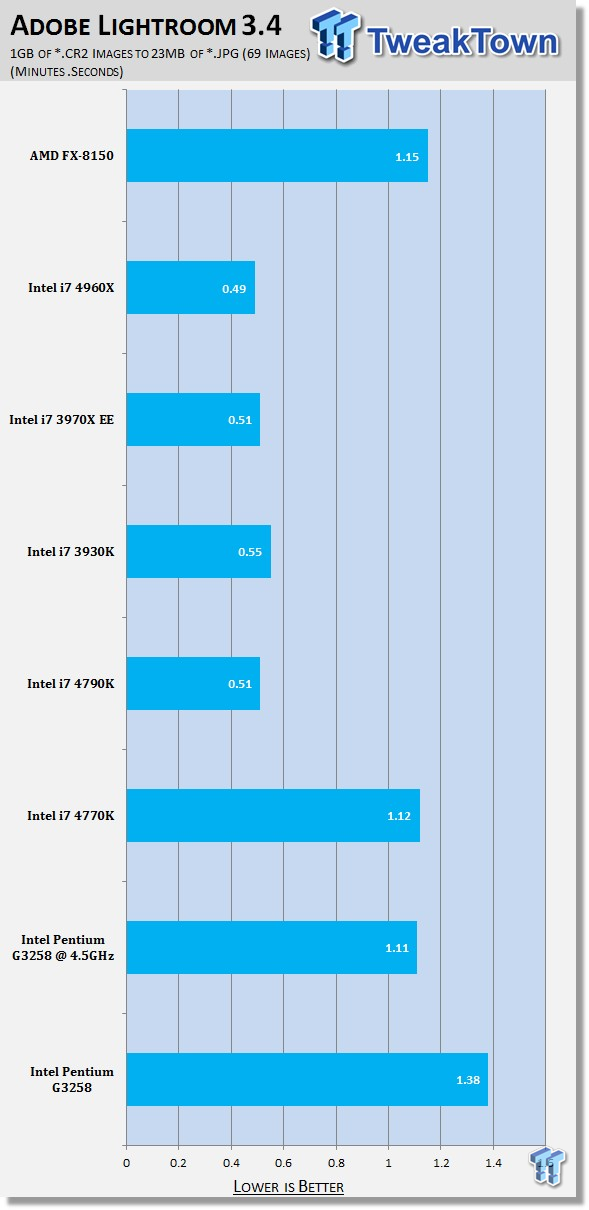 In a real-world benchmark like Lightroom, you can again see the difference in processing power when compared to its more expensive counterparts.
While we see overclocking offers a great boost in overall performance that sees it line up with the i7 4770K in this case, you can see it doesn't have the same kind of power as processors that are much more expensive than it. Of course, that shouldn't come as any kind of surprise to anyone.
MediaEspresso
Version and / or Patch Used: v6.5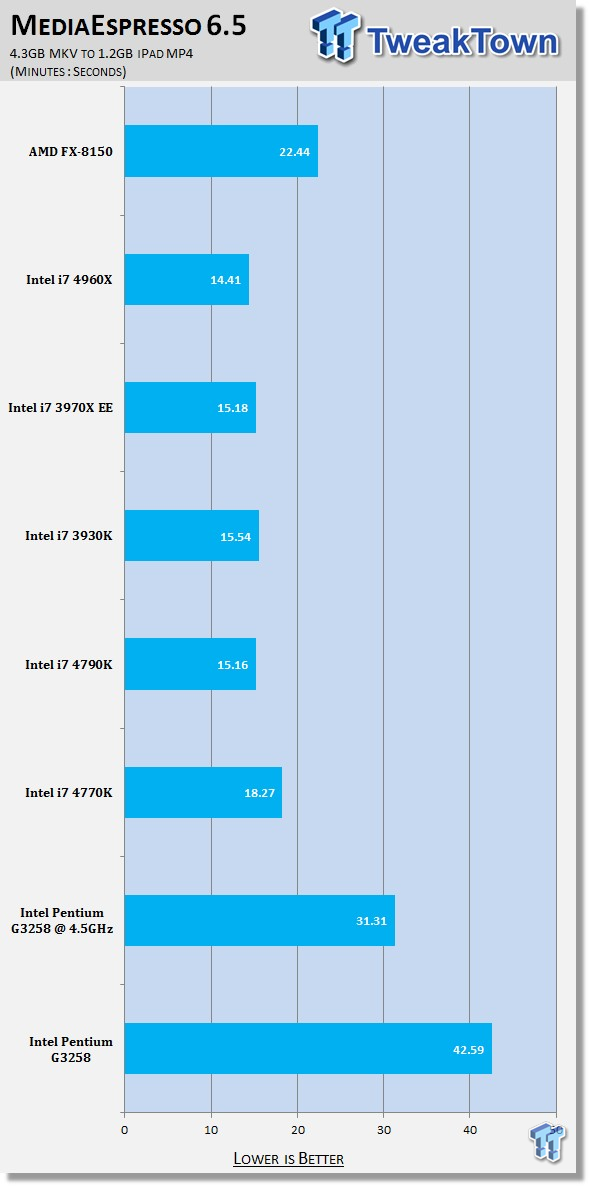 This was painful. Encode time on the G3258 is near 3x that of the i7 4790K. Something that is important to remember with encoding these days though, is that while we use the CPU to encode, many programs offer support for GPU encoding, making the process even faster.
Though, by not making use of GPU encoding, you can just see the kind of performance difference between our processors here. While overclocking gives us a really nice boost, you can still see it's double that of the i7 4790K.
Gaming, Power and Temperature Tests
3DMark 11
Version and / or Patch Used: 1.0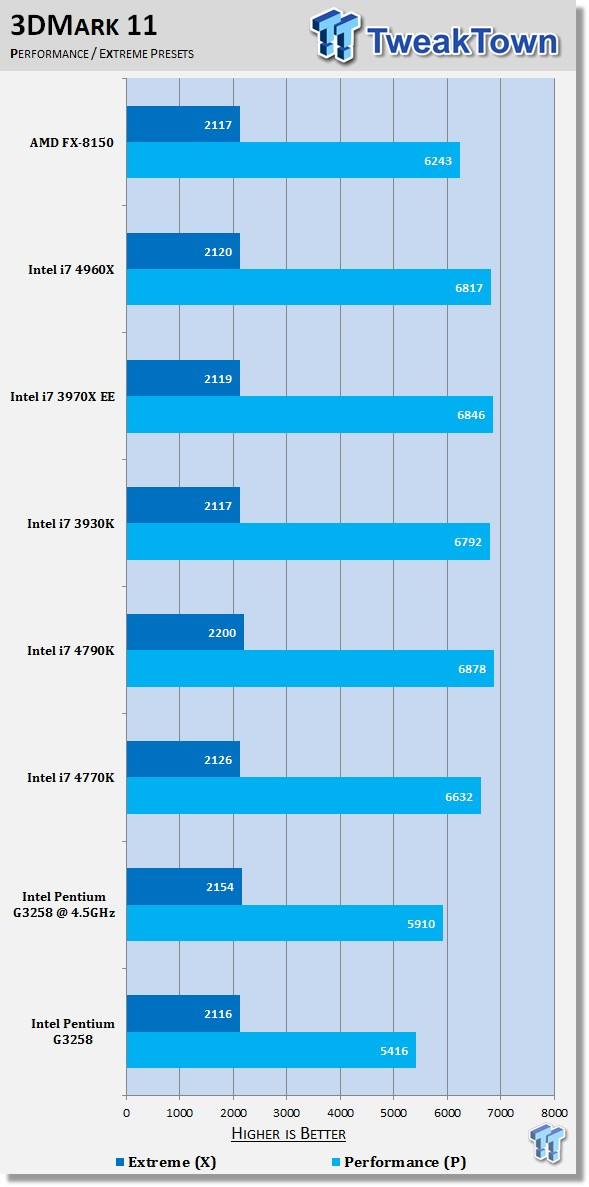 Aliens vs. Predator
Version and / or Patch Used: Standalone Benchmark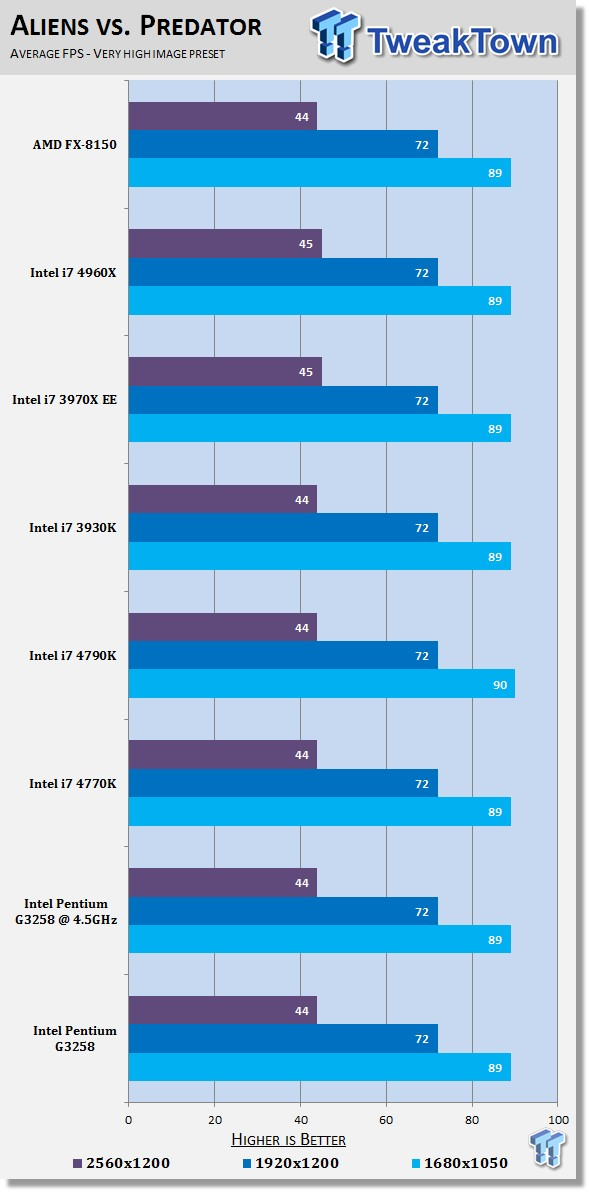 Gaming performance is interesting. While Aliens vs Predator doesn't tell us much, you can see under 3DMark 11 that when we're in the less intensive Performance preset, the overall performance is quite far behind. That's due to the fact that we're hitting a wall with our CPU.
Overclocking helps bring some more breathing room to the table, and you can see the Performance score sees a nice jump. Overall, we're still behind our other processors. However, when we move to the Extreme preset, you can see all our setups perform quite close to each other. This is due to the fact that the pressure is more on the video card than the CPU.
Power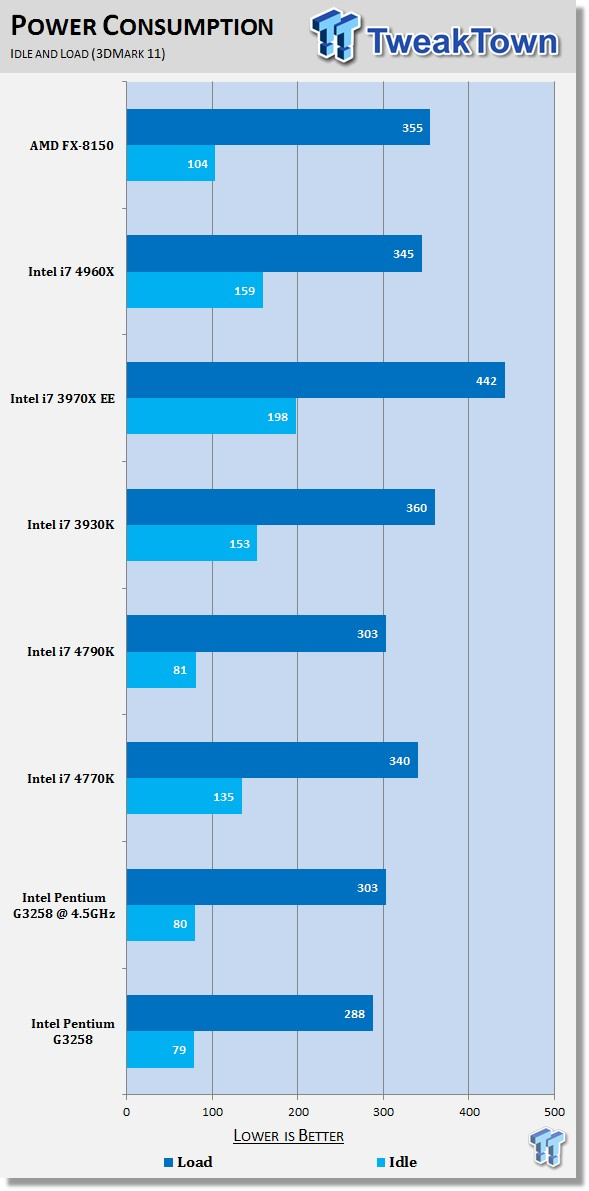 Power draw on the new processors looks good; the idle is strong, and you can see overclocking does little to overall load. With a 53w TDP, we don't expect extremely high numbers anyway.
Temperature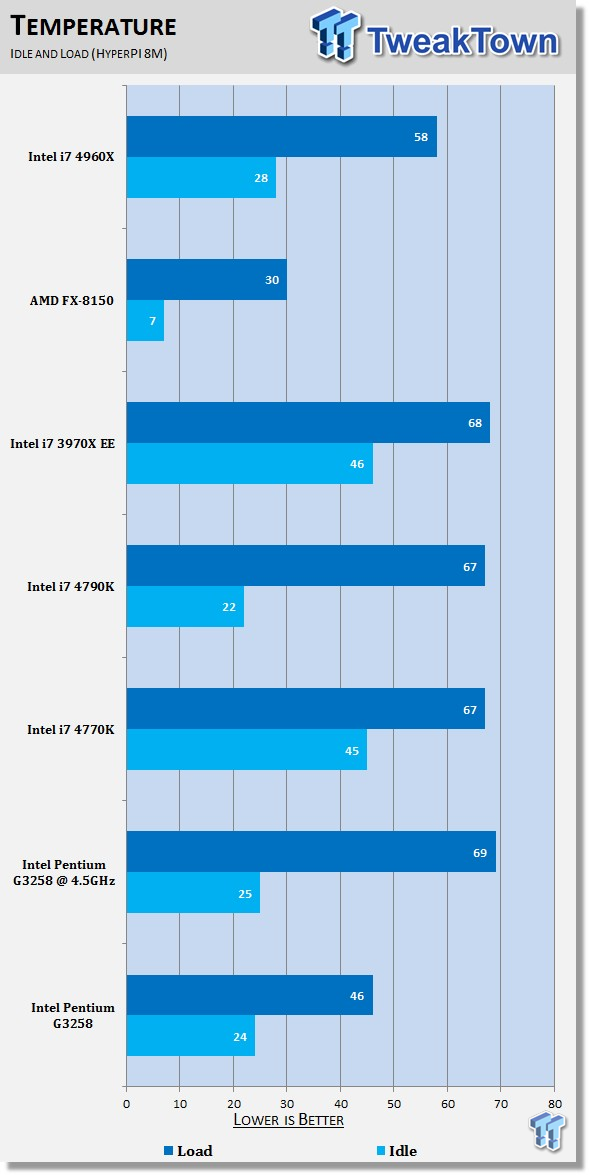 Temperature numbers are really good. Out of the box, you can see they're very reasonable, and overclocking is also great. It's great to see it not shoot up to the 90c mark like we see the K series processors do. Of course, we'd be disappointed if we had those kinds of temperatures, since we don't have that kind of performance.
Final Thoughts
While normally I would wrap everything up here on the processor, I feel that we need to examine this processor a bit more. From a synthetic standpoint, the processor doesn't look impressive at all. We could've told you that before we even started benchmarking, due to the dual-core, non-Hyper-Threading nature of the processor. However, that doesn't mean it's a bad processor in anyway.
I think what we really need to do is look at the gaming performance in a bit more detail. The G3258 is going to set you back around $75; which is really very little for a processor. To put it into perspective, the i5 4690K will cost you around $240, while the i7 4790K is going to set you back around $340. With an extra $150 or $250 you can do a lot. This is like moving from a GTX 770 to a GTX 780, or a R9 290 to a R9 290X. Essentially, it lets you move from a mid-range video card to a higher-end one.
With the unlocked nature of the processor, the temptation to go for this particular processor and pick up a higher-end video card is extremely tempting. There's a problem, though. With CPU limitation being an issue, would you just be wasting money by buying a more expensive video card?
Well, this is exactly what we want to explore in the next week. With our ASRock X97X Killer motherboard, we want to pair our G3258 and our i7 4970K with a GTX 780 Ti to find out exactly what performance is like when it comes to gaming. Maybe it will make a difference at 1680 x 1050, but when we move to 1920 x 1200, it's all on the video card.
Our final thoughts on the new Intel Pentium G3258 is that we love it. An unlocked multiplier for a processor well under $100 is a great thing. This is one of the coolest processors we've seen from Intel in a long time. When it comes to testing the raw CPU performance of the processor, it clearly falls behind everything else that sits so much higher.
However, if the G3258 can perform well under a gaming environment, allowing you to spend more money on a video card, then it's going to be the processor to have for gaming on a budget. We're going to have a follow-up article on gaming performance soon - stay tuned.
PRICING: You can find the INTEL PENTIUM G3258 20TH ANNIVERSARY EDITION CPU for sale below. The prices listed are valid at the time of writing but can change at any time. Click the link to see the very latest pricing for the best deal.
United States: The INTEL PENTIUM G3258 20TH ANNIVERSARY EDITION CPU retails for $72.99 at Amazon.
Canada: The INTEL PENTIUM G3258 20TH ANNIVERSARY EDITION CPU retails for CDN$98.17 at Amazon Canada.