PNY SandForce based Optima SSD - The Switch Side Discussed
We caused quite a stir with our bait and switch SSD allegation, but we stand behind it 100%. We looked at the bait, now it's time to see the switch.
Published
8 minute read time
Introduction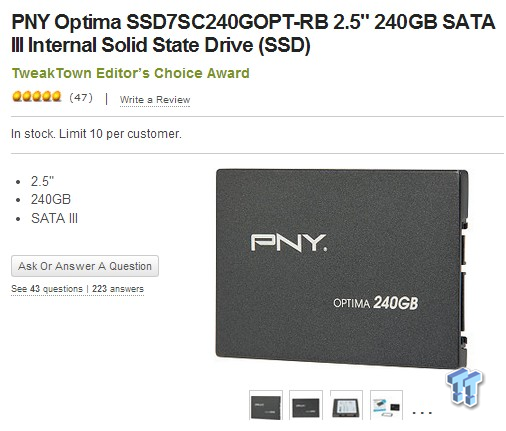 If you missed the original blog post that started the PNY bait and switch controversy, you can read it here. After I published my rant on the topic, the article went viral, at least as viral as a computer hardware blog can go. Several media outlets picked up the story, calls for boycotts broke out on Reddit, and PR spinners spun well into the night.
The short version of the story is as follows. PNY sent a few SSD reviewers Optima 240GB SSDs to review. The initial advertising to us in an email stated these used the new SMI, short for Silicon Motion, controller. To my knowledge, the first wave of reviews went only to those who already worked with SMI in the past. It's a very small group. We liked the original PNY Optima with a Silicon Motion controller for its performance and very low price. We liked it so much that we gave it an award. That award logo made it into advertising (shown above). That's where a typical review story ends, but not this time.
We received an email from a reader that purchased a PNY Optima 240GB but found a SandForce controller in the drive, not a Silicon Motion controller. The timing is important here in my opinion; this occurred roughly one month after our review went online.
The title of this editorial is PNY SandForce Based Optima - The Switch Side. The original Optima with a Silicon Motion controller was The Bait.
The Official Response
A Change from PNY USA?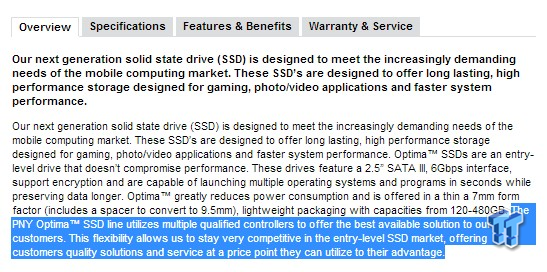 This next section will cover PNY's official statements and what the Optima product page now states about the Optima series. Writing product reviews involves a lot more than just testing and writing content. I'd say that 85 percent of the work involved is research and spotting fine details that are often hidden in the text. Sometimes it's actually more important to find what a company doesn't say rather than listening to what they do say.
I'm not going to say the highlighted portion above wasn't in the product description when we wrote the original review, but I will say it would be difficult for a seasoned reviewer to miss the highlighted section when researching the product.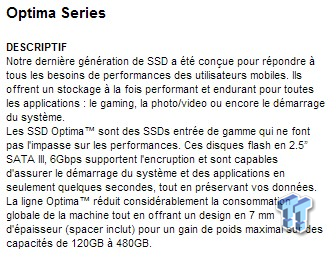 PNY has several regional websites broken up by country. Would it be possible for PNY to change the product description on every Optima product page in the world in a short time? Yes, they could, but did they? Hell no, they didn't! I don't read French, but Google Translate does.
Our latest generation of SSD has been designed to meet all performance requirements of mobile users. They offer both storage performance and endurance for all applications: the gaming, photo / video or system startup.

Optima SSDs are entry-level SSDs do not overlook performance. These flash drives in 2.5" SATA III 6Gbps support the encryption and are able to ensure the system startup and applications in just a few seconds, while preserving your data. The Optima ™ line considerably reduces the overall consumption of the machine while providing design 7mm (spacer included) to gain maximum weight capacity of 120GB to 480GB.
That is more in line with what I remember the official Optima US product page saying, but I can't prove it, so I'm not going to stake my reputation on the claim. If you look at other PNY websites around the world, you will find the quoted text above on all or nearly all of them, other than the USA page.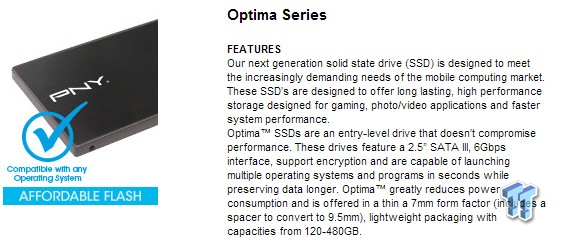 There is also a page from PNY's UK website, this time in English, and once again, it omits the new revelation about using multiple controllers in the Optima Series. This is a bit redundant, but we just want to make sure Google Translate isn't used as an excuse for our findings.
Surprisingly, we haven't heard much from PNY directly about this topic, and we wanted to investigate the matter fully before reaching out. Maximum PC's Paul Lilly, a veteran of the industry, reached out to PNY for a comment and received a reply.
"The PNY Optima SSD line is an entry-level and value driven product. As our website states, the Optima SSDs utilize multiple qualified controllers to offer the best available solution to our customers. We do not and have not specified any one particular brand of controller, however we do feature performance specifications which include using synchronous flash and random read/write speeds of up to 60k," PNY told Maximum PC.

In other words, it's all about the performance claims. Pricing and availability may dictate which controller PNY uses at any particular time, and while two SSDs from the same product family might sport different parts, performance should be comparable.

This is similar to the statement PNY provided when the controller swap first came to light. What people found sketchy, however, was that every Optima SSD sent out to reviewers used SMI controllers, while those in the retail sector were found to be using LSI (SandForce) controllers. PNY offered up an explanation for that as well.

"All the reviews units were shipped simultaneously and those Optima SSDs were built with SMI controllers - one of the newer controllers currently available on the market. However the current set of Optima SSDs are being built with LSI controllers, a very reputable line which meet all advertised performance specifications," PNY added. "Either way, consumers should have peace of mind that they are receiving a solid product built with tier 1 synchronous flash. PNY has been completely transparent about the use of multiple qualified controllers which grants us the ability to offer consumers the best possible value and performance."
This response opens a few other doors that we want to explore. The first is, given the product description found on all PNY websites throughout the world NOT in the USA, the assumed original description still stands.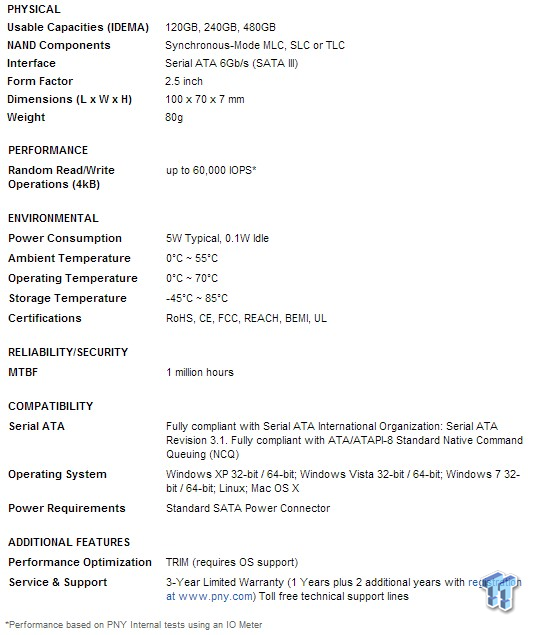 The next is PNY's new claim of locking down the NAND flash to Tier 1 Synchronous Flash. Our original Optima sample with an SMI controller uses synchronous flash, and the Optima we purchased with a SandForce controller uses synchronous flash, but the official product specifications on PNY's own websites state SLC, MLC, or TLC NAND flash.
Why would PNY be so direct when talking about the flash now when the product page clearly leaves the door open for a change? In our original review, we touched on the flash options and stated these are the same specifications from Silicon Motion (for the controller), and we thought PNY just copied the specifications over. At the time, we wouldn't have imagined writing this article or thought PNY would switch the controller, but we now have to wonder if PNY would be so bold as to eventually populate the Optima with TLC flash later, and if so, what controller would the drive use then?
Also, the official statement makes it sound like Optima has switched completely over to SandForce controllers when our initial response from PNY stated, "Yes we did ship some Optima SSDs with SandForce controllers, but only if they meet the minimum advertised performance levels (in most of the benchmark tests, LSI controllers outperform SMI controllers). The reader's assumption that PNY has abandoned SMI controllers is wrong as we have been shipping mostly SMI controllers, but also utilizing LSI to fill in the gaps."
The two statements contrast each other. Is PNY filling in the gaps or did they change the build of materials?
What Difference Does it Make Anyway?
A single technology journalist wrote a dissenting opinion, but the rest of the media coverage followed our thoughts on the subject. The public agreed as well, and some even started a boycott page on Reddit to address the issue.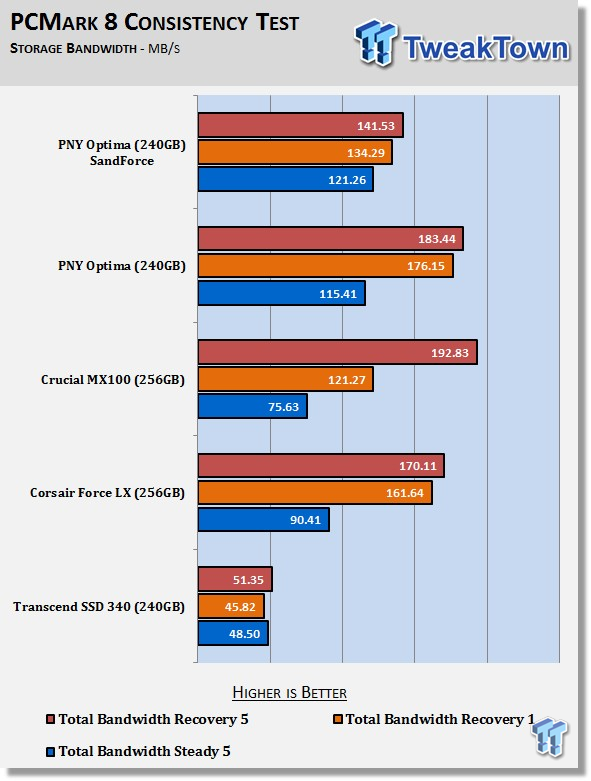 To help answer the question, we ran some tests on both the original Optima and the SandForce Optima. In this chart, we see five low cost consumer SSDs available to the public. The performance we really care about for this class of product is the orange bar in the middle of each group. This explains why we recommended the original PNY Optima 240GB SSD and why we can no longer do as now.
There is a large performance difference between the SMI Optima and the SandForce Optima. With the SMI Optima out of the picture, we now have to recommend the Corsair Force LX 256GB over the other drives in this capacity size and category.
Anti-SandForce--Hardly
The dissenting opinion piece that exposed a different type of fraud in the industry accused us of being anti-SandForce warhorses. That is hardly the case. Nearly everyone on staff at TweakTown has and uses a SandForce based SSD. I have roughly 60 SSDs with SandForce controllers and use nearly all of them in production systems for testing NAS and SAN products as well as in notebooks.
Like all SSD controllers, SandForce controllers have strong points and weak points. We've covered both fairly and accurately since 2009 when the original SF-1000 Series hit the market.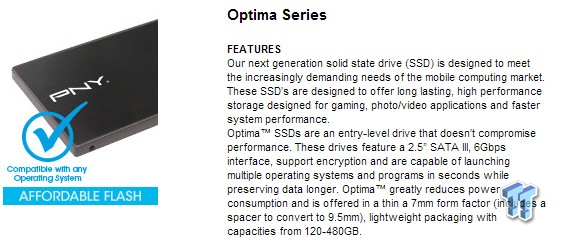 Looking back at the product description found of PNY's non-USA websites, we clearly see PNY recommends the Optima for "...photo / video applications..." and "...doesn't compromise performance..." The latter is actually industry slang, a way to say a product does NOT have a SandForce controller.
Photo and video files are high entropy files. To use consumer terms, the data is already compressed. SandForce controllers write previously compressed data at a slower rate than data the controller can compress further. This is by design and a topic we've covered many times. It doesn't mean SandForce controllers are bad, it just means the end-user needs to know what they are using the drive for and purchase the appropriate model. As an SSD reviewer, it's my job to sort that out and recommend products based on the needs of our readers. Instead of giving every product that has an Amazon link an award in order to profit ourselves, we actually investigate the products and fulfill our commitment to the public.
Moving beyond incompressible data issues, some readers are no longer interested in purchasing a product with a four-year-old controller, even if it has 8 channels. Others are still concerned about long-term compatibility issues, and rightly so after early SandForce SF-1000 and SF-2000 products ran into numerous issues and bug fixes. Even the newly manufactured Optima SandForce Edition had an update ready on PNY's website, so the drive needed an update right out of the box.
Final Thoughts
In the editorial, I stated TweakTown has plans to stop any other reviews from having this happen again. We plan to ask each manufacturer if each SSD we review has a flexible BOM for the major components and report the official response. Changes to the build of materials happen; we know that and see it firsthand all of the time. PNY went beyond a routine change by changing the main component of the Optima.
What if the flash changed from synchronous 3K P/E cycle MLC to asynchronous 1.5K P/E cycle MLC? Could that actually happen and a product retain the same model number? It has happened before, and that is why we can no longer recommend the Kingston V300 SSD. These are just two examples, but there are more. The Mushkin Chronos Deluxe started out with 3xnm Toshiba Toggle Mode flash, then moved to 25nm ONFi from IMFT when we used it to break a Vantage World Record, and now ships with 20nm ONFi flash. These changes are not subtle.
I would love to have manufacturers send us a certified letter with a notarized statement about BOM flexibility, but that will never happen. If we are not able to get a straight answer about the product in question from the manufacturer, then we may turn to the nuclear option. This is already on the table here at TweakTown, and others have already taken steps to limit exposure from smaller SSD resellers and manufacturers.
The nuclear option is very simple. In order to protect our reputation as a media outlet, we will only review SSDs from NAND flash manufacturers and those with a strong market position. Those companies include Crucial / Micron, Intel, SK Hynix, SanDisk, Samsung, and Toshiba / OCZ on the NAND flash side. Companies with a strong position in the market have firmware capabilities like Plextor. We have to group in AVANT companies as well due to their manufacturing capabilities and brand recognition.
Other companies like MyDigitalSSD, Corsair, and SuperSSpeed produce exciting products that go against the grain and often times offer superior corner case performance. Seagate's recent purchase of SandForce also puts the company on the list, but we would include both Seagate and Western Digital since both meet the multiple criteria points.
The SSD wild-wild west days are over.
PRICING: You can find products similar to this one for sale below.

United States: Find other tech and computer products like this over at Amazon.com

United Kingdom: Find other tech and computer products like this over at Amazon.co.uk

Australia: Find other tech and computer products like this over at Amazon.com.au

Canada: Find other tech and computer products like this over at Amazon.ca

Deutschland: Finde andere Technik- und Computerprodukte wie dieses auf Amazon.de
We openly invite the companies who provide us with review samples / who are mentioned or discussed to express their opinion. If any company representative wishes to respond, we will publish the response here. Please contact us if you wish to respond.