Thunderbolt - Do cables actually matter for performance?

If you are one that has jumped on the Thunderbolt bandwagon, whether it be for the performance the technology offers or the daisy chaining capabilities, Thunderbolt cables don't always make their way into the scope of delivery when you purchase a product.
When you find yourself in this situation, what cable do you go for? Is it worth the extra money to buy premium cables? Does it even matter?
Today, we will look over and test the performance of several brands of Thunderbolt cables and explore the performance characteristics of each along with exploring the differences in performance based on the length of the cable.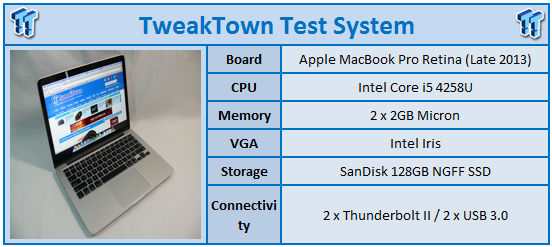 First, we will discuss our test system and how we will be testing. Our test platform for all Thunderbolt storage solutions is the Late 2013 13-inch Apple MacBook Pro Retina. Software used to test the performance of storage solutions starts with Diglloydtools disk tester with BlackMagic Disk Speed Test and Quickbench 4.0 complementing. In each of piece of software, we use sequential benchmarks to test the peak performance obtained via the LaCie Little Big Disk Thunderbolt 2.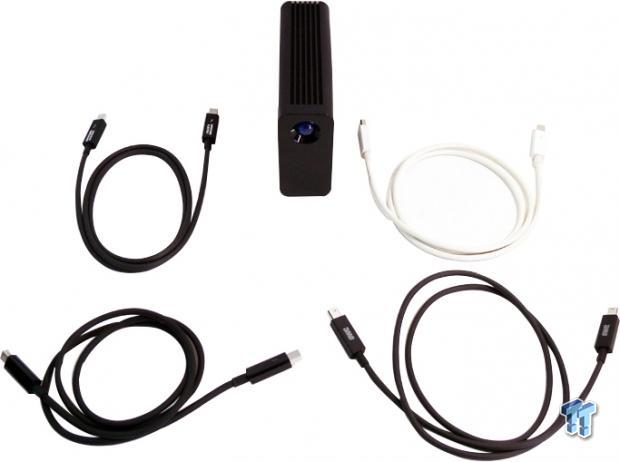 In our first image above, we have a set of four 40-inch, or 100cm, Thunderbolt cables. Vendors include Sumitomo Electric, StarTech.com, OWC, and the included cable with the LaCie Little Big Disk Thunderbolt 2.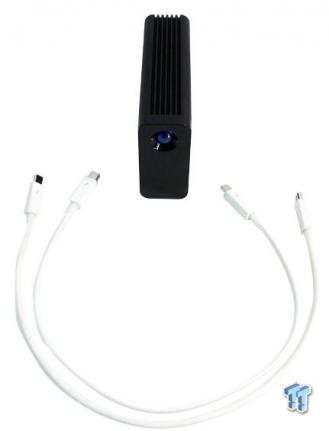 Here we have our second batch of shorter cables; these come in at 20in, or 50cm. Vendors of these cables are Apple and Akitio.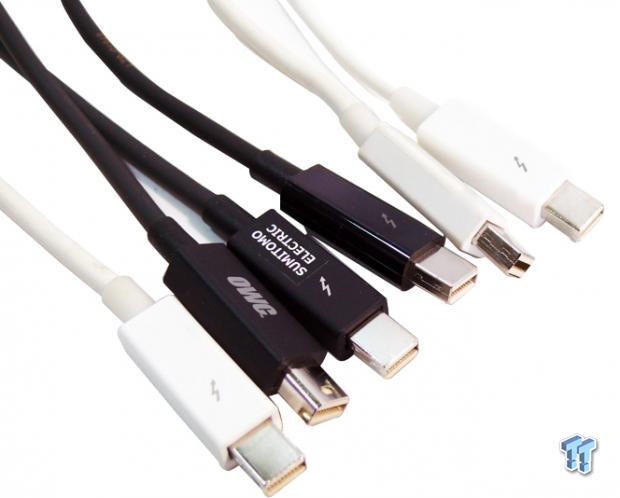 Here we have the connecting end of each cable lined up. All of these cables share the same quality from a visual inspection minus the Akitio, which uses a thinner wire for the length of the cable.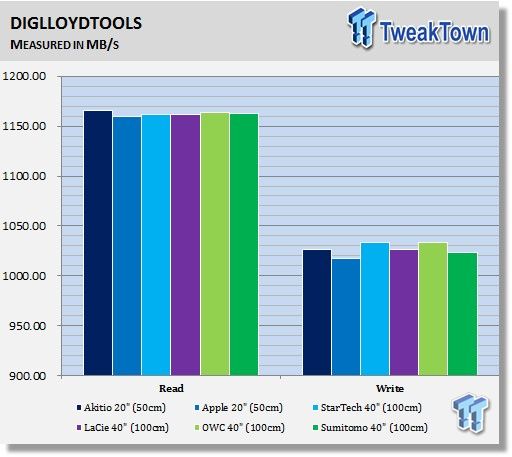 Starting the testing, we have our first benchmark and set of results. With Diglloydtools, we found each cable capable of delivering 1150 MB/s read and 1000 MB/s write with only minor fluctuations between each cable.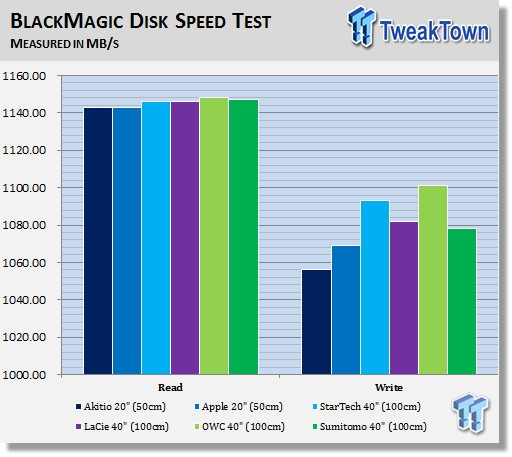 Next, we take a look at the results from Black Magic Disk Speed Test. Here we have read results between each cable bunched up again around 1140 MB/s, while the write results showed a 50 MB/s difference between the lowest performing Akitio cable and highest performing OWC cable.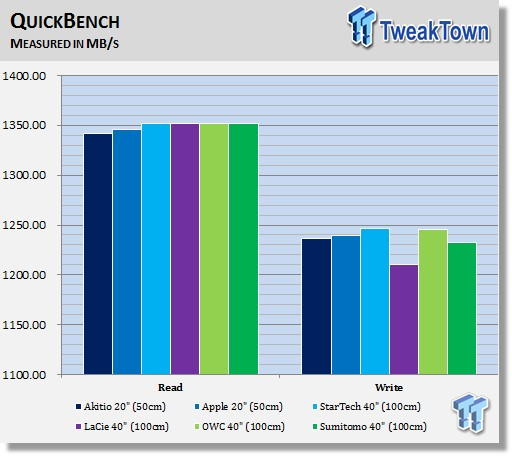 In our third benchmark, we take a look at the results from Quickbench 4.0. Here we have all cables performing near 1350 MB/s in read, while the write results show a 35 MB/s performance difference between the top and lowest performing cables.
Modern day Thunderbolt storage solutions like the latest Little Big Disk from LaCie are capable of intense throughput up to 1300 MB/s read and 1100 MB/s write. Surely you wouldn't want the cable that connects the device to your Mac or PC to be the weak link or rob you of performance you would have otherwise. So do cables matter?
To that, I would say it depends on your workload. If you are one that uses a read intensive workload, we found no major performance improvement or loss from using shorter cables or one that had a visually better build quality. The difference between the lowest and highest read speed was 6 MB/s. Now if you are one that has a heavily focused write workload, things are a bit different for you.
If we look at all of our write testing, you can clearly see the difference between the cables. In Diglloydtools, the difference between the highest and lowest performing cables was 10 MB/s. With Black Magic and Quickbench, the difference was greater at 50 MB/s.
What do you do if your purchased device did not come with a cable? Do you buy any cable off the shelf and go with it? Or is there truly a "best" cable for storage? If we go back and look at the results of all the testing, we can clearly see a trend where the StarTech 40-inch cable and the OWC 40-inch cable come out on top in every scenario.
Of course, cost of each cable will come into play when making a purchase decision as well; here we find the 0.5m, or 20-inch, Apple cable available for $29.99, while you can pick up the Startech.com and OWC 1m, or 40-inch, for $37.99 and $31.99, respectively.