Introduction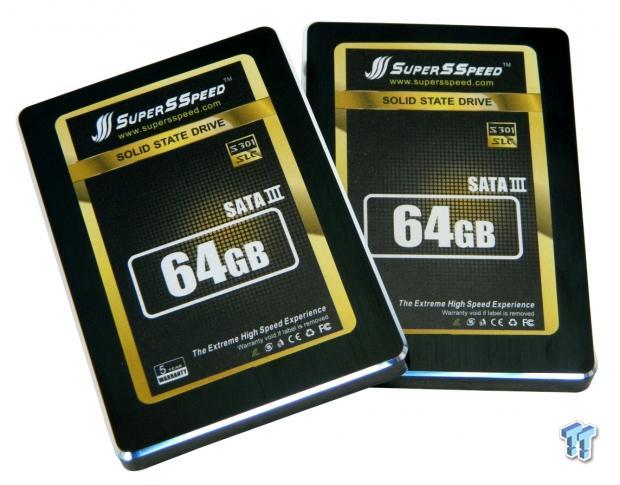 The newest and best MLC (Multi Level Cell) and TLC (Triple Level Cell) NAND technology both feature an emulated layer of SLC (Single Level Cell) baked right in. This emulated SLC layer is used to both accelerate write programming, and enhance endurance by consolidating random segments, and then flushes them sequentially to the larger MLC/TLC NAND array.
SLC emulation is accomplished by programming two or three bit per cell NAND Flash with one bit per cell. Programming a single bit per cell can be accomplished at a lower latency, which accelerates write speed. Programming a single bit per cell takes less voltage to perform, which translates into increased endurance. So, it's pretty easy to see why a pseudo layer of SLC will enhance the performance and longevity of MLC/TLC NAND Flash, and why we are seeing a trend towards this new technology.
Pseudo is nice, but it's nothing like the real deal. Originally, NAND Flash was all SLC, but the cost of production was, and still is, prohibitive to consumer SSD implementation. SuperSSpeed's S301 is a really rare bird. The S301 is a surprisingly affordable consumer based SSD, with a 100% SLC NAND Flash array onboard. No pseudo layer or fancy programming. It's the real deal.
There is a common misconception, perpetrated by the SSD industry, that an SSD's controller is primarily responsible for producing the speed of an SSD. Equally as important to performance is the quality, and type of NAND Flash utilized. One could even say that the NAND is actually more important than the controller when you consider that 85% of the cost of building an SSD is the NAND.
They say a picture is worth a thousand words, and I couldn't agree more:

The only real difference between these three SSD's is the NAND Flash. All three have the exact same LSI SandForce 2281 controller on board, as well as NAND arrays of identical capacity. Going left to right, we have MLC Asynchronous NAND, MLC Synchronous NAND, and finally (the good stuff), SLC Synchronous NAND.
As most of you know, capacity has a large impact on an SSD's write speed. Typically, the smaller the capacity, the slower the drive.
Today, we are going to show you what happens when you pair the highest quality NAND (SLC) with your average everyday SandForce 2281 SSD controller, and a very small capacity RAID 0 array. Let's see how this tiny array stacks up against the big boy's.
Specifications, Pricing and Availability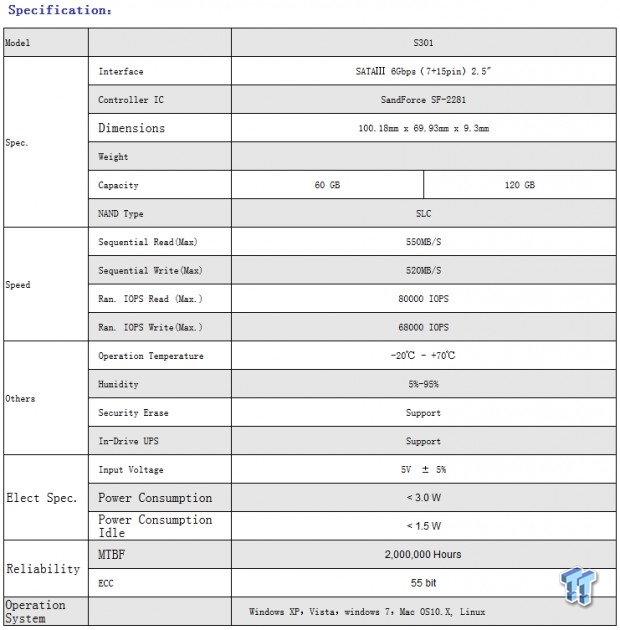 SuperSSpeed's S301 SATA III SSD is available in two capacity sizes: 64GB, and 128GB. Specifications list the 64GB S301 Series SSD as capable of 550MB/s (Max) sequential reads, and 520MB/s (Max) sequential writes. Random read/write speed is listed at up to 80,000/68,000 IOPS at 4K QD32. The S301 is available in a 2.5" x 9.3mm z-height form factor.
The 64GB S301 can be ordered directly from SuperSSpeed USA. The 64GB SuperSSpeed S301 we're looking at today retails for $150. This seems like a high price, but you get what you pay for in this case. SLC NAND has inherently superior performance, and vastly superior endurance to MLC NAND. Typically, SLC NAND is rated for 100,000 P/E (Program/Erase) cycles, and MLC NAND 3,000 P/E cycles. SuperSSpeed backs the S301 with an industry leading five-year warranty.
Since this is a RAID review, we are going to focus on performance rather than features. For a more in-depth look at the SuperSSpeed S301's feature set, I will refer you to Chris Ramseyer's extensive review of SuperSSpeed's S301 128GB SSD.
SuperSSpeed S301 64GB SSD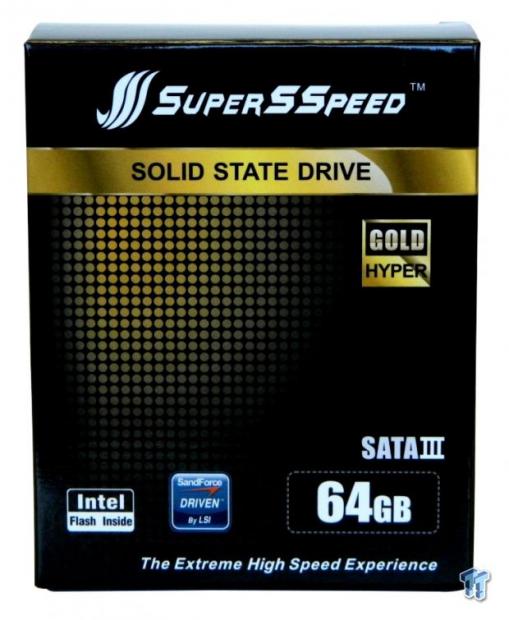 The S301 comes packaged in an attractive box colored black, gold, and white. The front of the box states the drives capacity, that it has Intel flash, it's SATA III, and will provide "The Extreme High Speed Experience". The side of the box states the model number, and that the drive is SLC.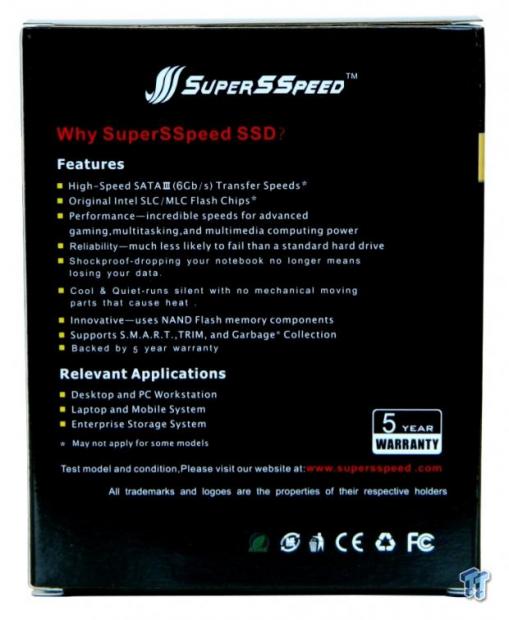 The rear of the box lists some attributes of Solid State Drives, and lets us know the drive is warrantied for five years.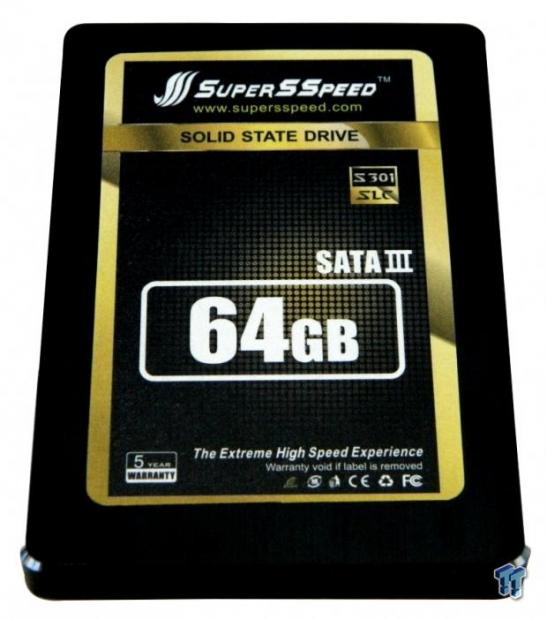 The top and sides of the drives enclosure are formed from a single piece of stamped aluminum colored black; rounded corners and beveled edges give it a nice touch. There is a sticker centered on the front of the drive that compliments the color of the drive. The sticker advertises the drives capacity, interface, five-year warranty, and SLC NAND.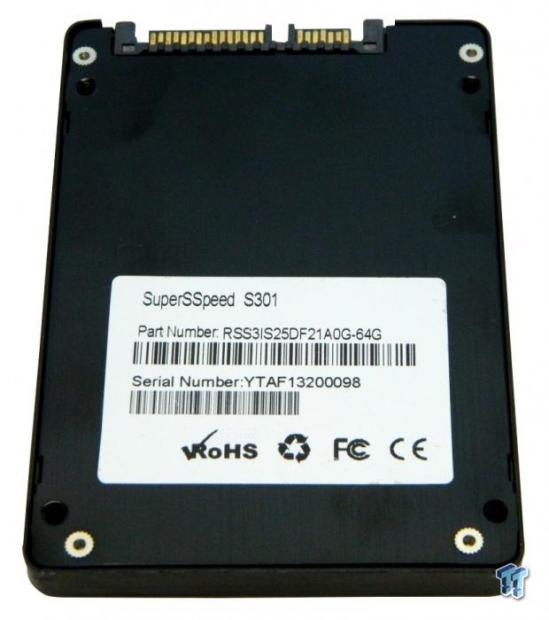 The bottom of the enclosure is another piece of stamped aluminum colored black. There is a sticker that lists the drives part number, serial number, and model.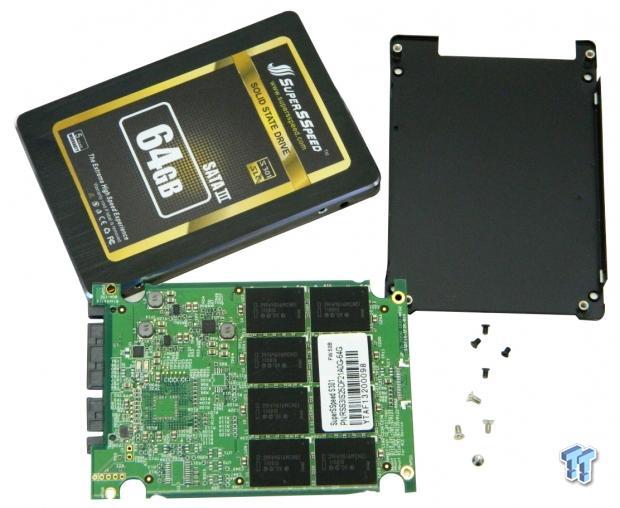 Here's what SuperSSpeed's S301 64GB SSD looks like completely disassembled. There are (8) 8GB SLC NAND packages on this side of the PCB. The drives LSI SandForce 2281 controller is located on the opposite side of the PCB.
Benchmarks - Test System Setup, Drive Properties & ATTO Baseline Performance
Desktop Test System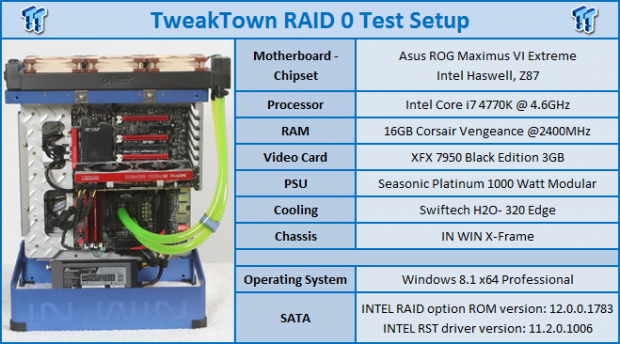 Drive Properties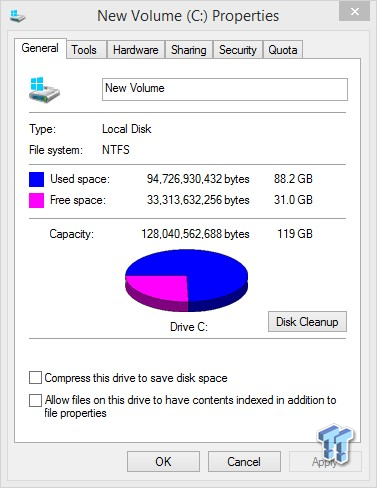 The majority of our testing will be done with our test drive/array as our boot volume. Our boot volume is 75% full for all OS Disk "C" drive testing, in order to mimic a typical consumer OS volume implementation. We're using 64K stripes for all of our arrays. Write caching is enabled.
Our testing includes charting the performance of a single drive, as well as a RAID 0 array of our test subject/s. We are utilizing Windows 8.1 64 Bit OS for all of our testing.
ATTO Baseline Performance
Version and / or Patch Used: 2.47
ATTO is a timeless benchmark used to provide manufacturers with data used for marketing storage products.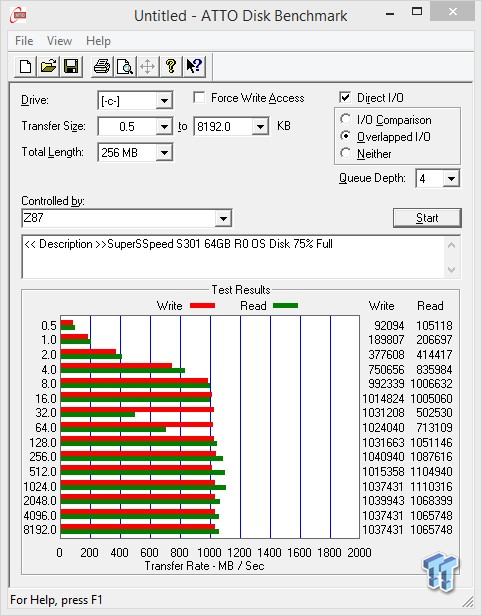 Performance ramps up quickly, hitting full speed by 8K transfers.
Sequential Write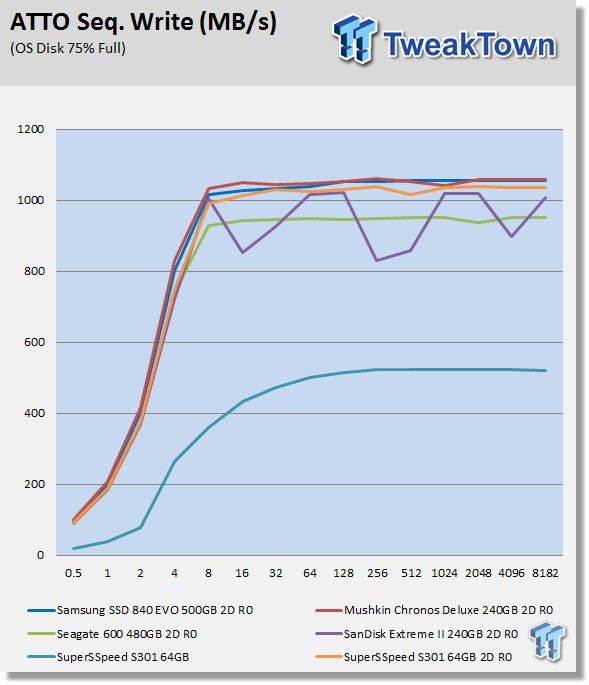 Our tiny array starts out performing very well, with better write performance than the Extreme II array, and the 600 series array. Capacity gives the Chronos Deluxe array a slight edge.
Sequential Read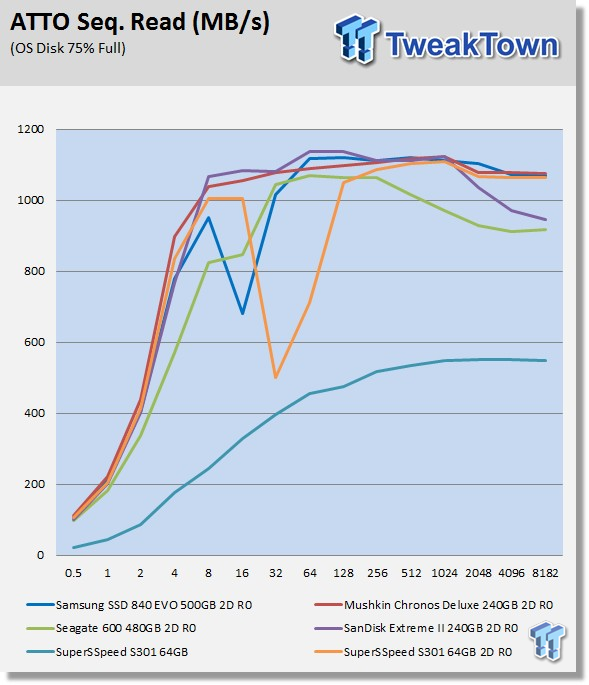 Some of the arrays on our chart, including the SuperSSpeed array that's our test subject, display a faux performance drop at 4K to 32K transfer sizes. We call this a faux performance drop because after the arrays have settled in, this performance anomaly disappears. Looking at 2K - 8K transfer performance, we see that our little SuperSSpeed array is able to outperform both the EVO array, and the 600 series array.
Benchmarks - Anvil Storage Utilities
Anvil Storage Utilities
Version and / or Patch Used: RC6
So what is Anvil Storage Utilities? First of all, it's a storage benchmark for SSD's, and HDD's, where you can check and monitor your performance. The Standard Storage Benchmark performs a series of tests; you can run a full test, or just the read or the write test, or you can run a single test, i.e. 4K QD16.
The software is used several different ways, and to show different aspects for each drive. We've chosen to use this software to show the performance of a drive with two different data sets. The first is with compressible data, and the second data set is incompressible data. Several users have requested this data in our SSD reviews.
0-Fill Compressible Data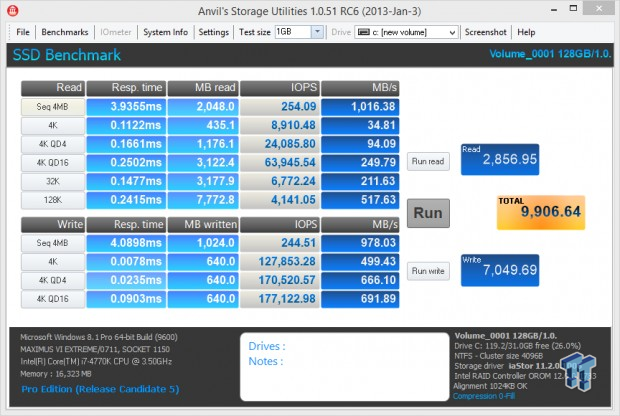 When data is compressible, our SuperSSpeed array can pump out Hyper-Class performance.
0-Fill Compressible Read IOPS through Queue Depth Scale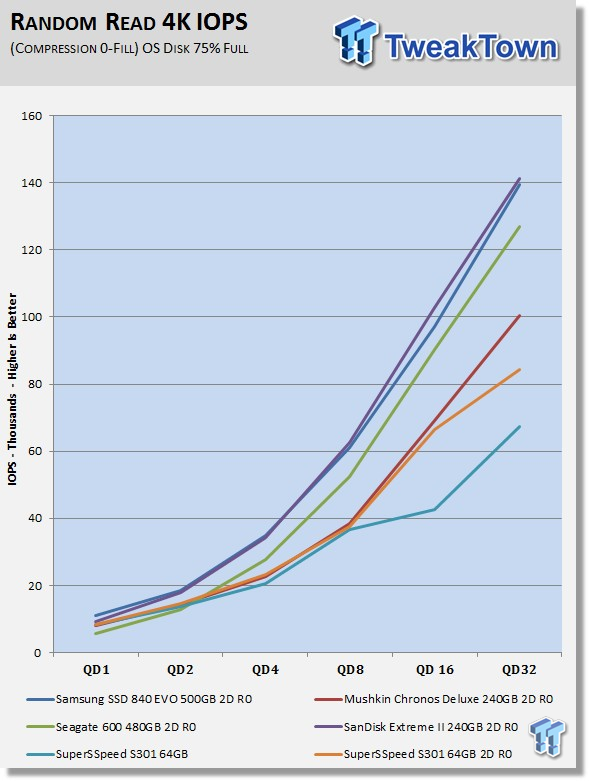 Compressible read performance is good at low queue depths where it matters most. As the commands ramp up though, our little array falls behind the larger arrays.
0-Fill Compressible Write IOPS through Queue Depth Scale
Compressible write performance is where LSI SandForce arrays outpace the competition. Our little SuperSSpeed array places second; it's slightly out done by our larger capacity Chronos (LSI SandForce) array.
Compression 100% Incompressible Data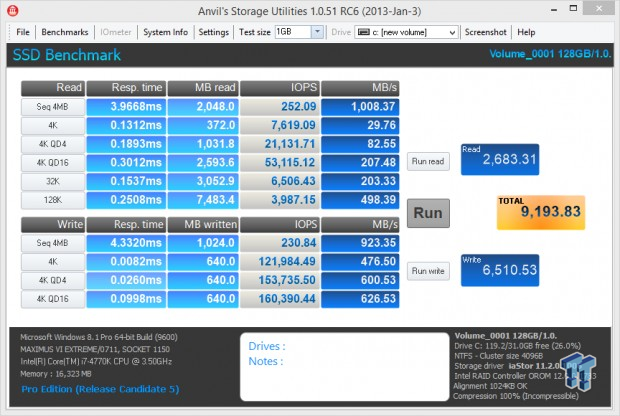 Incompressible data is a SandForce based drive's nemesis, unless there is SLC under the hood. Only the EVO array can score a higher point total than our little SuperSSpeed array in this test.
Incompressible Read IOPS through Queue Depth Scale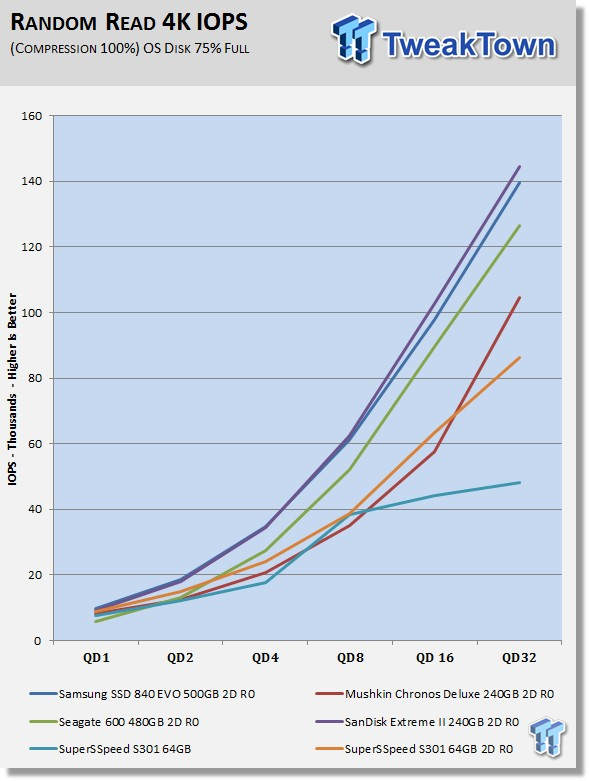 At QD1 -QD2 our SuperSSpeed array is markedly faster than the 600 series array, and the Chronos array. It's easy to see the superior performance of SLC, because our SuperSSpeed array, with only 25% the capacity of our Chronos array, is outperforming the Chronos array significantly from QD1 - QD16.
Incompressible Write IOPS through Queue Scale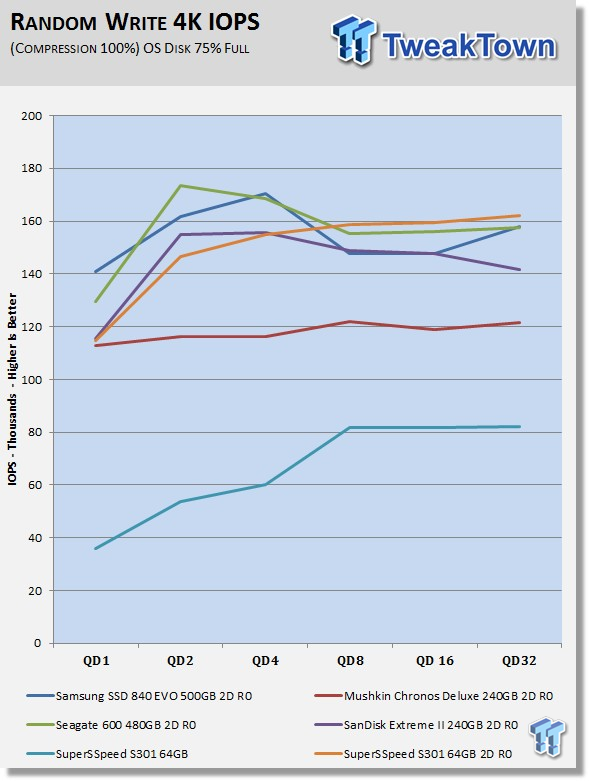 Here's where SLC comes into its own. Although both our SuperSSpeed array and our Chronos array have the exact same LSI SandForce 2281 controller, and even though our SuperSSpeed array is handicapped by its small capacity, the SuperSSpeed array smashes the Chronos array. By QD 32, our little SuperSSpeed array that's only one tenth the capacity of the EVO array, takes first place.
Benchmarks - CrystalDiskMark
CrystalDiskMark
Version and / or Patch Used: 3.0 Technical Preview
Developer Homepage: http://crystalmark.info
Product Homepage: http://crystalmark.info/software/CrystalDiskMark/index-e.html
Download here: http://crystaldew.info/category/software/crystaldiskmark
CrystalDiskMark is disk benchmark software that allows us to benchmark 4K, and 4K queue depths with accuracy.
Note: Crystal Disk Mark 3.0 Technical Preview was used for these tests, since it offers the ability to measure native command queuing at 4 and 32.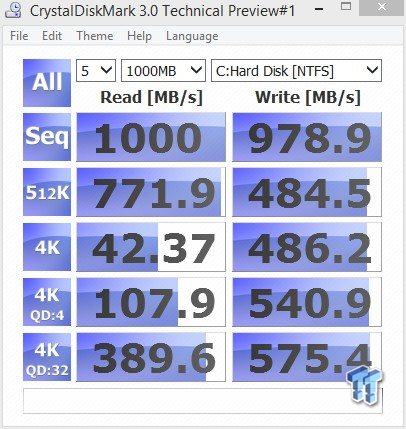 Take a look at that sequential write performance. Keep in mind that this is incompressible data, and this array is LSI SandForce 2281 powered.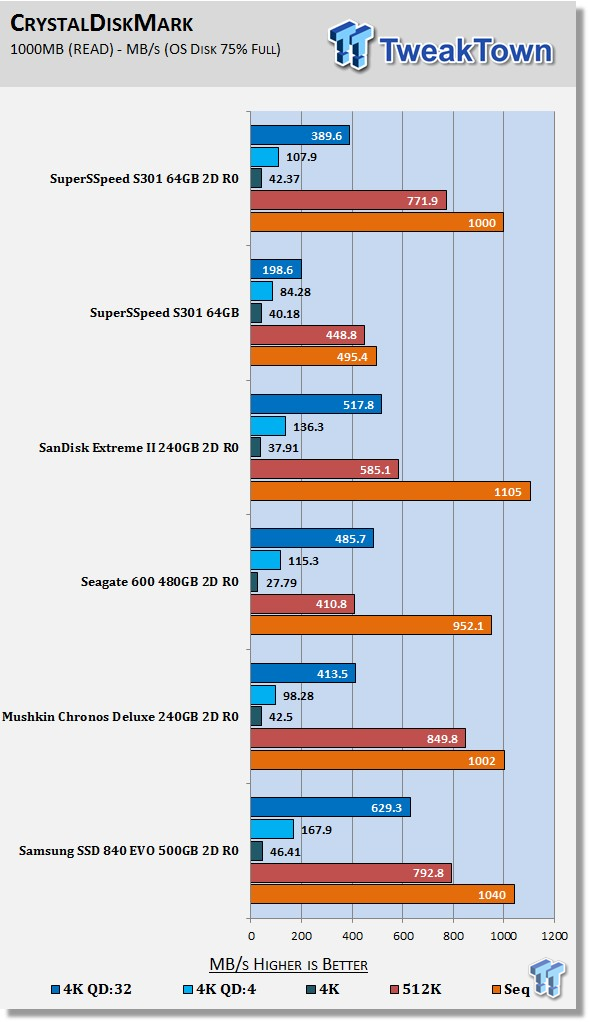 Our little SuperSSpeed array is able to hold its own against the much larger competition.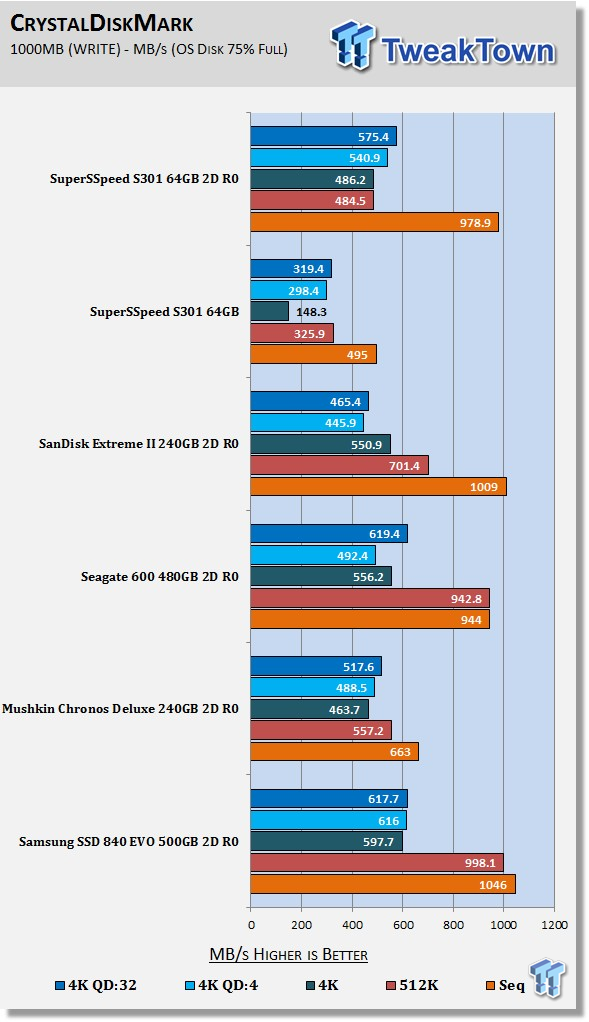 Compare the SuperSSpeed array to the Chronos array. They both have the exact same controller onboard, and even though the SuperSSpeed array is capacity handicapped, its superior SLC NAND delivers better performance.
Benchmarks - AS SSD
AS SSD
Version and / or Patch Used: 1.7.4739.38088
Product Homepage: http://alex-is.de/PHP/fusion/news.php
Download here: http://alex-is.de/PHP/fusion/downloads.php
AS SSD determines the performance of Solid State Drives (SSD). The tool contains four synthetic, as well as three practice tests. The synthetic tests are to determine the sequential and random read and write performance of the SSD. These tests are carried out without the use of the operating system caches.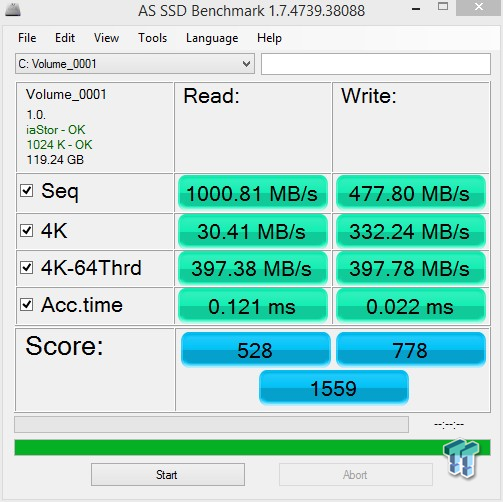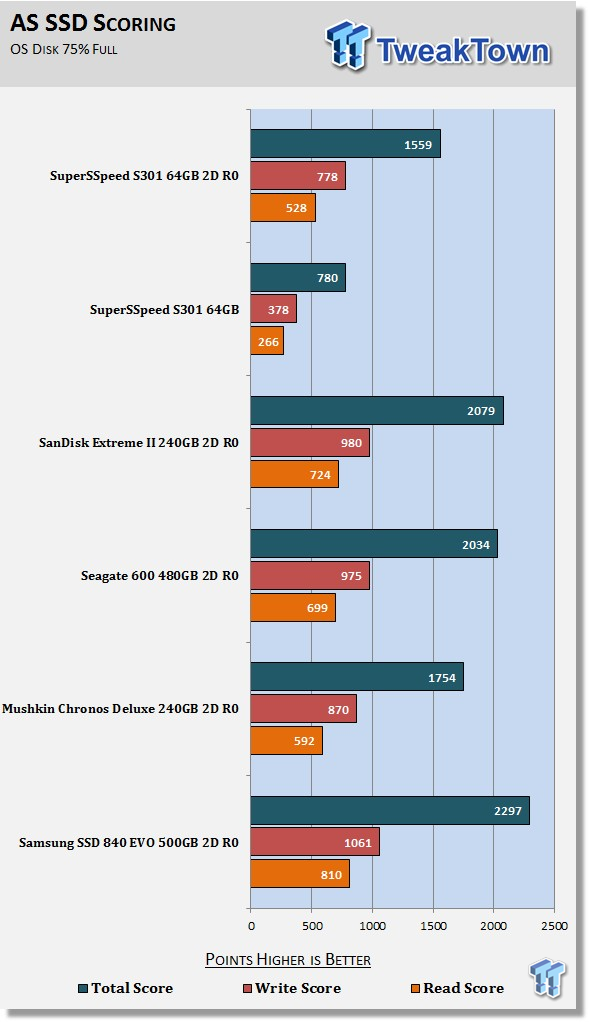 Our two drive SuperSSpeed array is able to double the score of a single drive.
Benchmarks - PCMark Vantage
PCMark Vantage - Hard Disk Tests
Version and / or Patch Used: 1.2.0.0
Developer Homepage: http://www.futuremark.com
Product Homepage: http://www.futuremark.com/products/pcmarkvantage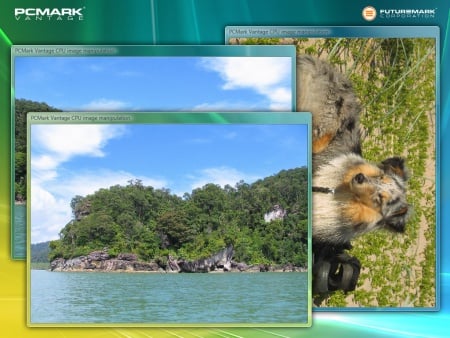 PCMark Vantage is the first objective hardware performance benchmark for PCs running 32, and 64 bit versions of Microsoft Windows Vista. PCMark Vantage is perfectly suited for benchmarking any type of Microsoft Windows Vista PC, from multimedia home entertainment systems and laptops, to dedicated workstations and high-end gaming rigs. Regardless of whether the benchmarker is an artist, or an IT Professional, PCMark Vantage shows the user where their system soars, or falls flat, and how to get the most performance possible out of their hardware. PCMark Vantage is easy enough for even the most casual enthusiast to use, yet supports in-depth, professional industry grade testing.
The reason we like PCMark Vantage, is because the recorded traces are played back without system stops. What we see is the raw performance of the drive. This allows us to see a marked difference between scoring that other trace based benchmarks do not exhibit. An example of a marked difference in scoring on the same drive would be empty vs. filled vs. steady state.
We run Vantage in three ways. The first run is with the OS drive/Array 75% full, to simulate a lightly used OS volume filled with data to an amount that we feel is common for most users. The second run is with the OS volume written into a "Steady State," utilizing SNIA's guidelines (Rev 1.1). Steady state testing simulates a drive/array's performance similar to that of a drive/array that has been subjected to consumer workloads for extensive amounts of time. The third run is a Vantage HDD test, with the test drive/array attached as an empty, lightly used, secondary device.
OS Volume 75% full - Lightly Used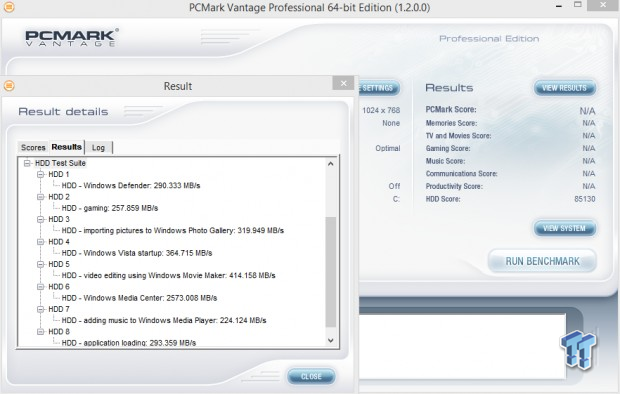 OS Volume 75% full - Steady State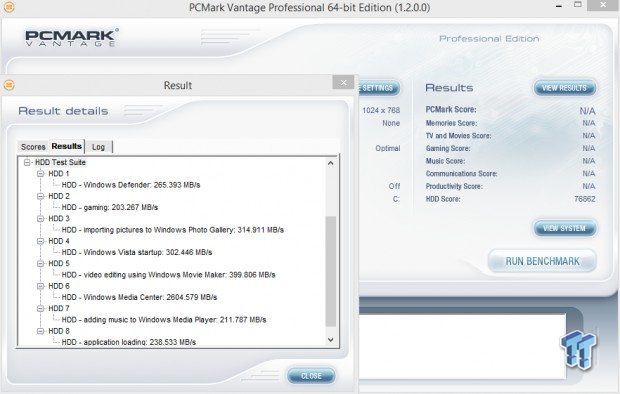 Secondary Volume Empty - Lightly Used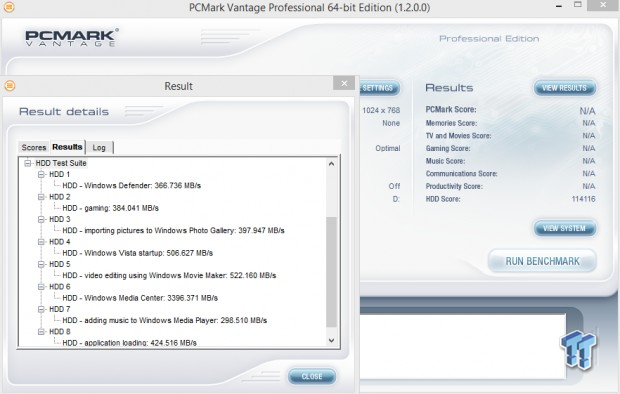 As you can see, there's a big difference between an empty drive/array, one that's 75% full/used, and one that's in a steady state.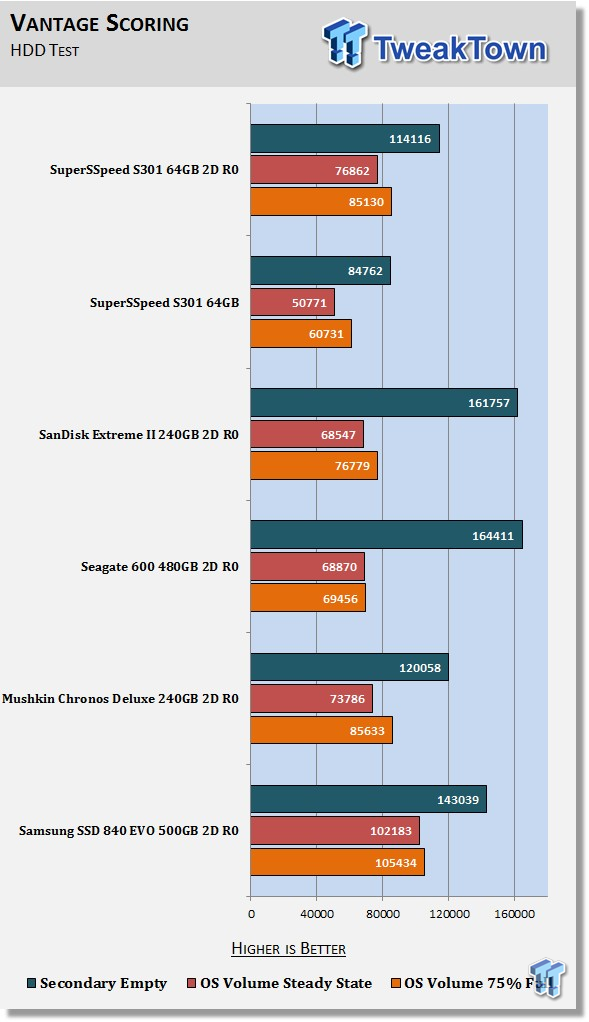 The important scores to pay attention to are "OS Volume Steady State," and "OS Volume 75% full". These two categories are most important, because they are indicative of typical of consumer based user states.
When a drive/array is in a steady state, it means garbage collection is running at the same time it's reading/writing. There's a huge difference in performance between a single drive and a two drive array. This chart shows exactly why the 64GB SuperSSpeed S301 is affectionately known as the Giant Killer. Despite being severely capacity handicapped, our little SuperSSpeed array is the second fastest two drive SATA based array we've ever tested in a steady state.
Benchmarks - PCMark 7
PCMark 7 - System Storage
Version and / or Patch Used: 1.4.00
Developer Homepage: http://www.futuremark.com
Product Homepage: http://www.futuremark.com/benchmarks/pcmark7
PCMark 7 includes seven PC tests for Windows 7 & 8; combining more than 25 individual workloads covering storage, computation, image and video manipulation, web browsing, and gaming. Specifically designed to cover the full range of PC hardware from netbooks and tablets, to notebooks and desktops, PCMark 7 offers complete PC performance testing for Windows 7 & 8 for home, and business use.
We will look to the RAW system storage scoring for RAID 0 evaluations, because it's done without system stops, and therefore allows us to see significant scoring differences between drives/arrays.
OS Volume 75% full - Lightly Used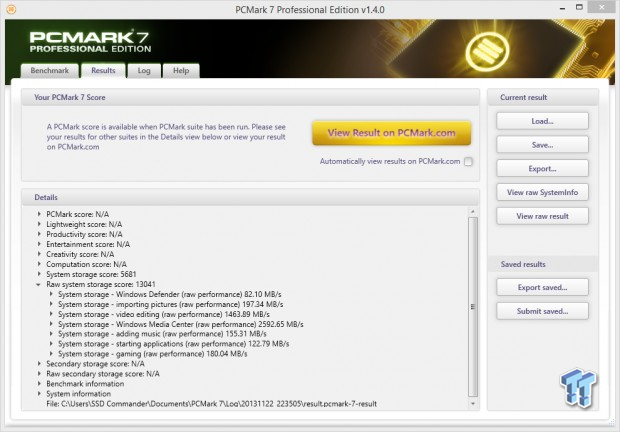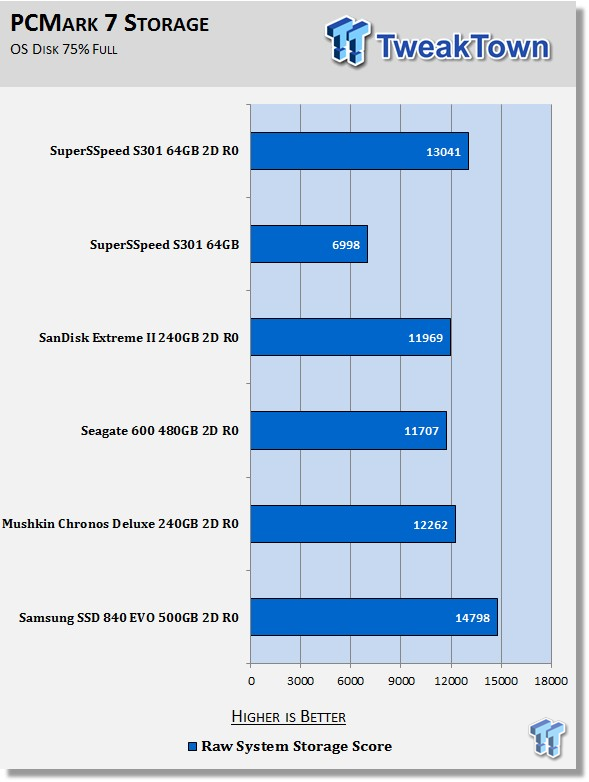 PCMark 7 scoring validates what we saw with our Vantage testing. The little SuperSSpeed array can beat all but the EVO array.
Benchmarks - PCMark 8
PCMark 8 - Storage Bandwidth
Version and / or Patch Used: 1.2.157
Developer Homepage: http://www.futuremark.com
Product Homepage: http://www.futuremark.com/benchmarks/pcmark8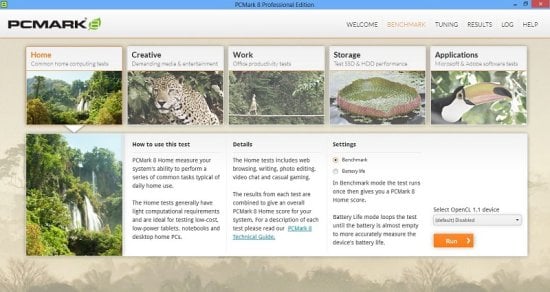 PCMark 8 is FutureMark's latest version of their popular series of PC benchmarking tools. PCMark 8 improves on previous releases by including battery life measurement tools, and new tests using popular applications from Adobe and Microsoft. Whether you are looking for long battery life, or maximum power, PCMark 8 helps you find the devices that offer the perfect combination of efficiency, and performance for your needs.
Use the PCMark 8 Storage benchmark to test the performance of SSDs, HDDs, and hybrid drives, with traces recorded from Adobe Creative Suite, Microsoft Office, and a selection of popular games. You can test the system drive, or any other recognized storage device, including local external drives. Unlike synthetic storage tests, the PCMark 8 Storage benchmark highlights real-world performance differences between storage devices.
PCMark 8's Storage Performance Benchmark is an absolute beast of a test. The benchmark beats the hell out of your drive/array for well over an hour, resulting in a very thorough evaluation of a drive/array's real-world performance.
OS Volume 75% full - Lightly Used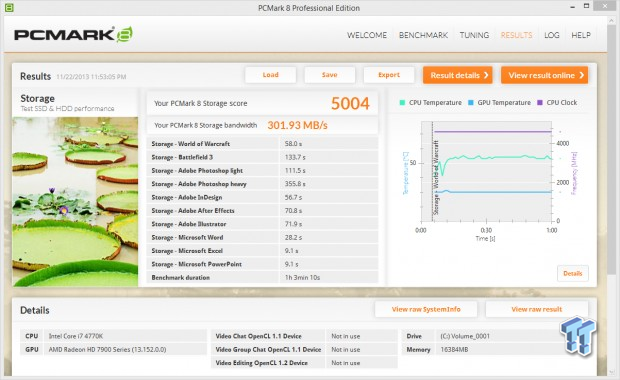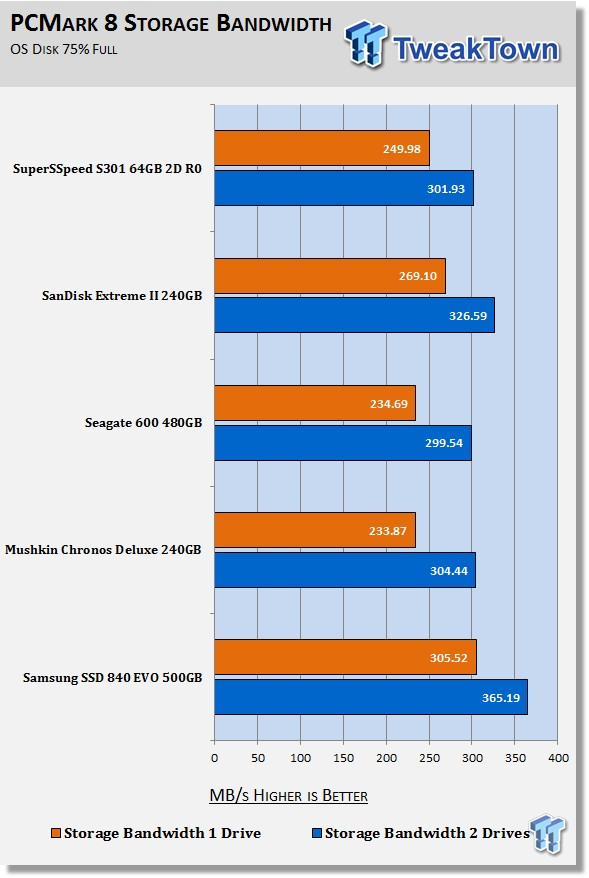 The SuperSSpeed's capacity handicap manifests itself in this test. The larger arrays (with the exception of the 600 Series array) have more storage bandwidth.
Secondary Volume Benchmarks - Blackmagicdesign's Disk Speed Test
Disk Speed Test
Version and / or Patch Used: 2.1.1
Product Homepage: http://www.blackmagicdesign.com
Disk Speed Test is an easy to use tool to quickly measure, and certify your disk performance for working with high quality video! Simply click the start button, and Disk Speed Test will write test your disk using large blocks of data, and then display the result. Disk Speed Test will continue to test writes and reads from your disk, so you can evaluate both performance, and readability, over time.
We rate a drive/array's video capabilities by the number of different categories that the device is capable of passing. The maximum number of tests that are possible to pass are 45 write tests, and 45 read tests. We chart the number of tests a disk/array is capable of passing, for a comparison of one drive/array verses another.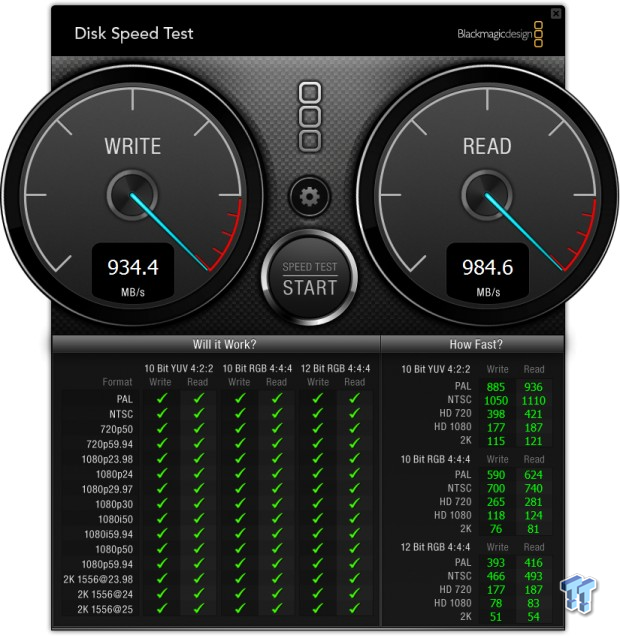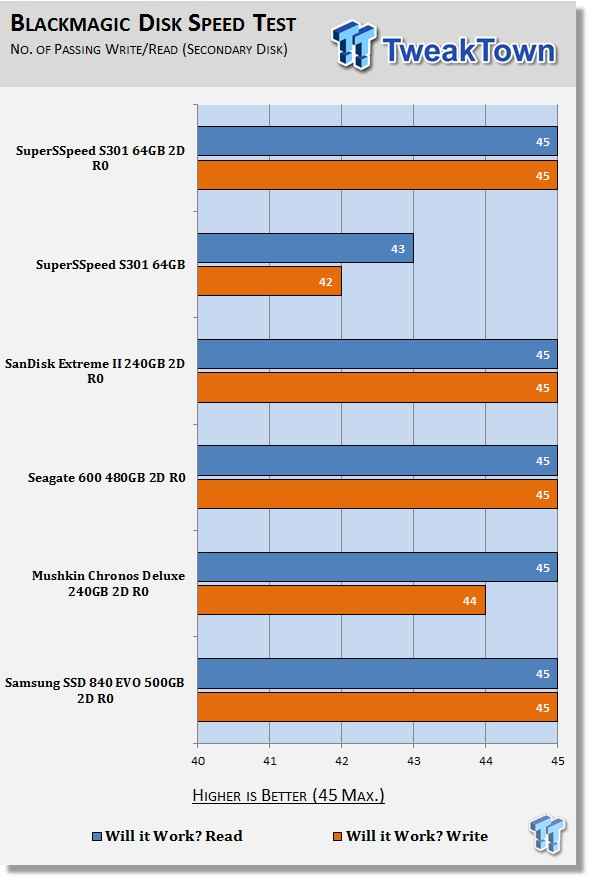 It's very hard for a single drive to be completely HD video capable. This is why serious video processing is almost exclusively done utilizing RAID arrays. Sequential incompressible performance is the name of the game when it comes to video processing. The Chronos array is not completely HD video capable, but our little SuperSSpeed array is thanks to its superior SLC NAND.
Secondary Volume Benchmarks - Disk Response Times
Iometer
Version and / or Patch Used: 1.1.0
Product Homepage: http://www.iometer.org
Download here: http://sourceforge.net/projects/iometer
Iometer is an I/O subsystem measurement, and characterization tool, for single and clustered systems. It was originally developed by the Intel Corporation, and announced at the Intel Developers Forum (IDF) on February 17, 1998. Since then, it's become wide spread within the storage industry.
We use Iometer to measure disk response times. Disk response times are measured at an industry accepted standard of 4K QD1 for both write, and read. Each test is run twice, for 30 seconds consecutively, with a five second ramp-up before each test. The drive/array is partitioned and attached as a secondary device for this testing.
Write Response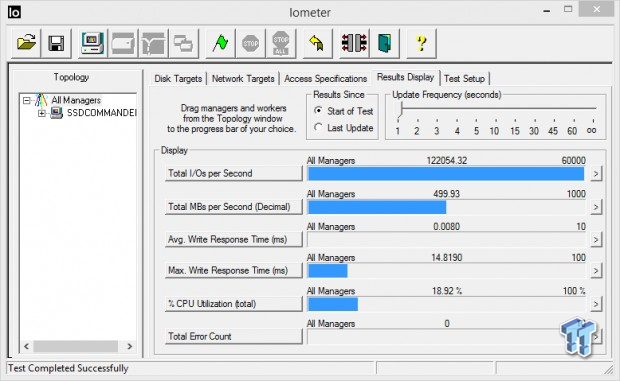 Read Response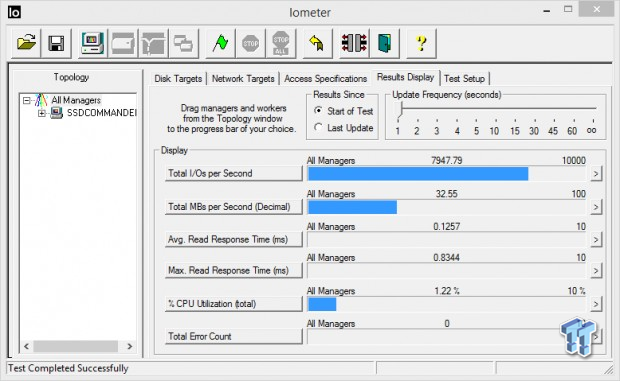 Average Disk Response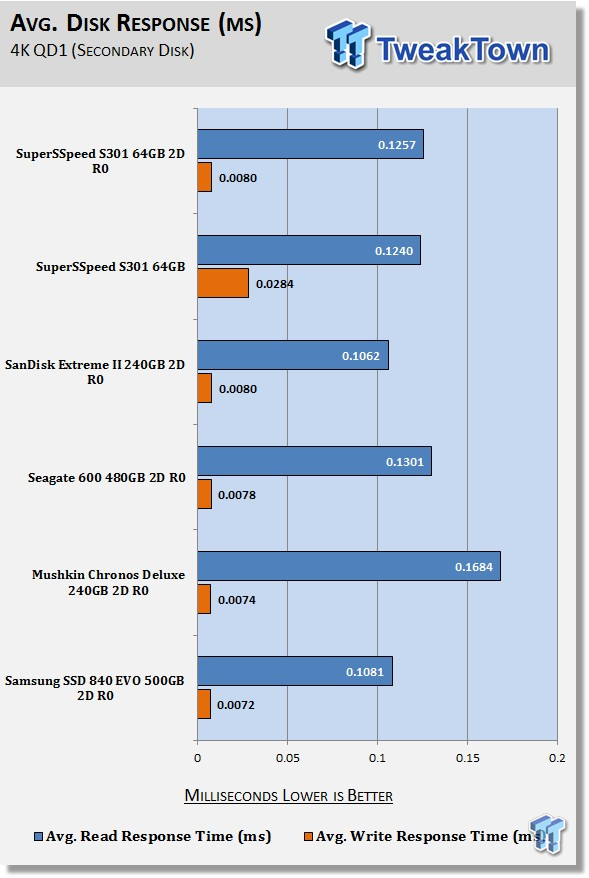 Write response times benefit most from RAID 0 because of write caching. There is a slight latency increase in read response times for an array vs. a single drive. The Chronos array has slightly faster write response times than the SuperSSpeed array; however, the SuperSSpeed array has vastly superior read response times in comparison to the Chronos array.
Secondary Volume Benchmarks - DiskBench
DiskBench - Directory Copy
Version and / or Patch Used: 2.6.2.0
Developer Homepage: Nodesoft
Product Homepage: DiskBench
Download here: http://www.nodesoft.com/diskbench/download
We use DiskBench to time a 28.6GB block (9,882 files in 1,247 folders) of mostly incompressible random data, as it's transferred from our OS array, to our test drive/array. We then read from a 6GB zip file that's part of our 28.6GB data block, in order to determine the test drive/array's read transfer rate. The system is restarted prior to the read test to clear any cached data; insuring an accurate test result.
Write Transfer Rate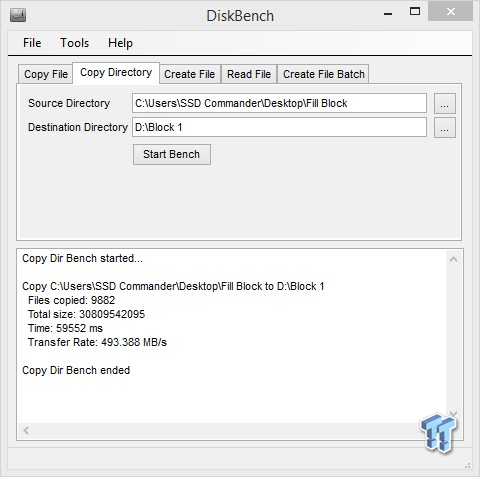 A 493 MB/s write transfer rate for a 128GB total capacity array is so good, it's almost unbelievable.
Read Transfer Rate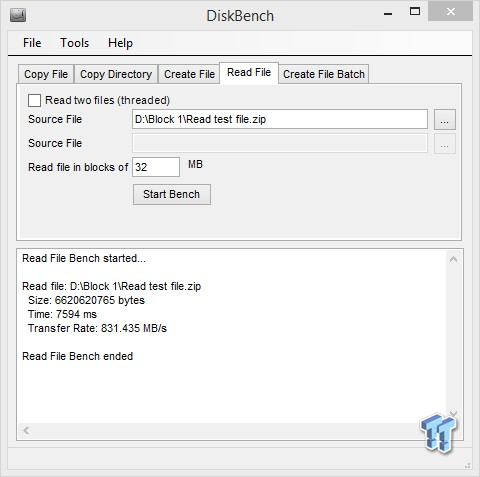 LSI SandForce controlled drives have awesome read transfer performance.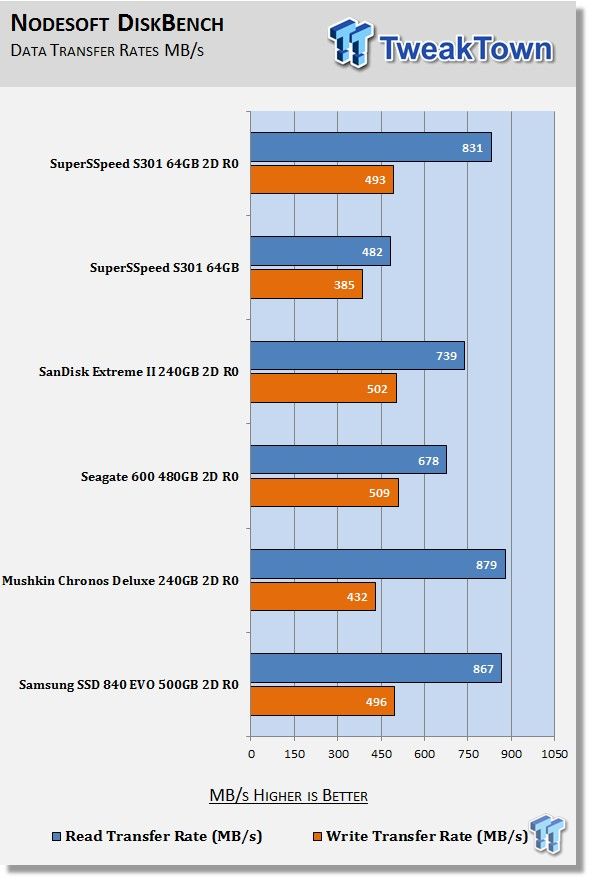 This test is definitely where the rubber meets the road. This is a huge chunk of random incompressible data we're transferring. SLC clearly shows superior performance in this test. Despite being severely capacity handicapped, our SLC powered SuperSSpeed array has way better write performance than the Chronos array, even though they are both powered by the exact same LSI SandForce 2281 controller.
Final Thoughts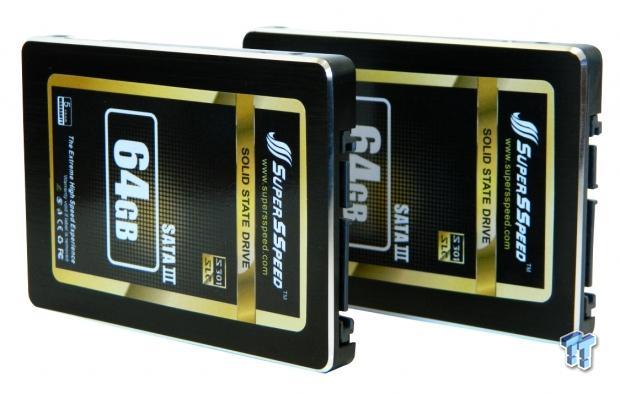 Solid state storage is the most important performance component found in a modern system today. Without it, you do not even have a performance system.
SuperSSpeed is owned by Richmax Technology Company, based in Shenzhen Guangdong China. Richmax is an official Intel NAND flash partner, which is probably the reason they can offer a consumer oriented SLC equipped SSD that doesn't cost thousands of dollars. SuperSSpeed's S301 is probably the best damn SSD you've never heard of.
The S301 is without a doubt the fastest 64GB SSD ever made, despite being powered by a controller that's over two years old. The S301 gives us the perfect medium to show you why NAND matters. I would love to see SLC implemented into more consumer based SSD's; however, the trend is quite the opposite. We are seeing NAND with less and less performance and endurance as lithography shrinks, and bits per cell increases.
Like I stated earlier in this review, pseudo is nice, but it's nothing like the real deal. The S301 with its 100% SLC NAND array is the real deal, and is capable of remarkable performance that gets even better in RAID 0. What stands out to me is the way this little SuperSSpeed array can outperform arrays that have up to ten times its capacity. Vantage steady state testing is a brutal test that brings most drives/arrays to their knees, but not our little S301 array. Our S301 array delivered the second best steady state performance we've witnessed to date, which is the reason TweakTown has affectionately dubbed the 64GB SuperSSpeed S301: the "Giant Killer".
RAIDing two or more drives together provides you with storage that takes performance to the next level, and is something I recommend you try. Once you go RAID, there's no going back.