The State of Solid State 2013 Edition
It's been two years since Chris released his signature series that covers the SSD market. Today he talks about OCZ, next-generation NAND and more.
Published
8 minute read time
Introduction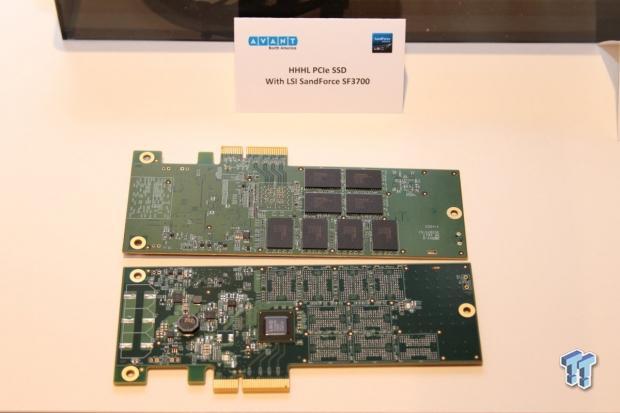 After a quarter focusing on NAS products, some of you may have thought I walked away from the SSD market. I can assure you that's not the case. For nearly two years I worked on new methods to test NAS products beyond the industry standard single client: NASPT tests. In the review market, it isn't enough to have superior testing methods to gain the attention of manufacturers. Just having a big stick isn't enough; you have to swing it around too. Our new test methods paid off with an exclusive review of the new Seagate Business Storage NAS and brought Netgear, the company that shipped the most NAS products in 2012, onboard. With a mature 120-client test under our belts, we're moving on to 400 clients and new sophisticated tests with our Load DynamiX (formally SwiftTest) 5000 test appliance.
For the last year Paul, Jon, Tyler, and I worked on new testing methods for solid state drives. We've teased some of the new tests in reviews over the last year to gain greater insight into specific products, but validation of new tests takes time. Once unleashed, our readers will have a new understanding of SSD technology and performance after the fresh-out-of-box feeling is gone. We're in the final stages of test validation and running through drives for the performance charts now. Just as multi-client testing changed the way we look at NAS products, true consumer steady state testing will change the way you purchase SSDs.
We're not talking about testing today though, we have more important things to discuss. Just days ago OCZ Technology announced bankruptcy. The company once owned nearly 50% of the USA SSD market share falls from grace. While it seems like a big deal, OCZ leaves the market with a 4% share, IP for sale, and a lot of customers who may never see a warranty claim or firmware upgrade from the company.
That's where we'll start today.
OCZ ('s IP) Technology
(Pulls up to a drive through window) I'll take the Indilinx and PLX IP. Give me SANRAD too; leave the rebates and RMA off the bun.

I'm not going to worry about how OCZ got to this point, we'll discuss some of that later when we talk about the 'fab companies', let's focus on what's going to happen with the OCZ's technology.
There are two camps right now: those who believe in the Indilinx Barefoot 3 and those who think it's a reworked Marvell controller with Indilinx firmware. Over the last year, we've seen several enterprise SSD markers with controllers scooped up by larger companies. HGST, sTec, Link_A_Media Devices, SandForce, and SMART Storage all come to mind, but others with IP were swallowed whole by larger players in the storage market. OCZ was not scooped though.
In a recent meeting with Marvell, we were told a new controller costs between $100 and $150 million dollars to bring to market. It's been a long time since OCZ Technology had a spare $100M sitting around. Even if Indilinx had most of the controller design taken care of, the dollars don't make a lot of sense. Personally, my skepticism comes from Vertex 4. OCZ led us to believe it was an OCZ controller. Then, when testing the Toshiba THNSNH 128GB and 256GB drives, some of the same performance oddities tipped up in those products even though the controller read Toshiba and Marvell.
I find it interesting that Toshiba made an offer to purchase the OCZ assets prior to OCZ announcing the bankruptcy; just weeks before one of our insiders told us that Toshiba was taking a close look at OCZ. A week later, OCZ announced Vector 150 with Toshiba 19nm Toggle flash.
Moving forward, the Toshiba asset acquisition makes sense. A recent report stated that Seagate plans a bidding war for OCZ, but we just don't see it. At one time, Seagate looked at the books and we hear it got as far as an offer, but it Seagate pulled out at the last minute. Seagate may still have interest but Barefoot 3 or not, it doesn't make sense for Seagate to acquire OCZ's assets.

The reason why Toshiba is a good fit and Seagate isn't comes down to flash. Toshiba is a fab company; they make the flash but don't have a controller. Seagate on the other hand sources flash from Toshiba and Samsung. If Seagate acquires a controller, the only current model fast enough to compete with the 840 Pro, will Samsung feed Seagate flash for enterprise SSDs? If Seagate steps on Toshiba's toes, will Toshiba sell Seagate flash for consumer SSDs? Regardless, OCZ's IP portfolio will go somewhere, but it'll be at least a year before we see a new product come from it.
I'm just as certain on this next part. Your OCZ SSD warranty will not survive past bankruptcy. No one wants to buy debt and a company declares bankruptcy to shed debt. I wouldn't even try to RMA a halfway working drive to OCZ right now, because you might not get anything back. If you have OCZ SSDs, update the firmware before the server goes down due to an unpaid bill.
UPDATE - On December 1, TweakTown spoke with OCZ and the company will honor warranties. On December 2nd, OCZ released a statement that says the company signed an asset purchase agreement with Toshiba worth $35 million. OCZ will continue to operate and serve existing and future customers during this process.
Essentially, Toshiba will foot the bills while the Chapter 11 proceedings take place. This eases our warranty warnings until Toshiba takes the reigns. At this time it's unclear if Toshiba will honor existing warranties after the acquisition, but doing so would keep the OCZ faithful happy.
The Rise of the Fab Companies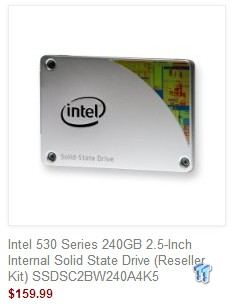 In order for the six NAND flash manufactures to rise, the third party customers need to fall. The most expensive part in a SSD, after you have the technology, is the NAND flash. There are six companies who make the NAND flash, Intel, Micron, Toshiba, SanDisk, Samsung, and SK Hynix. Simply put, these companies are the godfathers; they have every other SSD maker at their mercy.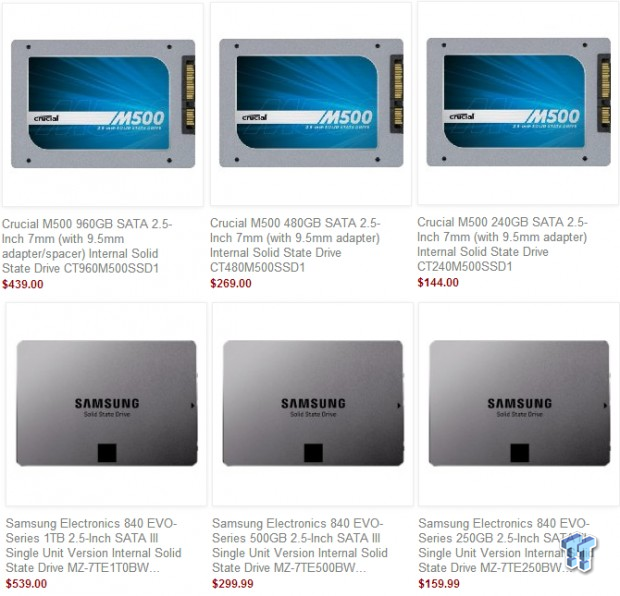 Mercy is what the fab companies are not going to give, not anymore. Going into Black Friday, several SSDs were down to 50 cents per GB in the larger capacity models. Seagate, Mushkin, and a few others responded with low prices, but I don't think we'll see them survive the squeeze for very long. We've seen great names fall before in other markets. A great company name doesn't mean life is eternal; Abit comes to mind.
OCZ's CEO stated the company had issues purchasing flash. It wasn't a total flash lockout and the company's finances played a role. I doubt anyone at Samsung or Crucial is crying tonight because OCZ, the company who put a hurting on Crucial's C300 and Samsung's 840 Pro with competitive products, went under.
In early 2013, NAND flash supply decreased due to poor yields at IMFT (Micron and Intel). NAND flash prices increased and retail prices went back up to $1 per GB, sometimes higher. IMFT's second gen 20nm flash has started rolling and the experts predict excessive flash in 2014. This is good news for retail prices from the fab companies, but it doesn't mean they will sell NAND to third party SSD makers at prices that make the third party guys completive.
Controllers for Everyone... almost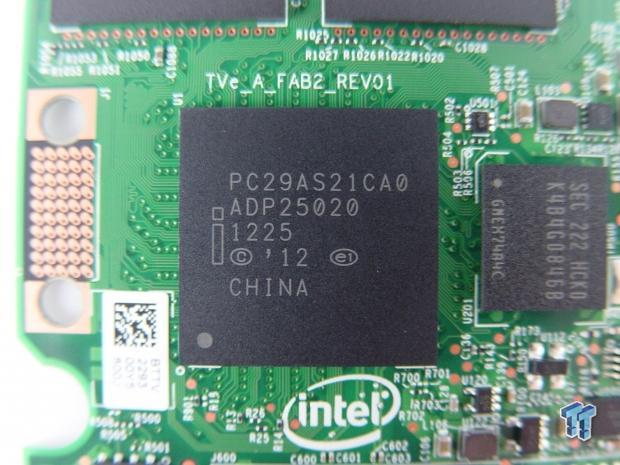 In July, Micron publicly stated the company is working on a SSD controller. Until now, Micron used JMicron and Marvell controllers and developed their own firmware. Firmware seems to be the difficult part since SSD controllers are essentially programmable ASICs. Samsung, Intel, and SK Hynix have their own controllers, the latter from the purchase of Link_A_Media Devices (LAMD).
That leaves SanDisk and Toshiba as customers for controllers. SanDisk acquired Smart Storage, maker of great firmware, and Pliant before Smart. Toshiba has a nice semi-custom controller now in the Q-Series products. The controller is labeled Marvell and Toshiba, but doesn't use a DRAM buffer and we don't know of anyone else with it.
Just weeks ago, we inquired about the Toshiba / Marvell controller with a Marvell rep. and were told to talk to Toshiba about the controller because it has both Toshiba and Marvell IP.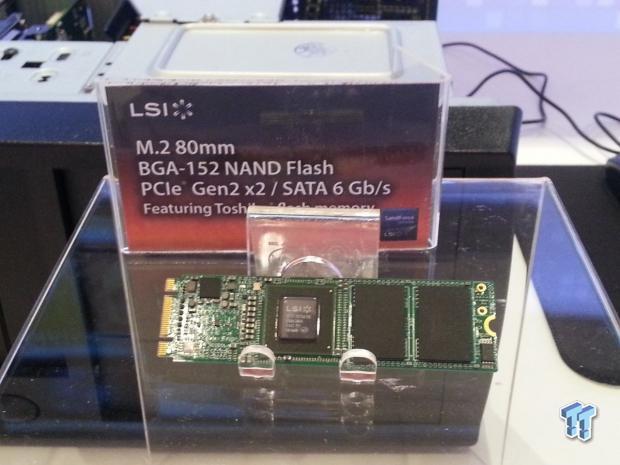 Although not a fab company, LSI's SandForce division has a habit of outperforming everything else on the market upon a new controller release. Two weeks ago, we saw working silicon at LSI's AIS event and walked away impressed. The SF3700 Series is the most advanced controller SandForce has ever created, and with early hardware, is already capable of reading data at 1,800 MB/s.
The SF3700 is a new nine-channel controller that we should see more of at CES. At this time, I suspect we won't see products for sale until the second half of 2014. We're working on a special performance preview article for CES already. We'll know more about early SF3700 performance in just over a month.
16nm and 3D - Futuristic Flash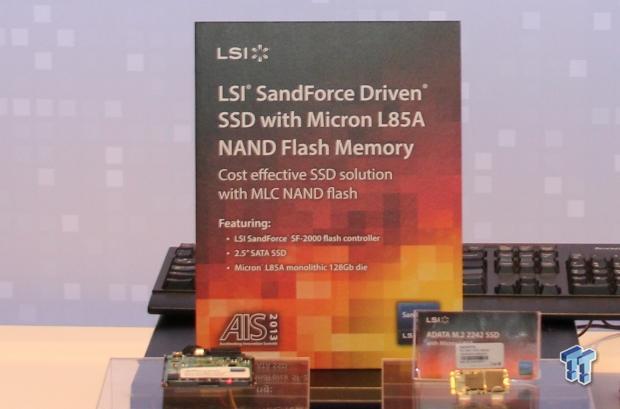 Everyone was buzzing about second-generation 20nm Micron flash, L85, at LSI's AIS event. The same is true for Toshiba's second-generation 19nm flash, A19. This is flash though, and the next generation is always around the corner. Micron is already talking about 16nm NAND flash for future SSDs. We're not sure how many NAND die moving from 20nm to 16nm will add to each wafer, but reducing the manufacturing cost for the most expensive part in an SSD is always a good thing.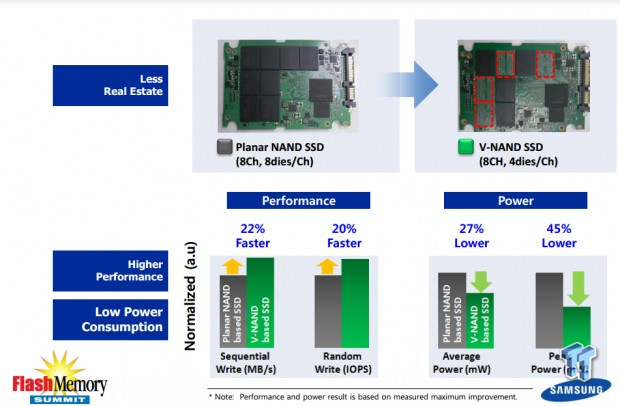 Samsung has its own ideas about NAND. Samsung's future is vertical. Stacked 24 cell layers high, V-NAND promises to increase performance and reduce power consumption; all while dipping below the company's current 19nm process.
In his The Memory Guy blog, Jim Handy created one of the best 3D NAND information repositories via a series on the subject. If you are interested in learning about 3D NAND and Samsung's new V-NAND, head over for a read.
By shifting from planar 2D NAND to a 3D technology, the pressure is instantly removed from lithographic scaling. Cost reduction is no longer solely determined by shrinking the horizontal patterns on the surface of the chip. Instead, it becomes a factor of how many transistors you can make in a single vertical string.
Although Samsung and Micron have new NAND in production, I don't expect to see 16nm until 2015 or Samsung V-NAND until Samsung SSD Global Summing mid-2014 (as long as neither company runs into issues).
Forward Looking Statements and Final Thoughts
Forward Looking Statements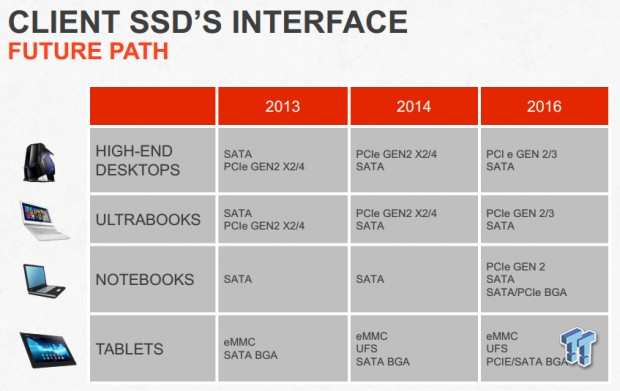 Over the next six months, I suspect we'll see more PCIe based drives hit the market like the SanDisk A110. We've had the A110 in our lab for the last three months, and products based on the same Marvell controller should hit in early January. Unlike the large number of PCIe drives showing up for reviews with aging RAID controllers and multiple SATA SSDs onboard, native PCIe drives retain performance since the SSD has access to the TRIM command from the operating system. Access to Samsung's native PCIe SSDs should pick up as well, but most of the drives are destined for the system builder market.
For desktop use, native PCIe SSDs need an adapter, but those are on the way; we have a handful in the lab already. Ultimately, the first company to release an integrated adapter with an SSD will gain a lot of attention from enthusiasts as long as the price is competitive.
Normally we'd expect such a product from OCZ Technology, but it seems the company is a bit preoccupied. The void leaves a wide enthusiast market open for other companies to fill. Time will tell who occupies this space first. Startup ioSwitch appears to be the first to market with a combo native PCIe SSD with an adapter card (review coming soon), but the price isn't in line with a majority of enthusiast's budgets at this time.
SATA SSD prices will continue to fall over time, but the first stop is 50 cents per GB. Last year 75 cents per GB was a solid price so this is a nice reduction. Some large capacity SSDs are already selling for 50 cents per GB. I suspect after CES this will become normal across the board, at least for all but the smallest SSDs.
Final Thoughts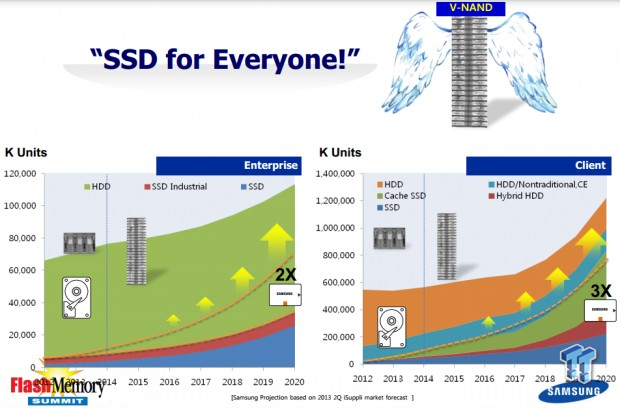 Moving beyond July 2014, I think the flash fab companies will push most of the third party companies out of the SSD market. Some companies highly dedicated to performance enthusiasts have a chance to survive since smaller companies have the ability to innovate new designs with colors and excitement!
Companies like ADATA and Mushkin, who purchase wafers and package NAND, will survive too as long as the fabs continue to sell flash in large volumes to them. Both ADATA and Mushkin also manufacture SSDs and have already shown products with SF3700: the flash controller we think everyone will want come July 2014.
Aside from what we covered today, SSD prices will get lower, capacity sizes will increase, and more people will have SSDs from OEM systems.
PRICING: You can find products similar to this one for sale below.

United States: Find other tech and computer products like this over at Amazon.com

United Kingdom: Find other tech and computer products like this over at Amazon.co.uk

Australia: Find other tech and computer products like this over at Amazon.com.au

Canada: Find other tech and computer products like this over at Amazon.ca

Deutschland: Finde andere Technik- und Computerprodukte wie dieses auf Amazon.de
We openly invite the companies who provide us with review samples / who are mentioned or discussed to express their opinion. If any company representative wishes to respond, we will publish the response here. Please contact us if you wish to respond.