LSI SandForce SF3700 SSD Flash Controller Announcement Overview
LSI unleashes the 14-core SF3700 SSD controller series to address numerous applications, from high-end enterprise to low-end consumer applications.
Published
7 minute read time
Introduction
LSI SandForce controllers were the catalyst that helped SSDs evolve from a niche application to the mainstream market we see today. There were precious few SSD's on the market, and even fewer SSD manufacturers, when the first SF family of processors were released. SandForce took their revolutionary new design and compression capabilities to market with a business model that allowed manufacturers to field a new SSD easily.
OCZ was one of the first to offer SandForce SSD controllers in their products, and soon many companies, such as Corsair, Kingston, and others, followed suit. The key for manufacturers was the solid design of the controllers and firmware provided by SandForce. The reference firmware removed the requirement for teams of expensive firmware engineers. Soon SSD manufacturers began popping up left and right, anyone with access to flash and manufacturing capabilities could easily bring an SSD to market.
Two generations of SandForce processors made their way into everything from consumer SSDs to enterprise and PCIe SSDs, and then LSI purchased SandForce in October of 2011. The acquisition made sense for both sides for several reasons. LSI brought decades of experience in storage processor design and legendary product validation. SandForce provides unique IP with their DuraWrite technology and a series of products that fit well with LSI's existing product stack.
The LSI SandForce team has been working feverishly on their newest controller addition, the SF3700, since the acquisition. With many of the same features, but a more refined architecture and higher performance, the release of the SF3700 is probably one of the most anticipated SSD controller releases in history.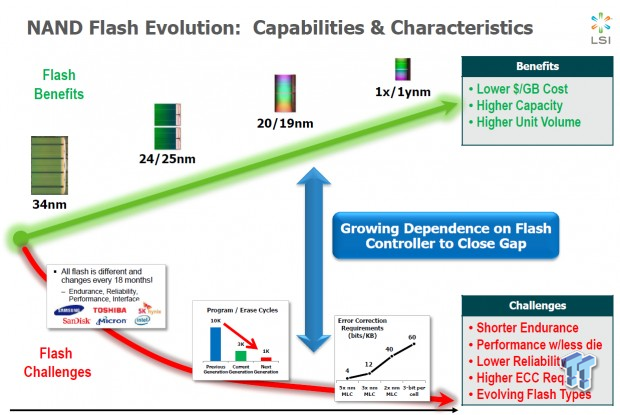 One of the challenges LSI SandForce faced when designing the new SF3700 controller was the need to keep performance and reliability high in the face of a continuing increase in NAND error correction requirements. As NAND lithography shrinks, the error correction requirements rise exponentially. We can see that the error rate is accelerating rapidly from the chart in the lower right of the graphic above.
While the error rate rises, endurance is simultaneously shrinking. Some next-gen NAND is projected to only offer 1,000 P/E cycles. Managing less endurance and higher error rates requires intelligent controllers and error correction techniques. Unfortunately, merely expanding typical ECC requires more computational grunt power, and the additional overhead leads to lower performance.
Another key requirement is to build in forward compatibility with technologies that may not exist yet. The current LSI SandForce family was one of the first controllers compatible with 19nm Toshiba NAND; quite the feat considering its release almost five years prior to the rollout of 19nm. Mixing in the need for forward compatibility with different types of NAND, such as TLC, also raises the complexity level. Having a flexible platform is imperative with 3D NAND also on the horizon.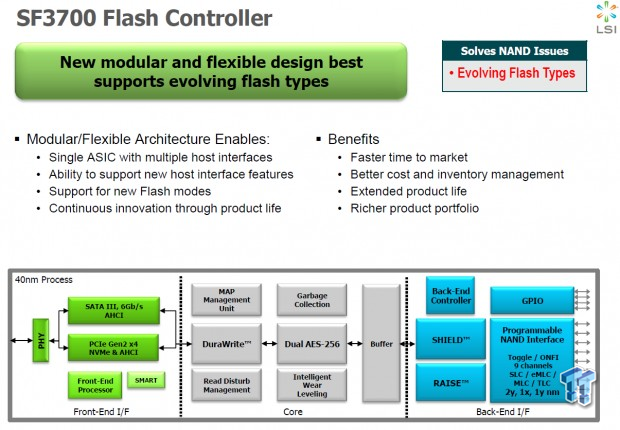 The LSI SandForce answer to these problems starts with a 14-core behemoth named the SF3700. The Samsung MDX controller was the first three-core SSD controller in the consumer market, and many have credited its dominance to the extra cores. LSI's new controller sports more than four times the number of cores and nine flash channels. We can safely assume each of the nine channels has been assigned its own core. There are four other functions on the back end, along with dual AES-256. It is likely that many of these functions, such as garbage collection, could be assigned their own cores as well.
The controller natively supports SATA 3 and PCIe Gen2 to cover the bases with the new M.2 specification. There is also support for a slew of NAND types built into the backend.
Power management is a huge concern for today's mobile devices. The numerous cores provide a modular platform with tighter power control granularity. All 14 cores can be selectively suspended, or shut down entirely, to conserve power. The new architecture provides a flexible base to build newer controllers with a faster time-to-market in the future.
Performance
The SF3700 is a single die ASIC (Application Specific IC), meaning that it is just one physical part. Due to the modular design, this single die is utilized in a multitude of SKU's by simply altering the firmware. The entry-level consists of the SF3719 controllers, which will likely find their way into many OEM products with lower performance requirements. The SF3729 will likely make its way into many mobile devices to address mainstream clients with slim form factors.
LSI SandForce did not forget those on the bleeding edge, and brings the SF3739 for high performance 2.5" and PCIe SSD's. These controllers also offer power fail protection and have enough power to make their way into the entry-level enterprise space.
Finally, the SF3759 is a scalable PCIe controller that has the full feature set of enterprise features.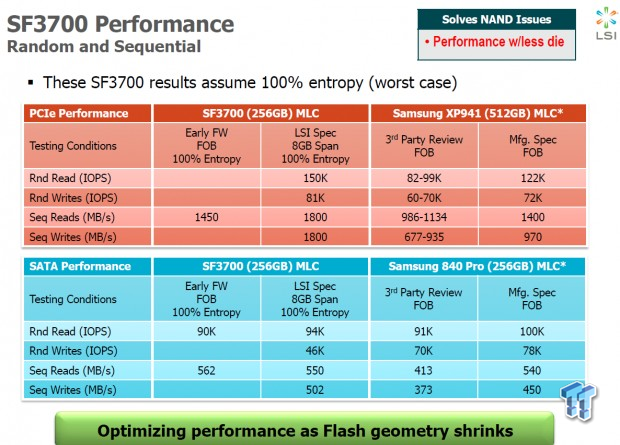 LSI SandForce relies upon compression for many of its performance advantages. Surprisingly, SandForce is only releasing performance specifications with incompressible data at this point. These results are worst-case scenarios where the SandForce controller will not experience any acceleration from its inline compression engines. The controllers' firmware is undergoing further tuning, but these early numbers give us an idea of what we can expect.
The SF3700 series is going to be a game changer, even in the worst-case scenario. Sequential read speeds top out at a whopping 1,800 MB/s when connected via PCIe, which means the throughput will easily saturate the SATA 3 connection at 550 MB/s. Providing the same speed with sequential writes is phenomenal. Random read IOPS top out at 150,000, followed by 81,000 IOPS in random write speed. The SF3700 easily blows by the current king of the hill Samsung SSDs.
Perhaps the best aspect of these specifications is that we are not even witnessing the compressible performance yet. As the firmware progresses and incompressible data performance increases, the bar is also rising for compressible data performance. At this point any additional performance gains from compression is just icing on the cake.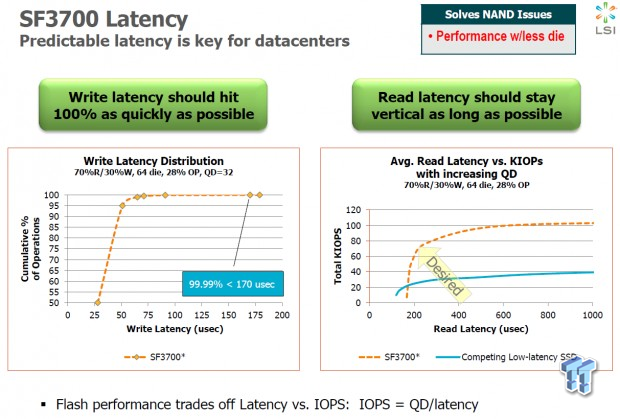 TweakTown has led the way with performance variability testing by pioneering high-granularity test methodology to address performance consistency, a huge concern left unaddressed by many current SSDs. The SF3700 promises to deliver very consistent write performance with 4 9's (99.99%) of performance falling under 170 usec. This will deliver consistent performance that rivals that of the Intel series of SSDs, providing a tangible performance boost.
Another key metric is providing as many read IOPS as possible before latency begins rise. From the chart on the right, we observe a much higher curve, with the SF3700 prototype not rising above 200usec until it reaches 70,000 IOPS. The sheer number of cores chugging away at the channels provides enhanced parallelism performance.
Nuts and Bolts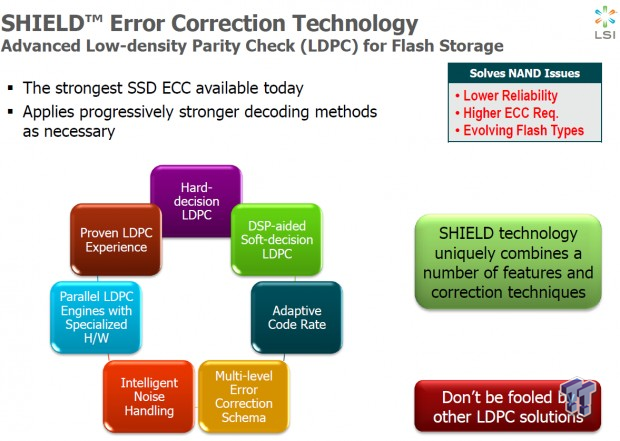 One of LSI's core competencies has always been strong ECC techniques, which originated with their extensive hard drive controller experience. The addition of these new LSI SHIELD error correction technologies shows a sign of the mutual benefits from the LSI/SandForce acquisition.
LDPC (Low-Density Parity Check) is going to be utilized by many SSD manufacturers. There are so many different types of LDPC that it will require further investigation to understand the differing levels of LDPC from every manufacturer. Some forms of LDPC are generic, while others have increased functionality. The LSI SandForce SF3700 has six components to control their full LDPC suite.
Enabling advanced Low-Density Parity Check (LDPC) allows LSI SandForce to create a stable solution that meshes well with not only lower endurance MLC and TLC, but will also wring extra endurance out of current generation NAND as well. This is accomplished through a variety of techniques, including an adaptive method of adjusting the ECC level of during the life of the SSD.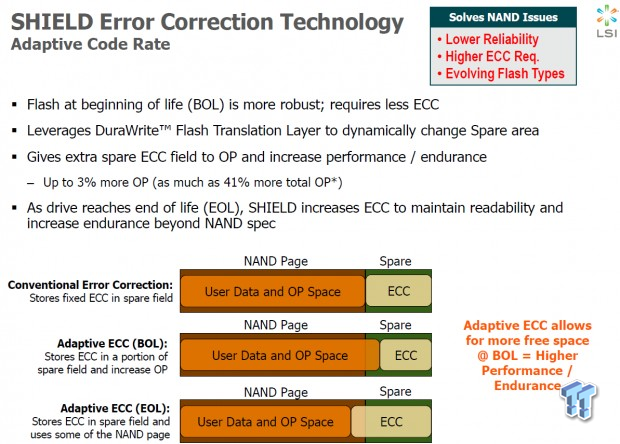 Adaptive code rate uses lighter error correction in the early stages of NAND life, and increases the intensity of LSPC as the NAND ages and begins to generate more errors. The Adaptive Code Rate also requires less ECC data affixed to each NAND page, returning some capacity of the SSD to the controller and boosting performance. The LDPC engines tie in with DuraWrite to increase endurance and performance by providing the SSD with extra overprovisioning.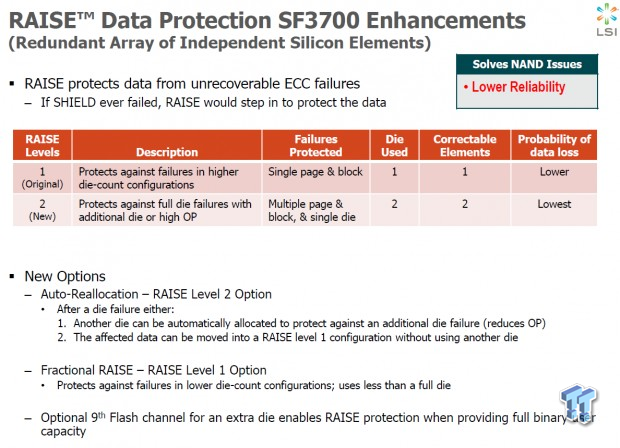 RAISE fulfills the need for data protection. RAISE (Redundant Array of Independent Silicon Elements) operates much like RAID 5, evenly distributing a layer of parity across all NAND dies. This is used to recreate data in the event of a die failure. This protection is already available on current generation LSI SandForce processors, though many consumer SSD manufacturers turn this functionality off to preserve capacity.
The new SF3700 family takes this level of protection one step further with the addition of a second level of RAISE that functions much like RAID 6, providing an extra layer of protection to handle the loss of two dies. This extra RAISE level is actually the impetus behind adding the ninth channel to the controller, and allows utilization of the full binary capacity of the SSD even when RAISE is enabled.
RAISE Level 2 also offers the automatic reallocation of another die worth of capacity to RAISE, restoring the same level of protection after a failure. The drive also has the option of just defaulting to RAISE 1 after the failure. There is also the ability to utilize Fractional RAISE, which allocates less than a single die of capacity to data protection. This proves useful in mobile applications, which have very few die, and with the larger capacity dies coming with future NAND shrinks.
Reference Deigns and DuraWrite & Final Thoughts
Reference Deigns and DuraWrite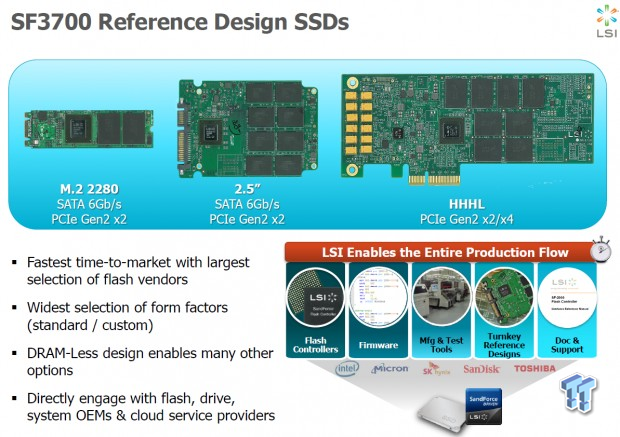 The SF3700 reference designs are fully functional designs that manufacturers can use as a template. These are actually production quality designs, but many manufacturers opt to add or remove certain features of the reference design.
LSI SandForce SSDs do not require the use of DRAM, and that continues with the new generation of SSDs. This allows the use of the controller in dense packages due to reduced component requirements. Removing the DRAM chip, and associated components and capacitors, reduces complexity and cost.
The DRAM-less design also helps to shield LSI SandForce SSDs from losing data in the event of a power loss. By keeping the LBA mapping data on the NAND, instead of in volatile DRAM, the SandForce controllers are 1000x less susceptible to data loss from power 'events'.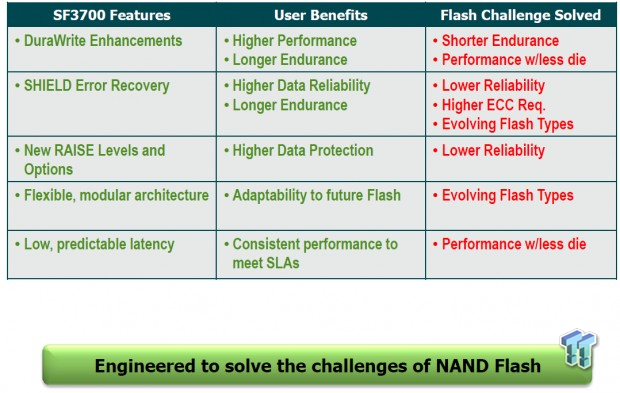 The SF3700 also improves DuraWrite functionality, which is really the linchpin of the entire SandForce SSD controller design. The enhanced version has higher compression capability and improved block-picking and garbage collection that provides numerous advantages for typical data.
Final Thoughts
The number of SSD manufacturers is gradually shrinking. The entrance of the NAND fabricators into the competition is reducing the number of players quickly. It is very hard for third-party manufacturers to compete with foundries that create their own NAND and DRAM. The NAND fabricators are also either already fielding their own controllers, or actively purchasing companies that already have their own design.
The role that LSI SandForce plays in the market is clear; they allow the smaller guys to play ball in the big leagues. Without the need to actually design the controller and program the firmware, the smaller players can manufacture SSDs with a lower initial investment.
LSI SandForce plans to continue to sell controllers under the same model as before, and we foresee them gaining deeper penetration into the OEM market with their new SF3700 controller. One NAND fabricator (Intel) is already using LSI SandForce controllers, and it would not be surprising to see others jump on the bandwagon. We also expect to see the new SandForce chips utilized in LSI's own WarpDrive PCIe SSDs.
General availability of the SF3700 controllers is slated for the first half of 2014. The first working version of the SF3700 will be on display at the Supercomputing 2013 conference, and the TweakTown team is flying out to California this week to LSI's annual AIS (Accelerating Innovation Summit) to get more details - stay tuned for more news as we get it!
PRICING: You can find products similar to this one for sale below.

United States: Find other tech and computer products like this over at Amazon.com

United Kingdom: Find other tech and computer products like this over at Amazon.co.uk

Australia: Find other tech and computer products like this over at Amazon.com.au

Canada: Find other tech and computer products like this over at Amazon.ca

Deutschland: Finde andere Technik- und Computerprodukte wie dieses auf Amazon.de
We openly invite the companies who provide us with review samples / who are mentioned or discussed to express their opinion. If any company representative wishes to respond, we will publish the response here. Please contact us if you wish to respond.