Battlefield 4 Beta Gameplay and Performance Preview
We take a look at the Battlefield 4 Beta, and see how it performs on our system at various resolutions running NVIDIA GeForce GTX 780 GPUs.

Published Oct 2, 2013 10:08 AM CDT
|
Updated Tue, Nov 3 2020 7:00 PM CST
5 minute read time
Introduction & System Specs

EA and DICE unleashed the Battlefield 4 Beta over the last 24 hours, so we thought we'd take a look at the performance of DICE's latest first-person shooter on our GeForce GTX 780 SLI setup. Battlefield 4 runs on the Frostbite 3 engine, which is one of the best engines on the market right now.
The entire Battlefield 4 Beta folder weighs in at just over 5.5GB, which isn't too bad at all. But, the full game should well and truly exceed 30GB, just like Battlefield 3 does today.
System Specs
We used our well-specced Tweakipedia system to run the BF4 Beta through its paces, so we're only looking at NVIDIA GPUs for now. The AMD Radeon R7 and R9 series of GPUs are nearly here, so you can bet your bottom dollar we'll be running this all over again once we have those new GPUs in the lab.
We have had the help of GIGABYTE, Corsair, NVIDIA, AMD and InWin for our system. What are we playing the Battlefield 4 Beta with you ask? Well, it's quite a nice system:
Intel Core i7 4770K "Haswell" processor w/Corsair H110i cooler

GIGABYTE Z87X-OC motherboard

NVIDIA GeForce GTX 780 in SLI

Patriot Memory Viper Series - 32GB of 2400MHz DDR3

240GB Corsair Force Series GT (3x) and 480GB Corsair Neutron GTX

InWin X-Frame Limited Edition

Corsair AX1200i digital PSU
As for drivers, we're running the bleeding edge GeForce 331.40 Beta drivers, which are reportedly better for Battlefield 4 Beta's performance, but they come with a really mixed bag of issues. My issues ranged from Windows BSODing, the graphics driver crashing, BF4 crashing repeatedly - then it would iron out and work for an hour. Then, the problems would resurface. Of course, we're using Beta drivers with a Beta game, so we have to expect some issues.

Software wise, we're running Windows 7 Ultimate 64-bit with SP1 installed and the latest drivers for all of the other components.
First Impressions & A Look at the New Menu
The first impressions of Battlefield 4 are quite good for me, the revamped menu system is very welcomed, with a bunch of options that you can go through. We've taken a quick video of this, but do keep in mind this might change between the Beta and the full release of Battlefield 4.
The map that DICE has handed to everyone in the Beta is the Siege of Shanghai, which is epic in itself. It features the tallest buildings within a game world yet, with the tallest one destructible. Yes, the entire building can come down, sending dust and debris all over the map.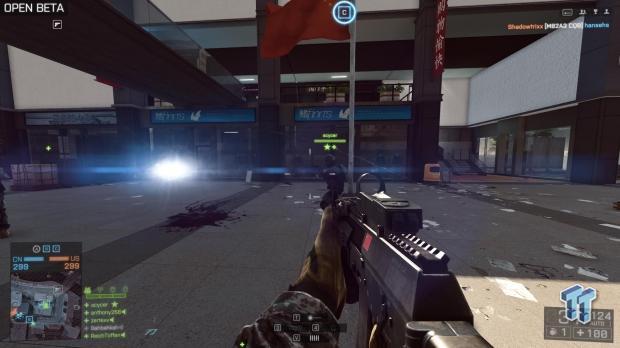 Ok, now let's talk about the actual Beta itself: am I impressed? In a way... yes. But in another way, no. I found myself impressed with the revamped menu and loading screens, but once I was in the game, I had to really look close to see any huge jumps in graphics.

It felt "soft," which will make no sense to those of you who haven't played it yet. Almost, curvy... but not high definition. It felt like a blend between the Battlefield 3 Alpha and Bad Company 2, somehow. Still, the graphics are impressive for a Beta, but I truly hope that DICE is holding back and will unleash everything with the full launch of the game.
Battlefield 4 introduces leaning, which is a great addition to the game, as you can see in the video above.
There are some glitches that annoy, too, which we have in the video above.
Parachuting in Battlefield 4 feels better, and there are some seriously high buildings you can jump from, too.
We have some screenshots of the game, some in 2560x1440 and some in the gloriously high resolution of 7860x1440. We'll spread these out through the review to keep the teasing up. Let's move onto the performance of the Battlefield 4 Beta.
Performance at 2560x1440 and 7860x1440 with NVIDIA Surround Vision
This is something I didn't expect, great performance from the Beta of Battlefield 4. I expected to have issues, especially with a triple-monitor setup, considering that AMD has snuggled up to EA and DICE with Battlefield 4 and its R9 series of video cards.
So, just how did the Battlefield 4 Beta perform? Let's take a look at the 2560x1440 results first, shall we? The way we tested it was running the Siege of Shanghai in a 64-player server, recording for 90 seconds under FRAPS three times, finding an average from those three runs.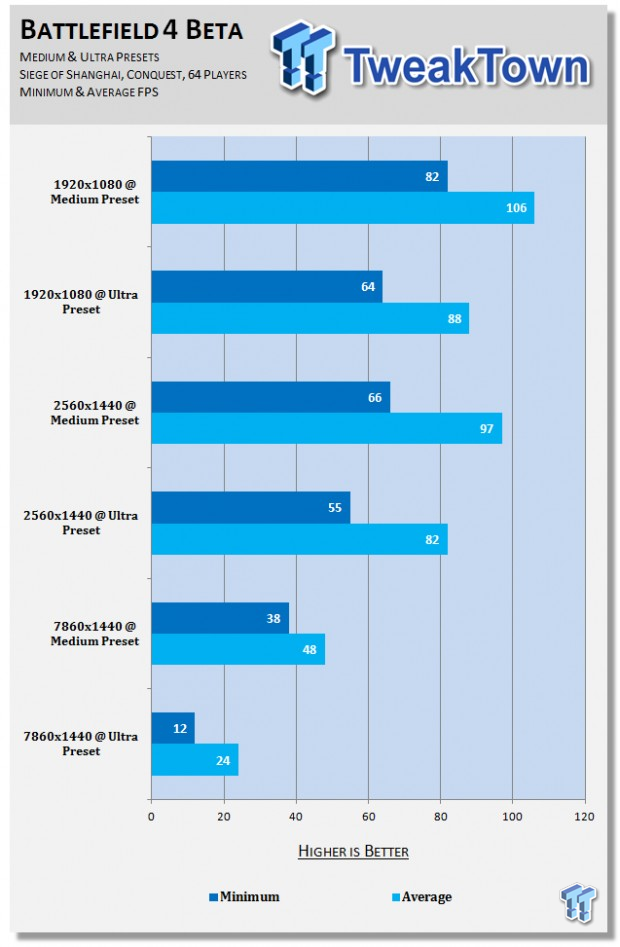 Starting with 1920x1080, we have some great results with the Medium Preset with a minimum of 82 FPS and a damn nice result of 106 FPS average. This is great, as you could run a 120Hz monitor and slightly tweak the Medium Preset to achieve 100 FPS minimum and 120 FPS average.
Giving the GPUs some more work with the Ultra Preset didn't see the frame rate change all that much, dropping to 64 FPS minimum and 88 FPS average. 1920x1080 at Ultra on the BF4 Beta with 88 frames per second average is a great result.
Moving onto 2560x1440 with the Medium Preset, we have a minimum of 66 FPS and an average of 97 FPS. This is a very good result on some Beta drivers on a Beta code of Battlefield 4. We are running a pretty high-end rig with two GeForce GTX 780s in SLI, but 2560x1440 is more taxing than 1920x1080.

Shifting into the Ultra preset and keeping with our 2560x1440 resolution, we find it dropping to 55 FPS minimum, and 82 FPS average. This is great, as it's the highest setting in BF4, with 4xMSAA enabled. I was actually quite surprised at this, and I expect another 20% more performance with the final BF4 code and improved drivers from NVIDIA.
Now, this is where the fun begins: 7860x1440. NVIDIA's Surround Vision worked first shot under the Battlefield 4 Beta, without an issue. I did have the previous drivers installed, but shifted into the newer Beta drivers for this preview.
Running the Battlefield 4 Beta at 7860x1440 on the Medium Preset, we find ourselves enjoying a minimum of 38 FPS and an average of 48 FPS. Not too bad, but you definitely feel that frame rate dropping under 60 FPS, which isn't good for a shooter like this.
The results were much worse when the Ultra Preset was enabled, with an atrocious minimum frame rate of just 12 FPS, and an average of just 24 FPS. I found this unplayable. But, we are talking about 7860x1440 with 4xMSAA...maybe we need another two GTX 780s?
Final Thoughts
DICE has done quite the job with Battlefield 4, and even though this is just a Beta, it should continue to get better from here on out. I'd like to see some improvements from NVIDIA and its drivers, which I'm sure it's working on as we speak.
The game itself looks good, but I think we're seeing DICE hold back until the final release - which I'm happy with. It's not like DICE want to show BF4 off in all its glory now, a few weeks from release. DICE really should've called this the Battlefield 4 Beta Tease, which would've made more sense.
The destruction needs to be amplified, definitely, which is something I was truly disappointed to see. Battlefield: Bad Company 2 had far superior destruction, and while an entire building comes crashing down, the procedural destruction around the map, like shooting a wall and nothing happening, but some little chips coming out of it, is poor for the Frostbite 3 engine.
We will have some more results between now and the full launch, where we hope to test out some Radeon HD 7970s as well as the new R7 and R9 series GPUs from AMD.
Stay tuned for more at TweakTown soon.
PRICING: You can find products similar to this one for sale below.

United States: Find other tech and computer products like this over at Amazon.com

United Kingdom: Find other tech and computer products like this over at Amazon.co.uk

Australia: Find other tech and computer products like this over at Amazon.com.au

Canada: Find other tech and computer products like this over at Amazon.ca

Deutschland: Finde andere Technik- und Computerprodukte wie dieses auf Amazon.de
We openly invite the companies who provide us with review samples / who are mentioned or discussed to express their opinion. If any company representative wishes to respond, we will publish the response here. Please contact us if you wish to respond.