Seagate's 2013 Consumer and Enterprise SSD Product Overview
Seagate finally gives in and prepares to enter the consumer SSD market. At the same time, the company is extending their enterprise portfolio in an effort to catch up to competitors.
Published May 7, 2013 7:00 AM CDT
|
Updated Tue, Nov 3 2020 7:00 PM CST
5 minute read time
Introduction

We've known this day was coming for quite some time, but the real story, aside from the new products introduced today, is how we got here. Executives from both Seagate and Western Digital, two of the three remaining HDD makers, have made some flimsy remarks about solid state drives. In April 2012, Steven Luczo, Seagate CEO said:
"Flash is a complimentary Technology. It's not a competitive technology. Our industry shipped 100 exabytes of data five years ago, 400 exabytes in 2011, and we will probably ship a zettabyte sometime between 2015 and 2016. A zettabyte is equal to all the data that has been digitized from 1957 through 2010. We are going to ship that in one year. So whatever the architecture is, pads, phones, notebooks, ultrabooks, real notebooks, PCs, servers, clouds, one year, a zettabyte - that is all going to be on rotating mass storage."
We managed to track quotes going all the way back to 2008 where executives at both Western Digital and Seagate publicly stated that flash wouldn't take off as a viable consumer technology. Between then and now, both companies have had a change of heart. Nothing could have clarified the mass adaption of solid state in consumer than a recent marketing post on Western Digital's Facebook page advertising the latest VeliciRaptor product, the fastest consumer HDD. Nine out of ten comments mentioned SSD's and proclaimed HDD's dead for boot drives. The remarks were so vicious I actually felt bad for the person in charge of reporting that brutal beating back to management.
Today, Seagate announced their answer to the brutal comments found in discussion threads about their own mechanical based products. Let's take a look at the new flash lineup.
Consumer, Enterprise and Big Time Datacenter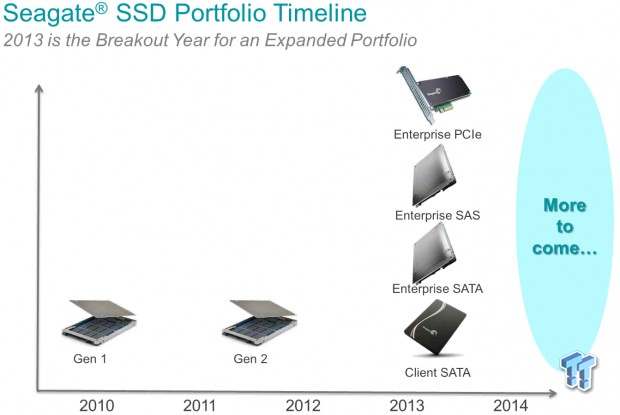 Seagate already has two generations of enterprise SSD's under its belt, Pulsar and Pulsar.2. Today the company launches four new products that range from consumer SATA SSD to enterprise PCIe. We have concrete details on three of the four products. The new Enterprise SAS 12Gb/s part was displayed at CeBIT, but we won't have a sample in hand for at least a couple of weeks. We do have SAS 12Gb/s parts from another manufacturer though, so expect full coverage from Seagate, Toshiba and Hitachi in a round-up format before too long.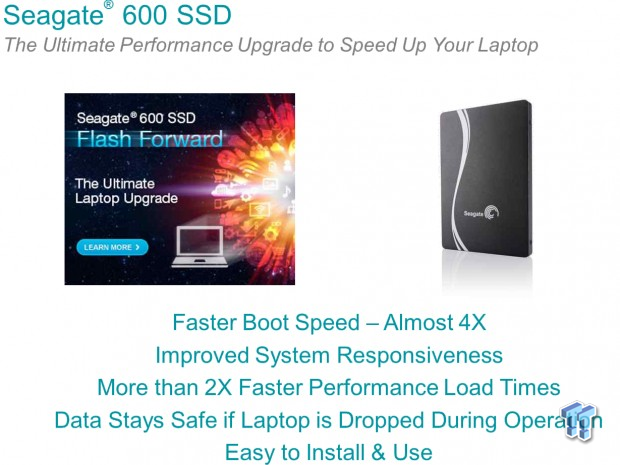 On the consumer SATA side, Seagate released the new 600 SSD. This is a consumer SSD designed for desktop and notebook use. One step up is the 600 Pro SSD, another SATA product that crosses over into the enthusiast / power user space, if the price is right. Both drives use custom Link_A_Media Devices (LAMD) controllers, the same physical silicon used in the Corsair Neutron and Neutron GTX.
On the enterprise side, the new 1200 SSD with a 12Gb/s SAS interface should prove to be the fastest 2.5" SSD on the market, but faces steep competition from upcoming 12Gb/s parts from both Hitachi, now a Western Digital company and Toshiba.
At the top of the scale is the new enterprise PCIe product that comes from Seagate's partnership with Virident Systems. At the time of writing, less than 48 hours to go before the NDA breaks, we don't have a lot of information on three of four of the new products. We're still fishing, even for products we have in hand right now.
Let's break down the data we have.
Seagate 600 SSD - The New Consumer SSD
Seagate 600 SSD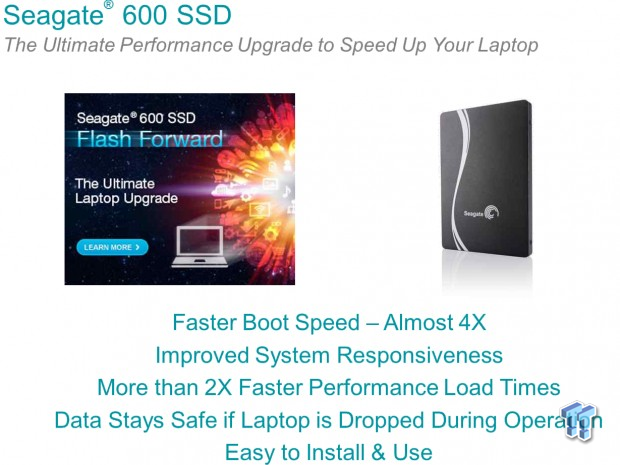 Seagate's 600 SSD is a consumer SATA SSD that will face intense competition from a large number of existing SSD manufacturers. The 600 uses the same LAMD controller found in the Corsair Neutron and Neutron GTX and pairs the controller with Toshiba 19nm Toggle Mode flash, type C.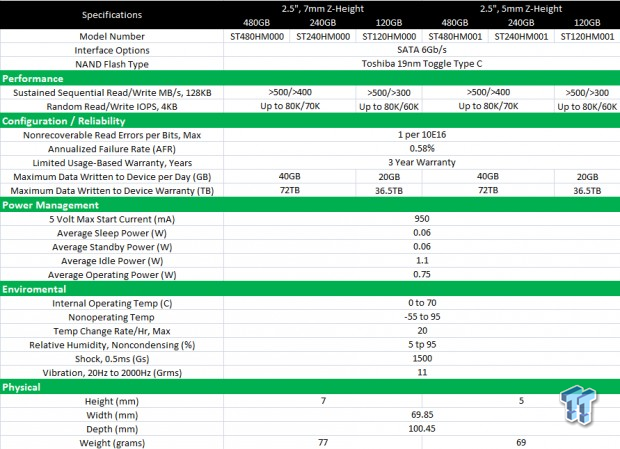 It's my opinion that Seagate was not ready for the types of questions that come with a serious SSD launch. With less than 48 hours to go before the veil lifts, the 600 SSD is the only product we have half the information we would normal have for a SSD.
We made the chart above this morning and it's the only chart we're even able to make. We'll cover two of the six 600 SSD products with reviews later today, 240GB and 480GB, both 7mm models. We'll also bring back our RAID Report reviews starting today with two 240GB 7mm drives.
The 600 SSD has two form factors, 5mm and 7mm z-height. Each form factor gets broken down into three capacity sizes 480GB, 240GB and 120GB.
Seagate 600 Pro SSD - Entry Level Enterprise and Enthusiast
Seagate 600 Pro SSD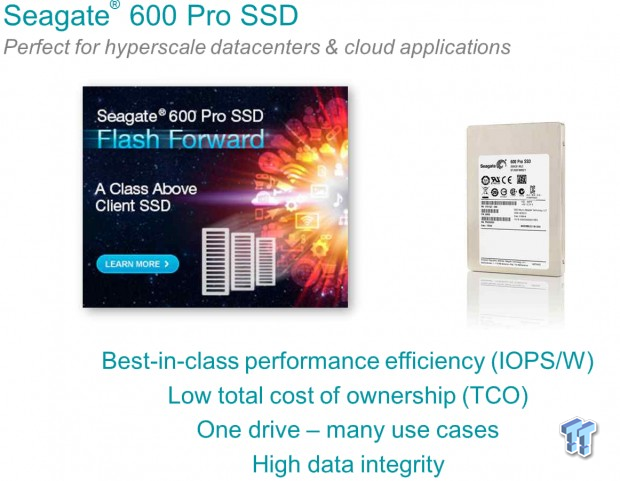 The new Seagate 600 Pro is another SATA model with an LAMD controller and Toshiba 19nm Toggle Mode flash, type C. In our meeting, Seagate stated the 600 Pro would ship with Samsung flash, but our sample shipped with Toshiba Toggle, just like the 600.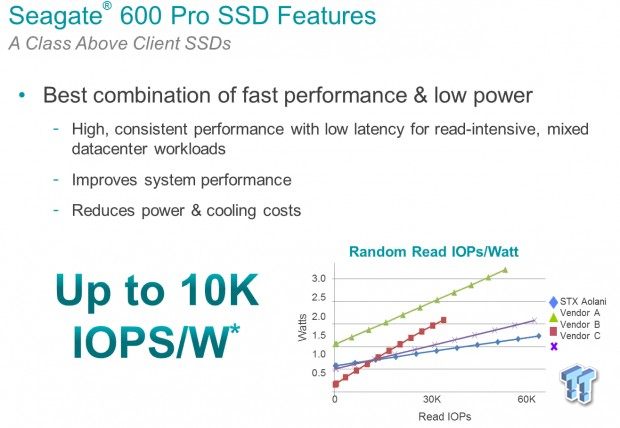 In our review, you'll see some significant differences between the Pro and non-Pro SATA SSD's. The Pro ships with host power-loss protection and even uses a different PCB design. We'll have both an enterprise and enthusiast review of the 600 Pro later today.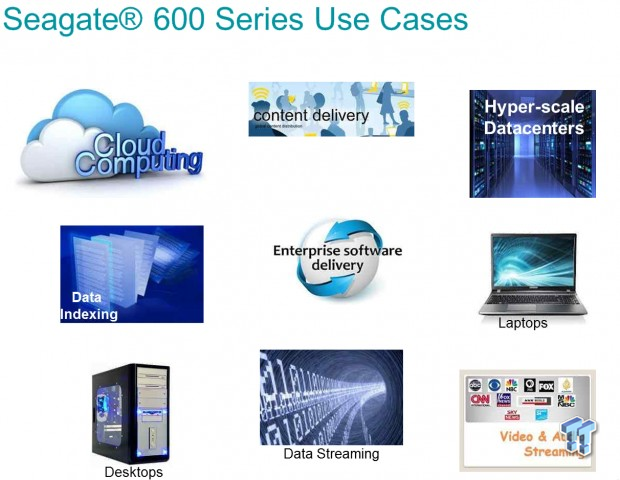 When asked about the 600 Pro's cross over potential, Seagate representatives said they expect to see some cross over. We expected as much given the product branding scheme, but the real test will come when the drives hit e-tail websites and we have an indication of the cost difference between the 600 and 600 Pro.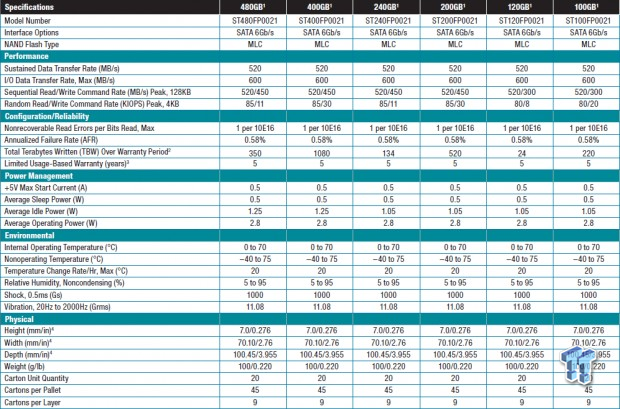 UPDATE - At the last moment before launch, Seagate sent us their spec sheet on the 600 Pro, it's pictured above.
Seagate 1200 SSD - 12Gb/s for Enterprise
Seagate 1200 SSD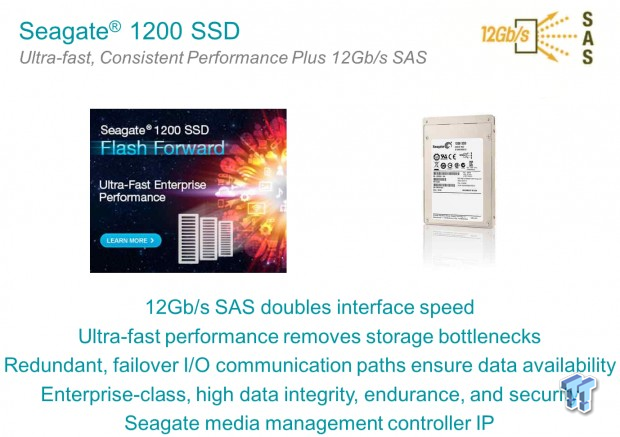 2013 will usher in 12Gb/s SAS products and everyone is very excited. On the HDD side, SAS expanders and HBAs/RAID controllers used with SAS 6Gb/s parts will increase performance with minimal investment. On the flash side, a 12Gb/s bus will allow SSD's to achieve maximum performance. We've long suspected even consumer SSD's are being held back by the 6Gb/s limits.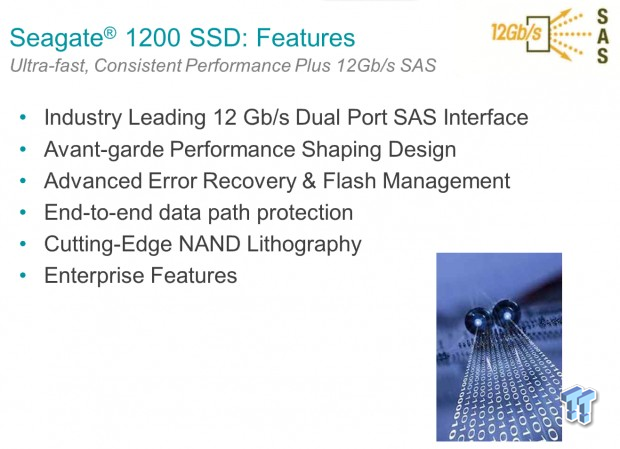 The 1200 SSD is Seagate's third SAS SSD, a follow up to Pulsar and Pulsar.2. This is also Seagate's first SAS 12Gb/s part so the excitement is high for this product. We don't have a lot of information about the 1200 SSD, at least not as much as we would like. Samples should arrive in a few weeks and we'll have 12Gb/s parts to pair with it.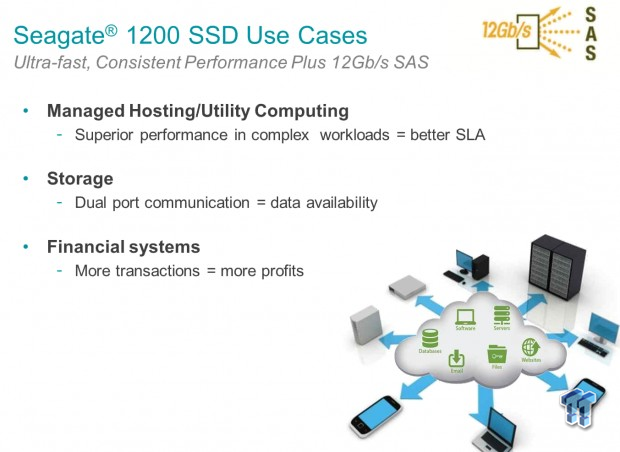 The Seagate 1200 SSD is the Cheetah for the flash generation. The 12Gb/s interface that is also dual port should deliver amazing performance in a package that's scalable and redundant.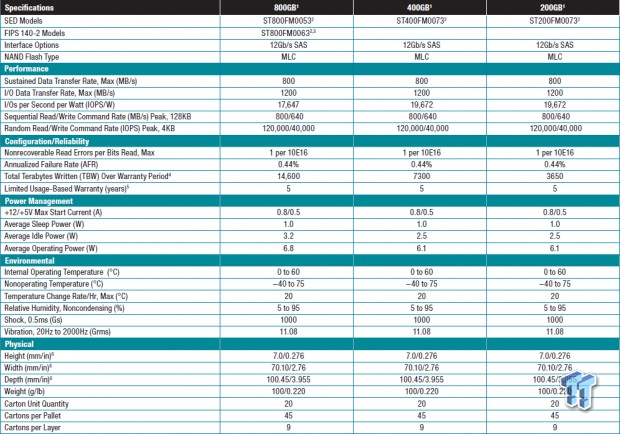 UPDATE - At the last moment before launch, Seagate sent us their spec sheet on the 1200, it's pictured above.
Seagate X8 Accelerator - Cache and Database
Seagate X8 Accelerator
A few weeks ago, Seagate announced a significant investment in Virident Systems. Virident's FlashMAX II, a product we first brought attention to at Flash Memory Summit 2012, appears to be the base for Seagate's new X8 Accelerator.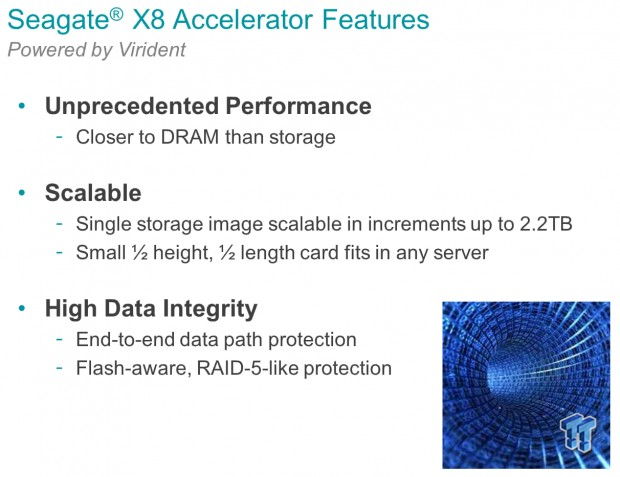 Assuming this FlashMax II connection, the X8 should deliver up to 2.7GB/s read bandwidth in a full height model and up to 1.6GB/s read bandwidth in a half height model. 4K read IOPS could be as high as 160K for half height and 325K for full height.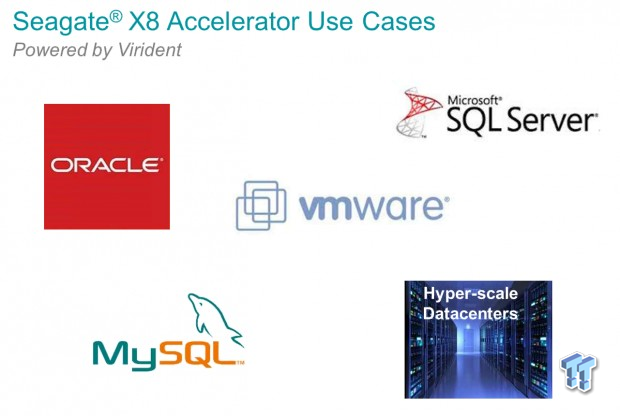 The PCIe interface decreases latency and this is where the X8 will have an advantage on SATA and SAS products. The ultra low latency allows datacenters to use X8 as either ultra fast storage or as a flash cache for databases.
Final Thoughts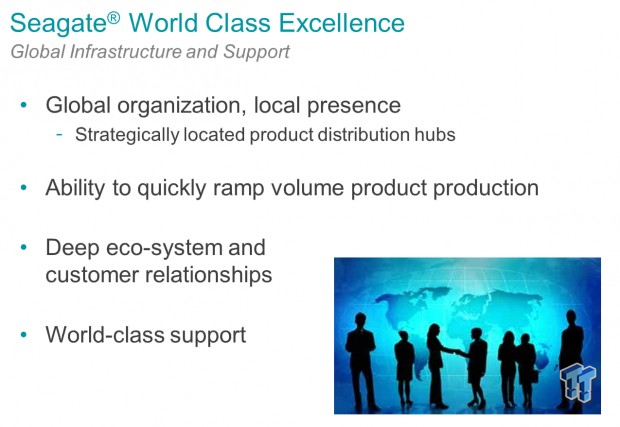 Seagate's entry to the consumer, entry-level enterprise, enterprise and PCIe enterprise markets isn't surprising, even when reflecting on Seagate's executive statements.
Back in 2008, when the statements first started, Seagate wasn't looking far enough ahead to see less than $1 per GB flash products. By 2011, the company was scared after losing desktop/notebook market share. At this point, either you're in flash at the consumer level or you don't have a future in the consumer market.
Intel's new ultrabook specs for products we'll see at Computex mandate at least 85MB/s minimum performance in a 7mm z-height. At 7mm there simply isn't enough room for a dual platter product and getting 85MB/s at the low-end of a single platter spinner isn't going to happen anytime soon. Flash isn't just the future - flash is right now.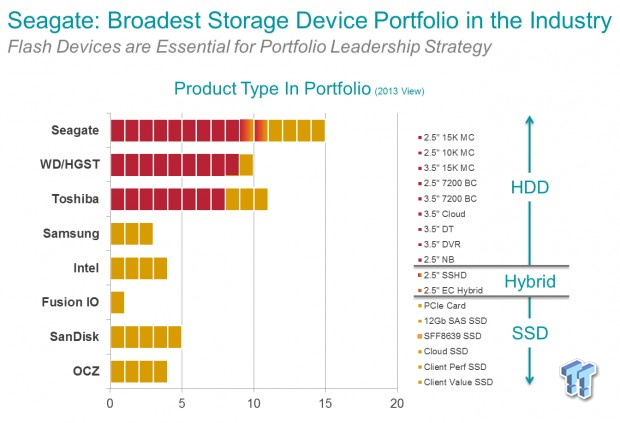 With a number of new flash products, hybrid products and the largest selection of mechanical drives, Seagate is in a good position going forward.
Stay tuned for the largest SSD launch day in TweakTown history with reviews of the new 600 SSD consumer model in both 240GB and 480GB. A 600 Pro in enterprise and consumer tests and a 600 SSD RAID Report with two 240GB drives.
PRICING: You can find products similar to this one for sale below.

United States: Find other tech and computer products like this over at Amazon.com

United Kingdom: Find other tech and computer products like this over at Amazon.co.uk

Australia: Find other tech and computer products like this over at Amazon.com.au

Canada: Find other tech and computer products like this over at Amazon.ca

Deutschland: Finde andere Technik- und Computerprodukte wie dieses auf Amazon.de
We openly invite the companies who provide us with review samples / who are mentioned or discussed to express their opinion. If any company representative wishes to respond, we will publish the response here. Please contact us if you wish to respond.
Related Tags