GIGABYTE AMP-UP Audio 4th Generation Intel Core Feature Preview
The NDA is starting to come off the 4th Generation Intel Core series and today we'll show you what to expect from GIGABYTE in its new AMP-UP audio feature on the G1.Sniper 5 and G1.Sniper M5.
Published
6 minute read time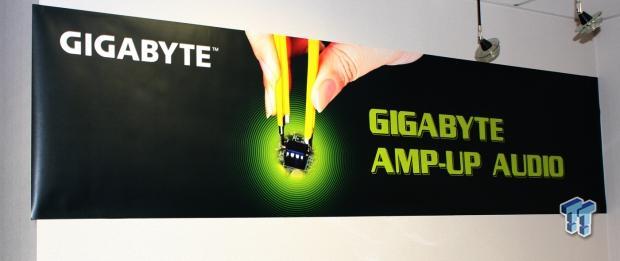 Last week we got the opportunity to head over to the GIGABYTE offices in Xindian, Taiwan and see what they're working on when it comes to the 4th Generation Intel Core series motherboards. While we know most of the information regarding models and chipset names, because of the official nature of this article, today we have to stick with referring to the whole platform as the "4th Generation Intel Core Series". While a slight pain in the behind, we do try our best to follow the NDA's that we sign.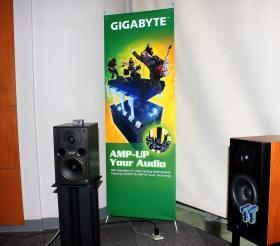 So today we're looking at what GIGABYTE are calling AMP-UP Audio, and while I wasn't all that excited before I went to the event, I must admit that I walked out having discovered my next motherboard for my own personal system. What we'll quickly do today is take a look at the showcase board that GIGABYTE used to show off the new feature and talk a bit about it and what my personal thoughts on it were.
Being an all-day event we started the day at GIGABYTE at around 10:30am with a couple of us looking a little worse for wear due to the dinner the night before. We got taken up to one of the meeting rooms and were greeted with a large table, a bunch of chairs and your general presentation setup.
The day started with non-other than one of our favourite GIGABYTE personalities Colin Brix who took us through the new AMP-UP Audio features that are surrounded on the GIGABYTE 4th Generation Intel Core Series based motherboard.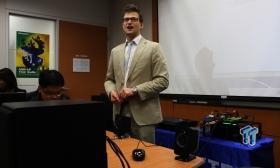 What GIGABYTE has done is take the PC audio level to another level. With the introduction of an onboard AMP, you're now able to experience another level of audio that hadn't been seen before on a desktop motherboard.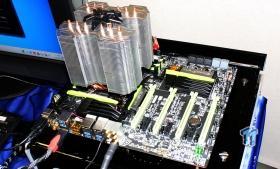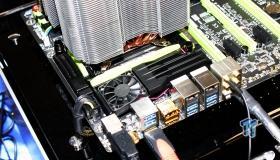 The idea is simple. Looking above you can see the test system that GIGABYTE had setup which uses the upcoming G1.Sniper 5 motherboard based on the upcoming 4th Generation Intel Core Series platform. The main focus of the board, though, today is essentially in the picture below where you can see the tiny little AMP.

Tucked in the middle of the picture you can see what is a removable AMP. It looks similar to a removable BI/OS or any other removable kind of chip, which you've probably seen on a motherboard over the last few years. At first the ability to remove felt a little weird to me as I didn't really see the point. Colin went onto explain to us, though, how there's a number of different AMP's available on the market, ranging from just a few dollars up to around $20.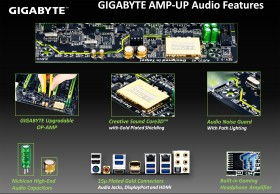 The new AMP-UP feature set brings with it number of cool new features, which are highlighted above. You can see we've got the Creative Sound Core3D with new gold plated shielding. An Audio Noise Guard which helps reduce interface with other parts of the motherboard. We've got a built-in gaming headphone amplifier, 15u plated gold connectors for key audio and video ports and high-end Nichicon audio capacitors.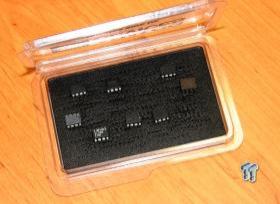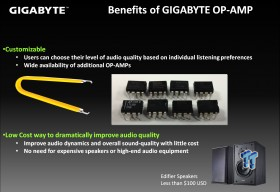 Having a look above you can see eight different AMP's that range in from just a few dollars up to $20. What was explained to us, though, is that each AMP has its own benefits and the most expensive one might not necessarily be the best one for you. You can also see a bit of a run down on how GIGABYTE explain the option of customizability.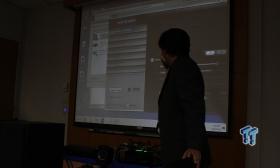 For now we want to move onto the next part of the day which involved someone from Creative talking to us. As we know, for a while now, GIGABYTE has offered the Sound Core 3D Creative chip on the top-end G1 line of motherboards.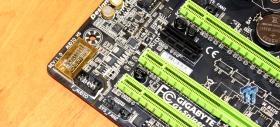 With the latest Sound Blaster Pro Studio software, the Sound Core 3D chip is stronger than ever. Before braking for lunch, we had a chance to hear about some of the key features that are offered by the Pro Studio software including SSX Pro Studio, Crystalvoice and Scout Mode. With a good run down on that being covered, we broke for lunch, ate some fruit and had a bit of a chat giving our bodies a chance to refuel.
Coming back after lunch it was all about GIGABYTE and Creative putting their money where their mouth is. It was time to get into the live demo portion of the event, which was kicked off with Creative. Taking the time to go through the whole Pro Studio software, we got a chance to really see just what the software was capable of doing.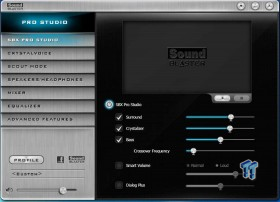 Starting off in the SBX Pro Studio portion of the software, we heard the software do a simply fantastic job of turning stereo material into surround sound. Along with that, though, the highlight in the area is the Crystalizer section, which helps bring all the audio out. With it enabled you hear background noise that you didn't know even existed. This was shown well in a scene from the Avengers where with the Crystalizer feature turned on, you could hear the wind in the background. And with it off, you didn't have this added ambient noise to add to the viewing experience. In movies we can't deny that it adds another level of immersion.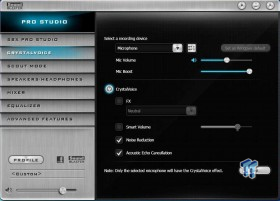 Crystalvoice is a super cool technology that I would probably never personally use as I can't remember the last time I used a microphone on my computer. Using a combination of Acoustic Echo Cancellation and Noise Reduction, the ability to speak in noisy environments and be heard extremely clearly on the other end is quite amazing. It's something that would come in handy for gamers who use voice chat and are in quite a noisy environment.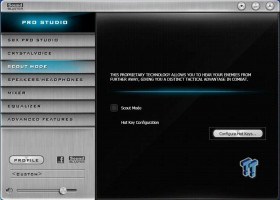 Lastly the other big feature that has been pushed for a while now is Scout Mode. It uses propriety technology to enhance the audio in your game giving you the ability to hear enemies from further away, which in turn should give you a tactical advantage as you hear them coming earlier. Like Crystalvoice, it's again a technology that is aimed very much at gamers.
With the Creative demo done, it was time to move onto the GIGABYTE side of things and I must say this is the part I was most excited about. This area was especially split into two key areas. Showing us the difference of having the OP-AMP installed and having it not installed. The other was showing us the difference between the different OP-AMP's that are offered.
Due to copyright issues with the audio, we didn't have the ability to take any kind of video to really demonstrate the difference between the setups. Ultimately all we're able to do is explain the situation that took place. While you're not supposed to pull out the OP-AMP with everything running, to show off the difference in the best way, this is how GIGABYTE showed us. The difference with and without is really quite amazing. Without the OP-AMP installed there's just a general muddiness to the audio, and as soon as you plug it in, you instantly hear everything sharpen up. Everything just becomes cleaner. The difference was really night and day in this situation, and the addition of the OP-AMP really does a fantastic job of enhancing the audio experience.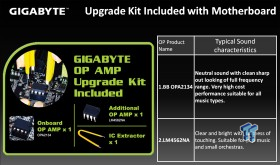 The next portion of the demo was where GIGABYTE showed us the difference between a number of OP-AMP's. Different OP-AMP's cater to different kinds of music. Above you can see that each motherboard comes with an Upgrade Kit included, which offers an IC Extractor and two OP-AMP's. To the right you can see what the difference between them is and what kind of music they cater for. Depending on your choice of music will ultimately depend on your choice of OP-AMP.
It was when it came to testing the different OP-AMP's that I found myself kind of lost with no real ability to determine the difference when we were in the main room. After a brief demo we split off into some groups and went into another room.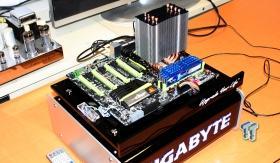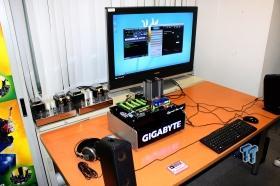 Not so concerned about hearing the difference between having and not having the OP-AMP, here we wanted to dive into the different OP-AMP's a bit more. One of the media in the room with us had very little problem differentiating the different OP-AMP's, which would spread the noise differently. A prime example was that during a piano section with one OP-AMP, the piano sounded like it was in one location, but with the other, it sounded in a different location because of the way it spread out the audio.
With a feeling that too much night clubbing had meant that my ears couldn't appreciate the subtle difference between the OP-AMP's, it was when we played some dance music things became more apparent for me. With the GIGABYTE staff member suggesting a different OP-AMP for it, when the system was switched back on and the music was playing again for the first time, I could really tell a difference between the OP-AMP's. Maybe it's because I'm listening to the music I enjoy more actively and know what I am listening to with better accuracy. We're not talking about a difference like we saw in the with and without test, but closing your eyes and enjoying the music, you could hear that the suggested OP-AMP did indeed make the music sound overall better.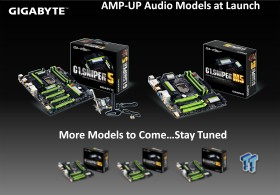 At launch GIGABYTE will have a number of motherboards supporting the new AMP-UP feature, but at the moment just the G1.Sniper 5 and G1.Sniper M5 are being announced. This new feature really kicks the audio experience up a notch and we're really impressed with what GIGABYTE is bringing to the table. The amount of effort people go into with trying out different OP-AMP's is something we're not too sure about, but you don't have to be an audio expert to know that the addition of the OP-AMP to the new motherboards is fantastic and makes a solid difference to audio output.
PRICING: You can find products similar to this one for sale below.

United States: Find other tech and computer products like this over at Amazon.com

United Kingdom: Find other tech and computer products like this over at Amazon.co.uk

Australia: Find other tech and computer products like this over at Amazon.com.au

Canada: Find other tech and computer products like this over at Amazon.ca

Deutschland: Finde andere Technik- und Computerprodukte wie dieses auf Amazon.de
We openly invite the companies who provide us with review samples / who are mentioned or discussed to express their opinion. If any company representative wishes to respond, we will publish the response here. Please contact us if you wish to respond.