Kingston LSI SandForce B02 for Low Power SSD's - Power Consumption Investigation
LSI SandForce announced the new B02 stepping several months ago. Now companies are starting to build hardware. SF-2281VB2 uses technologies introduced by LSI to reduce the power consumption of the successful 2281 SATA III controller. The result is the same SF-2281 performance, but now paired with ultra low power consumption.
Published Thu, Feb 28 2013 7:15 AM CST
|
Updated Tue, Nov 3 2020 7:01 PM CST
Introduction
Around the time LSI SandForce announced they shipped 10 million controllers worldwide, another press release emerged. The other press release spoke of changes to a number of SandForce controllers that reduce power consumption. The new stepping dubbed B02 is now in the hands of SSD manufacturers and aims to extend the battery life of mobile computers running LSI SandForce based SSDs.
As you know TweakTown has a couple of new power tests introduced late 2012 and we feel that mobile power performance is just as important as desktop throughput performance. The new B02 stepping is more than just a firmware change so existing LSI SandForce based SSDs aren't covered by the B02 hardware and software changes.
B02 achieves new power states Auto-Idle1 and Auto-Idle2 while keeping the I/O portion of the controller awake and alert to the OS. The controller is able to shut down unused portions of the drive, while maintaining awareness with the host operating system. The OS is unaware of these changes and continues to operate with the same capabilities as any other system with a LSI SandForce controller.
Suspending or putting to sleep inactive areas inside hardware isn't anything new. We discussed Intel's plans with Haswell's deep power states after the 2012 IDF summit in San Francisco. This is just another tool for extending battery life and reducing power consumption for next gen devices. The trick is the ability to wake products up from a sleep state quickly. Just like you or me, the deeper we are asleep, the longer it takes to wake up - the same is true with computer hardware. LSI SandForce managed to reduce the time to active state by a significant merging and that allows the controller to take advantage of deeper sleep states without adversely affecting the user experience.
Today we're looking at a new SSD from Kingston that's still in development. The hardware is early and so is the firmware. The product looks really good as is, but we know what you see today is an unrefined product. This alpha Kingston part allows us to peer into the world of emerging technology and to understand the benefits of reduced power in the data storage area. Over the last six months we've shown that choosing the right SSD can extend your battery life by up to an hour on our Lenovo W530 mobile workstation. The W530 is a bit of a power hog on its own and not configured for maximum battery life. We speculate that with a properly configured ultrabook, an ultra low power SSD could extend the battery life by two hours or more.
Kingston B02 Low Power 120GB SSD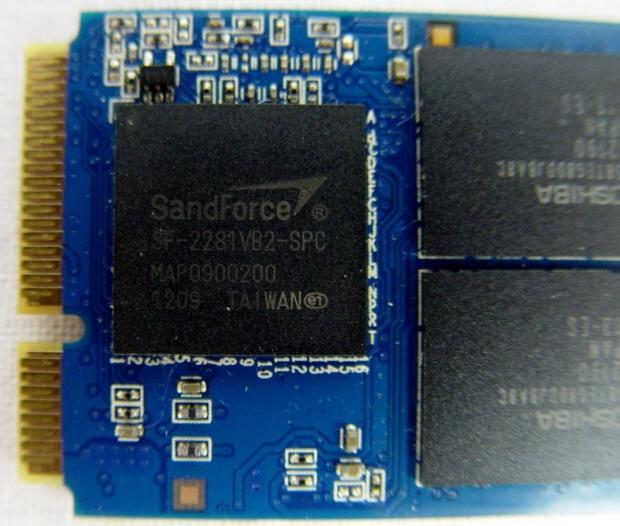 This is the world's first look at the new LSI SandForce B02 stepping Flash Storage Processor. You can tell it's the B02 stepping by the 'VB2' in the string, SF-2281VB2-SPC. The throughput and IOPS performance is the same as VB1, but we suspect most VB2 controllers will run with new 20nm NAND from IMFT or new 19nm NAND from Toshiba.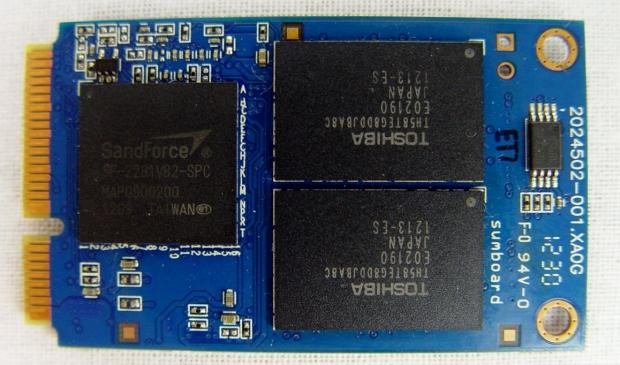 Our early sample of B02 shipped with Toshiba 24nm NAND. We suspect the final retail units to reduce power even further from what we're showing today. The new Toshiba 19nm Toggle 2 NAND type B and type C are even faster than the 24nm on our drive today and because of that we're mainly focusing on the power tests.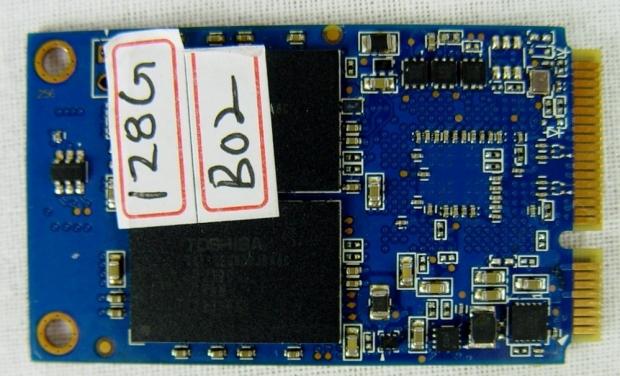 Today we're not publishing traditional benchmark performance, but the reason has more to do with timing than anything else. Our B02 sample produces the same 500+ MB/s performance that we've come to expect from SF-2281 controllers.
Benchmarks - Test System Setup and Power Testing
Desktop Test System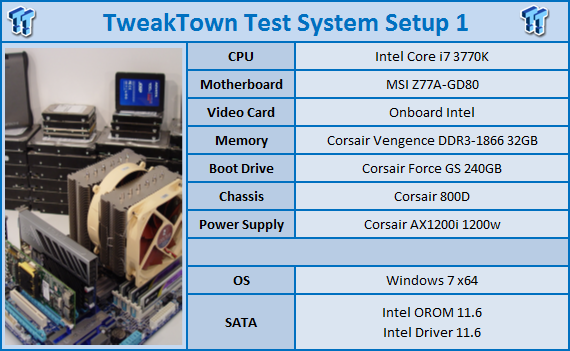 Lenovo W530 - Mobile Workstation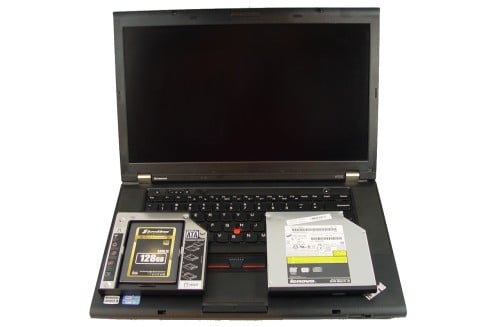 We use two systems for SSD testing. The desktop runs a majority of the tests and the Lenovo W530 runs the notebook power tests as well as the real-world file transfer benchmark.
Bapco MobileMark 2012 1.5
Version and / or Patch Used: 2012 1.5
Developer Homepage: http://www.bapco.com
Test Homepage: http://www.bapco.com
MobileMark 2012 1.5 is an application-based benchmark that reflects usage patterns of business users in the areas of office productivity, media creation and media consumption. Unlike benchmarks that only measure battery life, MobileMark 2012 measures battery life and performance simultaneously, showing how well a system design addresses the inherent tradeoffs between performance and power management.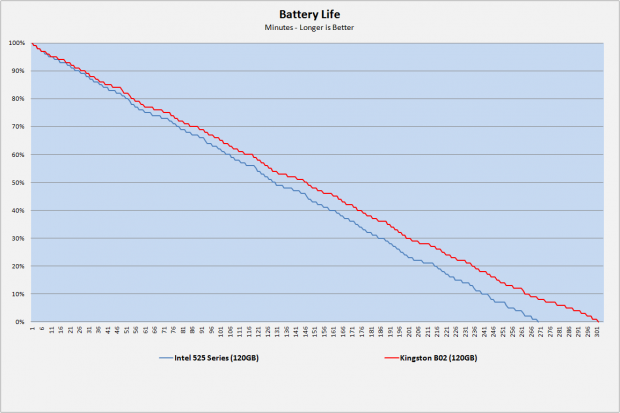 Intel's 525 Series is the latest addition to the LSI SandForce mSATA products so we chose to use it for our comparison to Kingston's early B02 mSATA drive. It doesn't get any more on the level than comparison. The Intel 525 Series just hit the market; our review isn't even published yet. The Kingston B02 early sample is the SandForce of the future and in this chart we see a thirty minute increase in battery life.
Since this is all about battery longevity and power use, the question that we expect to hear is about Samsung. Why didn't we include a Samsung 840 Series mSATA drive in the chart? We simply don't have a Samsung 840 Series mSATA drive to compare to, and neither does Samsung. Our Samsung 840 Pro 128GB 2.5" drive scored 251 minutes in this test and our 840 non-Pro 250GB 2.5" drive scored 290 minutes.
PCMark Vantage HDD Test - Power Draw
In this test, we record the 3.3 volt line going into the mSATA SSD to measure current. This allows us to see where each drive makes improvements. We brought another drive into the charts, an ADATA SX300.
We often hear, especially in forums, that one LSI SandForce is the same as all of the others. That simply isn't true. Even if the controller is the same and the flash is the same, manufacturers still need to choose many other components to get to a working SSD.
Power regulation circuitry is an area that varies widely and has a direct impact on performance, stability and power efficiency. We're not trying to pick on any particular brand or manufacturer here; we just feel it's important to show the differences and exactly where they are.
Final Thoughts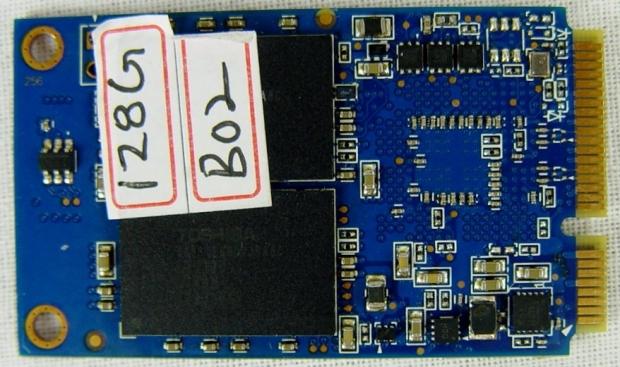 One of the most common upgrades after purchasing a new phone is an extended battery. Most of us also choose high capacity batteries for our notebooks when ordering as well. In a series of articles starting here, then here, it's possible to extend battery life of your new notebook as well. For many of us on the constant move, extending battery life is just as important as extending frames per second for gaming on desktop systems.
With our Lenovo W530 mobile workstation, we've increased battery life from 248 minutes with a Western Digital Caviar Blue to 301 minutes with the early prototype Kingston B02 stepping mSATA SSD drive. That's a difference of 53 minutes or just shy of an hour on a notebook not designed for long battery life. We're also using a six-cell standard battery and not the extended nine-cell. With a nine-cell battery the difference between a mechanical drive and a B02 stepping SSD would be well over an hour in our test.
We started measuring SSD current draw so we could eventually start to divide SSDs into two categories - those best for desktop performance, and those best for notebook performance. So far no company has built a notebook specific SSD and taken the design to the most power efficient levels. As notebooks and ultrabooks replace desktops further, we think companies will shift from making SSDs to targeted market SSDs.
LSI SandForce announced the new B02 stepping back in July of 2012, and the new controller as tested here at TweakTown today, even when paired with previous generation 24nm NAND, delivers the best battery life we've tested to date. Kingston has taken that part and worked an early sample together for us to take an early look at. The part we used today is not the final production model. 24nm Toggle Flash has been replaced by 19nm so we expect the final retail Kingston B02 products to increase battery life a little more. The difference between 24nm and 19nm might not be as great as 32nm to 24nm, but when it comes to battery life, we'll take as much as we can get.
I expect to get a little blow back for not publishing a full preview with performance measurements in the article today. Let's just tackle that issue real fast. The unit we have is already two generations old from what R&D has now. It's early hardware programmed with early firmware and does not represent final release hardware. The PCMark Vantage HDD Suite runs eight tests and if you look at the power trace, you can see that all three drives are nearly in sync from start to finish. The Kingston B02 sample even finishes the last test before the other two SF based drives. That says our B02 completes the test just a little faster than the other two. I made the chart extra wide so you can go over it in detail.
We really want to thank Kingston for giving us the opportunity to evaluate the new B02 stepping and allowing us to publish an editorial showing the future of SSD technology. We always have early samples in the lab, but it's very rare to publish anything with R&D hardware. Kingston produces some of the best SSD's on the market today and we've yet to hear of a major issue associated with their drives.
The Kingston B02 stepping products should hit the market in the coming months. Given the amount of battery life extended in our early sample, we expect these products to be a big hit with mobile device users.
PRICING: You can find products similar to this one for sale below.

United States: Find other tech and computer products like this over at Amazon.com

United Kingdom: Find other tech and computer products like this over at Amazon.co.uk

Australia: Find other tech and computer products like this over at Amazon.com.au

Canada: Find other tech and computer products like this over at Amazon.ca

Deutschland: Finde andere Technik- und Computerprodukte wie dieses auf Amazon.de
We openly invite the companies who provide us with review samples / who are mentioned or discussed to express their opinion. If any company representative wishes to respond, we will publish the response here. Please contact us if you wish to respond.