Introduction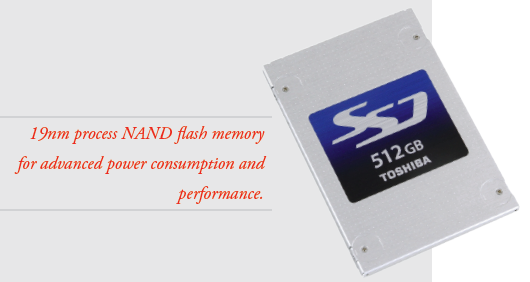 Toshiba announced the THNSNF product line at Computex 2012, just over six months ago. The line consists of three form factors and each form factor divides further into capacity sizes. Each model has a unique ID since the capacity size is in each model number. Today we're looking at the THNSNF256GCSS, a 2.5"form factor drive with a 7mm z-height.
Since Toshiba almost exclusively sells SSDs directly to OEMs and system integrators, you may wonder why this drive is getting attention on TweakTown. There are a couple of answers to that. The first is to see what system builders are using - if I don't know, I can't tell you to buy an aftermarket SSD or to keep the one that shipped in your new shiny ultrabook. The second reason is this is a really cool drive with features we never expected to see on an OEM drive.
The THNSNF (you can call it Thin Sniff, we do) was the first drive with 19nm Toggle 2 NAND, it beat Plextor's M5 Pro by several months. So, the flash is from Toshiba, the controller is also from Toshiba, but they had some help from Marvell along the way. We know this because the controller says so. This is where things start to get interesting. Unlike every other Marvell SSD controller we're seen to date, this design does not have a DRAM buffer. There is an open space on the PCB, but this is a DRAM-less design. Given the performance, we have to wonder just how fast THNSNF would be with DRAM.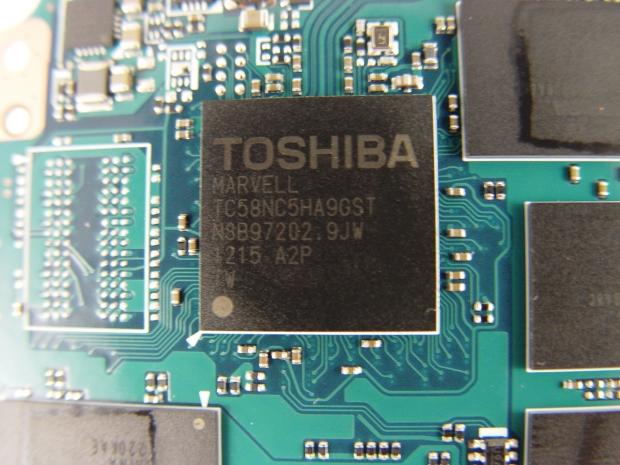 Speaking of performance... as you know OCZ Technology went to Marvell for their Vertex 4, at least for the hardware portion. Vertex 4 was the first drive on the market that we know of to limit single queue depth read speeds. When you cap single queue depth read performance, you leave bandwidth open for other requests, and it makes multitasking smoother. THNSNF does the same thing and this is the first time we've seen the feature used outside of OCZ Vertex 4 and Vector.
Specifications, Pricing and Availability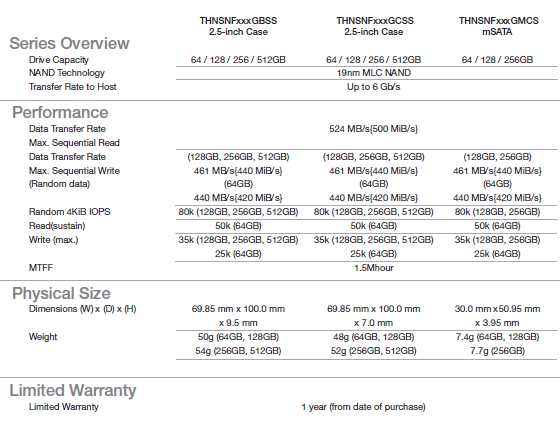 As we stated in the introduction, there are three versions of THNSNF. GBSS and GCSS are both 2.5" form factor models with GCSS using a 7mm z-height. GMCS is an mSATA offering. The two 2.5" drives have four capacity sizes - 64GB, 128GB, 256GB and 512GB. The mSATA model only scales to 256GB, so it's only offered in three capacity sizes.
Read performance for all drives is speced at 524MB/s, but write performance varies between capacity sizes and form factors. The 2.5" 7mm 256GB model we're looking at today has a claimed sequential write performance of 461MB/s. Read IOPS are rated at 80K and write IOPS are at 35K.
Our sample came from Toshiba directly and not a third party OEM. The housing is a lot like the Toshiba SSD that arrived in our Lenovo W701ds notebook two years ago. Looking around online we couldn't find any OEM or reseller with this model for sale, but through our back channel sources, we learned companies can place a large order through Toshiba; there is a 13 week wait time, though.
Toshiba's marketing docs show a one year warranty. System builders handle warranties though so you need to go back to your builder should a problem occur.
Toshiba THNSNF256GCSS 256GB SSD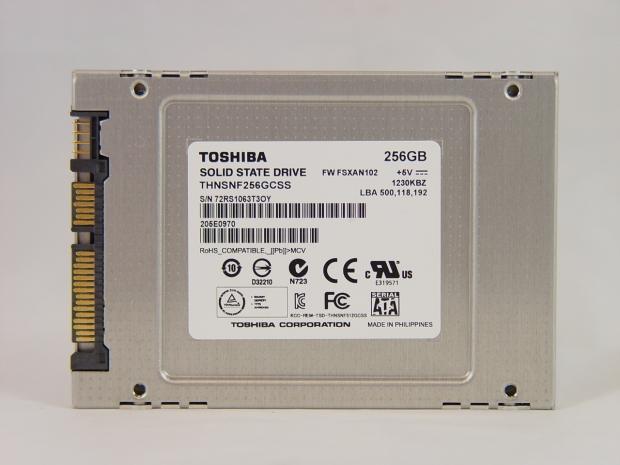 Here we get our first look at the Toshiba THNSNF256GCSS drive. It's a system builder drive so there isn't a box for us to mull over and the drive itself is fairly plain and lacks the big in your face color scheme of a typical retail selling drive.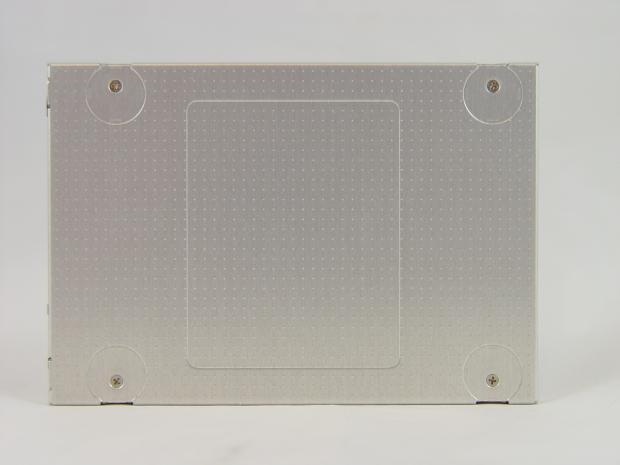 It's basically an SSD designed for endurance and low cost. This one just happens to be pretty quick and packs some cool features.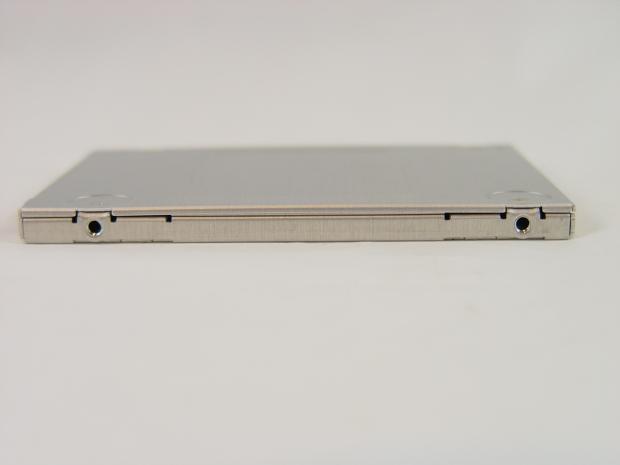 The GCSS model is a 7mm design.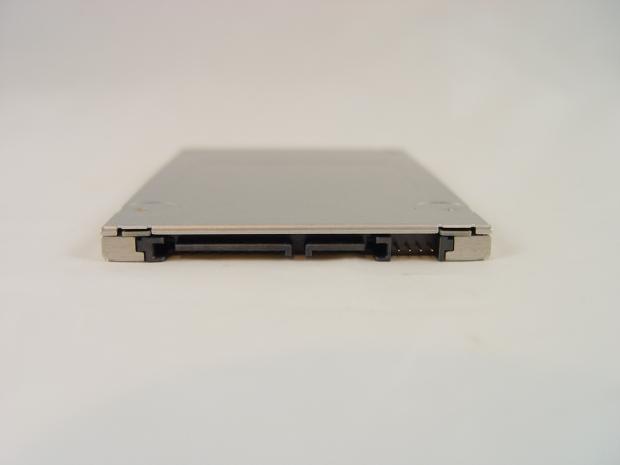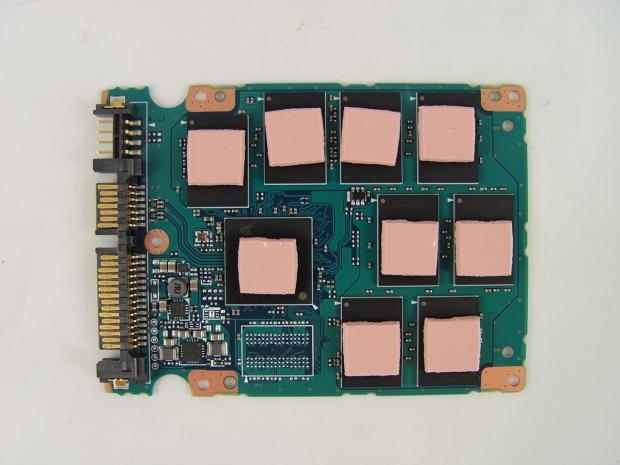 Inside we found a thermal pad on each chip.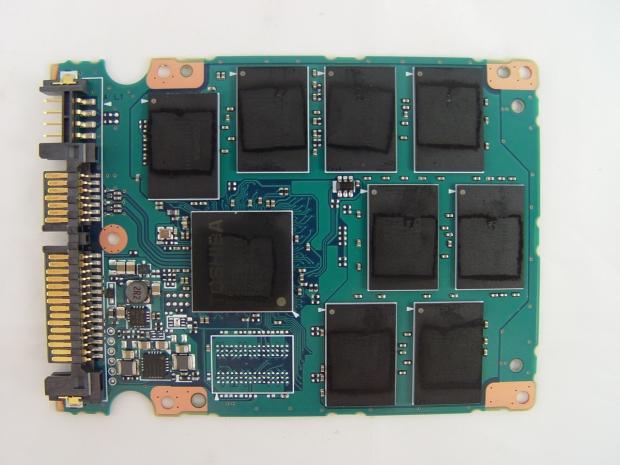 Here we see the empty space for a DRAM chip. This is significant because the only modern SSD design without a DRAM buffer comes from LSI SandForce.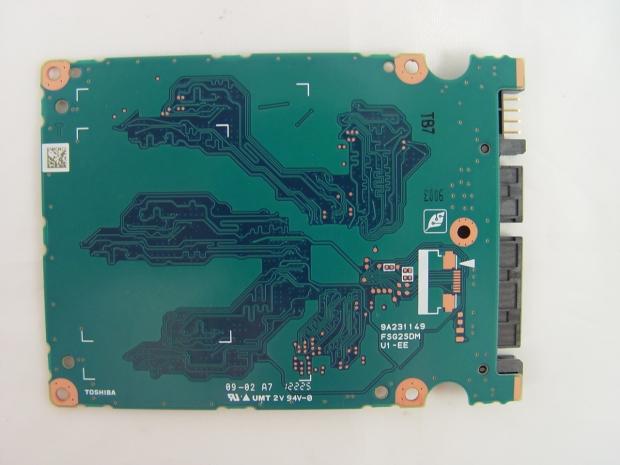 All of the chips are on the top side of the drive. There are eight NAND flash chips in total.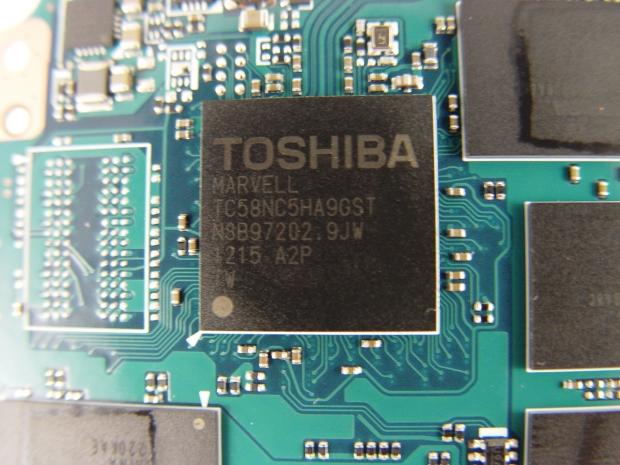 The controllers are labeled with both Toshiba and Marvell. We know Toshiba built the firmware. We think Marvell just spun the hardware to Toshiba's specs.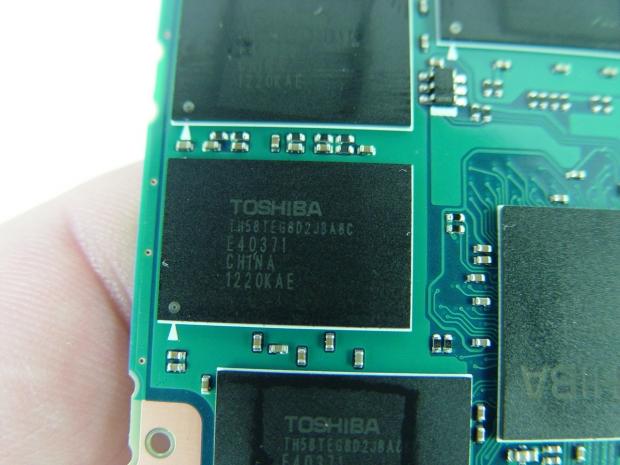 Toshiba's 19nm Toggle 2 flash. We're starting to see this die size in more products as the existing supply of 24nm starts to fade away.
Benchmarks - Test System Setup and ATTO Baseline Performance
Desktop Test System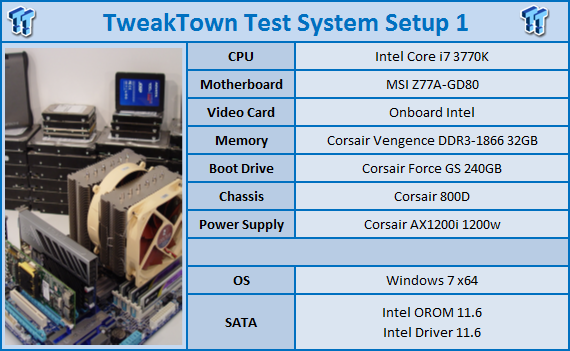 Lenovo W530 - Mobile Workstation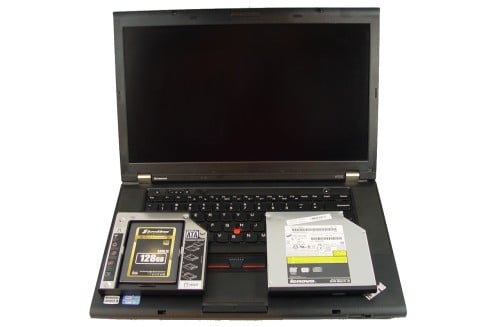 We use two systems for SSD testing. The desktop runs a majority of the tests and the Lenovo W530 runs the notebook power tests as well as the real-world file transfer benchmark.
ATTO Baseline Performance
Version and / or Patch Used: 2.34
ATTO is used by many disk manufacturers to determine the read and write speeds that will be presented to customers.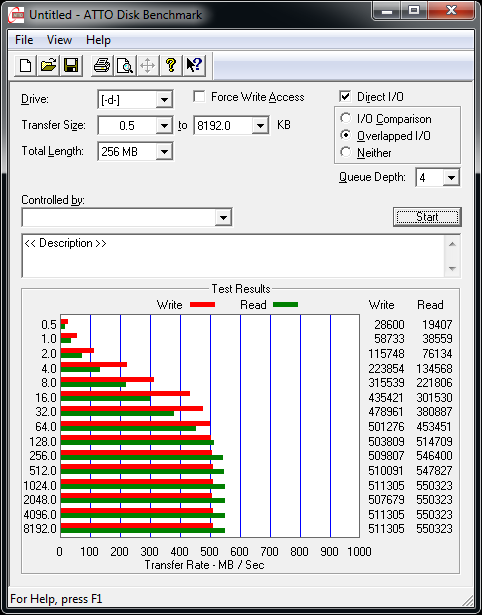 See, I told you this was an interesting drive. Toshiba's specs are very conservative compared to the performance we pulled out of THNSNF.
Our system pulled just over 550MB/s read and 511MB/s write speeds. With performance like this coming from your notebook right out of the box, the aftermarket might have a problem convincing you to upgrade. This is a big change to what we experienced just a few years ago because the performance of this drive is comparable to the performance offered by the best retail level drives on the market today.
Benchmarks - Sequential Performance
HD Tune Pro
Version and / or Patch Used: 4.00
Developer Homepage: http://www.efdsoftware.com
Product Homepage: http://www.hdtune.com
HD Tune is a Hard Disk utility which has the following functions:
Benchmark: measures the performance
Info: shows detailed information
Health: checks the health status by using SMART
Error Scan: scans the surface for errors
Temperature display
HD Tune Pro gives us accurate read, write and access time results and for the last couple of years has gained popularity amongst reviewers. It is now considered a must have application for storage device testing.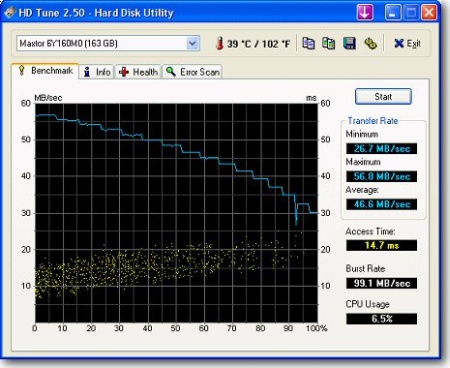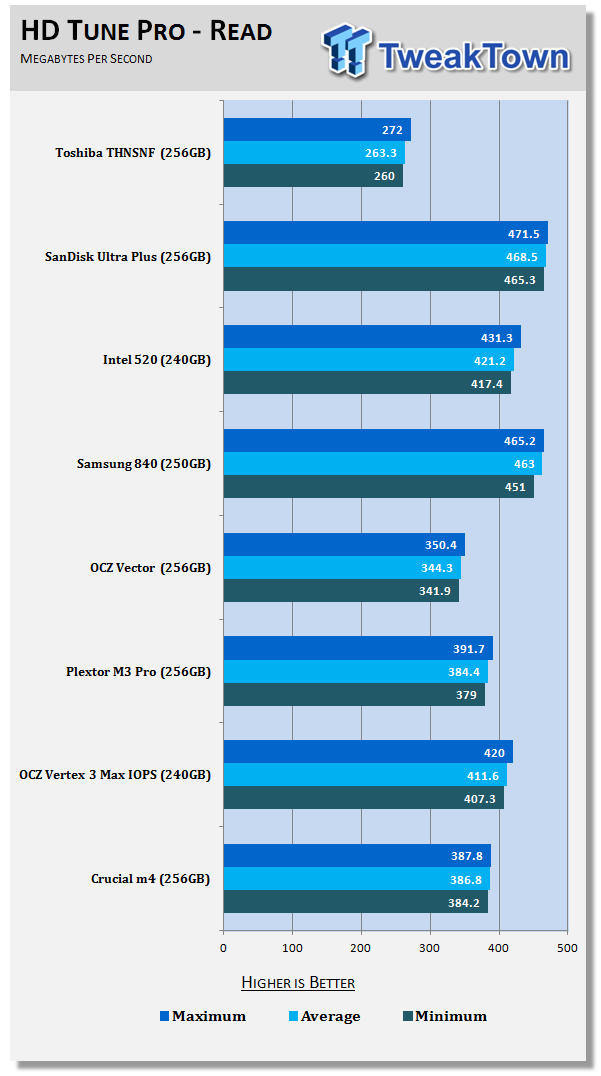 As we mentioned the THNSNF has a single queue depth limit when reading data from the drive. The average of a single request is 263MB/s. Later in this review we'll look at the overall speed with multiple read requests. The sequential read performance at QD1 is higher than the OCZ Vertex 4 when it launched. Firmware 1.4.1.5, a beta release later given to the public under the name 1.4.2 increased the speed to 300MB/s. Given that THNSNF is a built to order drive, system builders should be able to ask for changes to where the QD limit is at.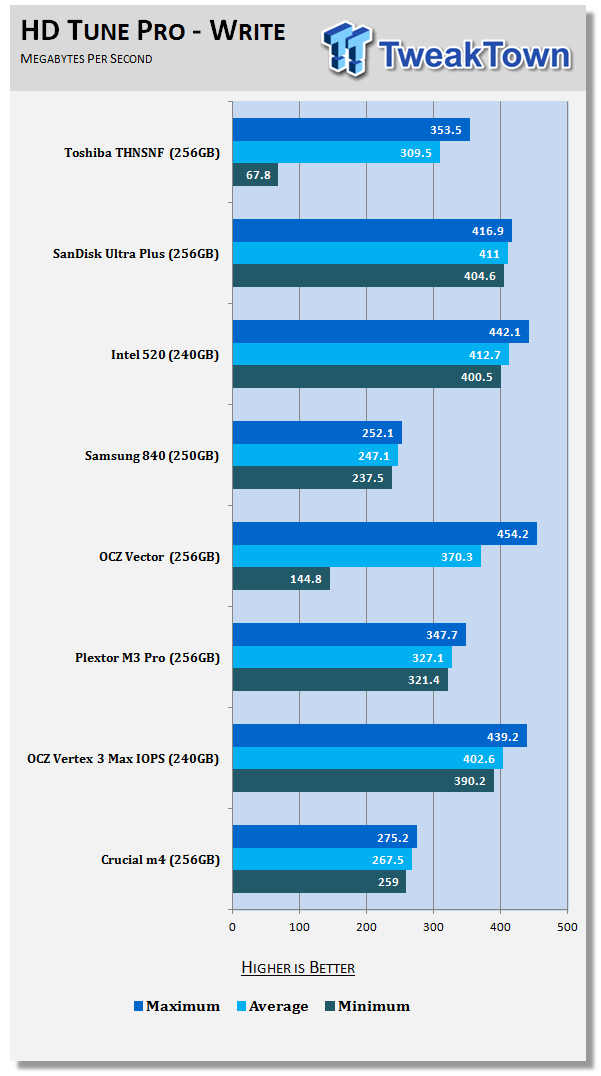 THNSNF also has a version of storage mode (as opposed to performance mode), just like Vertex 4. We know OCZ hates it when we label these two distinct modes of operation, at least the engineer responsible for Vector doesn't like it. Just like with the OCZ drives, THNSNF wouldn't fall back to storage mode when under normal use. You have to write to a large span of the drive all at once to drop performance. This test just happens to highlight the drop since it uses a 64KB block size.
HD Tach - Sequential Write Performance After Random Writes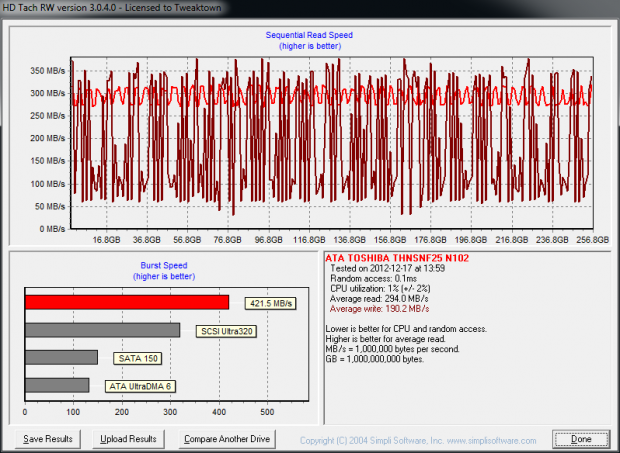 By now most of our daily readers know we run a lot of tests and only a few make it into our reviews. In 2013 we're finally rolling this test out. The test isn't new, we have data going back three years with HD Tach sequential performance measured just after the six tests in HD Tune Pro. Just before HD Tach, we run the Random Read, then the Random Write test in HD Tune Pro. This allows us to get the test drive closer to consumer steady state for the more significant tests later in the review.
The reason why we are so methodical when testing, always running the same tests in the same order with the same amount of time between tests, is because what you write to the drive previously affects the next test.
In this new published test we see the effect of random writes just before a sequential write across the drive. This test also illustrates the effectiveness of foreground garbage collection. We'll start charting these results in future reviews. The THNSNF scores an average write speed of 190.2 MB/s.
Benchmarks - AIDA64 Random Access Time
AIDA64 Random Access Time
Version and / or Patch Used: 1.60
Developer Homepage: http://www.aida64.com
Product Homepage: http://www.aida64.com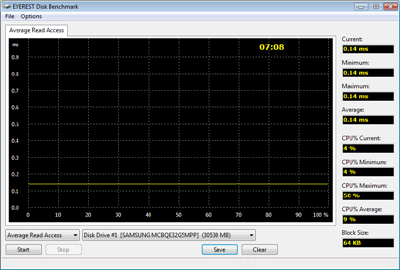 AIDA64 offers several different benchmarks for testing and optimizing your system or network. The Random Access test is one of very few if not only that will measure hard drives random access times in hundredths of milliseconds as oppose to tens of milliseconds.
Drives with only one or two tests displayed in the write test mean that they have failed the test and their Maximum and possibly their Average Scores were very high after the cache fills. This usually happens only with controllers manufactured by Jmicron..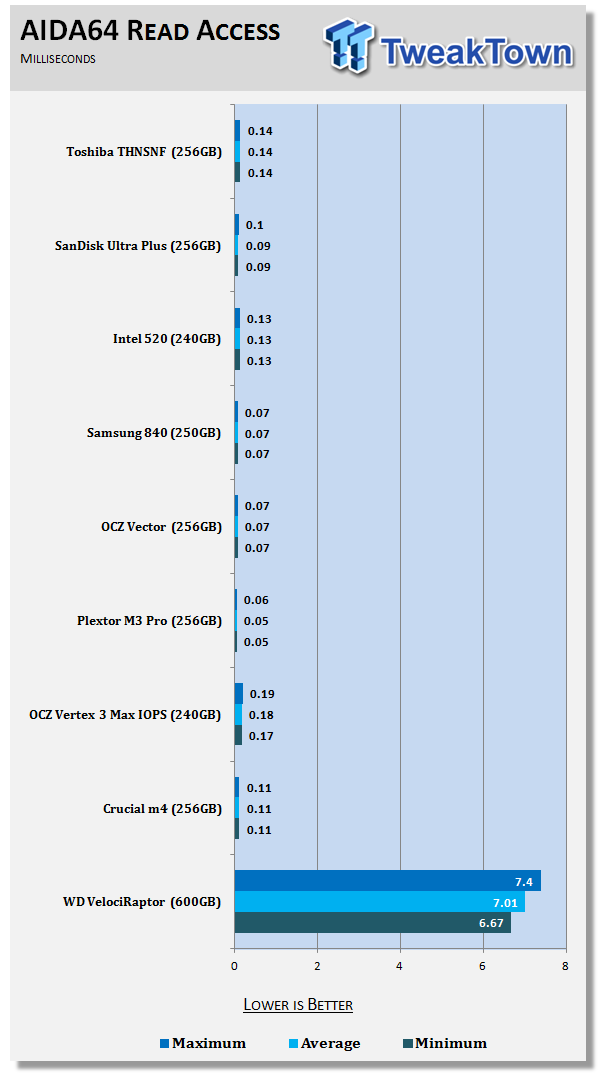 The Toshiba THNSNF has higher read latency when compared to other drives with technology from Marvell, like the Plextor M3 Pro. Purpose built OEM drives just need to outperform mechanical spinners and the THNSNF tackles that objective easily.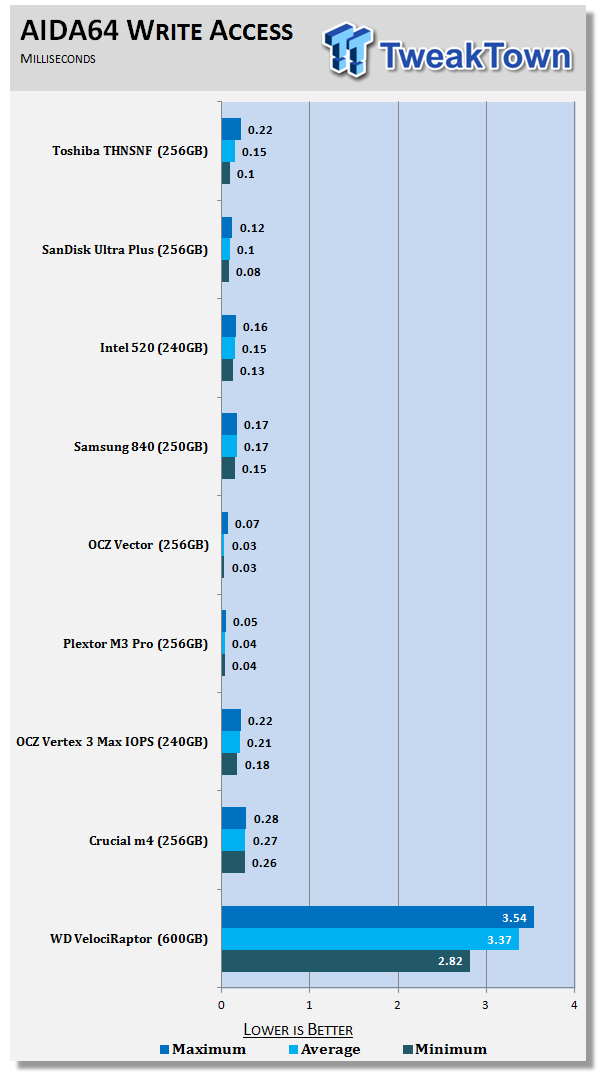 This is where a DRAM buffer would really help THNSNF, with write access times. The average write latency is in line with other DRAM-less designs, but much higher than newer drives with Marvell technology.
Benchmarks - Anvil Storage Utilities
Anvil Storage Utilities
Version and / or Patch Used: RC6
So what is Anvil Storage Utilities? First of all, it's a storage benchmark for SSDs and HDDs where you can check and monitor your performance. The Standard Storage Benchmark performs a series of tests, you can run a full test or just the read or the write test or you can run a single test, i.e. 4K DQ16.
Anvil Storage Utilities is not officially available yet but we've been playing with the beta for several months now. The author, Anvil on several international forums has been updating the software steadily and is adding new features every couple of months.
The software is used several different ways and to show different aspects for each drive. We've chosen to use this software to show the performance of a drive with two different data sets. The first is with compressible data and the second data set is incompressible data. Several users have requested this data in our SSD reviews.
0-Fill Compressible Data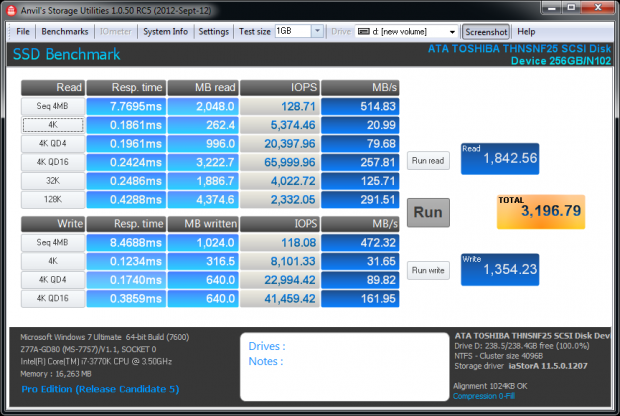 Incompressible Data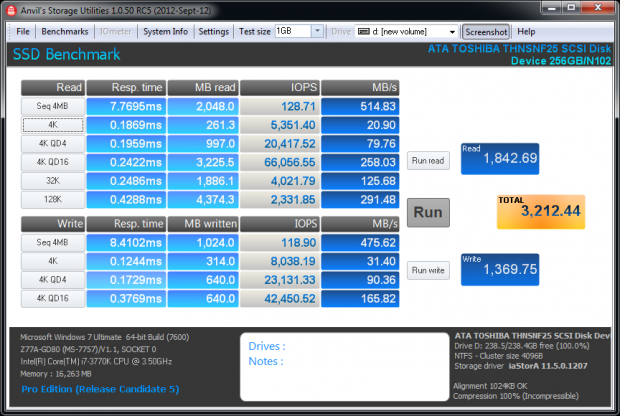 Unlike the other DRAM-less controllers in the wild today, the Toshiba THNSNF doesn't slow when working with incompressible data. The THNSNF actually manages to go a little faster when working with incompressible data.
Read IOPS through Queue Depth Scale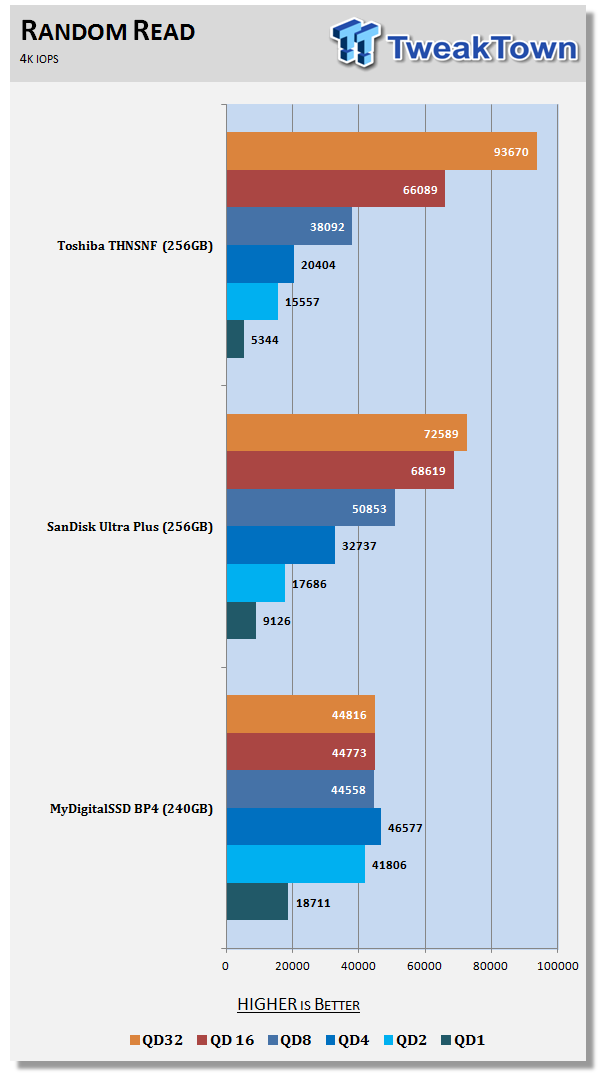 Here is another set of new tests for 2013. Here we see IOPS performance at various queue depths. Companies like to advertise their IOPS performance at high queue depths, but most end-users don't get to high queue depths. On the chart we highlight the lower queue depths - 1, 2 and 4. On the chart are three drives that may see adaption in the OEM market. The MyDigitalSSD is a new Phison controlled model with even newer Toshiba 19nm Toggle 2 flash with 16K page sizes.
Scaling Write IOPS through Queue Scale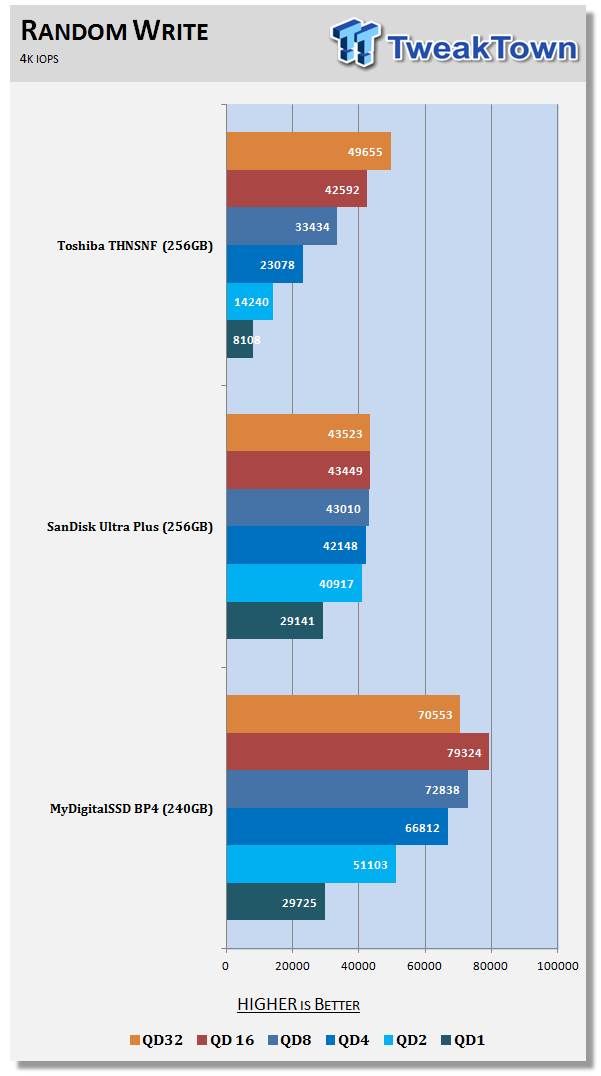 When writing data you get to higher queue depths when multitasking, but still the lower queue depths are used more than higher queue depths.
Benchmarks - CrystalDiskMark
CrystalDiskMark
Version and / or Patch Used: 3.0 Technical Preview
Developer Homepage: http://crystalmark.info
Product Homepage: http://crystalmark.info/software/CrystalDiskMark/index-e.html
Download here: http://crystaldew.info/category/software/crystaldiskmark
CrystalDiskMark is a disk benchmark software that allows us to benchmark 4K and 4K queue depths with accuracy.
Key Features:-
* Sequential reads/writes
* Random 4KB/512KB reads/writes
* Text copy
* Change dialog design
* internationalization (i18n)
Note: Crystal Disk Mark 3.0 Technical Preview was used for these tests since it offers the ability to measure native command queuing at 4 and 32.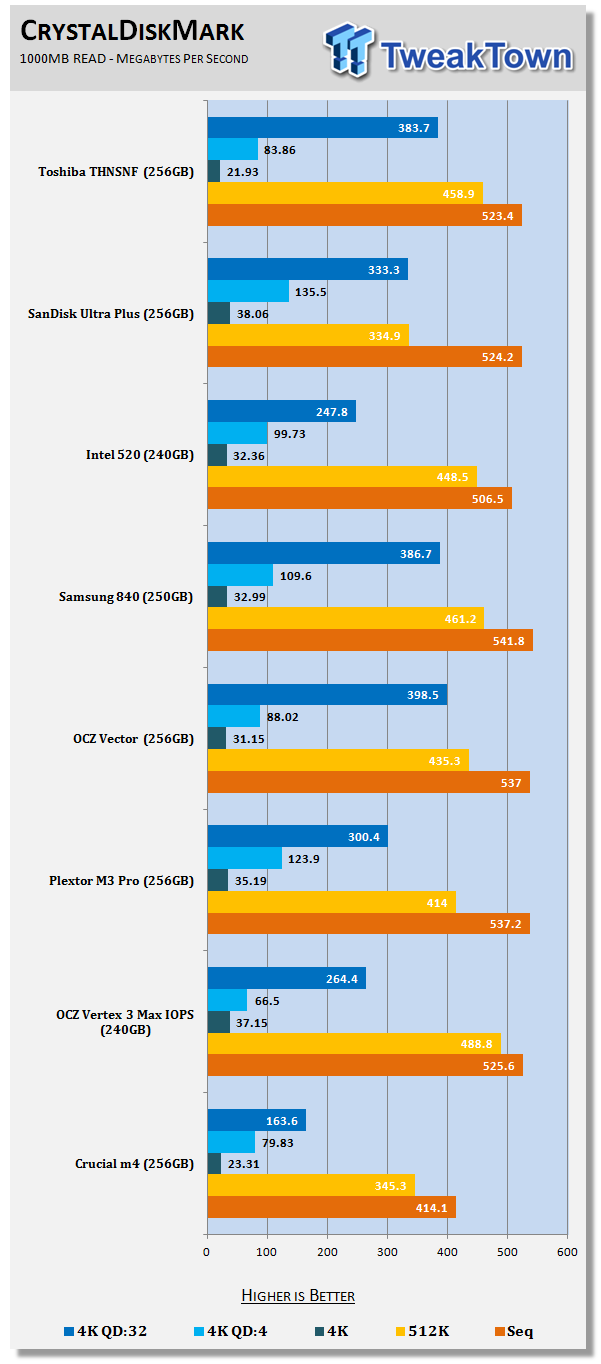 Here we see 4K performance with incompressible data measured in MB/s. The Toshiba THNSNF delivers just under 22MB/s at QD1. The drive scales very well and nearly hits 84MB/s at QD4. Here we also see the sequential read speed at higher than QD1. The THNSNF does very well with more than 520MB/s.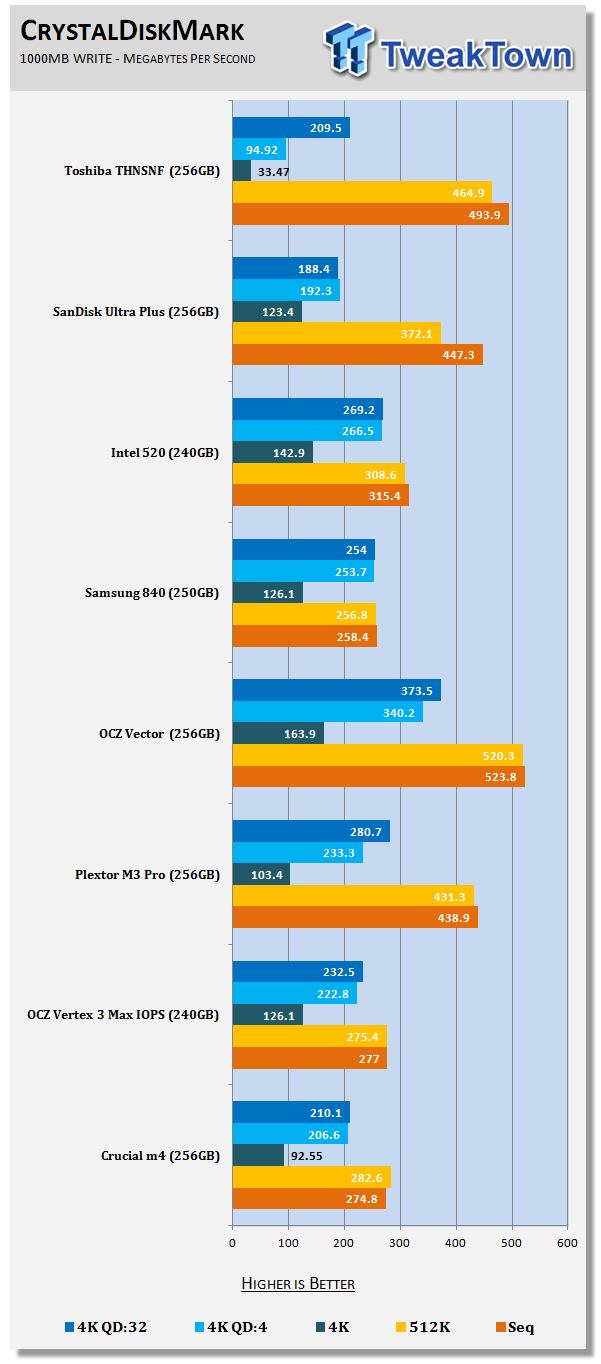 The single queue depth 4K write performance is down quite a bit compared to most of the other drives on the chart. The sequential write performance though is very high, only second to OCZ's Vector.
Benchmarks - PCMark Vantage Hard Disk Tests
PCMark Vantage - Hard Disk Tests
Version and / or Patch Used: 1.0.0
Developer Homepage: http://www.futuremark.com
Product Homepage: http://www.futuremark.com/benchmarks/pcmark-vantage/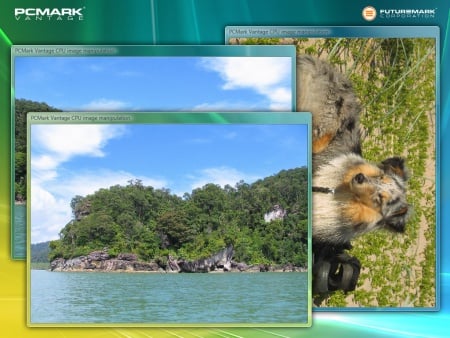 PCMark Vantage is the first objective hardware performance benchmark for PCs running 32 and 64 bit versions of Microsoft Windows Vista. PCMark Vantage is perfectly suited for benchmarking any type of Microsoft Windows Vista PC from multimedia home entertainment systems and laptops to dedicated workstations and high-end gaming rigs. Regardless of whether the benchmarker is an artist or an IT Professional, PCMark Vantage shows the user where their system soars or falls flat, and how to get the most performance possible out of their hardware. PCMark Vantage is easy enough for even the most casual enthusiast to use yet supports in-depth, professional industry grade testing.
FutureMark has developed a good set of hard disk tests for their PCMark Vantage Suite. Windows users can count on Vantage to show them how a drive will perform in normal day to day usage scenarios. For most users these are the tests that matter since many of the old hat ways to measure performance have become ineffective to measure true Windows performance.

HDD1 - Windows Defender
HDD2 - Gaming
HDD3 - Windows Photo Gallery
HDD4 - Vista Startup
HDD5 - Windows Movie Maker
HDD6 - Windows Media Center
HDD7 - Windows Media Player
HDD8 - Application Loading
Just like Vertex 4 with the less than 300MB/s single queue depth read limit, THNSNF doesn't give us amazing performance in Vantage. One of the reasons why we didn't get this review published before CES is because we wanted to spend time with the drive in a real computer. The THNSNF does perform faster than in daily use tasks than what the chart would lead us to believe.
Benchmarks - PCMark Vantage - Drives with Data Testing
For a complete breakdown on the Drives with Data Testing please read this article. You will be able to perform this test at home with the files provided in the article - full instructions are included.
- Brief Methodology
SSDs perform differently when used for a period of time and when data is already present on the drive. The purpose of the Drives with Data testing is to show how a drive performs in these 'dirty' states. SSDs also need time to recover, either with TRIM or onboard garbage collection methods.
Drives with Data Testing - 25%, 50%, 75% Full States and Dirty / Empty Test
Files needed for 60 (64GB), 120 (128GB), 240 (256GB)
60GB Fill - 15GB, 30GB, 45GB
120GB Fill - 30GB, 60GB, 90GB
240GB Fill - 60GB, 120GB, 160GB
Empty but Dirty - a test run just after the fill tests and shows if a drive needs time to recover or if performance is instantly restored.

SSDs slow when the flash has data on it and in this test we see show how much performance is lost.
The THNSNF performs much better than we thought it would. With this level of performance, we expect Toshiba to get quite a few design wins in the OEM market.
Benchmarks - BootRacer
BootRacer - System Boot Time
Version and / or Patch Used: 4.0
Developer Homepage: Greatis
Product Homepage: BootRacer
Download here: http://www.greatis.com/bootracer/download.htm
Note: In this test we use the Lenovo W530 Mobile Workstation loaded with an operating system and several program files. The data on the drive at the time of the test is 45GB. The second test, 50GB Free, was run with the drives filled with block data until only 50GB of free capacity remained.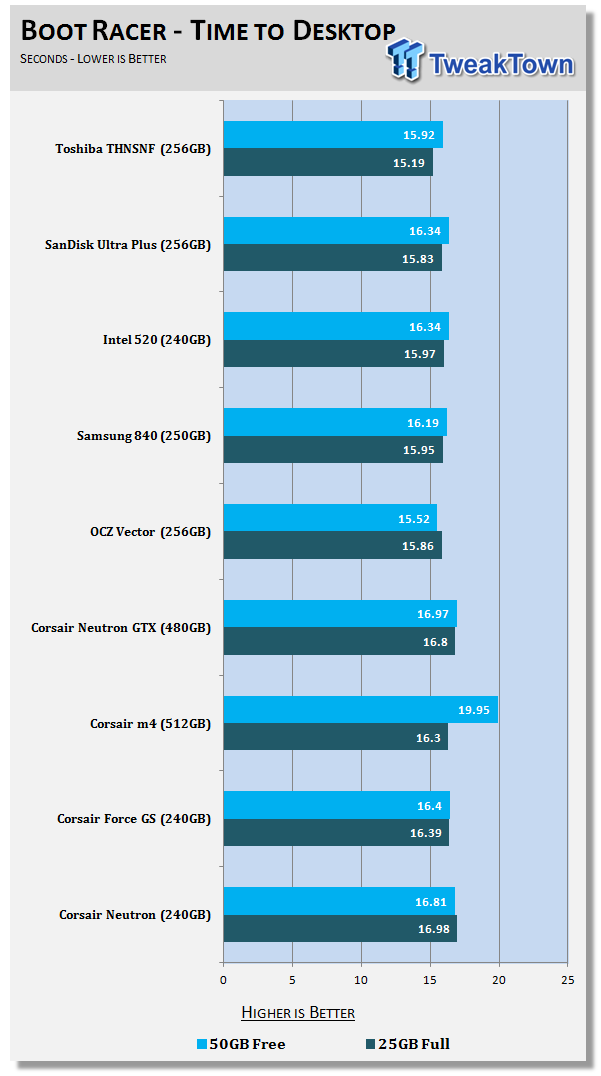 We've tested some pretty slow OEM SSDs that seem to take forever to boot into Windows, but not the THNSNF. This drive is a real contender; I'm not really sure why Toshiba doesn't have this drive on the retail market.
Benchmarks - DiskBench
DiskBench - Directory Copy
Version and / or Patch Used: 2.6.2.0
Developer Homepage: Nodesoft
Product Homepage: DiskBench
Download here: http://www.nodesoft.com/diskbench/download
Note: In this test we use the Lenovo W530 Mobile Workstation and a SuperSSpeed S301 SLC 128GB SSD to move a 15GB block of data to and from the target drive. This is part of our real world test regiment. Roughly 45GB of data resides on the target drive before the '15GB Block' is transfer. The 15GB Block is the same data we built for the Data on Disk Testing and is a mix of compressible and incompressible data.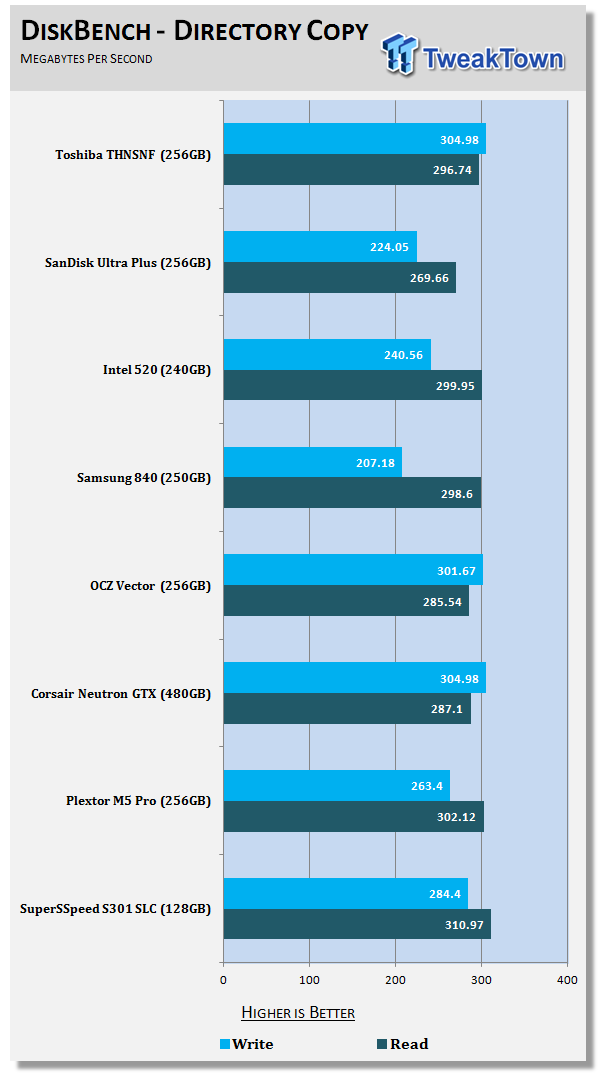 If you had doubts before I think this test will get you in the spirit. It's nearly official; this is a high performance drive for daily use.
Benchmarks - Power Testing
Bapco MobileMark 2012 1.5
Version and / or Patch Used: 2012 1.5
Developer Homepage: http://www.bapco.com
Test Homepage: http://www.bapco.com
MobileMark 2012 1.5 is an application-based benchmark that reflects usage patterns of business users in the areas of office productivity, media creation and media consumption. Unlike benchmarks that only measure battery life, MobileMark 2012 measures battery life and performance simultaneously, showing how well a system design addresses the inherent tradeoffs between performance and power management.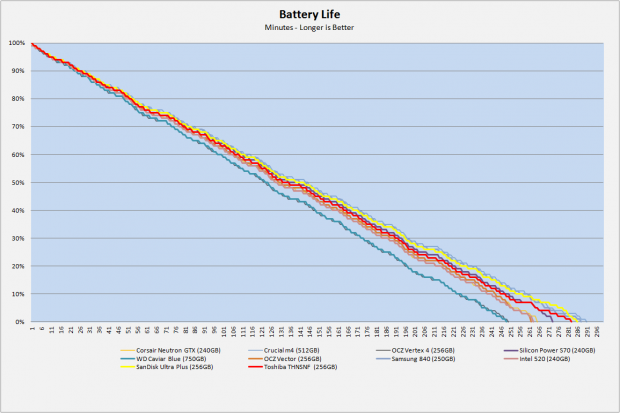 In the marketing material, Toshiba talks about their power efficiency. In our testing, only three other drives delivered better battery life results.
PCMark Vantage HDD Test - Power Draw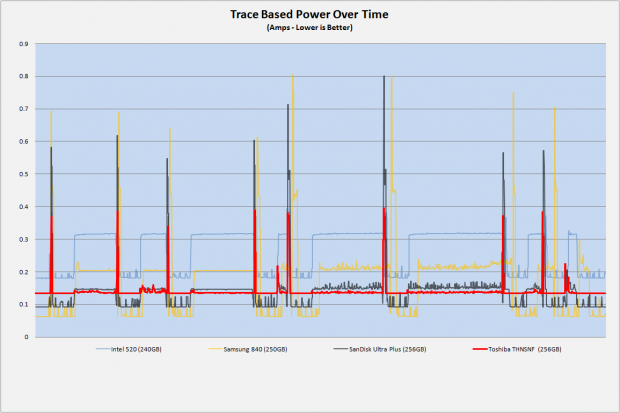 In this test we see how the THNSNF manages to deliver such long battery life. The drive barely breaks away from the idle power draw. When writing random data the THNSNF spikes like most other SSDs, but the sequential reads and writes are very close to the idle power.
Final Thoughts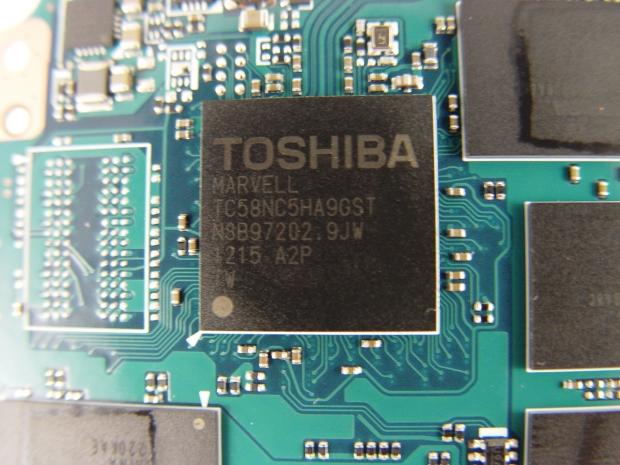 Thin Sniff, it doesn't really roll off the tongue like Force GT, Vector or 840 Pro, but this drive's lame model number goes to show that it is designed for OEM installations.
I wouldn't be surprised to find this exact drive hitting the market under a different brand, maybe Kingston for their V-Series or another company. The performance is very good even without a DRAM buffer. If Toshiba is able to add a DRAM chip and program the controller to take advantage of it, this drive could be a contender in the higher performance market.
As it sits now, if the price is right, say $190 for the 256GB model, this could be a leader in the low price SSD market. Our tests show it's faster than the SanDisk Ultra Plus 256GB, a drive currently selling for $210. It's really too bad Toshiba doesn't have a strong channel presence.
Since this isn't a full retail drive with known pricing, warranty terms and so on, we aren't scoring the Toshiba THNSNF here today. Hopefully at some point in the future this drive will circle back around, either in a notebook we purchase or as a branded product under a different name.
I still think Toshiba would have done well in the retail market, but moves such as those need to start well before a parts are ready to ship.