Corsair Neutron Series Solid State Drives Review - LAMD or Wolf in a 7mm Package?
Corsair delivers two new high performance SSDs based on the silicon from Link_A_Media. Chris takes a look and compares LAMD with IMFT and Toshiba Toggle flash.
Published Aug 20, 2012 5:00 AM CDT
|
Updated Tue, Nov 3 2020 7:01 PM CST
18 minute read time
Introduction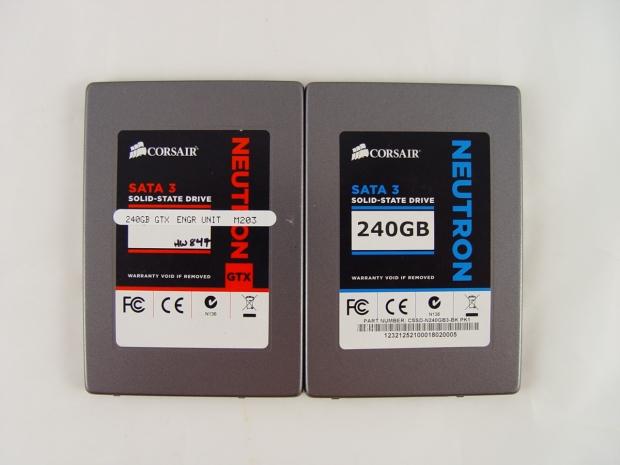 At Computex we saw the emergence of two new SSD controller makers, Novachips and Link-A-Media. In July we wrote an exclusive preview test of the Biwin NuvoDrive NX, the first drive to use the Novachips 'Bugatti' NVS3600A. Today, we finally get to unwrap the Link_A_Media Devices (LAMD) 'Amber' LM87800 SSD controller. Things are a little different this time around, though. Link-A-Media is ready to go retail with their first partner, Corsair. As you read this, the new Corsair Neutron and Neutron GTX are headed to retail shelves and e-tailer warehouses for distribution to the channel.
You might be under the impression this is LAMD's first SSD controller, but it isn't. Last year we played a little trial and error with the Seagate Pulsar 2. Under the hood was a LAMD LM88301AA controller. Given the market Pulsar 2 plays in, high-end enterprise, and the cost, more than any of us are going to spend on an SSD, I'd say that LAMD has established themselves in the SSD business long before the new Amber controller existed. Certainly quite a bit of knowledge from Pulsar 2 aided in LAMD's new client side products.
It's no surprise that Corsair is the first to market with an LAMD controller. In years past we've seen Corsair partner with Samsung, Marvell, SandForce and a few other controller makers. Their diversity over time has led to a diverse stable of products in the SSD portfolio. Last month Corsair released the Force GS, the next evolution to the Force Series and sitting with the established Force GT and Force 3 products. Corsair also has the Nova, a SATA II SSD that offers SATA II performance at a low price. The Performance Pro uses a Marvell controller and competes with the Force line up as well.
Corsair tends to play in the higher end of the market and that is right where the new Neutron and Neutron GTX plan on playing.
Specifications, Pricing and Availability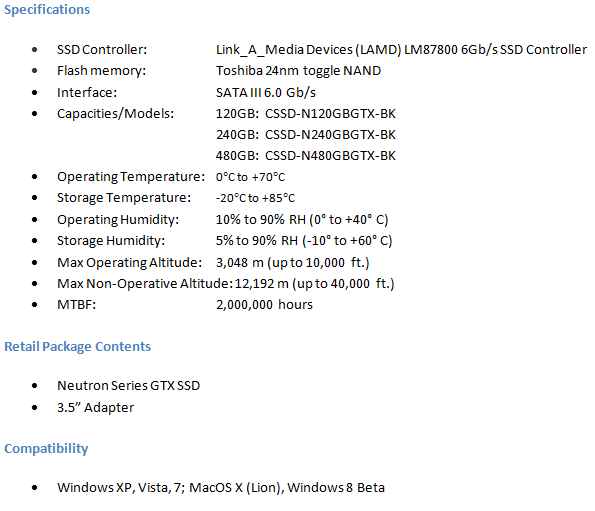 Corsair has two products coming today, Neutron and Neutron GTX. Both were on display at Computex 2012, but Corsair chose to show performance numbers for the GTX. That doesn't mean the base Neutron is a stripped down version or an asynchronous flash drive that looks good on paper, but fails to deliver in the real-world.
Let's start out with Neutron, the base SSD in this series. Neutron uses the same LAMD Amber controller as the GTX, an 8-channel design built to push the boundaries of the SATA 6Gbps limits. Paired with Amber, Corsair chose to use Micron 25nm synchronous flash. This is a move we applaud Corsair for and are glad to see asynchronous flash depart from the enthusiast SSD products. Our sample has a 240GB user capacity and uses 16 NAND flash chips for a total of 256GB of overall capacity.
As you can see, Neutron is a bad boy on its own, but it's only heir to the throne. The Corsair Neutron GTX is the new king of the castle, or in this case the new flagship product sitting atop Corsair's ever increasing SSD product line up. Neutron GTX is also an 8-channel design, but with this model Corsair choose to use Toshiba 24nm Toggle Mode flash. The 240GB model we're looking at today uses eight Toshiba NAND flash chips so in theory should pull less power than the Neutron non-GTX.
We've seen IMFT 25nm synchronous flash get into a fight with Toshiba 24nm Toggle Mode flash before, Force GT vs. Force GS, but those were LSI SandForce Driven products. It'll be interesting to see how these two technologies fair under a new architecture.
At the time of writing we still have a lot of things left to be discovered. Pricing is one of them. At Computex Corsair stated that Neutron products should cost a little more than Force Series products, but the Force 3 and Force GT have been on the market quite a while so there is a lot of variation online right now in their pricing. A better evaluation on pricing through comes from the Force GT and Force GS and in this scenario the Force GS is a new product on the market.
We look forward to seeing Newegg's listings and hope they come sooner rather than later. Let me show you why.
UPDATE - Newegg hasn't listed the drives yet, but we have the MSRP direct from Corsair. The Neutron sells at $119.99 (120GB) and $209.99 (240GB). The Neutron GTX with Toshiba 24nm Toggle Mode flash sells for $139.99 (120GB) and $249.99 (240GB).
Packaging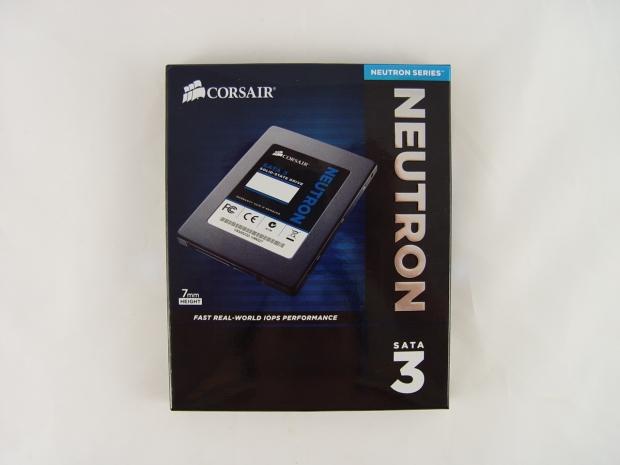 For the retail packaging section of this article we are going to use the Neutron. Both the Neutron and the Neutron GTX ship with the same accessories, in the same manner, but one box is red and the other is blue.
The Corsair SSD package methodology fits in with Corsair's other products well. The Neutron is a 7mm Z-Height and Corsair has that on the front of the package, a nice move for the retail market.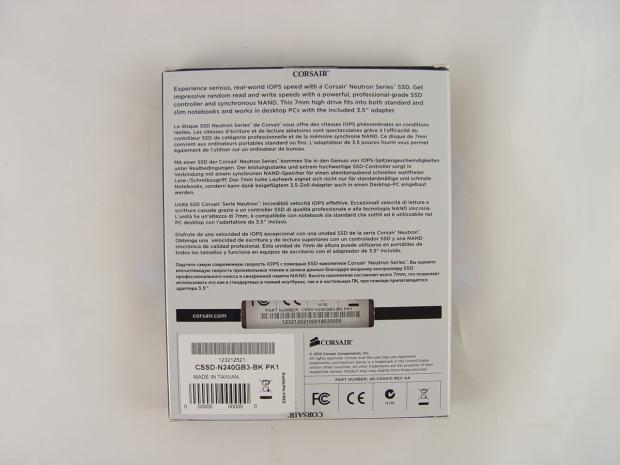 On the back of the package Corsair talks about "Real World IOPS Speed", sort of the tag line for the new Neutron Series. We'll talk more about this in the benchmarks portion of the review.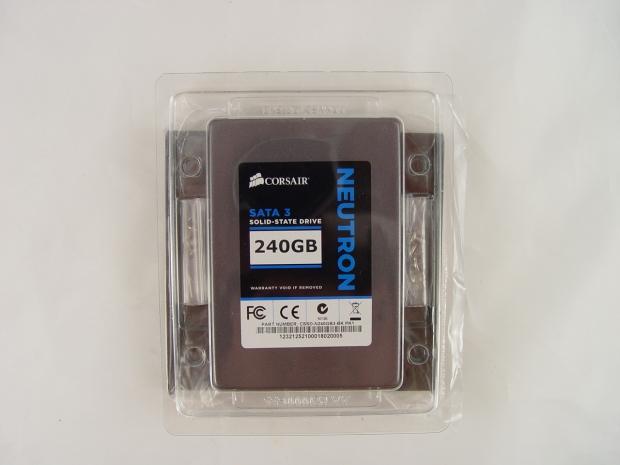 The drive is packed very well with the drive separate from the accessory bundle.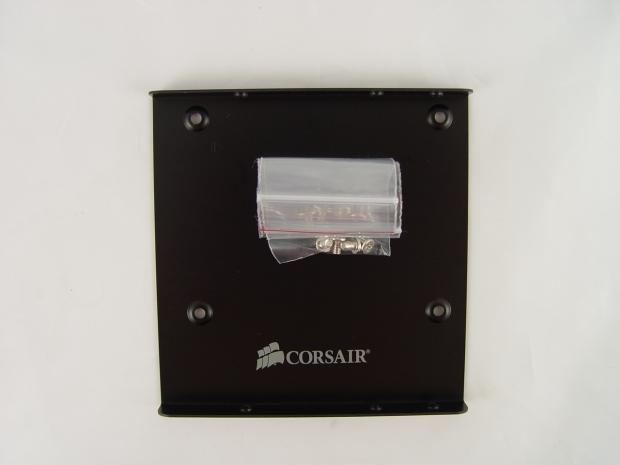 The Neutron and Neutron GTX both ship with a desktop adapter bracket and drive mounting screws.
Corsair Neutron Series Solid State Drives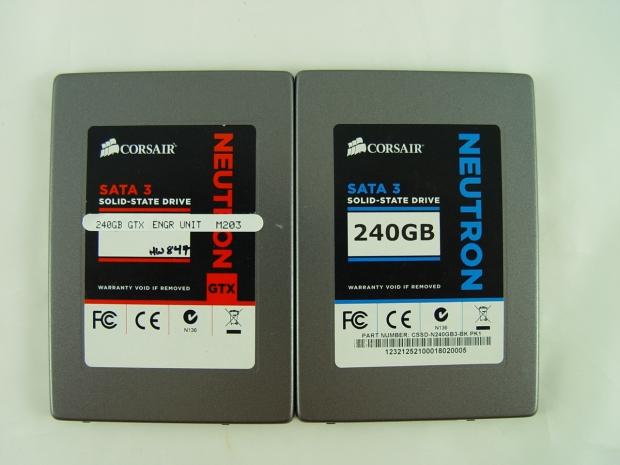 Our Neutron GTX isn't a retail unit, but it was tested with production hardware and firmware. The front cover of each drive shows the capacity size, part number and serial number.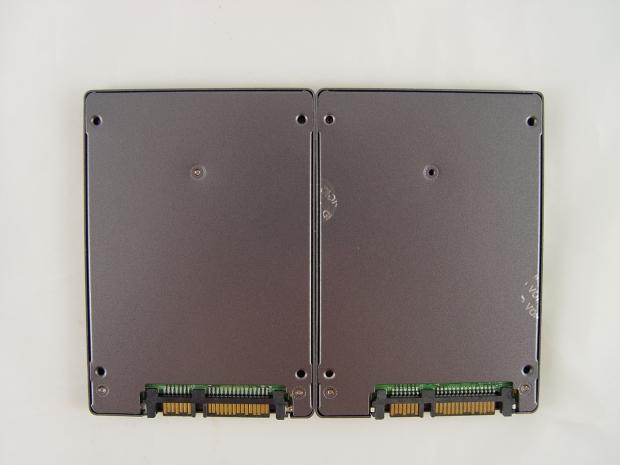 The back of the drive is void of data, but we do see the mounting points located where they should be.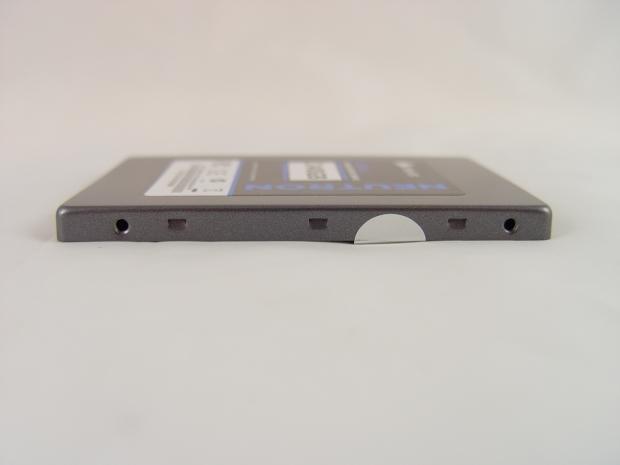 Both Neutron models use the new 7mm Z-height which means they are good to go inside your ultrabook. You can use these drives in all adapter brackets because the side and bottom mounting points are in the same location as 2.5" form factor drives using 9 and even 14.5mm heights.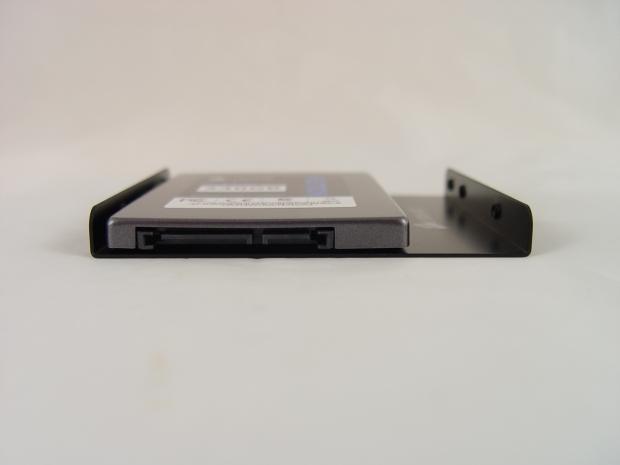 The desktop adapter bracket offsets the drive so the power and data connectors are closer to in line with standard 3.5" HDDs. This makes for easier cable management.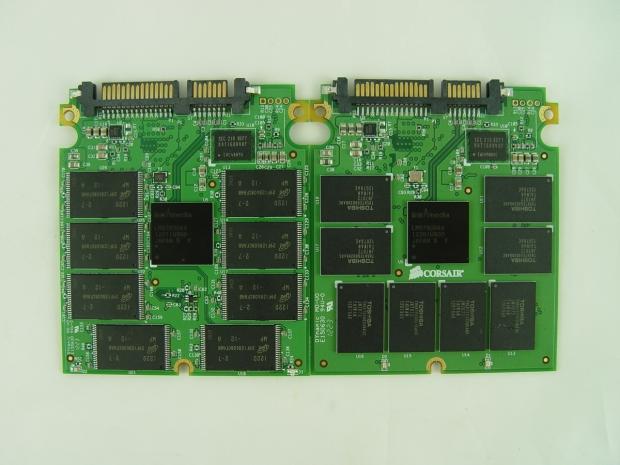 Here we see the drives without the cases. The baseline Neutron is on the left and the GTX model is on the right.
In the top right side corner of each drive we see a Samsung K4T1G08QF DDR2 module. The speed is stated as F7 so this is a DDR-2 800MHz chip with 1GB capacity.
As we mentioned, the base Neutron uses Micron 25nm synchronous flash and you can see eight chips on this side of the PCB. The Neutron GTX uses Toshiba 24nm Toggle flash, eight total though and they are all on the same side.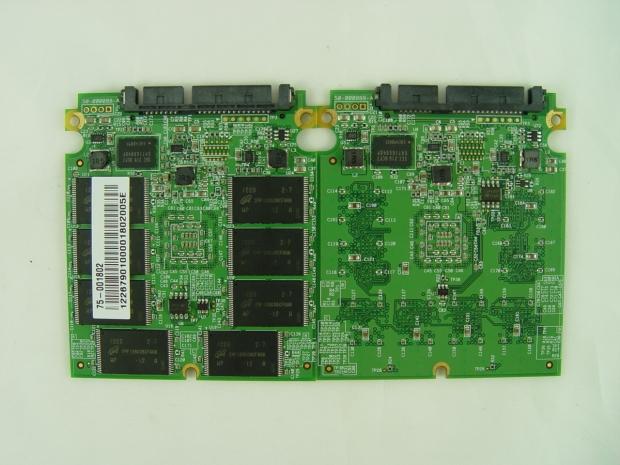 On the back of each drive we found another Samsung DDR2-800 chip with 1GB capacity. The GTX is void of any flash on this side of the drive, but the Neutron has an additional eight NAND flash chips for a total of 16.
We are getting close to the launch of IMFT 20nm flash, but not in the Neutron, at least not now. This is 25nm Micron branded synchronous flash, the same found in the Corsair Force GT.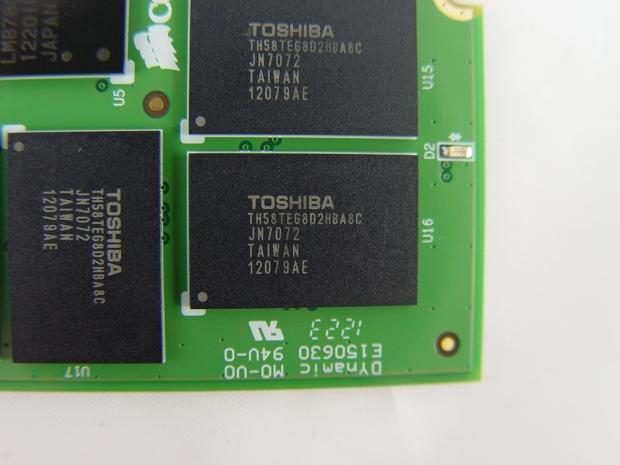 Just a week ago we tested the Plextor M5 Pro, the first drive to use 19nm Toshiba Toggle flash, but Corsair went with 24nm Toggle for the GTX.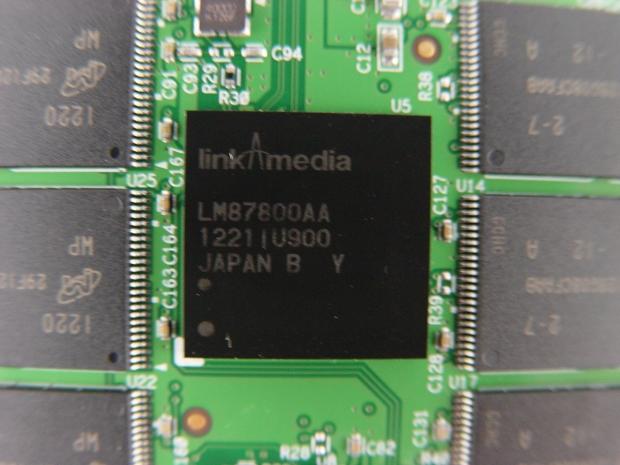 Finally we have the Link_A_Media Devices LM87800 controller, also known as Amber.
Benchmarks - Test System Setup and ATTO Baseline Performance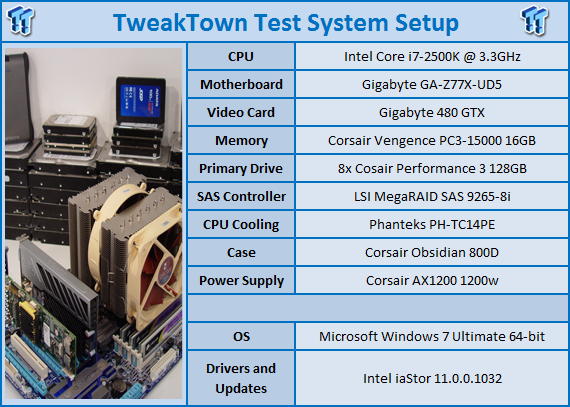 We would like to thank the following companies for supplying and supporting us with our test system hardware and equipment: AVADirect, GIGABYTE, LSI, Corsair and Noctua.
You can read more about TweakTown's Storage Product Testing Workstation and the procedures followed to test products in this article.
In order to fully utilize SATA III you need a system with native SATA III support. P67, Z68, Z77 and X79 systems are preferred, but AMD has made advances in their newer SATA III systems as well. Older X58 systems with Marvell based SATA III ports do not deliver the same high levels of performance, so we recommend newer systems when available.
ATTO Baseline Performance
Version and / or Patch Used: 2.34
ATTO is used by many disk manufacturers to determine the read and write speeds that will be presented to customers.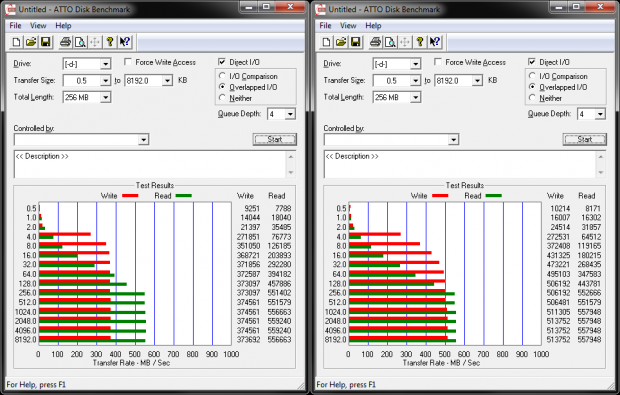 Corsair Neutron 240GB on the left, Neutron GTX 240GB on the right
With all of the formalities out of the way let's gets down to business with what you really want to see. The Neutron base model with Micron 25nm synchronous flash offers an impressive 556MB/s read speed in ATTO and just under 375MB/s write speed. As you can see in the ATTO run screenshot, performance really kicks in at 4K for both reads and writes.
The Neutron GTX 240GB model has a little higher read speed at 558MB/s, but it is able to write data much faster at 513MB/s with its Toshiba 24nm Toggle Model flash.
Benchmarks - HD Tune Pro
HD Tune Pro
Version and / or Patch Used: 4.00
Developer Homepage: http://www.efdsoftware.com
Product Homepage: http://www.hdtune.com
HD Tune is a Hard Disk utility which has the following functions:
Benchmark: measures the performance
Info: shows detailed information
Health: checks the health status by using SMART
Error Scan: scans the surface for errors
Temperature display
HD Tune Pro gives us accurate read, write and access time results and for the last couple of years has been gaining popularity amongst reviewers. It is now considered a must have application for storage device testing.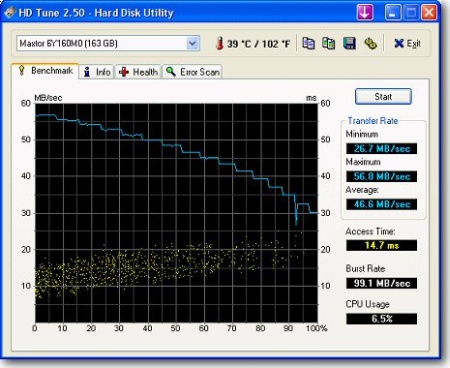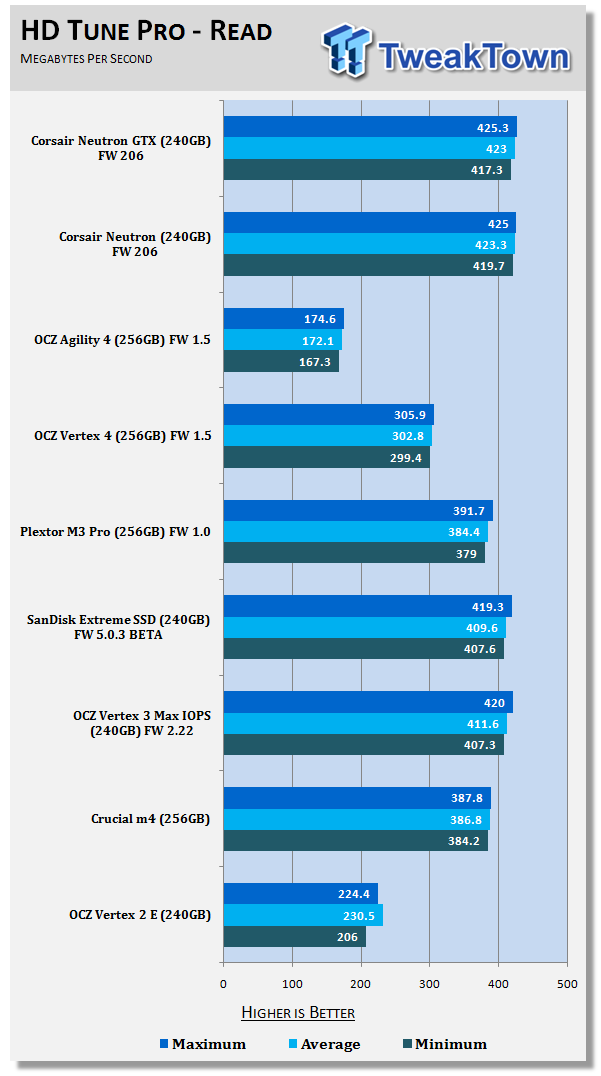 When reading sequential data we don't expect to see much difference between these two drives and HD Tune Pro confirmed that line of thought. Even though we don't see too much difference between the two Neutron SSDs, they are much different than everything else in our chart.
HD Tune uses compressible data, the type of data that the SandForce architecture dominates, well, used to dominate because the new LAMD Amber is here now.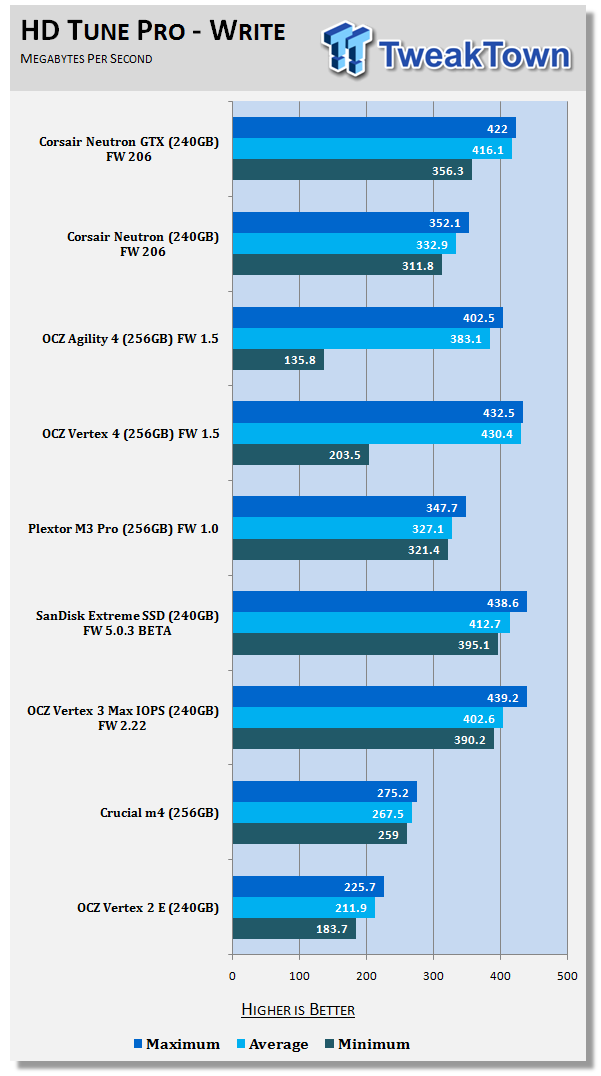 The variation when writing sequential data for the Neutron 240GB drives is less than 100MB/s. The SandForce based drives in our chart split down the middle between the two Neutrons, but the OCZ Vertex 4 256GB takes the top write speed in this test.
Benchmarks - AIDA64 Random Access Time
AIDA64 Random Access Time
Version and / or Patch Used: 1.60
Developer Homepage: http://www.aida64.com
Product Homepage: http://www.aida64.com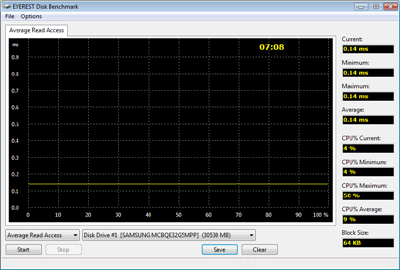 AIDA64 offers several different benchmarks for testing and optimizing your system or network. The Random Access test is one of very few if not only that will measure hard drives random access times in hundredths of milliseconds as oppose to tens of milliseconds.
Drives with only one or two tests displayed in the write test mean that they have failed the test and their Maximum and possibly their Average Scores were very high after the cache fills. This usually happens only with controllers manufactured by JMicron and Toshiba.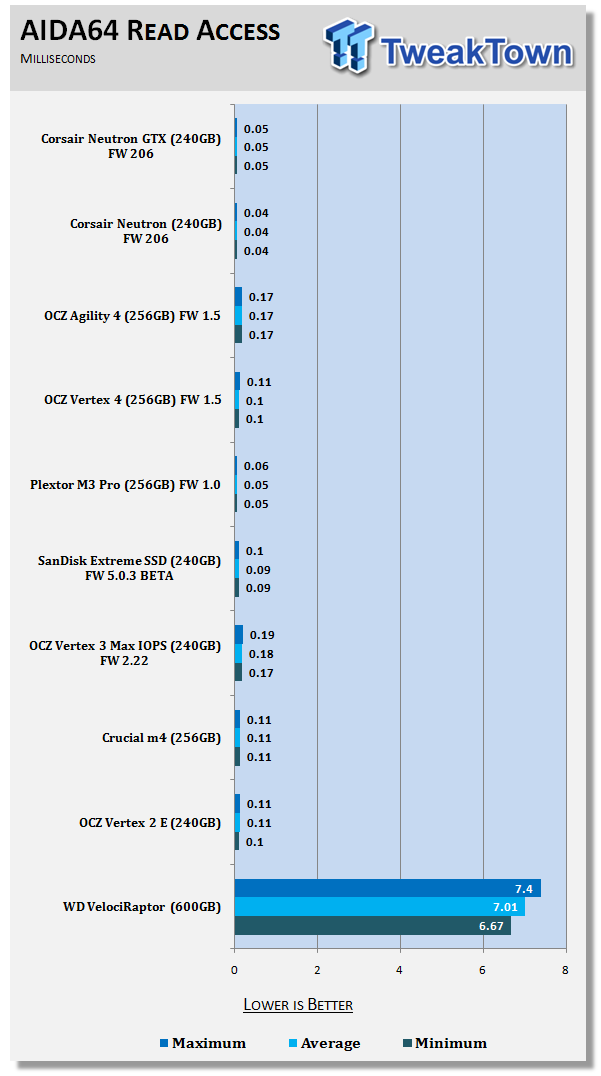 Over the last year we've seen several drives hit the market with very low latency (and high IOPS performance) and the Neutron Series drives fit into this category. With a read access time of just .05ms for the Neutron GTX and .04ms for the non-GTX, these Neutron drives are fighting it out with the Plextor M3 Pro we tested a couple of months back with some of the lowest read latency we've seen.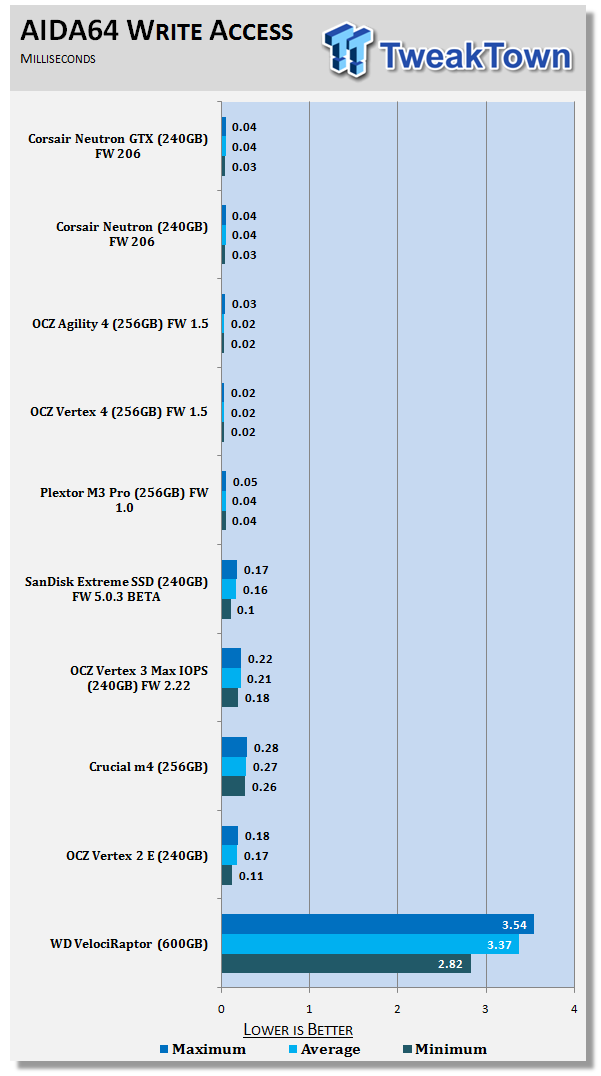 The write latency is also very good, just .04ms.
Benchmarks - CrystalDiskMark
CrystalDiskMark
Version and / or Patch Used: 3.0 Technical Preview
Developer Homepage: http://crystalmark.info
Product Homepage: http://crystalmark.info/software/CrystalDiskMark/index-e.html
Download here: http://crystaldew.info/category/software/crystaldiskmark
CrystalDiskMark is a disk benchmark software that allows us to benchmark 4K and 4K queue depths with accuracy.
Key Features:-
* Sequential reads/writes
* Random 4KB/512KB reads/writes
* Text copy
* Change dialog design
* internationalization (i18n)
Note: Crystal Disk Mark 3.0 Technical Preview was used for these tests since it offers the ability to measure native command queuing at 4 and 32.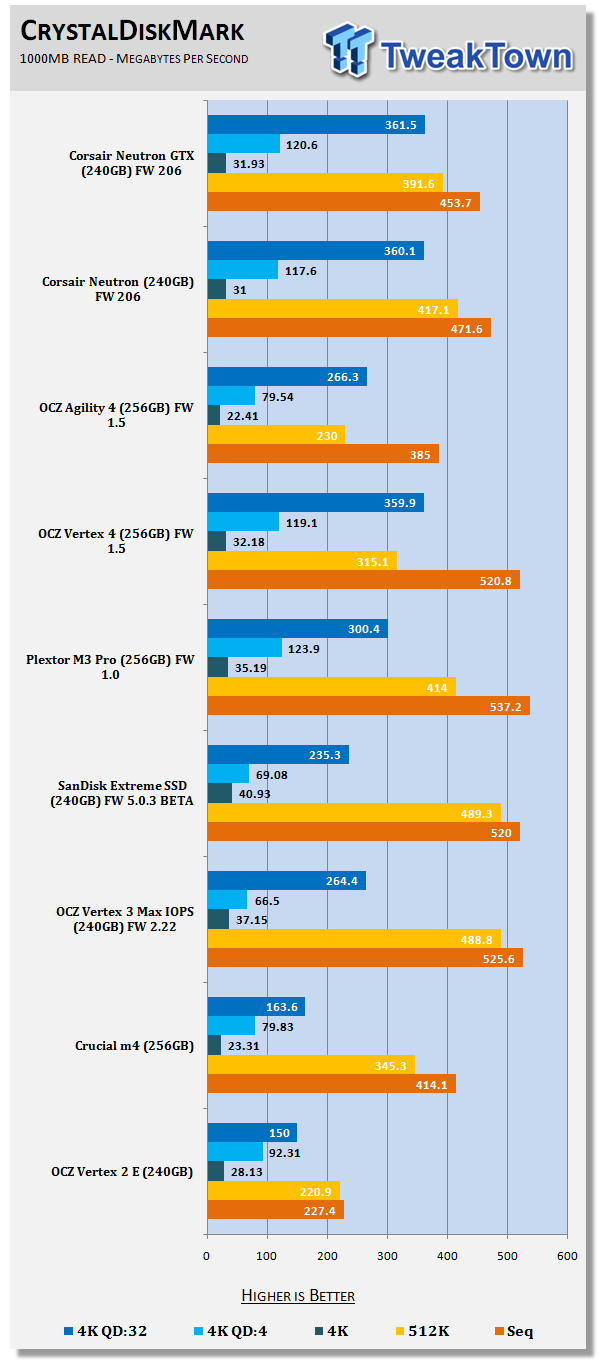 Just like with HD Tune Pro we didn't see much of a difference between the two Neutron drives when reading data in CDM. The standard Neutron is actually a little faster here than the GTX at some of the tests.
Writing sequential data shows the GTX having the upper hand, but the 4K and NCQ tests show the two drives as being nearly equal.
CDM uses incompressible data so we get our first look at how the new LAMD Amber fairs against SandForce in this data type when writing data. This has been SandForce's weak spot and a target for critics to point out when disputing claims of SandForce's dominance in the market. The Neutron does appear to have a superior method of dealing with incompressible data, but how does this lead look in real-world tests?
Benchmarks - PCMark Vantage Hard Disk Tests
PCMark Vantage - Hard Disk Tests
Version and / or Patch Used: 1.0.0
Developer Homepage: http://www.futuremark.com
Product Homepage: http://www.futuremark.com/benchmarks/pcmark-vantage/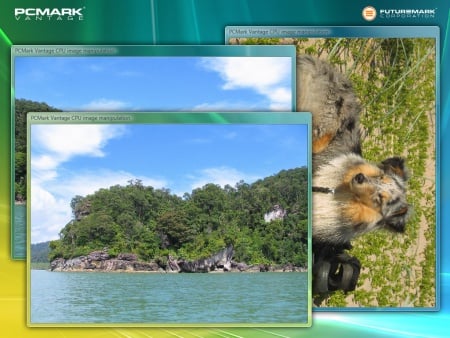 PCMark Vantage is the first objective hardware performance benchmark for PCs running 32 and 64 bit versions of Microsoft Windows Vista. PCMark Vantage is perfectly suited for benchmarking any type of Microsoft Windows Vista PC from multimedia home entertainment systems and laptops to dedicated workstations and high-end gaming rigs. Regardless of whether the benchmarker is an artist or an IT Professional, PCMark Vantage shows the user where their system soars or falls flat, and how to get the most performance possible out of their hardware. PCMark Vantage is easy enough for even the most casual enthusiast to use yet supports in-depth, professional industry grade testing.
FutureMark has developed a good set of hard disk tests for their PCMark Vantage Suite. Windows users can count on Vantage to show them how a drive will perform in normal day to day usage scenarios. For most users these are the tests that matter since many of the old hat ways to measure performance have become ineffective to measure true Windows performance.

HDD1 - Windows Defender
HDD2 - Gaming
HDD3 - Windows Photo Gallery
HDD4 - Vista Startup
HDD5 - Windows Movie Maker
HDD6 - Windows Media Center
HDD7 - Windows Media Player
HDD8 - Application Loading
Given the high performance we've seen thus far it doesn't surprise us to see the Neutron drives making a run for the top performance crown in real-world testing. The LAMD Amber architecture doesn't slow down with incompressible data nor does it slow down for anything else we've hit it with. Looking over the chart we see a couple of tests where the Neutron drives are beat by another drive in a specific area, but no other consumer SSD we've tested is able to put it all together as well as the Neutron drives do.
That leads us into our next area, which model is actually better for client workload, the Amber / INFT 25nm sync flash of the Amber / 24nm Toshiba Toggle? So far the two are very close together in everything except single request write speed with sequential data. Let's start to get serious about that question.
Benchmarks - PCMark Vantage - Drives with Data Testing
PCMark Vantage - Drives with Data Testing
For a complete breakdown on the Drives with Data Testing please read this article. You will be able to perform this test at home with the files provided in the article - full instructions are included.
- Brief Methodology
SSDs perform differently when used for a period of time and when data is already present on the drive. The purpose of the Drives with Data testing is to show how a drive performs in these 'dirty' states. SSDs also need time to recover, either with TRIM or onboard garbage collection methods.
Drives with Data Testing - 25%, 50%, 75% Full States and Dirty / Empty Test
Files needed for 60 (64GB), 120 (128GB), 240 (256GB)
60GB Fill - 15GB, 30GB, 45GB
120GB Fill - 30GB, 60GB, 90GB
240GB Fill - 60GB, 120GB, 160GB
Empty but Dirty - a test run just after the fill tests and shows if a drive needs time to recover or if performance is instantly restored.
HDD1 - Windows Defender
HDD2 - Gaming
HDD3 - Windows Photo Gallery
HDD4 - Vista Startup
HDD5 - Windows Movie Maker
HDD6 - Windows Media Center
HDD7 - Windows Media Player
HDD8 - Application Loading
In this test we look at performance with data on the drives. Control data is added at roughly 25% of overall NAND flash capacity and tests are ran at 0%, 25%, 50% and 75% of the drives overall flash size. An additional test is run with all of the data deleted to verify that TRIM is working as it should.
Both the Neutron and Neutron GTX start out with stellar numbers, just over 86K HDD Marks per PCMark's Vantage scoring system. The performance quickly degrades to just 42K with the GTX model and 45K with the non-GTX model, so in this low queue depth, heavy read set of tests the non-GTX model is actually a little faster. The same holds true for the 50% capacity fill test, the non-GTX model is a bit quicker, but as I said this is low queue depth, heavy read workload.
Where we start to see issues is when other products are looked at when half full as well. For a long time SandForce drives took the crown in these tests because they compress data that is compressible. The end result was the flash didn't actually store all of our data as it was written to the drive so the performance of the NAND was higher in these tests. When SandForce started playing around with their firmware is when we saw 50% capacity testing slow down. Now products like the Plextor M3 Pro (as shown on the chart today) have increased performance so the SandForce advantage is now matched by other drives. Both of the Neutron drives offer an amazing amount of performance, but there is still some tweaking that could possibly increase real-world performance in this area.
We did notice that TRIM is working very well with the LAMD Amber. With Intel's new RAID 0 TRIM drivers making their way to market enthusiasts looking for working TRIM right now don't have to wait for TRIM to be turned back on with a new firmware update like they do with their SandForce products. This is obviously a very big check mark if you are looking at building a system right now with two drives in RAID 0.
Benchmarks - AS SSD
AS SSD Benchmark
Version and / or Patch Used: 1.2.3577.40358
Developer Homepage: Alex Intelligent Software
Product Homepage: Alex Intelligent Software
Download here: http://www.alex-is.de/PHP/fusion/downloads.php?cat_id=4&download_id=9
AS determines the performance of Solid State Drives (SSD). The tool contains four synthetic as well as three practice tests. The synthetic tests are to determine the sequential and random read and write performance of the SSD. These tests are carried out without the use of the operating system caches.
In all synthetic tests the test file size is 1GB. AS can also determine the access time of the SSD, the access of which the drive is determined to read through the entire capacity of the SSD (Full Stroke). The write access test is only to be met with a 1 GB big test file. At the end of the tests three values for the read and write as well as the overall performance will be issued. In addition to the calculated values which are shown in MB/s, they are also represented in IO per seconds (IOPS).
Note: AS SSD is a great benchmark for many tests, but since Crystal Disk Mark covers a broader range of 4K tests and HD Tune Pro covering sequential speeds, we will only use the Copy Benchmark from AS SSD.
- Copy Benchmark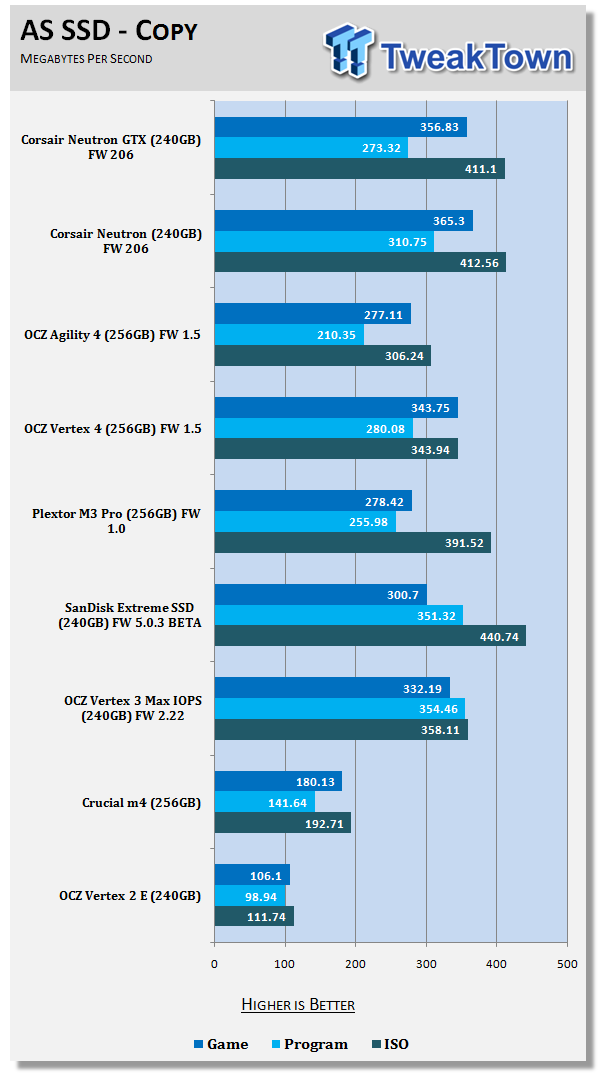 AS SSD's Copy test simulates moving data from one area of the drive to another. The performance of both the Neutron and Neutron GTX is very good in these three tasks.
Benchmarks - Anvil Storage Utilities
Anvil Storage Utilities
Version and / or Patch Used: BETA 11
So what is Anvil Storage Utilities? First of all, it's a storage benchmark for SSDs and HDDs where you can check and monitor your performance. The Standard Storage Benchmark performs a series of tests, you can run a full test or just the read or the write test or you can run a single test, i.e. 4K DQ16.
Anvil Storage Utilities is not officially available yet but we've been playing with the beta for several months now. The author, Anvil on several international forums has been updating the software steadily and is adding new features every couple of months.
The software can be used several different ways and to show different aspects for each drive. We've chosen to use this software to show the performance of a drive with two different data sets. The first is with compressible data and the second data set is incompressible data. Several users have requested this data in our SSD reviews.
Fill Compressible Data

Incompressible Data

These tests remind me of a crossword puzzle when viewed side-by-side like this. First things first, neither Neutron drive takes a hit when moving from compressible data to incompressible data. Reading horizontally and comparing the base model to the GTX model we see there isn't much difference that way either in these QD1 to QD16 tests. Each flash type excels at different areas nothing really leaps out and says this is the model you should purchase over the other.
4K 32QD Random Read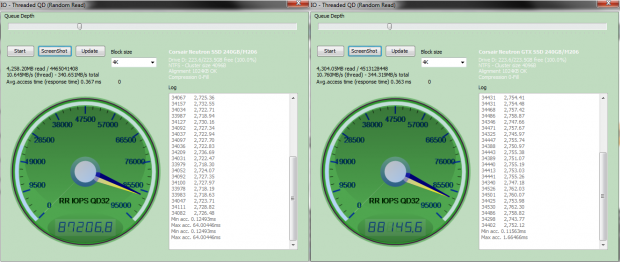 The QD32 random read performance from both drives is very good, higher than what we achieved on the Force GS just last week (49,291 IOPS).
4K 32QD Random Write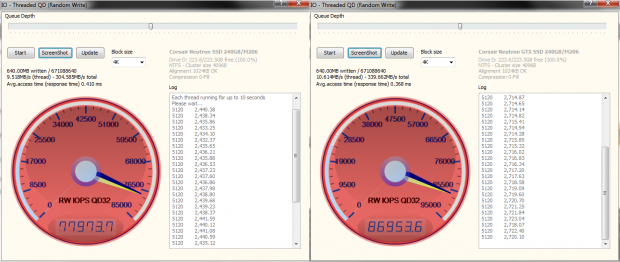 In the QD32 write IOPS test we saw a big advantage for the GTX model. Here though the Force GS we tested last week scored higher (92,587 IOPS).
Benchmarks - Passmark
Passmark Advanced Multi-User Tests
Version and / or Patch Used: 6.1
Developer Homepage: http://www.passmark.com
Test Homepage: http://www.passmark.com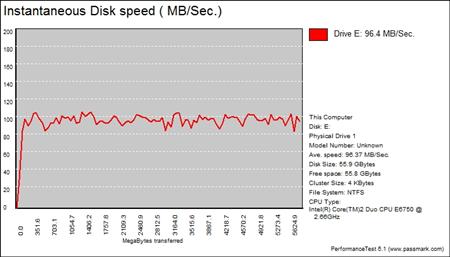 Many users complain that I/O Meter is too complicated of a benchmark to replicate results so my quest to find an alternative was started. Passmark has added several multi-user tests that measure a hard drives ability to operate in a multi-user environment.

The tests use different settings to mimic basic multi-user operations as they would play out on your server. Variances is read / write percentage as well as random / sequential reads are common in certain applications, Web Servers read nearly 100% of the time while Database Servers write a small amount of data.
The Workstation test is the only single user environment and will be similar to how you use your power user system at home.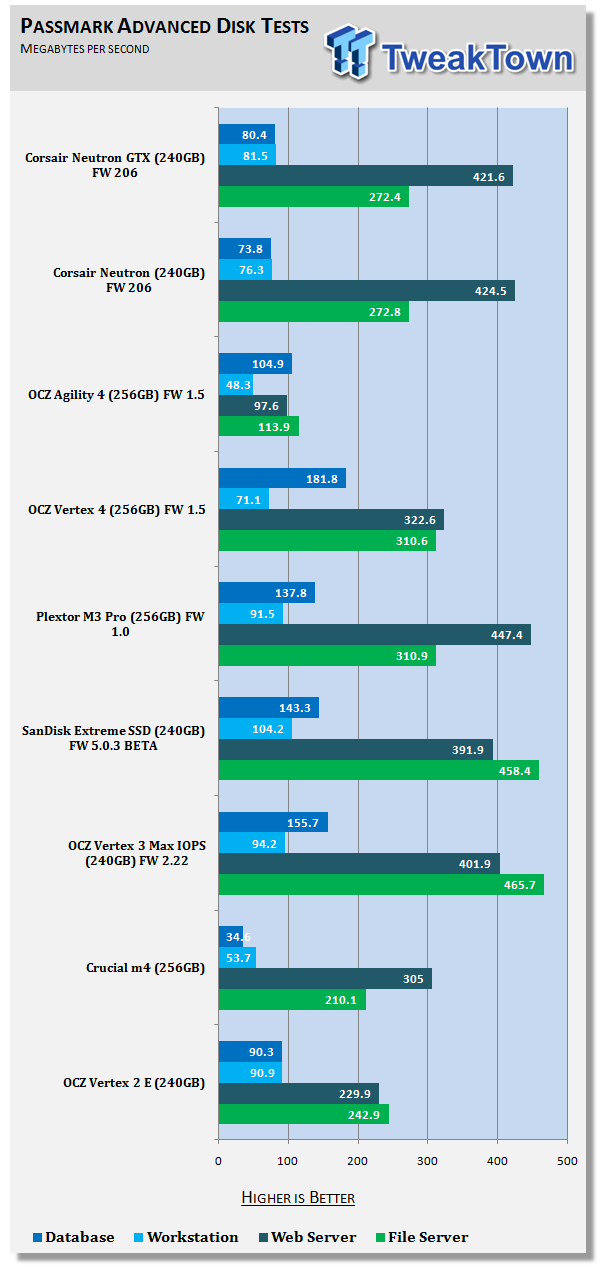 LAMD's Amber isn't the same controller found on Link_A_Media's enterprise controller used in the Seagate Pulsar 2, but we have to wonder how much of that technology made it into the new consumer offering controller.
Here we see very good file and web server performance, even the workstation and database tests are nothing to overlook even though they are down when compared to some of the other drives.
Final Thoughts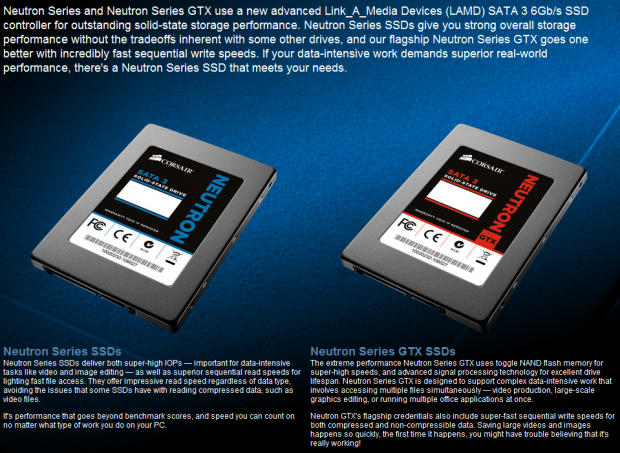 Without pricing information for either the Neutron or Neutron GTX, we feel like this article can only tell part of the story. Due to time constraints with release dates and our inability to update this article as soon as the drives hit Newegg (I'll be on a plane headed to California for the first seven hours of the release), we'll have to come back and update this article later in the day. Hopefully Corsair is able to stand by their initial statement made at Computex and the Neutron drives manage to meet current SandForce price points or be just a hair higher.
In nearly all of our tests the base Neutron model is a SandForce competitor, but the Neutron GTX is what SandForce has nightmares about. Both Neutron drives are extremely fast, but with higher write performance at low queue depth sequential writes and higher queue depth random writes, the GTX is a superior product. I don't think many people outside of the prosumer market will notice a difference between these two drives so once again we really need to see the pricing information to determine a strategy. If Neutron GTX only costs a little more than Neutron then you might as well spend a little more to get the new king of the SSD ring.
There are two areas that we see the Neutron drives struggling in. One we spoke about in the review already and one we have not. The first is performance with data on the drives, both drives are a little slower when 50% full when compared to the new Force GS. The test software is heavily dependent on low queue depth read performance and as you can see in the image above Corsair states Neutron is built for high multi-tasking environments.
The second area where we saw a large difference between the new Neutron and the also newish Force GS is in power consumption. We haven't posted our results yet for our power tests because we haven't nailed down exactly how are going to test, but in everything we've ran so far the Neutron drives pull more power than the Force GS, in some cases a lot more. Neutron is Corsair's first SSD to use the new 7mm Z-height so it's aimed right at the new Ultrabook market where power is important, but regular notebooks and desktops have no problem accepting the new 7mm drives.
Aside from these two areas the Neutron and Neutron GTX look really good in our lab during testing. Just as interesting though is the avenue LAMD took with this product launch. So far the only company to publicly show off Amber is Corsair, something that has a bit of prestige with it. For years we've seen OCZ play the role of innovator with new product launches months before anyone else, but this time Corsair has their moment in the spotlight.
Our long term testing is obviously something that requires time, but in our lab we haven't discovered any bugs or crazy reliability issues like BSODs or TRIM not working. So far Neutron and Neutron GTX feel like products that are already mature. The current firmware on the release drives is 206 and the Computex drives were using 1.3 so a lot of work has went into LAMD's Amber controller in a fairly short amount of time. Given the early issues with some of the other controllers on the market LAMD assured us that Amber wouldn't release half-baked and it appears they truly meant it.
I'll update pricing as soon as I can and add a new section to this review hopefully by Monday evening. TweakTown Storage USA (AKA Paul and myself) are headed to California for Flash Memory Summit. Get ready for all of the latest SSD news all week. We're also helping with a few world record attempts with eight Neutron GTX drives, details to come soon in the coolest RAID Report yet!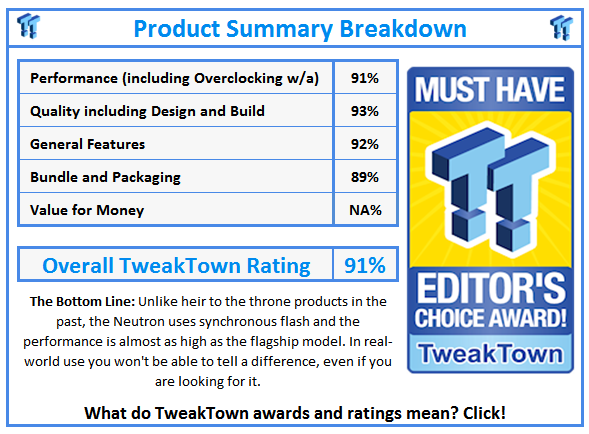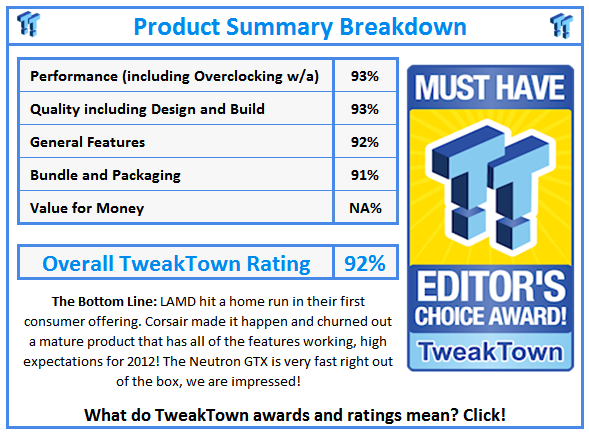 PRICING: You can find products similar to this one for sale below.

United States: Find other tech and computer products like this over at Amazon.com

United Kingdom: Find other tech and computer products like this over at Amazon.co.uk

Australia: Find other tech and computer products like this over at Amazon.com.au

Canada: Find other tech and computer products like this over at Amazon.ca

Deutschland: Finde andere Technik- und Computerprodukte wie dieses auf Amazon.de
We openly invite the companies who provide us with review samples / who are mentioned or discussed to express their opinion. If any company representative wishes to respond, we will publish the response here. Please contact us if you wish to respond.